Looking for amazing podcasts to listen to? Here are my 5 favorite Christian podcasts for women…
---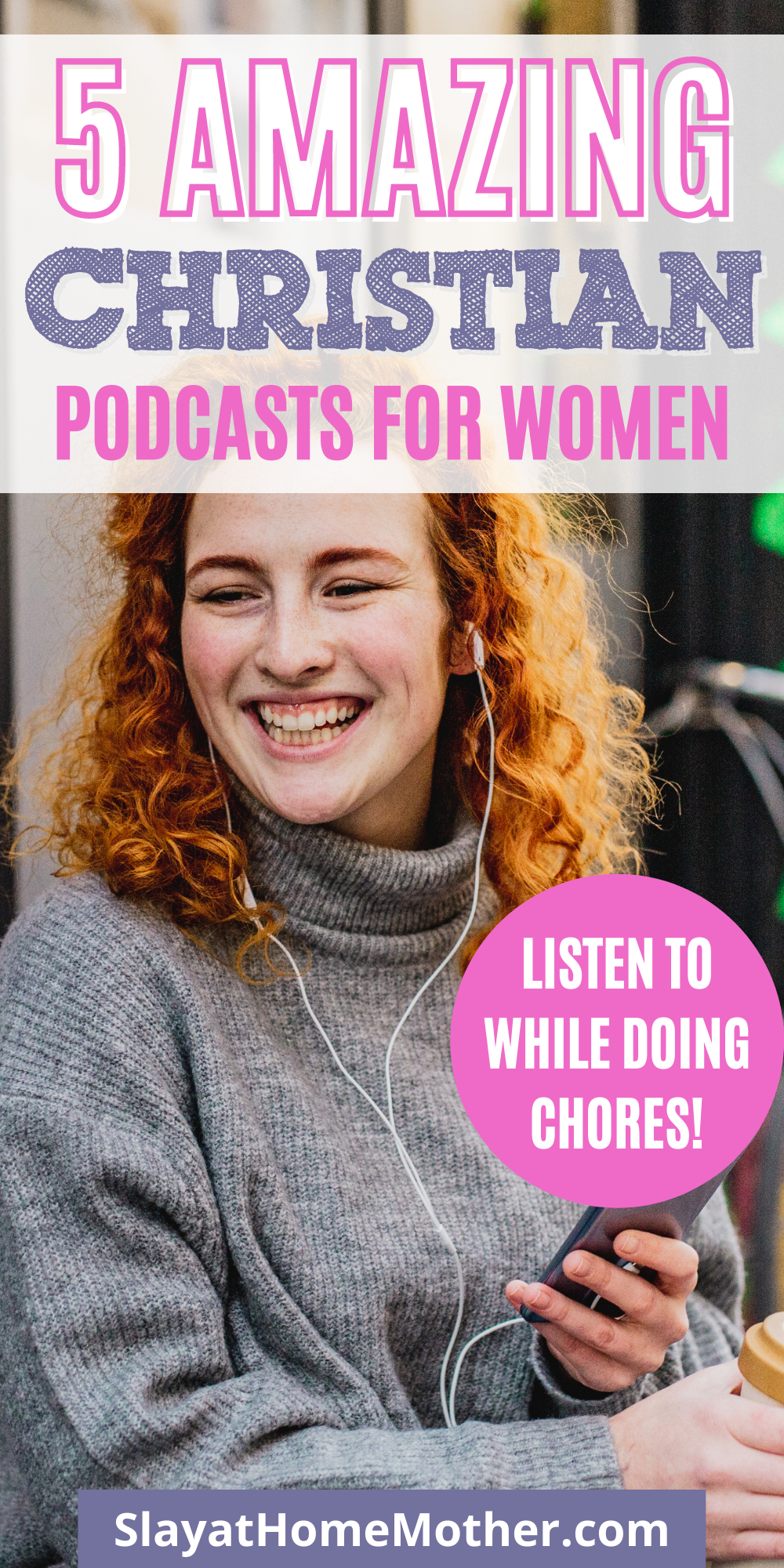 Hello, fellow podcast lovers!
Lately, I've been diving into podcasts.
I love listening to them in the background while I'm doing household chores like laundry or the dishes, or writing a new post.
To help my Chrisitan readers find some new podcasts to listen to, I wanted to write this post and recommend some of my top favorites.
I've found these podcasts to be engaging, inspiring, honest, and motivational.
I actually came across the idea for this post while watching a TikTok video on Christian podcasts.
Watching that video made me want to look into some for myself and find a few that really resonated.
I looked at a few to start with – but I wasn't too impressed.
To be honest (and I won't mention any names of podcasts I didn't like…), I found the first few to be stuffy, monotone, and plain out-of-touch.
I didn't feel entertained!
And I know that that probably makes me sound entitled – like I deserve to be entertained.
What I mean by that, though, is that the podcasts I listened to and tried out weren't engaging and honest – which is what I was looking for.
I wanted to find some podcasters whose love for God could be heard and felt, who weren't afraid to get real, seemed down-to-earth, and motivated me to dig DEEPER.
And guys – this list does not disappoint.
I've poured over podcasts, and while there are even more podcasts to mention than just these 5, these 5 are the top recommendations I have for new-to-Christian-podcast listeners that check all of those above boxes I mentioned.
I have vetted these podcasts for you, my loyal readers, and sincerely hope you enjoy them as much as I do…
5 Amazing Christian Podcasts For Women
Here are my top 5 favorite Christian podcasts for women…
Whoa That's Good with Sadie Robertson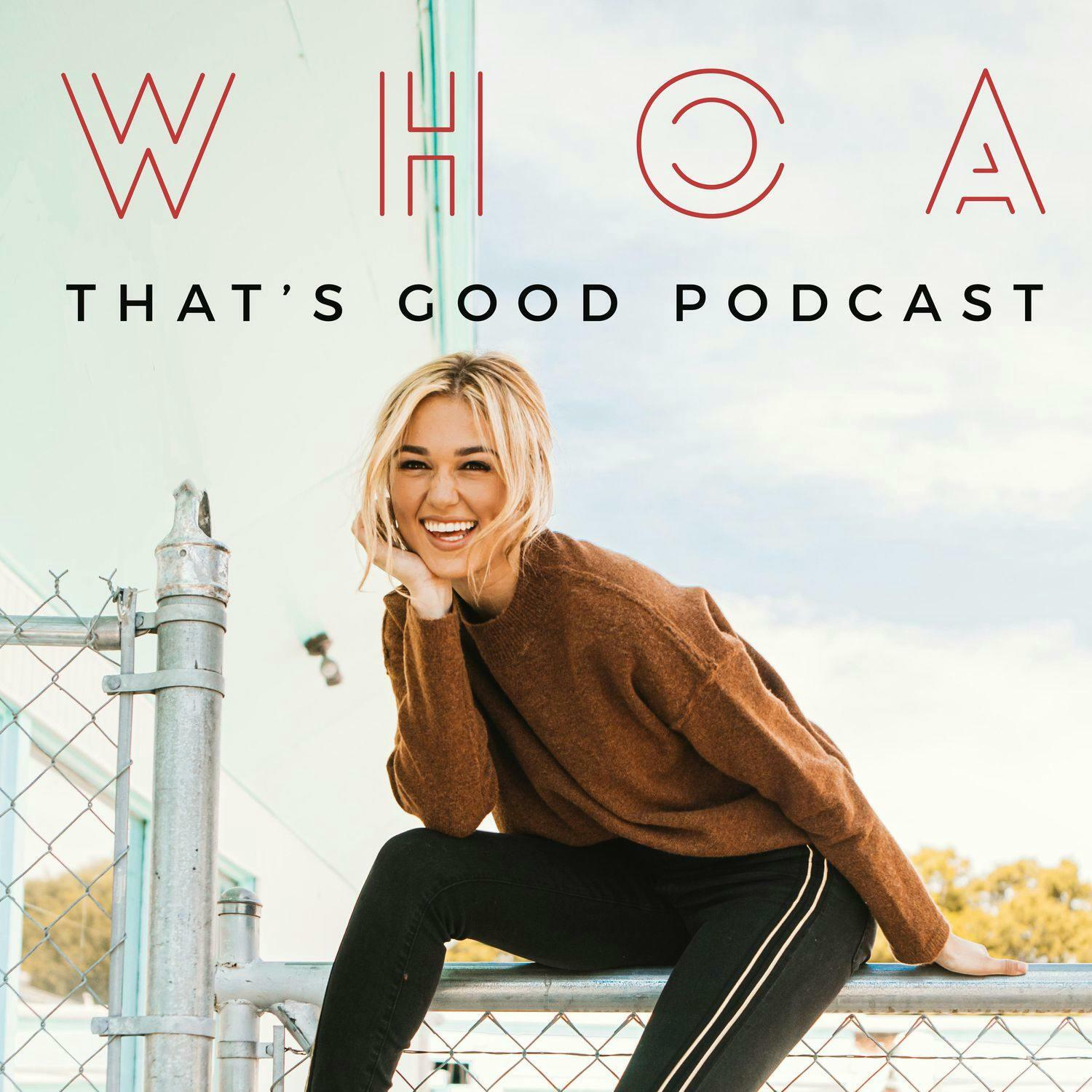 This podcast, founded and hosted by Sadie Robertson (yep, from Duck Dynasty) is described as a fun and lighthearted series.
I find her voice SO soothing, and love how engaging she is with those she interviews, and how well she ties in the topic of the podcast episode with the conversation.
Sadie interviews authors, musicians, public speakers, and celebrities on topics of Faith.
Confessions Of A Crappy Christian
This is one of the rawest, spot-on Christian podcasts I've come across.
I admire Blake's bluntness, honesty, and REAL takes on topics that impact Christians in today's world.
Porn, sex, divorce, and other somewhat 'taboo' topics are covered, as well as topics like finding hope right where you are.
Highly recommend this one!
Truth Talks with Tara
If you're looking for an honest and impactful podcast to listen to, this is it!
Truth Talks with Tara Sun is an incredible series of podcasts that unpacks the truth in God's word and how it applies to our world today.
Her voice is also very soothing – some people just have a voice for podcasting, you know?
The Beautifully Enough Podcast with Valarie Reynolds
Part-time podcaster and part-time mentor, Valarie gets real with the Word of God and speaks on healthy vs. unhealthy habits and routines, having a good Christian mindset, and encourages regular Bible study.
I find her podcast to be an inspiration to dig deeper into ourselves as Christians, as well as the Bible to truly understand God's word.
Pardon The Mess with Cynthia Yanof
This is a GREAT parenting podcast for Christian mothers!
Cynthia focuses on raising her kids "in Biblical truth in a fast-changing world".
She keeps is real, honest, and messy, assuring her audience that there is no perfect parent, just a perfect God!