Join this decluttering challenge with a free decluttering checklist and mini workbook PDF download…
---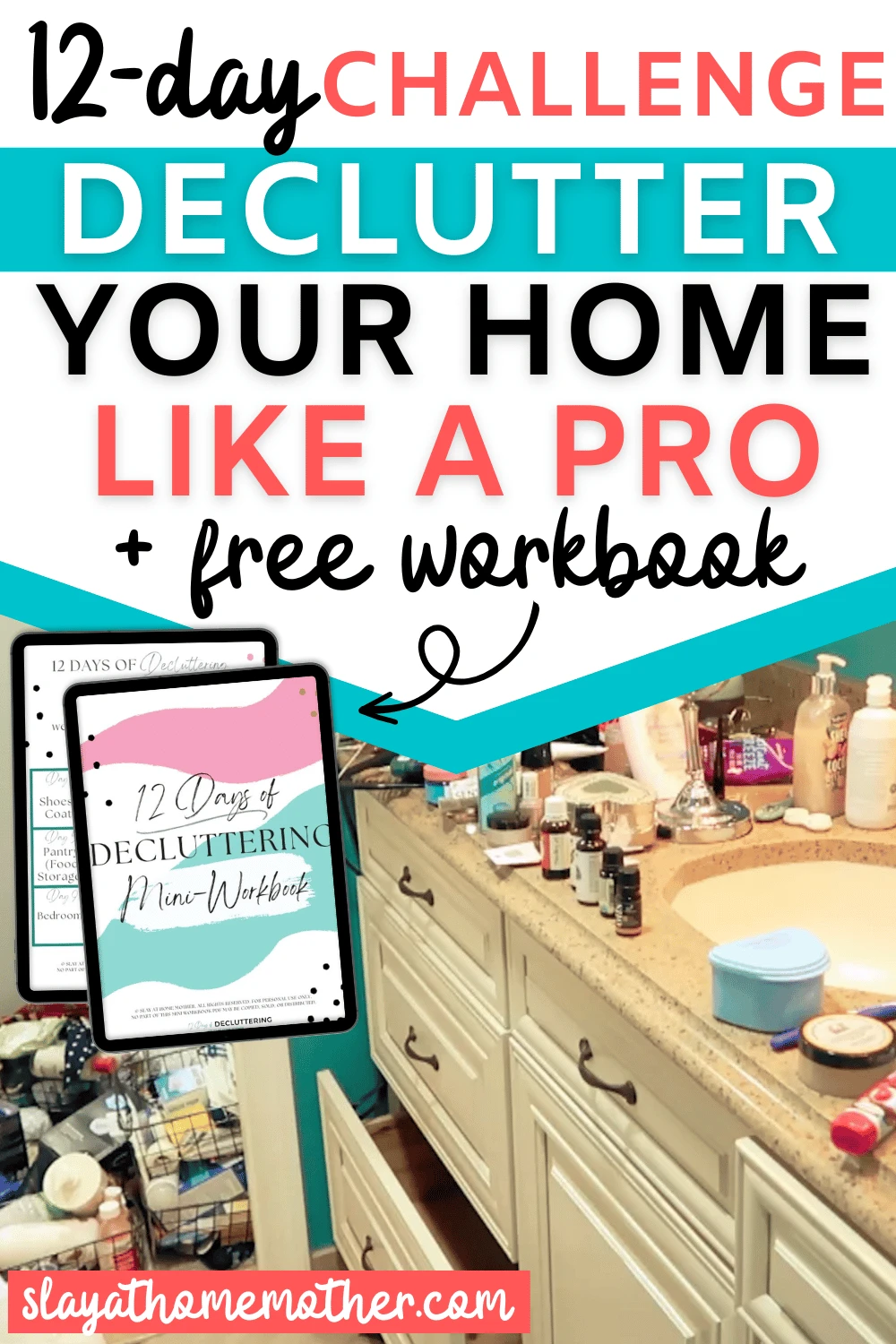 It's time for the 12 Days Of Decluttering!
Every year, we declutter common areas in our home, and with our busy schedule, we like to take it one day at a time.
We're a family of five (six if you include our adorable and super snuggly Frenchie Pug, Frankie), which means we have tons of…
jackets
boots
shoes
pens and pencils
papers
toys
clothes
hygiene products
aaaaaand more…
The beauty of this decluttering challenge is that you can tackle problem areas in your home in bite-size segments.
Perfct for working around busy work schedules, obligations, and extracurriculuars.
First Things First: It's Okay To Let Go
I want to address this before we get into decluttering because it's so important, and it can prevent you from even starting.
YOU CAN LET GO.
Yep. You can let go of material items.
It's okay.
I understand the guilt that might come with tossing perfectly good items from your home.
There are a couple of solutions to this guilt that can help you successfully let go…
You deserve a clear space you can function within that isn't packed with material things.
As a mom of three, I'm not approaching this from a minimalist viewpoint.
Our children do not go without.
But they don't live in mountains of things, either.
Cleaning and decluttering can be so wonderful for mental health, and I feel we have a healthy balance of not expecting perfection while not allowing ourselves to swim in clutter.
Decluttering and raising kids requires revisiting the clutter each season (and this is true for some households that don't have children, as well).
If you'd like to print off a list for this post and participate in the decluttering challenge, I have a free PDF Mini Workbook: 12 Days Of Decluttering available to download.
*This post contains affiliate links, however, all opinions are my own.
Decluttering Challenge Day 1: Shoes + Coats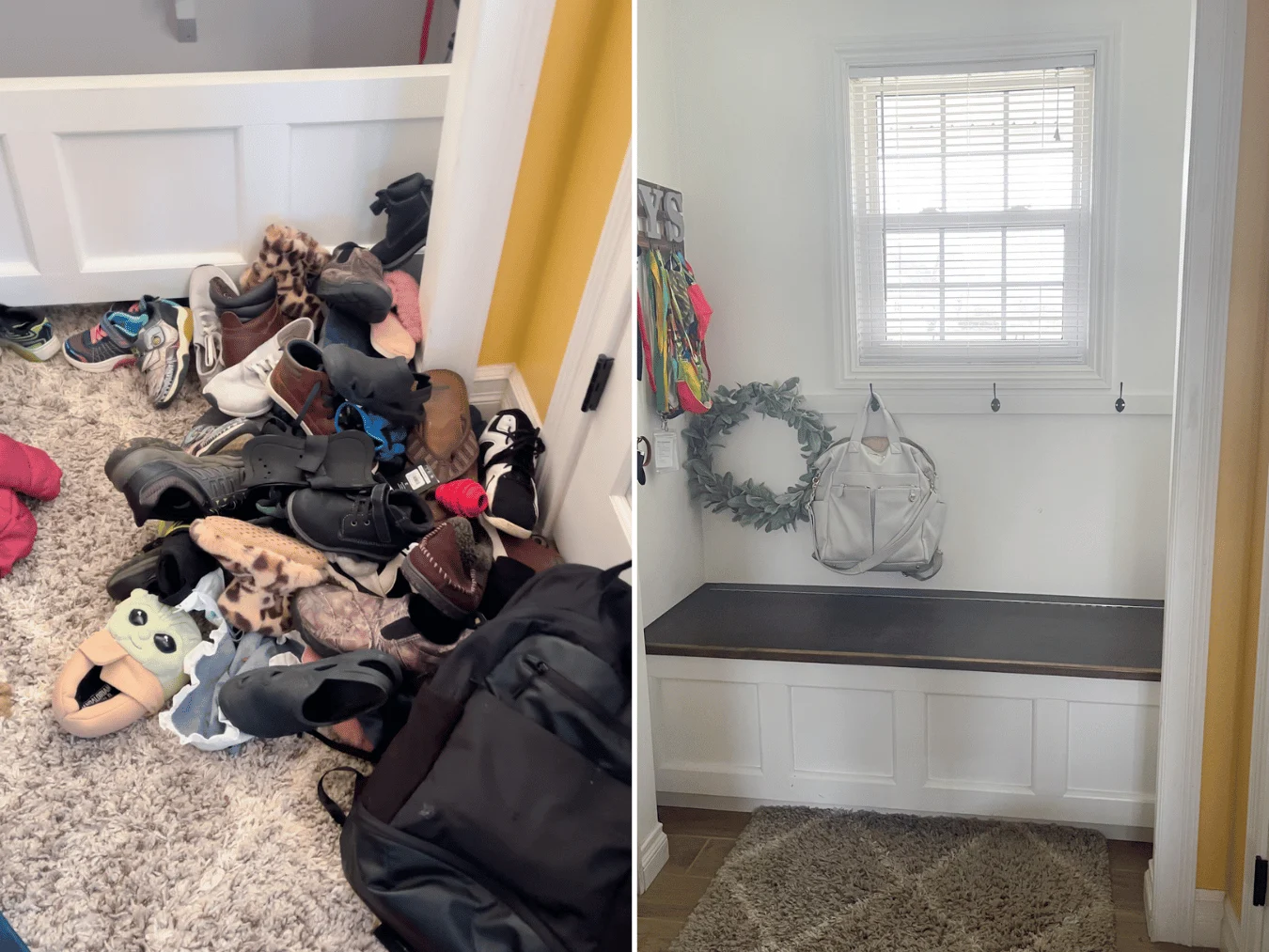 If you haven't already, December is the perfect time to get started on sorting through your family's shoes and coat collection.
I shared a recent Instagram story of my family mudroom bench (we have a built-in bench with a top that opens for shoe storage) that was almost overflowing with random shoes.
I didn't realize it was this PACKED until I looked.
Navigate to the area in your home where your shoes seem to collect (like our mudroom bench), take everything out, and sort through the shoes.
Doesn't fit? Donate.
No shoe match/worn-out shoes that can't be donated? Toss.
Out-of-season shoes (flip flops in the winter)? Store.
I would recommend only keeping what's seasonally appropriate in your entryway, mudroom, coat closet, etc.
For coats, you can do the same sorting process.
I recommend keeping one coat readily available – the rest can go into storage for now, or be donated to those in need.
Decluttering Challenge Day 2: Kitchen Cabinets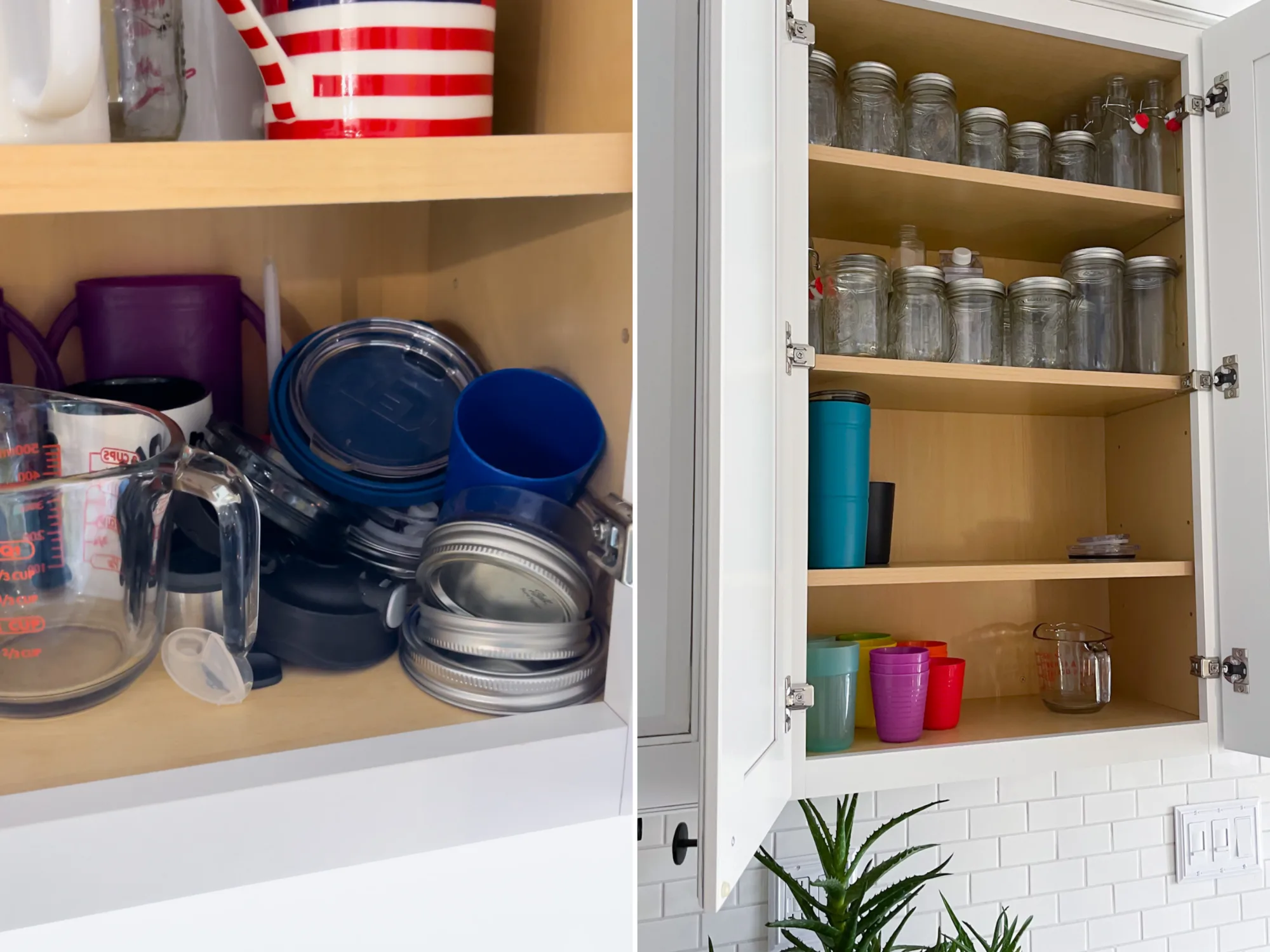 Kitchen cabinets can store our favorite mugs, plates, and bowls – but they can also be a hazard for falling objects if we're packing things in and never decluttering.
I try to declutter our kitchen cabinets at least 2x a year (every 6 months is a great rule of thumb).
Here are some ideas of things you can easily declutter from your kitchen cabinets…
coffee mugs
plates
bowls
extra utensils
medicine cups and syringes
food containers (particularly those that don't have lids anymore)
mixing bowls you never use
drink cups with no lids/tops
baking dishes you never use
If you have a bunch if never-used items, consider recycling sets of bakeware or cookware!
One season, I found a set of baking pans that we forgot about and never unwrapped from the packaging. We realized we weren't going to need them, and ended up gifting them to our new neighbors in a gift basket after learning how much the wife loved to bake her own bread.
If you feel bad about tossing out perfectly good items, you can always ask family if they could use or need the items, list them for sale online (Facebook marketplace, when used safely, is always a great option, as well as eBay), or donate them to a family in need that wants them.
Decluttering Challenge Day 3: Closets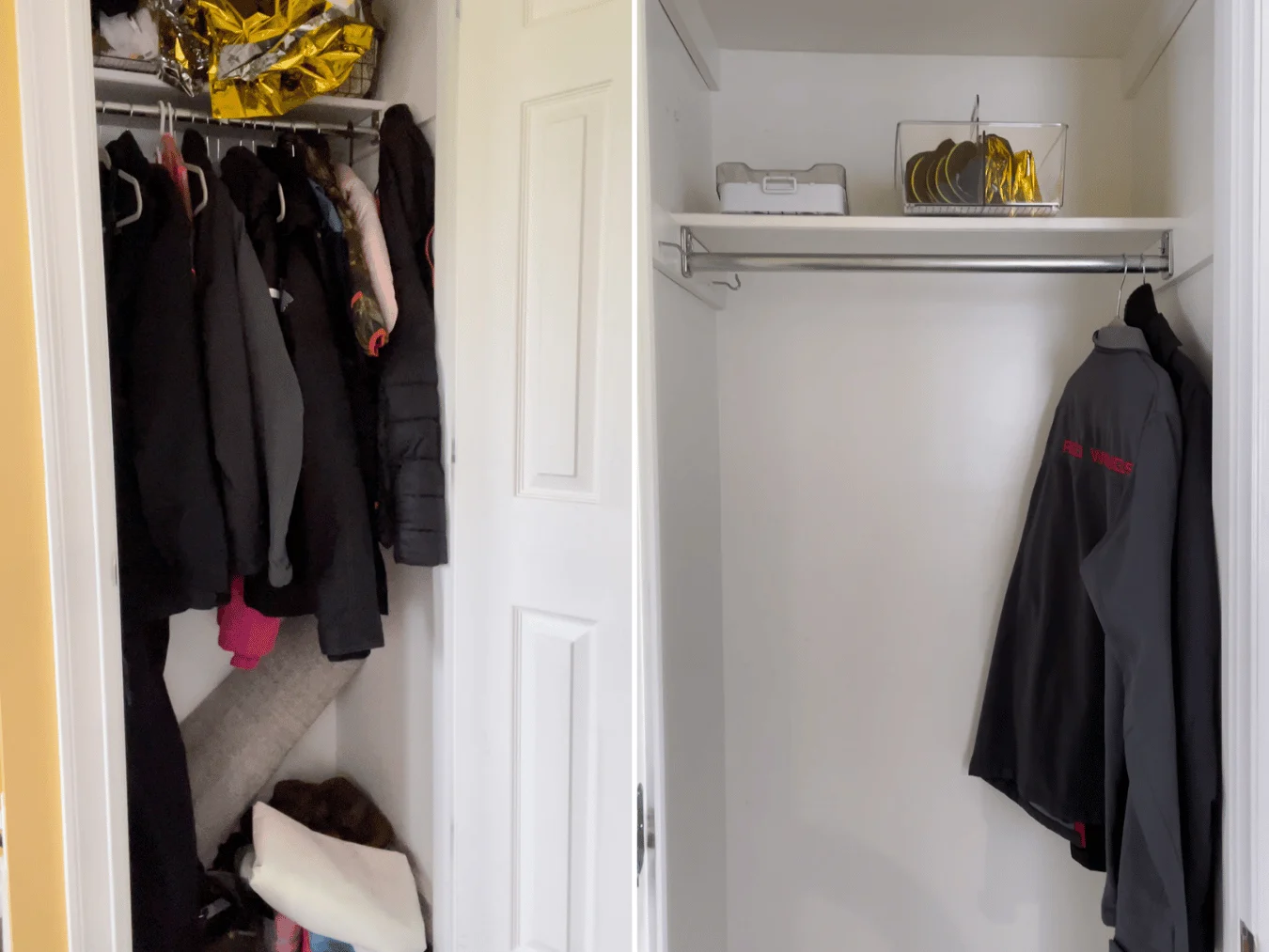 Sort through your family's clothes (get your kids in on the action and ask them to lay clothes that don't fit anymore to the side for donation) and donate/toss items that you aren't using anymore.
Keep in mind the items you have coming in for the holidays so you can make room for the new items!
For items that are out-of-season (like spring dresses), you can store these up high in a basket or on a shelf to make room for cozy sweaters and hoodies.
Decluttering Challenge Day 4: Home Office
If you have a home office, now's the time to declutter it!
Get your workspace ready for the new year.
If you don't have a home office, you can also use this day to declutter any piles of papers you have in your home (like that pile that never leaves the kitchen counters), or an area like a den or study.
Ideas for items you can declutter for your home office:
old papers*
desk area (this isn't really a 'thing', but space)
pens, pencils, highlighters, markers, etc.
rubberbands
crafting materials
books
binders and folders
cords
*Be sure to keep tax income statements and papers you'd need in this category. It's generally recommended to keep these for at least 7 years in case of an audit.
Decluttering Challenge Day 5: Pantry (Food Storage)

Remove all of the food items from your pantry shelves or cabinets and give them a good wipe-down.
If you have wood shelves, you can use some orange furniture oil to polish and condition them as well!
This is the orange oil we use – I bought the bottle back in 2020 and it's still half full – a little goes a long way, and it smells fantastic.
Toss expired foods and organize your food items as they make sense for your family and space.
Decluttering Challenge Day 6: Fridge + Freezer

Time to break into the fridge and freezer and DECLUTTER!
Remove everything from your fridge and freezer (one at a time, of course), wipe down the shelves, and organize your food items.
Note: you don't always need fancy organizers, containers, etc. Sometimes they help, but sometimes they end up taking up more space and not being as functional as they are pretty! I'm all about realistic and functional storage.
Decluttering Challenge Day 7: Toys + Games
Decluttering ideas for toys and games:
board games you never play with or that are missing key items or tokens you can't readily replace
broken toys
gently used toys (donate if possible)
If you're doing this right before Christmas, be sure to account for new toys that will be coming into your home.
Make more room than you think you'll need, especially if your child has a ton of toys!
Decluttering Challenge Day 8: Living Areas
Living areas can get pretty cluttered, especially in the colder months when we're all huddled together watching Christmas movies and playing trivia games.
If you have a den, study, family room, or living room, here are some ideas of things you can declutter:
excess pillows and blankets
cords
items on the fireplace mantle
items by the fireplace
items within furniture drawers (like a TV stand, side tables, coffee tables)
toy baskets (or within the ottoman if that's a place you store toys)
Decluttering Challenge Day 9: Bedrooms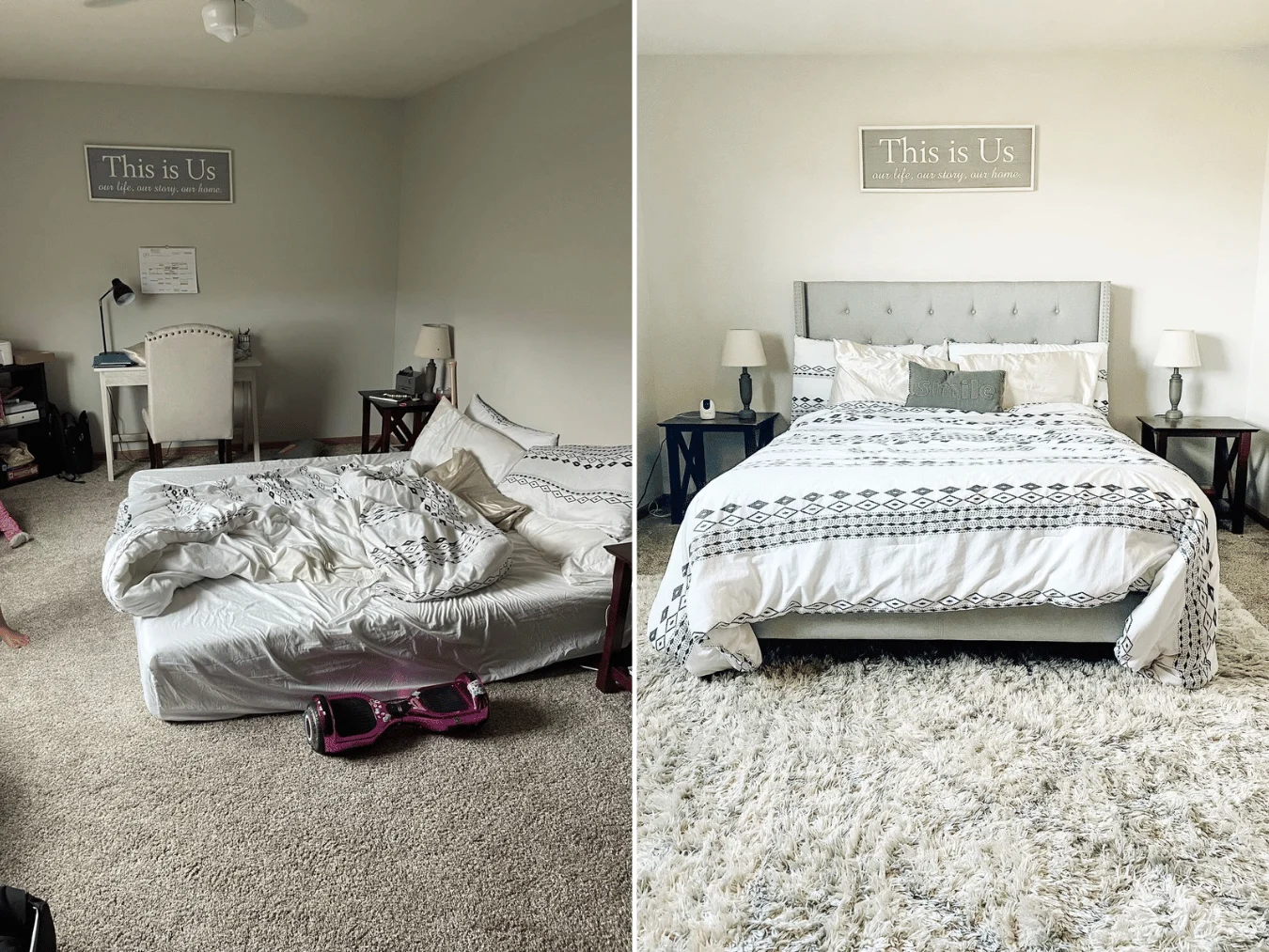 Bedrooms can hold a lot of clutter.
Here are some ideas of spaces and items to declutter…
items on bedside tables or dressers
dresser contents
excess or ill-fitting clothing like socks, underwear, pants, shirts, etc.
bedding and pillows
workout materials
books and electronics
cords
under the bed and furniture
If there's something in your bedroom that hasn't been used in 6 months, it's probably safe to toss it!
Decluttering Challenge Day 10: Mudroom / Entryway
Declutter your entryway for a cleaner space (this will make a huge impact for guests or if you're hosting for the holidays).
Remove shoes, rugs, mail, etc.
Toss old mail that you won't need (you can also use a shredder like this one)
Replace only what you absolutely need in this area (rug for shoes, mail organizer, and key hanger).
Decluttering Challenge Day 11: Junk Drawer

Funny story: about 8 years ago, I had THREE junk drawers in our kitchen.
Yes, three!
Now we just have the one, and I try to touch base with it every few months so it doesn't get out of control.
Here are some things you can declutter from your junk drawer this season:
excess batteries (I love this battery organizer, it comes with a battery tester)
pens, pencils, markers, etc.
chapsticks
coins (toss these in your child's piggy bank if they have one)
paper clips
stamps
Keep only what you think you'll need within the next 2-3 months.
Decluttering Challenge Day 12: Bathrooms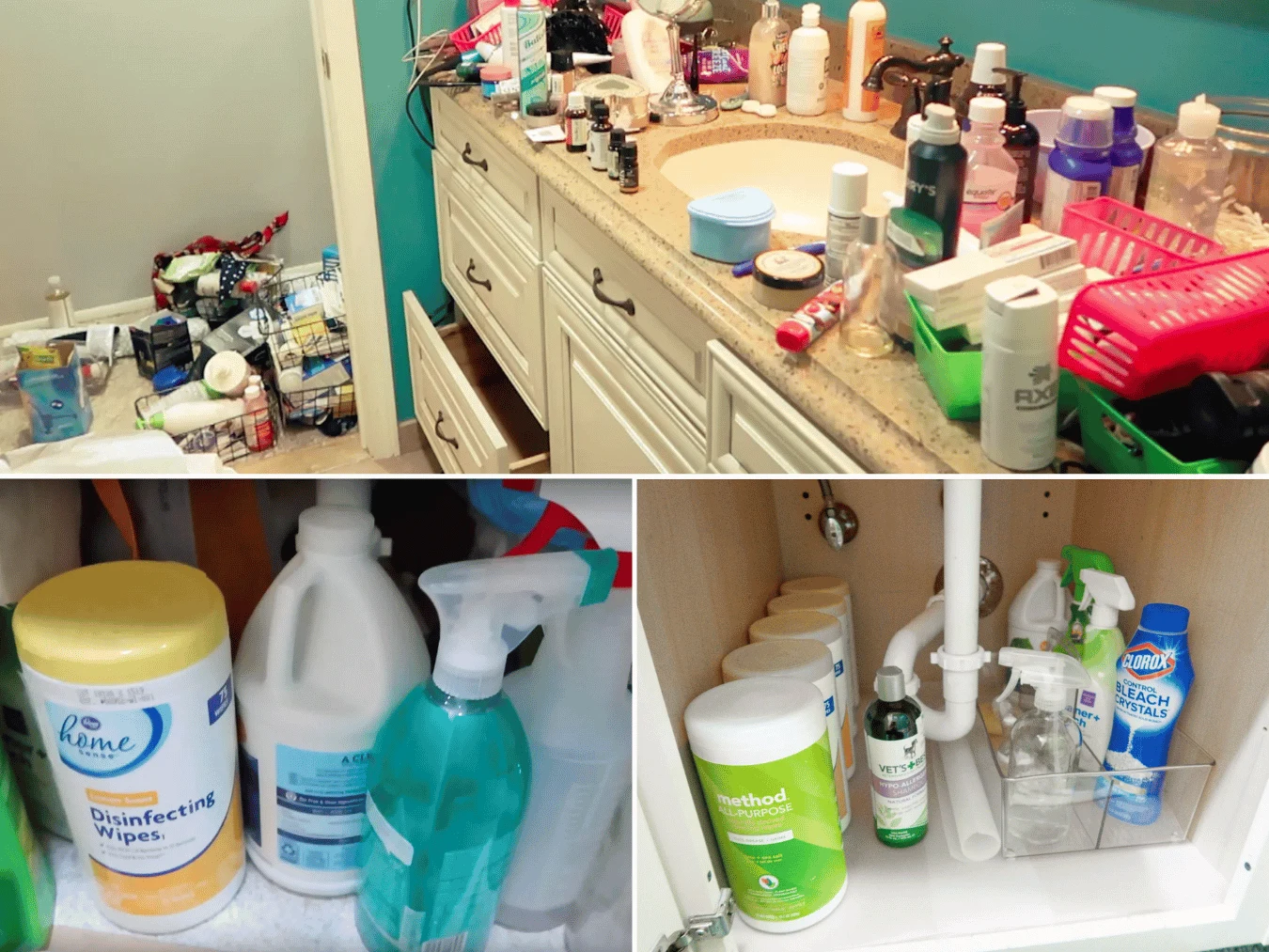 Time to declutter your bathrooms!
Here s a short list of items you can consider decluttering from your bathroom(s):
cosmetics and makeup
hair products and tools
beauty products
perfume and body sprays
nail polish and kits
cleaning products and tools
towels*
If you haven't used it in 6+ months, it's time to toss it!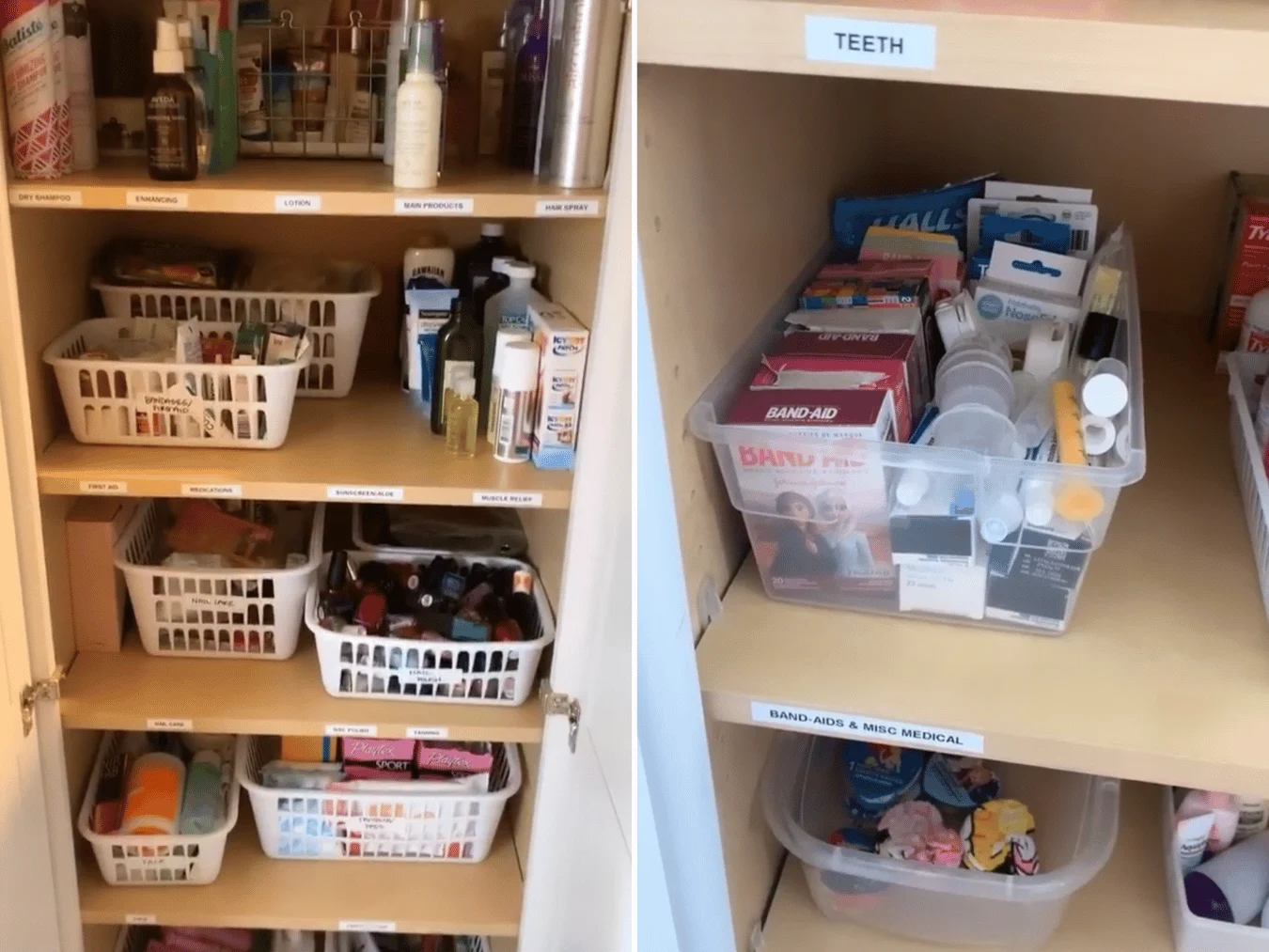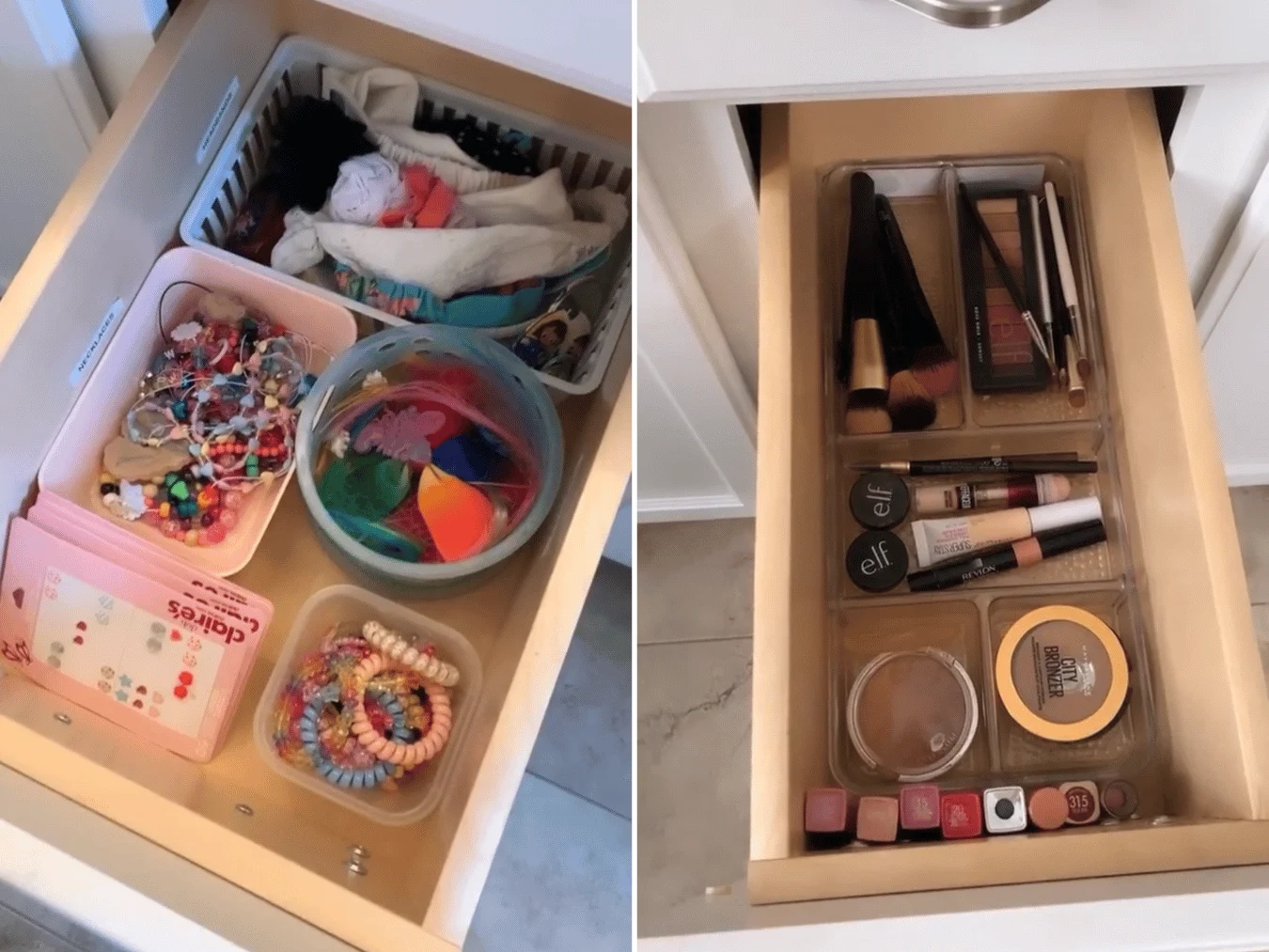 *I always recommend keeping a few old towels on hand – life is messy and you never know when a nasty mess will come up that you won't want to use the nice towels you have on.
Are you decluttering your home this month? Be sure to tag me @slayathomemother in your social media posts so I can see your before and afters!