I recently went shopping at Christmas Tree Shops and found some amazing Fridge Organization Ideas and deals to share with you…
---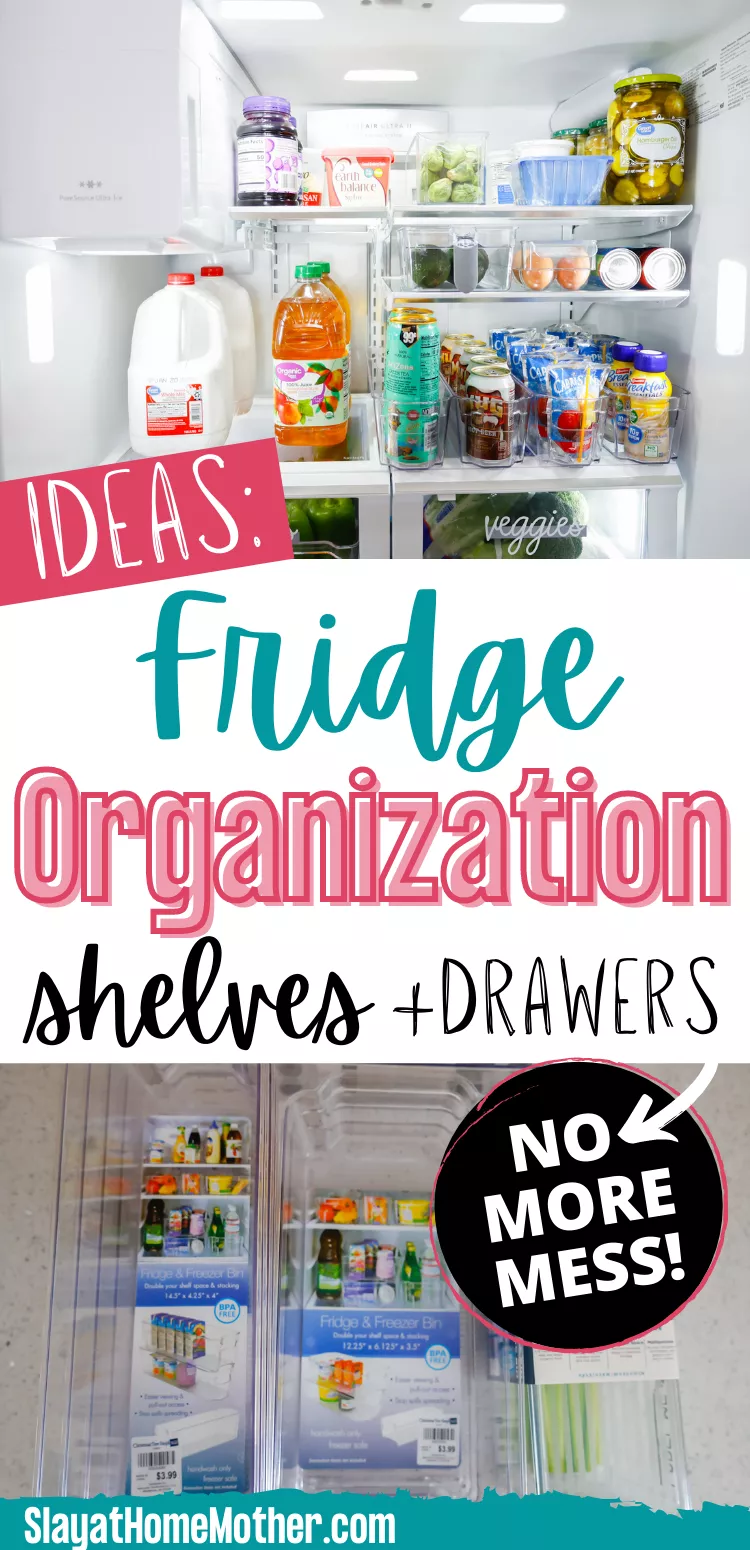 Hey there lovelies and clean freaks!
I know it's only January and there's still snow on the ground, but is anyone getting the Spring cleaning and organization bug?
Now that we've completed our full floor-to-ceiling kitchen renovation and have full use and range of the kitchen appliances and cabinets, I feel the need to organize.
I want to get off on the right foot with our fridge and cabinets.
That way, we can keep the craziness and clutter to a minimum.
Plus, organizing things makes my heart happy!
I seriously get a high from making things look pretty and clean.
I guess that's how you know you're in your 30s… 😉
In this post, I'll be taking you shopping with me to one of my favorite stores (and if you're a loyal reader or subscriber, you probably know exactly which store I'm talking about…
Christmas Tree Shops!
I'll also be showing you my fridge before and after, as well as sharing some other great finds from Christmas Tree Shops with you.
Oh, and photos.
I couldn't help myself – just wait and see!
This post is in partnership with Christmas Tree Shops, a brand I love. All opinions are my own, as always.
My Fridge Before I Organized It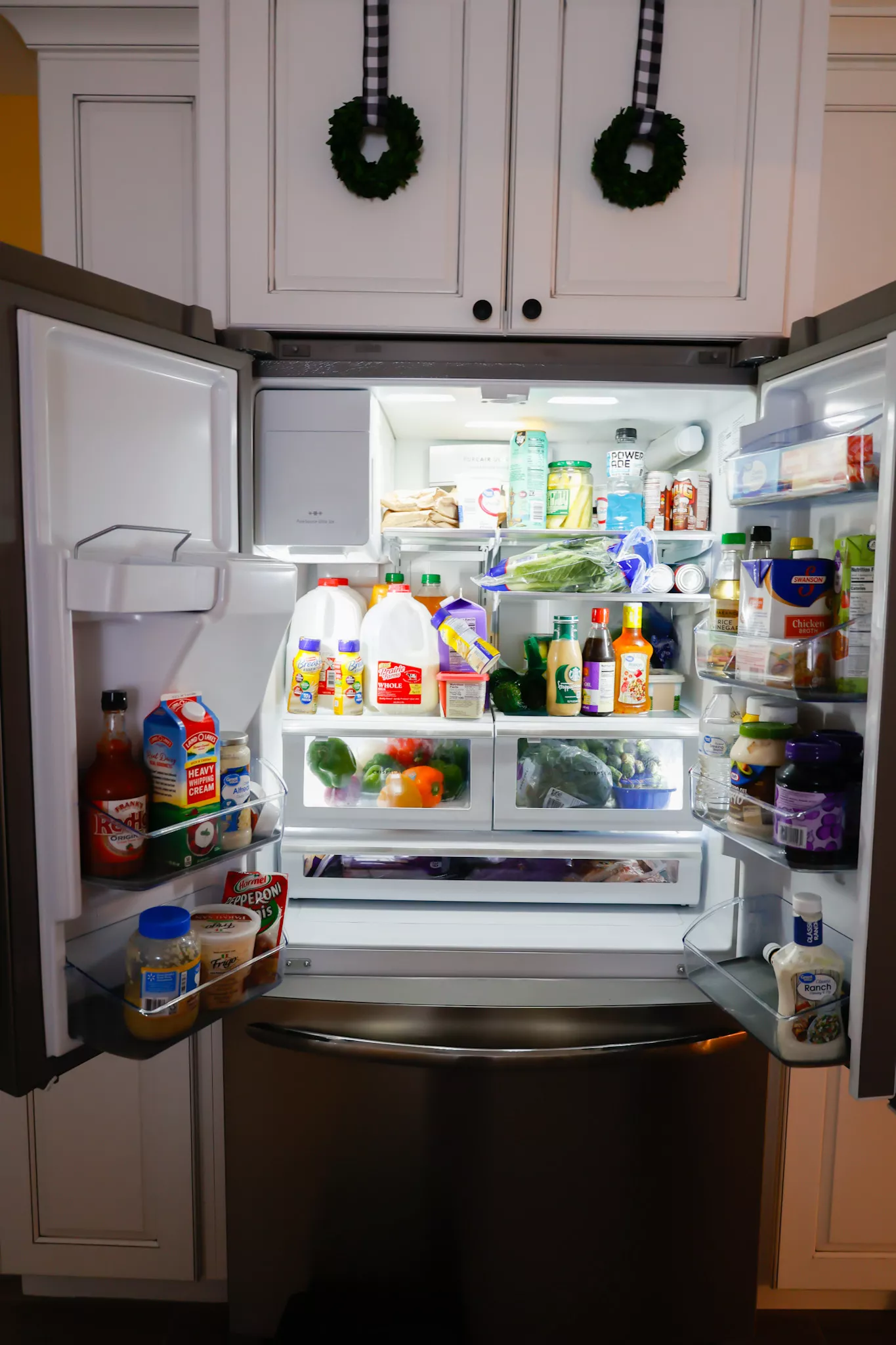 When we first started using this fridge, I knew I wanted to follow the example of fridge organization I posted about a couple of years ago (you can read that post here).
Luckily, my new fridge isn't as cluttered and crazy as the first one was, but it definitely still needed some help.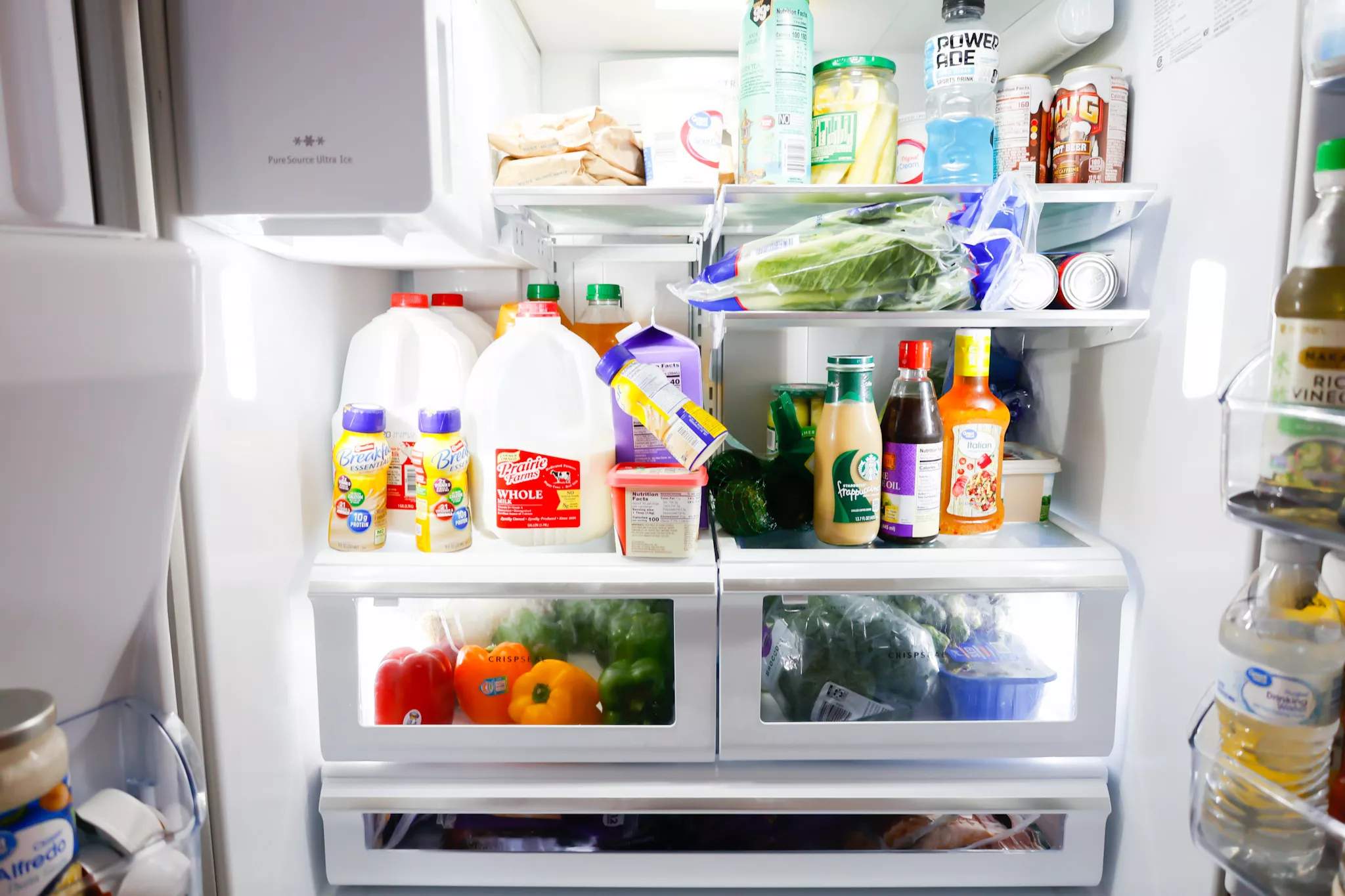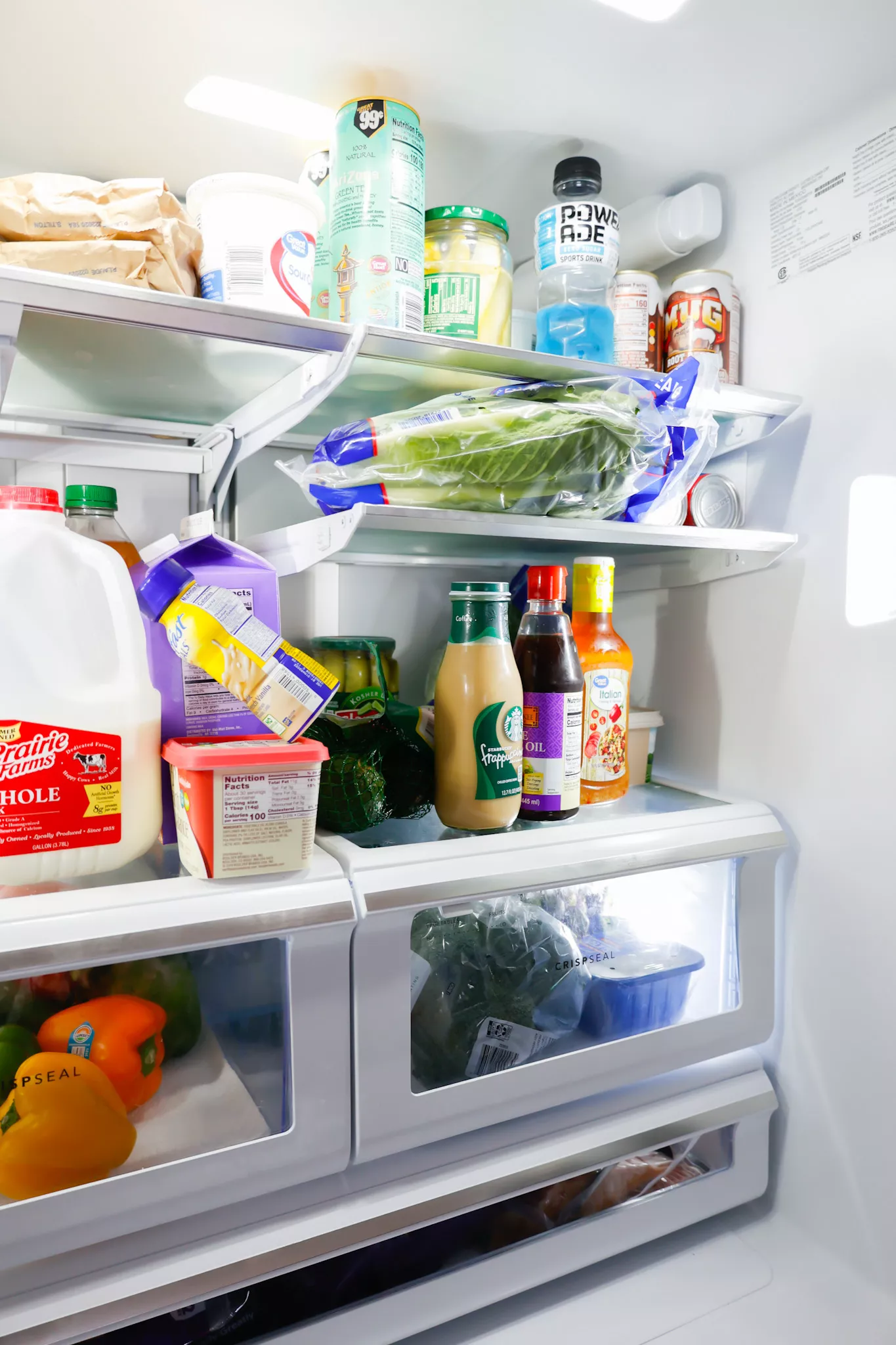 There seemed to be no real structure besides the milk had to go to the left, and the condiments had to go in the door!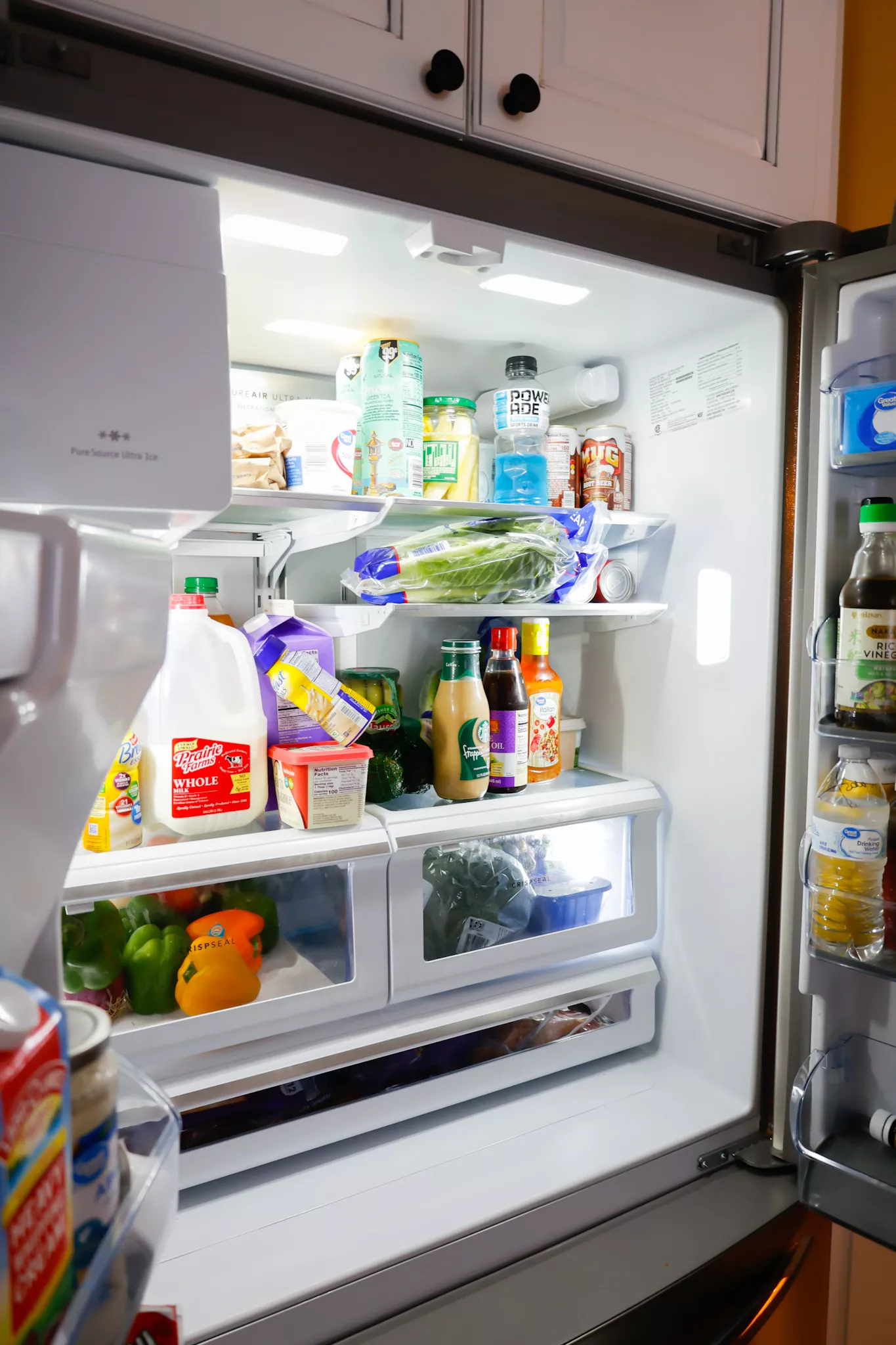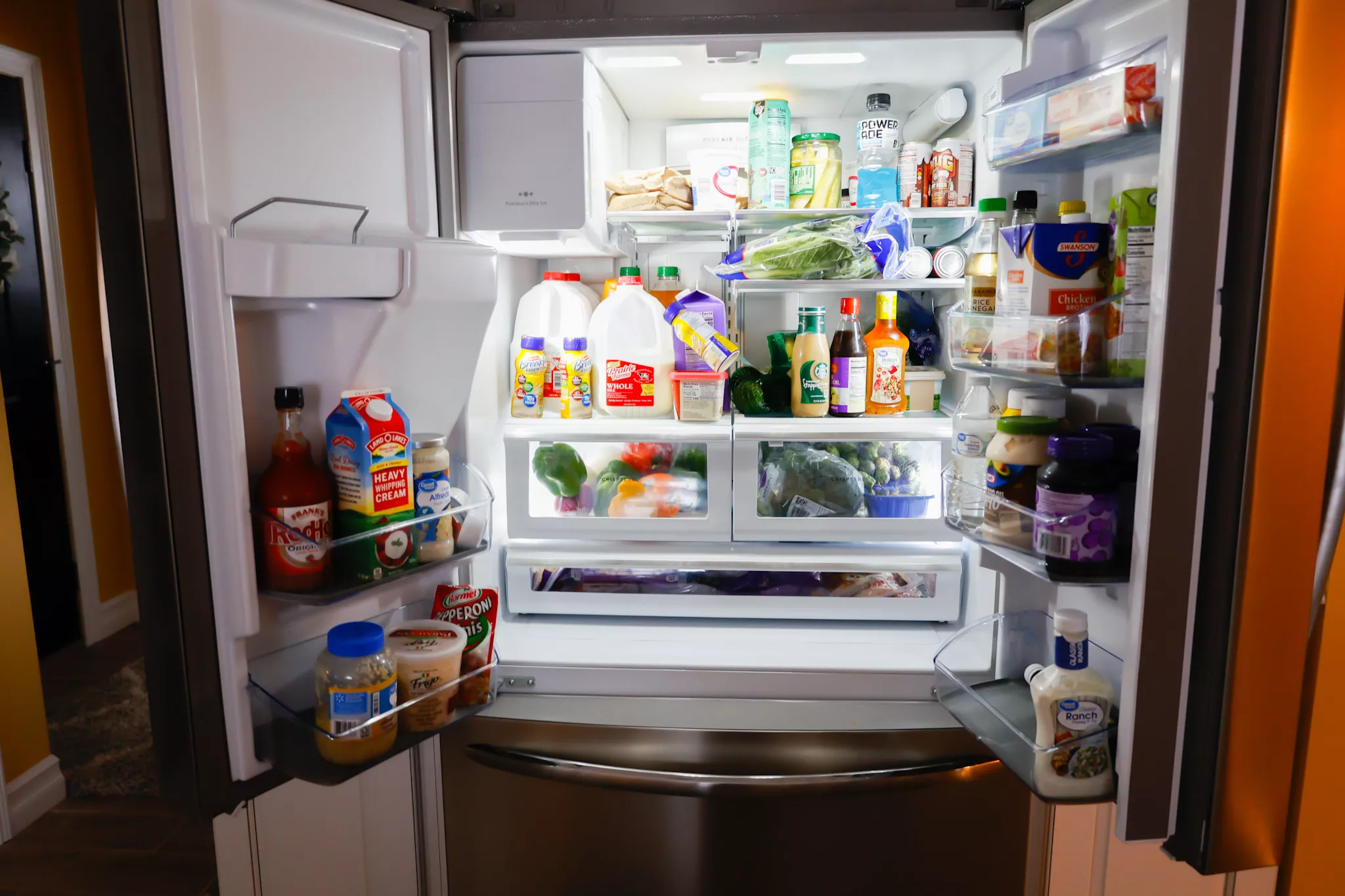 I decided to take a trip to Christmas Tree Shops to see what they had in stock.
They always have amazing home decor and essentials in store that are gorgeous and budget-friendly!
Storage And Organization At Christmas Tree Shops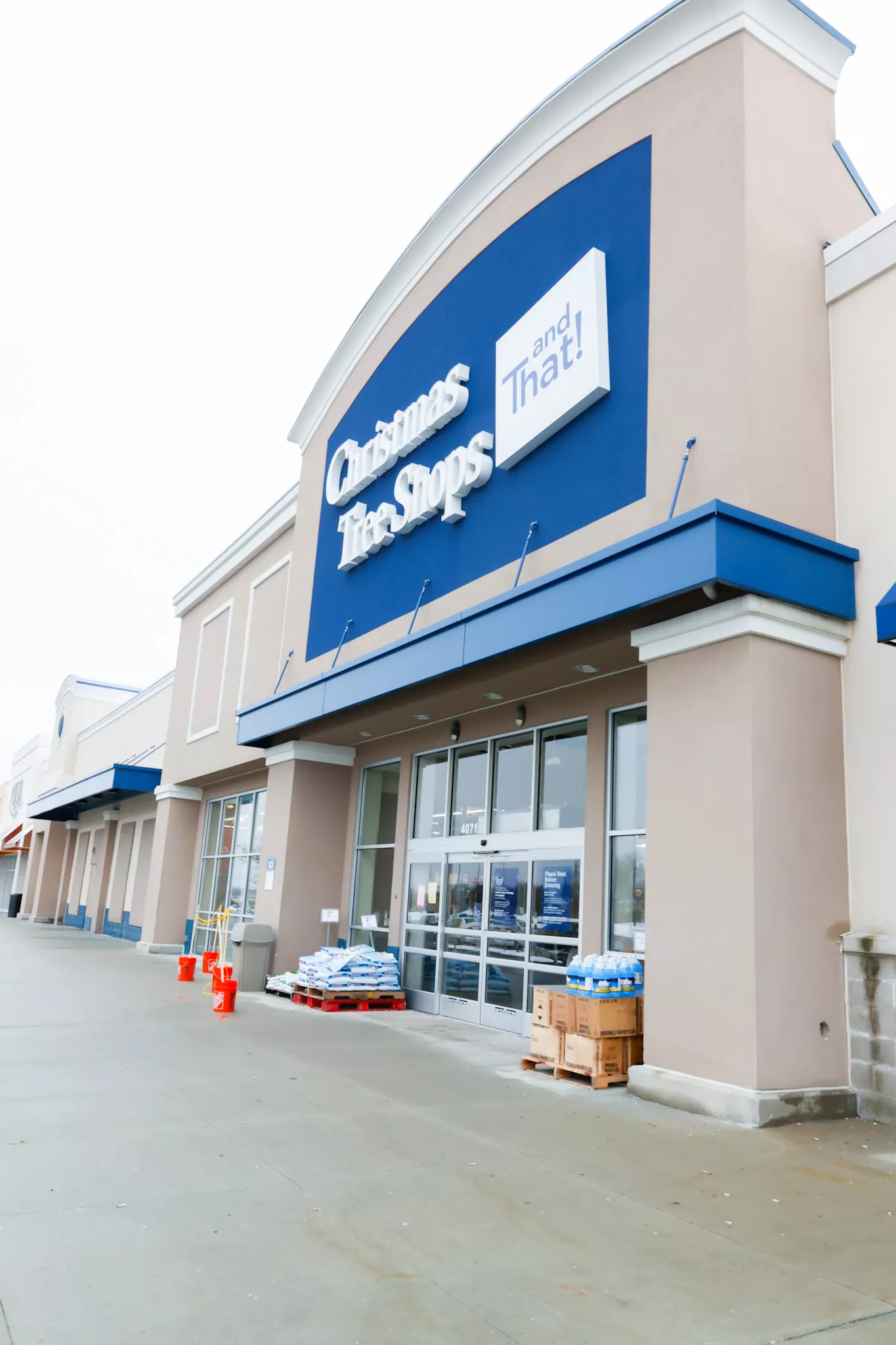 Armed with my budget mediator and two of my time mediators (husband and kids), I went shopping for some items that might help me organize my fridge.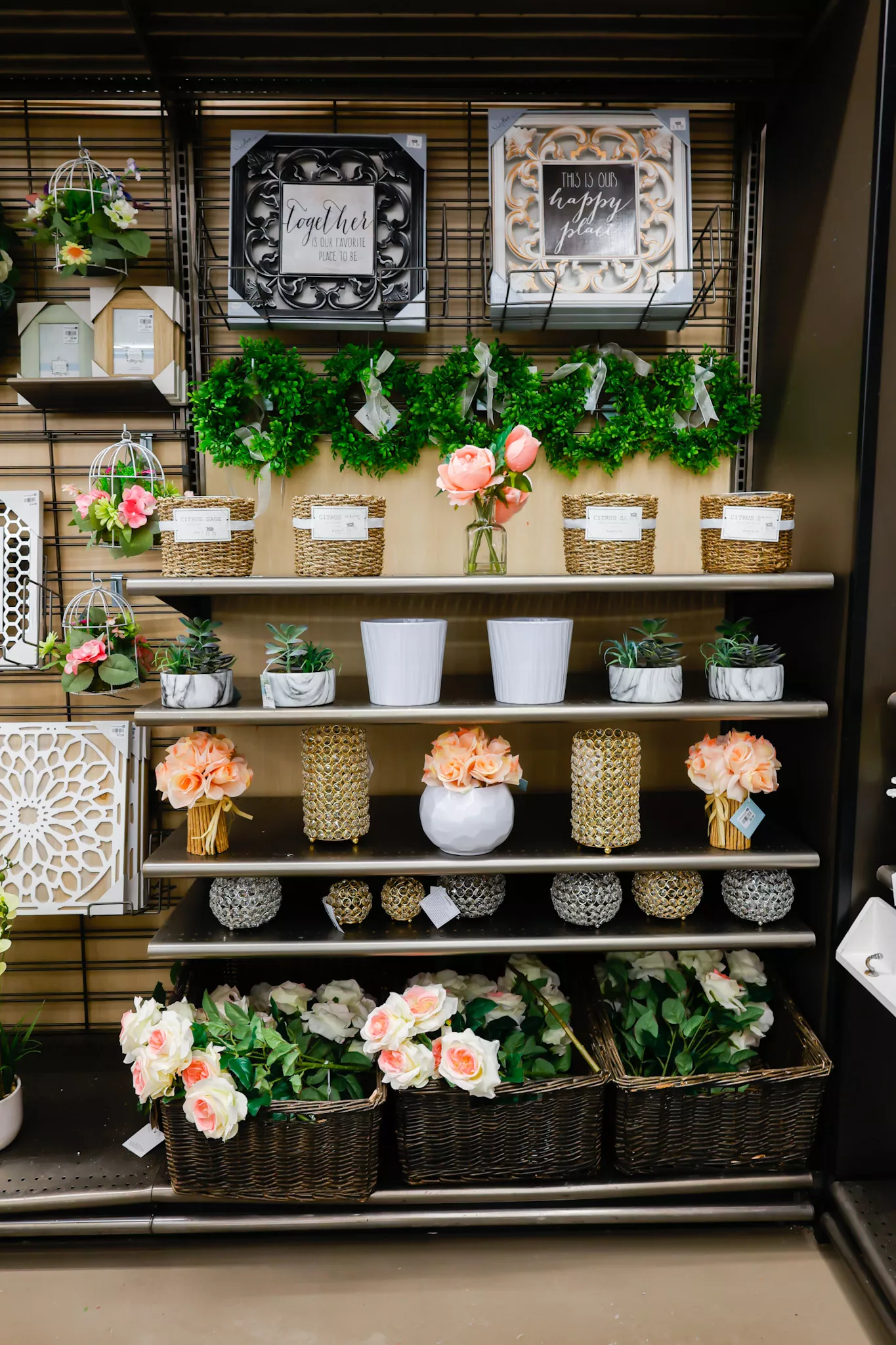 As soon as I stepped in the door, I was greeted with a beautiful display of Spring baskets and flowers.
I'm loving the floral, Spring decor that they have out right now!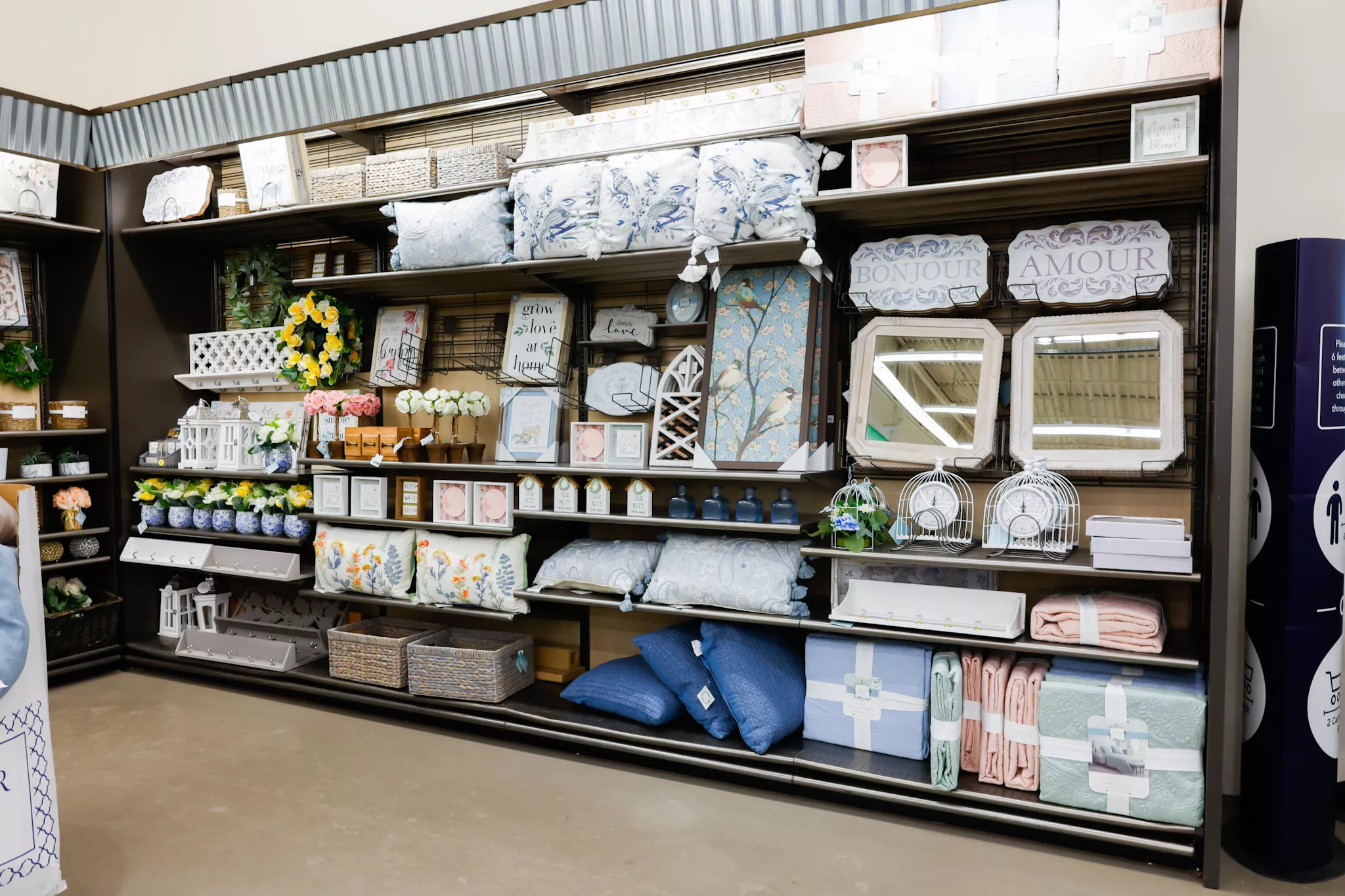 They always WOW me with their home decor selection!
These Wash Dry Fold tags for the laundry room are so cute…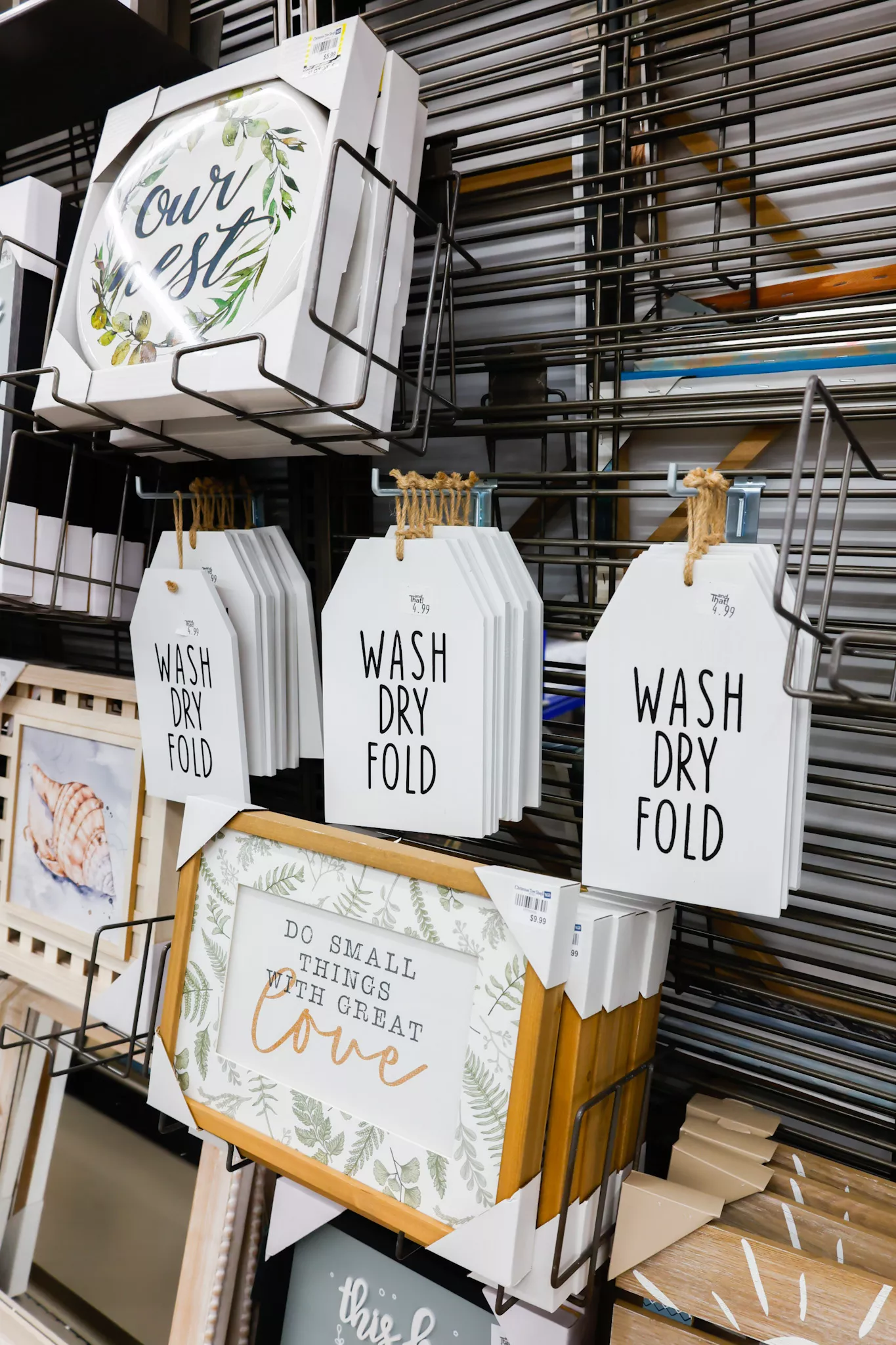 I was pleasantly surprised to find such a wide variety of kitchen storage and organization essentials.
From baskets and bins to drawer organizers – there was so much to look through.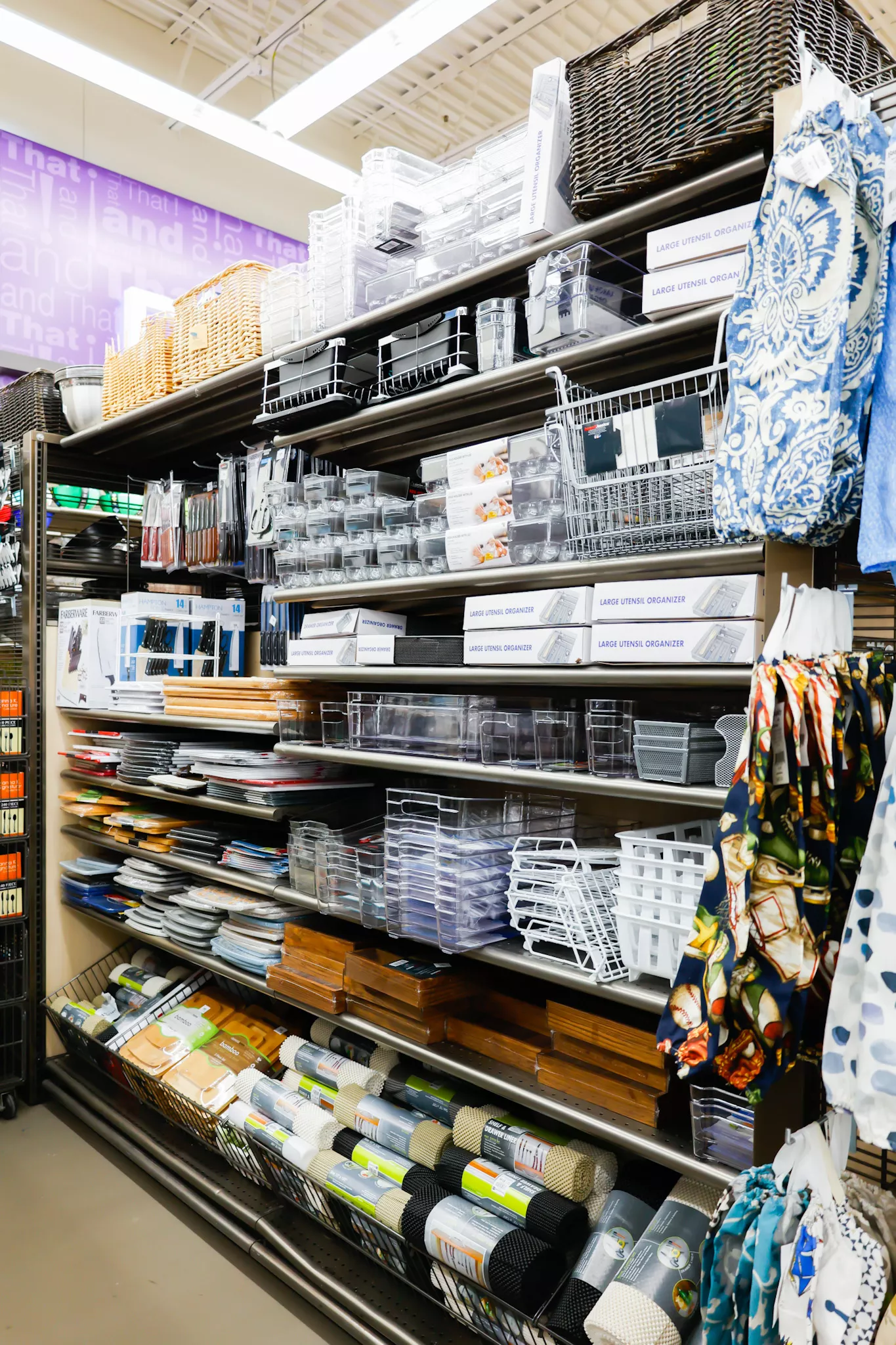 I saw these clear fridge and freezer bins and knew they had to come home with me…
I loved the budget-friendly pricing and sturdiness of the bins I found there.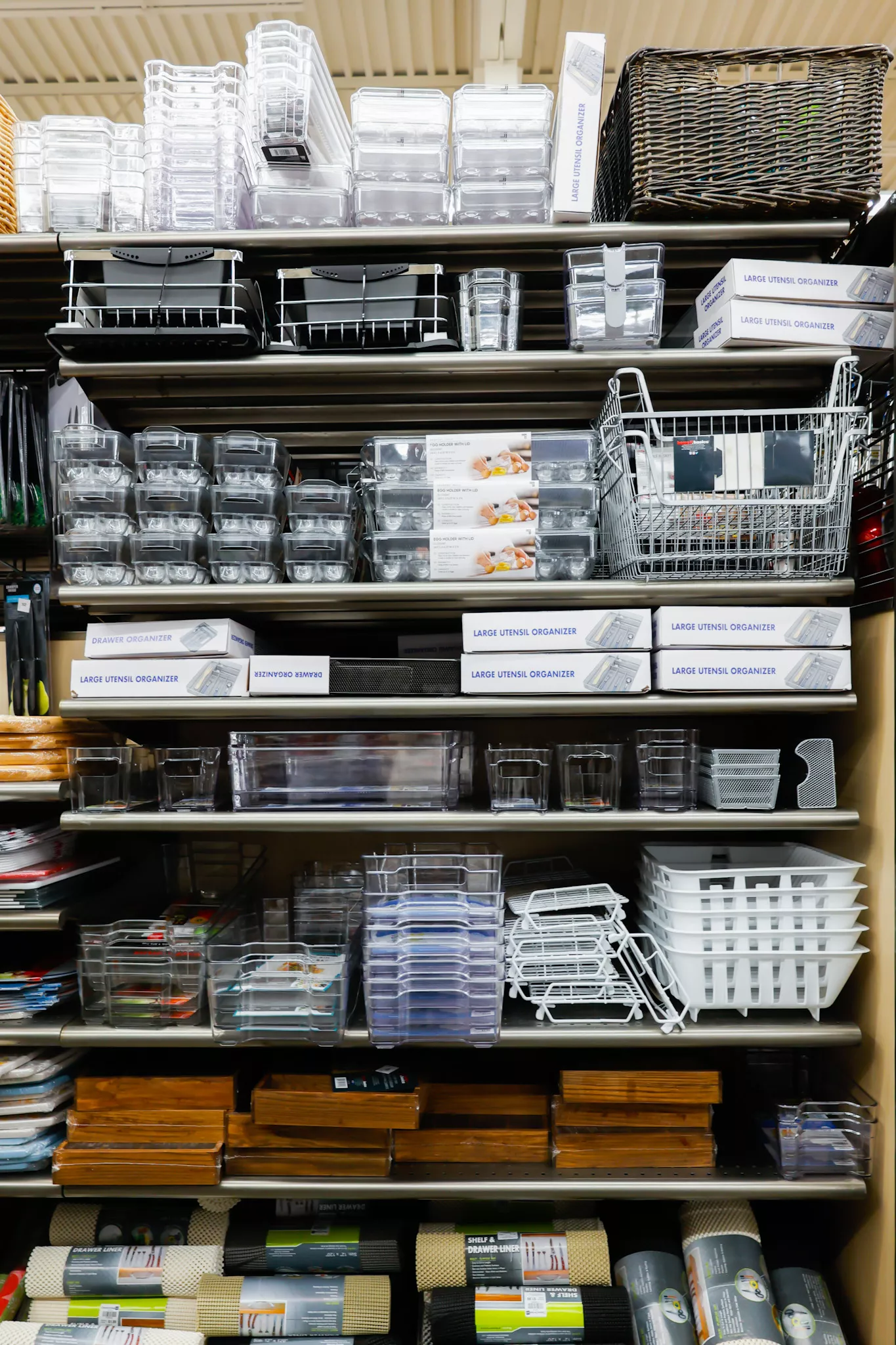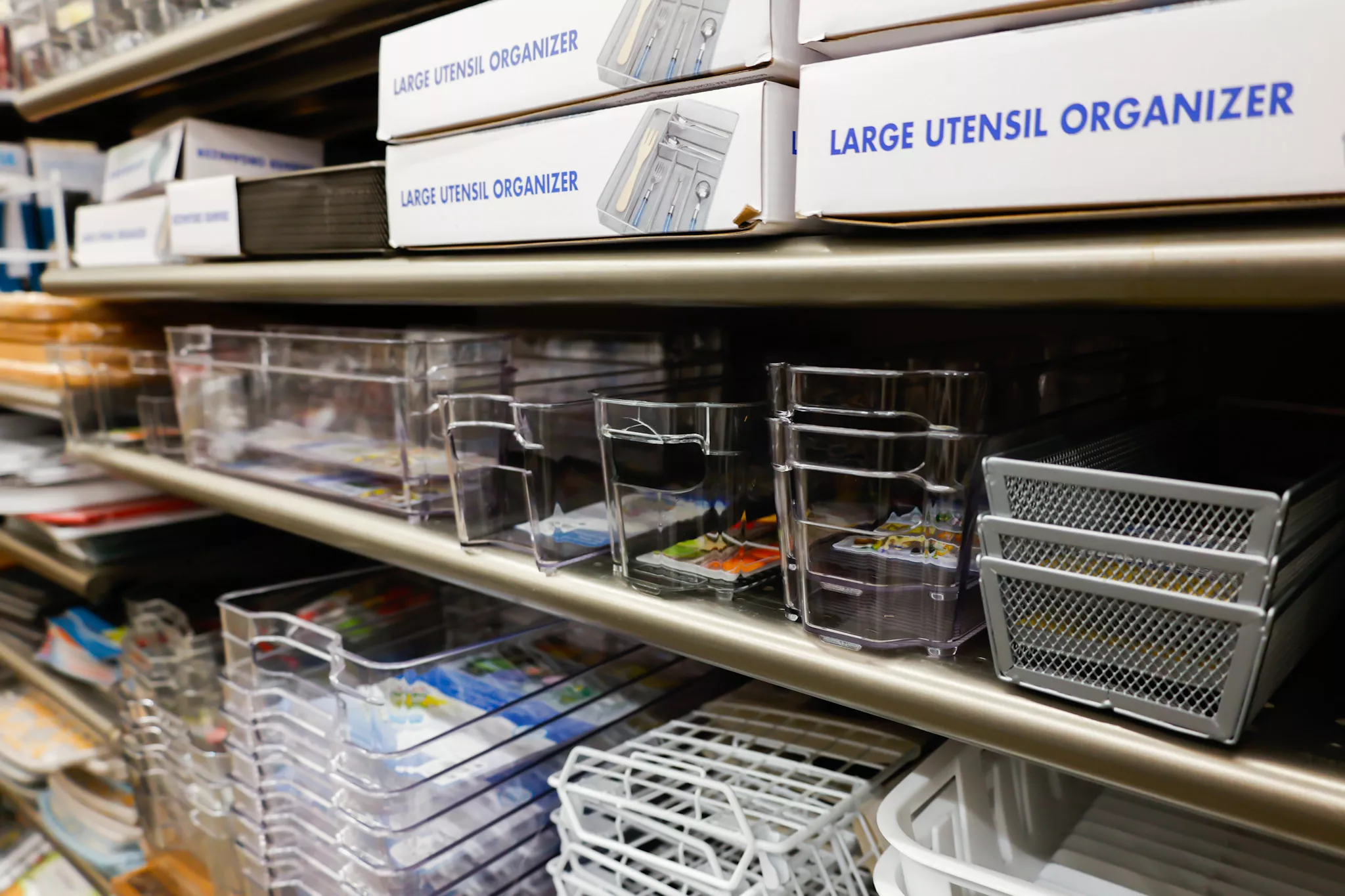 I also found some gorgeous airtight jars.
These would be perfect for organizing a pantry.
I can just picture them filled with sugar, flour, cocoa powder, oats, etc….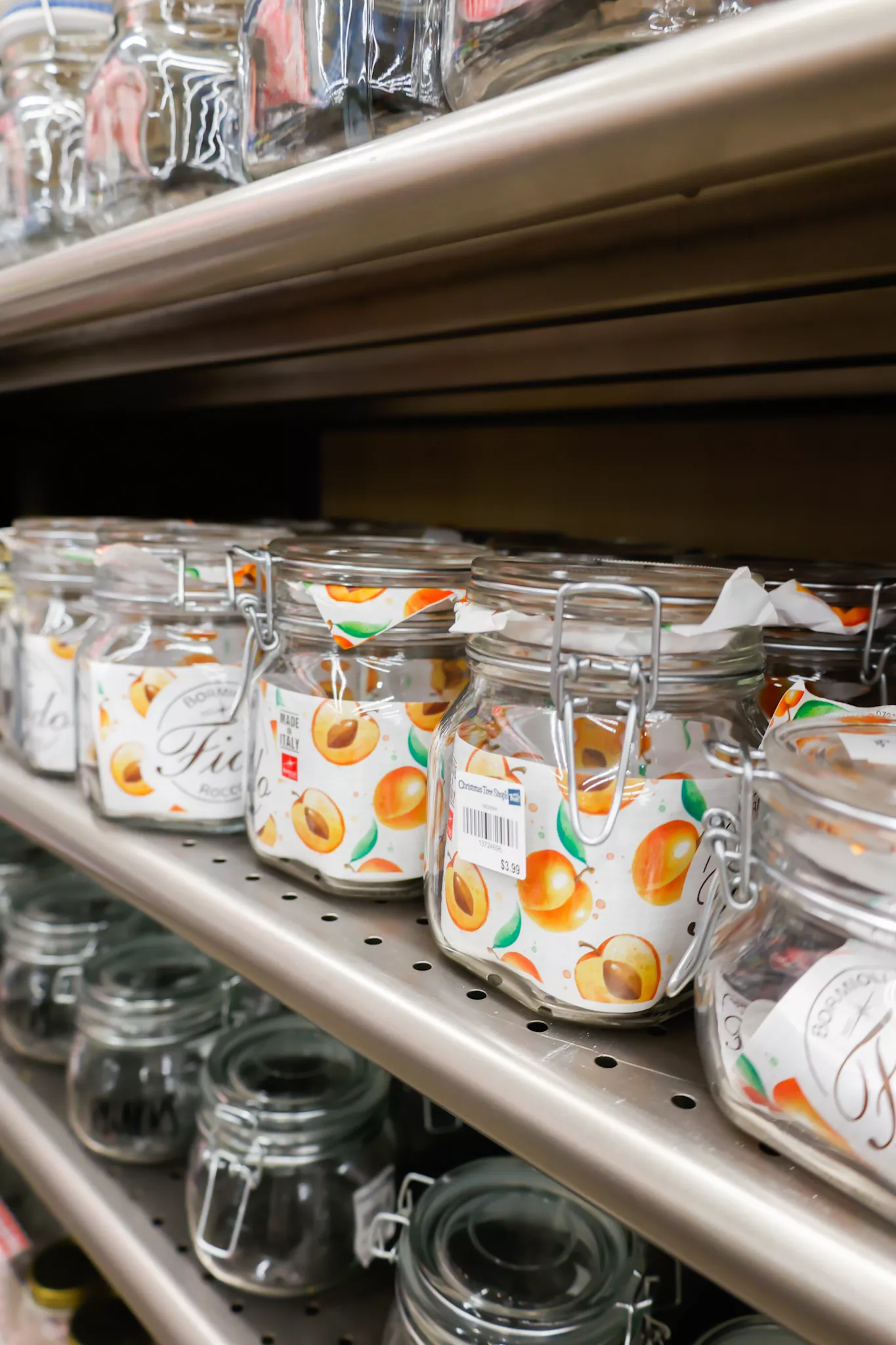 Their bathroom organization selection also had a lot to offer.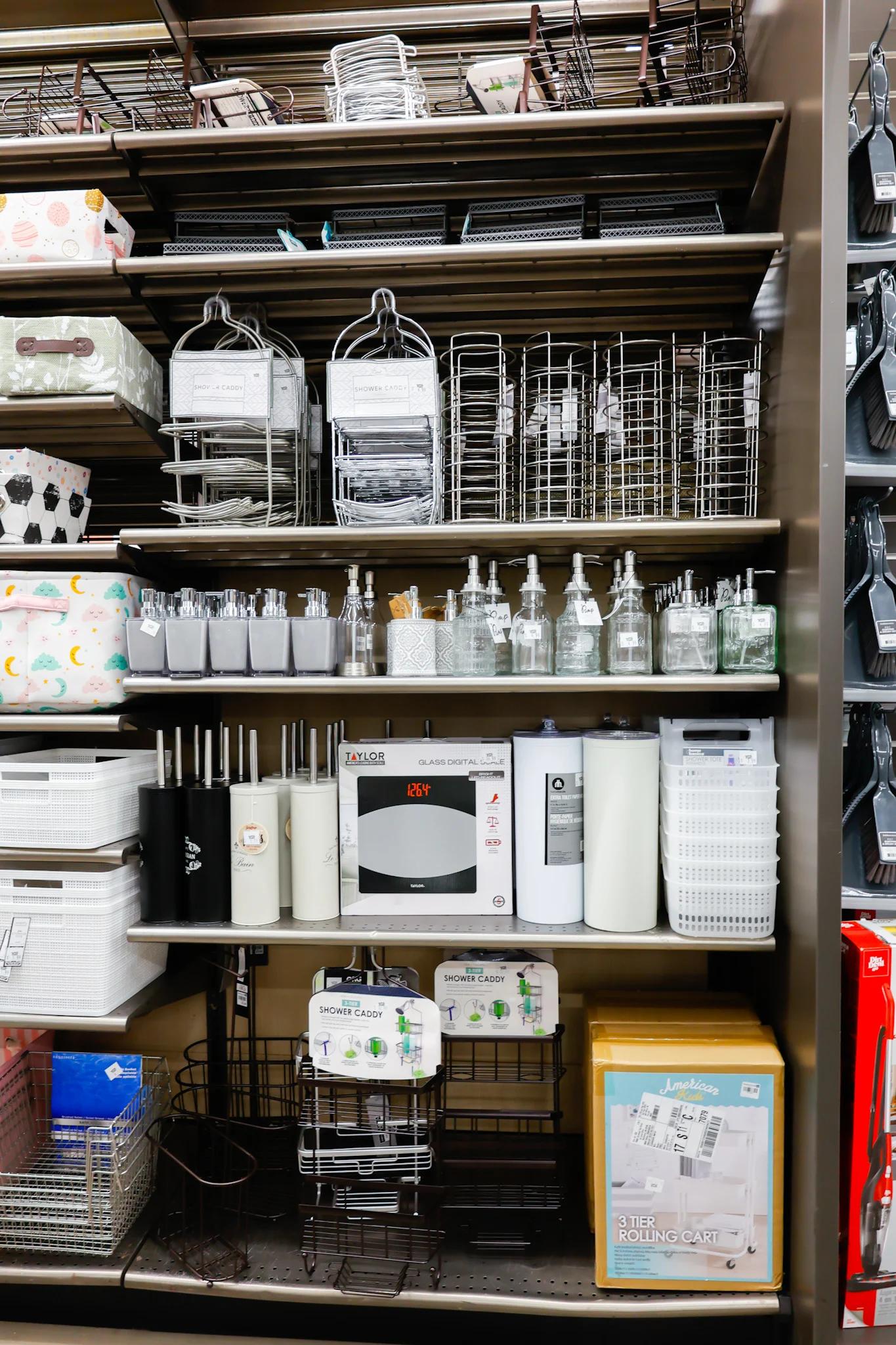 Armed with my new fridge and freezer bins, I went to work cleaning and organizing our fridge.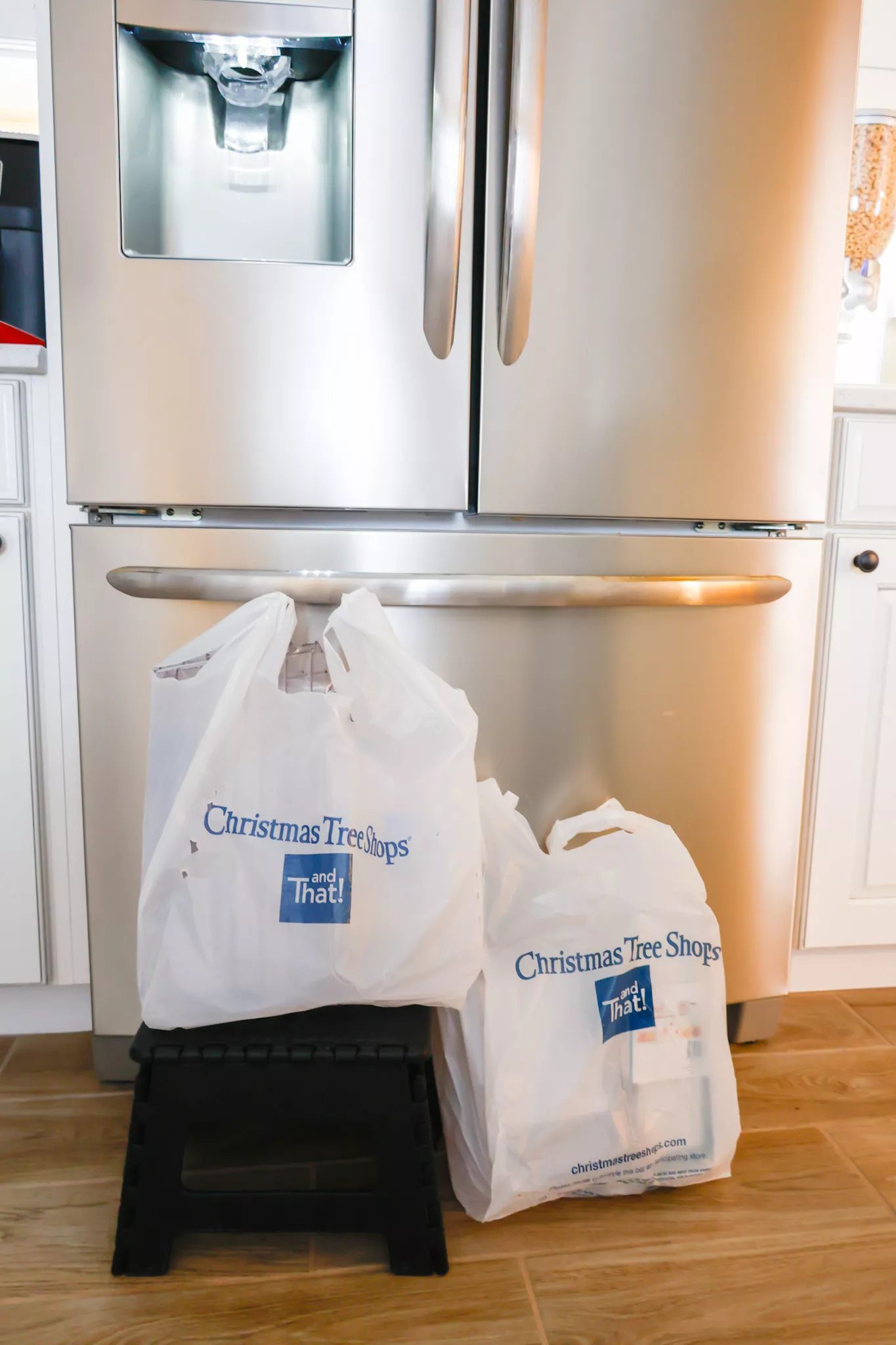 Here's what I picked up at Christmas Tree Shops to help me organize…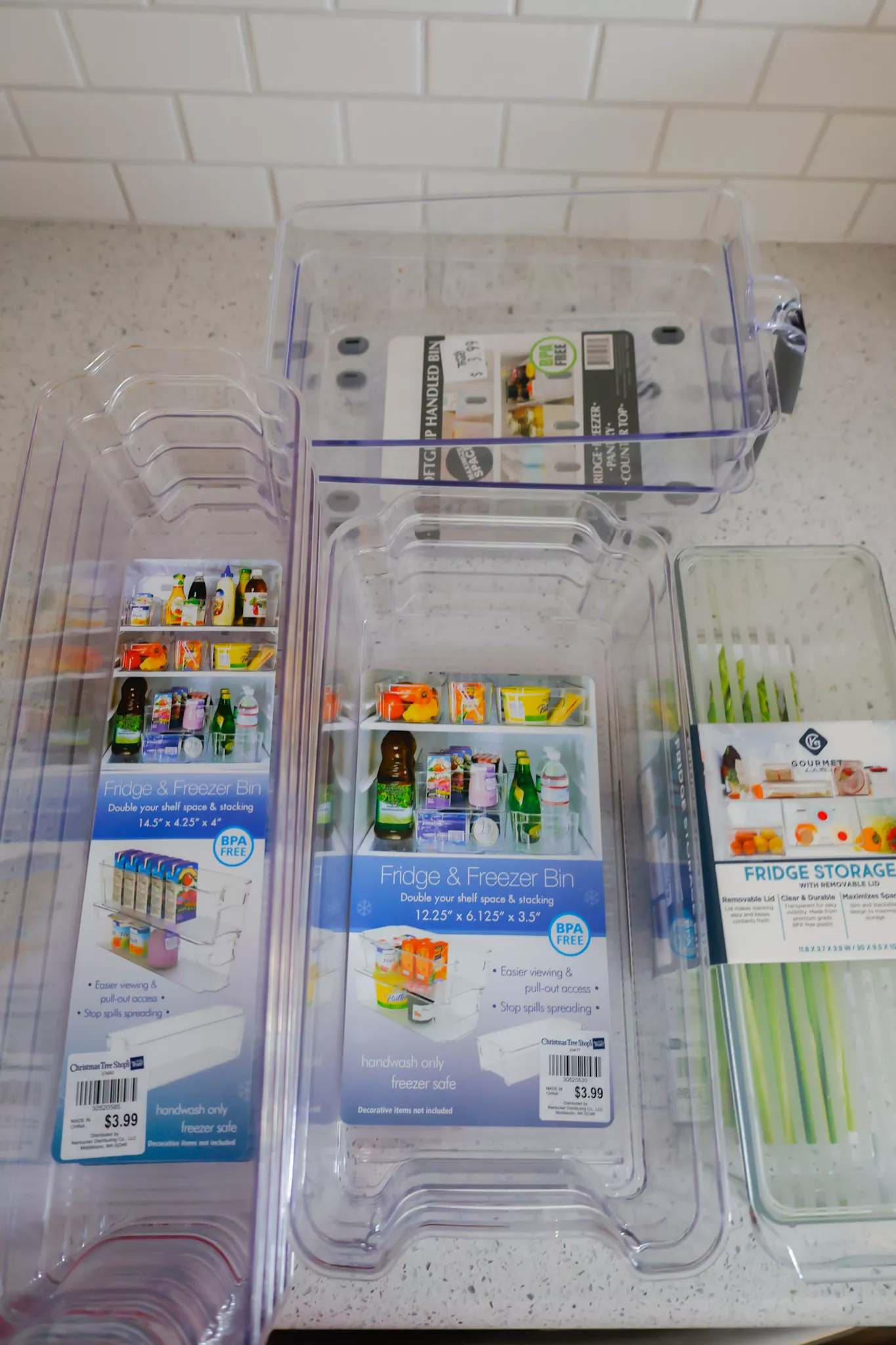 I got several clear bins, a couple of handled clear bins, and one deep produce bin.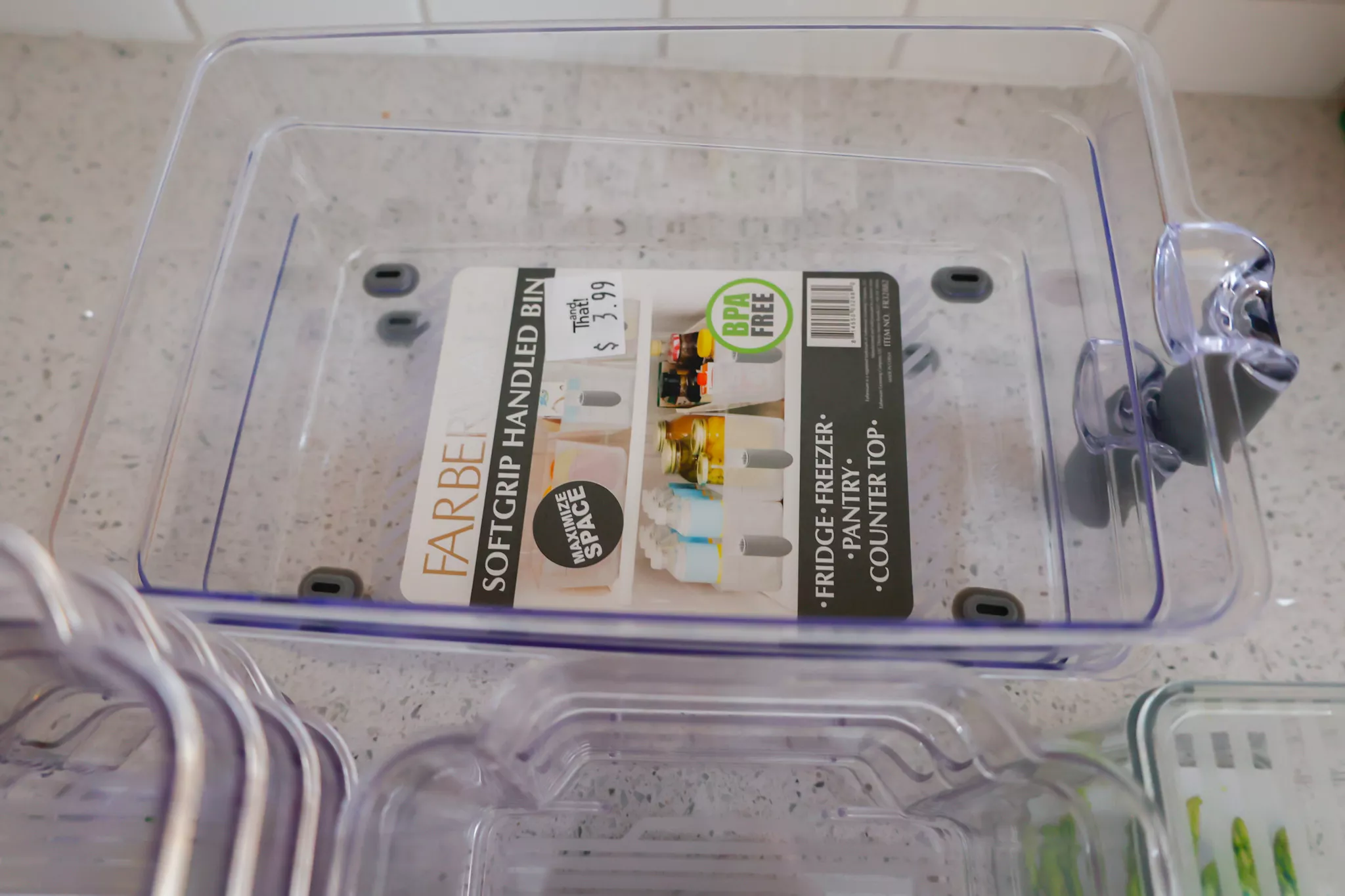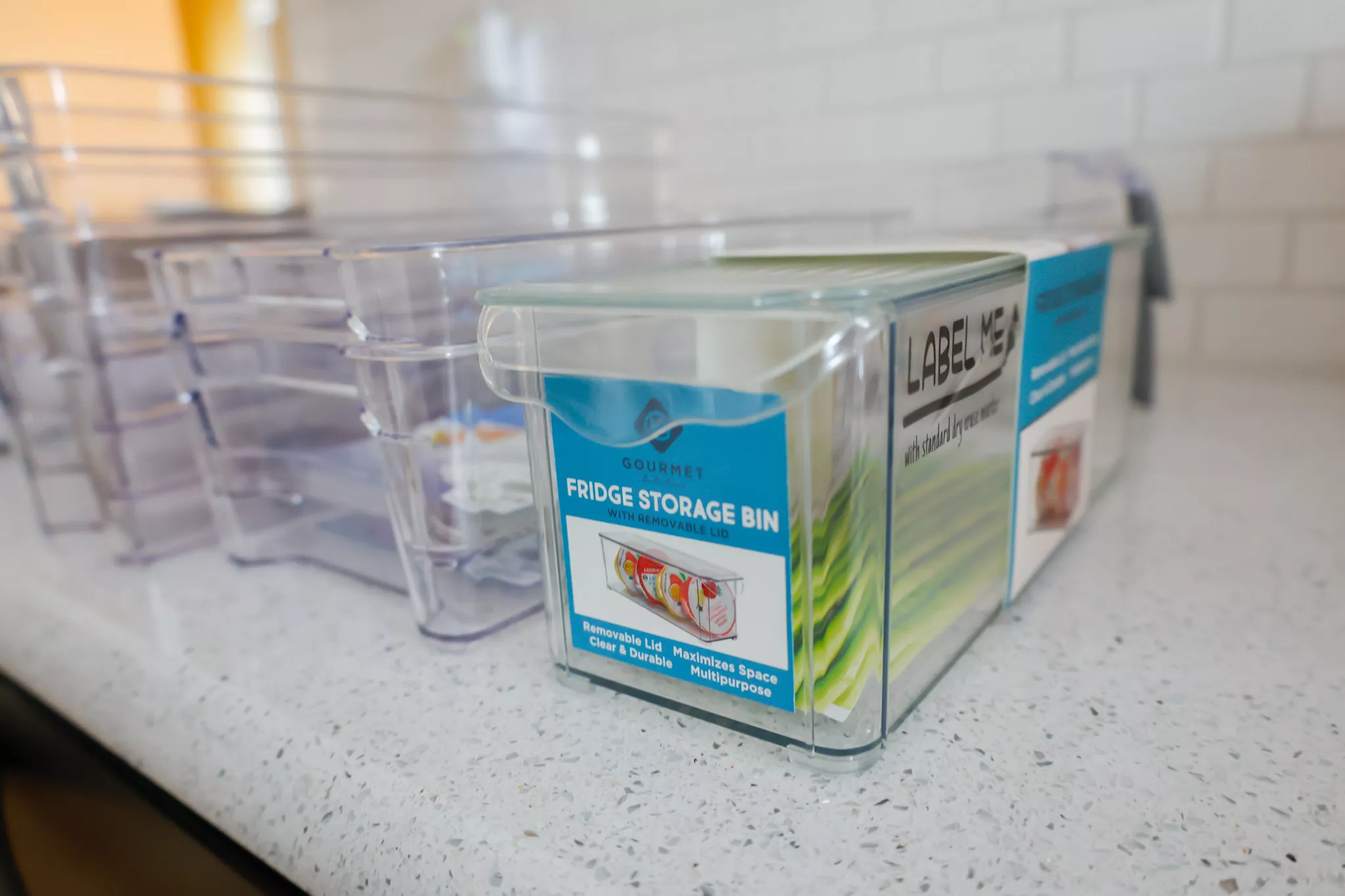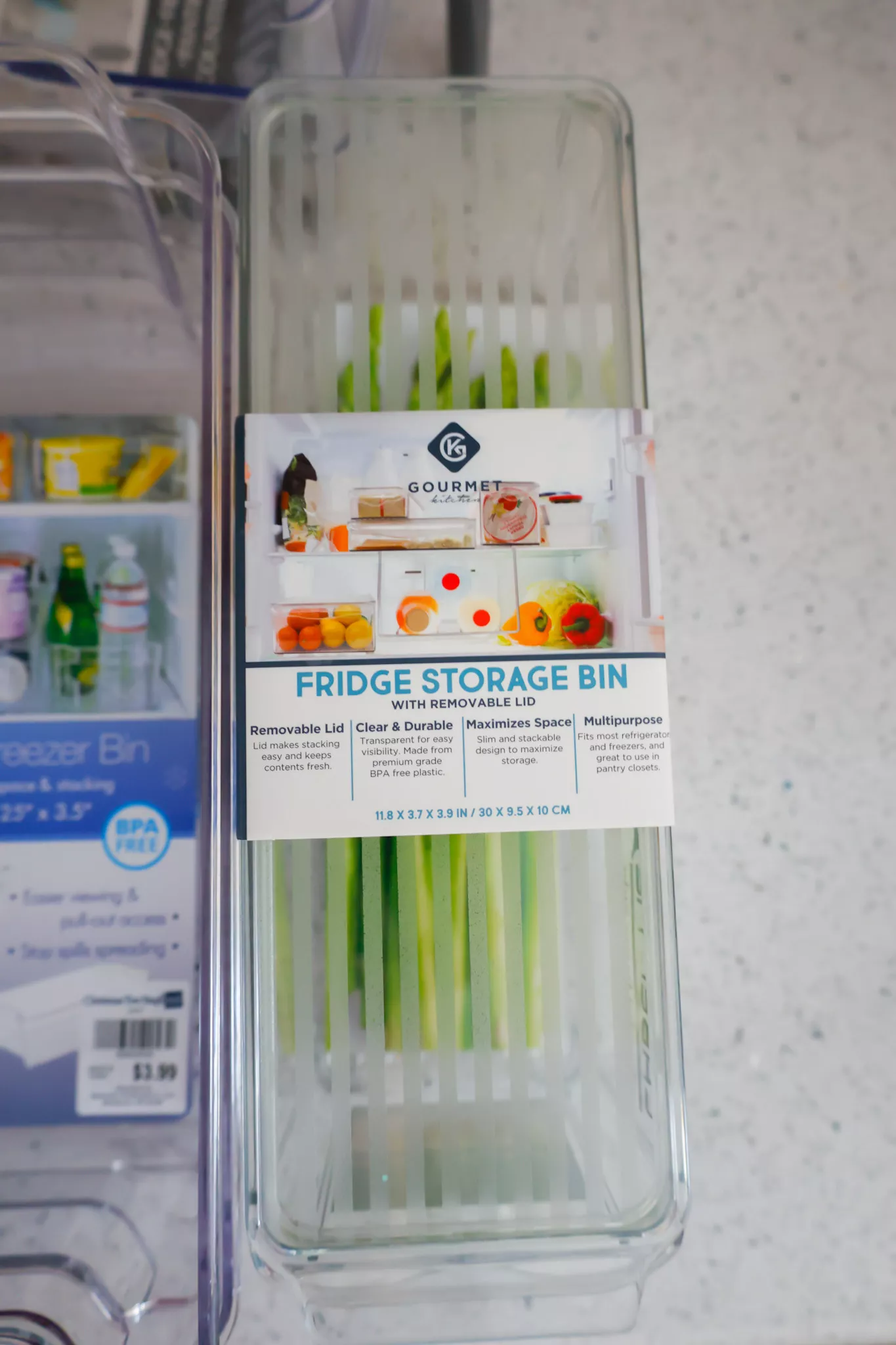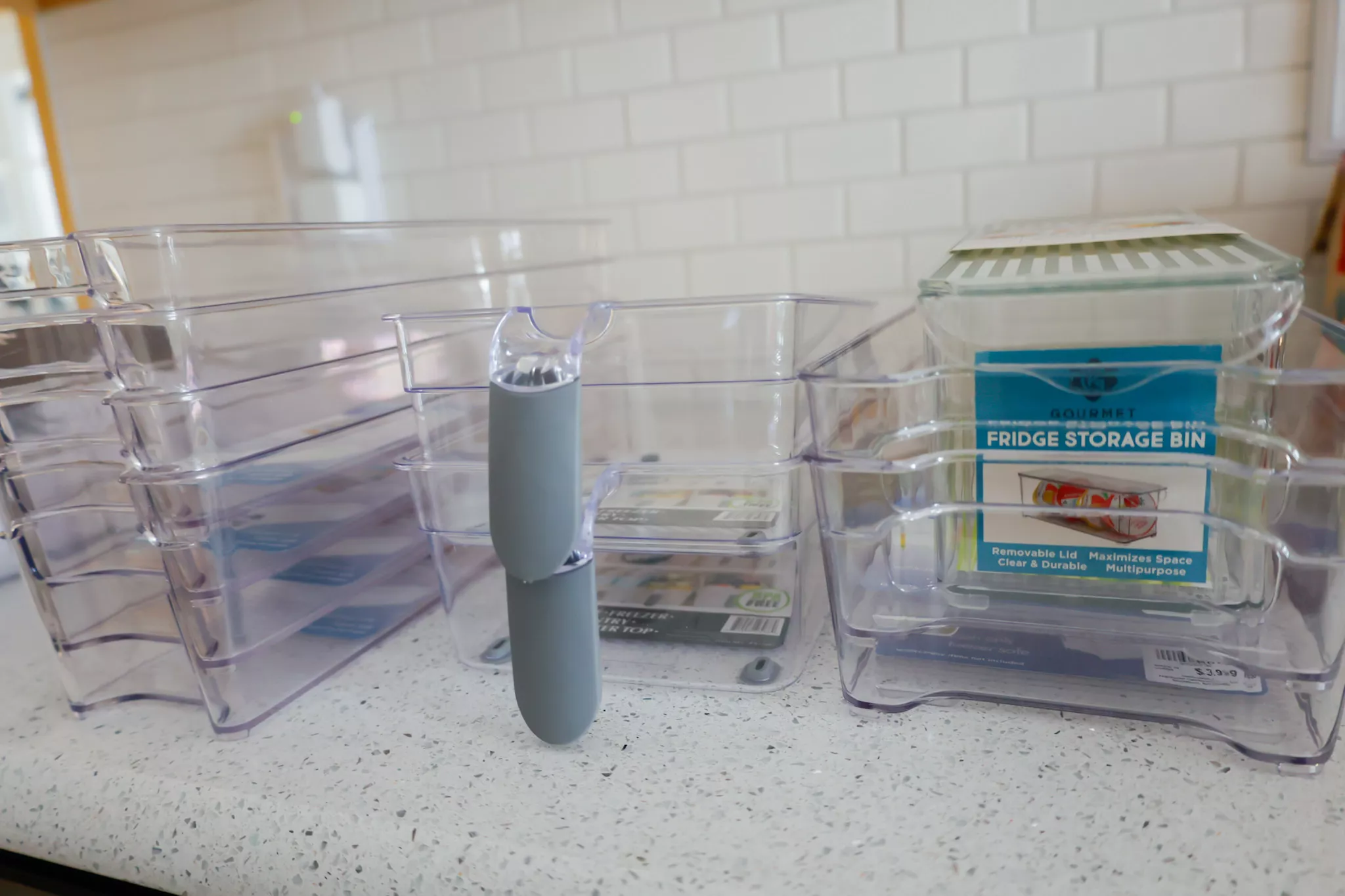 These are perfect because I can even write on them with dry-erase markers to quickly label them if I want to.
Fridge Organized Ideas With Bins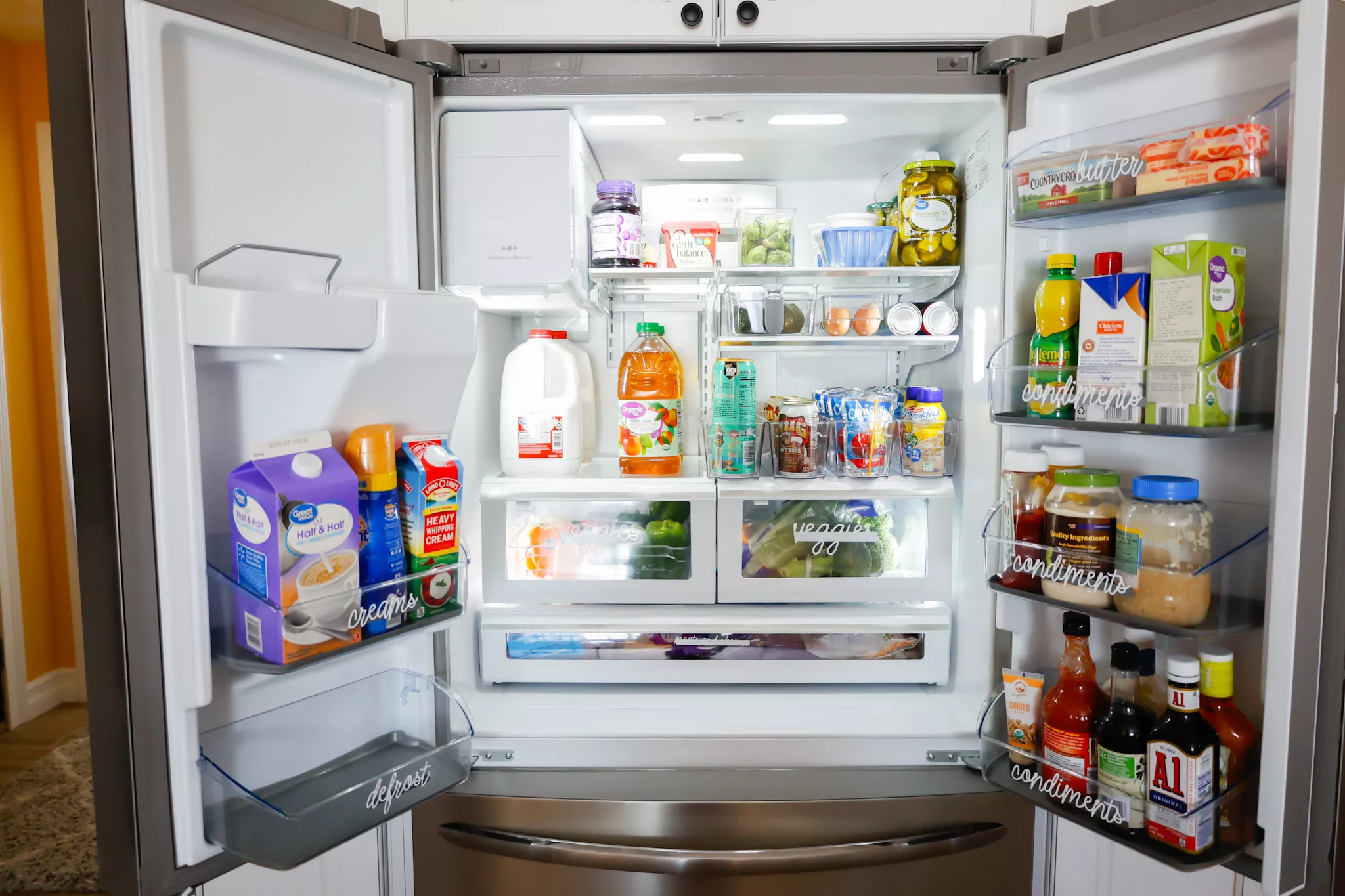 Here is our finished fridge!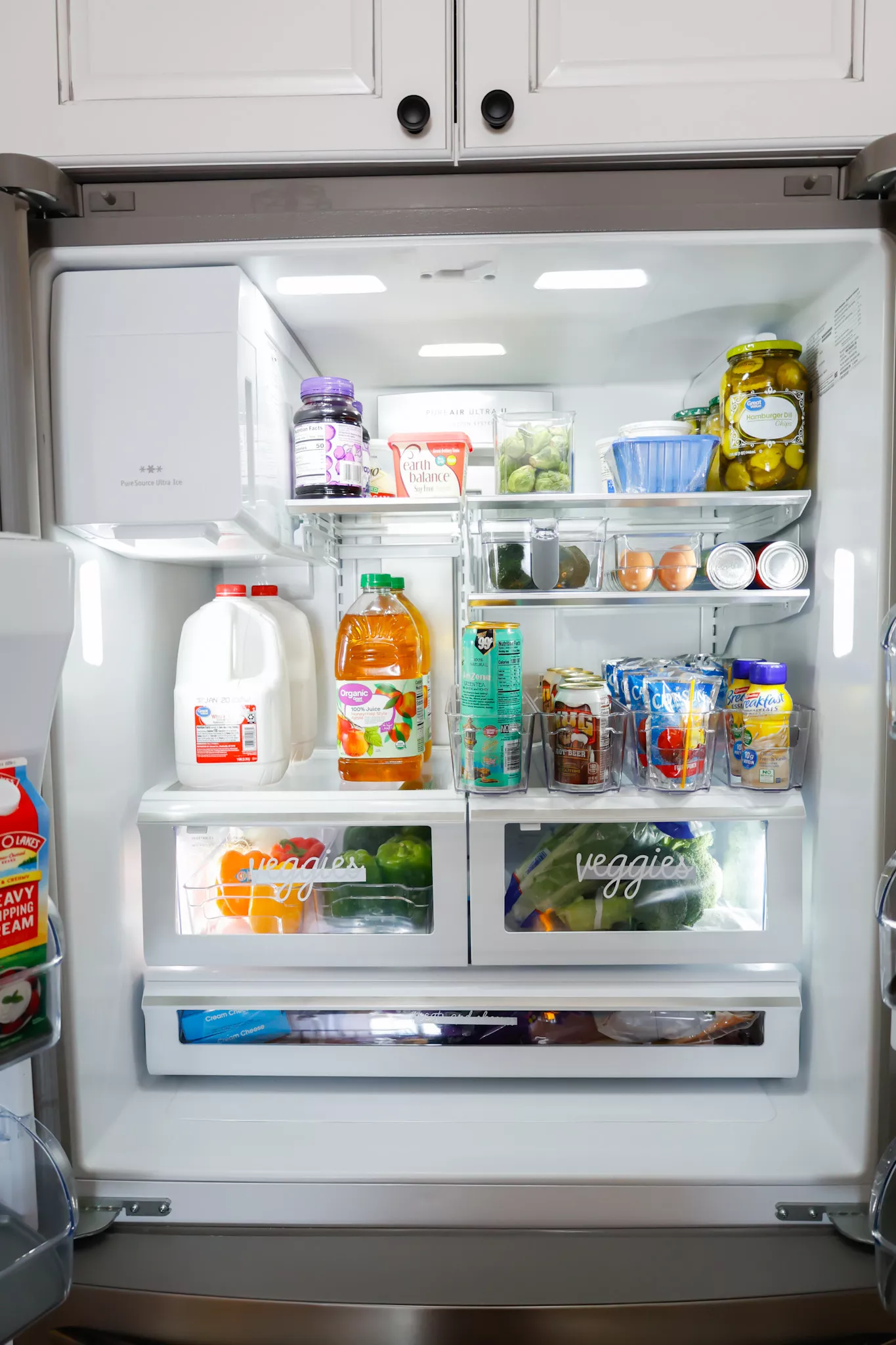 With the use of some deeper clear bins, I was able to fit in more drinks that we had sitting in the garage.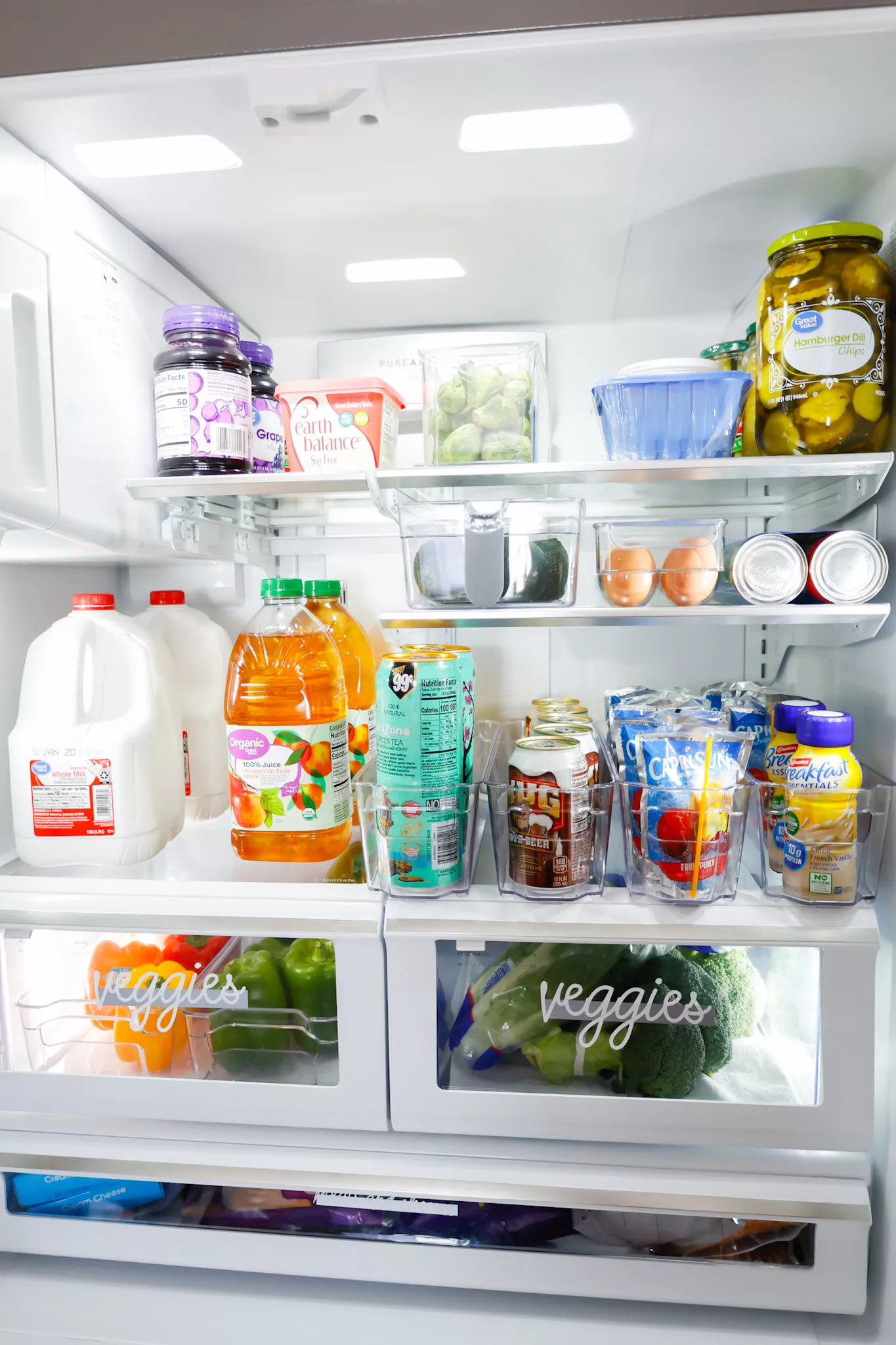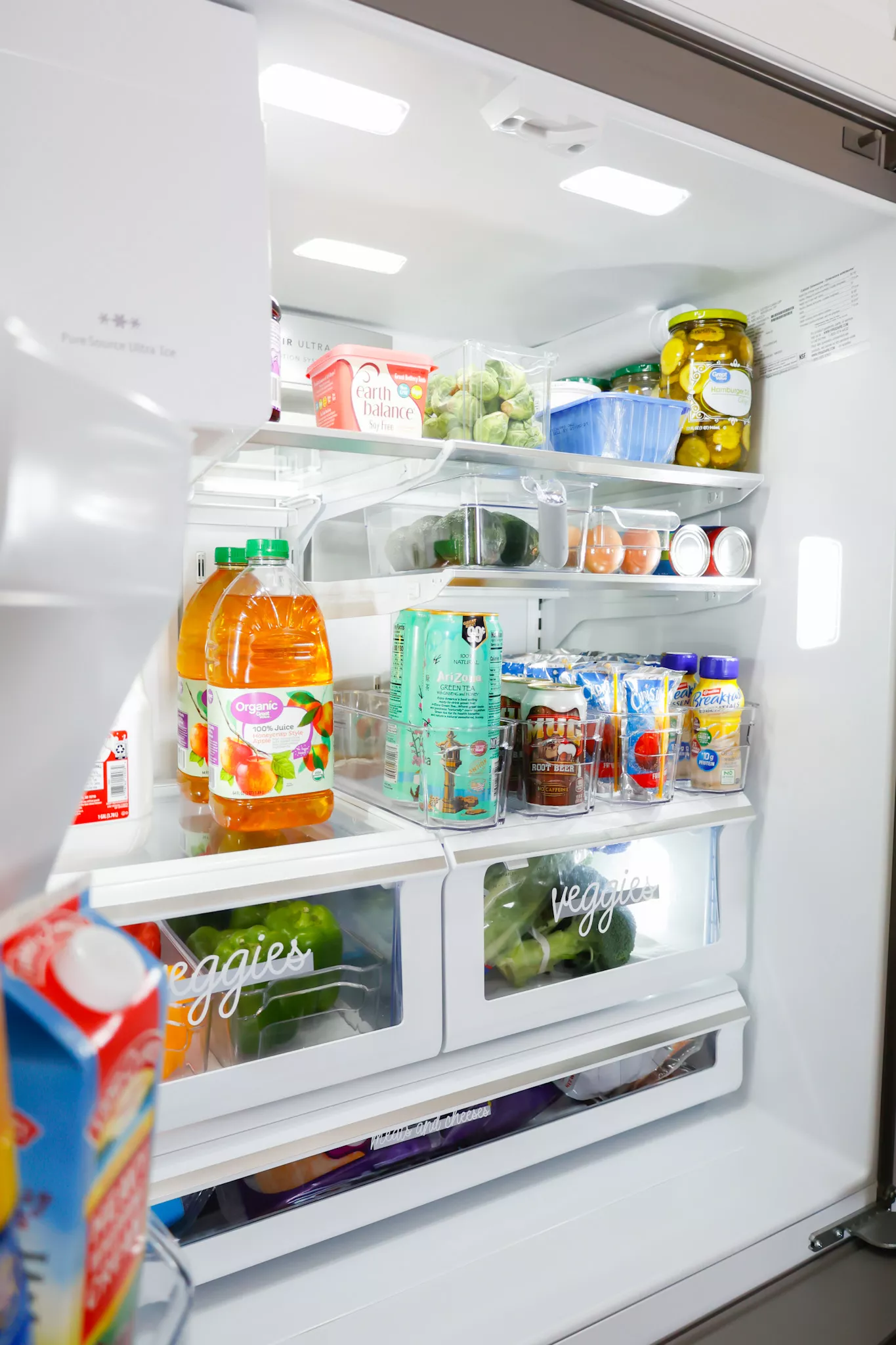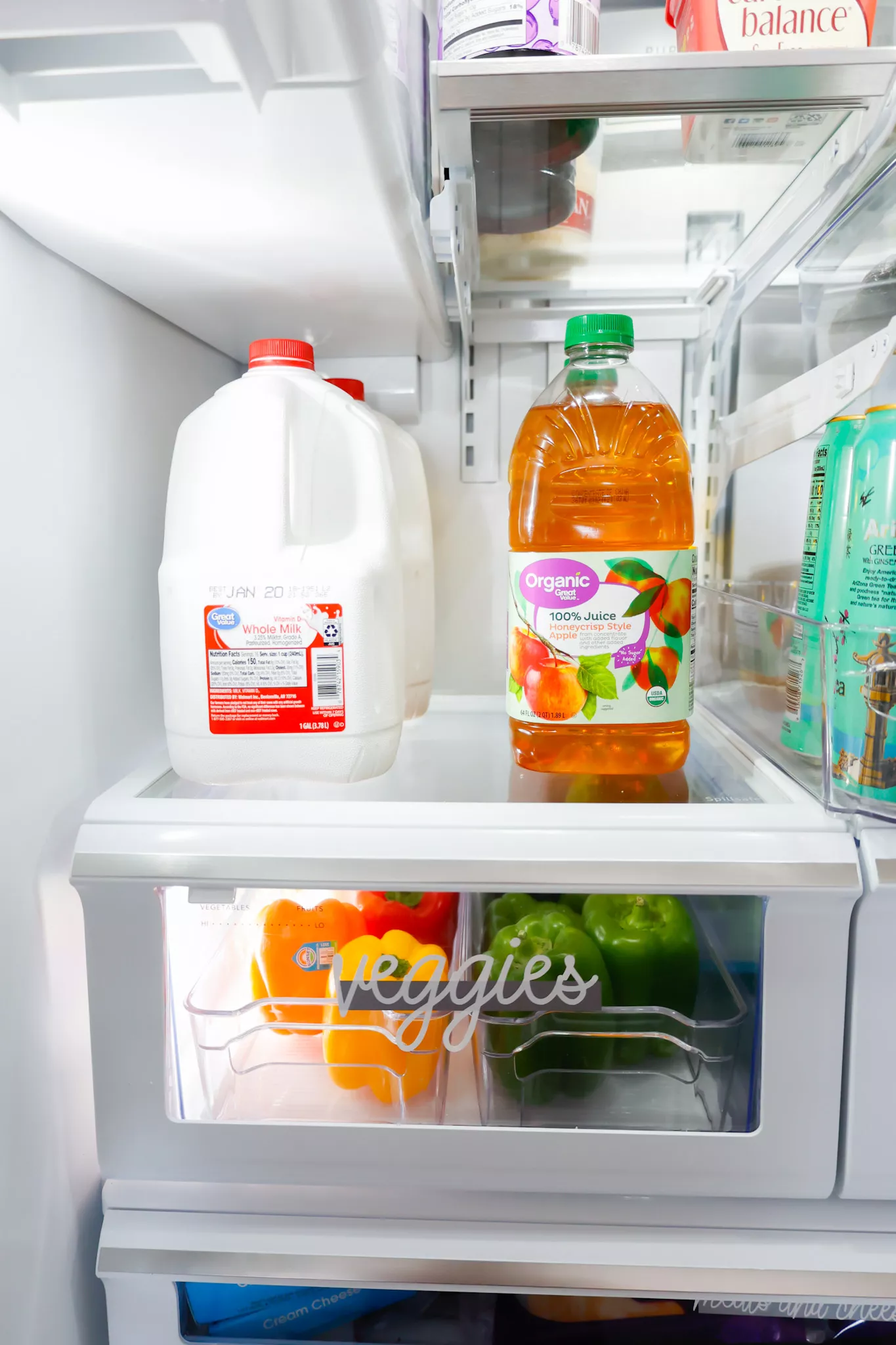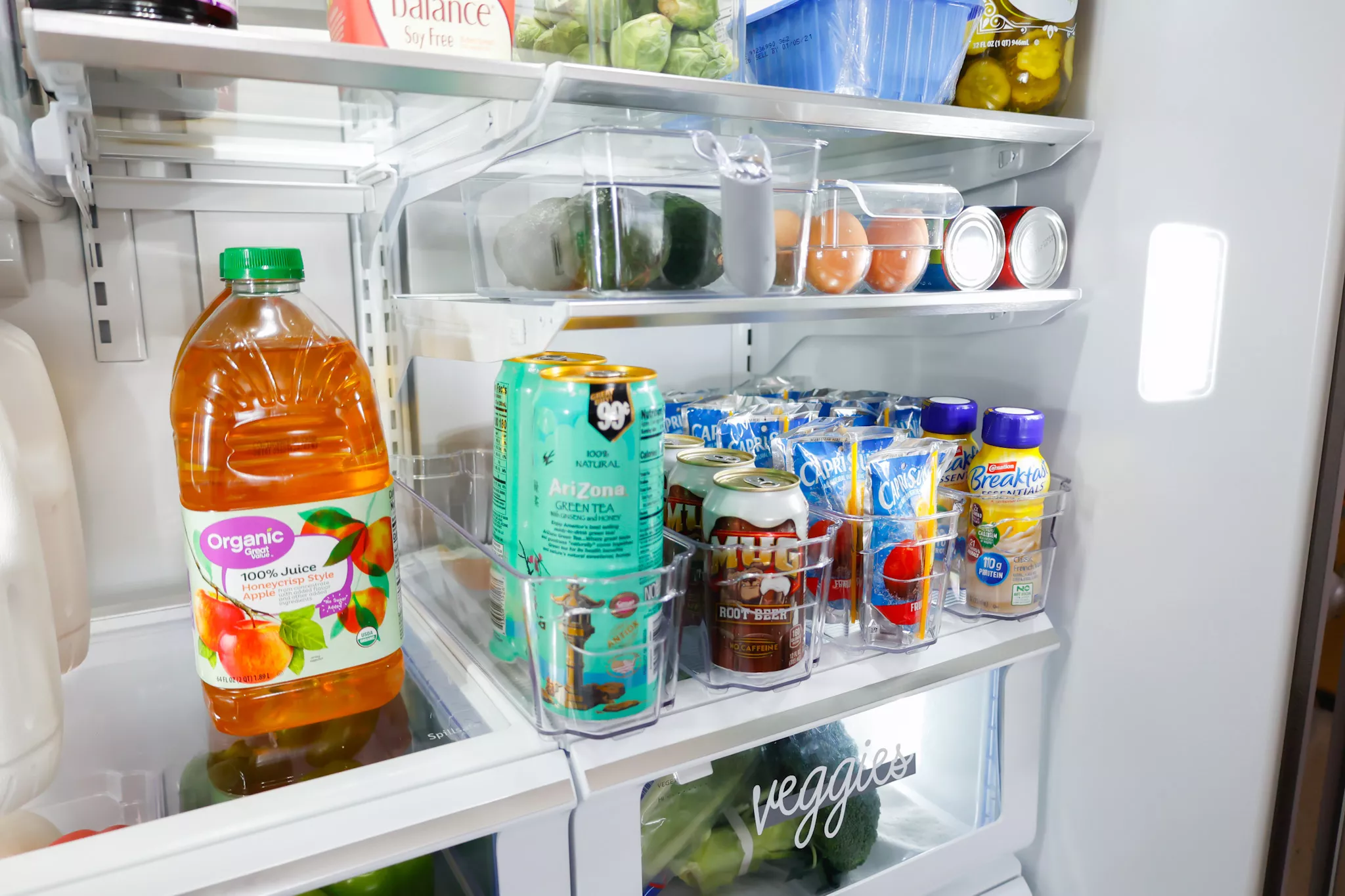 These clear bins help keep everything in its place and are easy to pull out for the kids.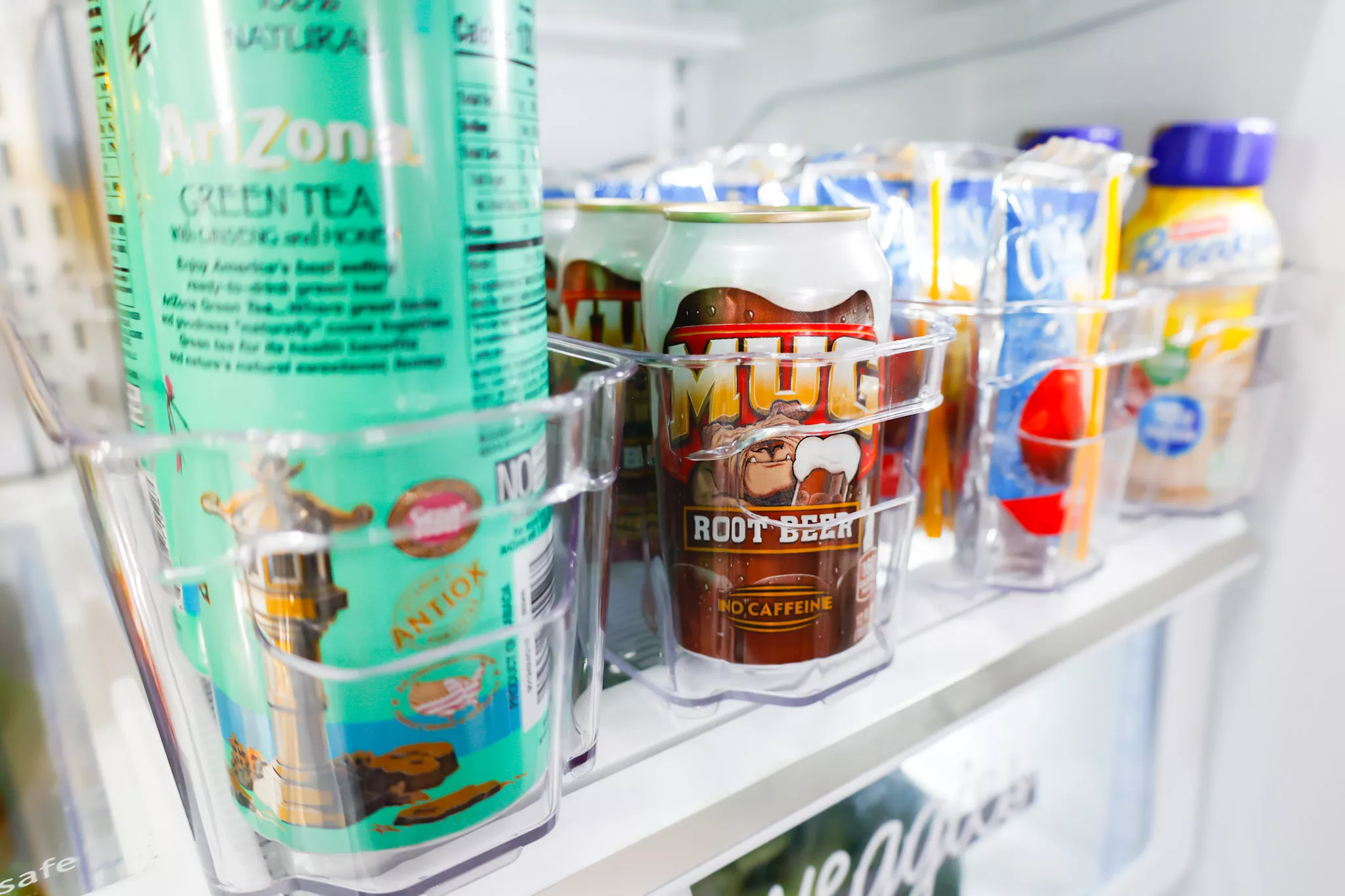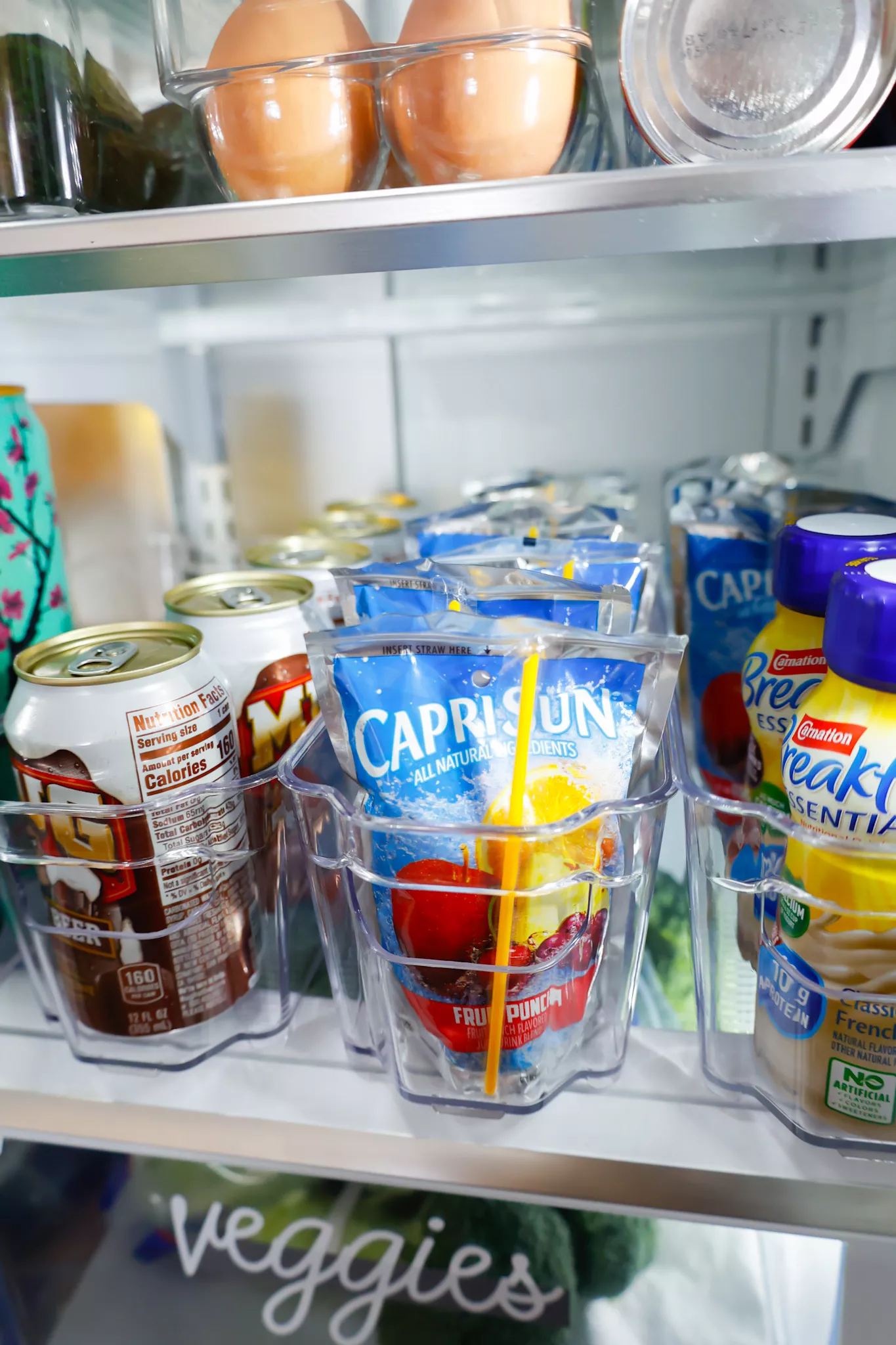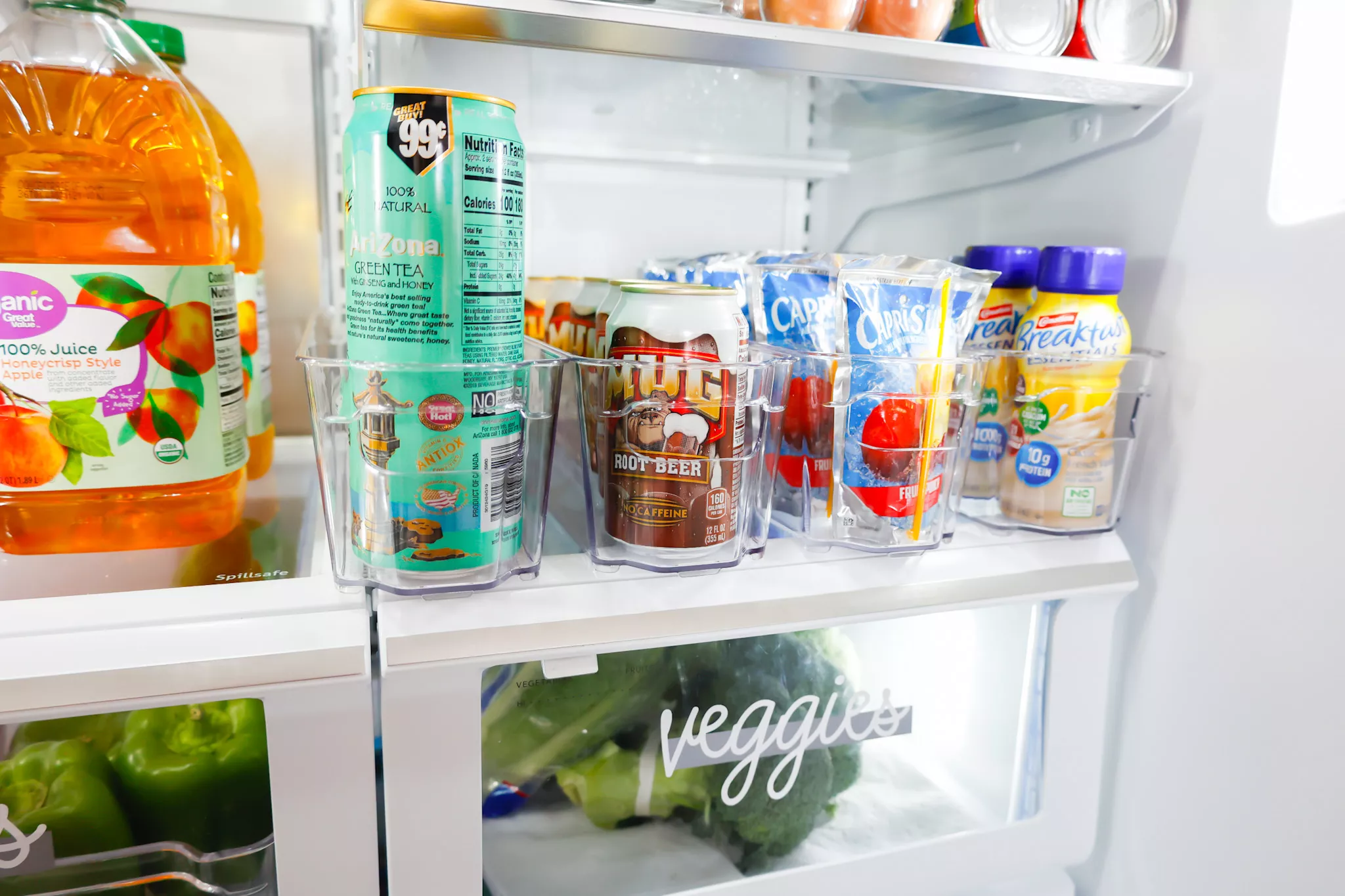 For my husband's avocados (I'm allergic!), I placed them in a neat handled storage bin so he can easily grab them when he wants a healthy snack.
Brussel sprouts are stored up in their own clear container and will be used in tonight's dinner – yum!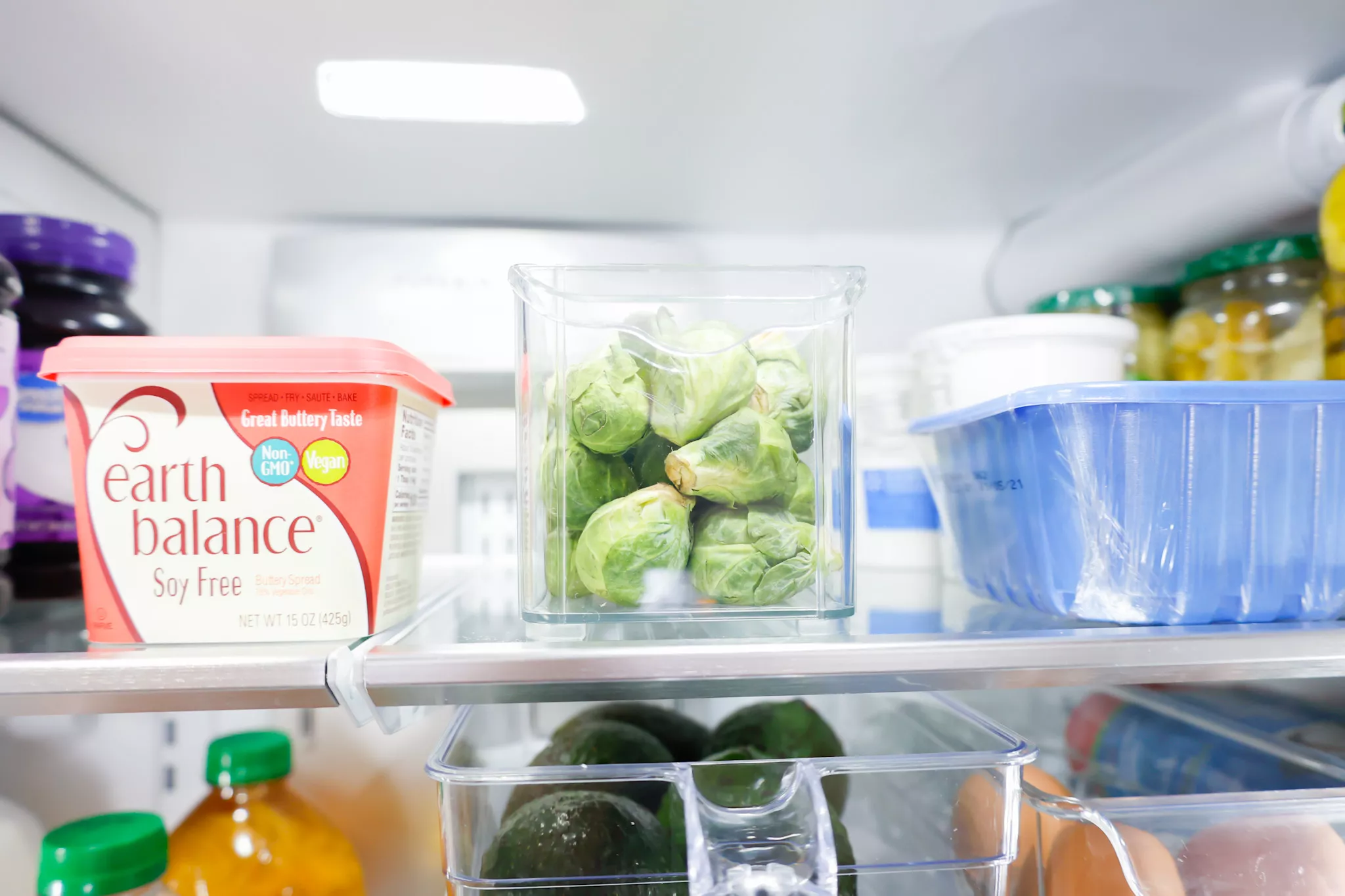 I cleared out our condiments, sauces, broths, and other items that were taking up space in the fridge doors, only keeping what we really use and what wasn't expired.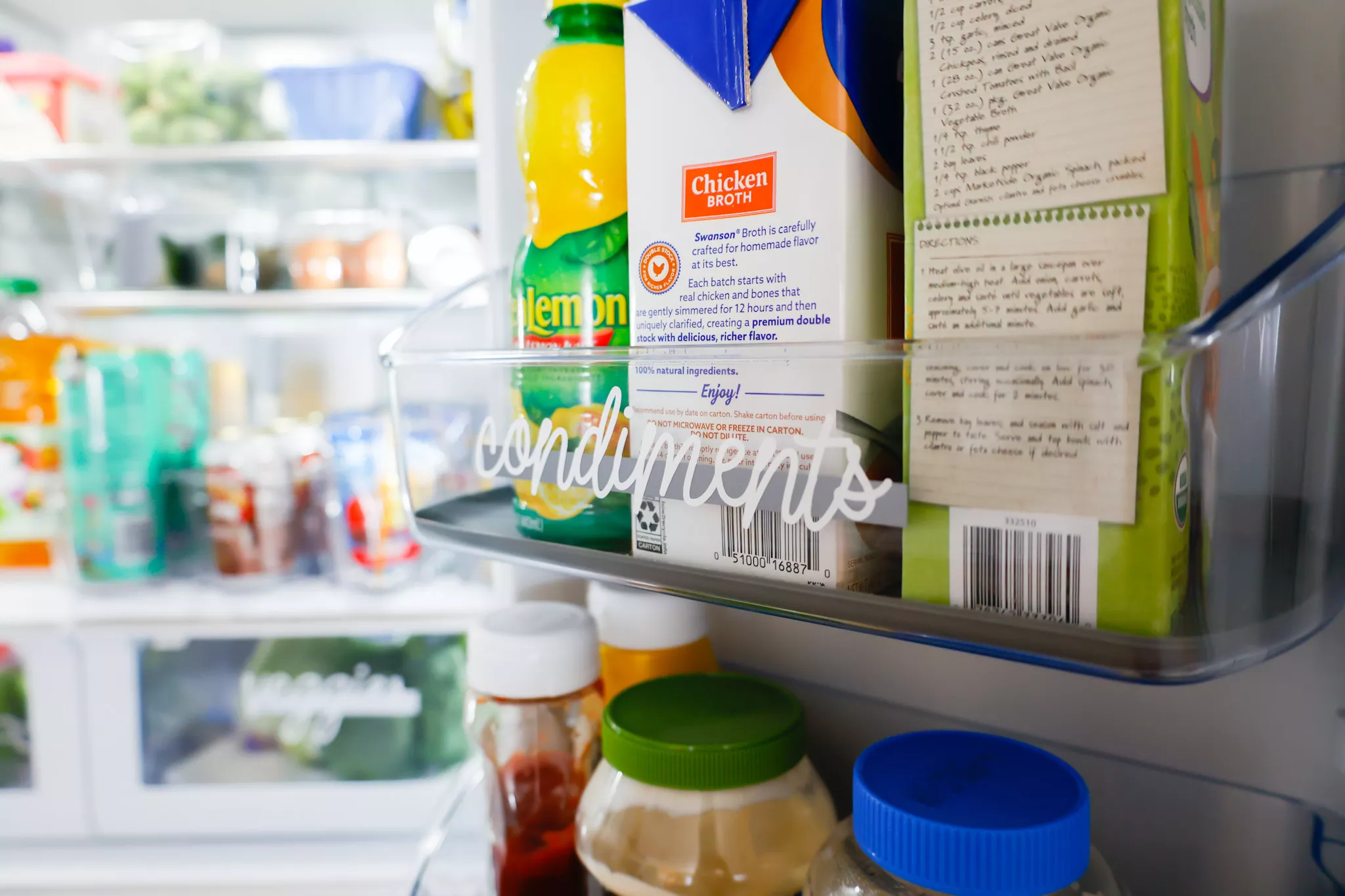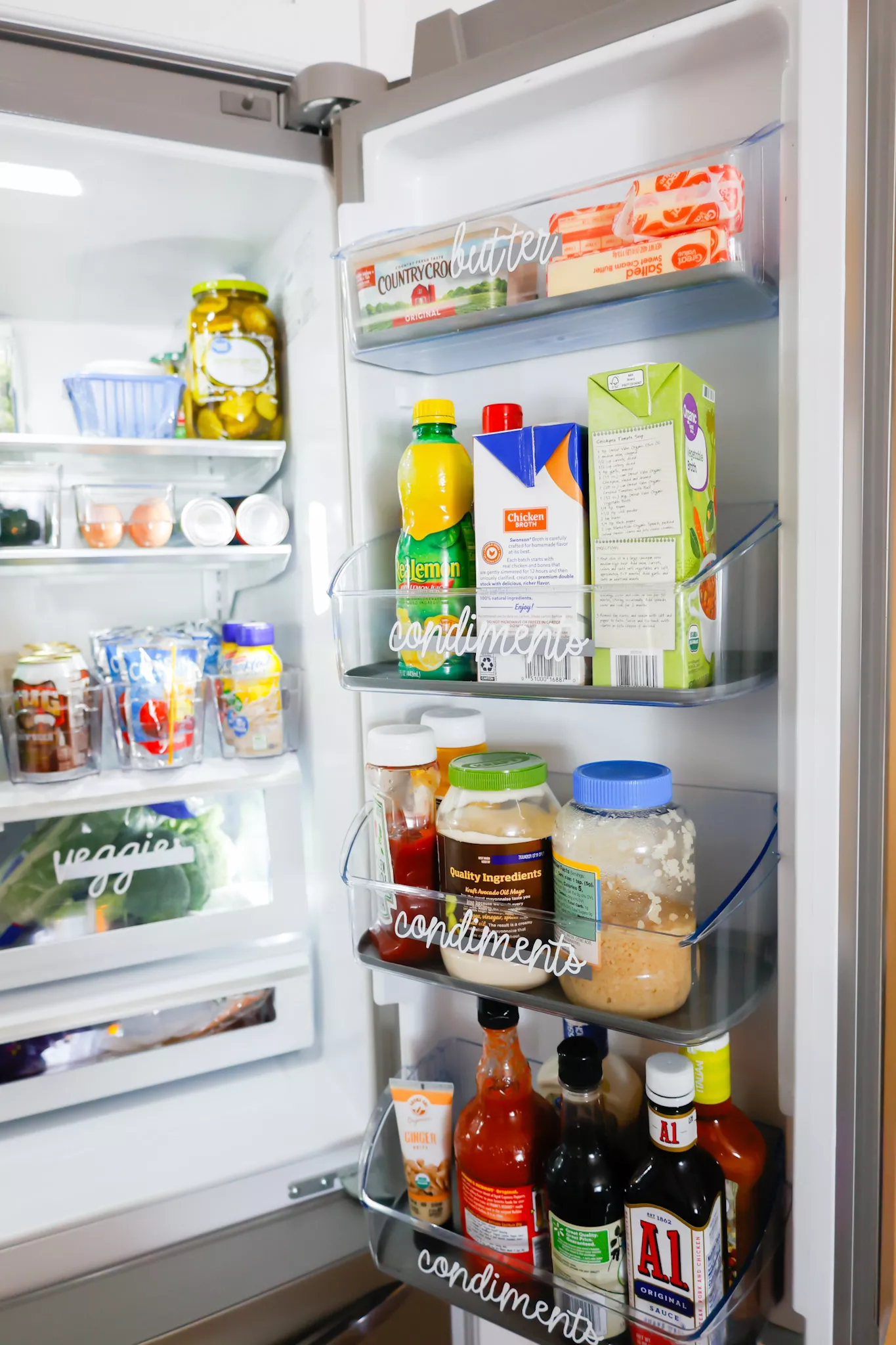 Everything is labeled now, as well.
Labeling and organizing is my jam ;).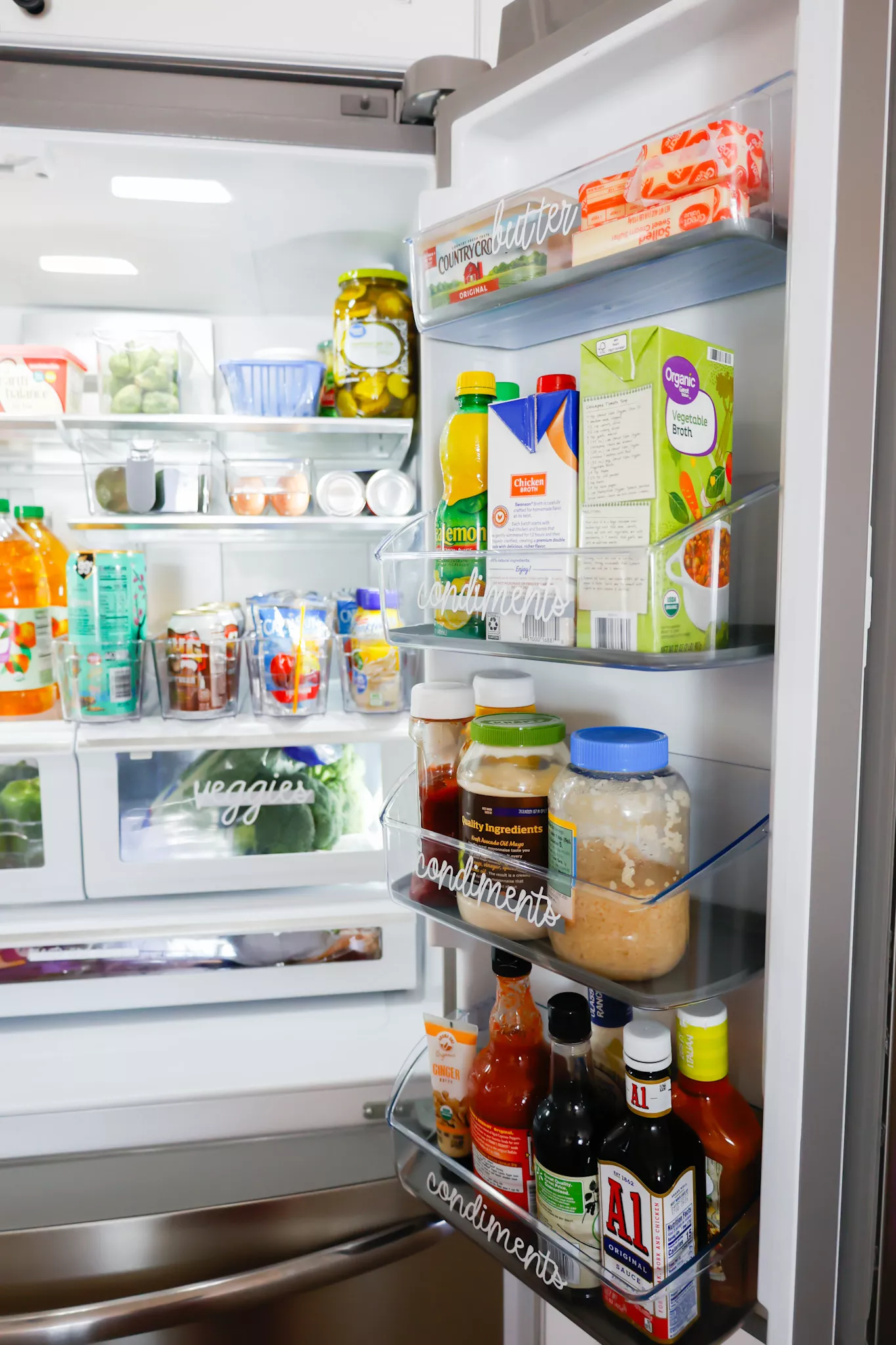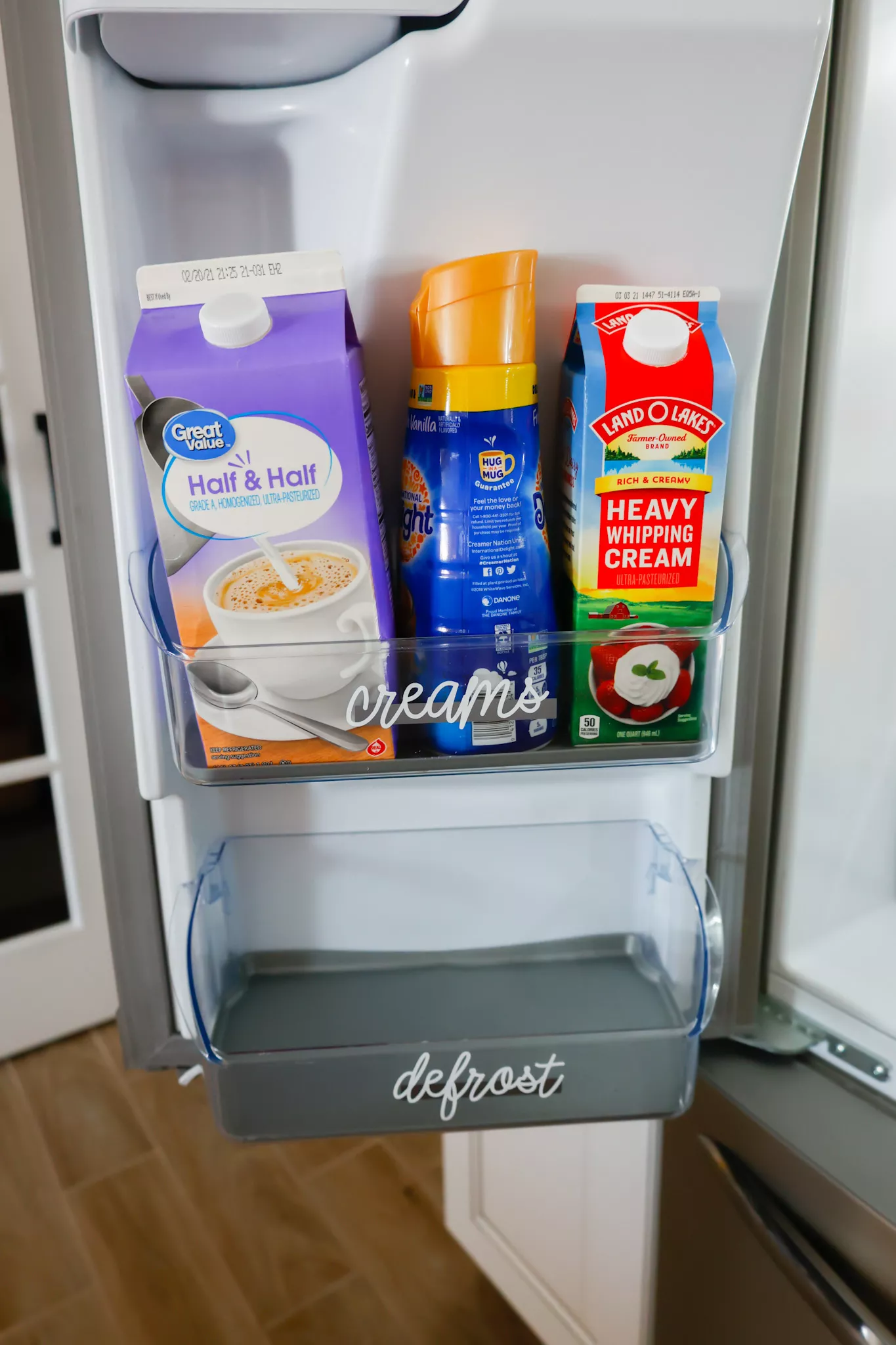 I love making one of my door shelves into a defrost section!
I do this so no raw meat juices drip down or around anything else…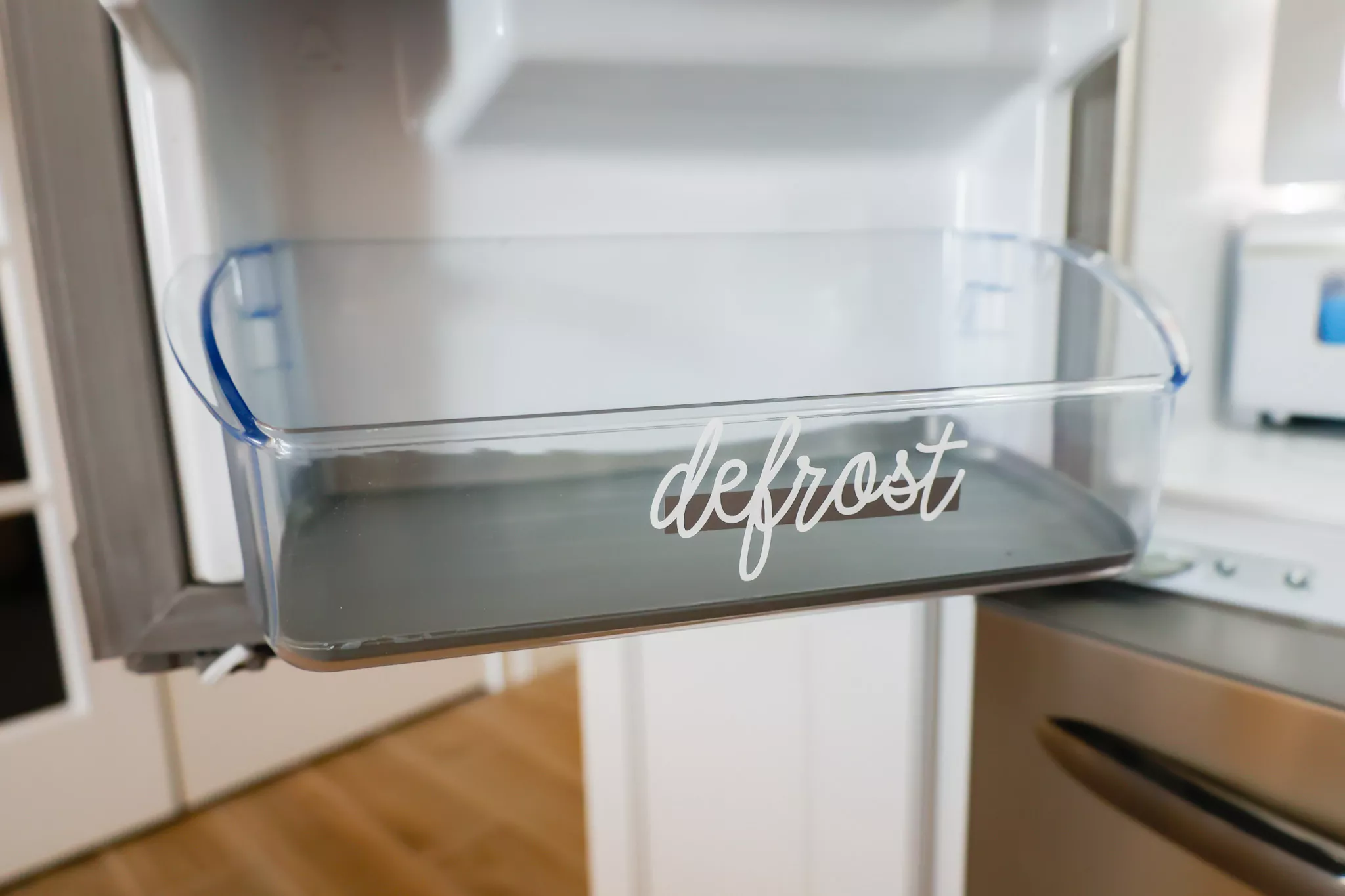 We eat a ton of veggies!
Peppers, onions, broccoli, brussel sprouts, asparagus, you name it!
I found that using two longer clear bins from Christmas Tree Shops in our produce drawer helps create a more organized look and feel.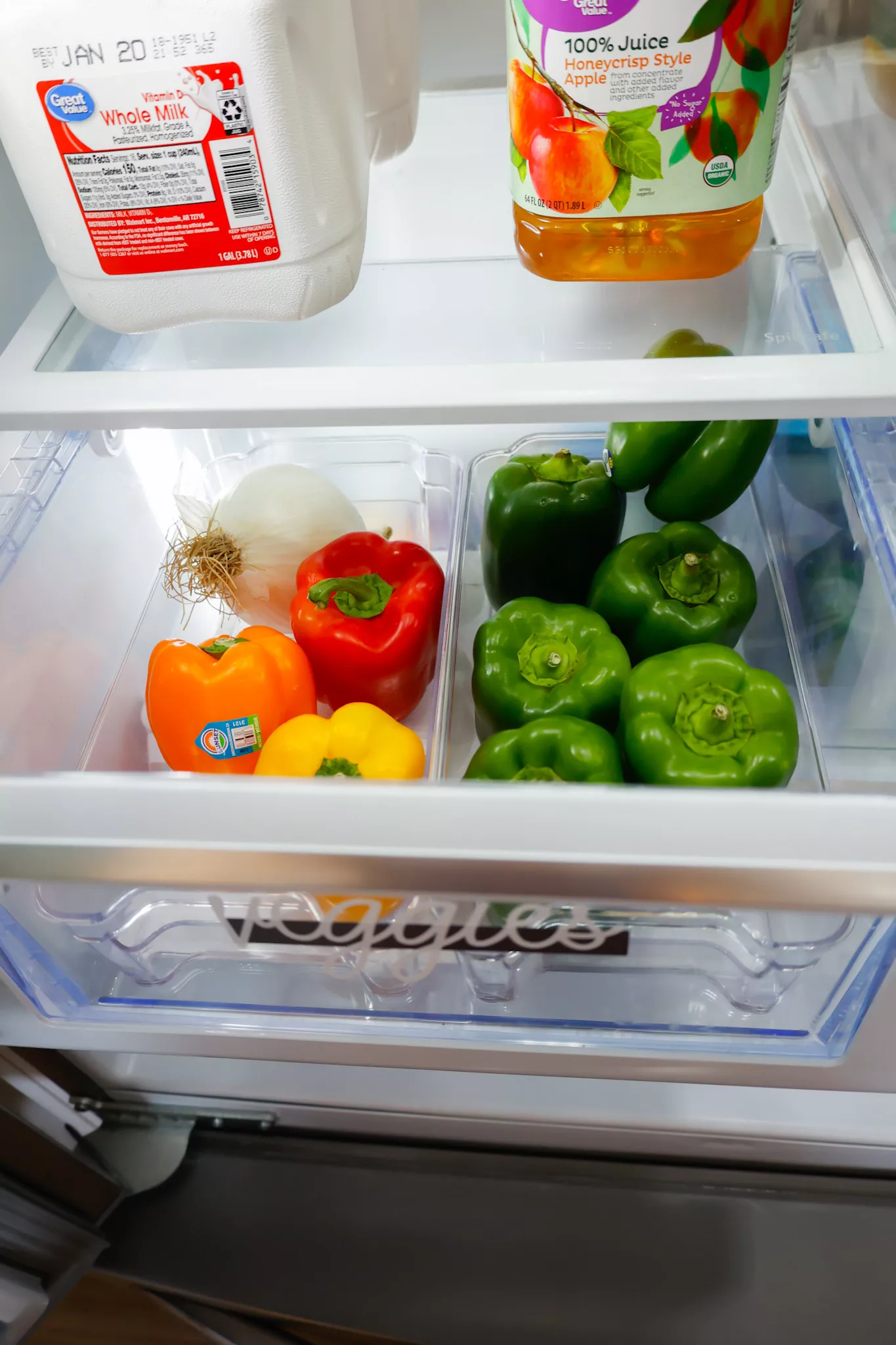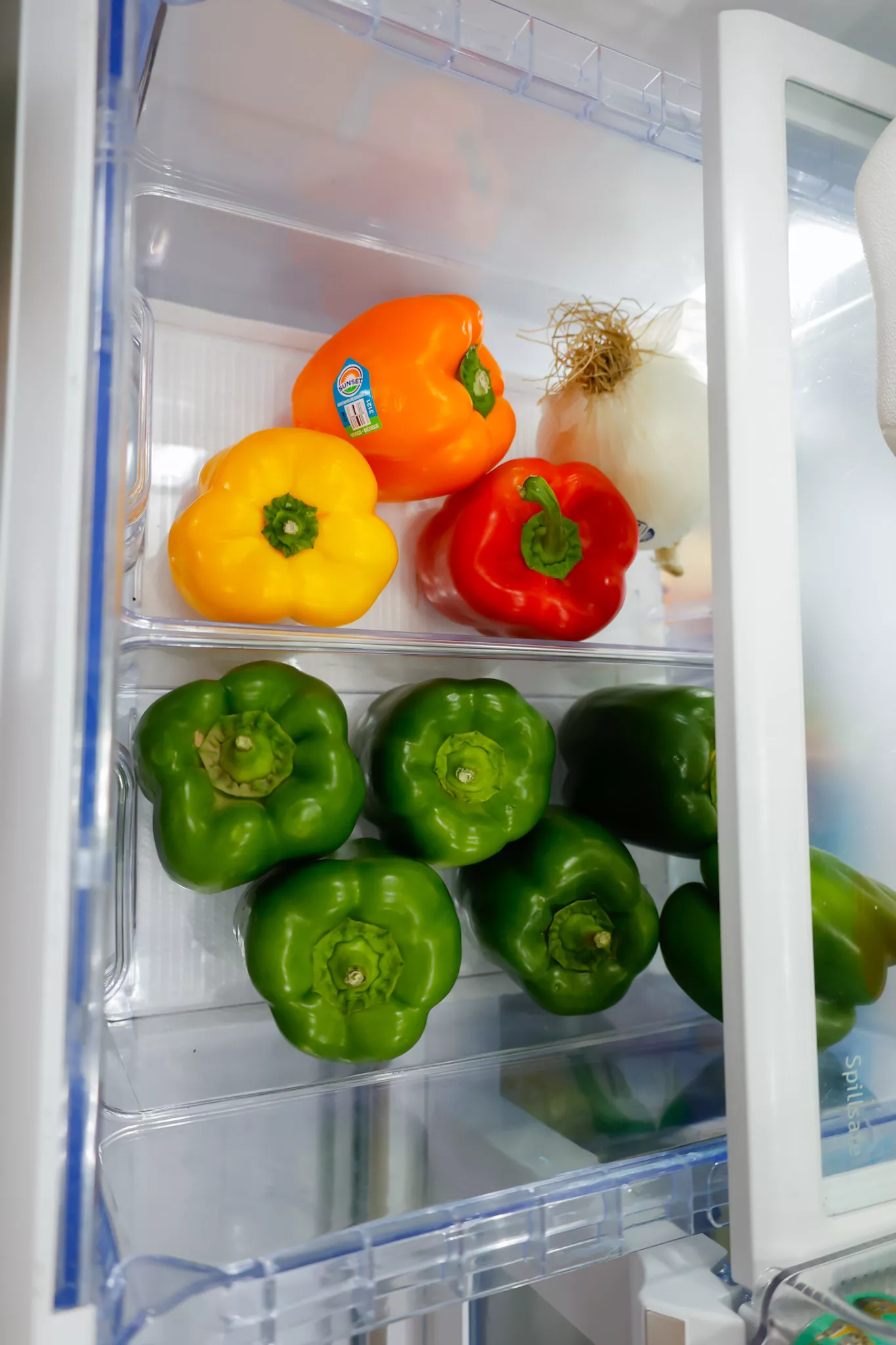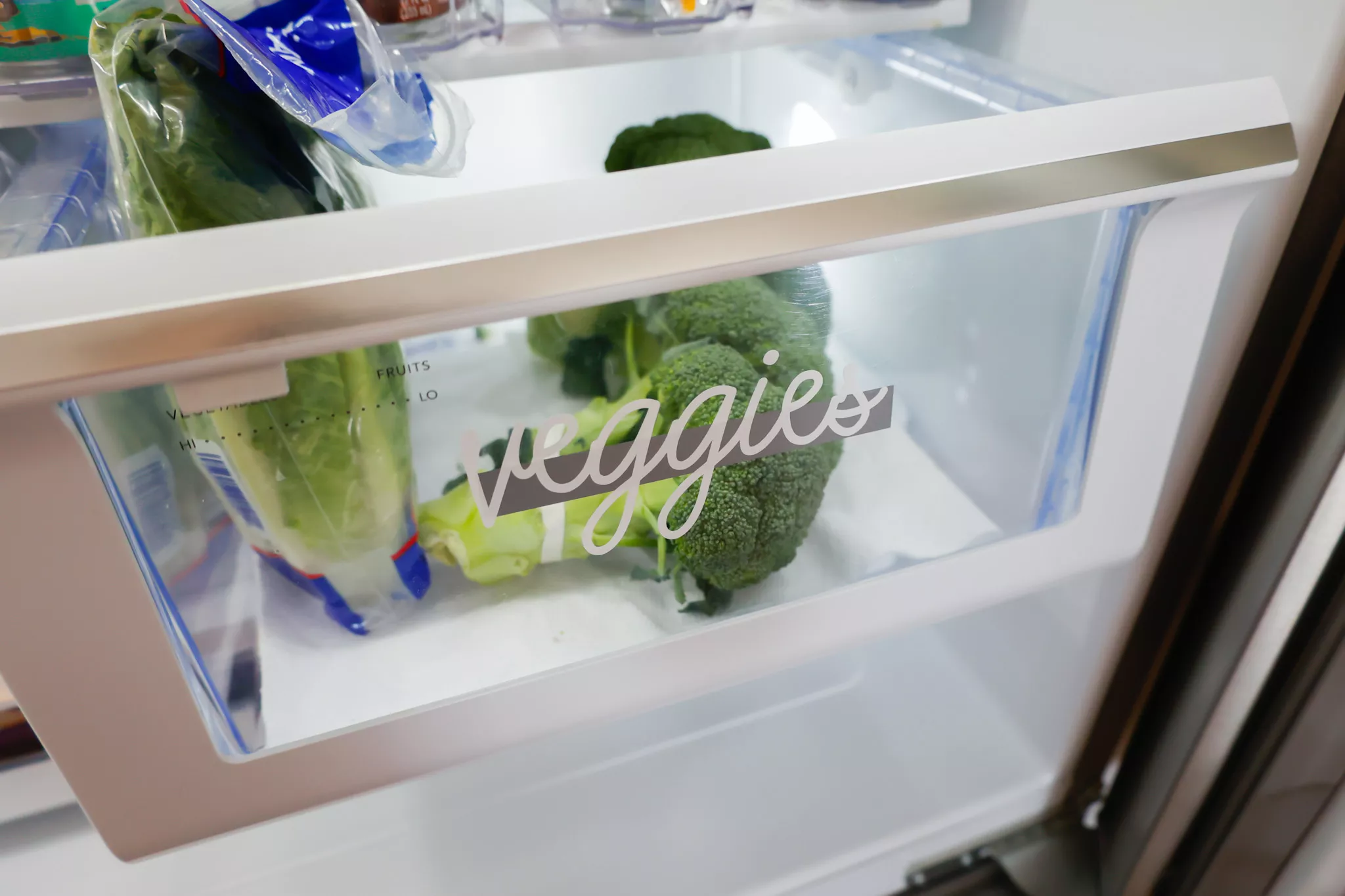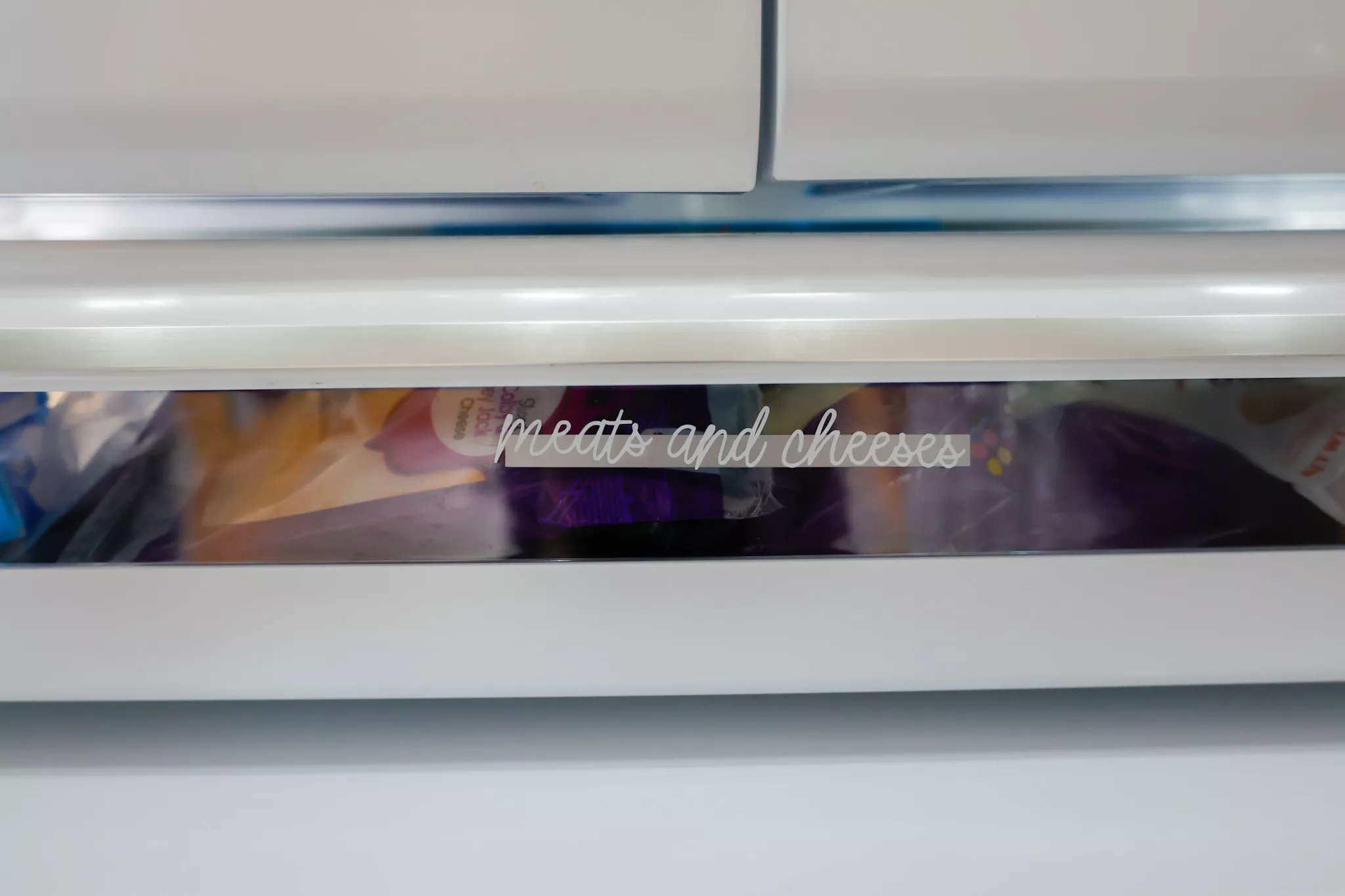 I am loving how organized our fridge is now thanks to these bins from Christmas Tree Shops.
It's both gorgeous and functional!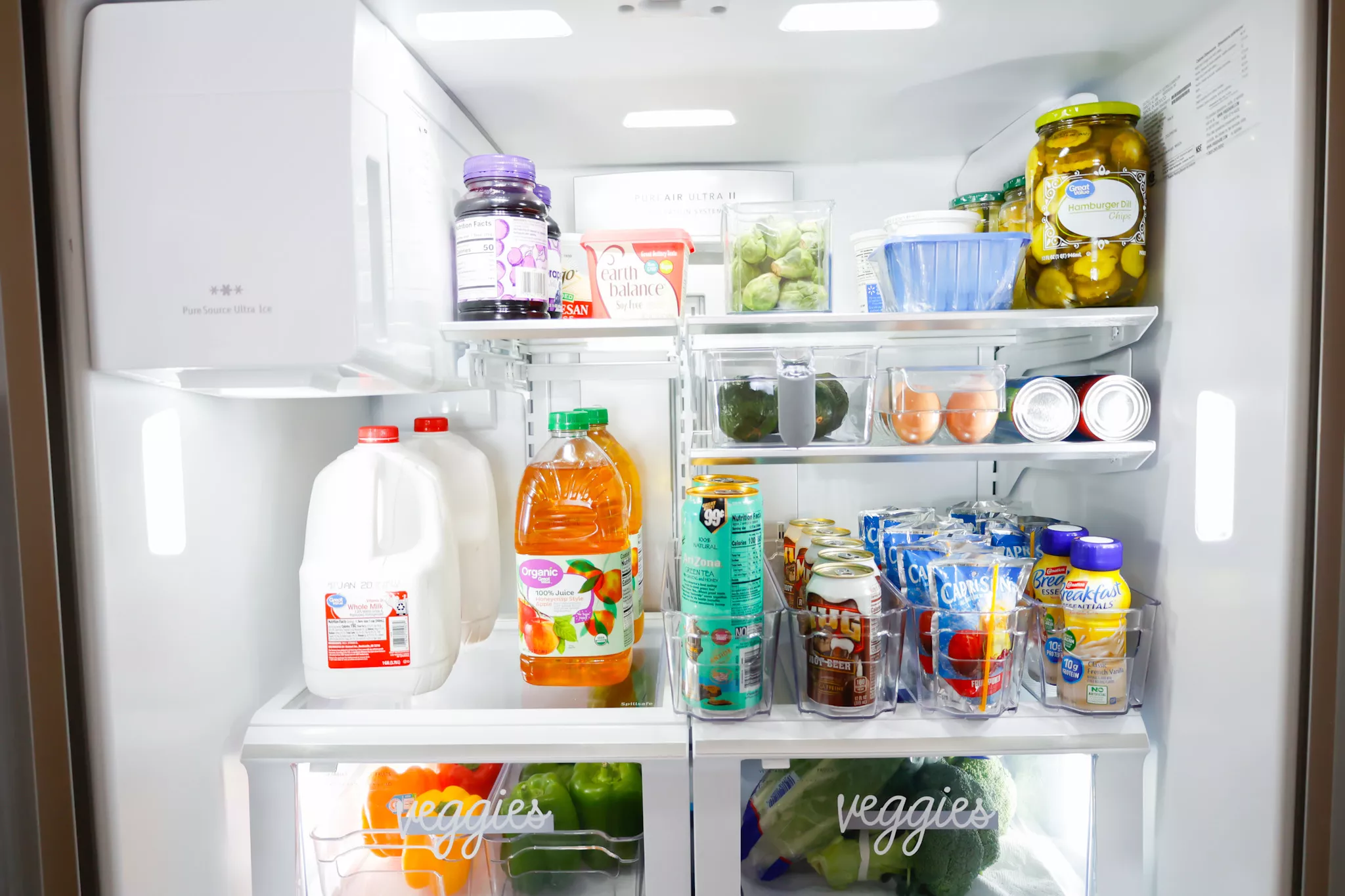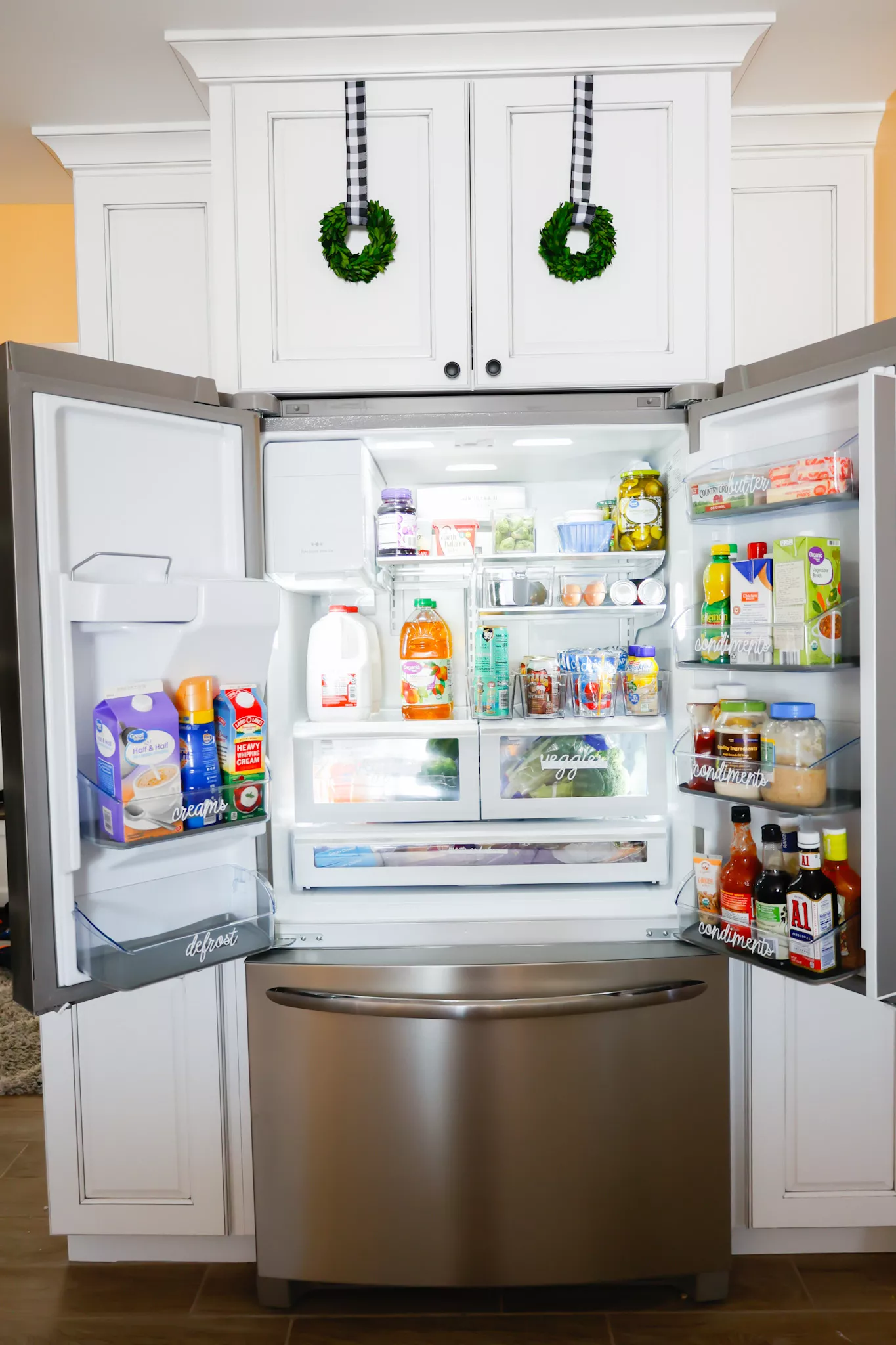 What organization project are you working on right now? Tell me in the comments below!
Read my other Christmas Tree Shops Posts here…