Have fun this Christmas season with these Advent Calendar Ideas that kids love (plus, a free printable)…
---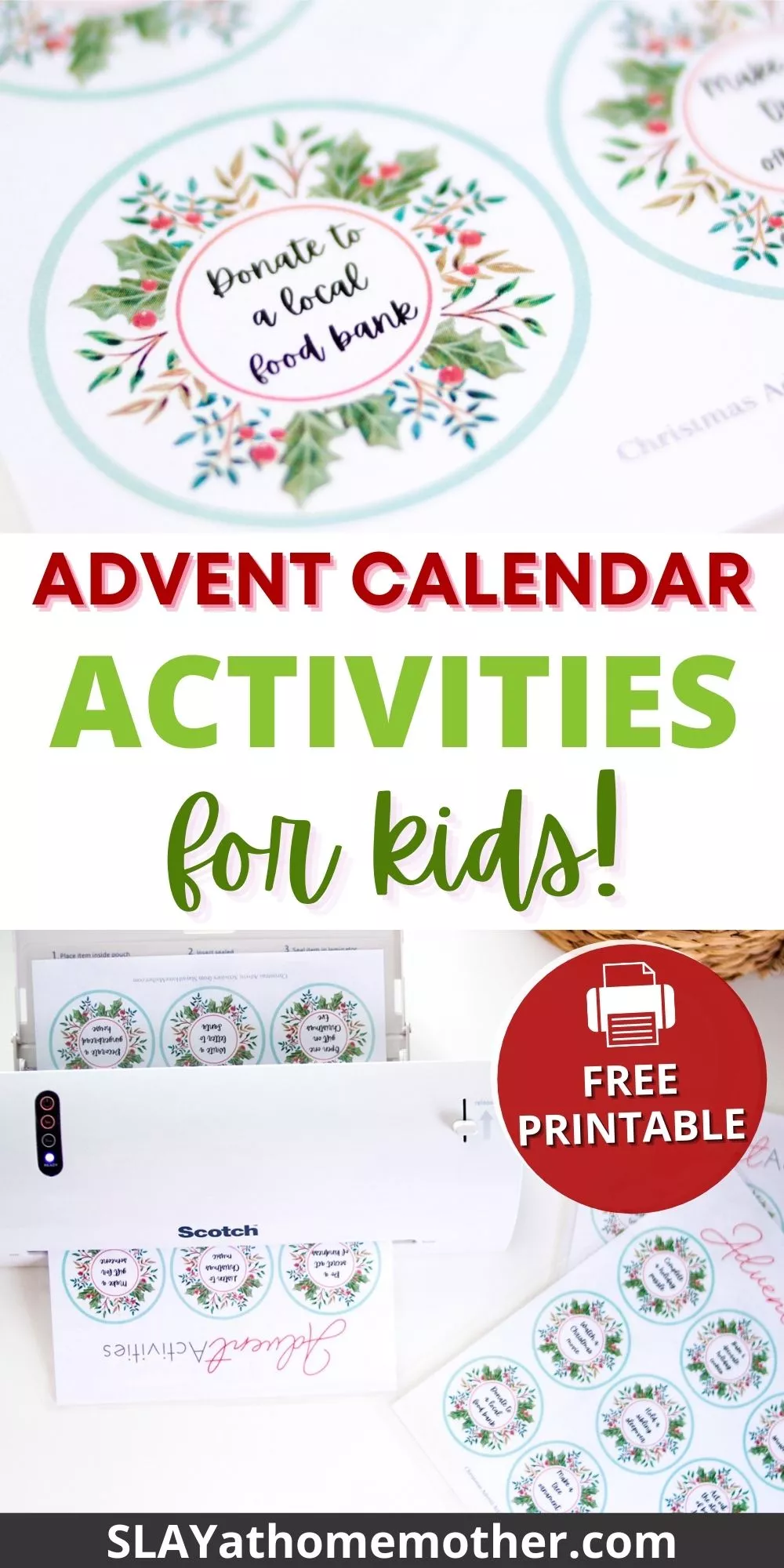 Hi friends!
Can you believe there are only 33 days left until Christmas?
Ahhhhhhh!
This year we are celebrating our daughter's first Christmas, and I'm so excited to start shopping for girly stuff this year along with our boys' gifts.
Shopping for a girl is so different than shopping for boys, am I right?
We're also celebrating our first Christmas in the new house, which is always super exciting.
I've been changing up this year in just about every way, from how we decorate our tree and our home to different activities we'll be doing together.
I usually go pretty lax around Christmastime, but I figure we only have so many years of magical mornings and holiday cheer before our kids grow up and become teenagers who roll their eyes at everything.
I know I'm in my 30s, but I remember being that teenager once upon a time ;).
Thinking back now, I wonder if that was as heartbreaking to my mom as I think it'll be to me…
This Christmas, I decided to do something different with our three kids and make things more fun – with an Advent calendar!
Advent calendars are a great way to add in some extra magic to your family's holiday by packing in fun activities, treats, and acts of kindness throughout the month leading up to Christmas.
If you're looking for some advent calendar ideas, I've got a great list of them for you in this post, as well as a free printable you can cut out for each activity and place in advent bags or pocket calendar slots – whatever works best for you!
You can also print off my free advent calendar activity cards to put in each advent calendar bag or envelope – new this year!
Advent Calendar printable activities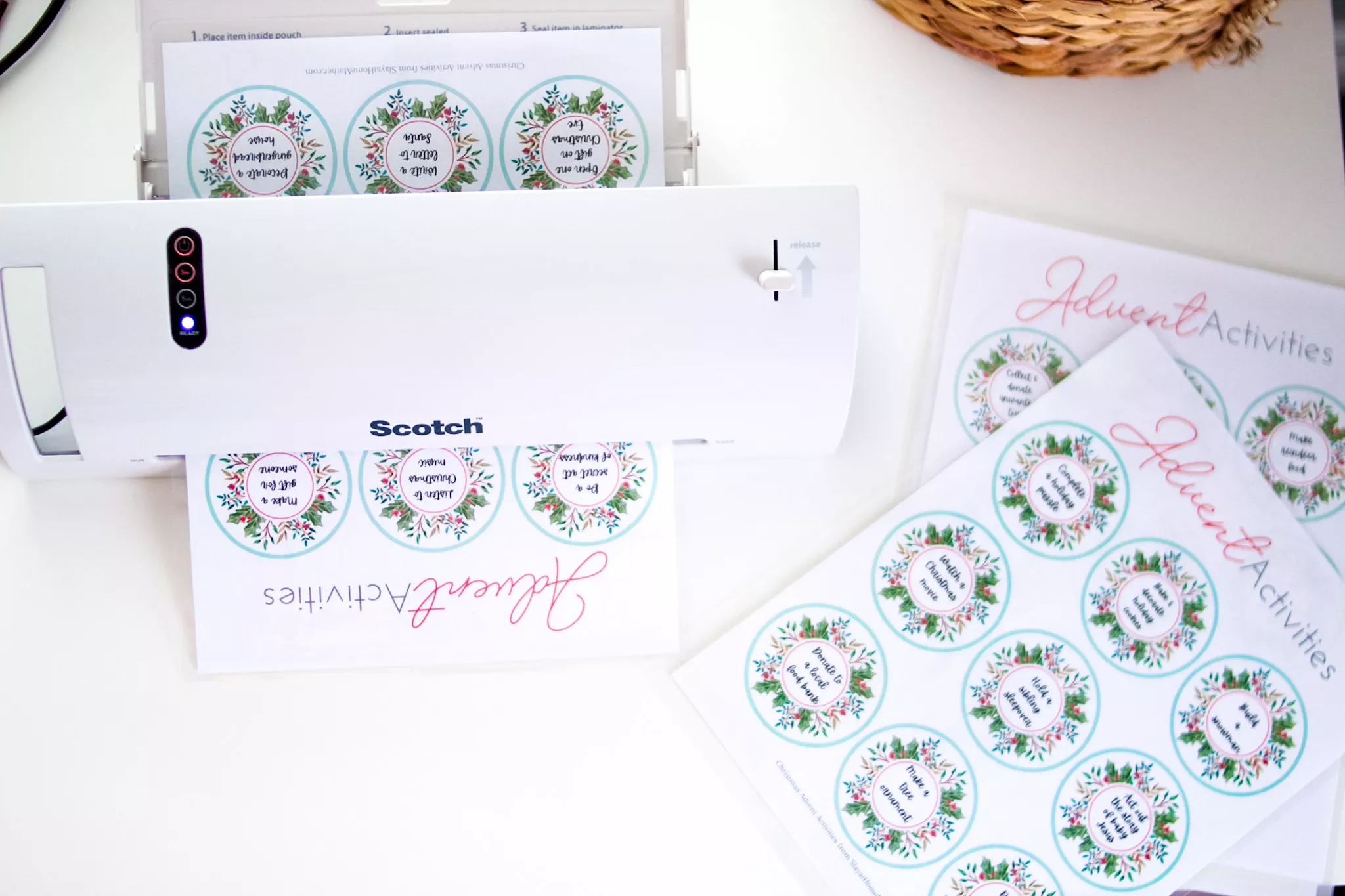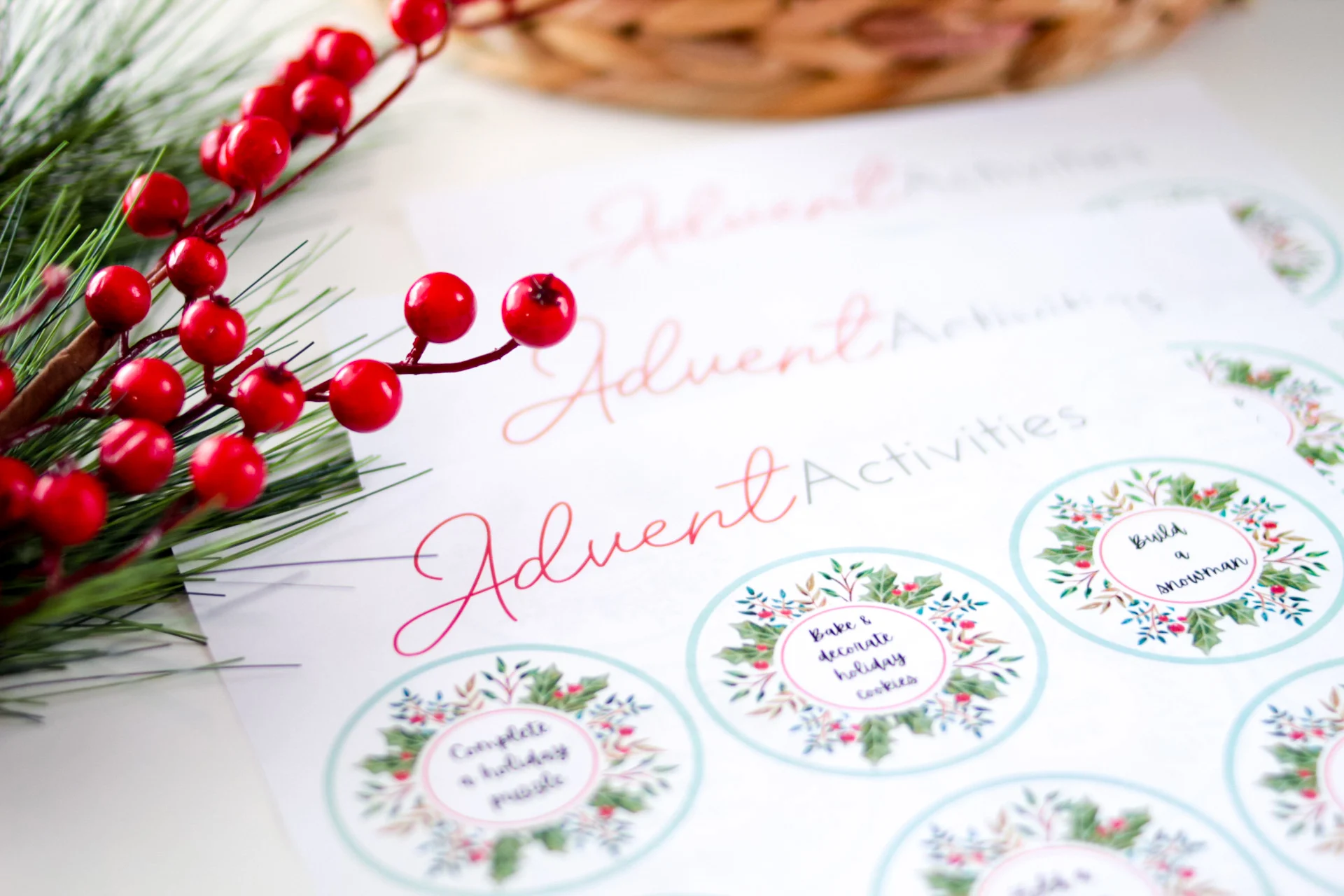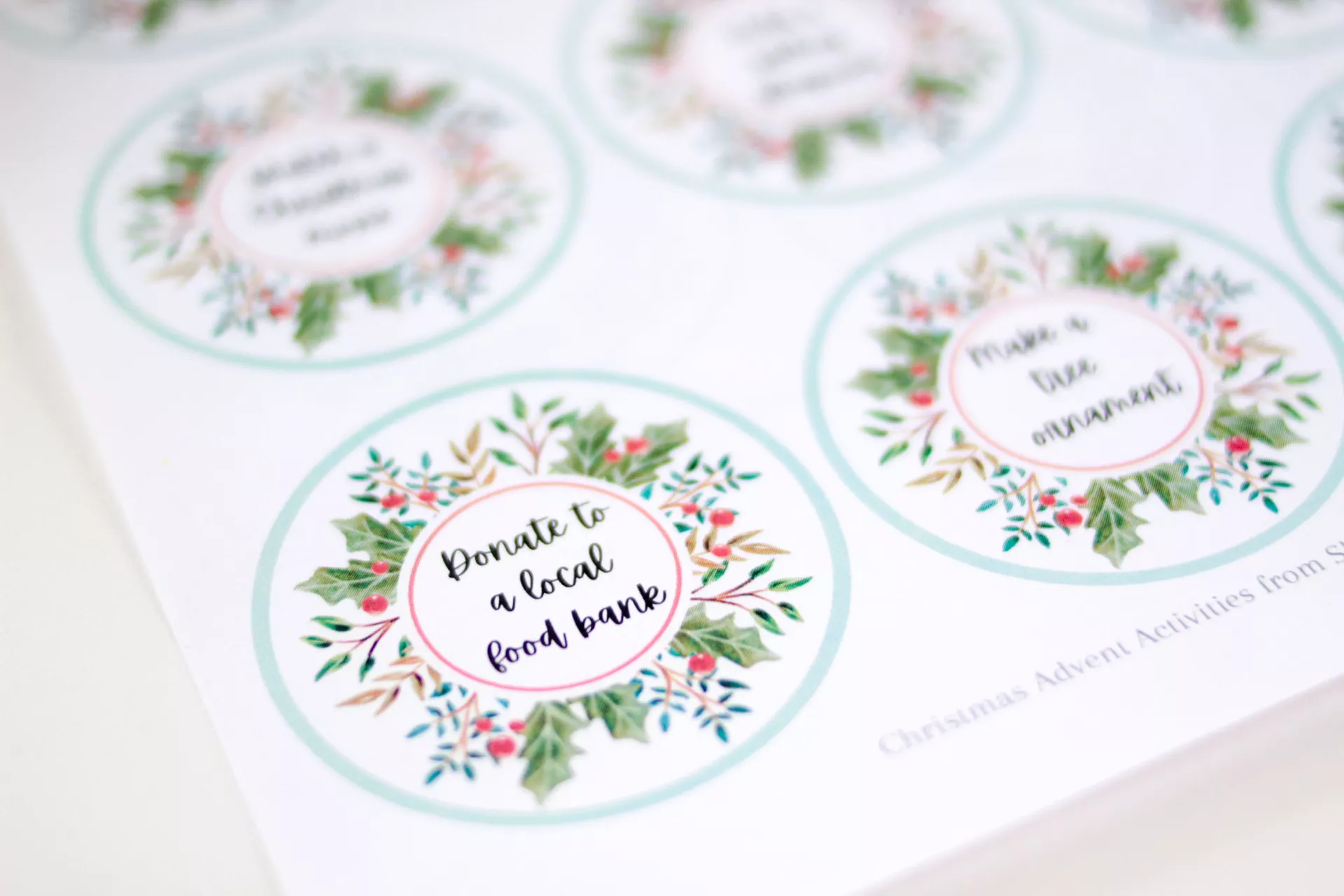 Setting Up Your Christmas Advent Calendar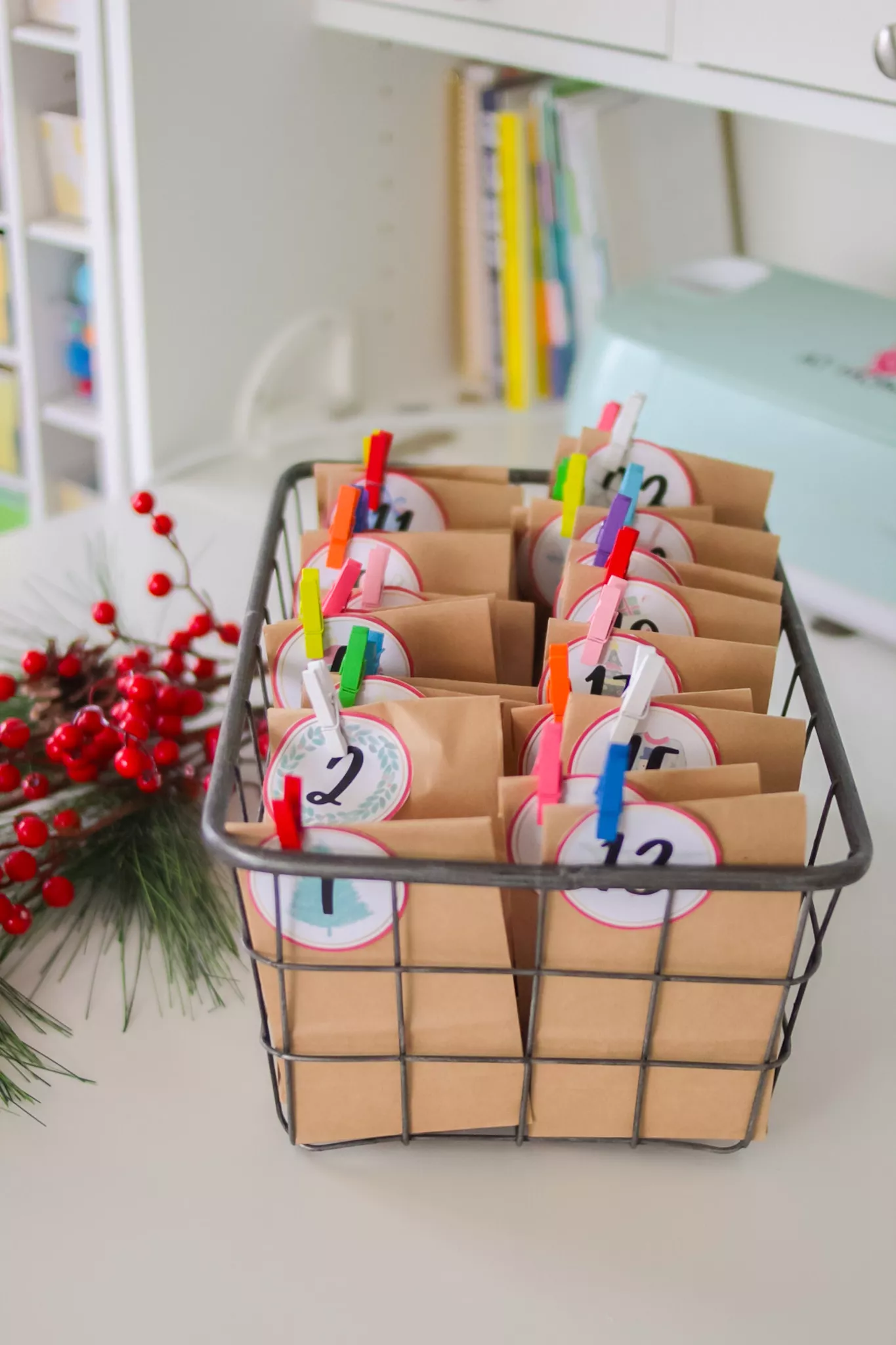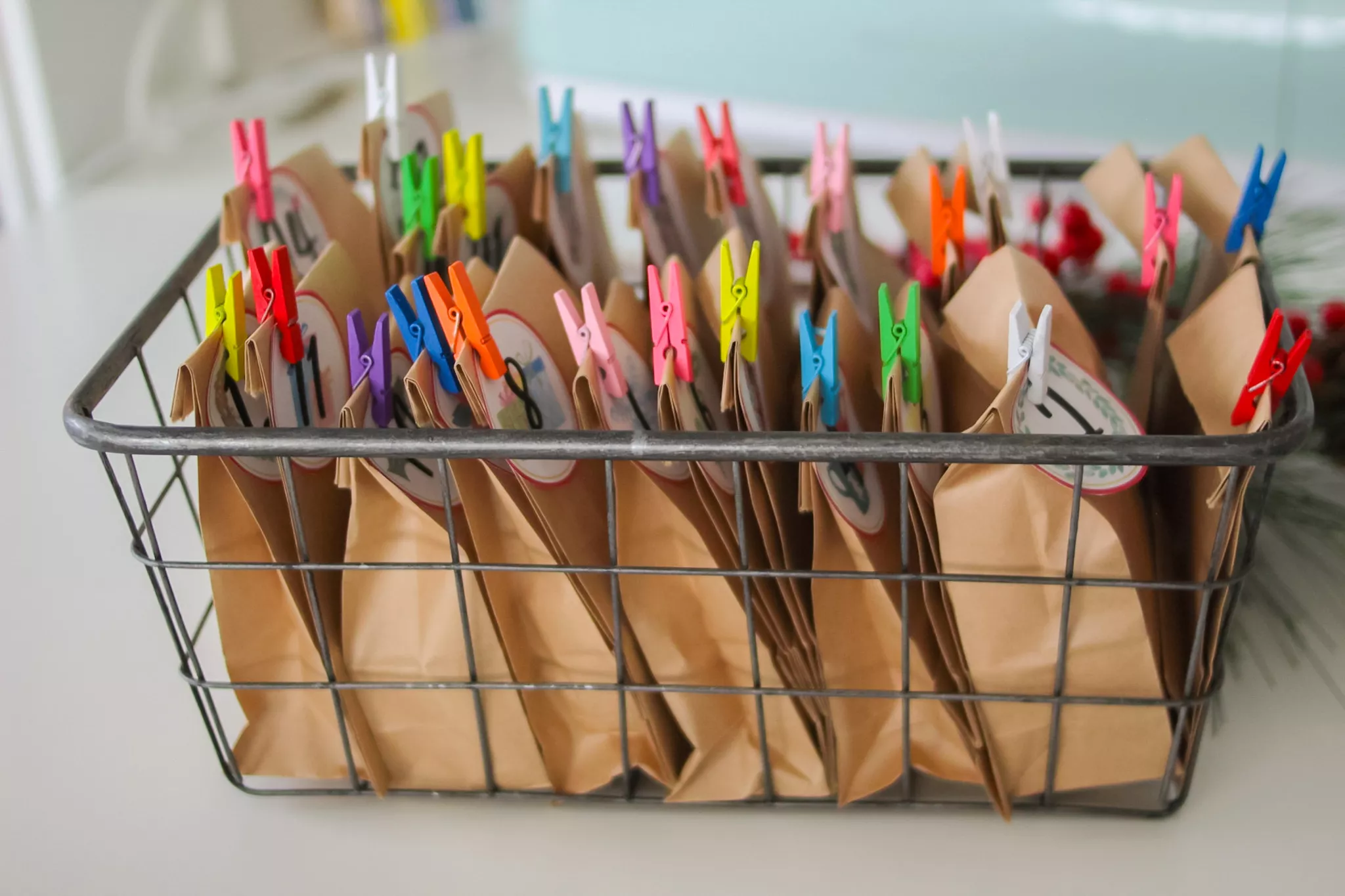 Grab a large piece of wood (or a basket like I'm using), some bags, or envelopes, and let's get to setting up our advent calendar!
Homemade advent calendars take some time and planning, but they're very simple to put together and are a really fun way to spend the holidays together.
With certain ideas in mind for each day, I prepped the activities, put them into different envelopes, and clipped a number on each bag.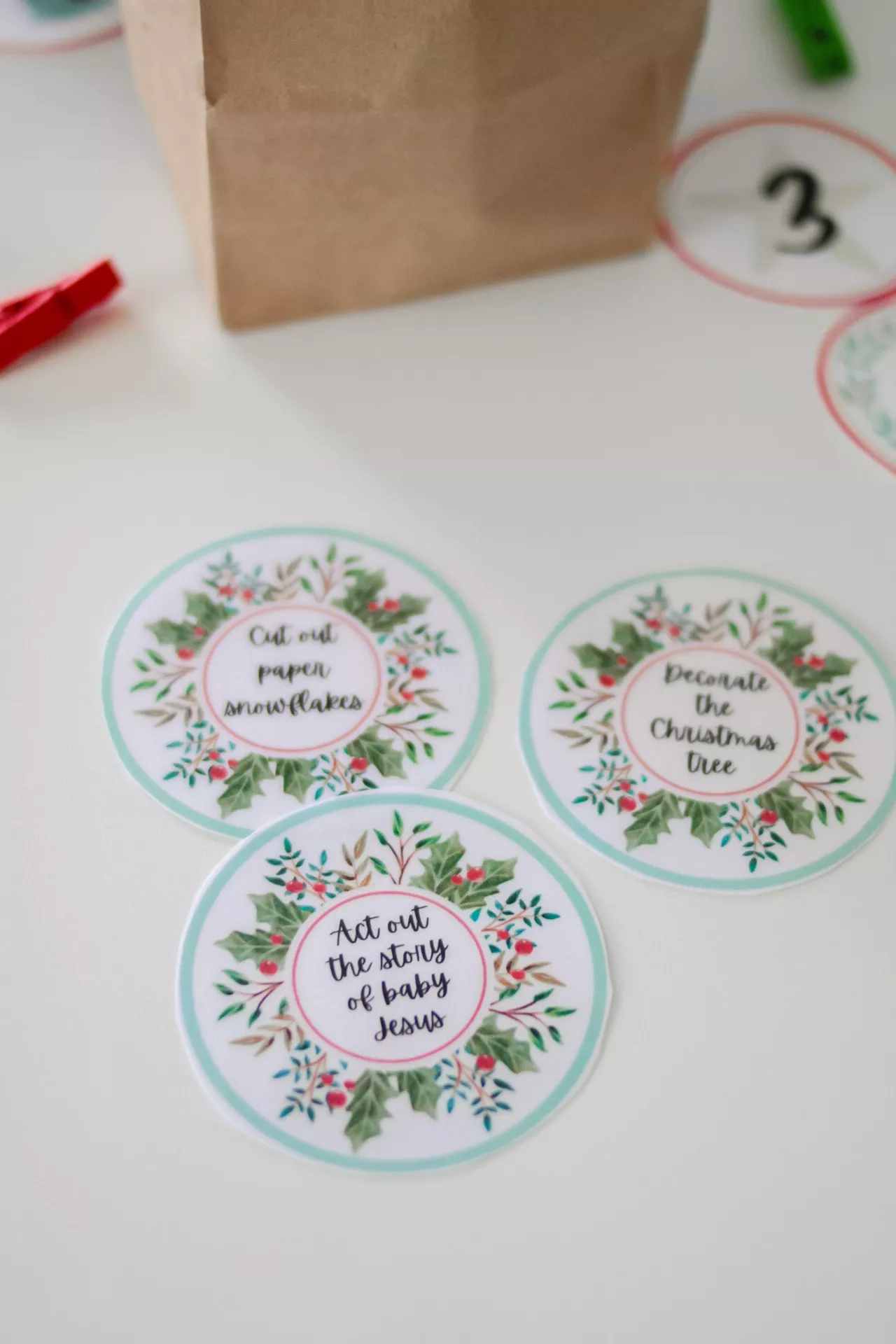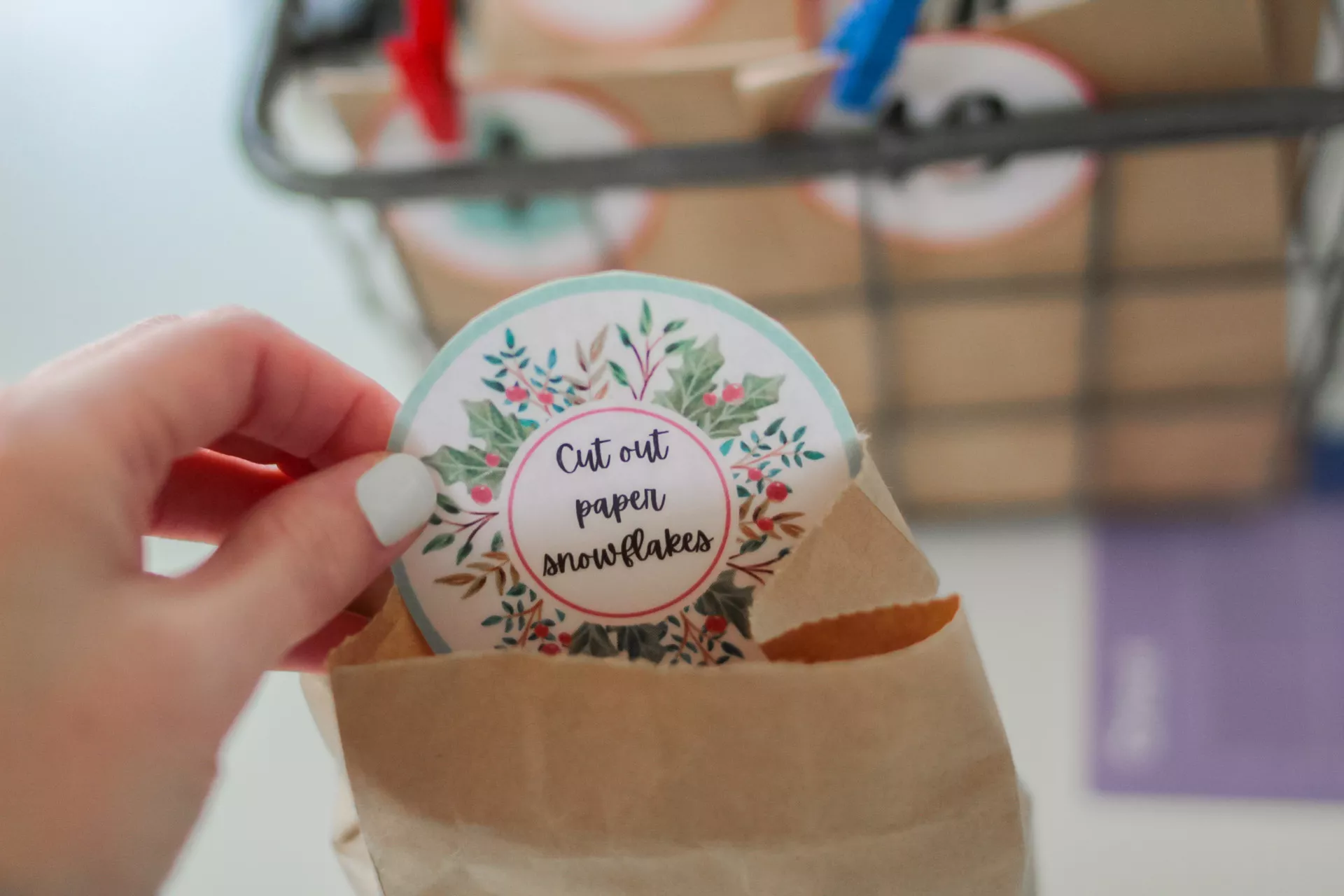 Each day, we grab one and do the activity in the bag!
For example, with our 'Complete a holiday puzzle' activity, I get the puzzle ready, put the disassembled pieces in a bag, and it's ready to go for whatever number day we put on it!
Advent Calendar Ideas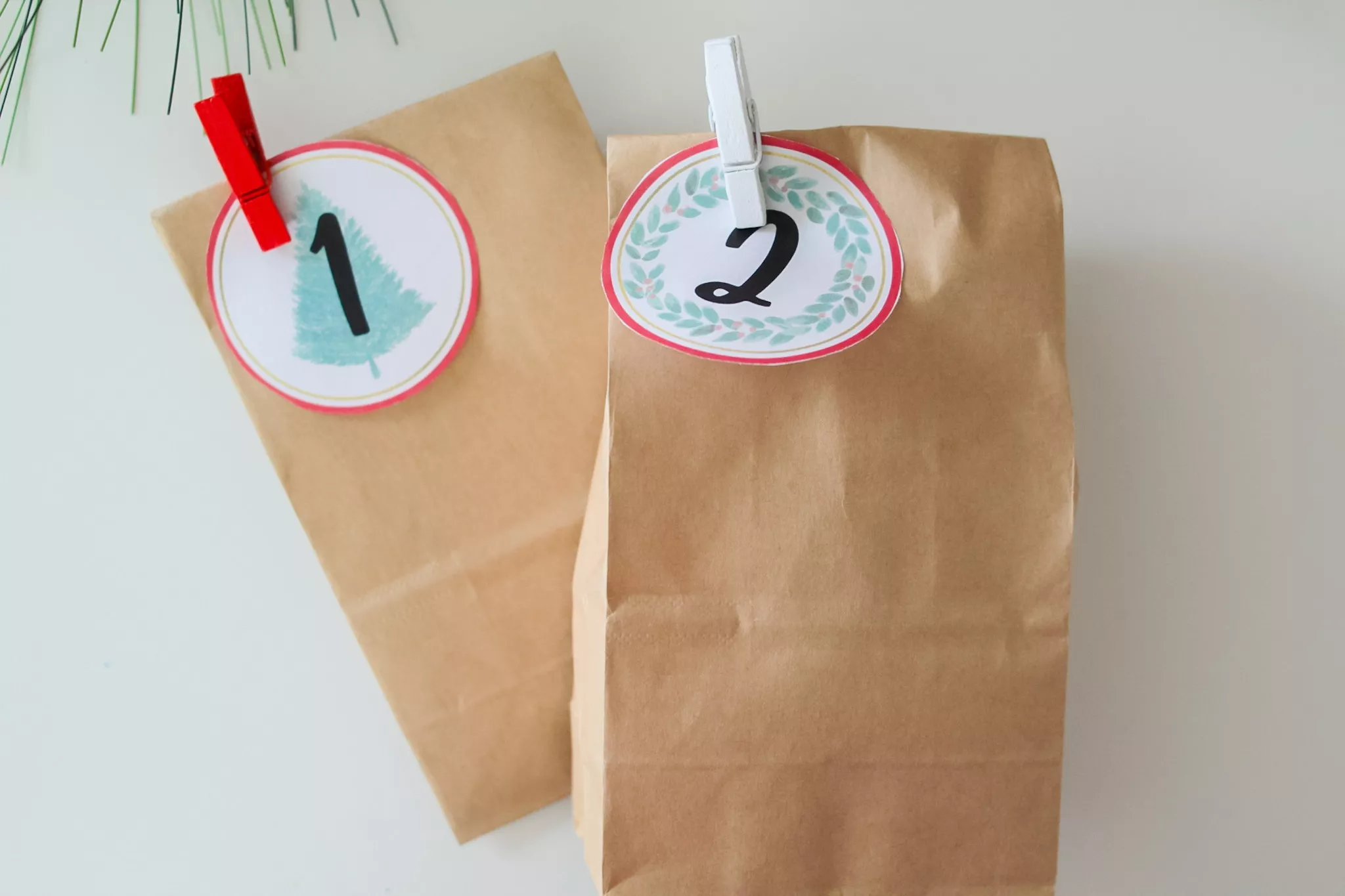 These adorable advent calendar numbers are available in The Holiday Planner, along with over 40+ printable Christmas planning pages!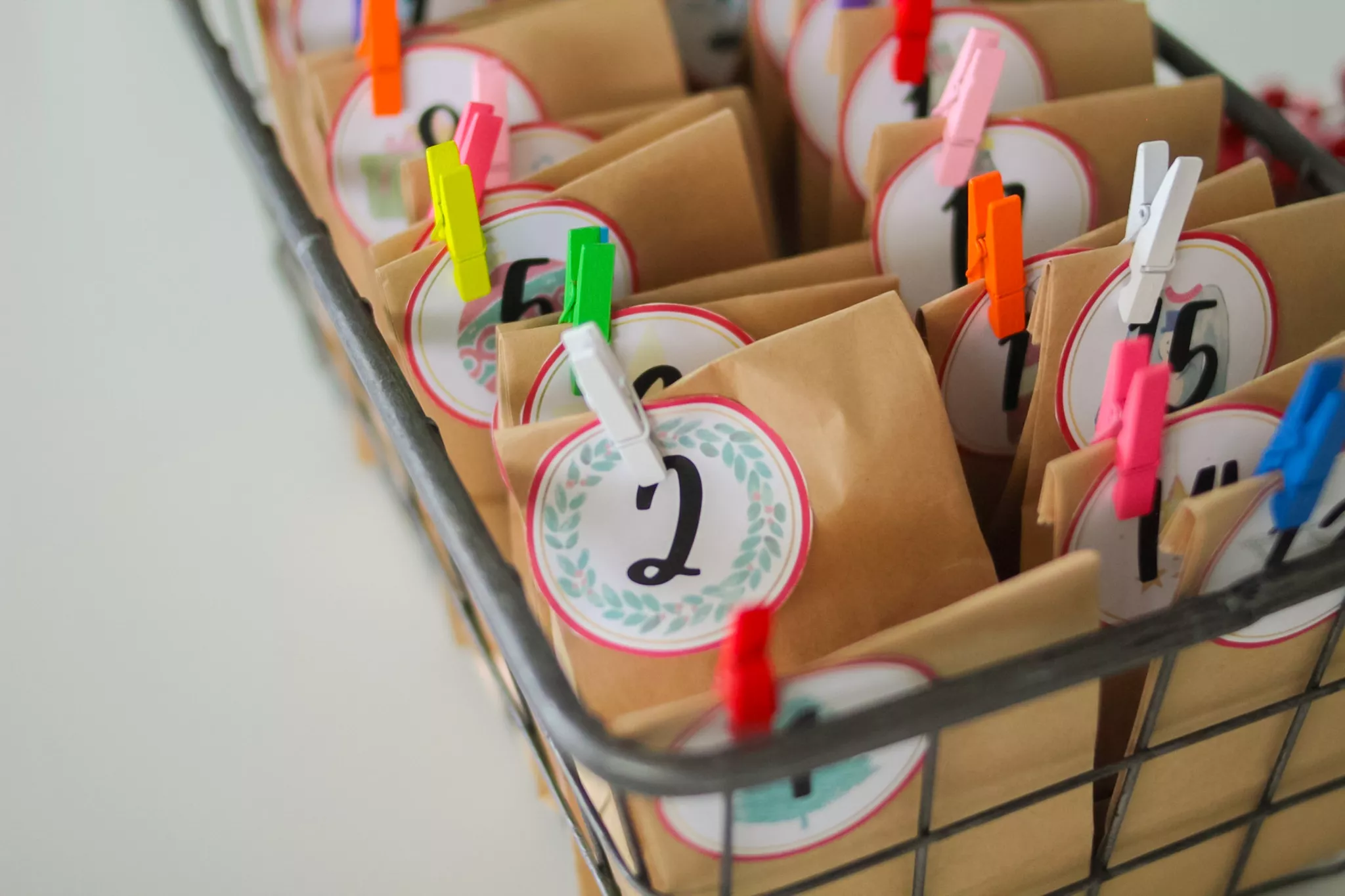 *This post contains affiliate links, however, all opinions are my own.
Feel free to do these in order or move them around to fit the order you want them to be in…
1. Decorate The Christmas Tree
Grab the Christmas tree and decorations, put on some jolly Christmas music, and decorate your tree together as a family.
If your kiddo is little and bulb ornaments are both something you can't part with, aaaaaaand can't let them touch, consider getting a felt tree that can attach to the wall that your child can easily decorate and redecorate!
2.

Bake & decorate holiday

cookies
Here are over 50+ great holiday cookie recipes you can make with your children and family, as well as over 25+ no-bake cookie recipes!
3. Build A Snowman
If you don't have snow outside to build a snowman, build one inside!
You can easily mix flour and oil (vegetable oil, baby oil, coconut oil – whatever you have one hand) in a large tub and roll up some balls.
Place a toothpick down the center to stick the rolled balls together to form a snowman!
You can even make snowmen out of play-doh if you have some on hand.
4. Watch a Christmas Movie
We always love watching the old school Rudolph movie together as a family.
Let your kids pick one out that they want to watch together as a family.
5. Hold A Sibling Sleepover
Hang Christmas lights around the room and let your kid have a sibling sleepover!
They can make a blanket fort over the bed or on the floor, curl up on some pillows, and have fun.
6. Act Out the Story of Baby Jesus
Put on a quick family play together and re-enact the story of baby Jesus.
7. Donate to a local food bank
Find a local food bank near you and encourage your children to donate to help those in need.
If you need help finding a food bank near you, visit this link.
8. Make a tree ornament
Making ornaments is something our kids love to do!
I buy bulk plastic bulbs from a craft store (or on Amazon), and let my kids decorate them however they like.
Sometimes they want to paint them, other times they want to stuff things inside the ornaments like confetti or pipe cleaners.
If you have construction paper or cardstock on hand, they can also cut out and color ornaments.
Be sure to write their name and the year on each ornament!
9. Drive to look at Christmas lights
This is one of our absolute favorite holiday traditions to do together!
Find a neighborhood around you that has plenty of Christmas lights up, and drive around.
Print off my free Christmas lights scavenger hunt printable to have your children do their scavenger hunt for certain types of lights, and check them off as you see them!
10. Do a secret act of kindness
Christmas is the season for giving and being kind – encourage your kids to do one secret act of kindness for someone they know.
It could be grabbing mail for a neighbor or bringing their trash can up the driveway, or helping their brother or sister tidy up their room while they play outside.
Be sure to tell them to keep it a secret!
11. Listen to Christmas music
The best way to spread Christmas cheer is singing loud for all to hear!
Turn on some holiday tunes and jam out.
12. Make a homemade gift for someone
Homemade gifts always put a smile on someone's face.
Have your child color a picture or glue popsicle sticks together in the shape of a tree as a DIY gift for a friend or family member.
Inspire them to get creative or invent something new!
Here are over 75+ Homemade Christmas Gifts to give you some inspiration.
13. Make a card for Grandma and Grandpa
Snail mail has its place during the holidays – especially for those of us who live farther than 20 minutes from our family.
Encourage your kids to make or sign a card for their Grandparents, teach them how to address the envelope, and stick it in the mail!
They can also include homemade drawings, small crafts, stickers, or a signed school picture.
If school pictures aren't happening this year with school closures, snap a quick cell phone picture and print it out with your printer!
14. DIY Snowball fight
Use balled up socks or paper to simulate a snowball fight inside!
15. Wear fun Christmas socks or PJs
Wearing fun holiday-themed clothes is a fun way to relax during the Christmas season.
16. Open one gift on Christmas eve
Put together and set aside a special Christmas Eve gift for your kids to open up.
Fill it with Christmas pjs, a book, and a small treat they can enjoy on the night before Christmas!
17. Write a letter to Santa
Write a letter to Santa – have your child tell them what a good girl or boy they've been this year, and include a couple of top gifts they'd like this year.
I have a great Santa Letter template included in my Holiday Planner that your child can use, along with over 30 other great pages to plan out the best Christmas season yet!
18. Decorate a gingerbread house
Build a gingerbread house together and decorate it for some easy holiday fun.
19. Collect & donate unwanted toys
A great way to purge your children's toy collection to get ready for Christmas gifts, and also an act of kindness – donate old unwanted toys that are still working and in good condition.
If all else fails when you're looking to donate (because I know most places want unopened, new toys), check for local foster closets that accept clothes and toy donations to see if they could use your unwanted toys this year.
20. Write down new years resolutions
Talk about some goals for the New Year, and encourage your child to write down some resolutions they have.
Reading more, joining a sports team, or being better about completing their chores are some easy choices to suggest!
21. Make reindeer food
Leaving out cookies for Santa is a popular holiday tradition, but what about the reindeer?
They need a snack, too!
Make some reindeer food together for Rudolph and his crew – check out the free recipe and printable tags HERE.
22. Cut out paper snowflakes
Fold pieces of paper and use scissors to cut shapes out.
Unfold the paper to see what kind of snowflake you created, and hang them on a string together to display them.
Here's a great free paper snowflakes template from Always Autumn that has beginner to advanced snowflake templates!
23. Make a Christmas craft
Get creative and craft something together this holiday season!
24. Complete a holiday puzzle
This can be a funny and silly activity or a quiet, dedicated activity to do with your children depending on the holiday puzzle you choose.
25. Make a sweet holiday treat
Whether you're breaking out a box of brownie mix and Christmas-colored sprinkles, or you're going with a recipe from scratch – making holiday treats together is something kids will always remember and hold onto.
Here are over 25+ sugar cookie recipes to try out with your kids this year.
---
Thanks so much for reading this post, I hope you found some new fun Advent Calendar Ideas to try out this holiday season!
If you enjoyed this Advent Calendar Ideas post, I hope you'll check out these other fun holiday posts…