The best cleaning products of 2022 – my personal top picks, and why I love them…
---
Best Cleaning Products of 2022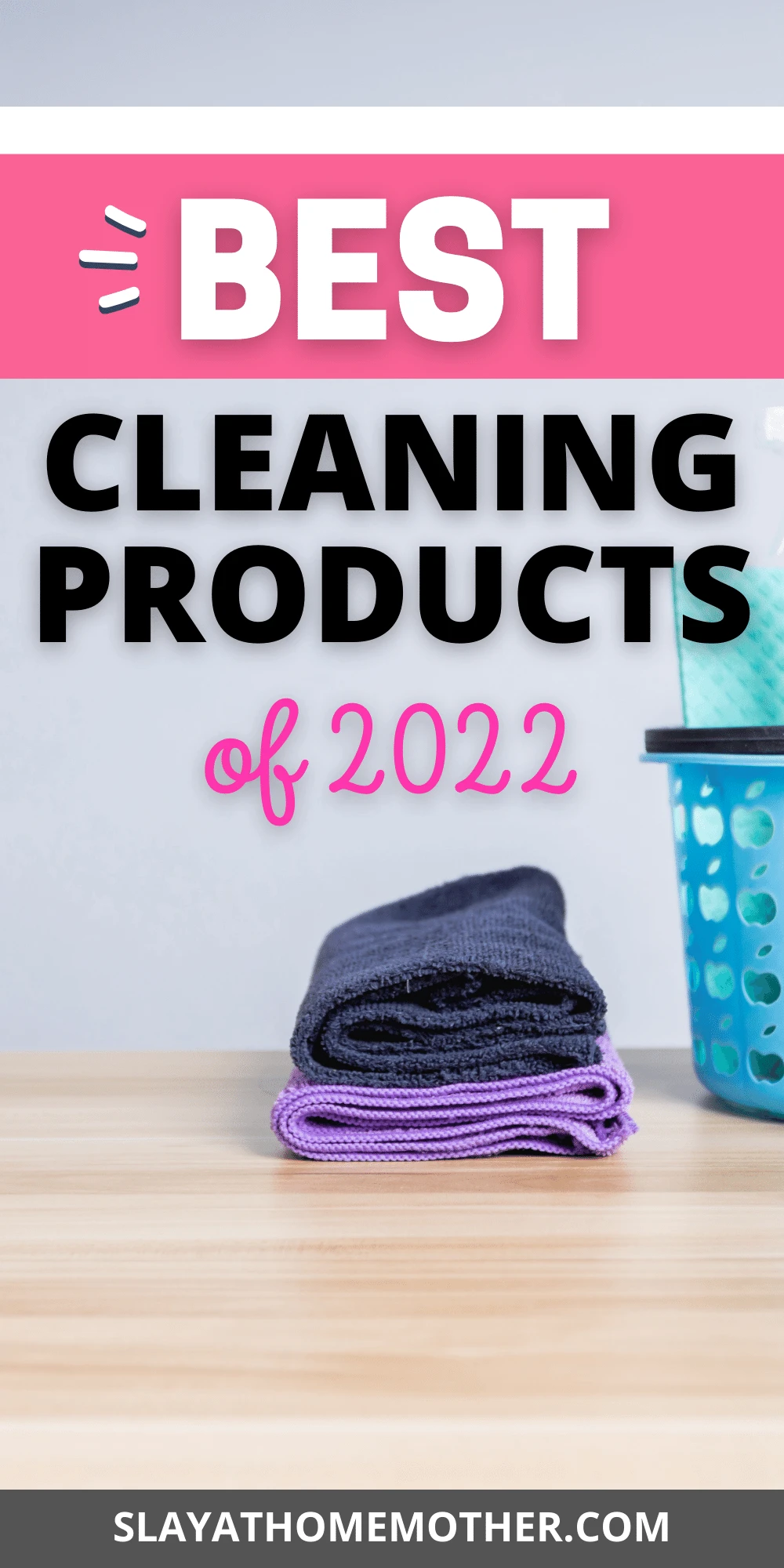 It's time!
I'm revealing my top picks for cleaning products now that the year is coming to a close.
This post has been requested multiple times, and I'm thrilled to finally hit that beautiful PUBLISH button on it.
Keep in mind that the opinions expressed in this post are mine – and your opinions may differ.
In fact, if they do – leave a comment and tell me why!
I'll be sharing my favorites for each category of cleaning tools and products.
Prefer to listen to this list instead of reading it? I made a podcast episode just for you:

*This post contains affiliate links, however, all opinions are my own, as always.*
Dusters
These dusting gloves stole my heart when I discovered I could use them to dust our glass globe pendant lights in the kitchen.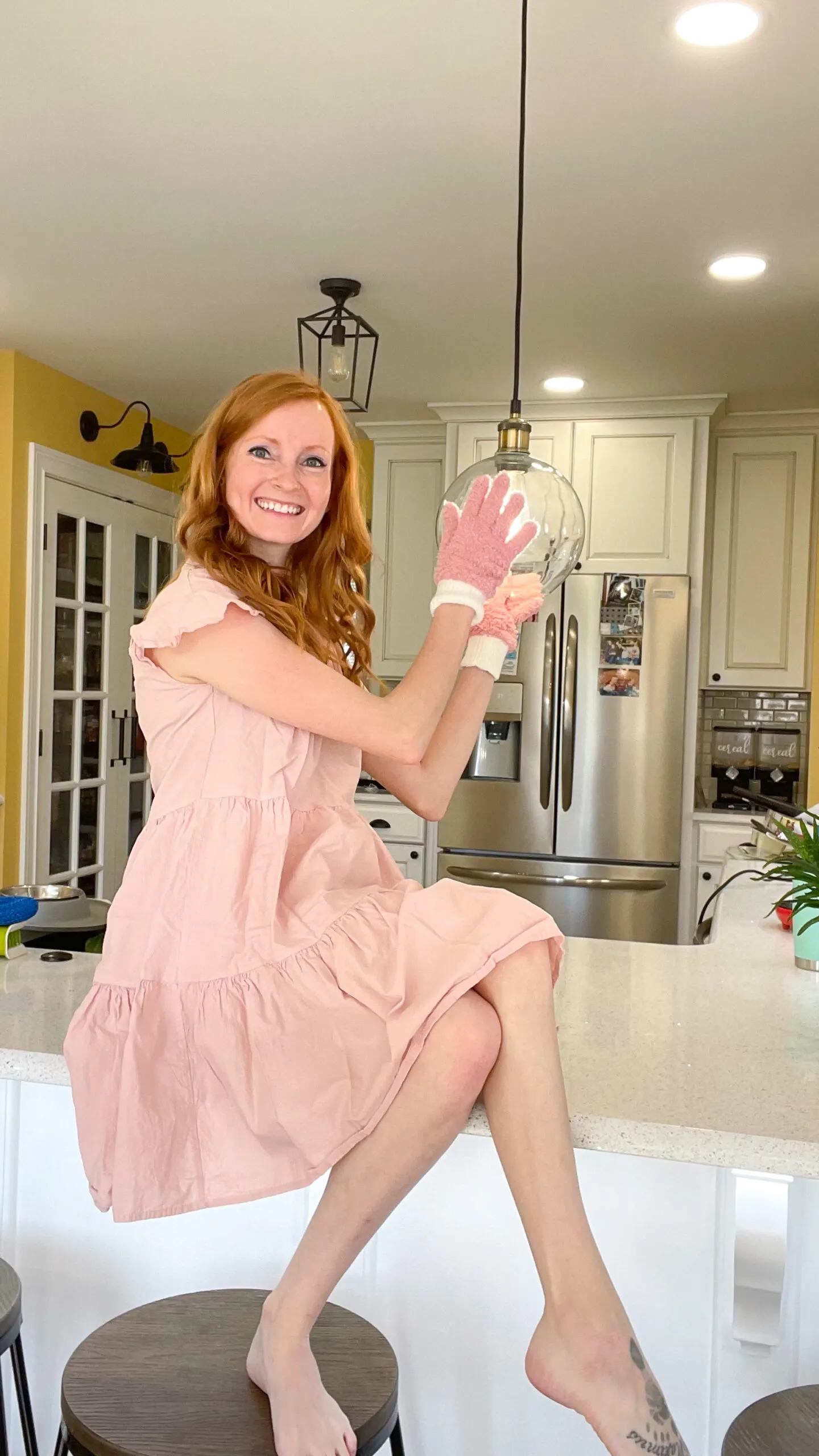 I'm not the biggest fan of dusters on sticks (if you catch my drift), so for other areas in our home, I like to use a mini vacuum like this one and follow up with a cleaner afterward.
For example, for dusting fan blades, I will vacuum away the dust first, and follow up with a microfiber cloth and Murphy's Oil Soap.
Robot Vacuum
The first robot vacuum we purchased earlier this year was self-emptying, and when I tell you it was startling and sounded like a full-blown JET was flying through our house during the emptying cycle – I'm not kidding.
We lasted less than 2 weeks with that vacuum and decided to pick up one that we could empty ourselves and keep from losing all of our hair and stressing each time it self-emptied.
Not worth the convenience, also, because you still have to empty the unit ;).
The robot vacuum we settled on was less expensive and has a mapping feature so it can map out your home and its cleaning routine.
Since having three kids (one a toddler) and a puppy, it's been a great asset to help tidy up at the end of the day.
Vacuum
I could write a book about how much I love our vacuum, but I'll try to keep it short.
We have the Shark Vertex (refurbished), and it's a beast!
I recommend it to all of my readers and online following, especially those with kids and pets.
It's very easy to use and works great on all kinds of flooring and carpeting.
Check out this side-by-side comparison with my cordless Dyson V8:
Mop
While I certainly love my Bissell Crosswave, it's better for quicker messes that are cleaned up right away.
For deep cleaning floors with a mop, I love the new O-Cedar two-bucket mop system.

It separates the clean water from the dirty water and auto-dispenses water into the clean tank as you use it.
Detailing Scrubber
I have two detailing scrubbers for this category that I love and recommend.
The first is the Rubbermaid scrubber.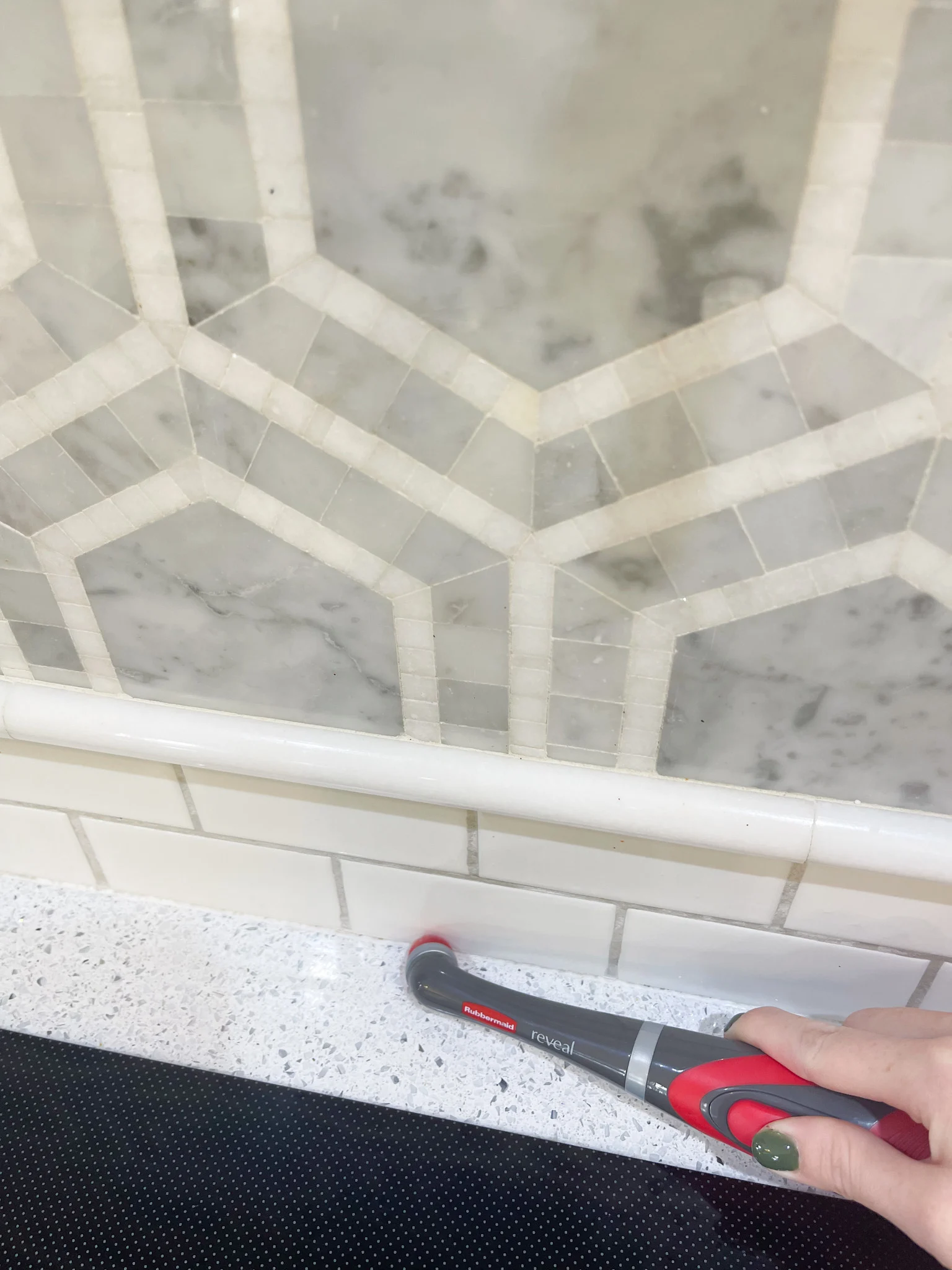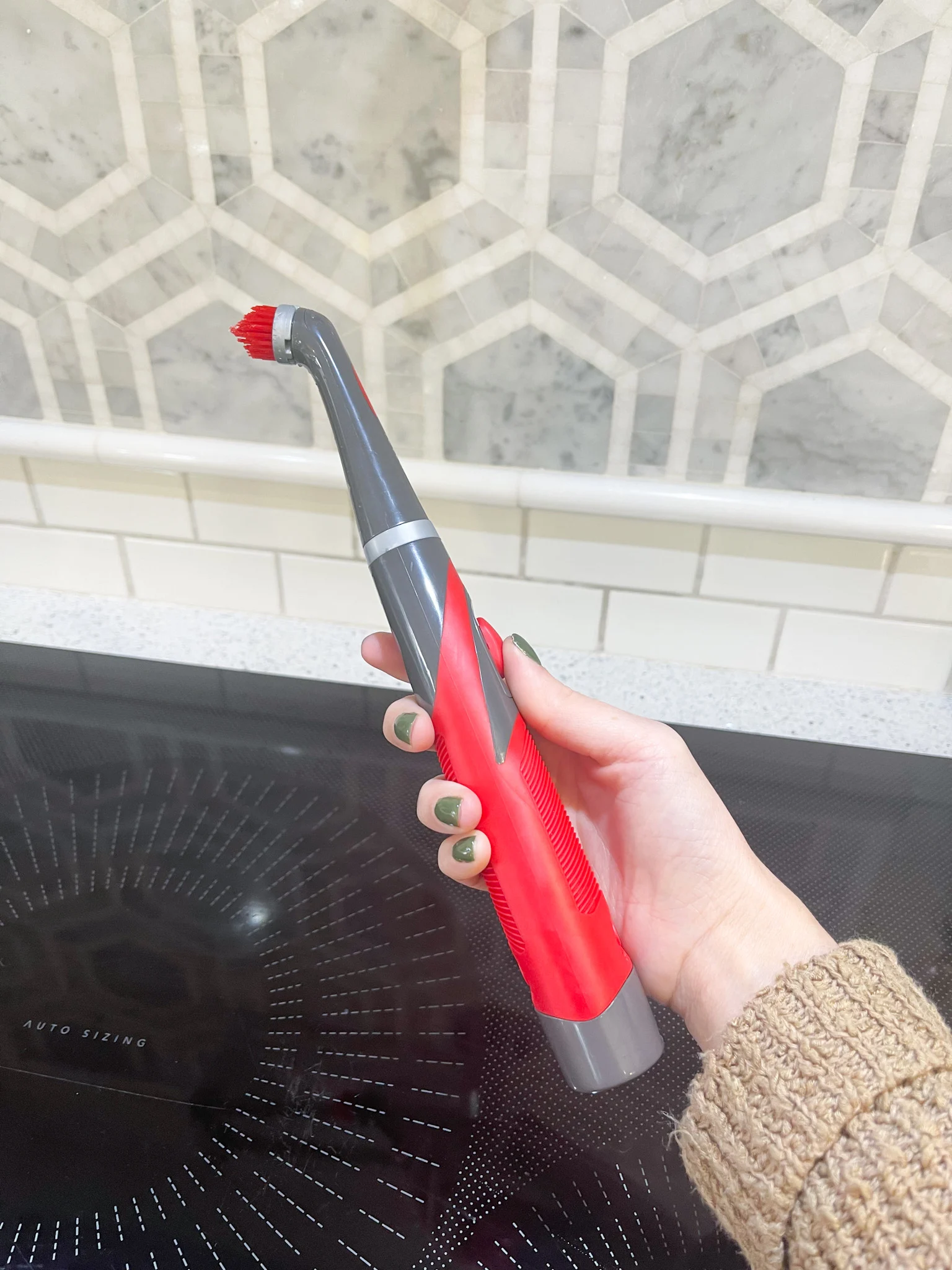 It's battery-powered and comes with two different attachment heads.
It's great for helping scrub tight spots and areas.
The second scrubber I recommend is better for larger areas that need detailing: the Rotoscrub Drill Attachment Kit.
You'll need a regular power drill for this one.
You just fit the drill bit into your drill and tighten it up, stick a Rotoscrub scrubbing pad to it, wet it, and go to town!
I love using the Rotoscrub for my textured tile floors in our kitchen that, I swear, grab and hold onto every little thing.
Sponges
Scrub Mommy sponges are my favorite – they have a rough half and a soft half.
Dip the rough portion in cold water and it becomes more rigid and is suitable for tough scrubbing jobs.
Dip the rough portion in warm/hot water and the material softens up a bit and is more suitable for dishwashing or lightly buffing counters.
Disinfectant/Sanitizer
I'm a huge fan of Force Of Nature cleaner, which is a bleach alternative that is safe to use around kids and pets.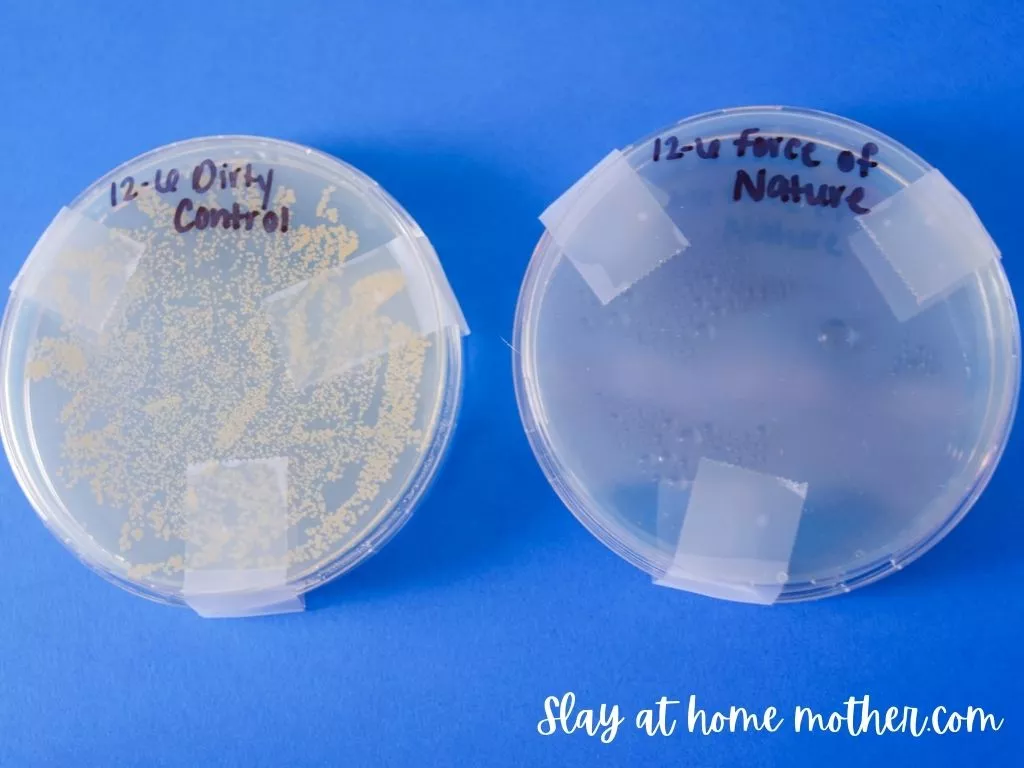 It does have a 10-minute working time to disinfect, just like bleach.
For sanitizing surfaces, I like using my Ozone sprayer, which can sanitize a surface in about 30 seconds and smells like a rainstorm.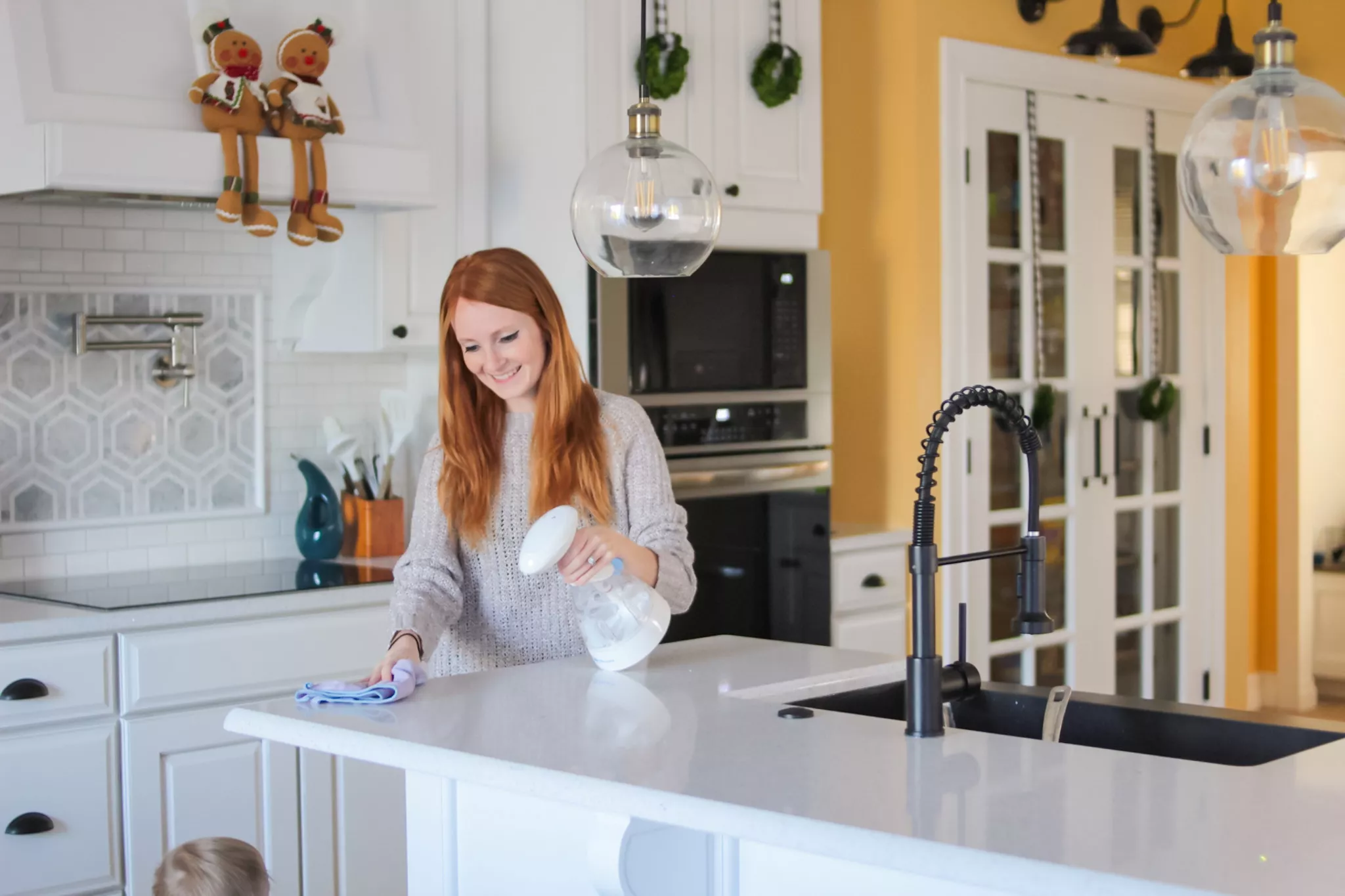 Non-Toxic Cleaning Concentrate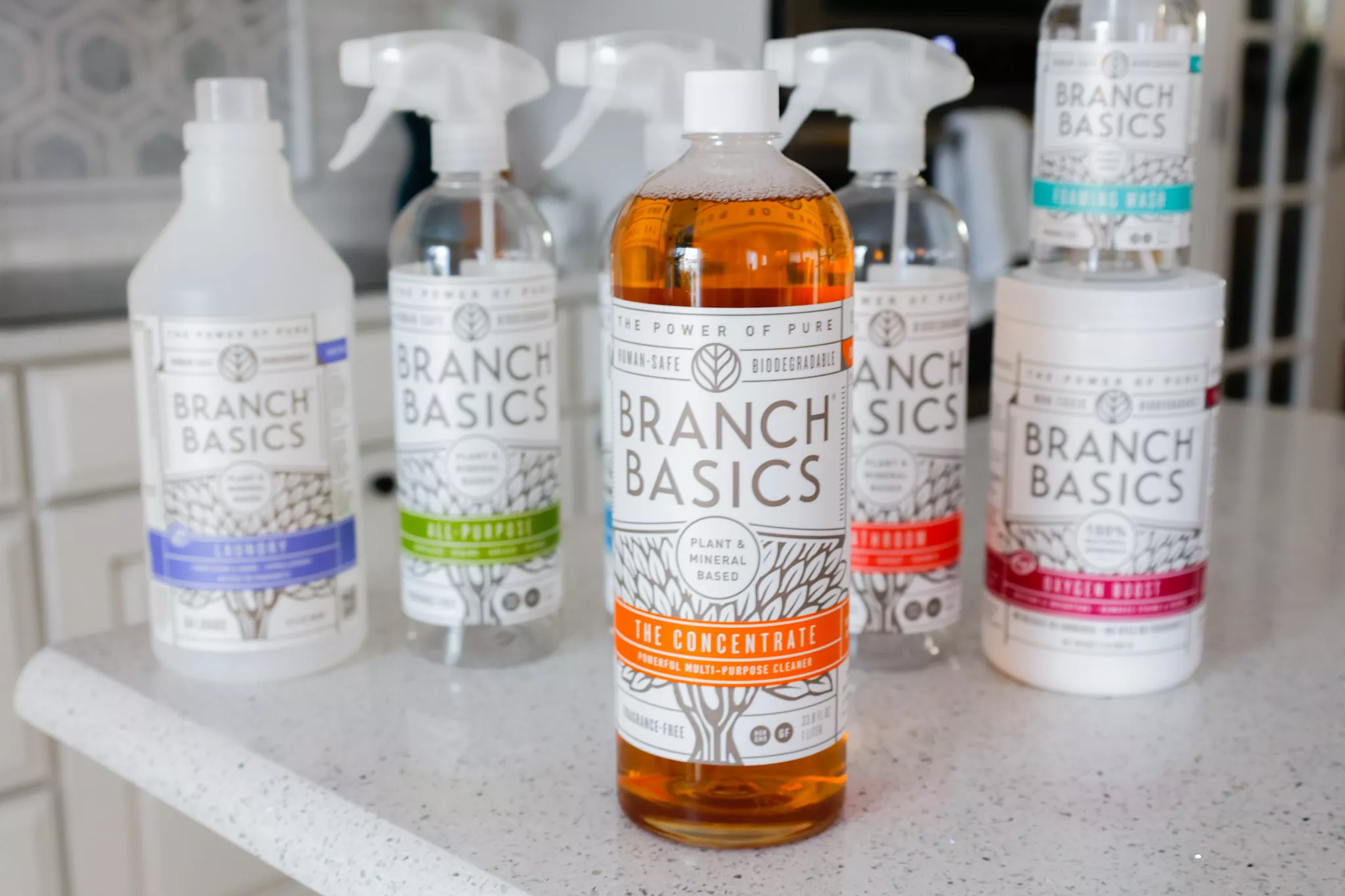 Branch Basics concentrate and Starter Kit are amazing!
I haven't been this amazed by a non-toxic cleaner like this one.
Each bottle has two lines indicating where to fill the water up to, and how much concentrate to add in.
It's powerful, fragrance-free (which is great if you're sensitive to scents), and washes up like a dream.
We use ours in the kitchen, bathroom, and pretty much wherever else.
My husband, who is a huge non-toxic nay-sayer ("Oh, those can't possibly work as good as the other stuff…") is also in love with this cleaner and asks for it frequently while he's cleaning up as well.
Stainless Steel Cleaner
I personally love Weiman's stainless steel cleaner spray (but a little goes a long way, so one quick spritz should do it for your appliances).
It smells amazing, shines up stainless steel like a dream, and it takes a long time to go through the bottle.
I prefer the spray over the aerosol can, but that's just my preference.
Cleaning Cloths
I'm a fan of pink cleaning cloths – it helps differentiate cleaning cloths from those our family would use, which really helps our kids who have sensitive skin not accidentally grab one to wash their faces ;).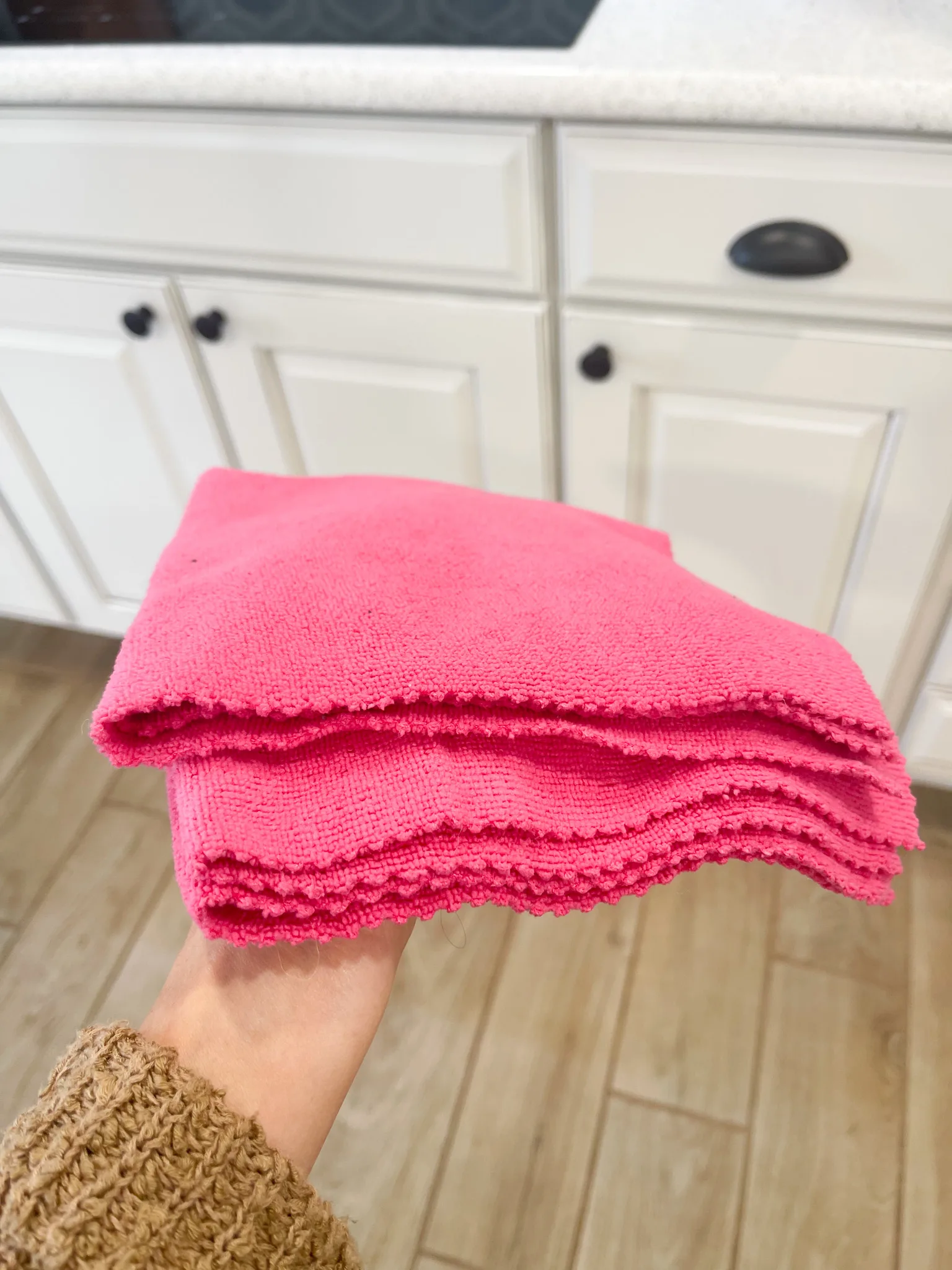 Wood Furniture / Kitchen Cabinet Cleaner
For our wood furniture and kitchen cabinets, I use Murphy's Oil Soap.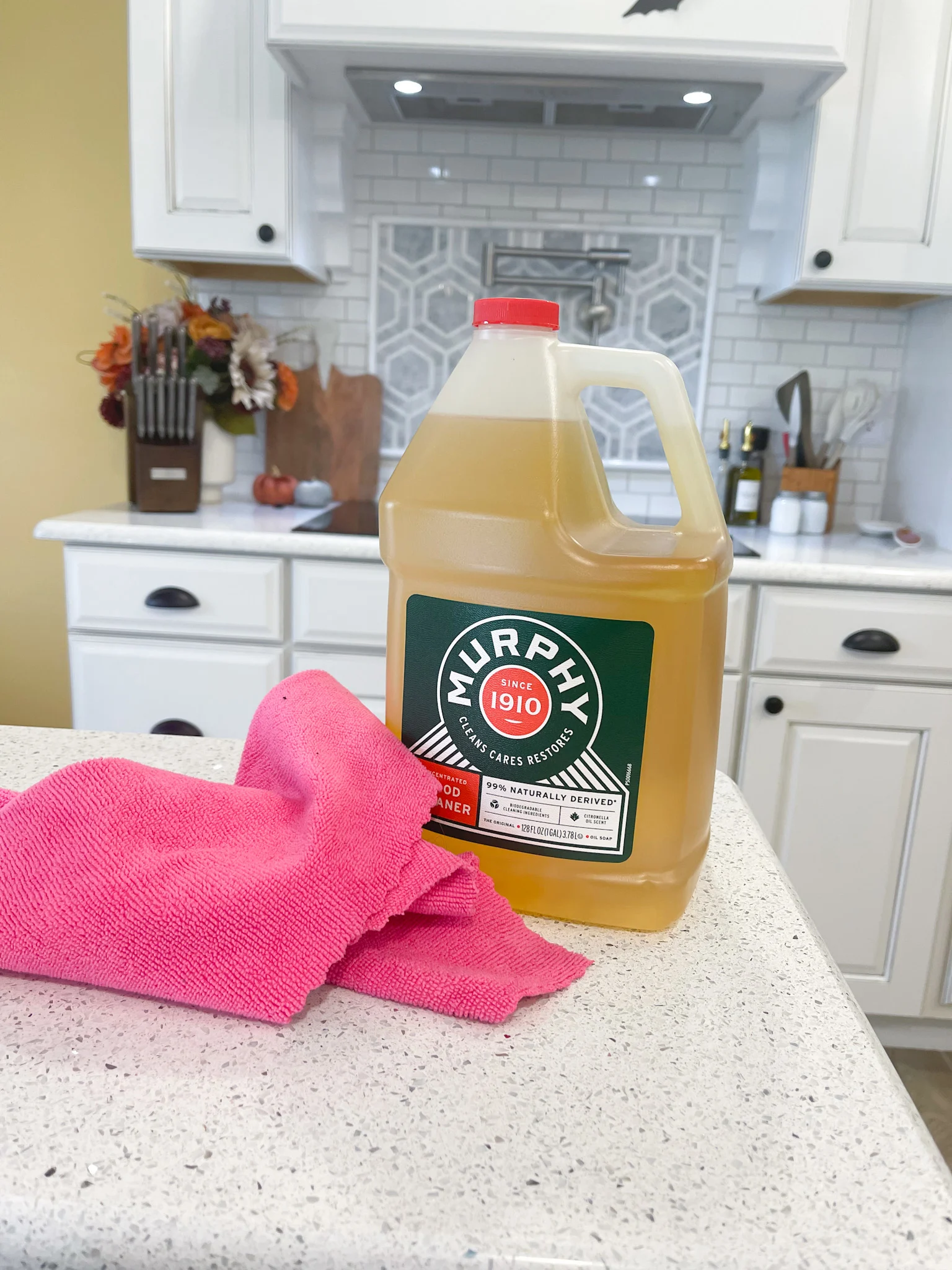 I like to buy the concentrate and mix it myself, however, because I find that it works better than the store-bought premixed spray bottles.
Here's a reel I made to show you how you can use Murphy's around your whole house:
Laundry Detergent
I have two laundry 'things' I use, one is Dropps laundry pods (read the full review on Dropps here), and an Ozone unit.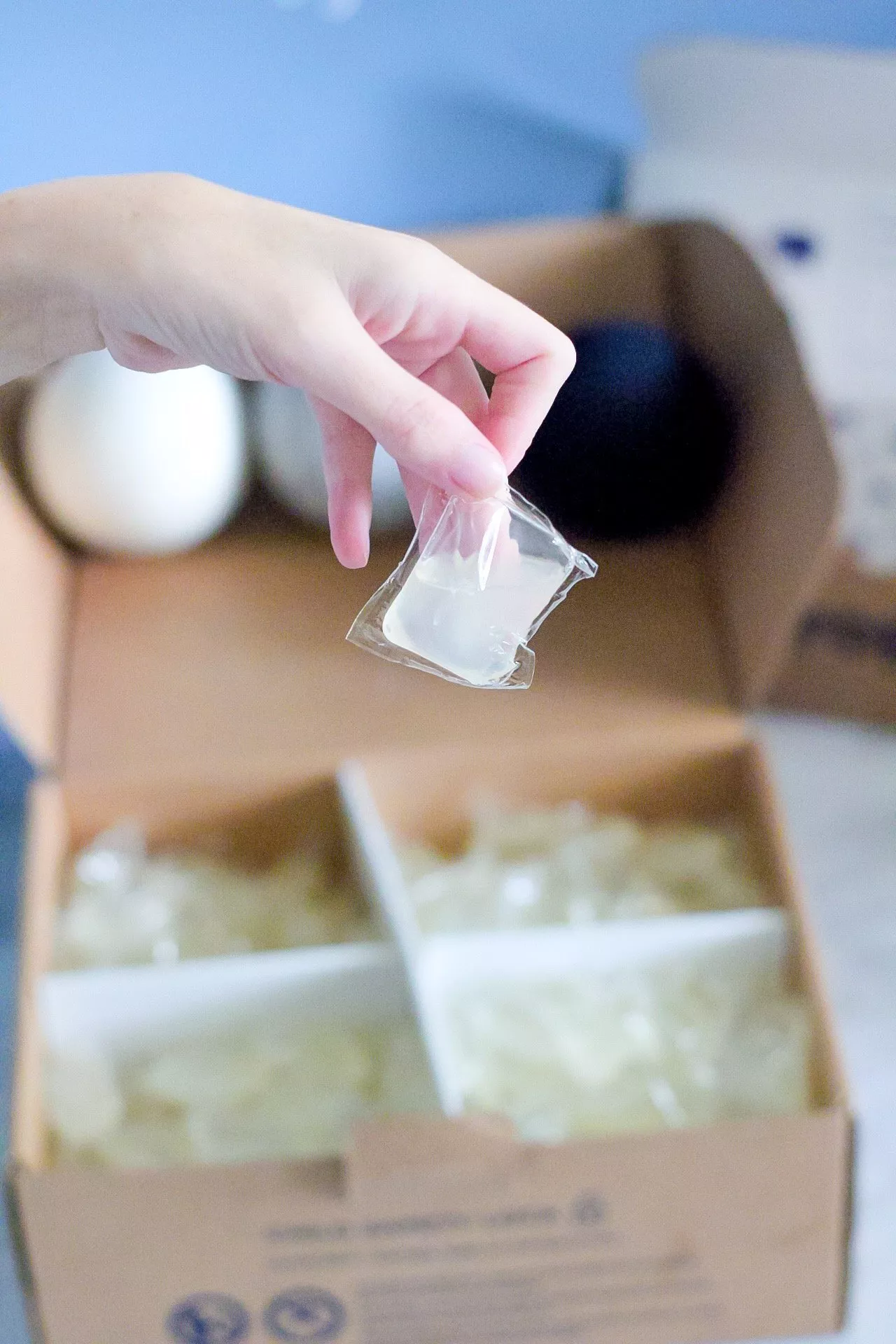 The ozone unit (click here to read the whole review and setup post) is great because you never have to buy or use laundry detergent again. The downside is if you need to wash something for the very first time that isn't colorfast (color bleeds, like super dark jeans), you may be better off washing it with regular detergent the first time or two.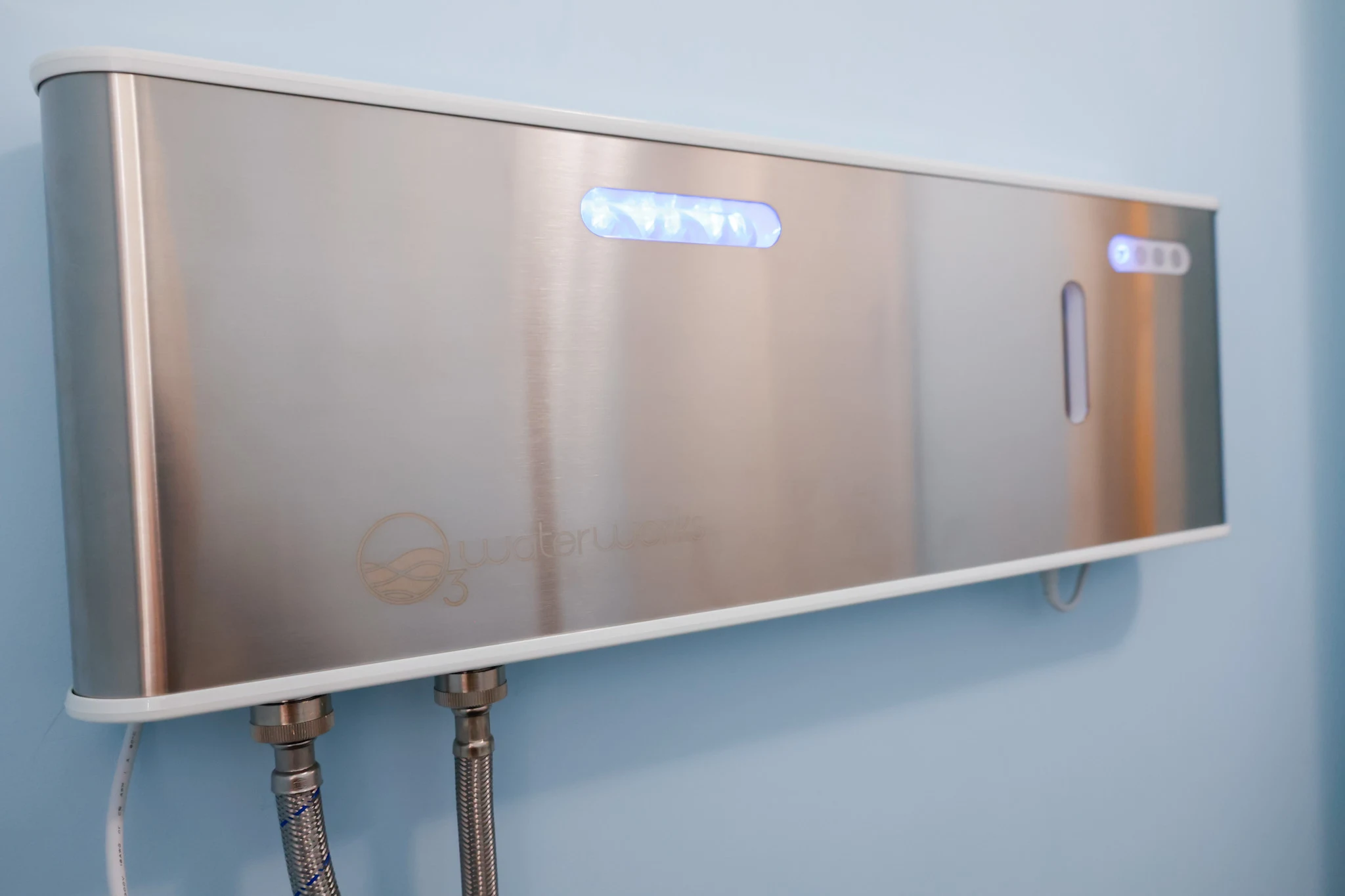 Ozone does such a great job cleaning our laundry, but it can steal the dye from the clothing fibers that aren't as colorfast.
Steamer
To be fair, I've only owned and had experience with one steamer, but that's because they're all an investment.
And while I consider myself to be a successful cleaning and organizing blogger, I don't wish to own 10 different steam cleaners just for the sake of trying them all out.
I can fairly and adequately say that I've tested this one out, and it's pleased me.
The Dupray Neat Steam Cleaner (click here to read the full review and unboxing) is a compact steam cleaner with wheels on the bottom and 17 attachments.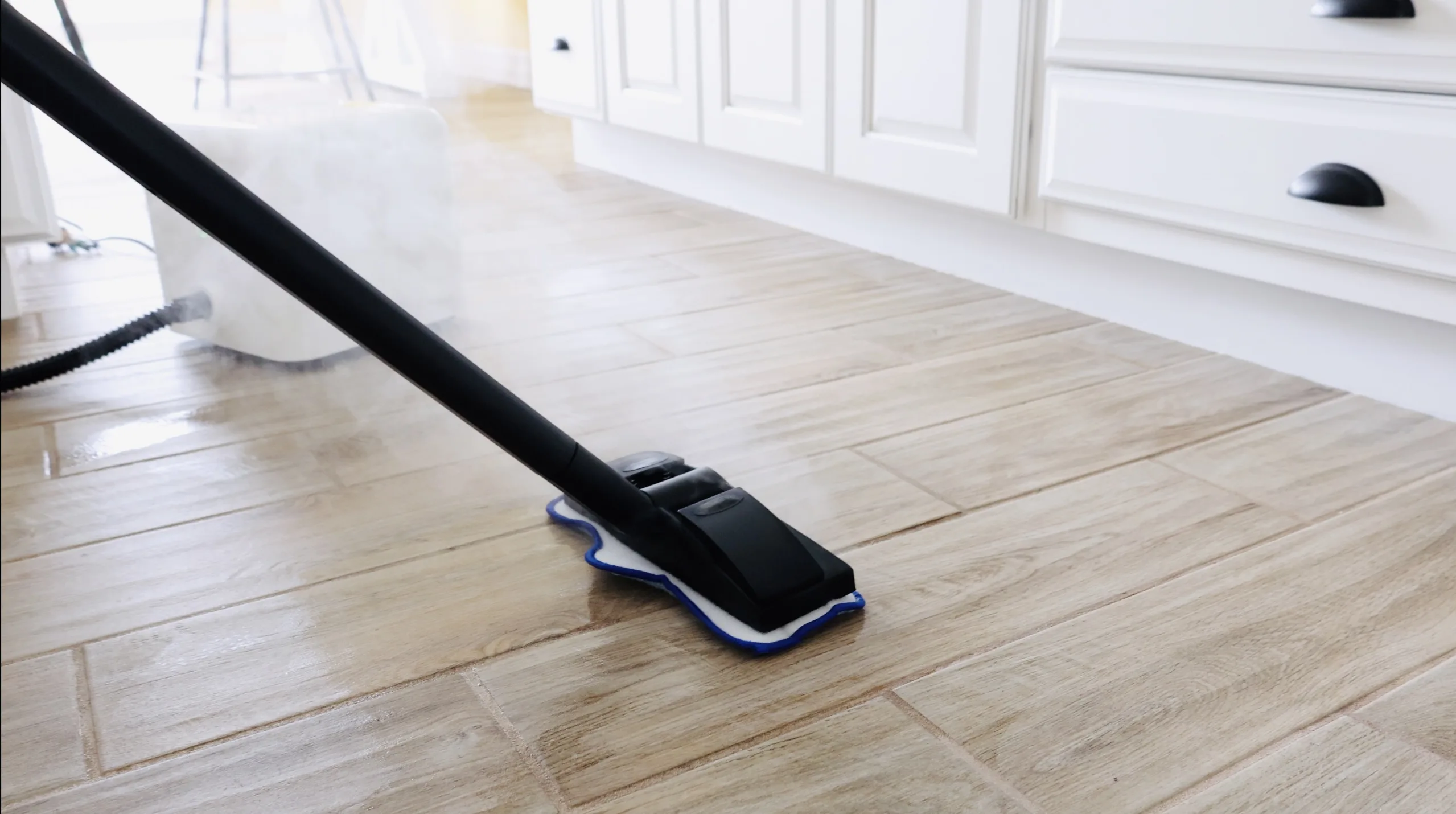 We use ours on our tile flooring and in the bathrooms and kitchens (hello dirty oven!), and it does a sensational job.
I love using our steam cleaner to deep clean our grout, as well.
What are some of your favorite cleaning products this year? Share them with me in the comments below!
*Post originally published September 2022, last updated March 2023.