Unbox the Dupray Neat Steam Cleaner with me, and read my honest thoughts…
Partner link for Dupray Steam Cleaner
---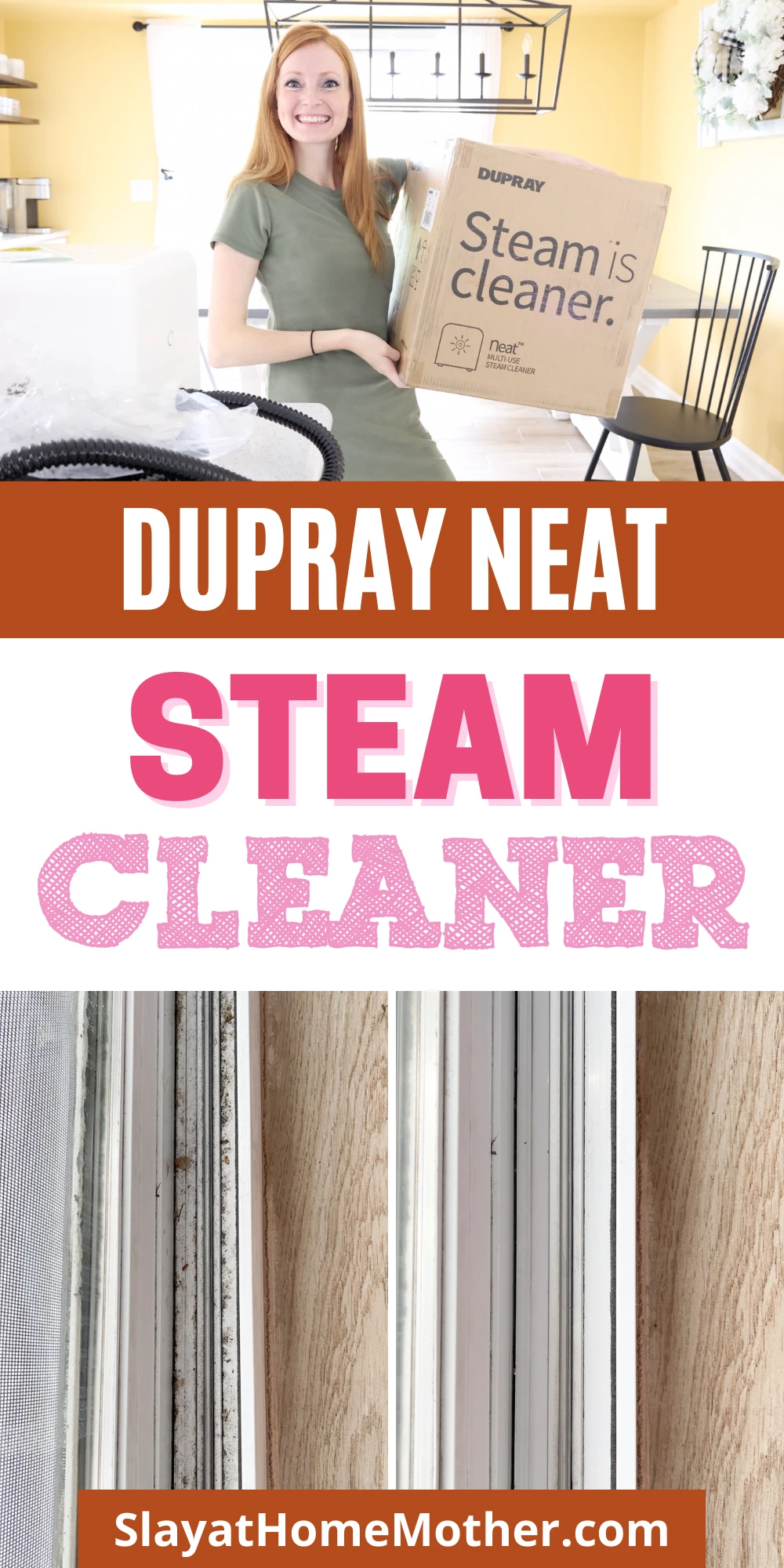 Hi friends!
In today's post, I'll be sharing my honest thoughts on the Dupray Neat Steam Cleaner with you.
If you're already part of my Instagram audience (follow me here – I'd love to have you!), you've already seen this steam cleaner in action.
I'll be detailing what I love about the steam cleaner and showing you some before and after pics – those are my favorite!
Before Dupray gifted me this steam cleaner, I'll admit I found steam cleaning to be a little….iffy?
What do you mean I can clean with just steam?
I decided to give it a try because I'm all about trying non-toxic cleaning solutions, and with a steam cleaner, the only chemical you're cleaning with is water.
Here are my honest thoughts (if you're a visual person like I am, I made a YouTube video at the bottom of this post for your viewing pleasure)…
*This post contains affiliate links, however, all opinions are my own, as always.
What Comes With My Dupray Neat Steam Cleaner Purchase?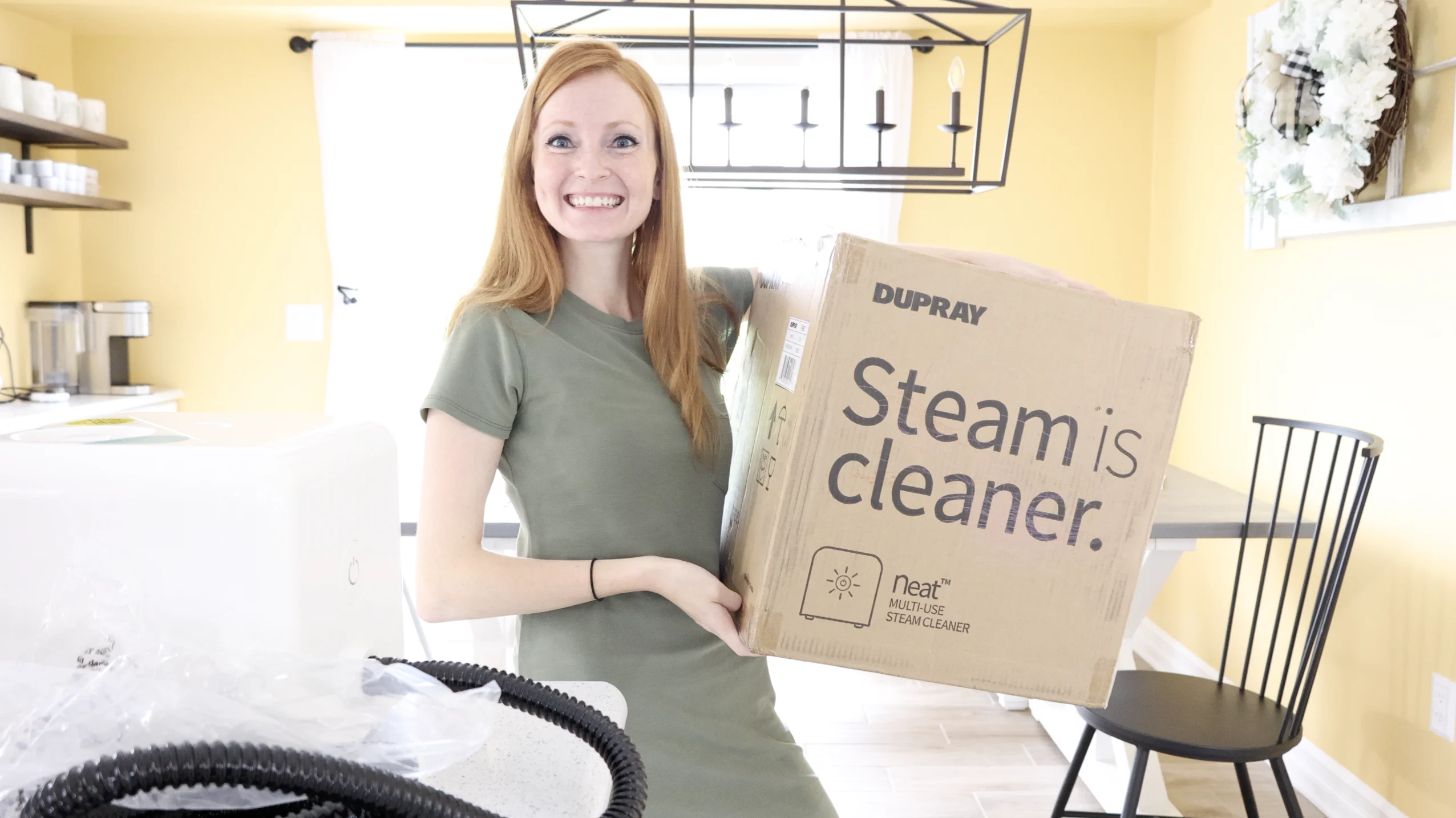 When you order from the Dupray website, you get…
the

Dupray Neat Steam Cleaner

(the boiler has a lifetime warranty, and the steamer has a limited 2-year warranty)

17-piece accessory kit

floor tool

triangle tool

window squeegee tool (double-bladed)

steam lance

2x extension tubes

5x nylon brushes

brass brush

3x microfiber pads

microfiber bonnet

microfiber cloth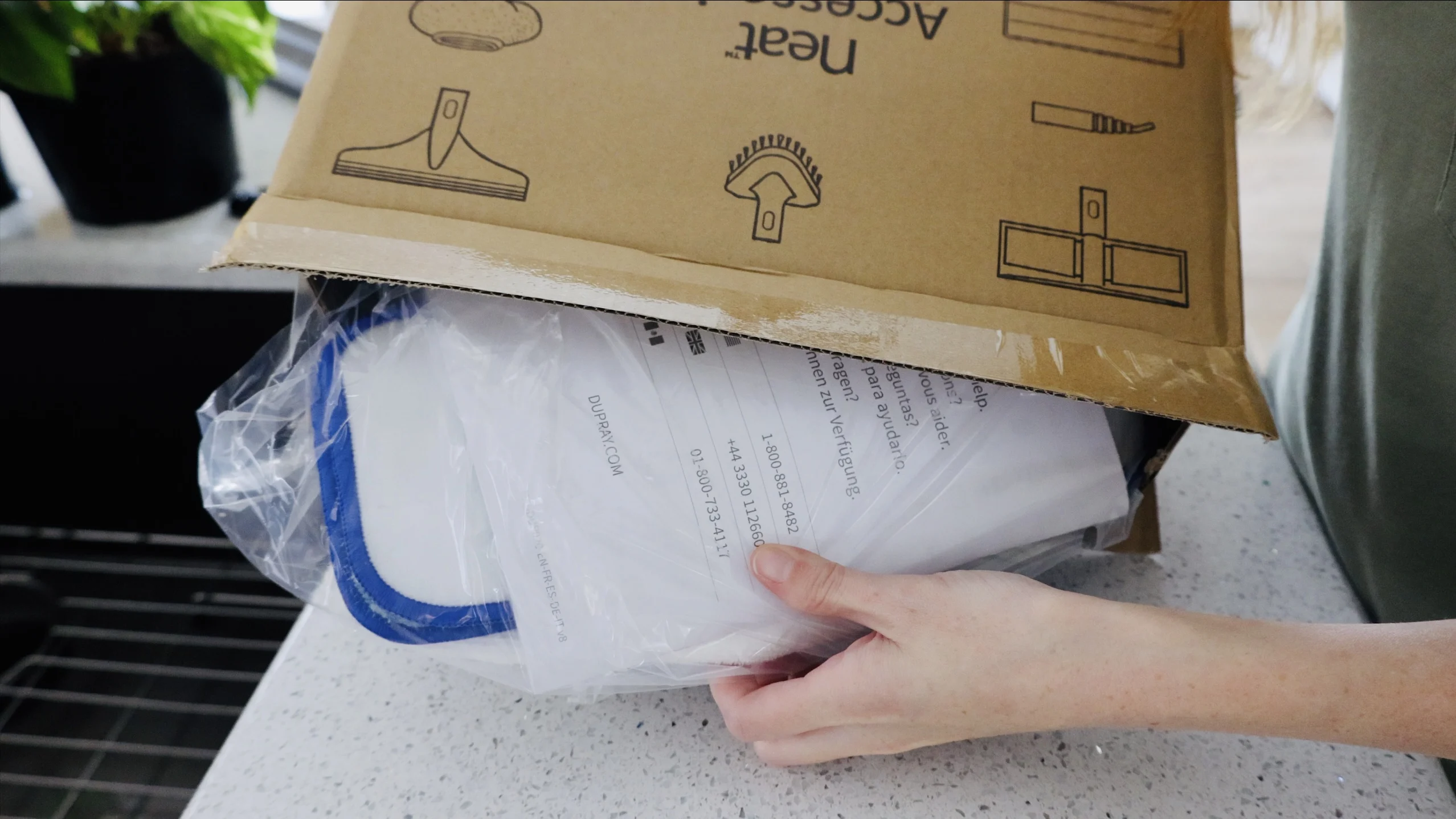 I can't speak for other websites (Amazon, Walmart, etc.) and whether you'd get the same kind of deal or if the accessory kit would be included, so keep that in mind.
I received my order within two days, which I felt was incredibly fast.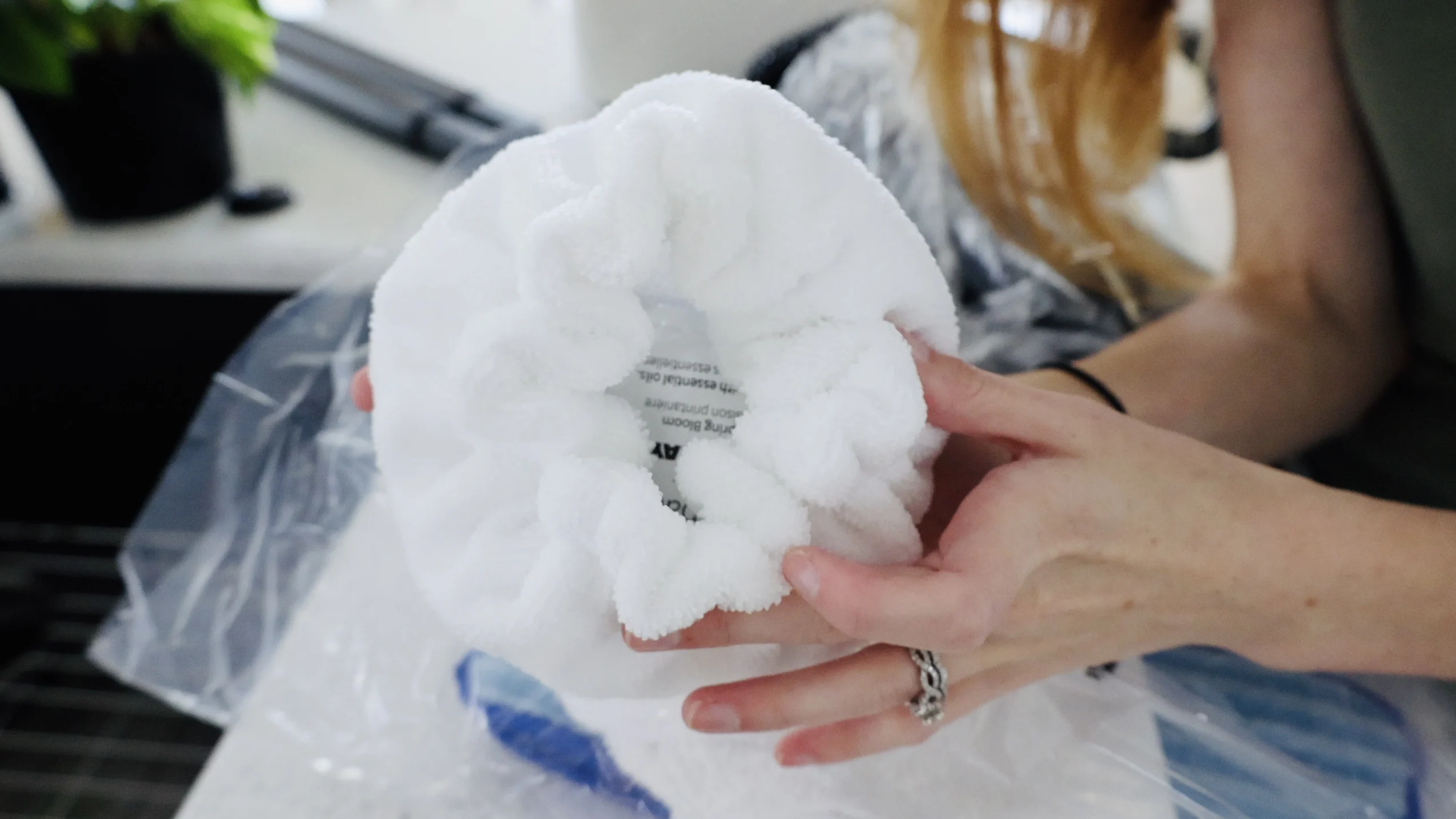 What Surfaces Can I Clean With This Steam Cleaner
With the Dupray Neat Steam Cleaner, you can clean surfaces like…
mattresses

couches

floors

walls

bathrooms

(toilets, tubs, showers, etc.)

car interiors

kitchen appliances (inside the oven, kitchen sink, etc.)

and more!
This machine is very versatile, and with all the different attachments and tools that come with it, you have a full range of options and surfaces to use your steam cleaner on.
There are a few surfaces you cannot use a steam cleaner on (see section below).
My Thoughts on The Dupray Neat Steam Cleaner
I've owned this Neat Steam Cleaner for almost two months now and have been using it every week, so I feel I have a great sense of how well it works and am sharing my thoughts with you below…
Things I Love About The Neat Steam Cleaner
It has a max run time of 50 minutes (I can get almost the entire house done in this time)

It rolls easily on wheels and is super light

The price tag of $170 is more than reasonable

, especially considering all the attachments that come with it!

It's super easy to use and switch out attachments

The steam is powerful and this little unit really pumps it out like a champ

You can clean your entire house chemical-free (I mean, water is technically a chemical, too, but you know what I mean)

You can use any towel with your steam cleaner, not just the included microfiber pads/cloths

There is a button on the handle you can press that will turn the steam on a constant stream so you don't have to keep pressing the trigger button (great for those with arthritis, carpal tunnel, etc., or lack of hand dexterity).

the two extensions that come in the accessory kit make the floor tool comfortable to use without having to hunch over to clean floors or tippy-toe to use on walls

the cord is 16 ft long, the hose is 6'6″ long, and the extension arms are 31.5″ long – with all that length, you're able to avoid having to switch outlets and can reach across a good stretch of your house for continuous cleaning
Things I Think Could Be Improved
There is no way to hang or store the hose

There is no water level indicator

The unit handle gets hot while in use, so if you need to pick it up and move it, just be careful. You won't burn yourself but it will be hot!
You can see that the pros of this machine, in my experience, heavily outweigh the cons.
How The Neat Steam Cleaner Works On Different Surfaces
Steam Cleaning Grout
If you have tile floors in your home with sanded grout (especially in your kitchen), then I know you feel the pain I feel of having to hand scrub the grout when something gets stuck to it.
And it's incredibly easy for that to happen.
With three kids in our home, it's a cleaning task that needs to be done almost every single day.
Not complaining, but complaining ;).
I was using a hand drill with a scrubbing attachment (the right one works wonders!) and then following up with my Crosswave, but I gave this steam cleaner a try to see how it would do.
Here's a before and after of a super stuck-on spot in our kitchen floor grout…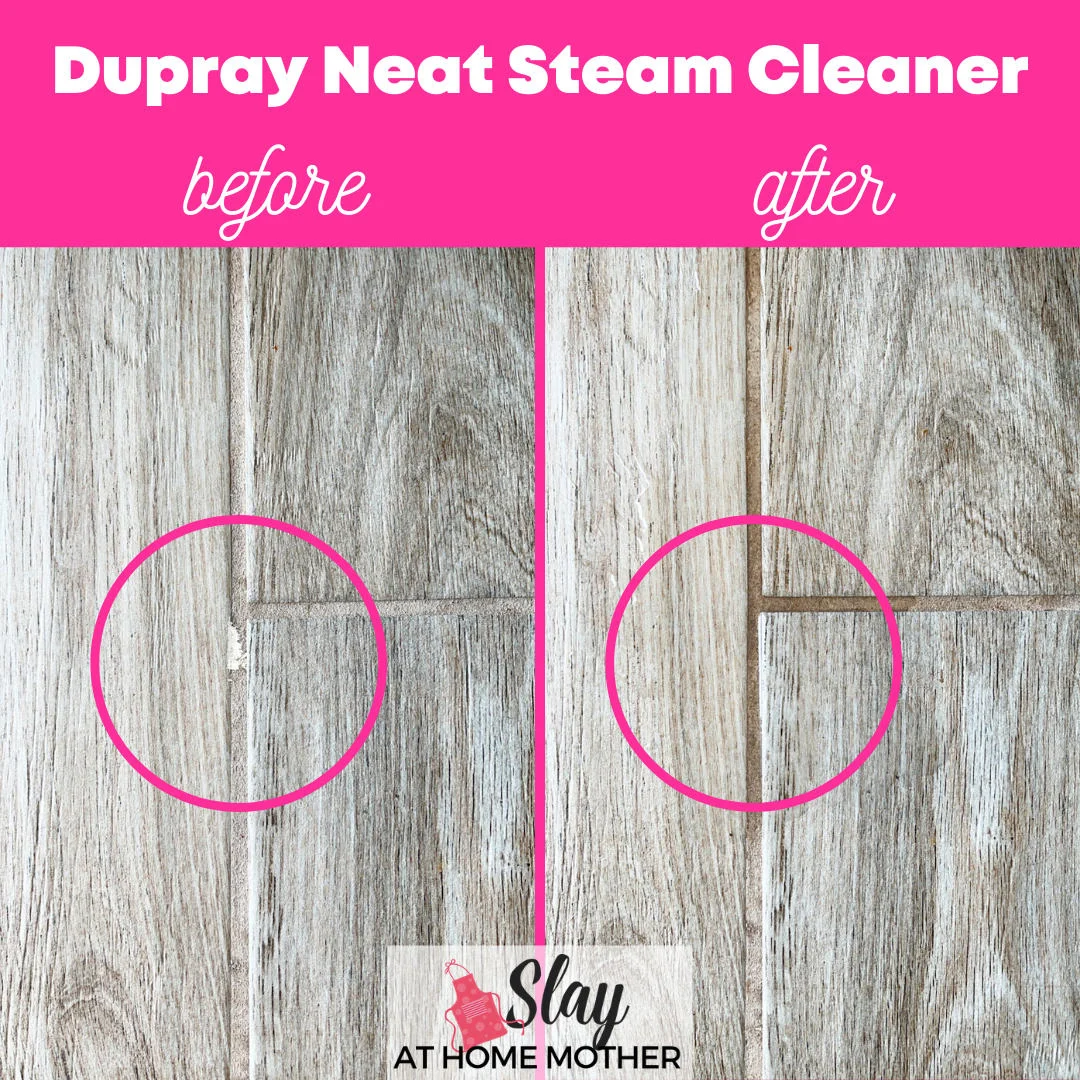 You May Also Like: O3 Waterworks Review – Does Cleaning With Ozonated Water Work?
I don't even know what that is.
Honestly.
Gross, right?
I felt that this steam cleaner handled some seriously tough spots on our grout IN SECONDS that I still would have had to spend some time with our hand drill and scrubbing attachment.
My YouTube video on this steam cleaner shows you just how fast it tackles grout (go to the bottom of this post to see that video).
I was totally mesmerized!!!
After cleaning our grout, I switched from the steam lance and nylon brush to the floor tool and microfiber pad.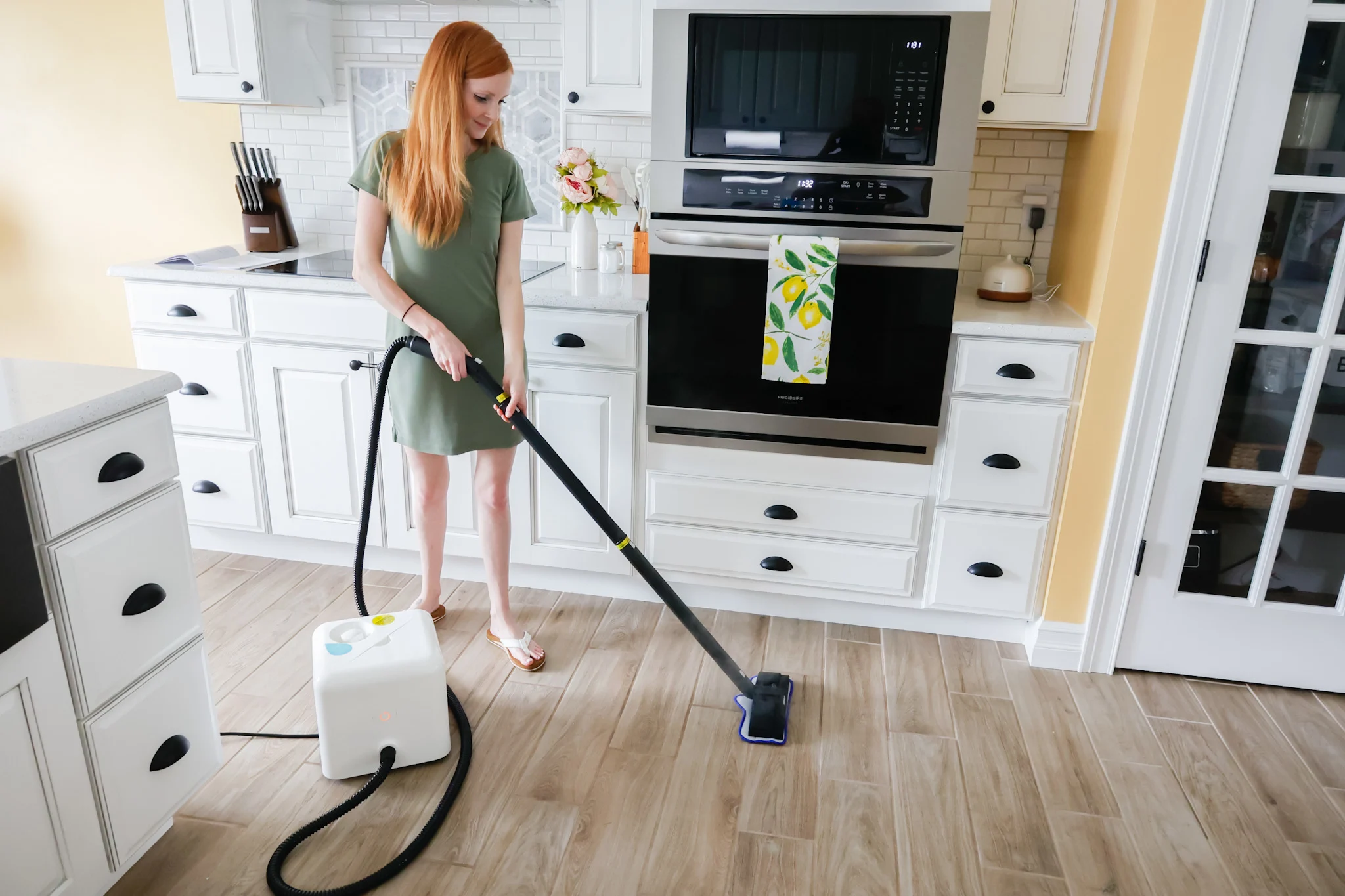 The floor tool seemed to do a great job loosening up dirt from our textured tile floors, which stuck to the microfiber pad.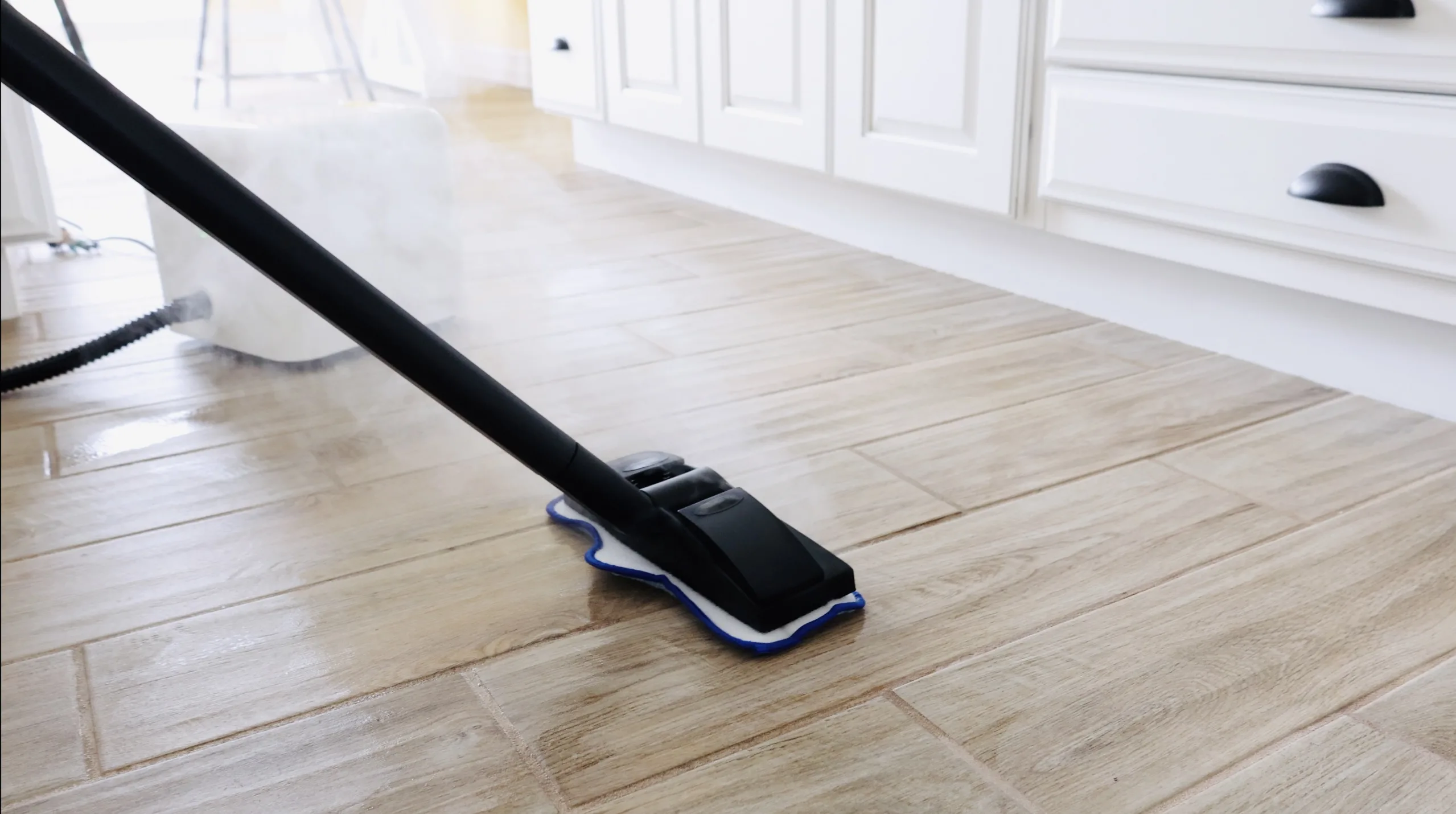 My floors looked BRAND SPANKING NEW when I was done!
You can see in the video still I took from my YouTube video above just how much steam this steam cleaner puts out.
P.S. You can also use this steam cleaner on your walls to safely clean them and remove dirt using the same floor tool and extension arms!
If you have LVP, please see the section below under Surfaces You Shouldn't Use Your Steam Cleaner On.
Steam Cleaning Furniture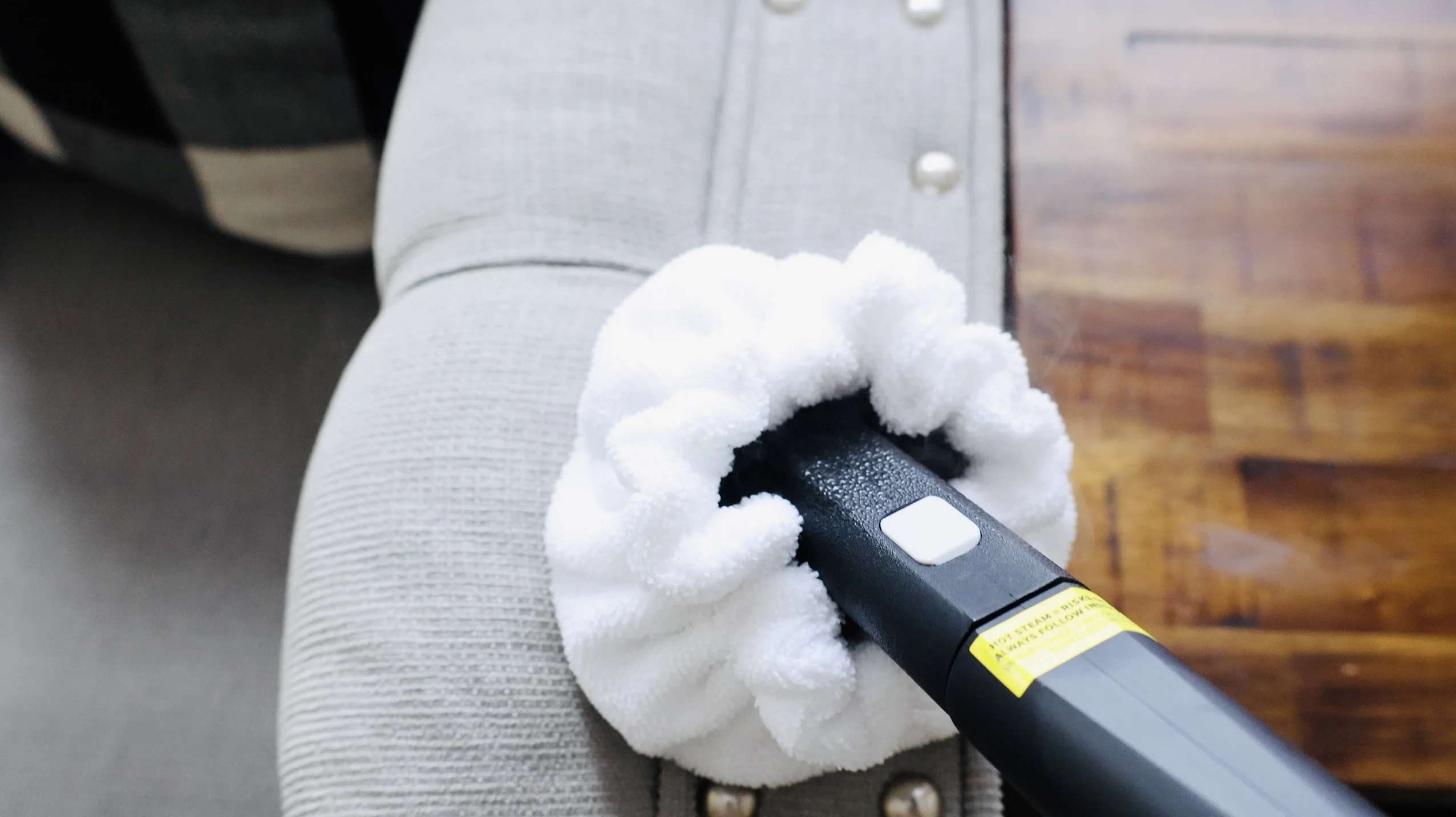 For steam cleaning furniture, Dupray has a triangle tool (included in your accessory kit) and a microfiber bonnet that fits over it.
This was super easy to attach and use – I found that the steam helped loosen gunk around the nailhead trim on our couches that I didn't even realize was there.
I felt steam cleaning the couches was a good way to help sanitize them, but it is certainly different from using a carpet cleaner because you aren't sucking up any gunk.
If you have stinky preteens that sit on the couch, though, this helps deodorize your couches.
Just saying…
I haven't tried this on our mattress yet, but it's on my list to try!
Cleaning Window And Door Tracks With Steam
This is one of my favorite ways to use the steam cleaner – door tracks!
We have a door track for our sliding glass doors leading out to the deck that collects dirt and dust like CRAZY.
It's so nice to be able to put on the steam lance attachment with a nylon brush and just steam clean away all the gunk.
Here's a recent before and after I did…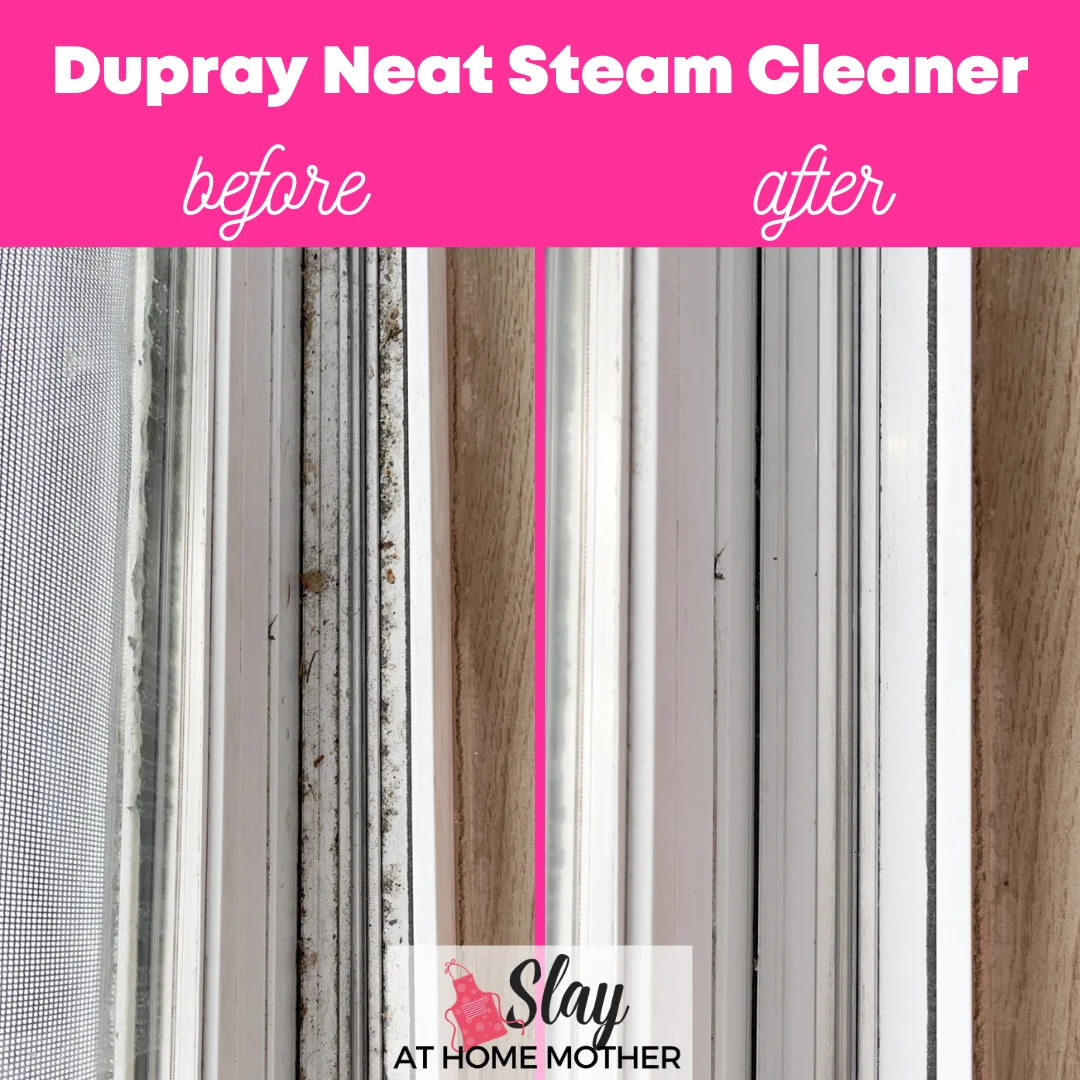 Related: DIY Toilet Cleaning Bombs
It took me seconds to clean this, whereas I would have probably spent 5-10 minutes using a sponge and cloths trying to get this clean.
Window Cleaning With The Neat Steam Cleaner
Cleaning windows and glass with this steam cleaner was so easy.
I loved the results!
I wasn't prepared for the amount of water falling from the glass/window, though, so I wish I knew about that in the beginning to help protect my floors a bit better.
But, that's a very small thing to pick at because, of course, when you're dealing with steam – steam turns back into water once it cools.
I wanted to include that in this post for my readers, however, especially if you have floors that are sensitive to water spills, puddles, etc.
Just make sure to put a towel down on the floor before you start!
The double-bladed squeegee tool that comes with this steam cleaner was so effective!
I love how durable it is and how flexible and stiff the blades are to help it contour to the window or mirror surface.
Dupray Microfiber Cloth Care
To care for your microfiber floor cloths or bonnet, simply toss the microfiber cloths in your washing machine.
I let my microfiber cloths air dry, but you could also toss them in your dryer on the tumble dry low setting.
Are The Surfaces I Shouldn't Use My Steam Cleaner On?
Yes! There are some surfaces you shouldn't use a steam cleaner on, like…
marble

thin plastics

brick

large areas of carpet

silk

velour

LVP (vinyl plank flooring)
I feel that the majority of this list is self-explanatory (these fabrics and surfaces are either porous or very heat-sensitive), but I wanted to explain why LVP is on this list and make sure I included it because I know a lot of my audience has this type of flooring.
Steam cleaning (with any steam cleaner, not just this one from Dupray) is not suitable for LVP flooring because it can heat and loosen the adhesive between the layers of the flooring.
Watch The Dupray Neat Steam Cleaner In Action (Video)
I've embedded my recent Dupray review video for you if you're more of a visual person like I am – I feel that this does a great job showing you the different ways you can use this steam cleaner and gives you a good range of before and afters.

---
Thanks so much for reading this post!
Comment and tell me: Have you used this steam cleaner? What are some questions I can help answer for you?
*Post originally published August 2021, last updated October 2022.