What does God have to say about fear, anxiety, and stress? These bible verses about stress will help you navigate life's toughest challenges and keep your faith well-grounded during difficult times…
---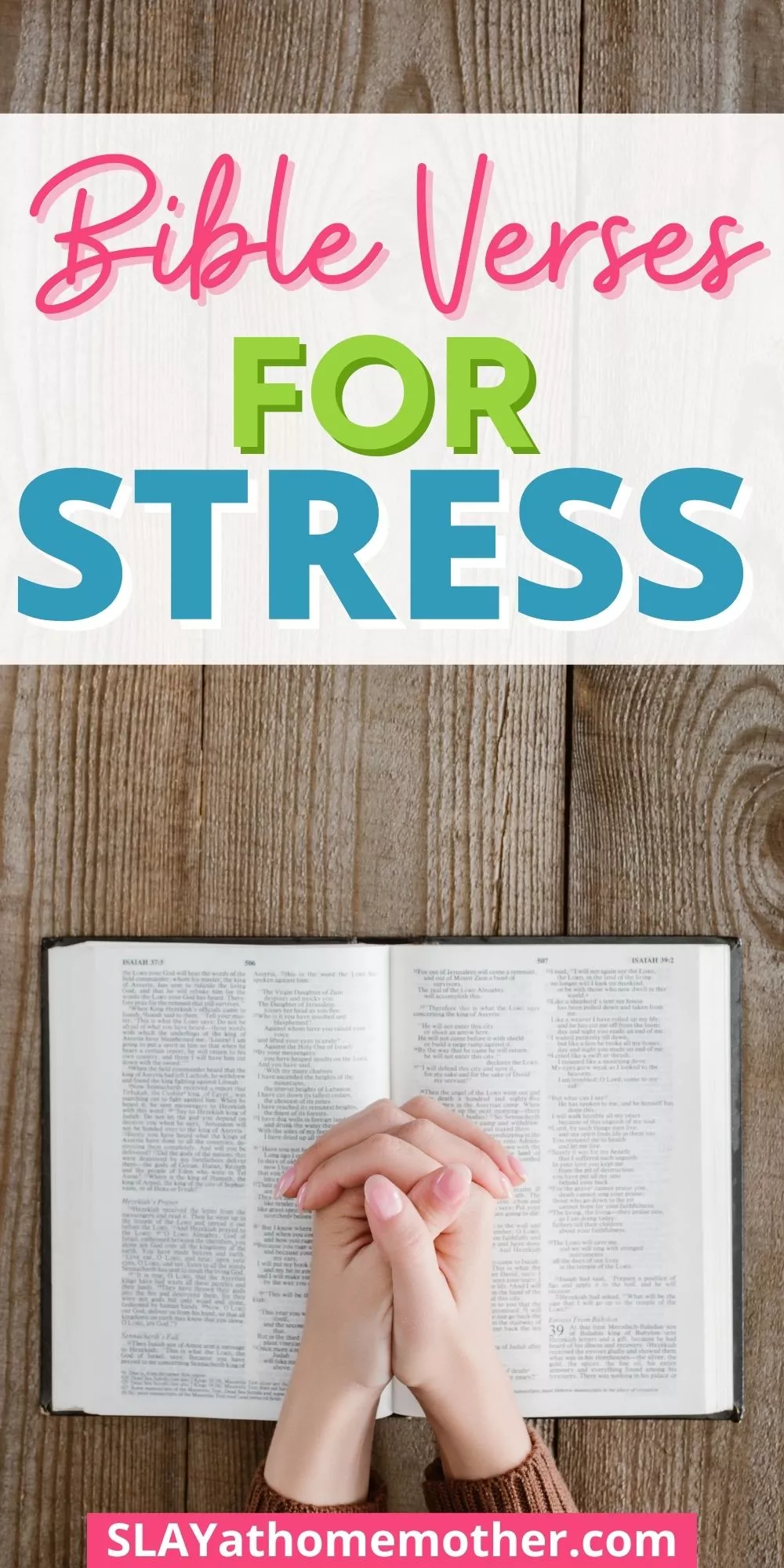 There's a country song that came out a few months ago – I'm sure you've heard it.
It's called Life Changes by Thomas Rhett.
Easily one of my favorite country music artists – I love following his and his wife's story of marriage, adoption, and conception.
They had all these plans for their life, which he lays out in his song. Nothing went quite as planned, but ended up working out far better than they originally planned.
My favorite lyric in the song is "You make your plans and you hear God laughing".
Every time I hear it, there's this HUGE smile that spreads across my face that I can't get rid of.
I relate to that so well, because I can think of several plans I've made for my life that either didn't happen or ended up happening in a crazy flipped-my-world-upside-down fashion.
At the end of each 'not-so-perfect' scenario, everything came together the way it was meant to, in a beautiful and VERY perfect way, and I didn't realize what that meant until it had happened.
This week was rough, however.4
Chris and I received some news that kind of troubled us. It meant putting everything on hold.
I felt anxiety, worry, fear, and defeat. I took several deep breaths, and I told myself something that I have had to tell myself in several difficult scenarios in my life: God's plan is bigger than mine.
Sometimes, this works.
Sometimes I can take a deep breath, repeat this phrase to myself, and just keep pushing forward.
Other times, like this, I found that my cup was empty.
When I reached within to find something to comfort me, I had nothing.
So I reached for my Bible.
It's hard to trust in a higher power to take care of you when you feel so shaken and unsure.
Especially when you have children to provide for, nurture, and comfort.
I'll admit that there are times when I feel like I know better than God, or I forget that all of this prosperity and opportunity that is given to me comes directly from Him.
I like to take the credit for my good fortune ;).
In the past, it's been very easy to forget to pray not just when times are tough and I need that extra helping hand that only God can extend, but when I am doing good as well.
There are 15 verses that I fill my cup with when I am feeling that unshakable fear and anxiety.
Because, as it turns out, God knows and understands that we experience stress, and has quite a few Bible verses about stress.
We've been on an emotional rollercoaster this past week, Chris and I, and I will say that remaining strong together and talking things out has really helped us get past the initial shock and awe of our situation. I have done a lot of praying to get me in the right mindset for those talks, though.
When I just don't know what to do with myself, and I feel less than capable of dealing with what God has handed me, these are the words I breathe in and out.
Here are 15 Bible Verses about anxiety and stress…
https://www.pinterest.com/slayathomemother/faith/
You May Also Like: We're Pregnant With Our Rainbow Baby!
15 Bible Verses About Stress
Matthew 11:28-30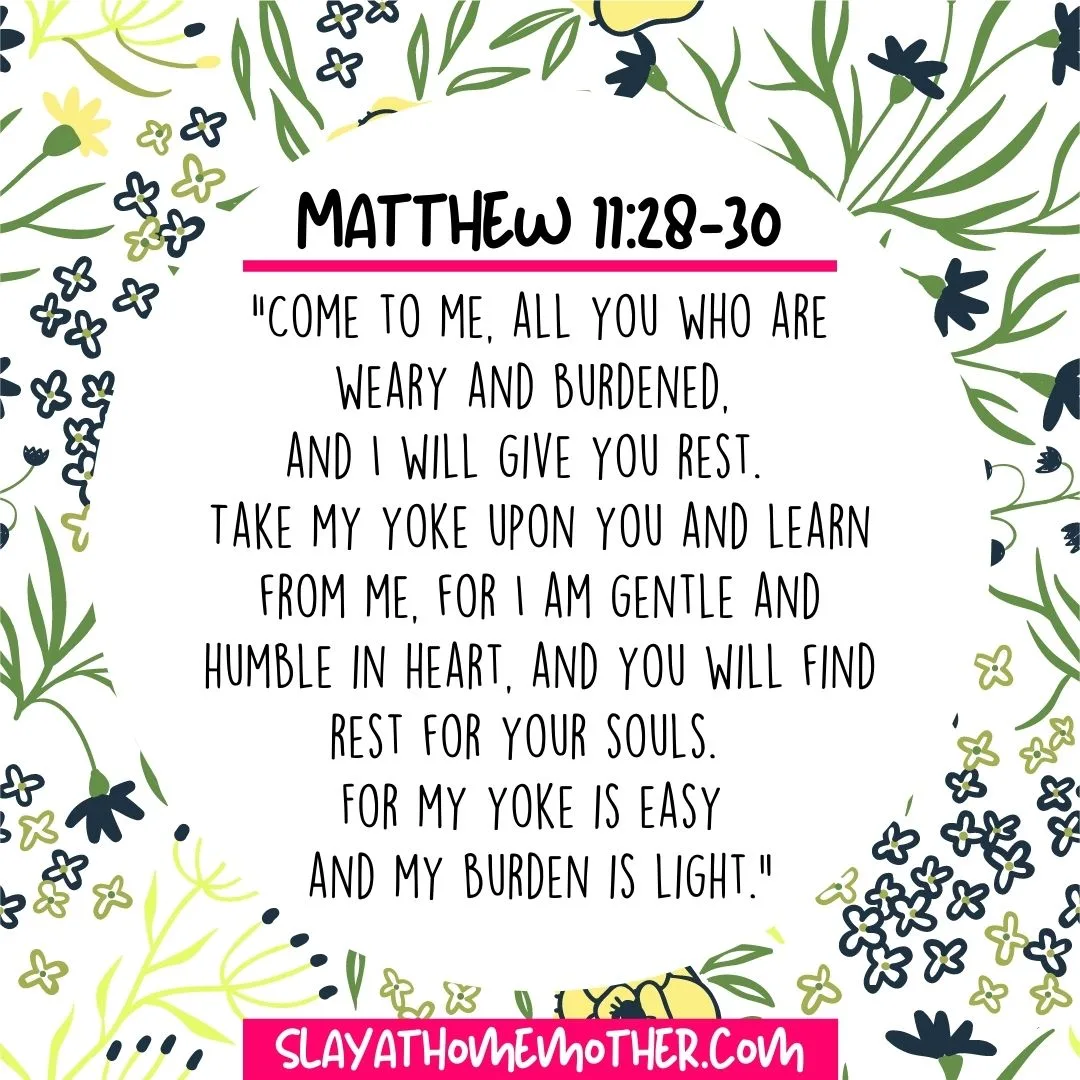 "Come to me, all you who are weary and burdened, and I will give you rest. Take my yoke upon you and learn from me, for I am gentle and humble in heart, and you will find rest for your souls. For my yoke is easy and my burden is light."
John 14:27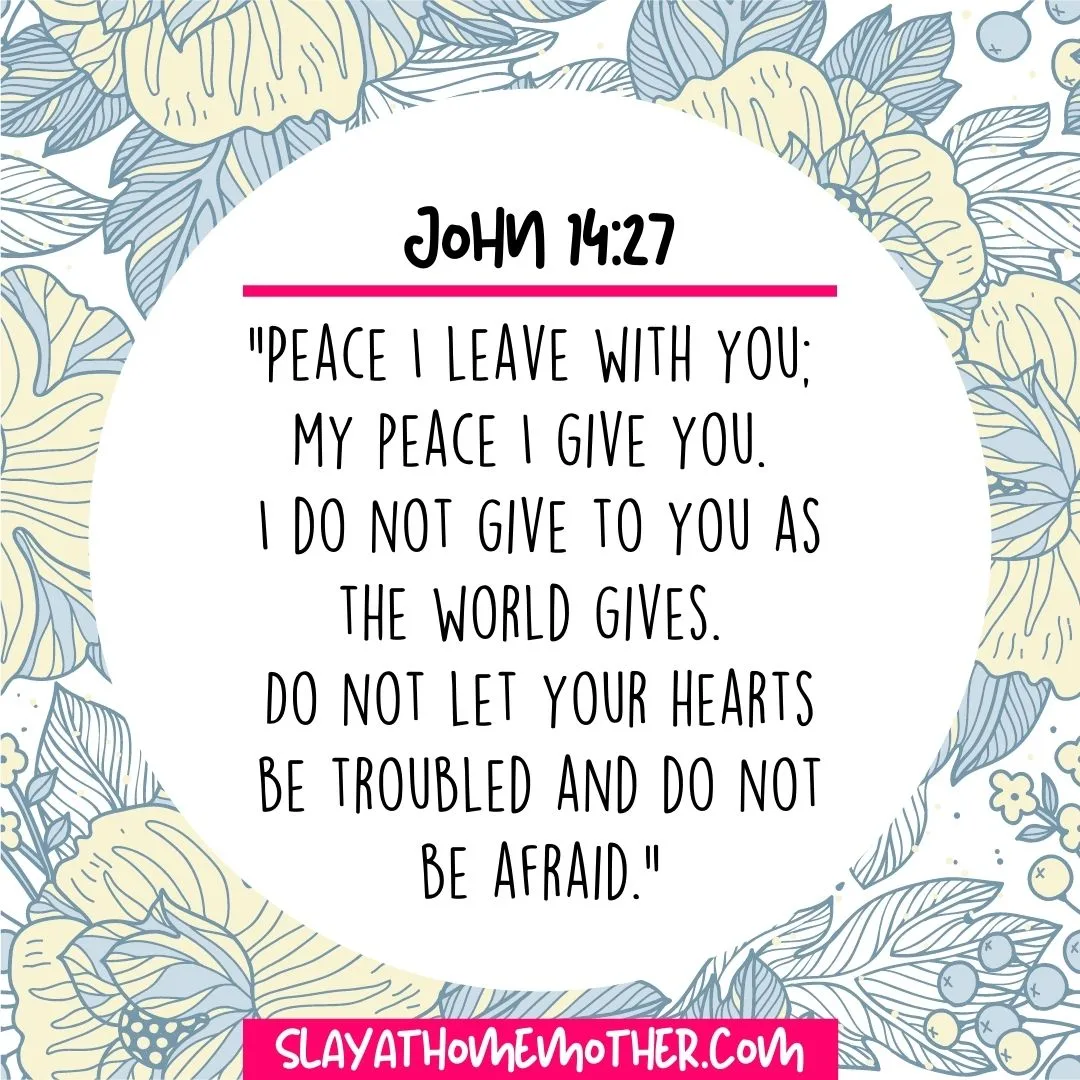 Peace I leave with you; my peace I give you. I do not give to you as the world gives. Do not let your hearts be troubled and do not be afraid.
Psalm 55:22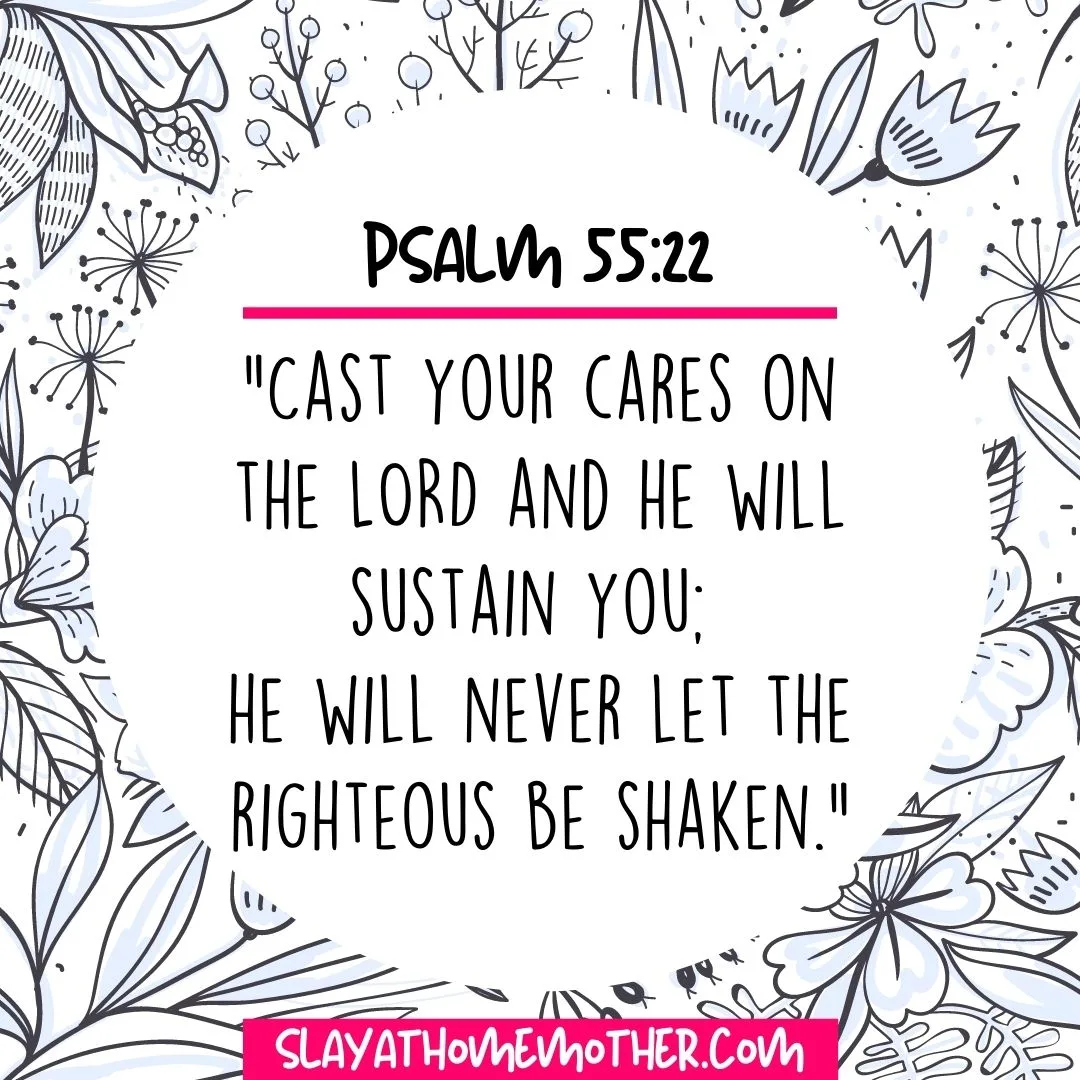 Cast your cares on the LORD and he will sustain you; he will never let the righteous be shaken.
1 Peter 5:6-8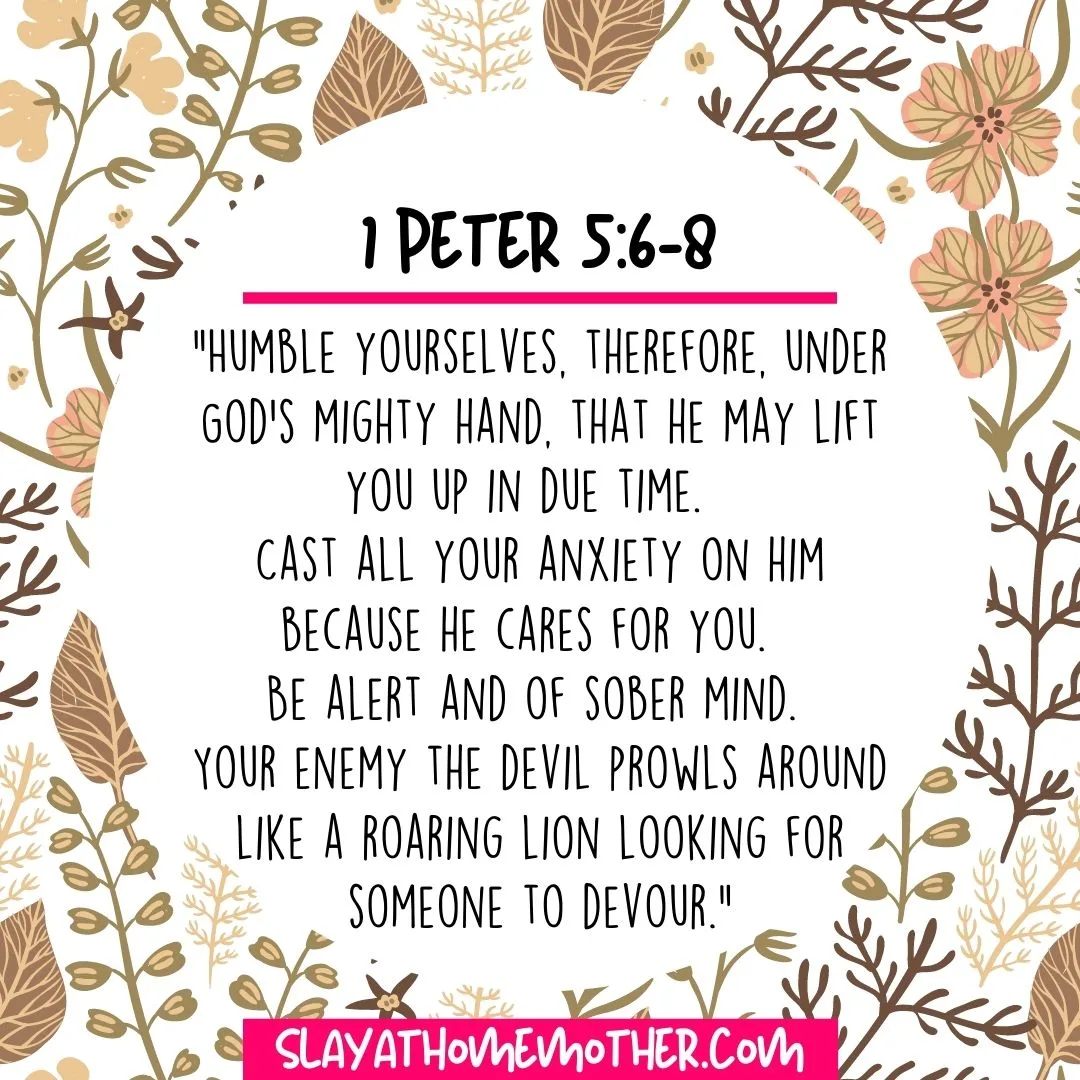 Humble yourselves, therefore, under God's mighty hand, that he may lift you up in due time. Cast all your anxiety on him because he cares for you. Be alert and of sober mind. Your enemy the devil prowls around like a roaring lion looking for someone to devour.
Matthew 6:25-34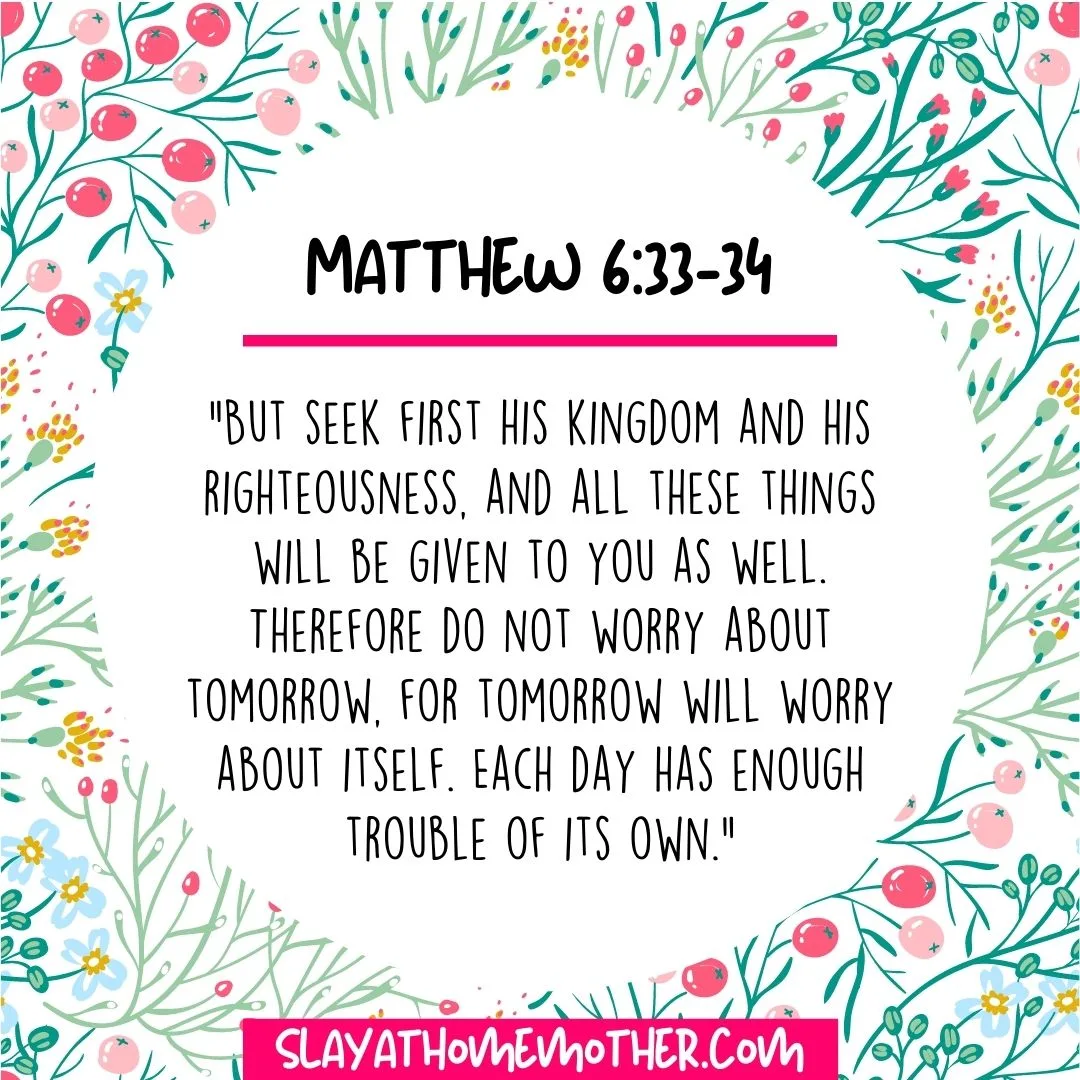 "Therefore I tell you, do not worry about your life, what you will eat or drink; or about your body, what you will wear. Is not life more than food, and the body more than clothes? Look at the birds of the air; they do not sow or reap or store away in barns, and yet your heavenly Father feeds them. Are you not much more valuable than they? Can any one of you by worrying add a single hour to your life? "And why do you worry about clothes? See how the flowers of the field grow. They do not labor or spin. Yet I tell you that not even Solomon in all his splendor was dressed like one of these. If that is how God clothes the grass of the field, which is here today and tomorrow is thrown into the fire, will he not much more clothe you-you of little faith? So do not worry, saying, 'What shall we eat?' or 'What shall we drink?' or 'What shall we wear?' For the pagans run after all these things, and your heavenly Father knows that you need them. But seek first his kingdom and his righteousness, and all these things will be given to you as well. Therefore do not worry about tomorrow, for tomorrow will worry about itself. Each day has enough trouble of its own.
Romans 8:28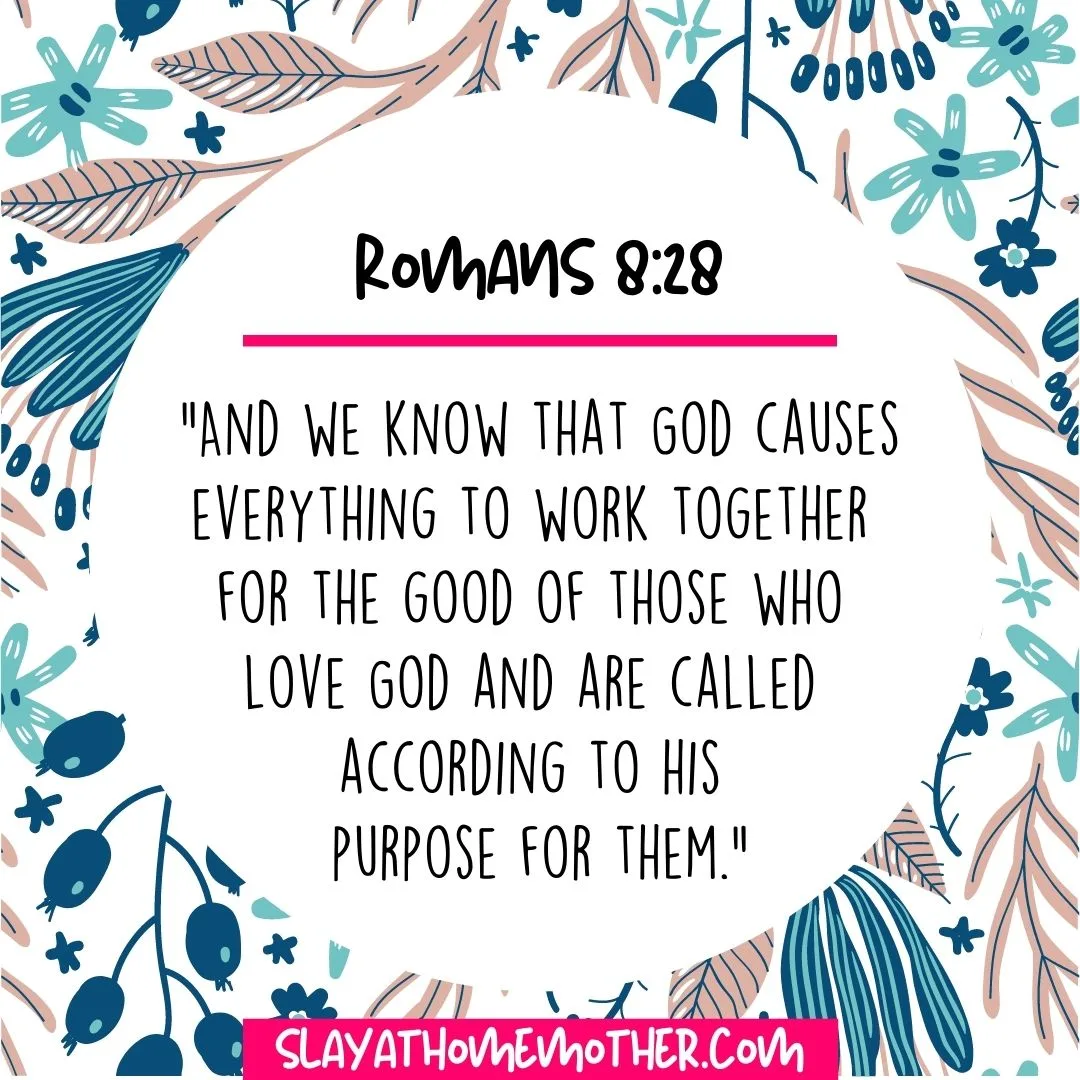 And we know that God causes everything to work together for the good of those who love God and are called according to his purpose for them.
Philippians 4:6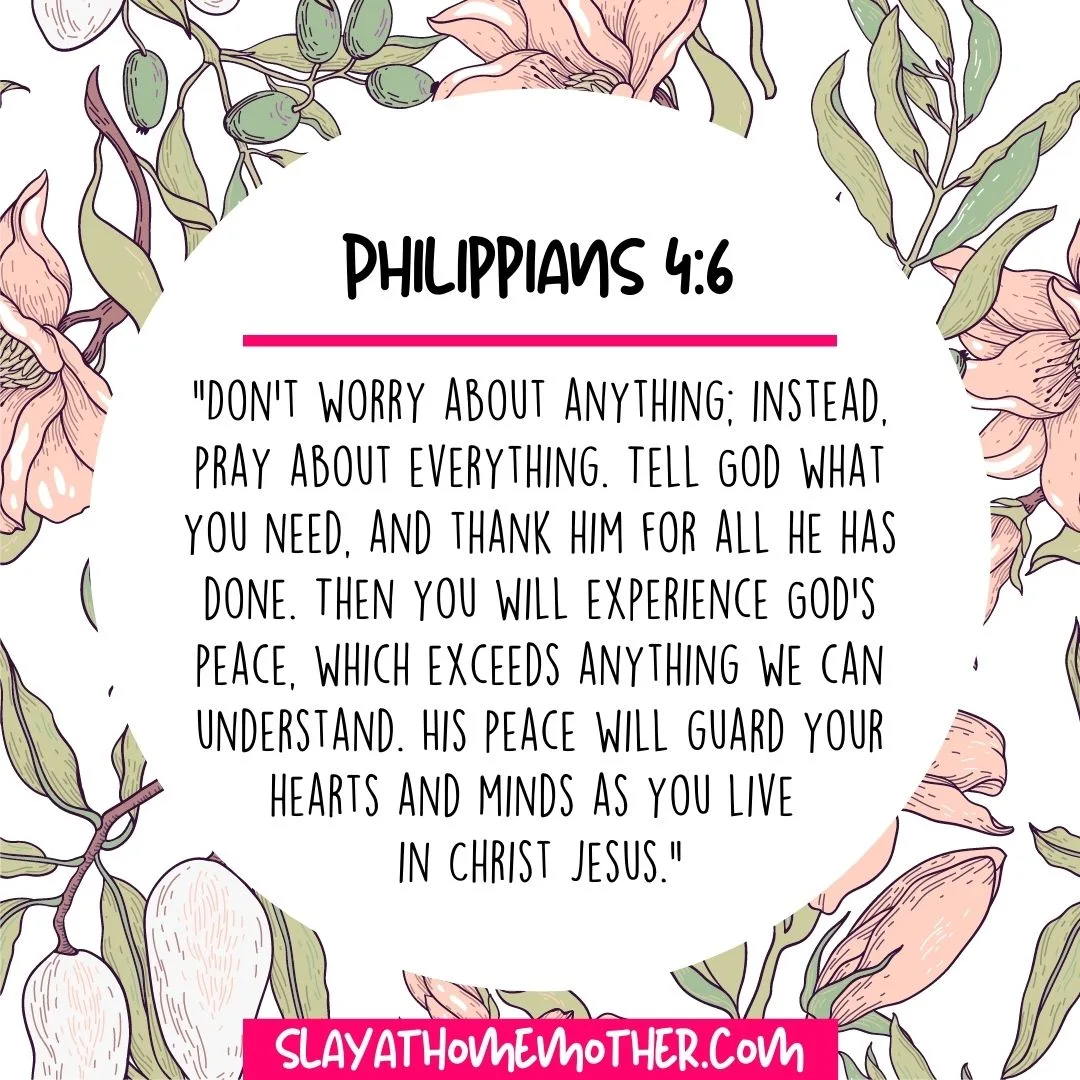 Don't worry about anything; instead, pray about everything. Tell God what you need, and thank him for all he has done. Then you will experience God's peace, which exceeds anything we can understand. His peace will guard your hearts and minds as you live in Christ Jesus.
Matthew 6:34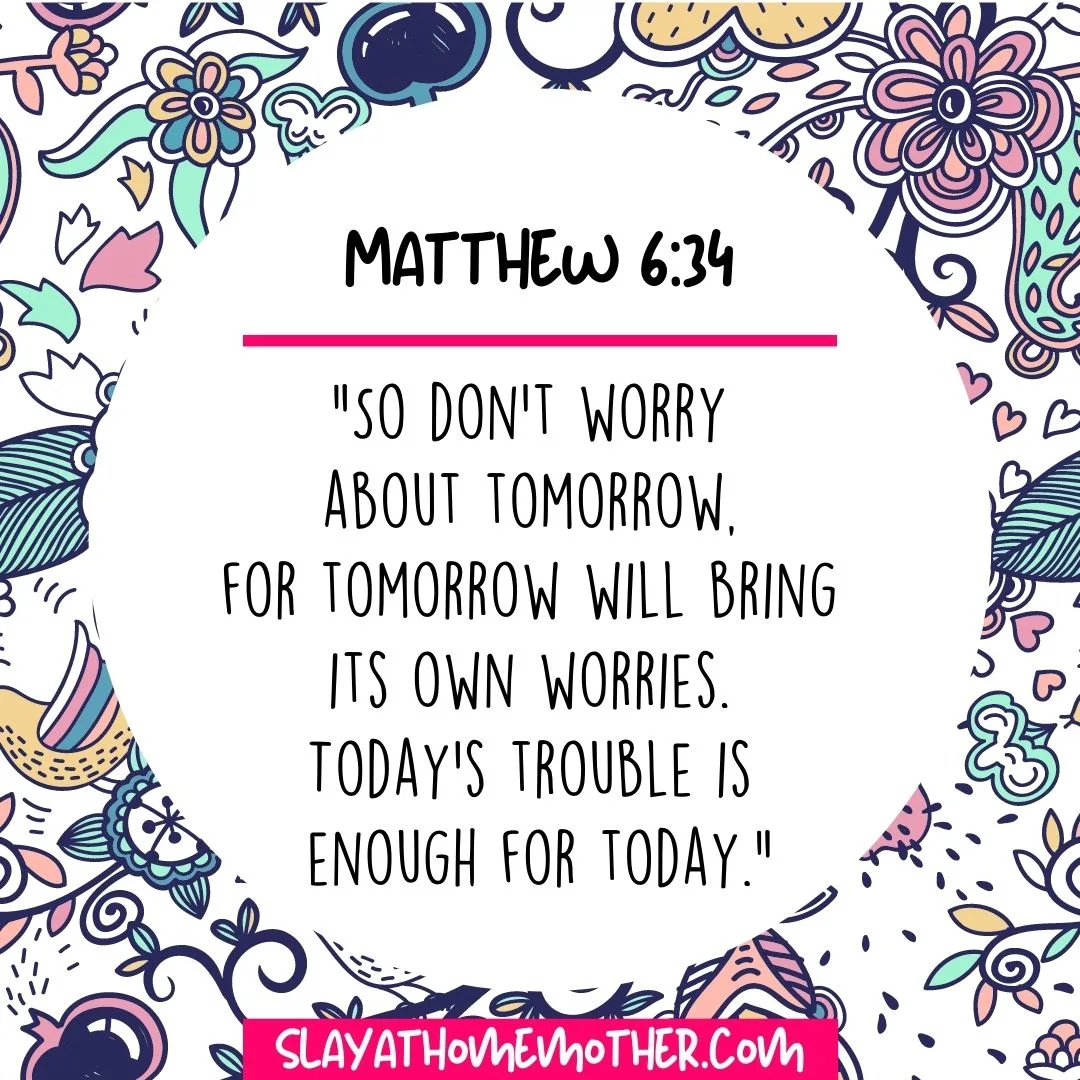 So don't worry about tomorrow, for tomorrow will bring its own worries. Today's trouble is enough for today.
Psalm 23:4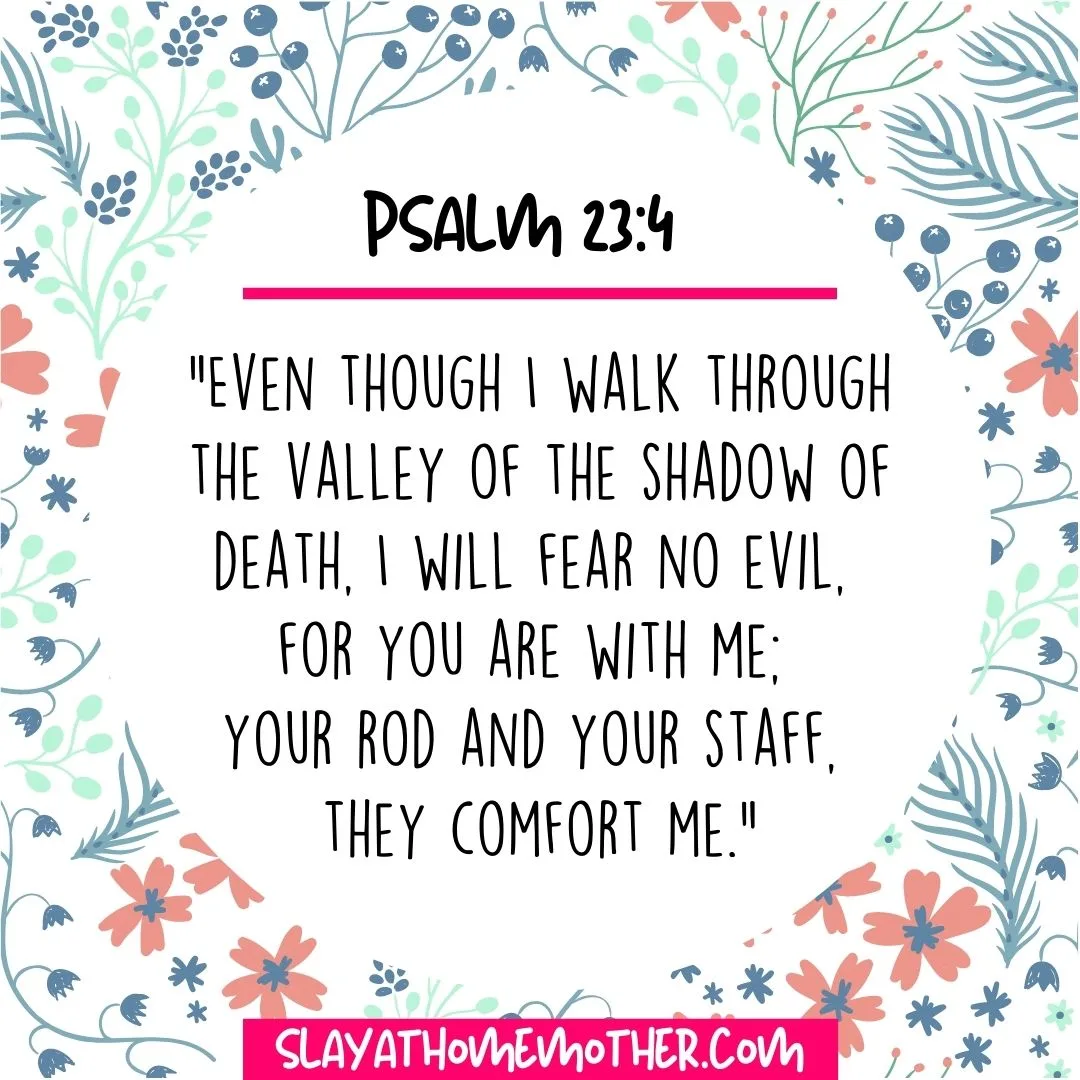 Even though I walk through the valley of the shadow of death, I will fear no evil, for you are with me; your rod and your staff, they comfort me.
Psalm 121:1-2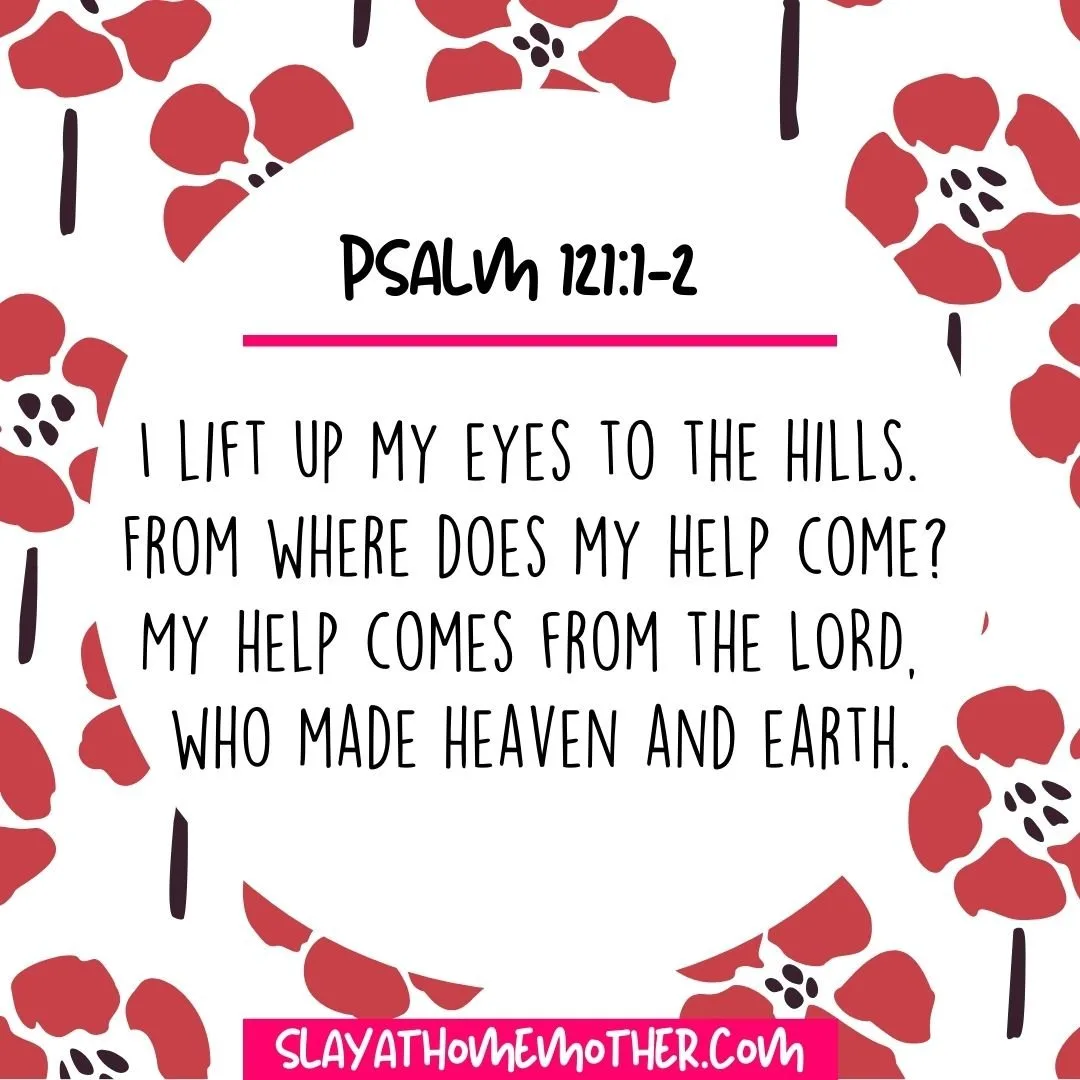 I lift up my eyes to the hills. From where does my help come? My help comes from the LORD, who made heaven and earth.
Romans 8:31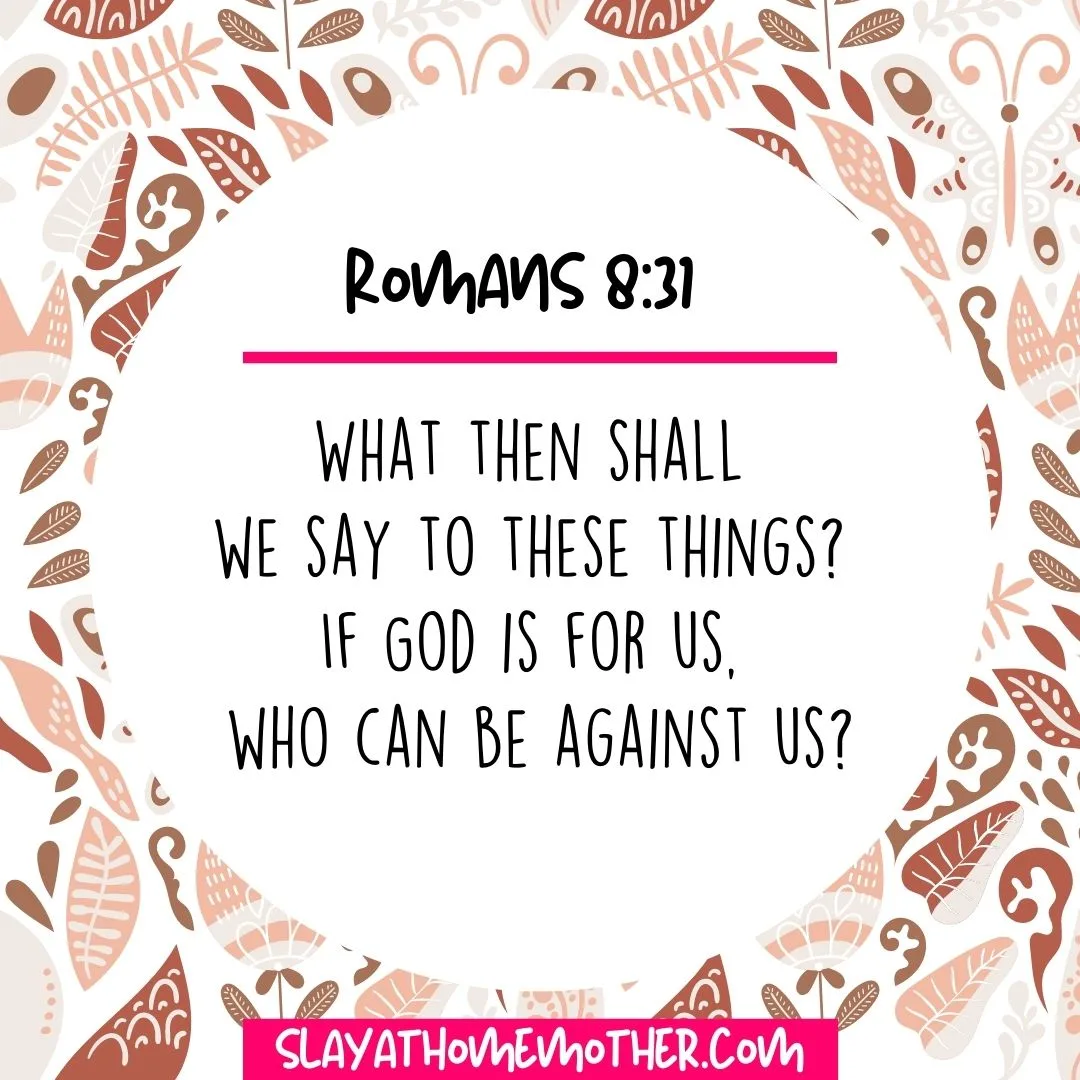 What then shall we say to these things? If God is for us, who can be against us?
Proverbs 3:5-6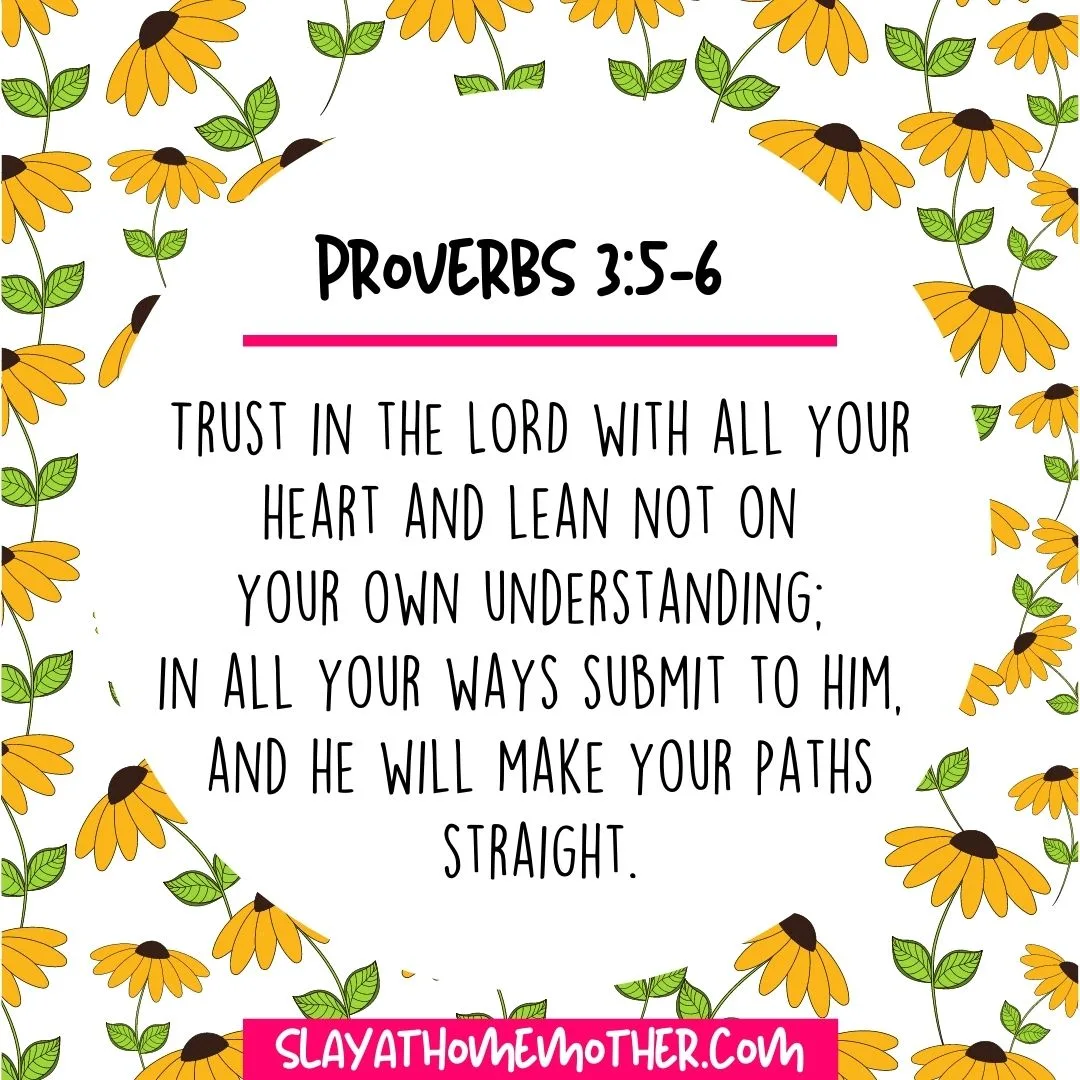 Trust in the LORD with all your heart and lean not on your own understanding; in all your ways submit to him, and he will make your paths straight.
Psalm 56:3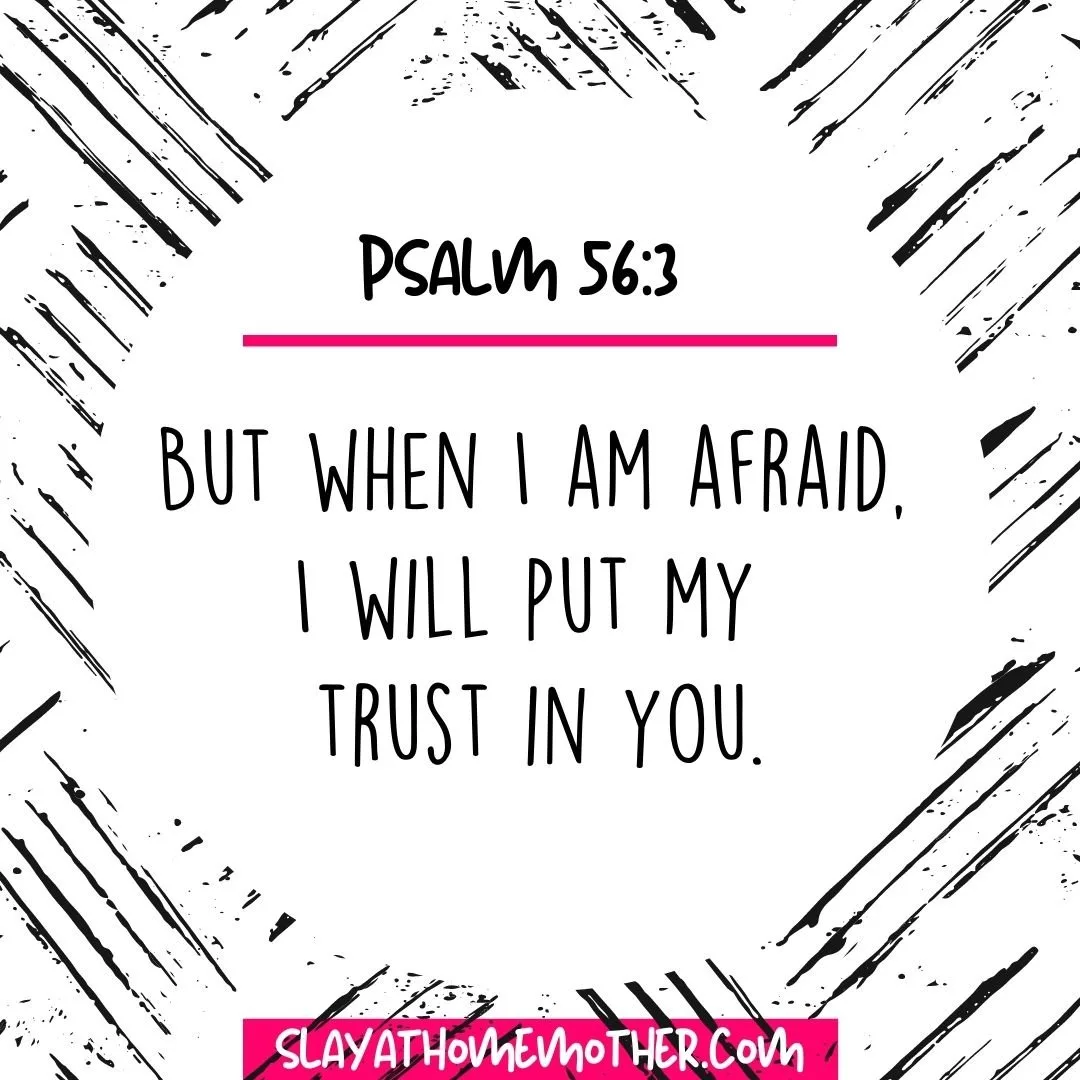 But when I am afraid, I will put my trust in you.
2 Timothy 1:7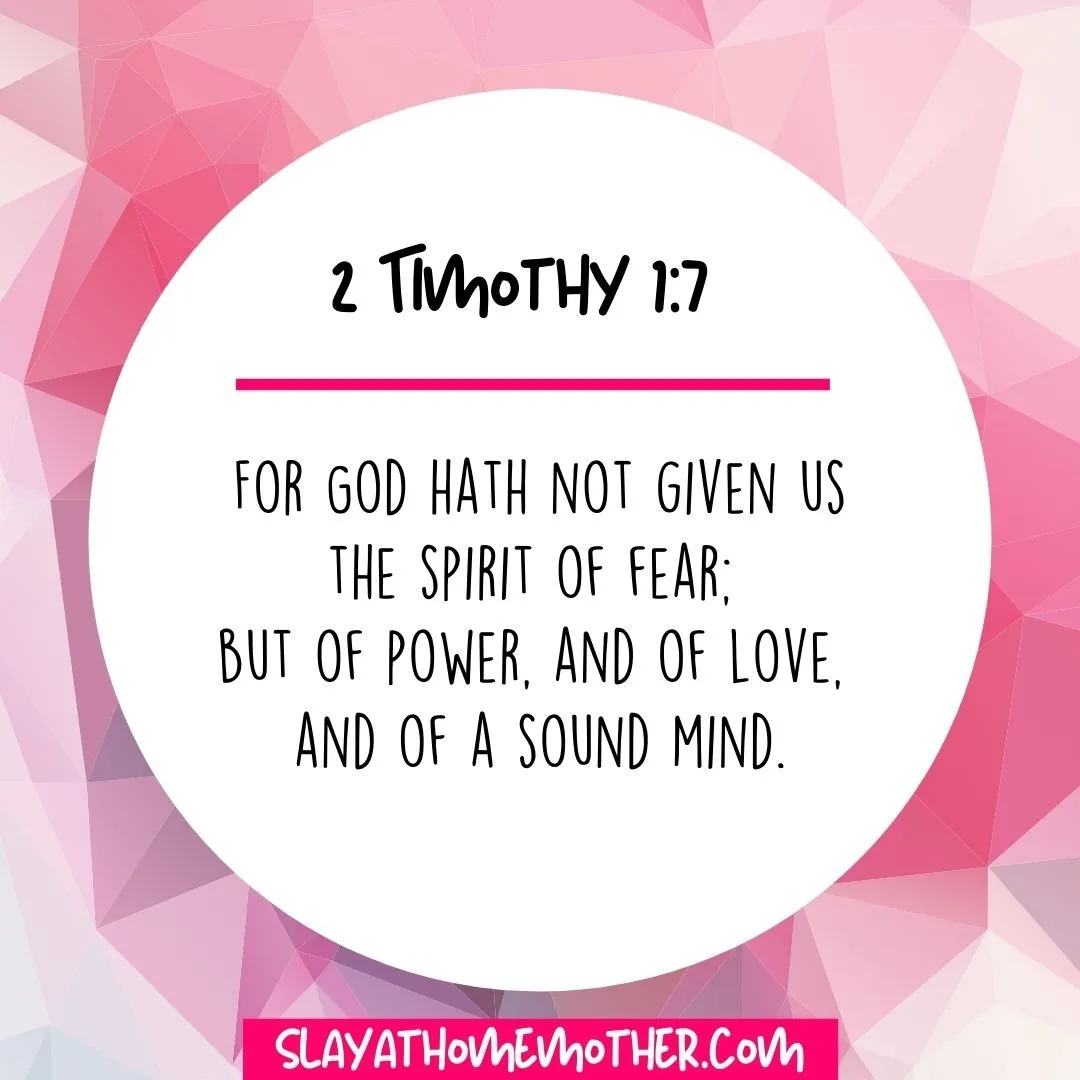 For God hath not given us the spirit of fear; but of power, and of love, and of a sound mind.
Exodus 14:14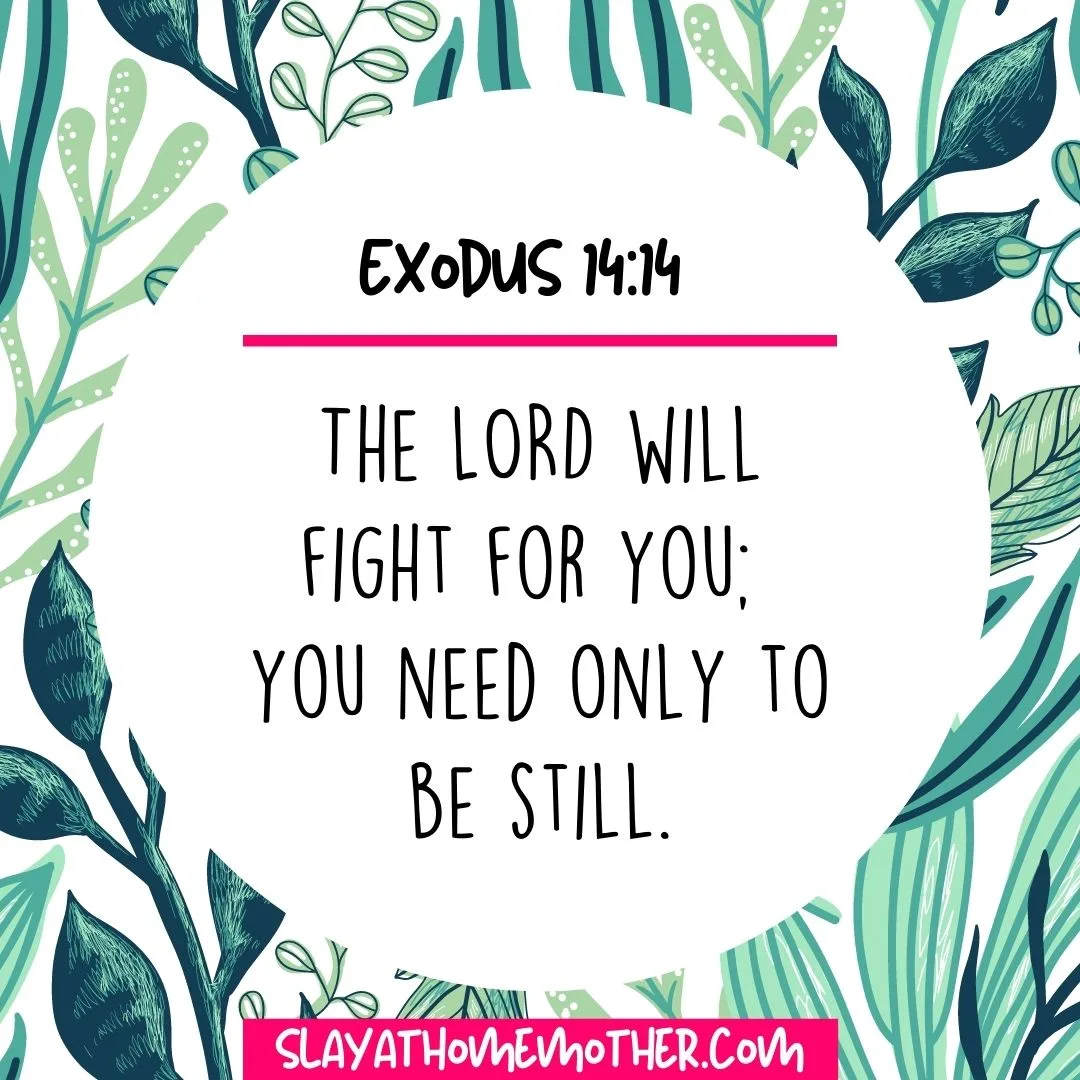 The LORD will fight for you; you need only to be still.
---
God has gotten me through some crazy and difficult times. I've so thankful to have found Him, though, and hope this helps you as well!
*Post originally published August 2018, updated October 2020.