Ready for Back To School? I've got some great organization tips that will help your family stay organized and be prepared for whatever this school year has to throw your way!
---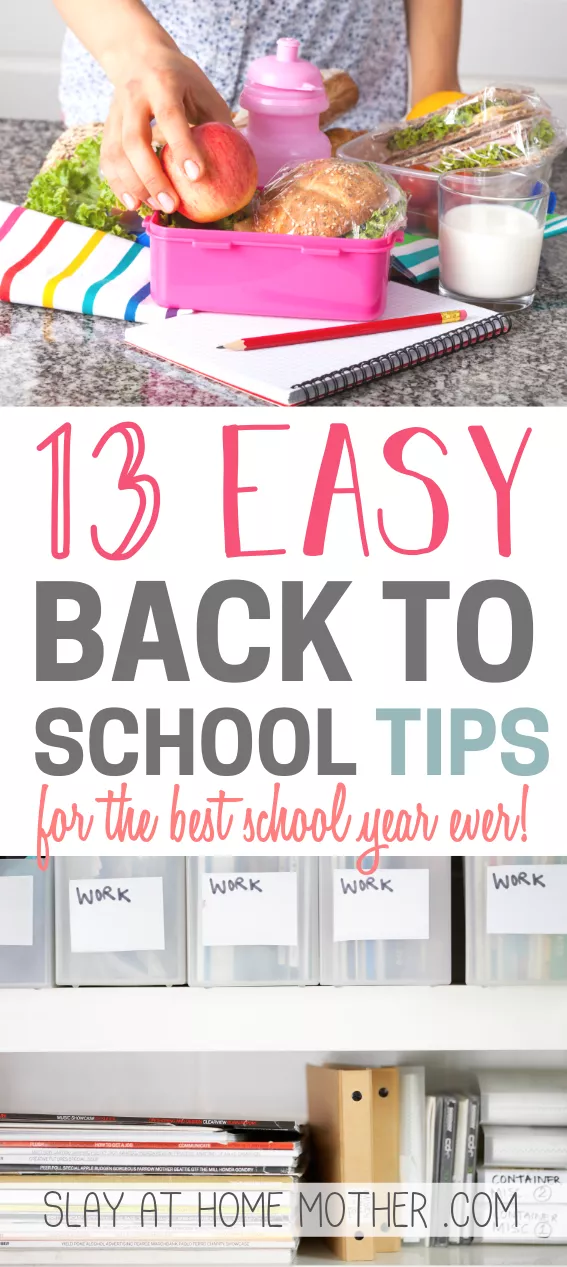 Hi friends! I recently shared some of my organized spaces on my Instagram, and wanted to do a more thorough post here! I always love to share my school year organization tips, and this seems like the perfect time to do so. Usually, I do a lot of organizing and cleaning in late Winter/early Spring as a way to mentally escape from the fact that I've been cooped up in my house for months on end. You know, #MichiganWinters and all.
It really helps me get prepped and excited for the warmer months to come in a productive and distracting way. This year, however, Jax started Speech Therapy and Occupational Therapy right around that time, so my busy schedule took over and my messy house had to wait!
Now that it's been a while, and we've had a little break from our classes, I took some time to catch up on cleaning and organizing our home for the school year. We start school a little earlier than most folks with a year-round schedule, which we absolutely love, but it really limits the time between the end of the previous school year and the beginning of another to get everything re-situated.
Here are 13 ways you can help your family get ready for the school year, declutter, and get out of the door on time…
*This post contains affiliate links for your convenience. Any clicks or purchases through these links help me to support my blog at no cost to you, and are appreciated. All opinions are my own, as always!
Lay Out Weekday School Outfits
Once the laundry has been done and folded, consider laying out your child's outfits for the week. This really helps out when kid's get to the age where they dress themselves.
If they are more independent, or really particular about the clothing they wear, you can always enlist their help in choosing their outfit combinations.
Remember to keep in mind your child's new school schedule for the week. Do they have Gym class on Thursdays? Pack clothing that is easy to move and play in. Or Art class on Mondays? Pack a shirt that you don't mind your child getting some paint on.
Clean Out And Organize Your Bathroom Drawers
I can't remember where I heard or read this, but I remembering reading something about how a woman usually owns around 400 items in her bathroom. Crazy, right? I can totally attest to that, though, having decluttered and thrown out about 200+ items from our bathroom drawers!
Being that this is the room where we all get ready for the day, the bathroom is always one of the first places I start when it comes to organizing for the school year.
Just having the toothpaste in the right spot for our morning/night routine, and the blow dryer in an easy-to-access place can make the morning go by 5-10 minutes faster!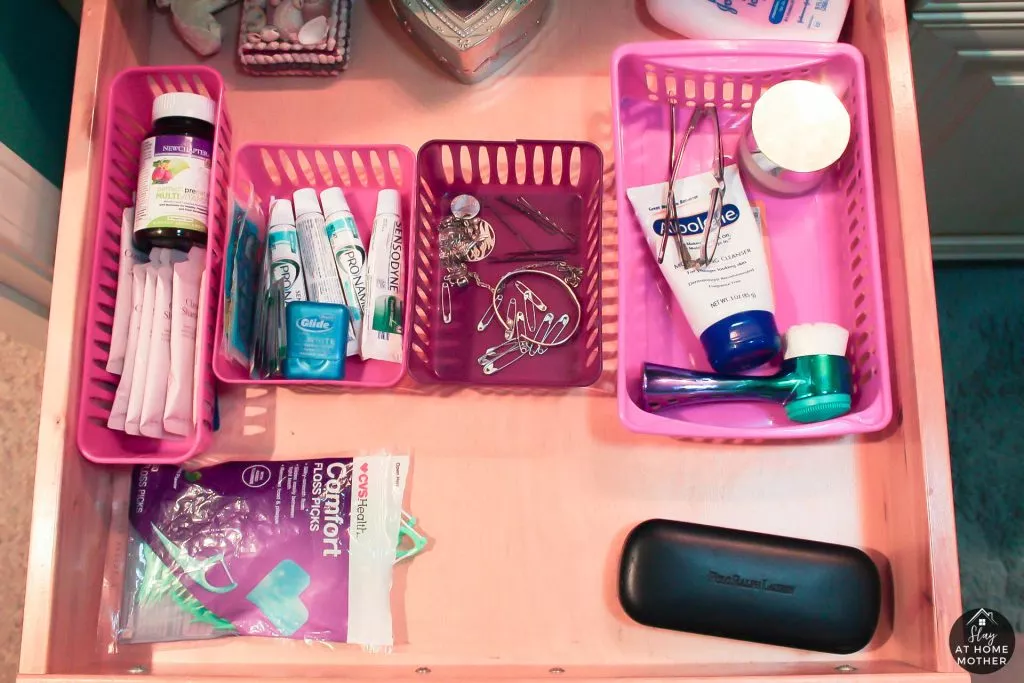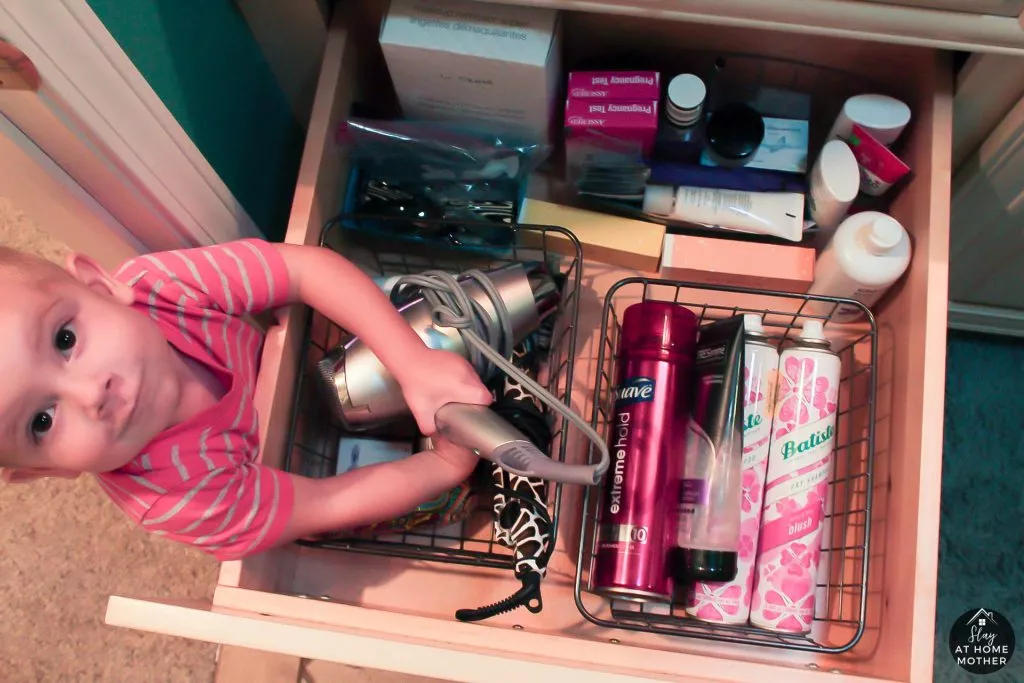 Sort Through And Organize Your Hallway Closet or Linen Closet
Gearing up the hallway closet to be clean, organized, and easy for the kids to access what they need is another crucial tip I like to offer. The hallways closet also harbors a lot of unnecessary items and is an easy place to begin decluttering.
Here, I offer up my real-life example of just how disorganized our hallway closet was before ;).
I restructured the shelves so that the dangerous stuff I didn't want out kids to get into could be easily found at eye-level for the husband and I, while the towels and blankets can be easily retrieved by the kids when they need them.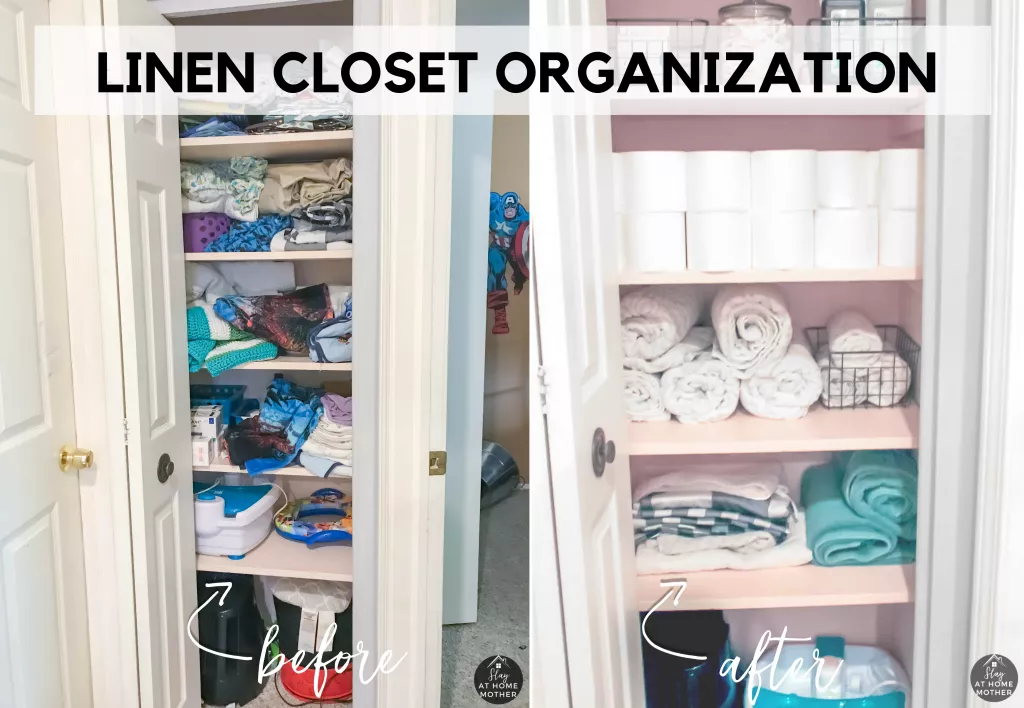 Once this space is organized, bath time is easier to execute, and any necessary middle-of-the-night accidents are easier to manage.
Organize Your Fridge And Freezer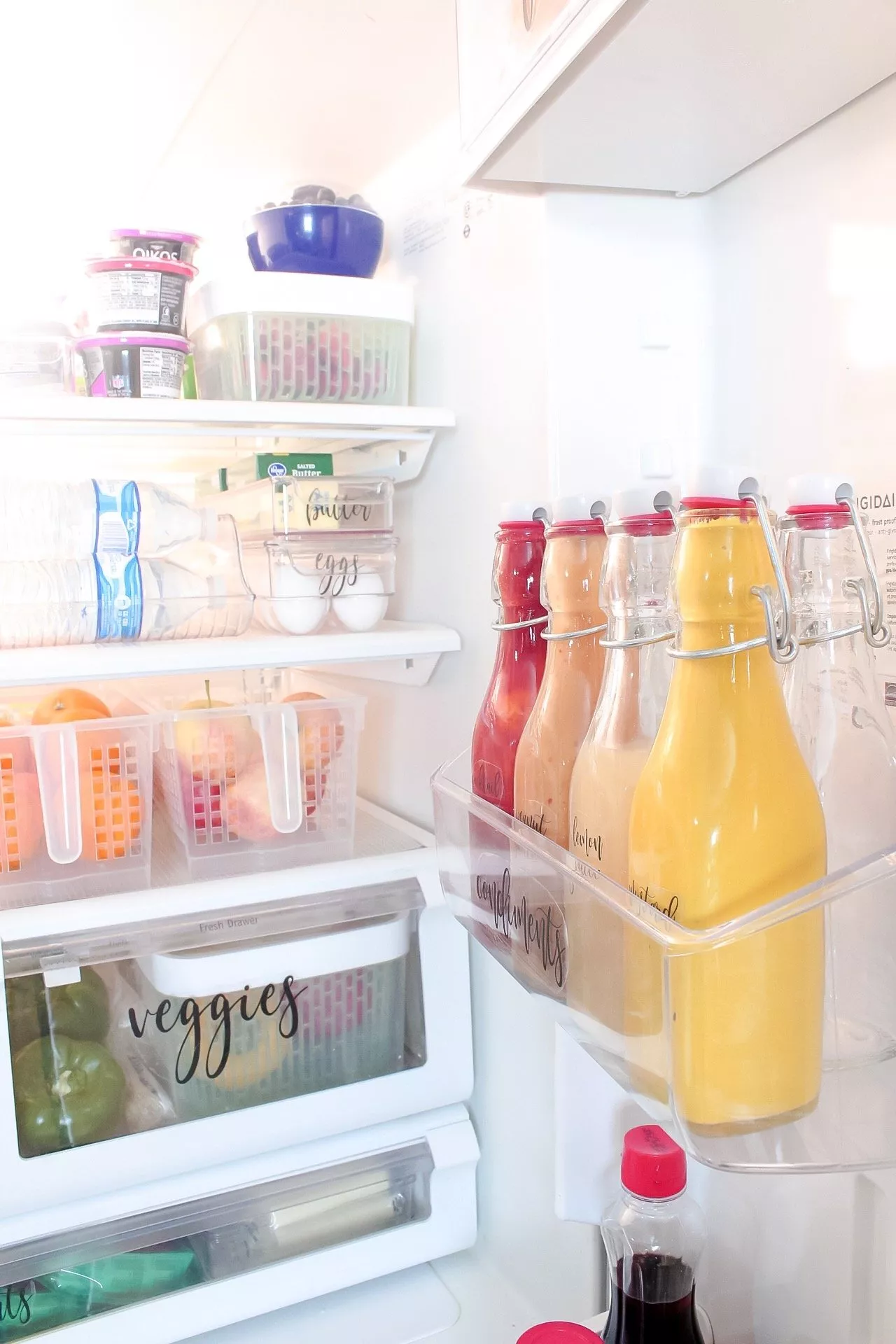 You May Also Like: How To Clean And Organize Your Fridge + FREE Printable Fridge Labels
A new school year means fitting in time for homework, after-school activities, PTO meetings, and parent/teacher conferences. Which also means less time getting dinner perfect, and more focus on getting it made in time.
Consider throwing out old foods, and organizing meats and frozen vegetables in wire baskets. Cleaning out your fridge and freezer is best done before a new shopping trip. You'll need to make the extra room to fit all of your new groceries anyways, and it's a great chance to create a layout that will work when you add in the new food.
Take our freezer, for example, I managed to toss two full garbage bags of food out (which included 12 or so mostly empty chicken nugget bags which were buried underneath everything else) and created lots of free space.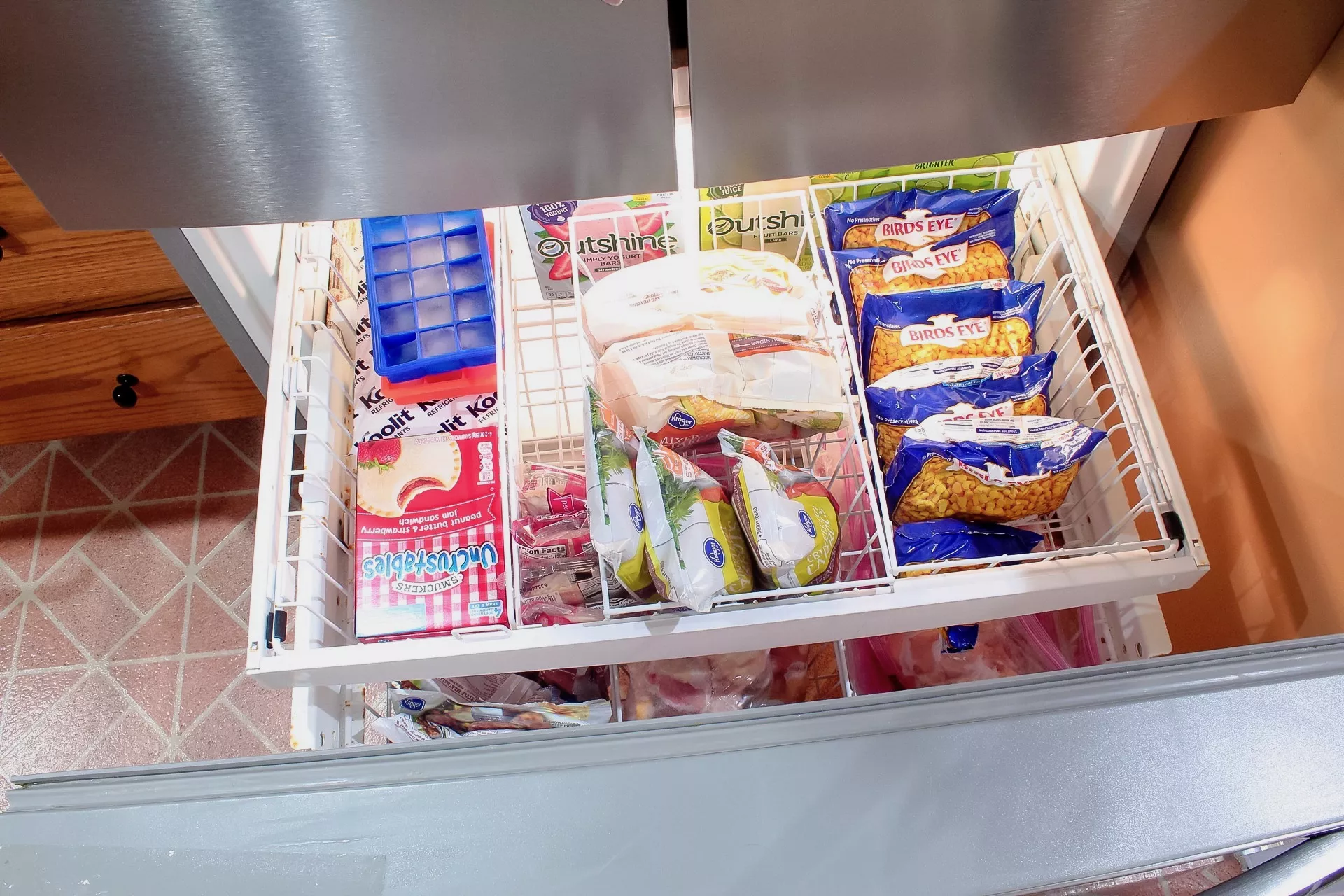 Establish A Routine During The Summer
Two weeks before school starts, I start to establish a routine for my kids. I include time for them to color (which will be replaced by time to complete homework), bath time, bedtime, dinner, waking up, naps (for the youngest), etc.
Kids need 10-12 hours of sleep at night, so the earlier you can get the kids to bed, the better!
If you can manage to establish your routine sooner than two weeks, or are a SUPERSTAR mom and never lost sight of your schedule in the midst of all the summer fun, even better!
Organize Your Child(rens) Bedroom Closet
First off, I'm going to say this: kids don't play with toys. At least, my kids don't! They prefer the cardboard boxes we get from Amazon Prime ;). And I don't blame them. A couple of markers, a cardboard box, and a child's imagination make for some great fun!
For my boys' closets, I managed to toss a lot of the toys we were holding onto that they either were no longer interested in, or wanted to toss themselves.
A great way to get your child prepped for a toy purge is to let them know that the more toys they donate to other children or recycle, the more toys they'll have room for come Christmas time and on their birthday!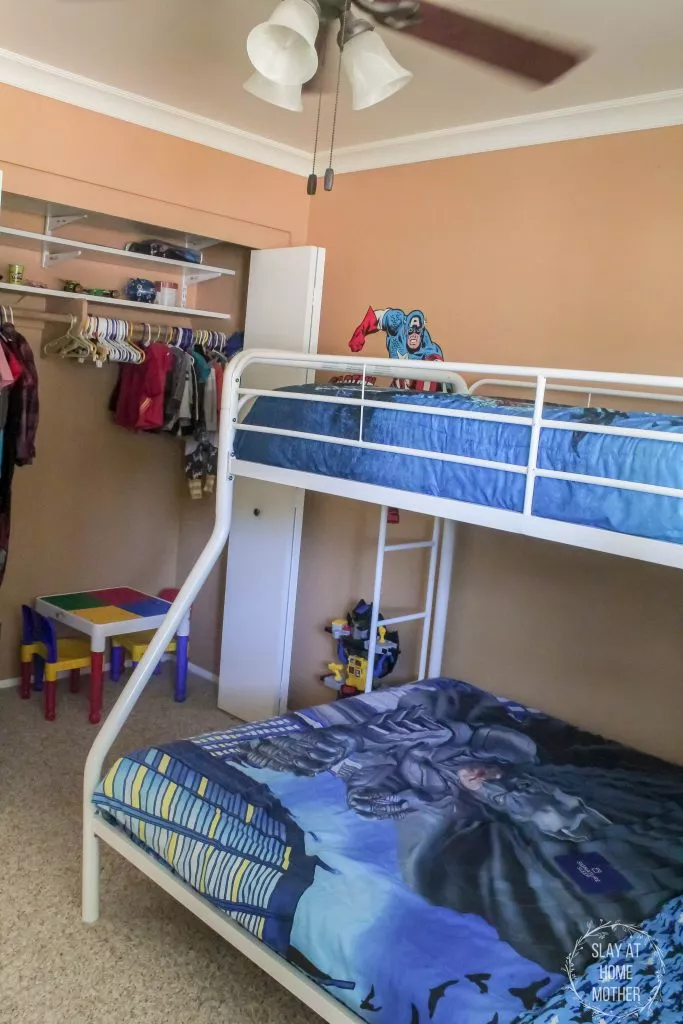 For the boys' shared bedroom closet, I organized their toys in cube bins using a cube organizer I snagged from Target for under $40. One bin is for legos, another is for Duplo legos, the third is for superhero toys, and the last is for animal toys.
I separated their stuffed animals, which I placed in an extra galvanized bucket I had collecting dust.
Their books and a select few toys they both love to play with are on display for easy access.
Shirts are hung up above their toys, and bottoms, underwear/diapers, and pajamas are kept neatly in a dresser.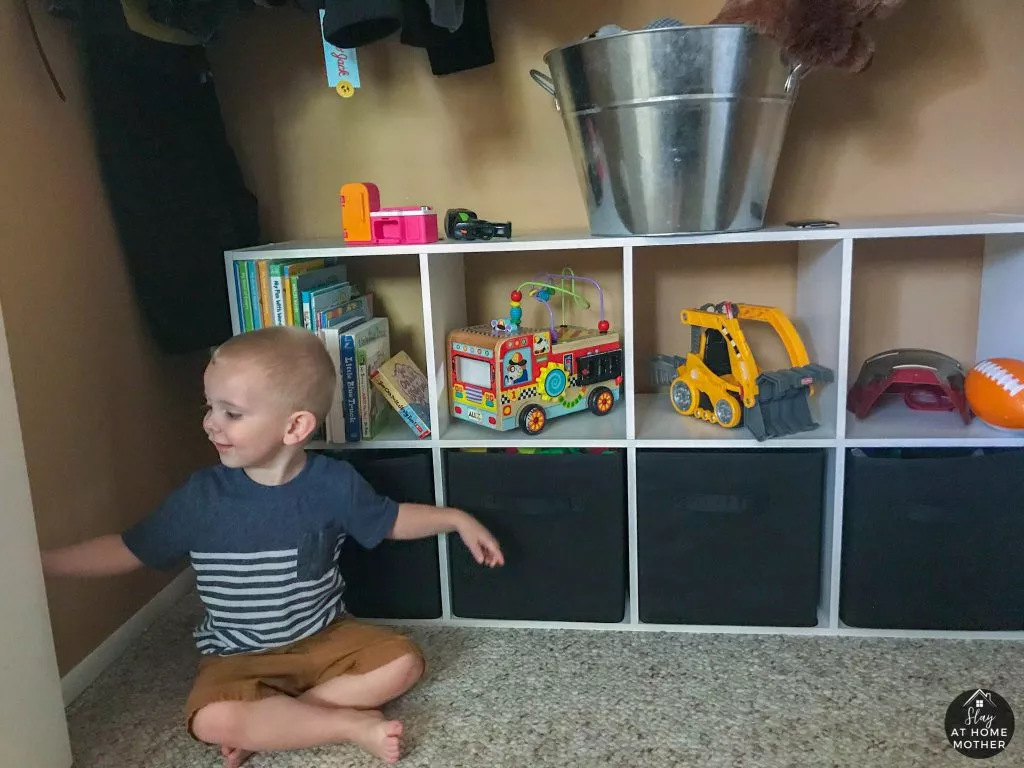 Keep Your Schedule In Check
A new school year spells out a busier schedule – keep track of everything you need to get done in a planner. This planner can be on your phone or on paper. Here's my favorite!
Ditch clothes that don't fit (or hold onto them in containers to later pass down to your younger kids). Clean out the space in the closet and dresser drawers and make space for your child(ren)'s new school year wardrobe.
Organize Your Pantry
When it comes to a new school year, I like to have my pantry organized! Since Max is now 8, I let him pick out his own school snacks. He can easily find and choose his snacks with our current organizational system (baskets and labels).
Grab some Aseana Baskets from Target, some labels, and some of your child's favorite snacks!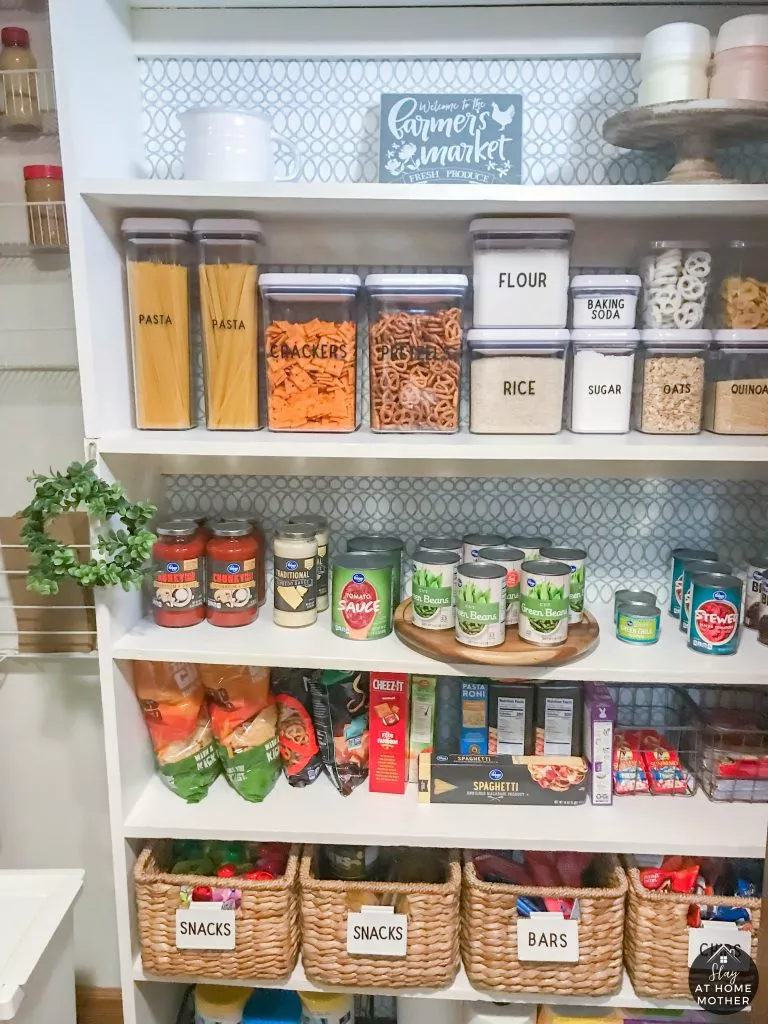 Organizing your pantry also helps make prepping dinner faster – you can find what you need when you need it.
Clean Out Your Car
During the summer, our car is full of books, sweaters, old crackers, and toys. I love to start the new school year with a clean car. I vacuum out my car (goodbye cracker crumbs!), and tidy up everything we need (a few toys and books, snacks, and baby wipes) in our backseat organizer.
Set Up A Command Center
A command center is where you keep and organize all of your important family information; a place for permission slips, report cards, school calendar dates, keys, and special papers.
If your child is anything like mine, their backpack usually gets left in the car after school or ends up in the most unpredictable place. Like under the couch. Who does that?!
Create a space (as simple as installing some hooks on the wall) for your child to learn to hang their backpack each day. This eliminates the stress of finding its new hiding spot the next morning, and helps you get out of the door on time!
In our home, we have an entryway bench that sits under a mirror by the front door. In our small space, hooks aren't an option, so we ask that Max rests his backpack on the bench after school. Easy enough, and we know exactly where it is every day!
Structure Week Night Meals
For dinners during the school year, I try my best to have some kind of routine. Not a strict routine, but enough of a pattern to help with organizing my grocery shopping list and rotate foods out of the fridge/freezer appropriately.
You May Also Like: Weekly Meal Planning Template + 100 Easy Dinner Recipes
[convertkit form=854373]
On weekends, we are much more lax with what we're eating. I try to keep some waffle mix on hand as well, for those busy evenings when the chicken hasn't quite defrosted and the little ones are getting antsy. Breakfast for dinner is really easy to whip up in times of panic and hunger ;).
---
PIN THIS FOR LATER!
What do you do to get your family organized and prepped for the school year? Tell me in the comments below!