Make your own DIY Carpet Cleaning Solution using two simple household ingredients.
---

Removing Stubborn Pet And Other Common Stains From Carpet
With two dogs, two kids (and another on the way!), I totally get how quickly carpet can get dirty.
Food spots, stains, pet marks – I'm all too familiar.
I tend to our carpets at least once a month because the boys like to eat snacks on the fireplace, which usually means food falls onto the carpet in the living room and result in stains.
Every 2-3 months, I will deep clean my carpets with my carpet cleaning machine because our carpet is a light gray color and everything shows.
But for spot cleaning, I resort to cleaning our carpet with a hydrogen peroxide mixture I make at home.
This homemade carpet cleaning solution – I'm excited to share it with you all!
*This post contains affiliate links as a means to support my blog, however, all opinions are my own, as always.*
How To Make Your Own DIY Carpet Cleaning solution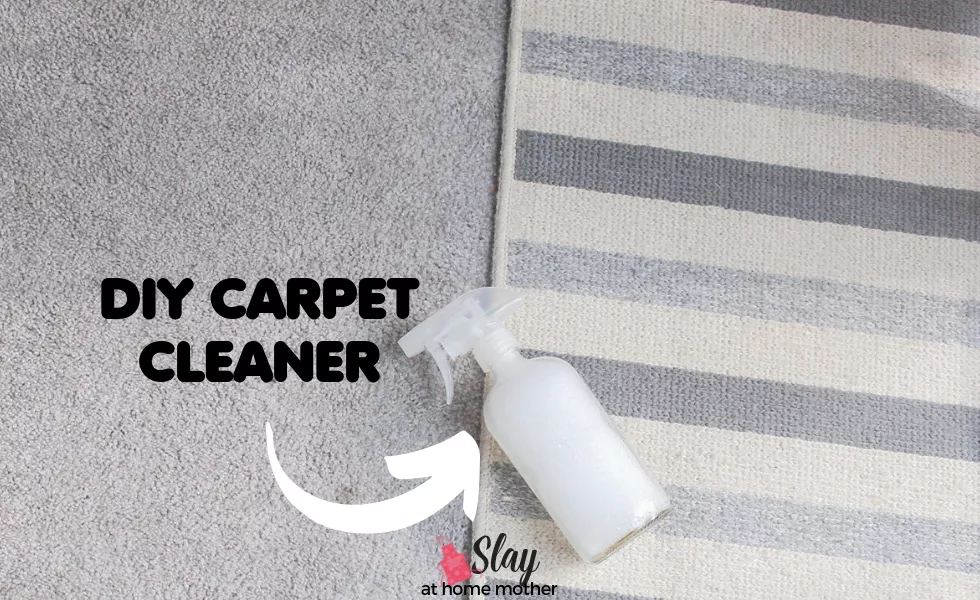 Confession: I first made this carpet cleaning solution on accident!
I was going to combine half hydrogen peroxide and half dish soap but poured in too much hydrogen peroxide initially.
Without a funnel available, I got lazy and decided to try to make this solution using what was already in the bottle and adding the dish soap.
It ended up being the best mistake ever because I made the perfect carpet cleaning solution.
Here's what you need to make your own DIY carpet stain remover:
But here's the catch – you have to pay attention to the kind of hydrogen peroxide you use in this DIY carpet shampoo recipe…
You want to use 3% hydrogen peroxide for your carpet cleaning solution.
Anything higher will most likely bleach your carpet while removing the stain!
Most brown bottles of household peroxide sold in stores are the 3% variety but do check before adding yours into your spray bottle.
As a reference (in case you are debating forgoing this advice) hair bleach typically contains 6-10% hydrogen peroxide (reference).
As for the soap, regular dish soap will work, although, for this recipe, I'm using Castile soap.
I like to use a soap that doesn't have a ton of color to it, although I'm sure even if you're using blue Dawn, you'll be alright.
You May Also Like: Force of Nature Non-Toxic Cleaning Solution Review
How To Clean Carpet By Hand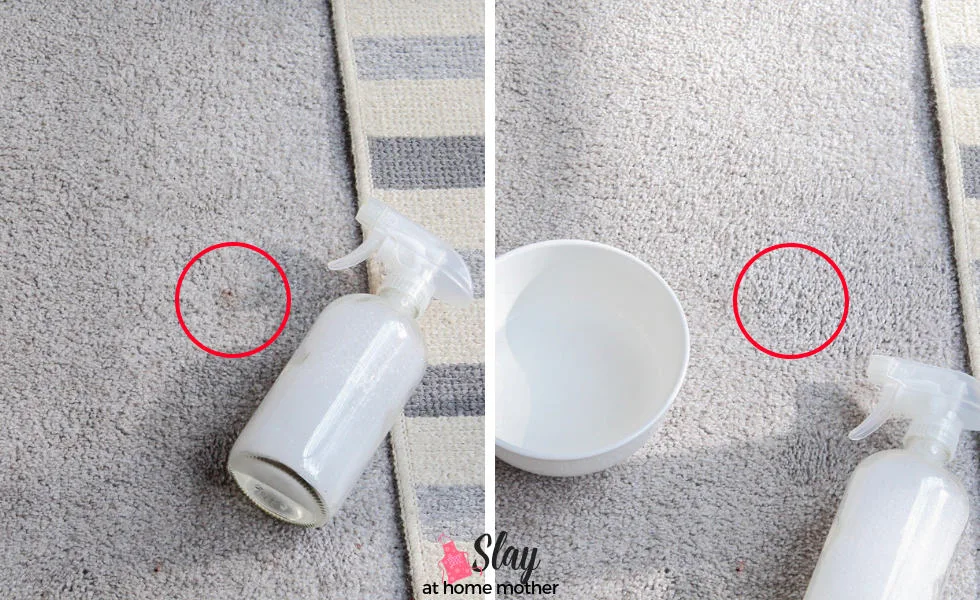 First, I would like to note that with any homemade cleaner you are making for the first time, you should always test spot in an inconspicuous area first.
While the 3% hydrogen peroxide should not lighten your carpet, this is something you should test out depending on your mixture and carpet coloring and fiber makeup.
Before you begin cleaning your carpet with your homemade carpet cleaner solution, be sure to remove excess dirt, hair, and dust from the carpet with a vacuum.
DON'T SKIP THIS STEP. IF YOU SKIP VACUUMING FIRST, YOU'LL BE SPREADING AROUND MORE DIRT AROUND IN THE STAIN.
Mix up one bottle (or bowl) of homemade carpet shampoo, and fill up one small bowl of plain water.
Gather 2-3 clean rags (I prefer to use white rags because I can see the stain that's been lifted off the carpet and onto the rag).
Blot excess liquid from the carpet stain with a clean, dry rag if it's a wet stain.
Spray the solution onto the carpet stain, and lightly scrub the carpet in both clockwise and counterclockwise directions.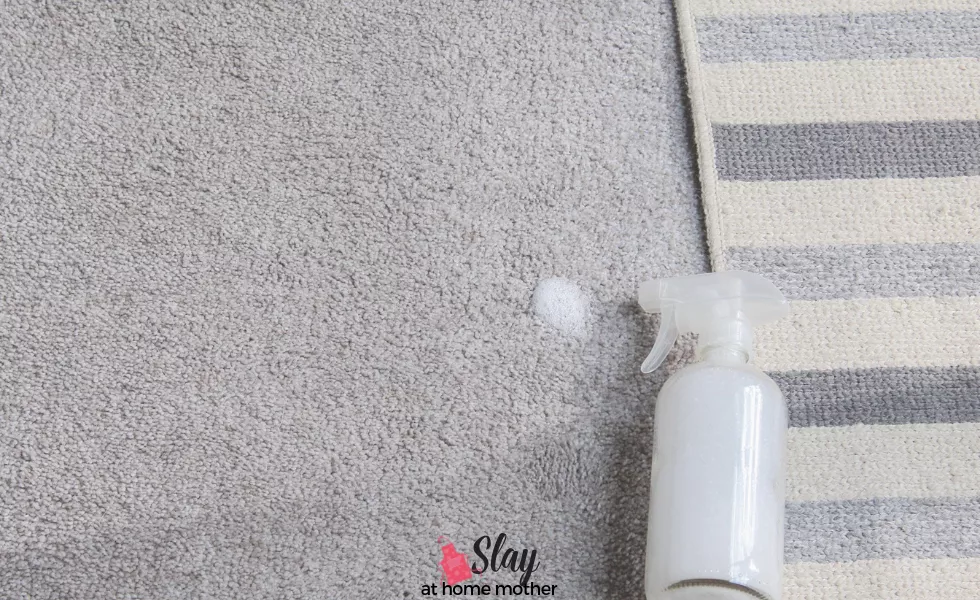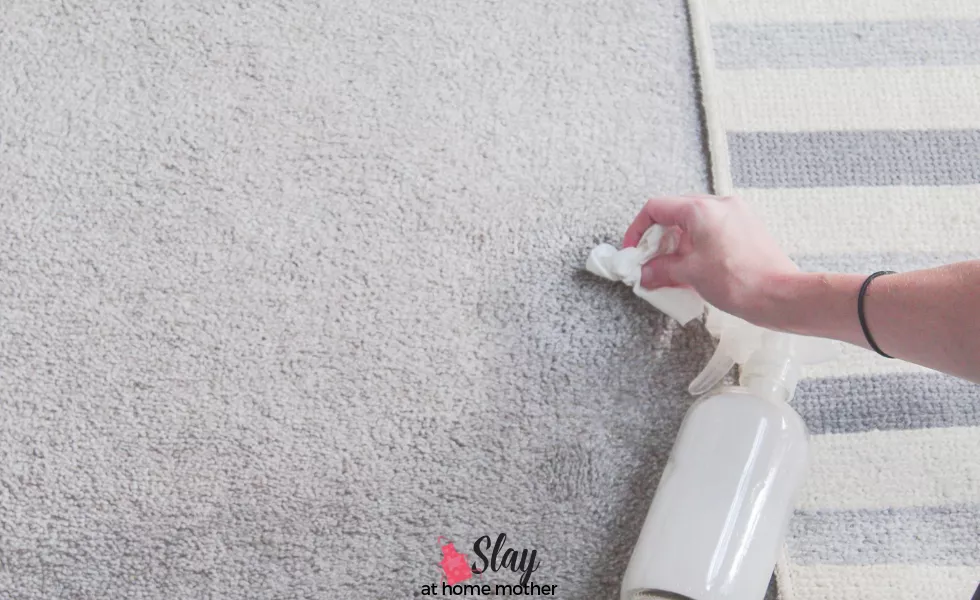 Blot the sprayed area of the carpet with a clean, dry rag.
How To Rinse Carpet After Cleaning
After spraying and scrubbing your carpet (as well as blotting up extra solution), you'll need to 'rinse' your carpet.
Simply spray your carpet with clean water (or dip a rag into a bowl of water and apply to the carpet by hand), and blot with a clean, dry rag.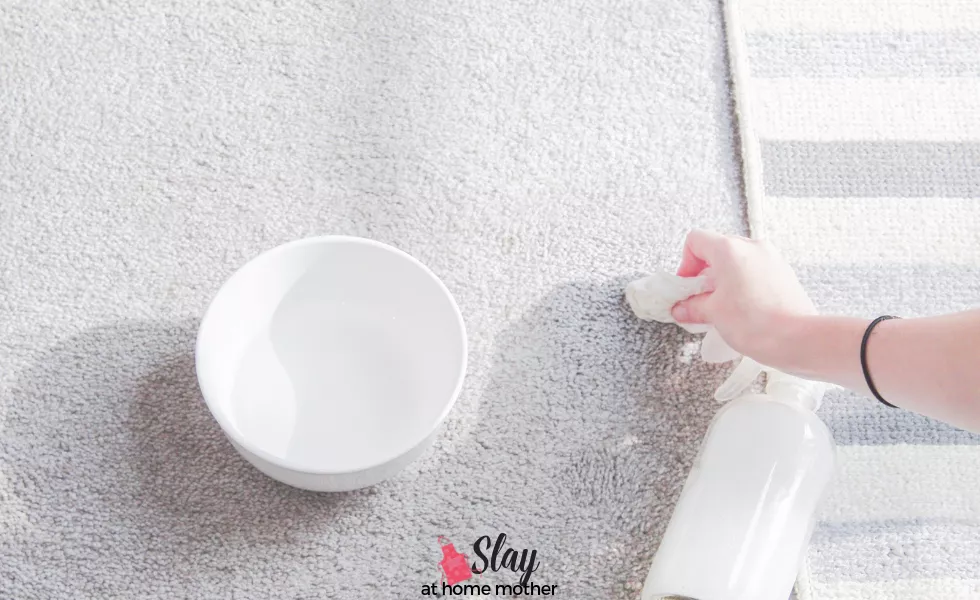 I like to follow up with an additional dry blotting rag when treating a larger stain that probably needed more solution to treat it and run the ceiling fan on high until the carpet dries.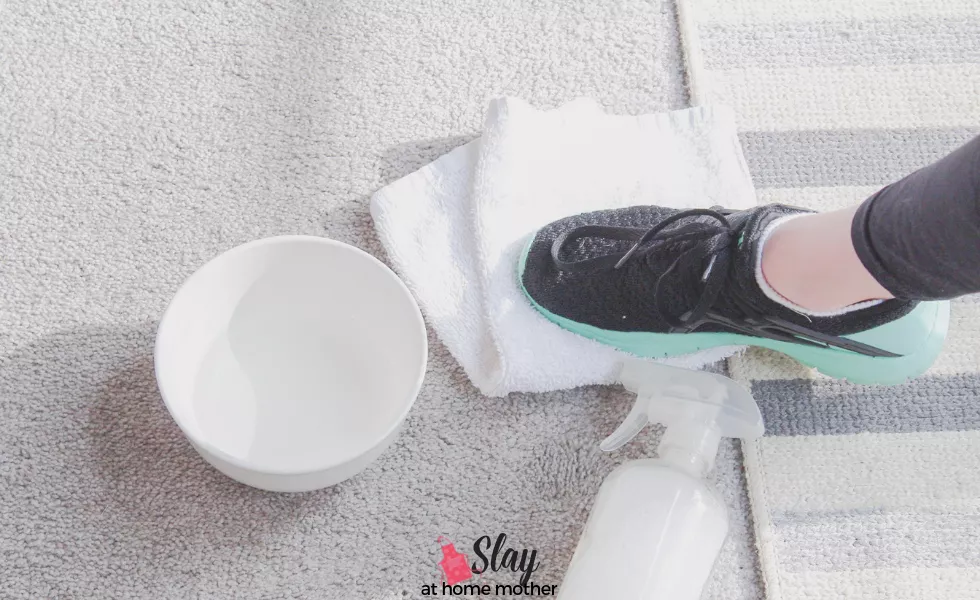 Related: MAGIC Homemade Floor Cleaner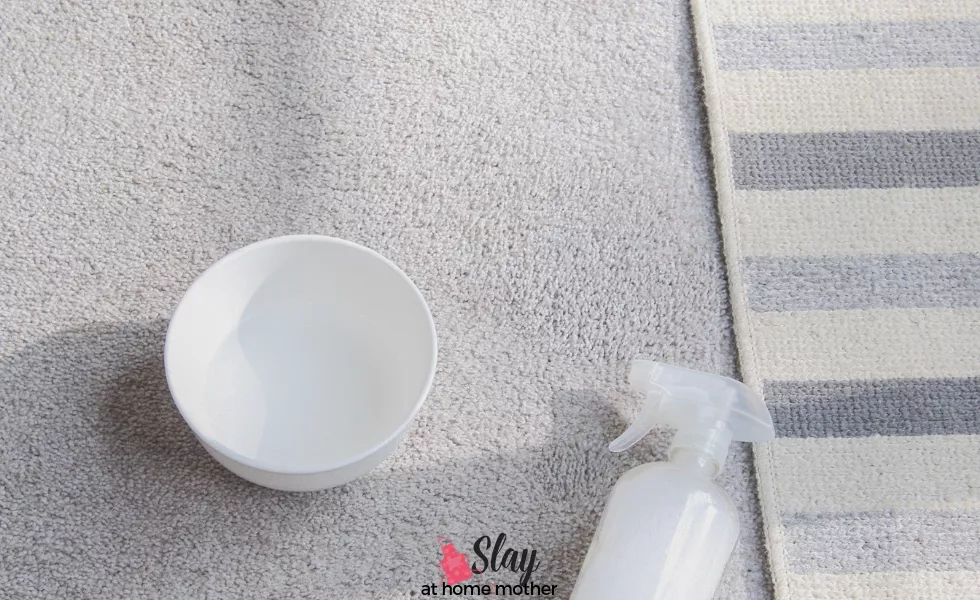 Here's an updated before and after of this carpet cleaning solution working…

My Favorite Carpet Cleaning Machine
If you're not into the whole spray, blot, spray with water, blot again scene of handwashing your carpet (which can be great for simple spot cleaning, but not incredibly effective for cleaning an entire room of carpet), I wanted to recommend my current carpet cleaning machine.
I've been using it to fully clean our carpets since we completed our living room renovation last year, and it's held up great!
Can I Put This Homemade Cleaner In A Carpet Cleaner?
I would NOT recommend doing so – this solution is only designed to be used to spot cleaning!
When it comes to carpet cleaning machines, I believe in only using commercial solutions in the cleaners because they're designed to run through the machine without clogging, irritating, corroding, or breaking down the machine's parts.
I also do not want to condone making your own carpet cleaning solution for a machine as it voids the warranty, and carpet cleaners are NOT cheap ;).
Does This DIY Carpet Cleaning Solution Work On Clothing Also?
I also use this on our couches when there's a stain or the kids spill a drink, and it works fantastic!
I have yet to try it on clothing.
I'll be trying this solution on clothing stains here soon, though, and will update the post when I have tested it out enough to let you know if it's good for carpet and clothing stains!
Let me know in the comments below if you try it, and how it works out for you!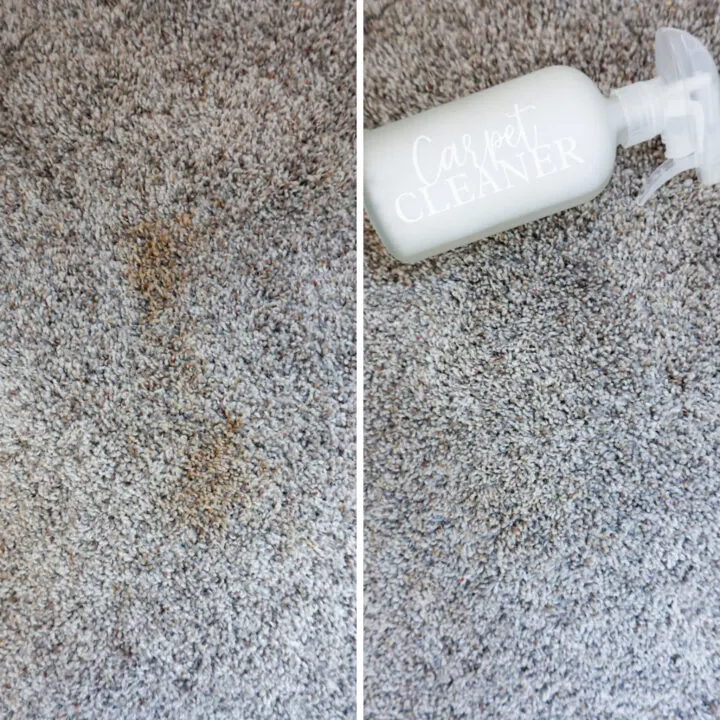 Homemade Carpet Cleaner
Spot clean your tough carpet stains and spills with this homemade carpet cleaner...
Ingredients
1 cup 3% hydrogen peroxide
1/3 cup undiluted dish soap
12 oz. spray bottle
3 washcloths
a separate small bowl of water
Instructions
In a large-enough spray bottle, combine undiluted dish soap with hydrogen peroxide. Shake gently to combine. Label the container so you know it is a carpet cleaning solution.
Vacuum area you want to spot clean to remove excess dirt and debris.
Test in an inconspicuous area first to ensure the fabric or carpet fibers you want to spot clean are colorfast.
Spray your homemade carpet cleaner onto the carpet spot/stain. Use a clean washcloth to rub in circles clockwise and counter-clockwise to help lift the stain.
If the stain you're tackling is super tough, you can allow the DIY carpet cleaner to sit for up to 5 minutes
Dip a new washcloth into a small bowl of clean water, and scrub the stain and carpet cleaning solution some more. This helps 'rinse' the solution from your carpet.
Dab the carpet spot with a third dry washcloth, stepping on it with your foot to help absorb excess moisture. Repeat if necessary.
Allow freshly cleaned carpet to air dry.
Notes
This homemade carpet cleaner is great for spot cleaning, but I would advise against trying to use it for an entire carpeted room and instead advise a carpet cleaner rental or service.
Recommended Products
As an Amazon Associate and member of other affiliate programs, I earn from qualifying purchases.
---
Let me know in the comments below if you try it, and how it works out for you!
Be sure to check out my other cleaning posts and recipes here.
What other DIY cleaning solutions would you like to see?
*Post originally published September 2019, last updated December 2021.