See our dining room before we refreshed it…
---
Hi friends!
I've been sharing a bit on Instagram about some big home projects we are taking on this year, one of them being our dining room.
When we first moved into our home, Chris and I didn't realize just how brown everything was.
The bathroom was my favorite shade of blue, and one of the bedrooms was pink, so I think the brown maybe wasn't as noticeable?
But the kitchen, dining room, living room, two of the bedrooms, and family room were all painted brown.
The basement also had dark brown paneling on the walls throughout.
To top off all the existing brown (the walls, the carpeting, the cabinets, the wallpaper, etc.), we bought brown furniture.
Like a couple of crazies.
I loved our home for its beautiful rustic charm, and I loved the furniture that we picked out.
But I didn't love everything altogether, and I've been craving some change ever since we moved in.
We were in a different place in our lives at that point, both financially and in our marriage.
We couldn't agree on anything, and we couldn't afford the things we found we could possibly settle for.
But since having reached our 5 year anniversary, having had squared away a big chunk of our debt, and being finally ready to tackle some ideas we have had in mind, Chris and I put our heads together and decided it was time to update our home one room at a time.
*This post contains affiliate links, however, all opinions are my own, as always.
Our Current Dining Room
I'd like to start by saying that this room was originally designed to be a living/family room.
We had both a family room and a living room, although one seemed like a waste of space.
We decided that, as small as our current kitchen was, we could turn our original dining space into a coffee bar, and our family room into the dining room.
It just made more sense.
We were knocking elbows at our kitchen table, and never sitting/using our family room anyways!
For our dining room, two of the walls are painted an orangey-brown color while the other two walls are wallpapered.
The previous owner ripped pieces of wallpaper and then pasted them onto the wall.
I don't really mind the wallpaper so much because it doesn't really look bad, but I certainly wouldn't have chosen it myself.
Luckily, the wallpaper has tones of brown, white, and gray, so our plan to paint the dining space gray is within merit.
Here are some current photos of what our dining space looks like.
Excuse the mess – I was trying to clean up this room before taking photos, but we're a real-life family with kids!
See those ceiling beams?! They are my favorite part of this room!
Our Plans For The Dining Room
Our plans for the dining room include:
Painting the walls, trim, and molding
Refinishing the floors
Adding some farmhouse decor/rearranging decor
I have already removed the vinyl stickers on the wall by using a hairdryer which made them easy to remove from the wall with careful peeling.
My husband, Chris, will be doing most of the painting because he paints beautifully, and has a great eye for detail.
For this corner, I think I want to hang two mason jar sconces and use the ledge for seasonal decor.
With fall coming up, I am picturing a garland and some pumpkins.
We will be moving our wedding canvas photos above the fireplace to the wall that is pictured with the vinyl decal and placing a really cute sign there.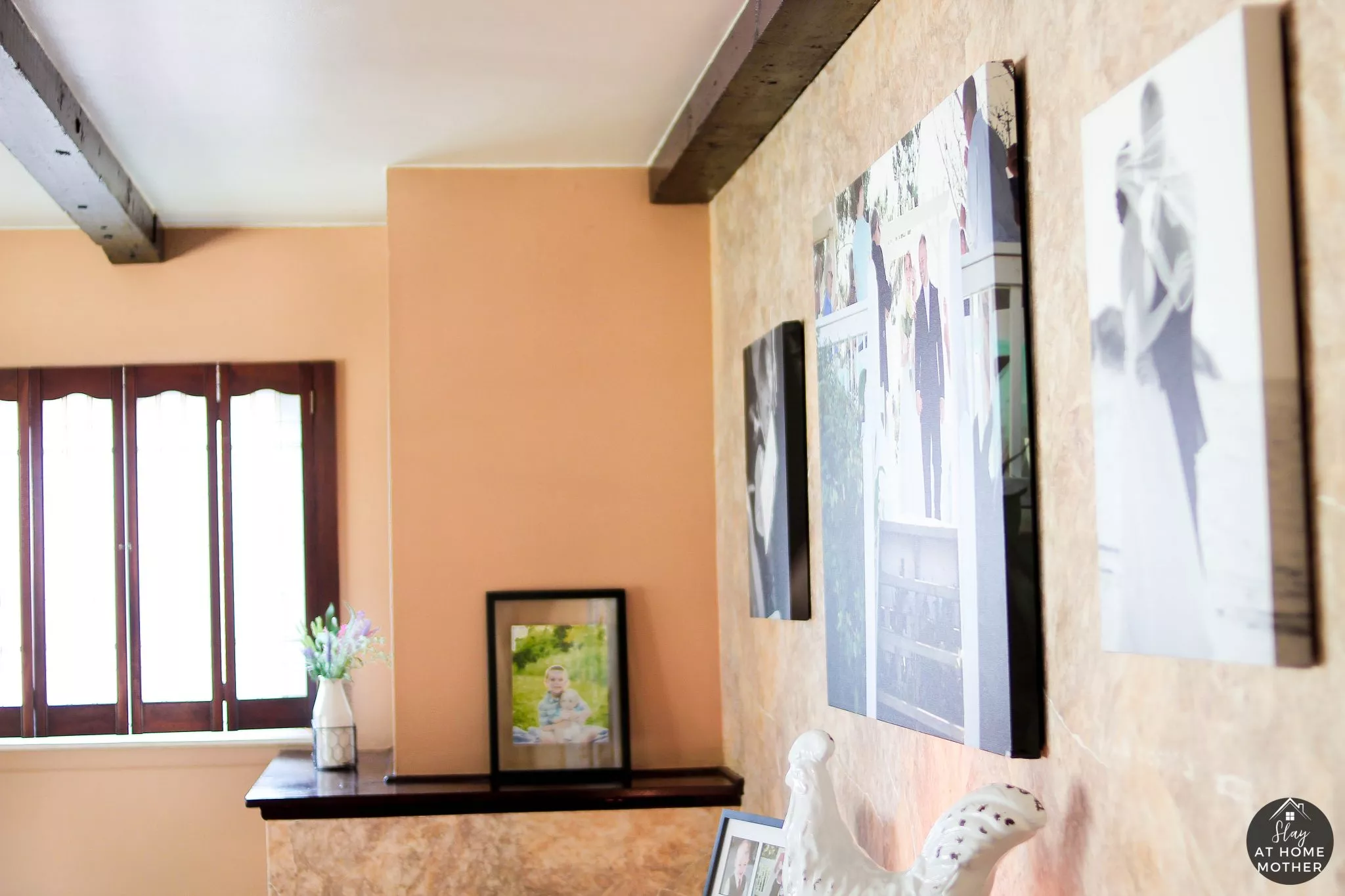 This photo really captures that orangey-ness (is that even a word?!) of the current paint.
Yikes!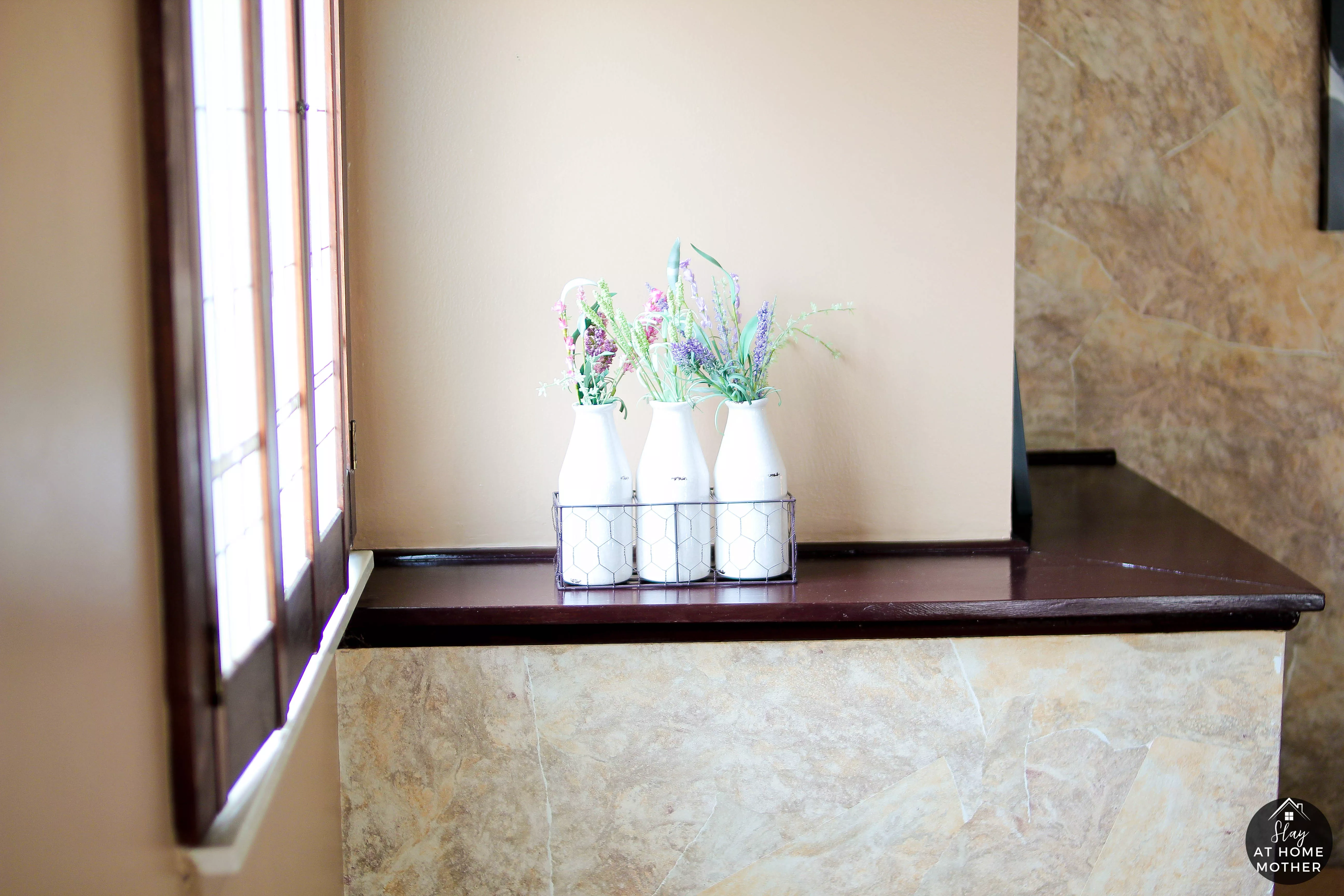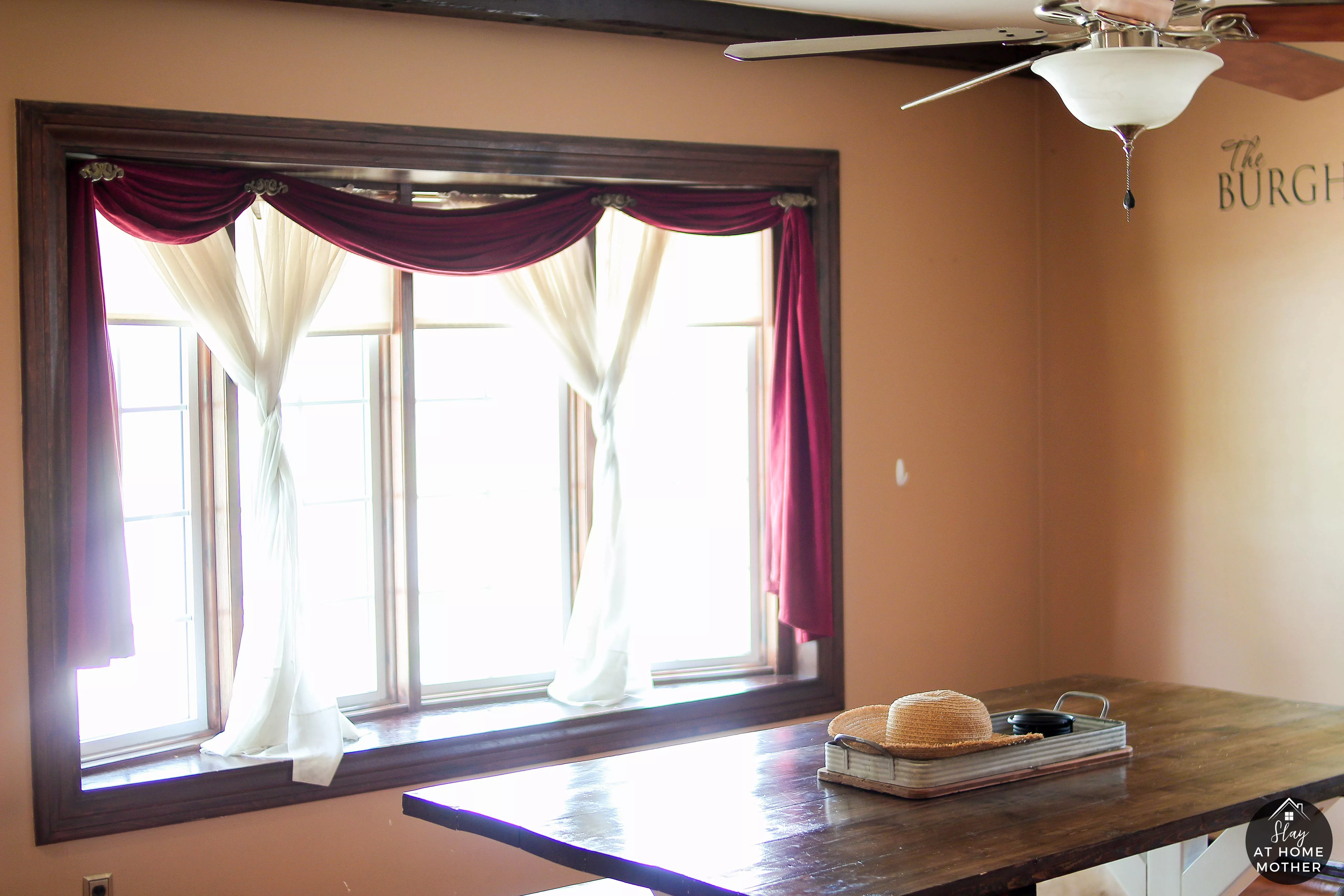 Our Paint Color Choice
The available walls will be painted in Gray Screen from Sherwin-Williams,who will be graciously sponsoring my Dining Room Refresh.
The trim for the windows, corner ledge, and floor trim will all be painted white.
We will be leaving the wood ceiling beams alone because we love them so!
P.S. Can you spot the two doggies in these photos? 😉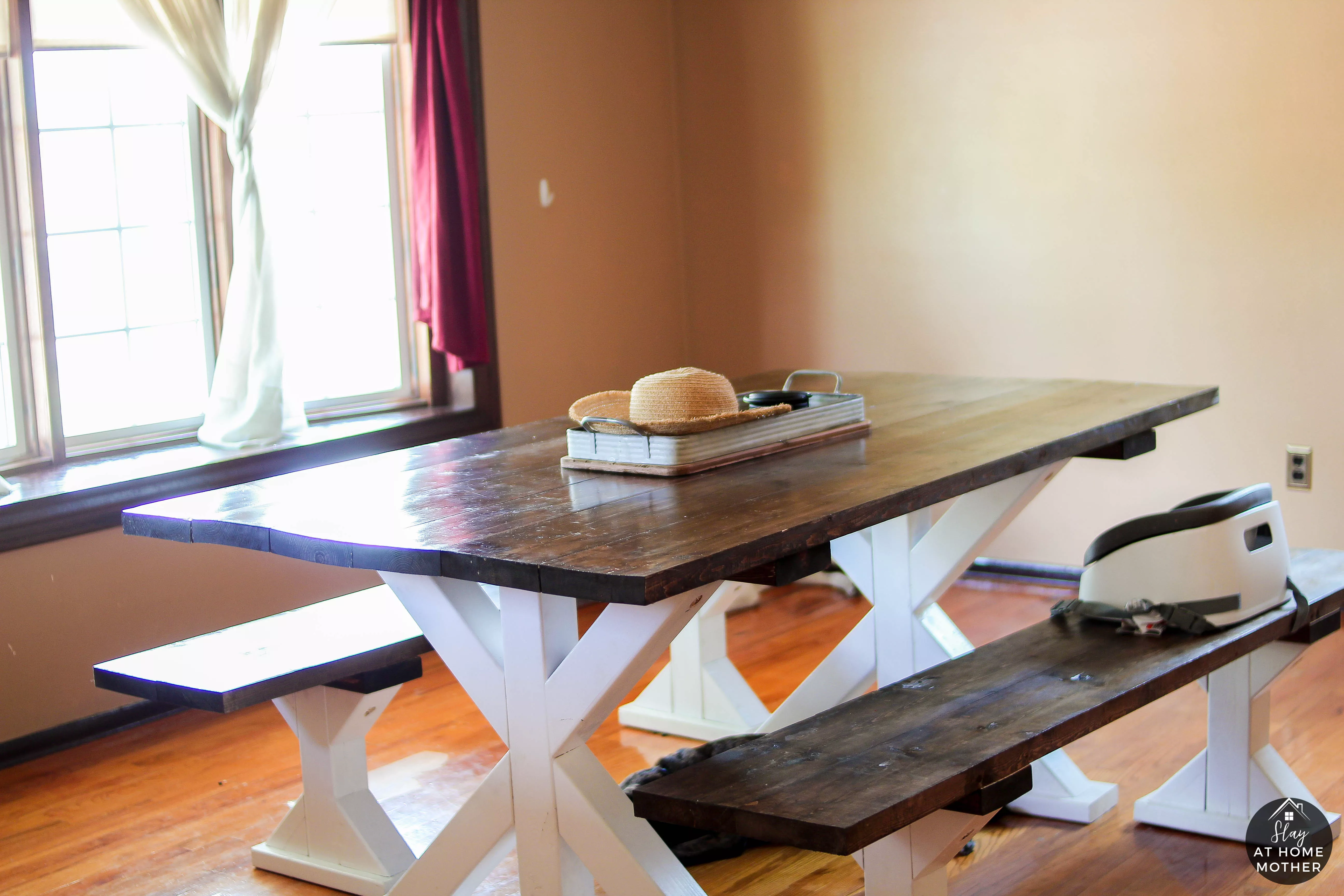 For the bay window, I will be getting a new valance, and for the table, I am planning to put together a pretty flower spray in a pitcher, and possibly some other decor.
I might even pull out my sewing machine and just craft my own valance.
The red one pictured here came with the house and was part of the previous home owner's decor.
I am incredibly excited to get started on this project – I have a feeling that a little paint and floor refinishing will really take this space to the next level for us and create that clean and neutral feel we want in our home.
If we have extra paint left over, we will carry the beautiful Gray Screen color on down the hallway, which is also wallpapered on one side.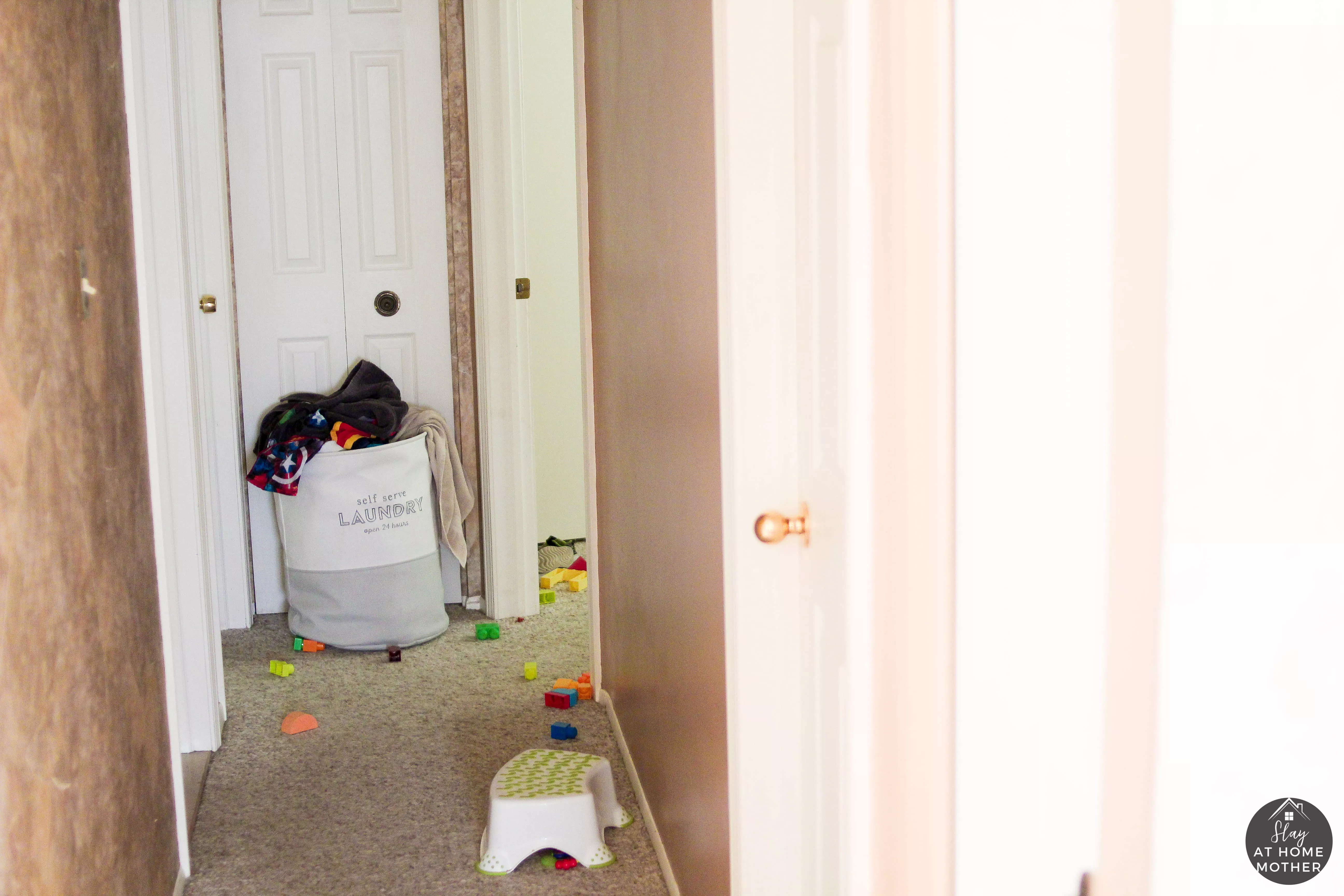 ---
So those are our plans so far for the dining room – I'm sure we'll tweak things a bit when the time comes.
We are getting ready this week to start painting, so stay tuned for the reveal of our Dining Room Refresh!
*Post originally published August 2018, last updated December 2021.