An honest review of Beddy's zipper bedding for bunk beds, and an exclusive 20% discount for my readers…
---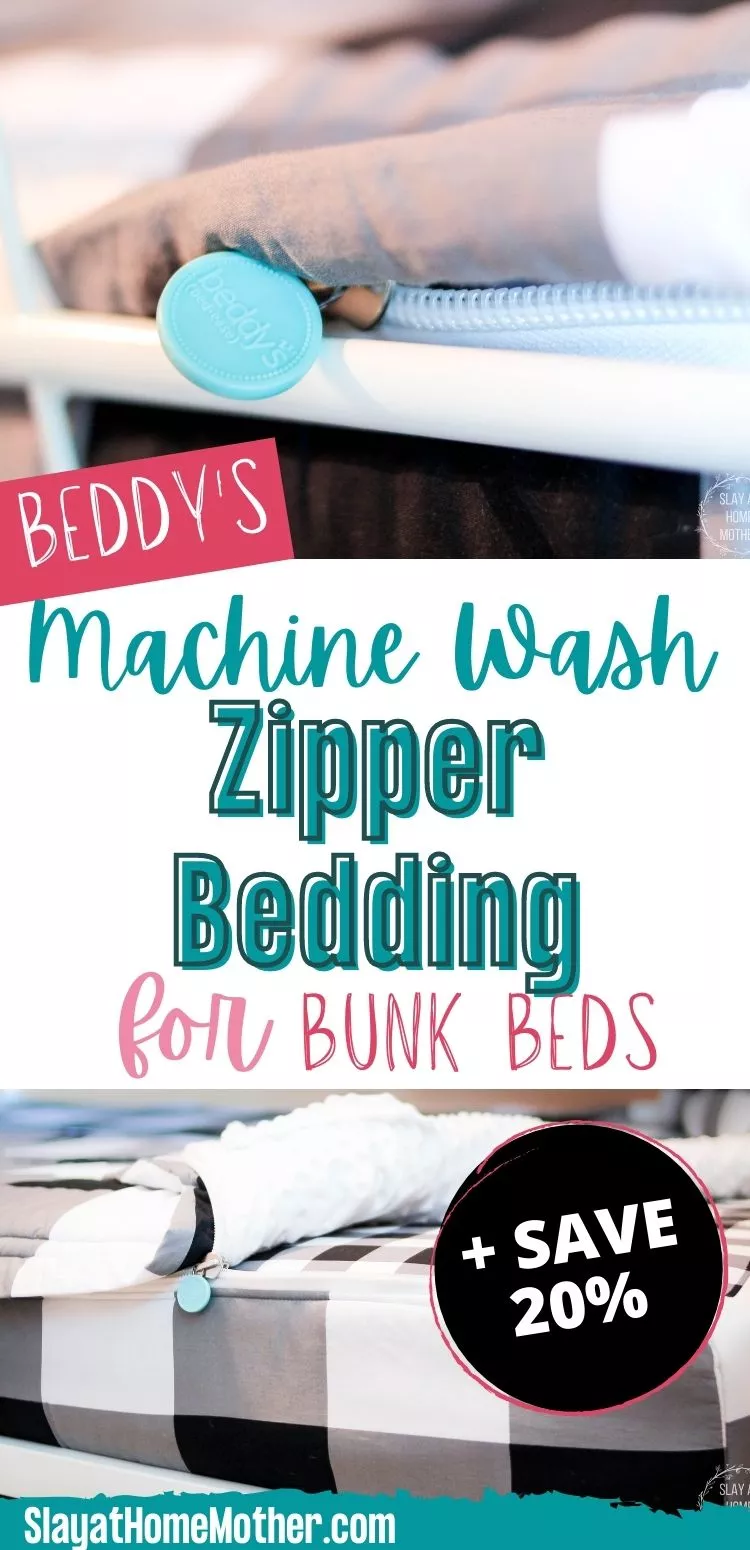 This post is in partnership with Beddy's. All opinions are my own, as always. This post contains affiliate links for your convenience to help support my blog at no cost to you.
Hi friends!
Recently, we switched up the boy's rooms into a shared bedroom with a bunk bed to get ready for a 3rd pregnancy.
So far, things have been going really good!
Max and Jax actually love sharing a room and are learning more about playing together and taking turns with toys.
I feel incredibly lucky to be the mother to two wonderful little guys.
They have polar opposite personalities, but they truly love one another and find ways to make the most out of their sibling relationship.
It's wonderful seeing them play together – especially when they think I'm not watching.
One thing I haven't been adoring as much is the constant mess their beds become in the morning.
I have been trying for weeks to teach the boys to make their beds or at least smooth the top sheet on their bed to make it look like it's made.
This is torture to my little men, who have wild imaginations that cannot be contained or bothered by mom's demands to keep a clean home.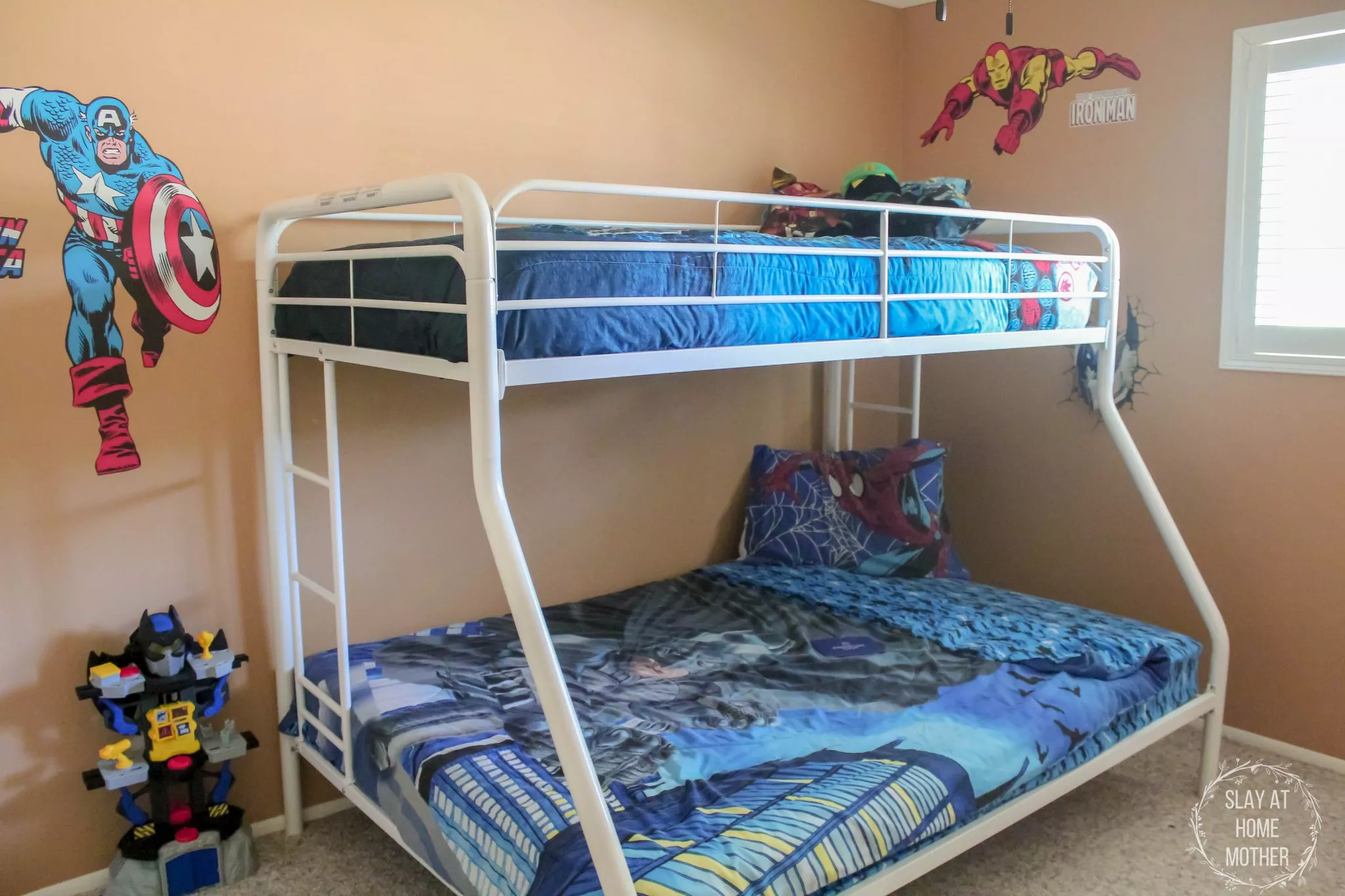 So I gave in and started making their beds myself to save myself the headache, but it only ever lasted for ten seconds.
Apparently, there's something incredibly fun about messing up something your mom has just cleaned ;).
I decided to partner with Beddy's to both help my sanity and my boys' ability to make their own beds.
What Is Beddy's?
Beddy's is a mom-owned business based in Utah run by two brilliant ladies, Betsy and Angie.
When I first heard about them, I fangirled over their branding.
Beddy's sounds a lot like Bed-ease, doesn't it?
Genius.
They create handmade, machine-washable bedding sets that fit over the top of the mattress and come in an array of beautiful styles.
Seriously, I wish I had a little girl because their girl's bedding is adorable.
They make bedding for almost every bed size, from toddler beds to King size, and also have a selection of blankets, bed skirts, pillows, pajamas, and Beddy's Buddies.
Changing Out Our Sheets To Beddy's
To match the boys' new shared room (which will soon be painted gray), I chose Beddy's 'CHECKED OUT' pattern zipper bedding for bunk beds.
I love this pattern because it is neutral and matches pretty much anything, so if Max and Jax aren't into superheroes next year and we change things up on their walls, I know that their sheets will match no matter what we change their room decor to.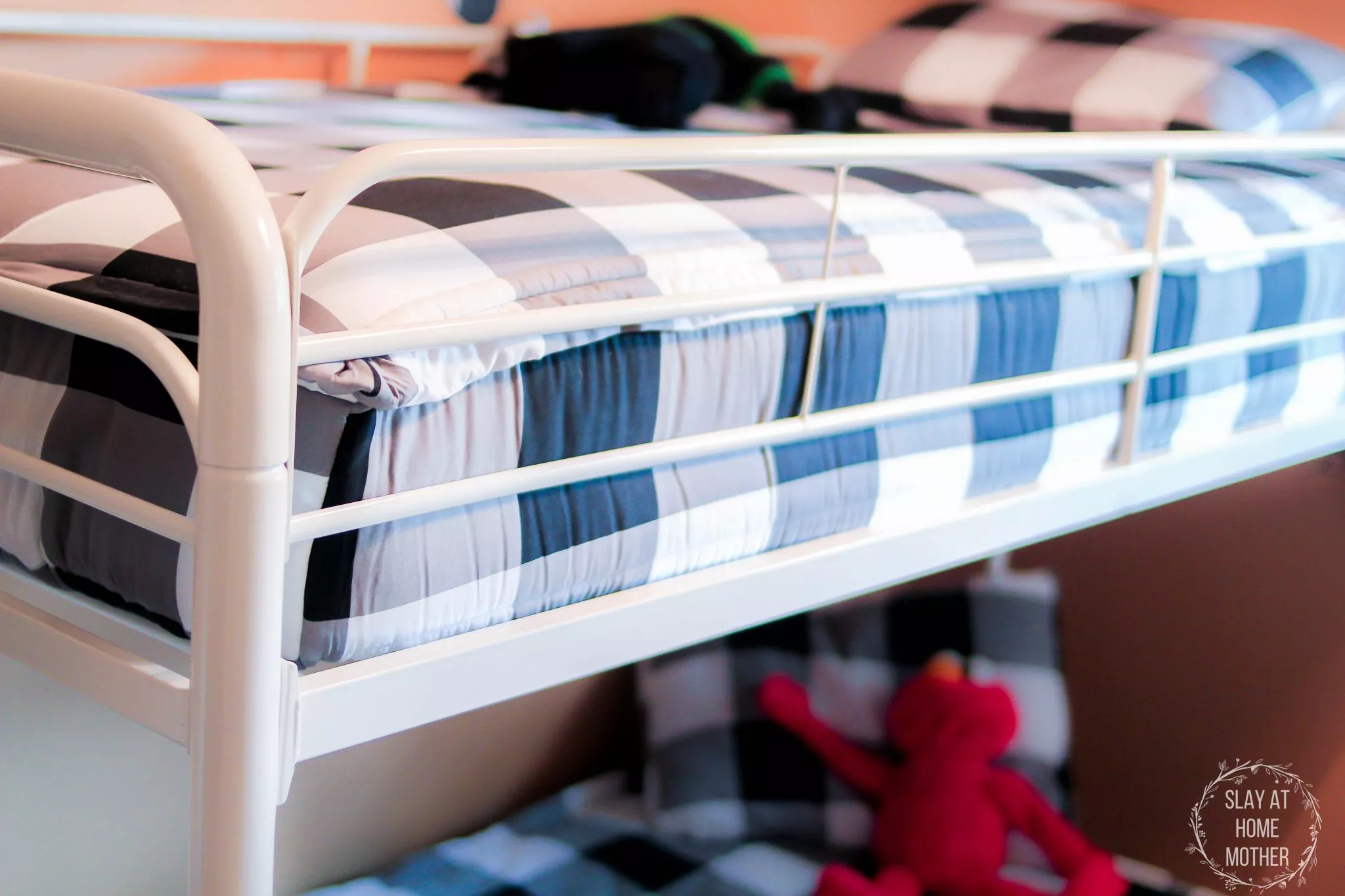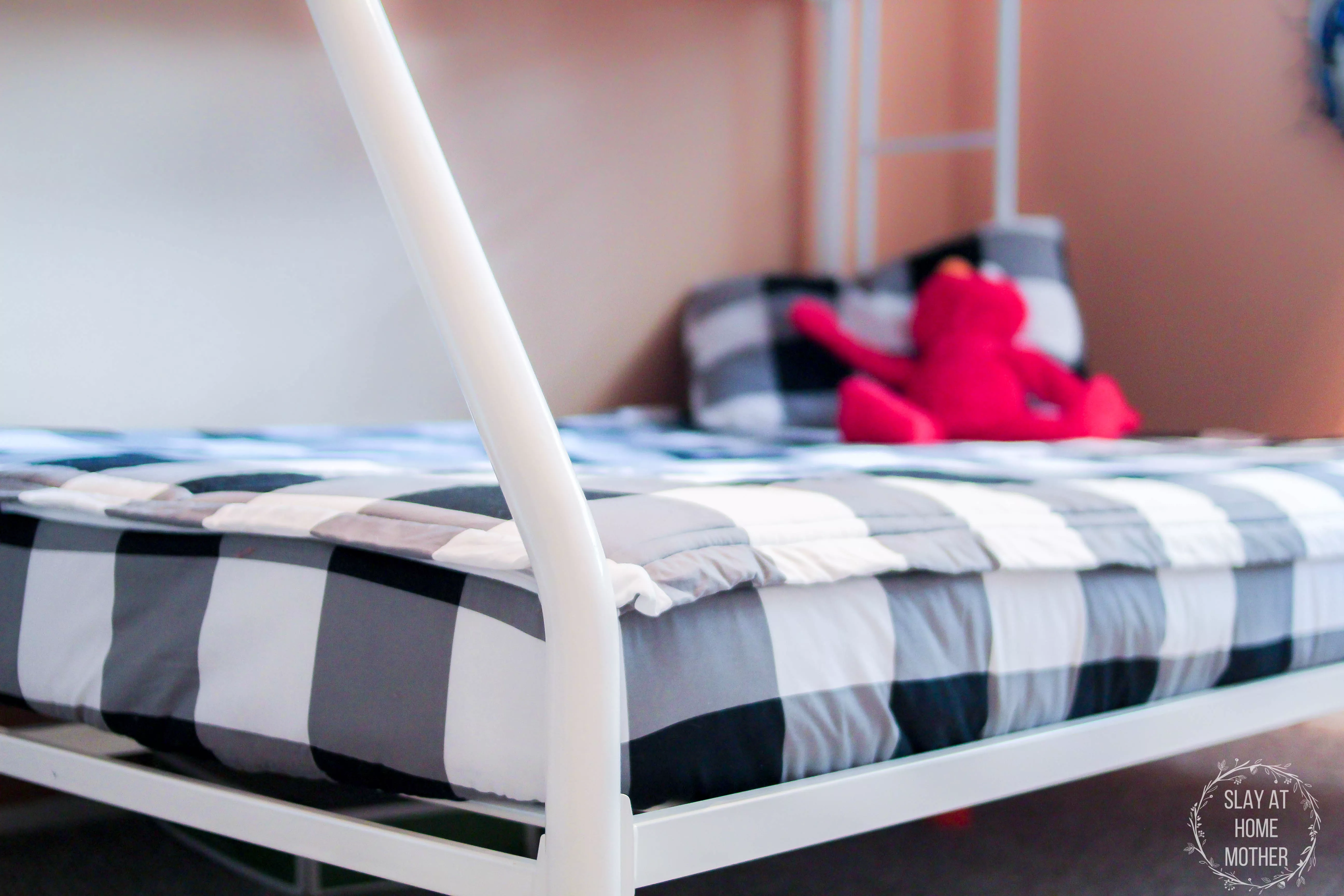 How Zippered Bedding Works
Beddy's works like a fitted sheet.
You simply fit the entire bedding set over top of the mattress!
The top sheet has a zipper on both sides and can zip off completely for easy cleaning in the washing machine.
Their bedding sets have a cozy minky interior with an extra panel of material for extra coverage and are topped with a comfy 100% cotton quilt**.
The minky and quilt are sewn together.
**Bedding sets are available without minky as well.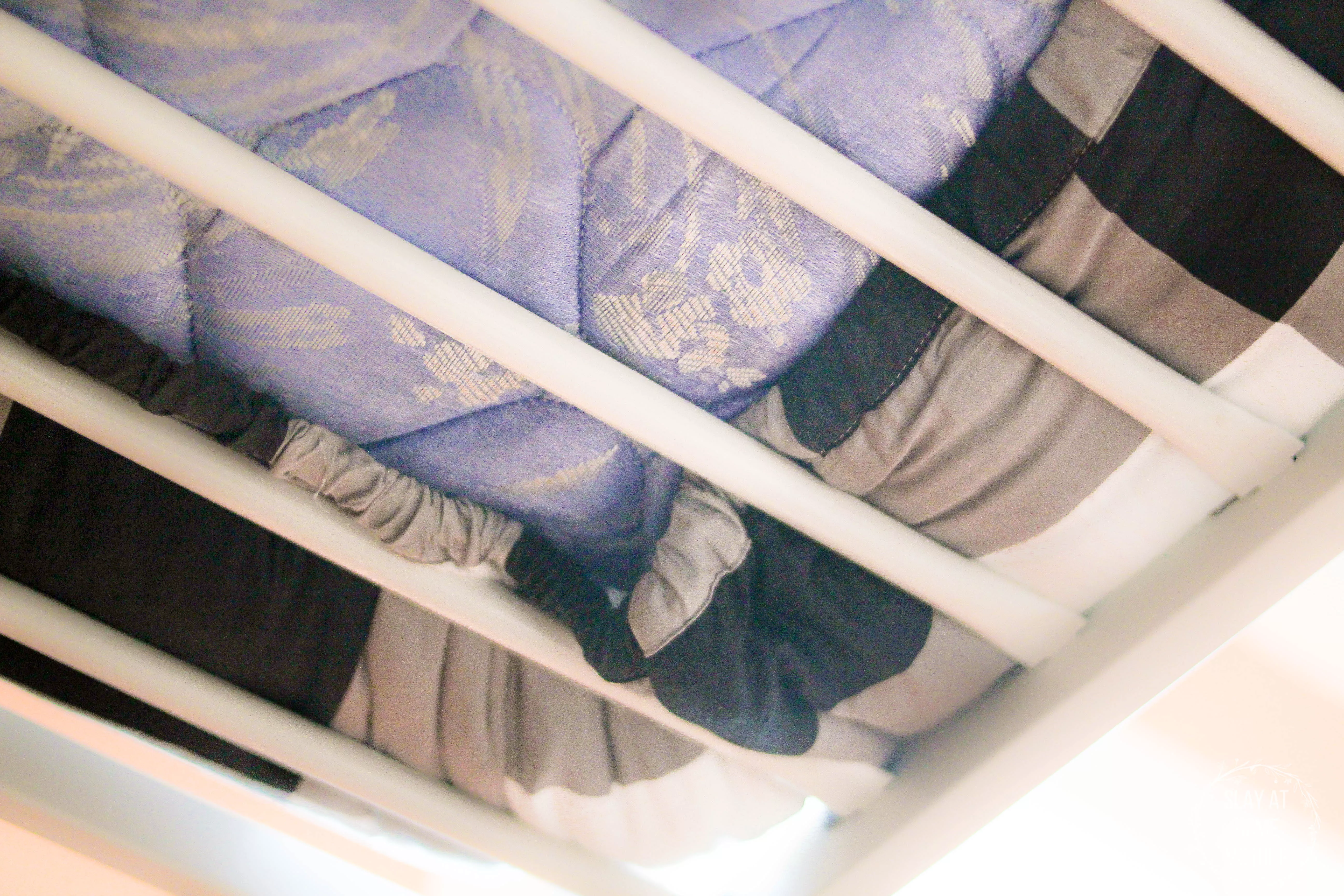 With elastic around the bottom edge, their bedding remains snug on the mattress so I don't have to worry about the bedding coming off of the mattress until I'm ready to put it in the wash.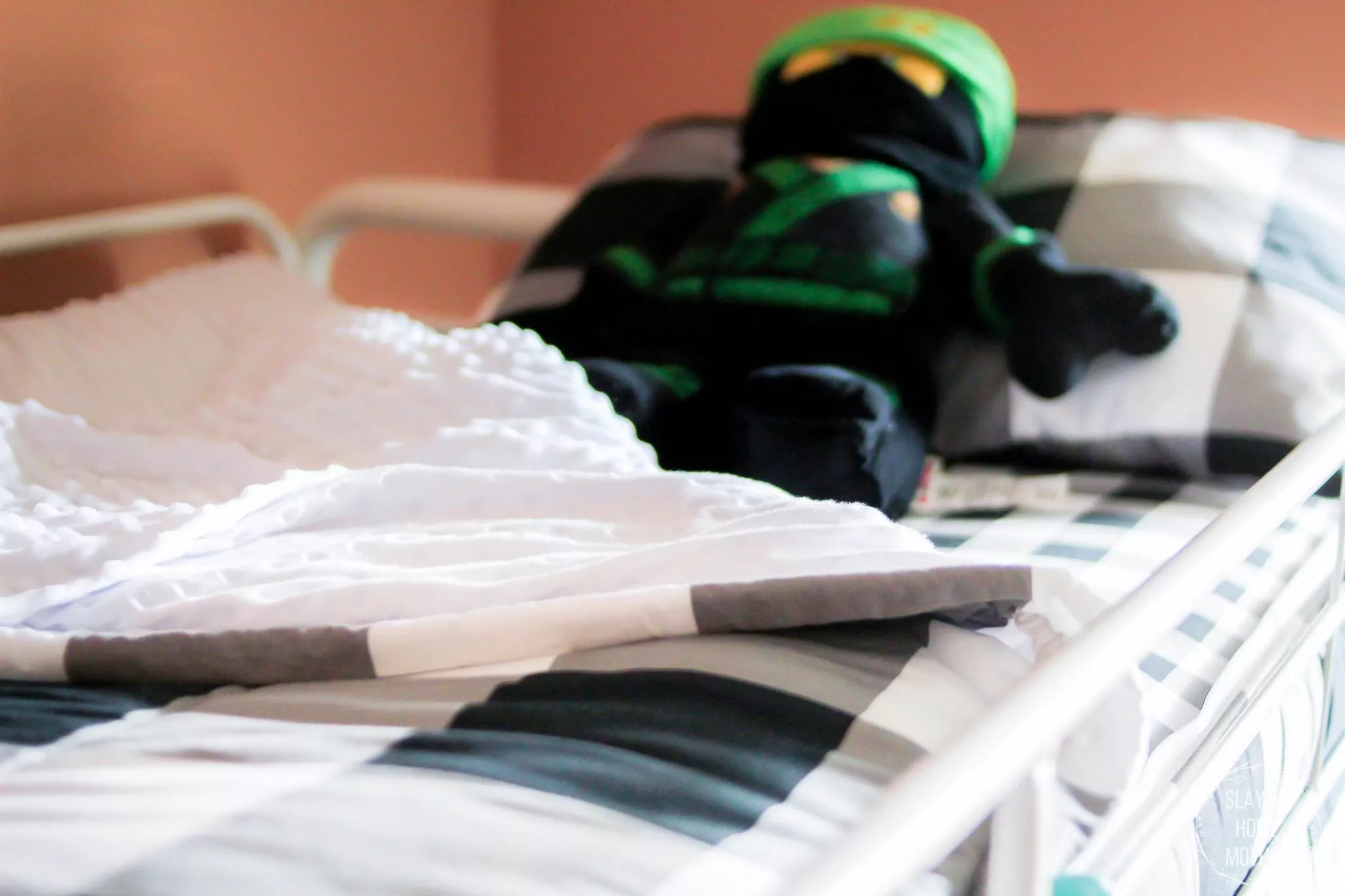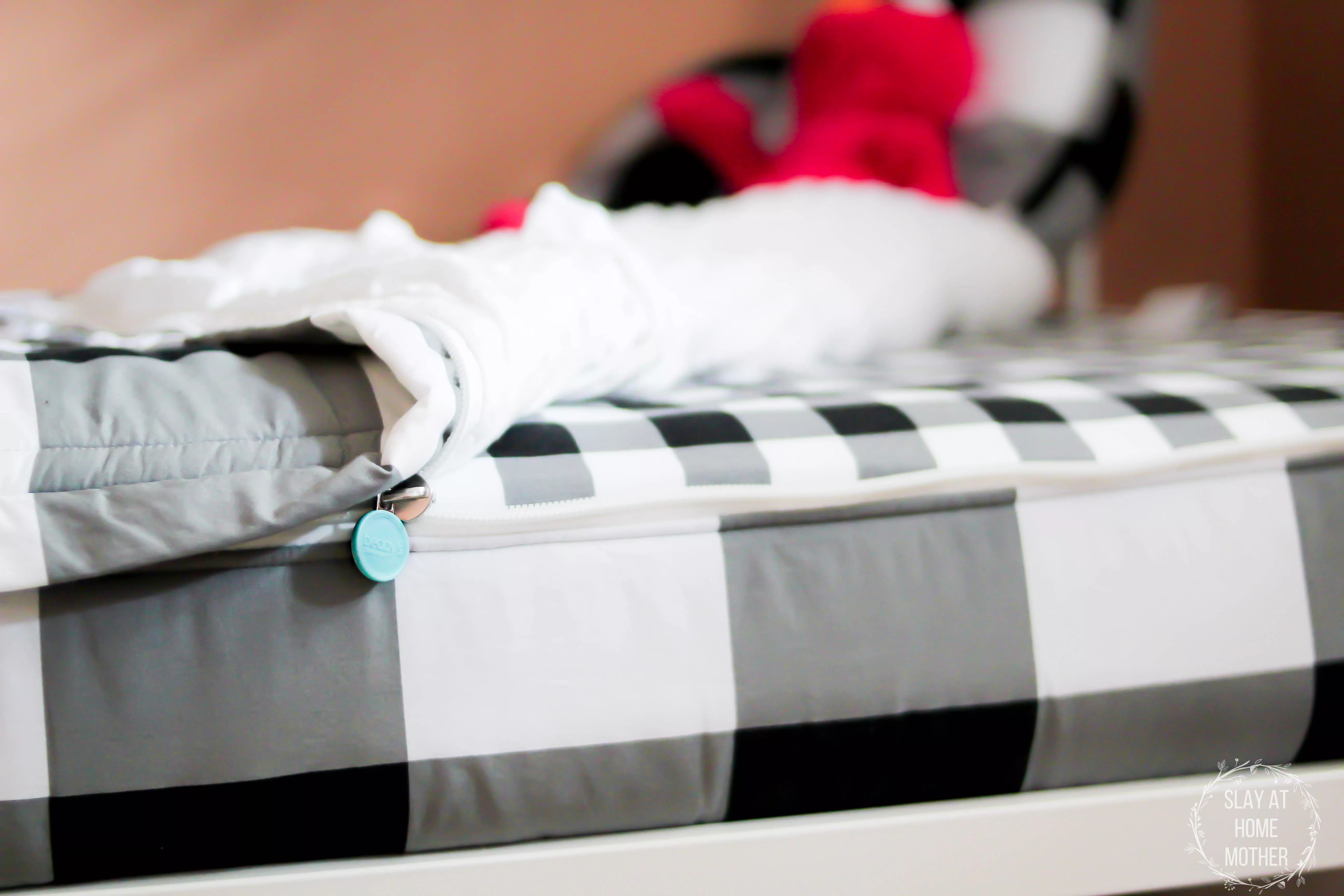 Zipper Tab Makes It Easy To Make The Bed
With Beddy's easy-pull zipper tab, both my 8-year-old and my 2-year-old can easily zip and unzip their bedding to crawl in or out of the bed when they need to and make their bed in the morning by simply zipping up the sides.
A huge plus is that Max's blanket on the top bunk never falls off the top bunk in the middle of the night either because it is zipped in place.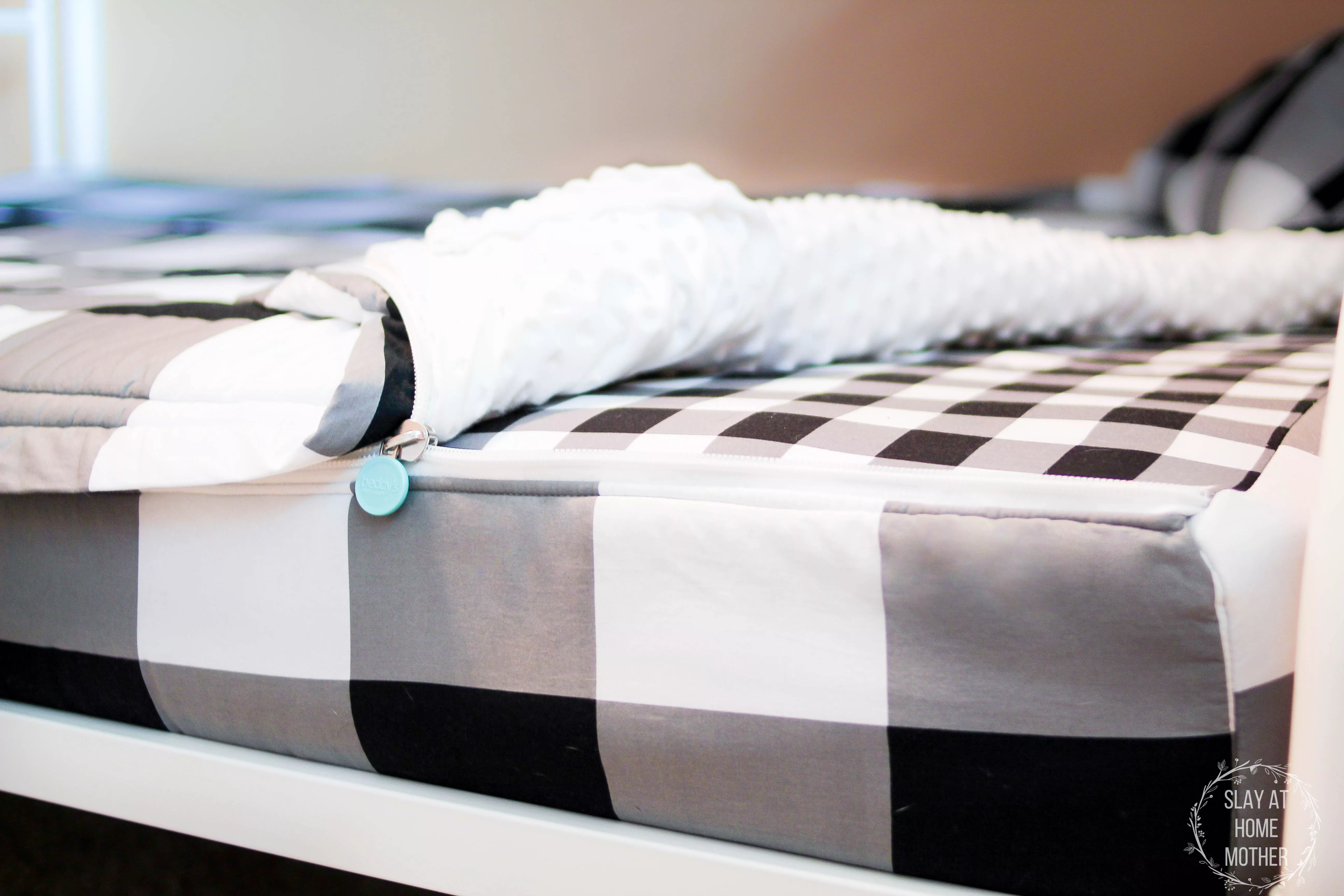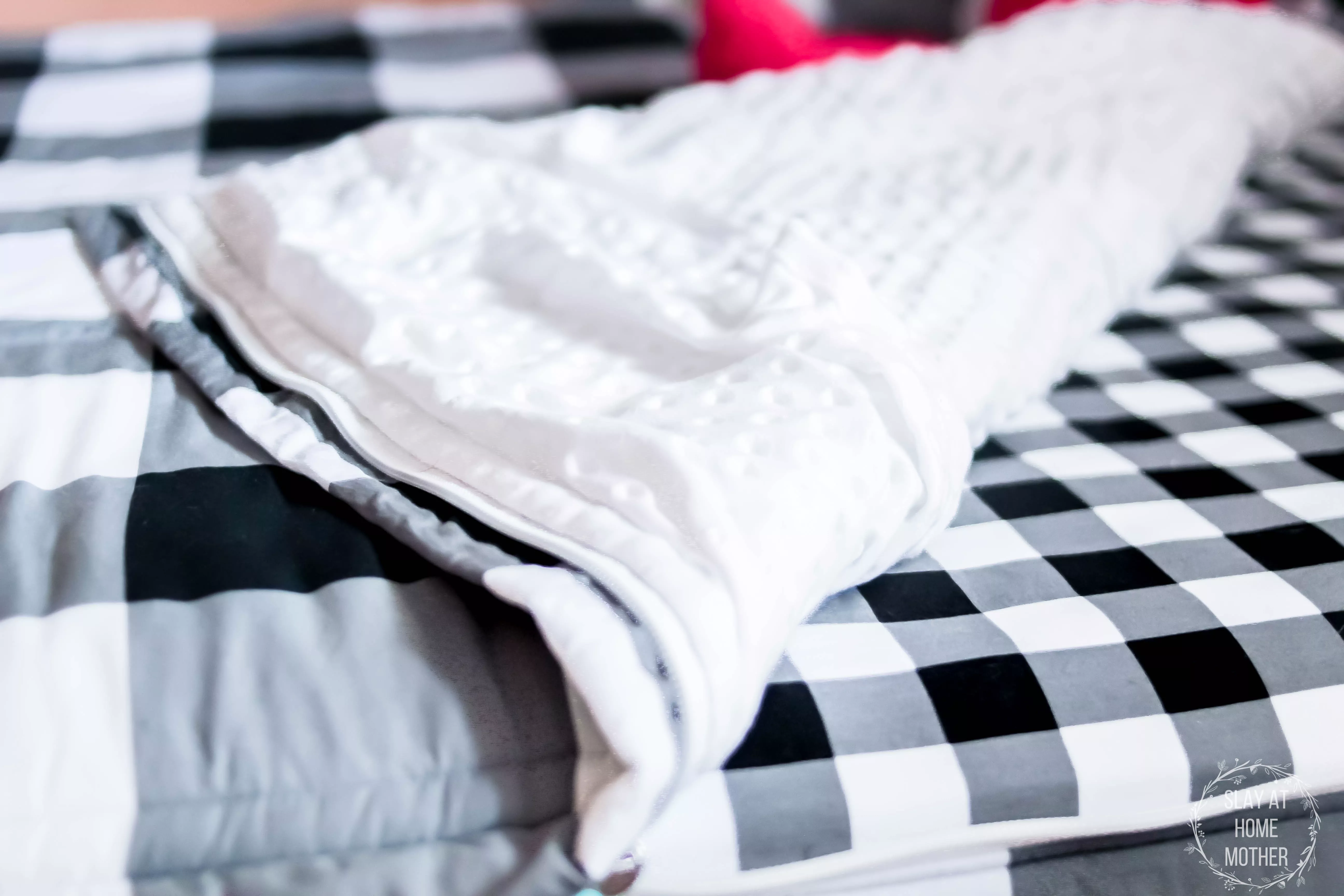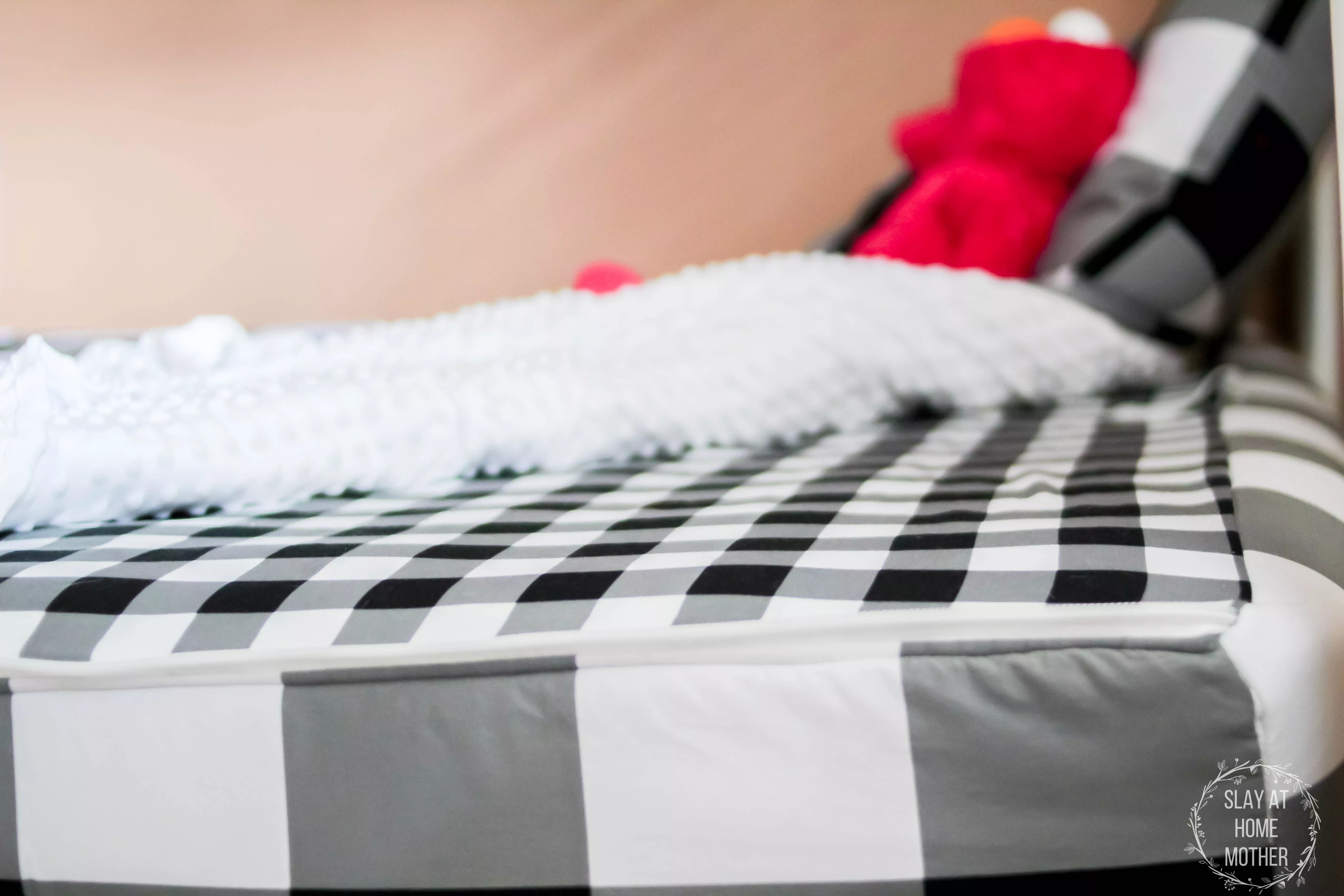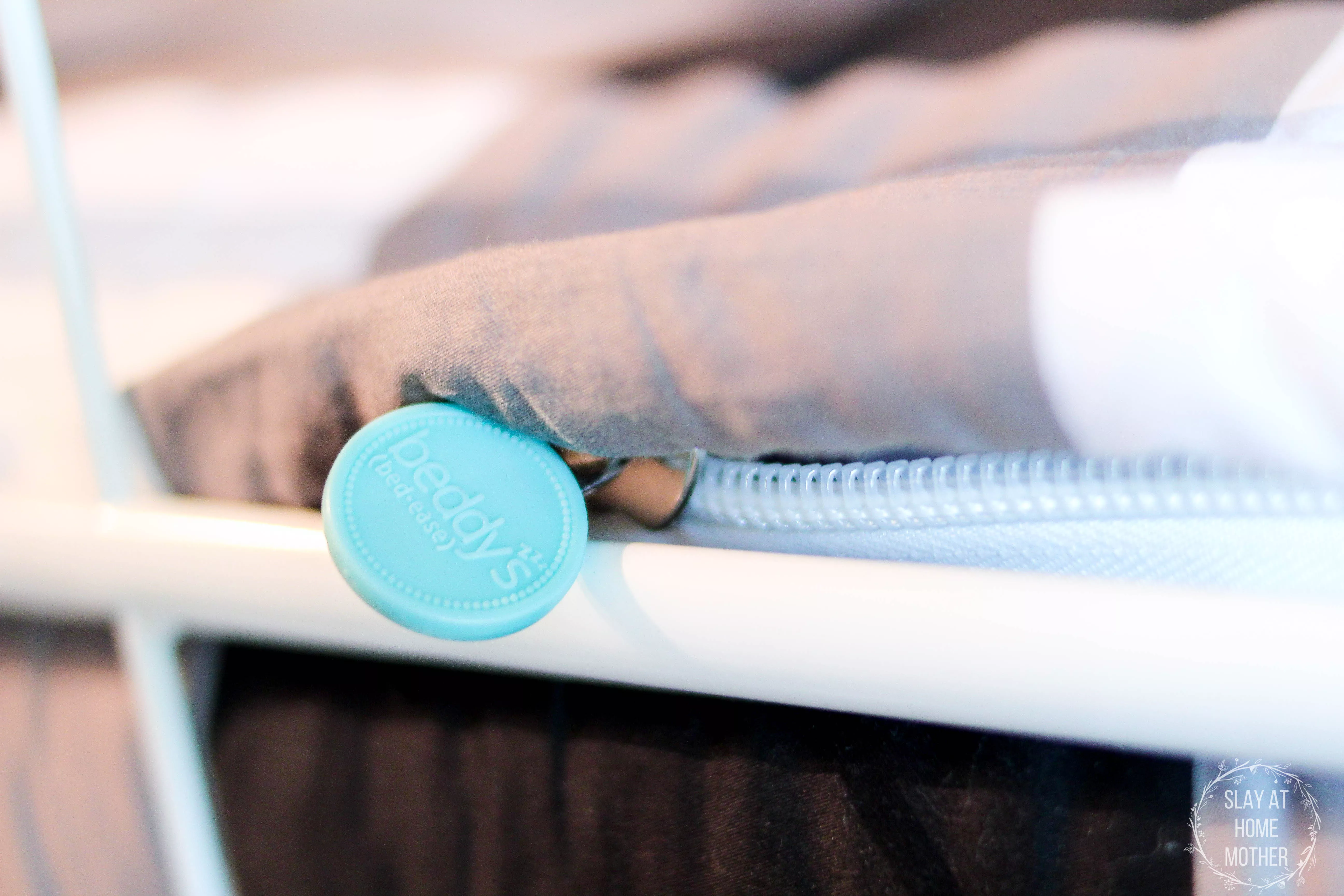 You May Also Like: Master Bedroom Makeover With Beddy's + Everything You Need To Know About Zippered Bedding!
Zip And Forget 🙂
Max absolutely loves making both his bed and his brother's bed in the morning (since Jax is a stinker and likes to unzip his bed and run away giggling for the fun of it).
Max noted that his new sheets were a lot like a sleeping bag for his bed – but way more comfortable!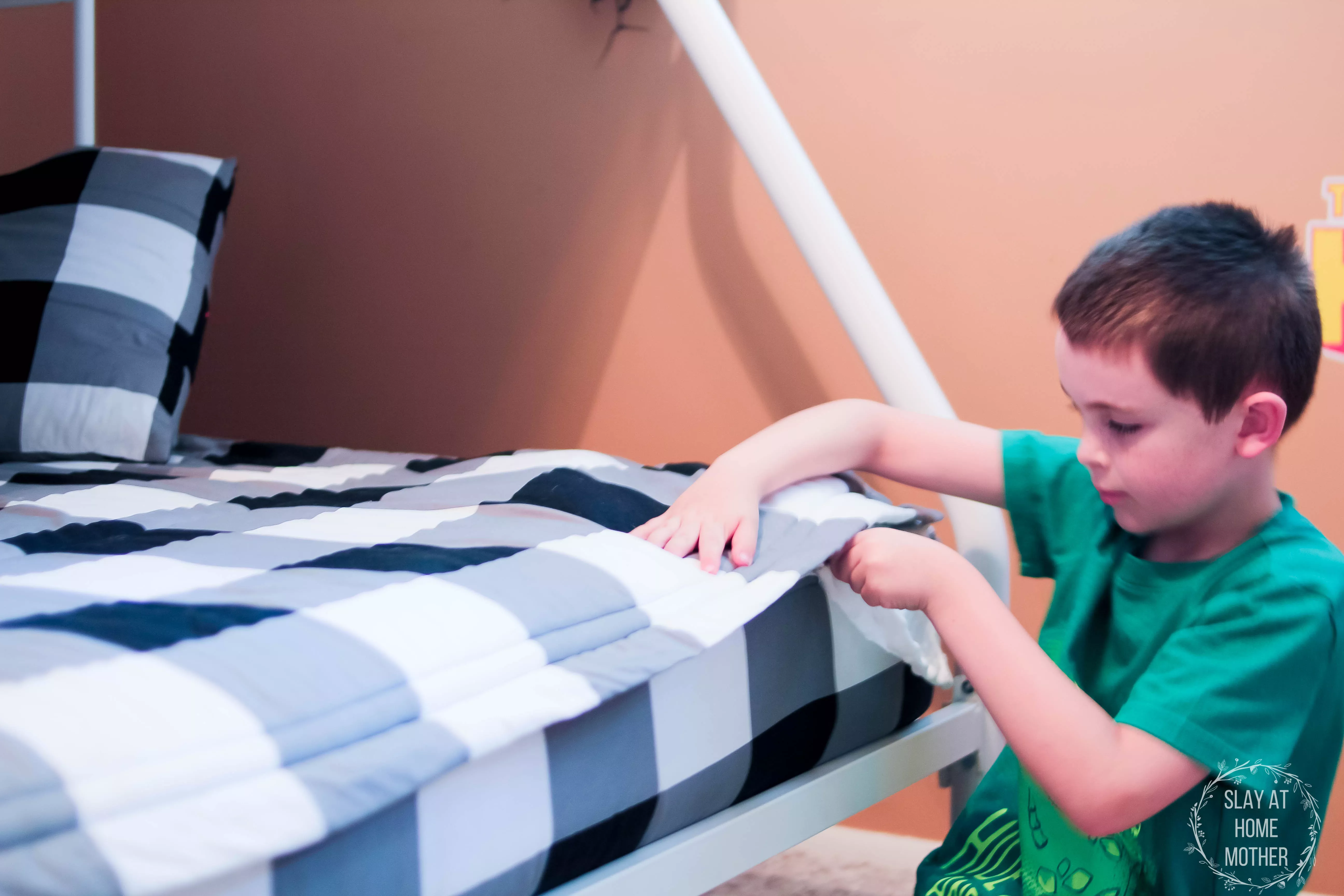 These bedding sets are incredible – I adore them for the boys' room!
Now, their beds are always made because it's so easy and fun for them to just zip up their sheets and go about their day.
I don't have to stress about walking past their bedroom door and seeing their beds being a mess, and they can learn to keep a tidy room.
And even if we are running late one morning and the boys don't zip their beds, I can easily zip them up after dropping Max off at school for a clean look.
Win-win!
Beddy's Bed Sets Machine-Washable
Beddy's really kept moms in mind when they designed their bedding sets because they are totally machine-washable.
With Max's twin set, I am able to zip his bedding together, remove it from his mattress, and toss in the washing machine.
Jax's full-size set needs to be washed separately from the top comforter, which is easily unzipped.
Once they are done washing, they can be placed into the dryer n a tumble low setting and placed back onto the mattresses once they are clean and dry.
Common Mattress Dimensions
If you're wondering what size mattress you have, here are some common mattress dimensions to go by:
TWIN: 38″W x 75″L
FULL: 54″W x 75″L
QUEEN: 60″W x 80″L
KING: 76″W x 80″L
CAL. KING: 72″W x 84″L
My Thoughts on zipper bedding from beddy's
I. am. in. love.
Where have these been, and how did I parent without these bedding sets for the past 9 years?!
Beddy's has seriously saved me some sanity, and my kids' rooms always look clean and well-kept!
Except for the constant sea of Legos that litter their bedroom floor.
Sometimes I feel like I'm in a Home Alone movie – only I'm trying to put away laundry, not rob the house…
Beddy's Discount Code: SLAYATHOME
Use code SLAYATHOME at checkout to save 20% on your order!
---
Have you tried Beddy's yet? Tell me in the comments below, and check out their newest styles HERE.
*Post originally published August 2018, updated December 2021 to include discount code.