Want to give yourself a gel manicure at home? I'm comparing two big brands to see which is better…
---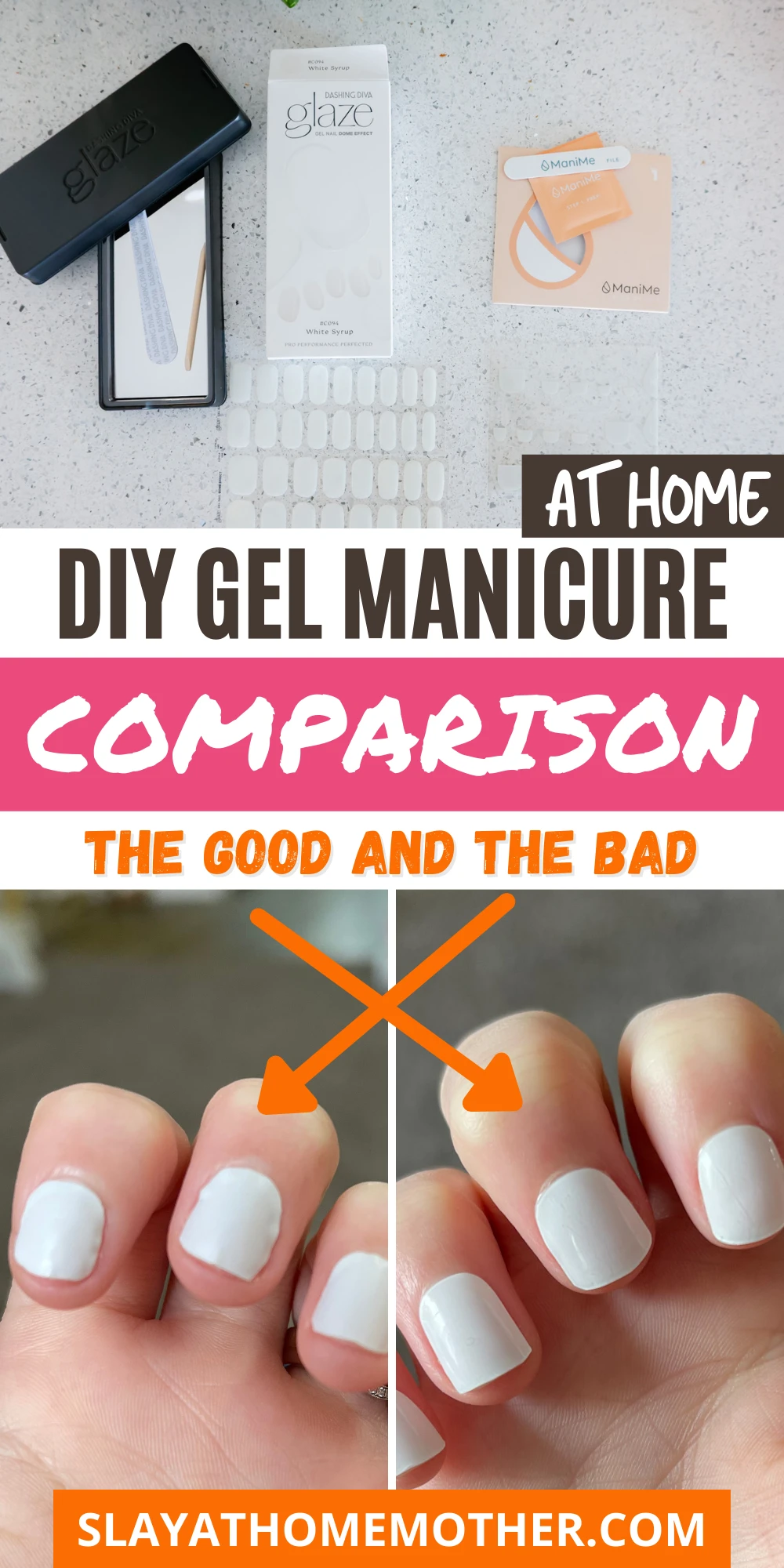 DIY Gel Manicure At Home
As someone who shows her hands a ton in photos, I feel the need to take care of my hands and keep up with manicures.
But as a mom of three with two businesses and not a lot of time – I can't always get out to the salon to get my nails done.
So lately I've been looking into ways to give myself a DIY gel manicure at home!
I love gel manicures because they last, look great, and give my hands a polished look.
Researching at-home gel manicures, I came across two top brands and decided to give them a try.
These gel manicure brands I'm sharing with you in this post advertise no drying time, which I love.
No powders, no liquid nail polish, no drying time, no fuss!
But that still wasn't enough for me…
I'm picky.
I clean a lot, use my hands all day, photograph them, and do tasks like picking up sewing pins, legos, peeling stickers, cleaning, etc.
I wanted to find a brand that…
could make my nails last 10 days or longer
could take a beating
don't peel up
don't catch on my hair
don't take forever to apply
After trying both, I wanted to share my thoughts on both brands.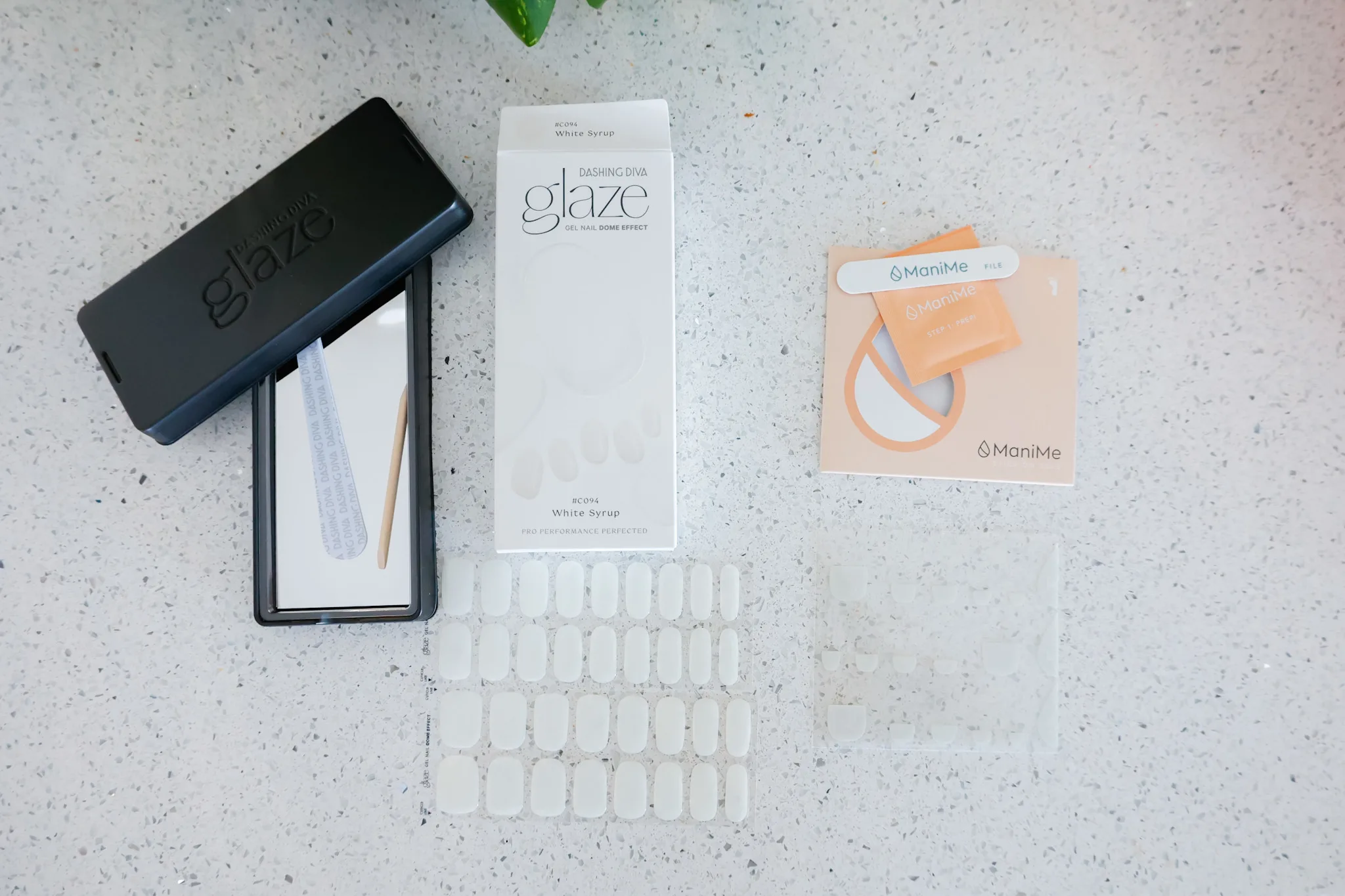 I'll be mentioning how well they fit my nails, how they look, if they peel up at the cuticle, how long they last, if they can withstand normal wear and tear, and what the application process is like.
*This post contains affiliate links, however, all opinions are my own, as always.
The two brands I chose to try out were ManiMe and Dashing Diva…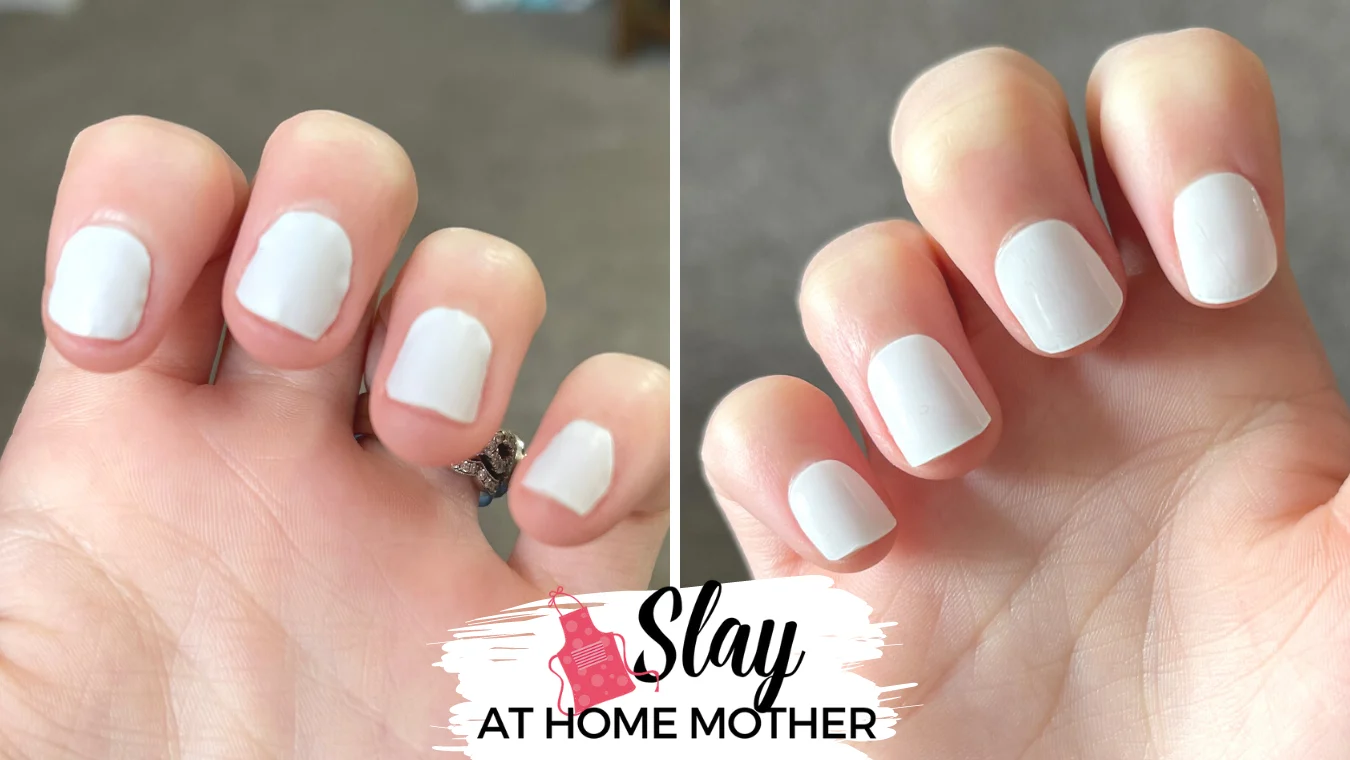 ManiMe Nails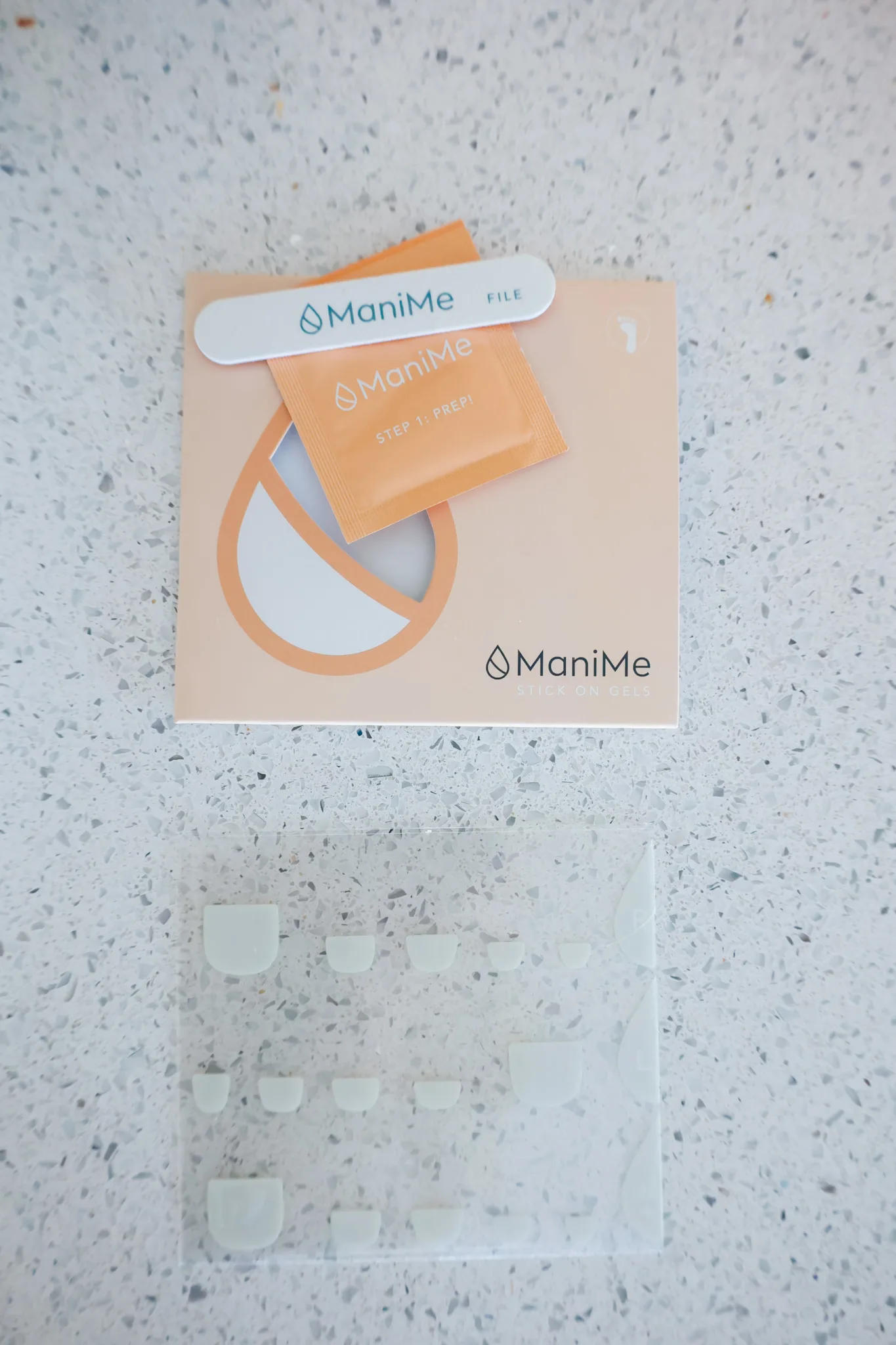 This picture is actually of a pedicure set, I forgot to snap a picture of the manicure set before applying mine! But it is the same color, style, etc. as the manicure set.
Cost: $15
Color ordered: Flat White
I was really excited to try Manime, especially after seeing a few influencers I know try them and rave about them!
I was drawn to them because there is no drying time or curing time.
You do need to prep your nails, as with any nail application, but that's it!
To get my custom set of nails, I needed to take multiple pictures of my nails from all different angles on a card and upload them to my profile for their computer to 3D scan.
From those scans, nail stickers are cut out to fit the shape and curvature of your nails and then shipped out to you.
The only adjustment you may need to make with ManiMe, they advertise, is the length.
Here's what my custom nail sheet looks like…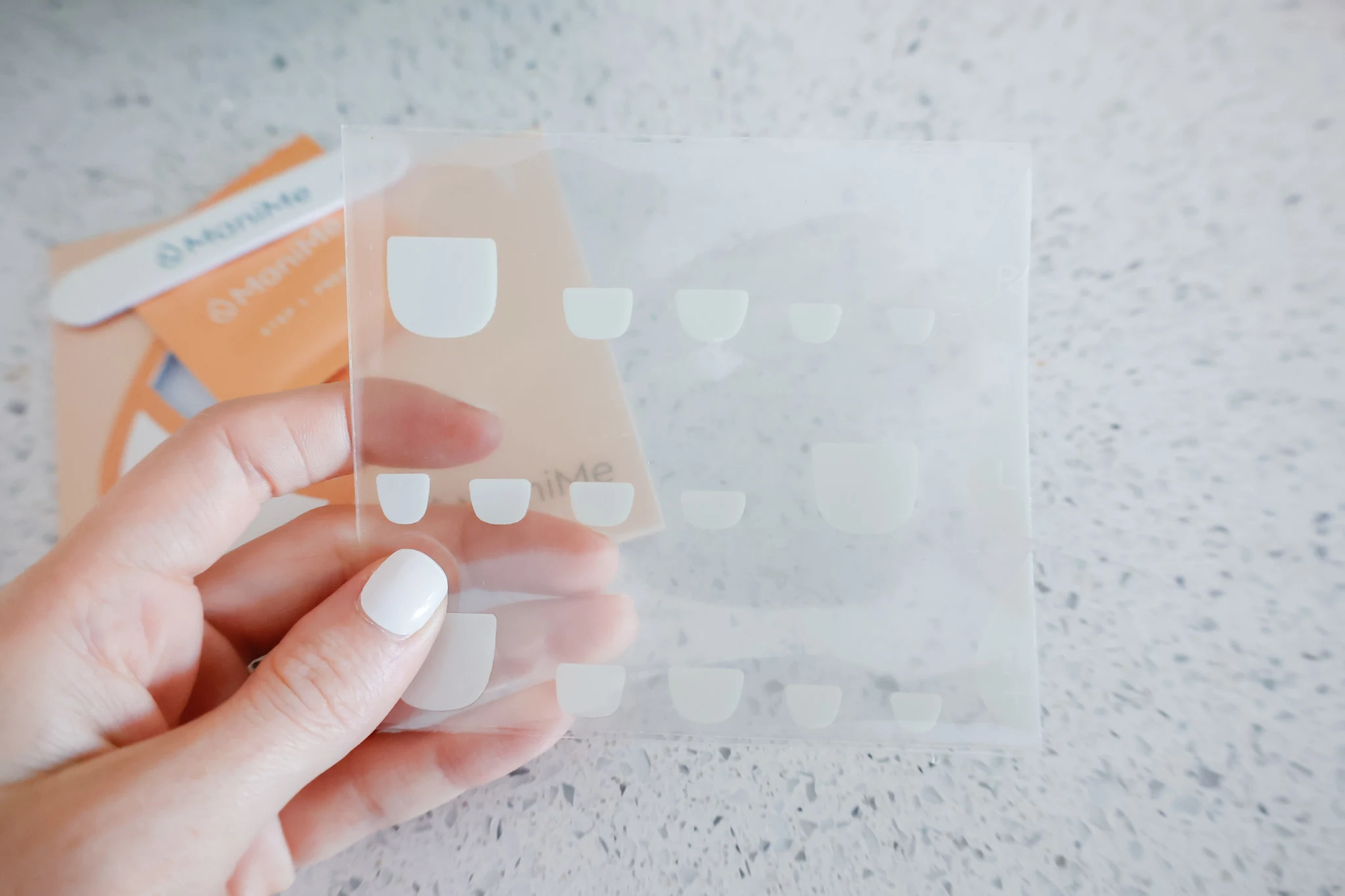 I really loved that I didn't need to measure out which size nail would fit me – they were already cut out and labeled for me.
I found the application process very simple – great for time crunches and busy schedules.
Now let's talk about the fit…
Personally, and this may be because I had a bad scan or something, I thought my ManiMe manicure looked awful!
I followed all of the directions, including pushing back my cuticle but ended up with nails like this…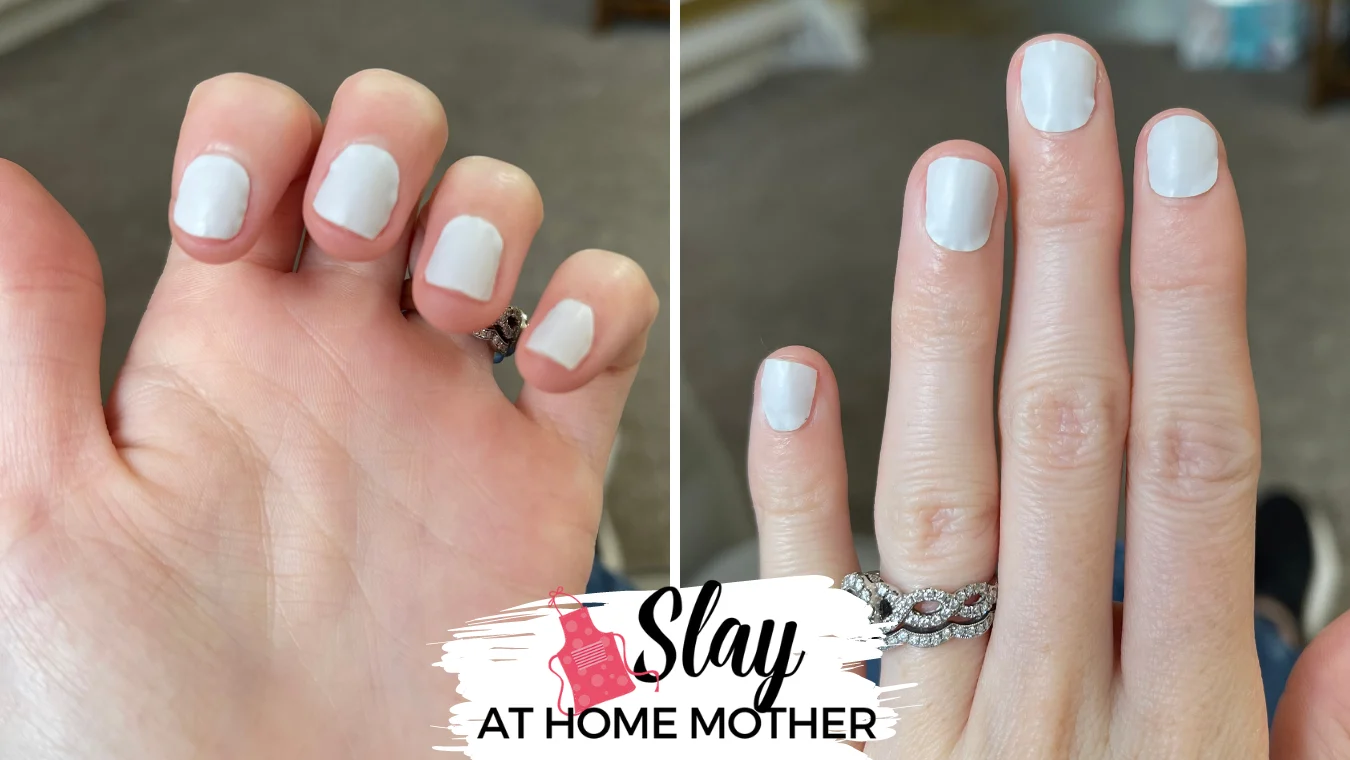 Here's a more detailed glance at how my ManiMe nails fit…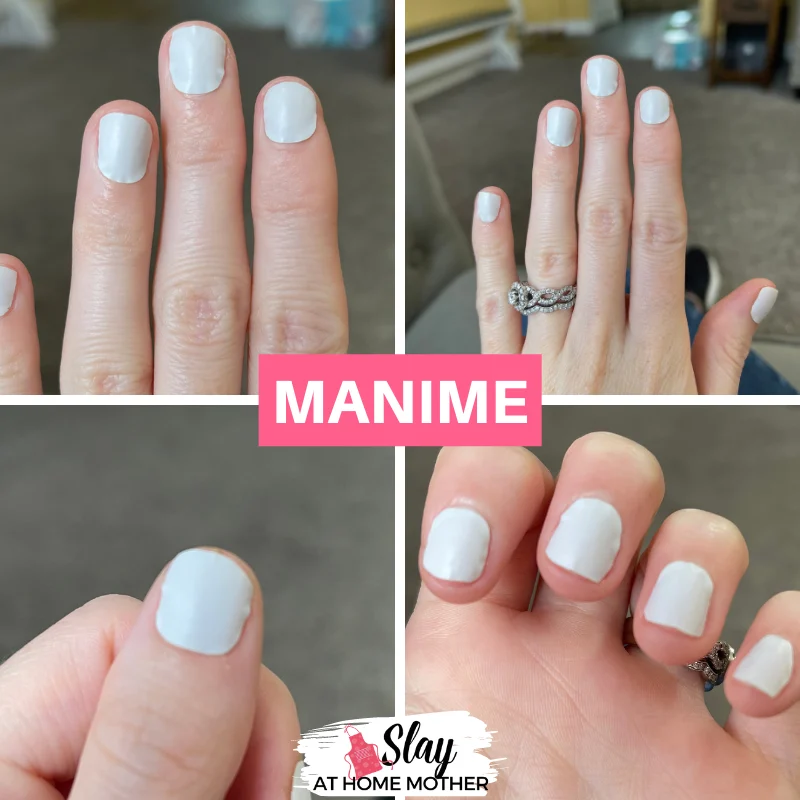 The ripples on my nail stickers looked horrible, and I was too embarrassed to wear them out.
Each time I tried to perform a chore or brush my hair, I was scared a stray hair or something else would catch on the sticker and peel it away.
I felt that the stickers weren't fit to the curvature of my nails, which is why they looked like they had ripples in them.
I tried to smooth them out the best I could, but they wouldn't lay flat no matter what I did.
If you're picturing me desperately pressing down on these sticker sheets to make them contour to my nails and creating ugly creases with the ripples instead – your imagination is spot on. 🙁
I was also a little put off by the matte finish on my stickers – it made them look even thinner on my nails.
But that is because I chose their only solid white color at the time, Flat White. They now offer a pretty Arctic White color that looks more opaque.
I sent photos to ManiMe to let them know I had a bad fit with my nails, and they suggested that I rate my nail fit for a discount on my next set.
I went through with that, assuming I could maybe rescan my nails for a better fit but was only able to rate how well the stickers fit on my nail length-wise and width-wise when I believe the true issue to be the curvature measurement was off.
I was given a $5 off my next order discount reward in my account.
I feel that I could've contacted them further to get a free set of nails after that, but I wasn't confident in the fit anyways so I didn't go further.
Luckily, peeling them off my nails was super easy.
I peeled them off and never looked back.
I will say, I did appreciate there was no damage to my nails after peeling them off, but I only wore them for 2 days before I couldn't stand them any longer.
For this reason, I, unfortunately, can't speak to how long they last.
I just couldn't keep walking around with rippled gel sticker sheets on my nails!
I don't write that to be mean or anything – that's just my opinion.
In all honesty, I wouldn't recommend this brand based on my personal experience, but I have heard great things about them from other people so you might not have the same experience I did.
I'm happy I was able to try them out and share my thoughts, but I do wish it was a better experience I was able to share with my readers.
Dashing Diva Gel Nail Set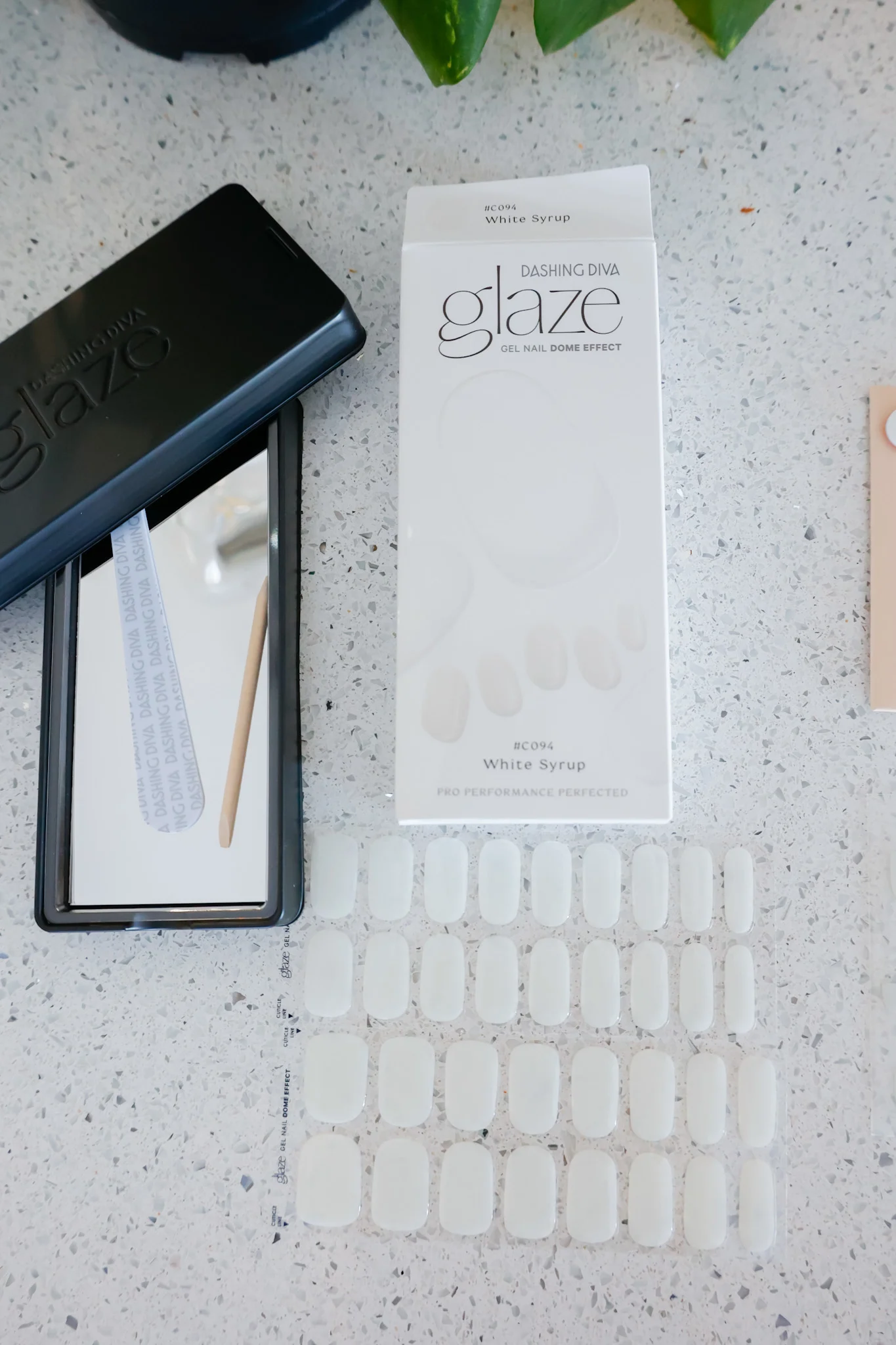 Cost: $10
Color ordered: White Syrup
Style: Glaze Semicure Gel Nails
With Dashing Diva, there's no need to scan your fingernails or toenails – you just purchase the box of semi-cured gel nails and apply them to your fingers based on size.
ManiMe nail stickers are thin gel strips with adhesive on the backs, whereas Dashing Diva Glaze nail strips are thicker adhesive-backed semi-cured gel nails that need to be cured.
They harden after curing.
Dashing Diva has a comparable product to ManiMe (their Gloss line) that I didn't realize when I purchased my Glaze set. I wanted to mention that in this post as that would be the fairest comparison to ManiMe, but I was unaware of that at the time. The Gloss line requires no curing light.
P.S. You can score a free curing lamp with code FREELAMP at checkout.
Here are a few things I noticed that were different…
Dashing Diva gel nails are thicker than the ManiMe nail stickers
there is no wrinkling in the gel nail set from Dashing Diva when applied to my nails, while there was in my custom cut ManiMe set
you select the size that fits your nail best and trim the length with nail clippers
Instead of having a package ready to go with the sizes for your fingernails, you select the size that fits your nails from the sheet of multiple sizes.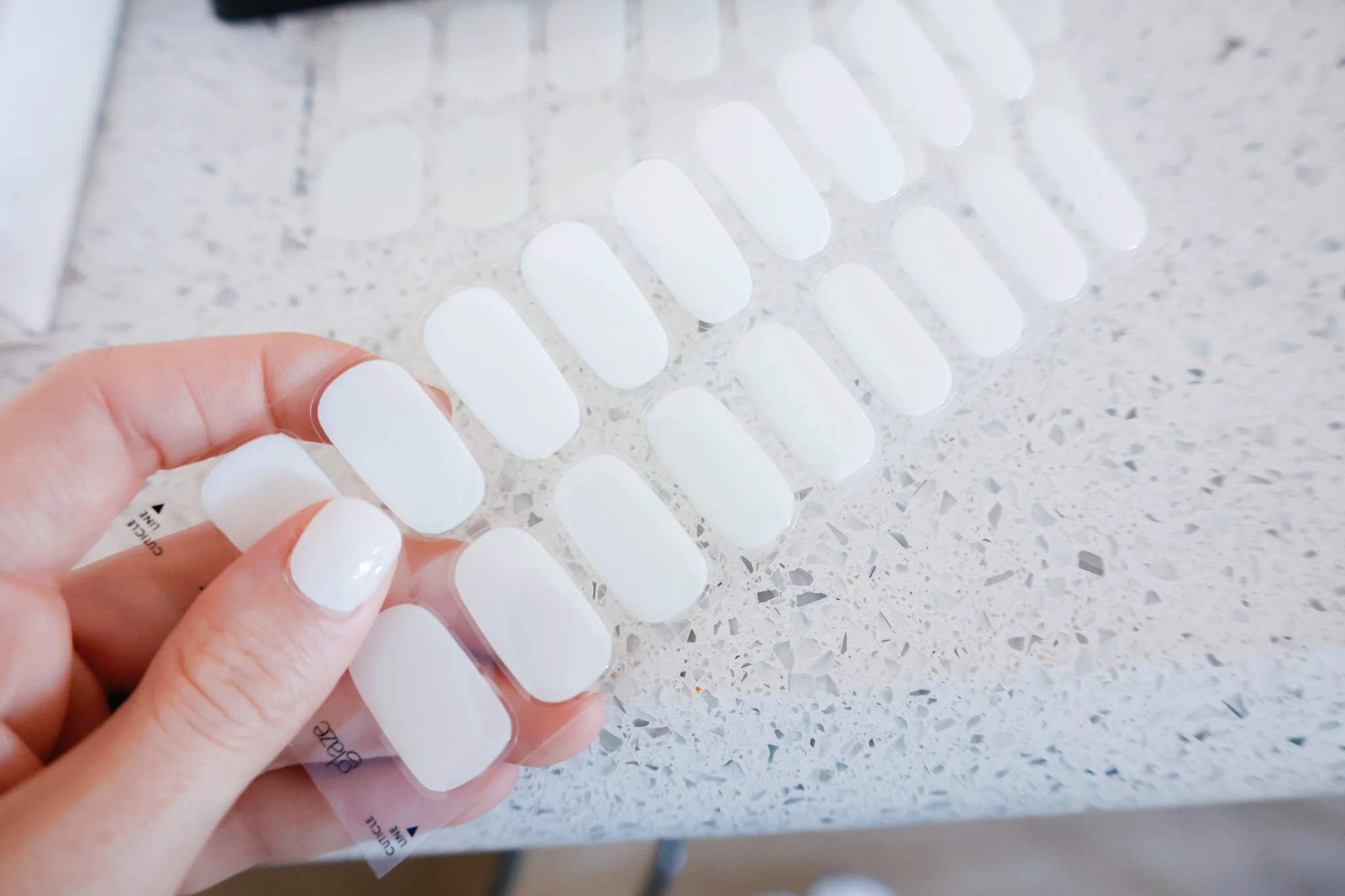 As someone with very petite hands (for reference, my 11-year-old son's hands are about the same size as mine now), I appreciate the two sheets included with various sizes!
Especially for my pinky fingers.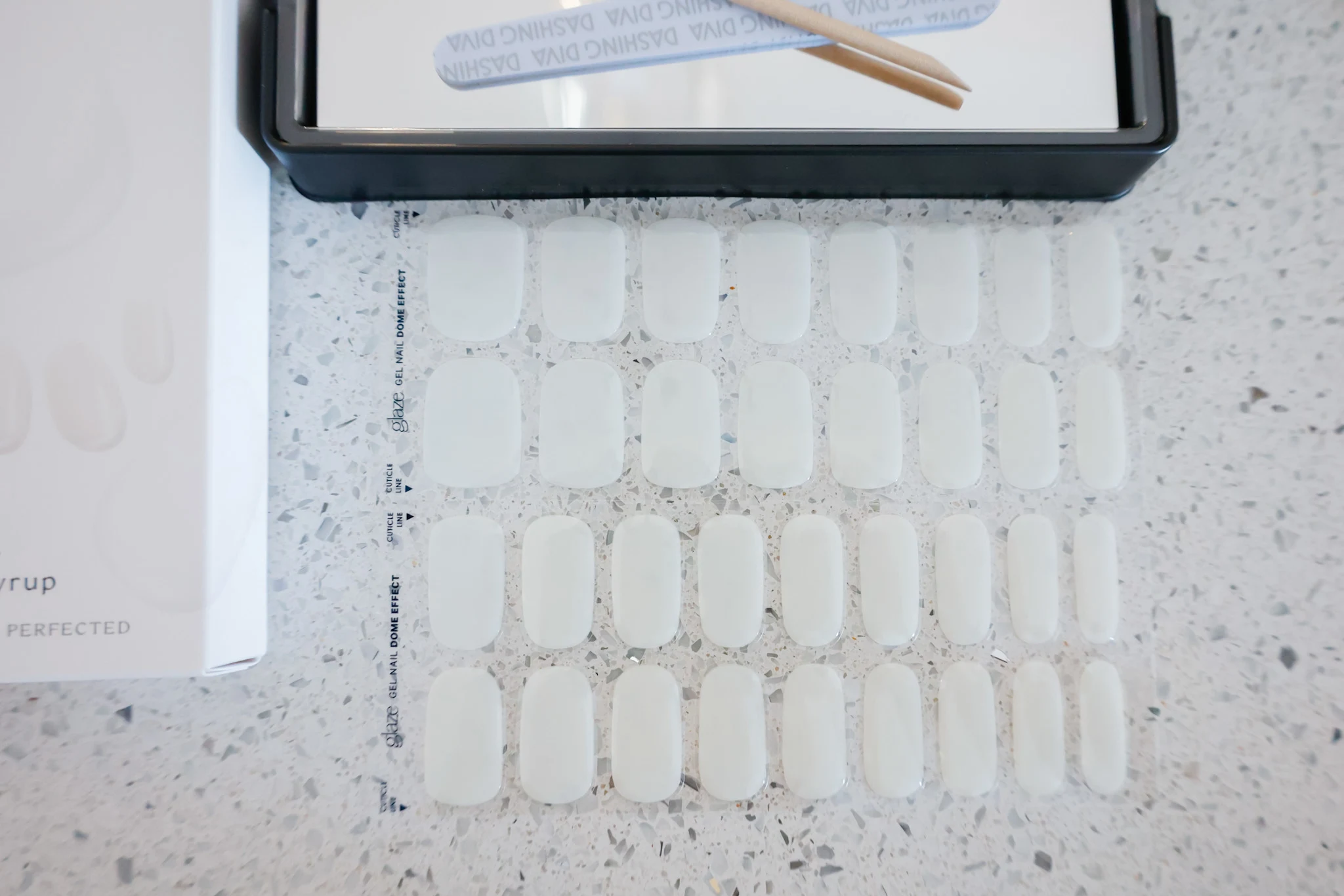 Here's how my Dashing Diva gel nails fit…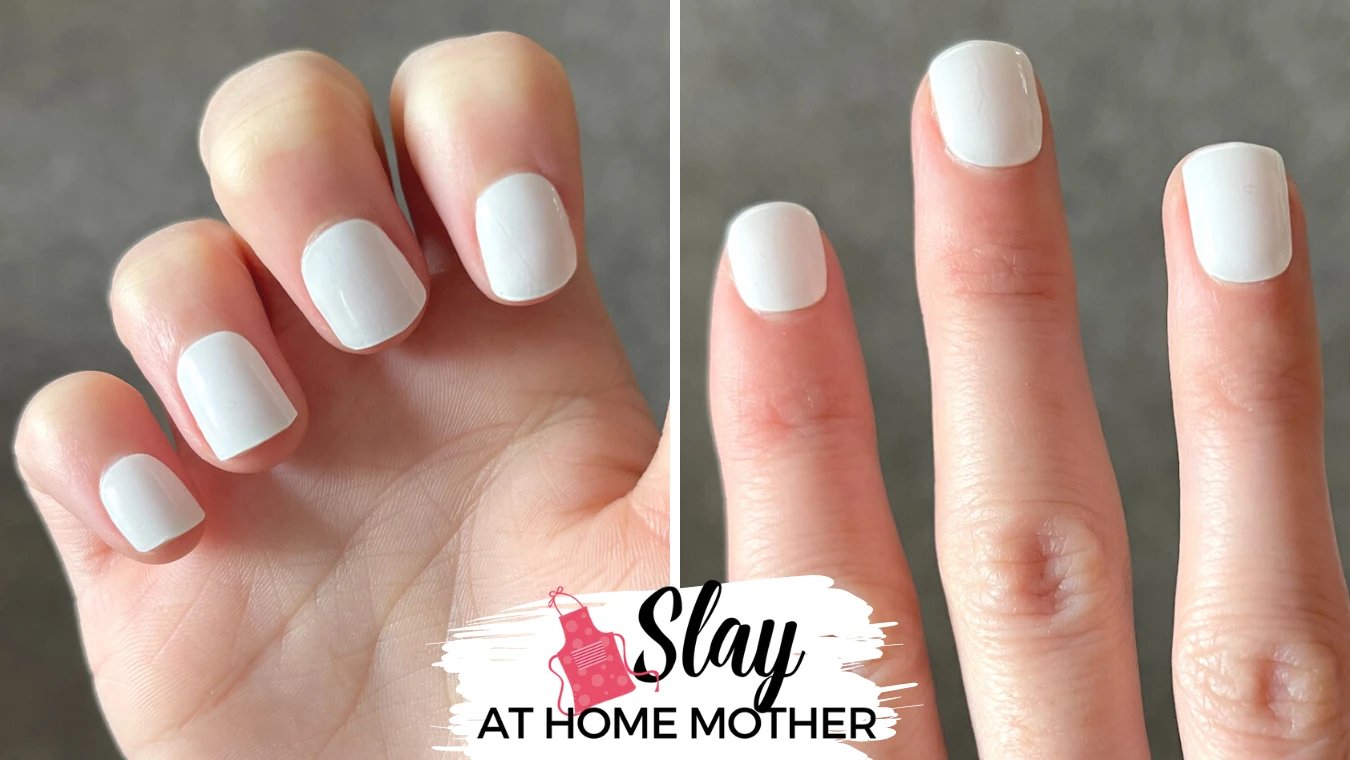 There's a little tiny crack down my pointer and middle fingernail that you might be able to see, which is from applying a crazy ton of pressure to it while moving heavy bins in the basement this past week.
When cured, they're hard and fit my nails perfectly.
They make me feel so polished and put together.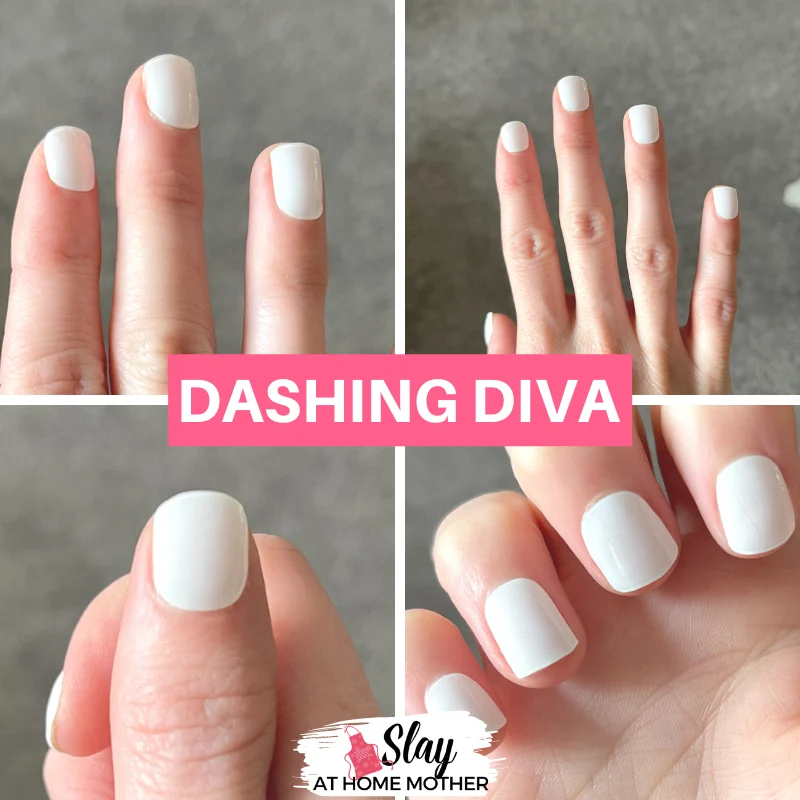 After wearing them for a while now (I'm currently on my 3rd set from Dashing Diva), I would say I've learned to make sure the cuticle end is really pushed down and secure before curing, otherwise, there's a little lifting that can happen and hair can get caught there.
Other than that – these make the perfect set for DIY gel manicures at home.
I can't speak for the Gloss line from Dashing Diva because I haven't tried them – if you have, please let me know your experience in the comments below!
My Thoughts – Which Is Better?
When it comes to doing my own gel manicure at home, I'll be reaching for my Dashing Diva gel nails!
Even with the extra curing step, I found they looked better, fit great, and lasted.
Again, I want to point out that I may have had a better experience with one brand over another, but that certainly doesn't mean you will too!
I've seen so many people try ManiMe and love their nails.
I'm not sure how…but I'm at least glad I tried them out so I know they aren't the right fit for me.
---
Have you tried these brands? Tell me your thoughts in the comments below!