Learn how to clean a showerhead with this super easy cleaning hack…
---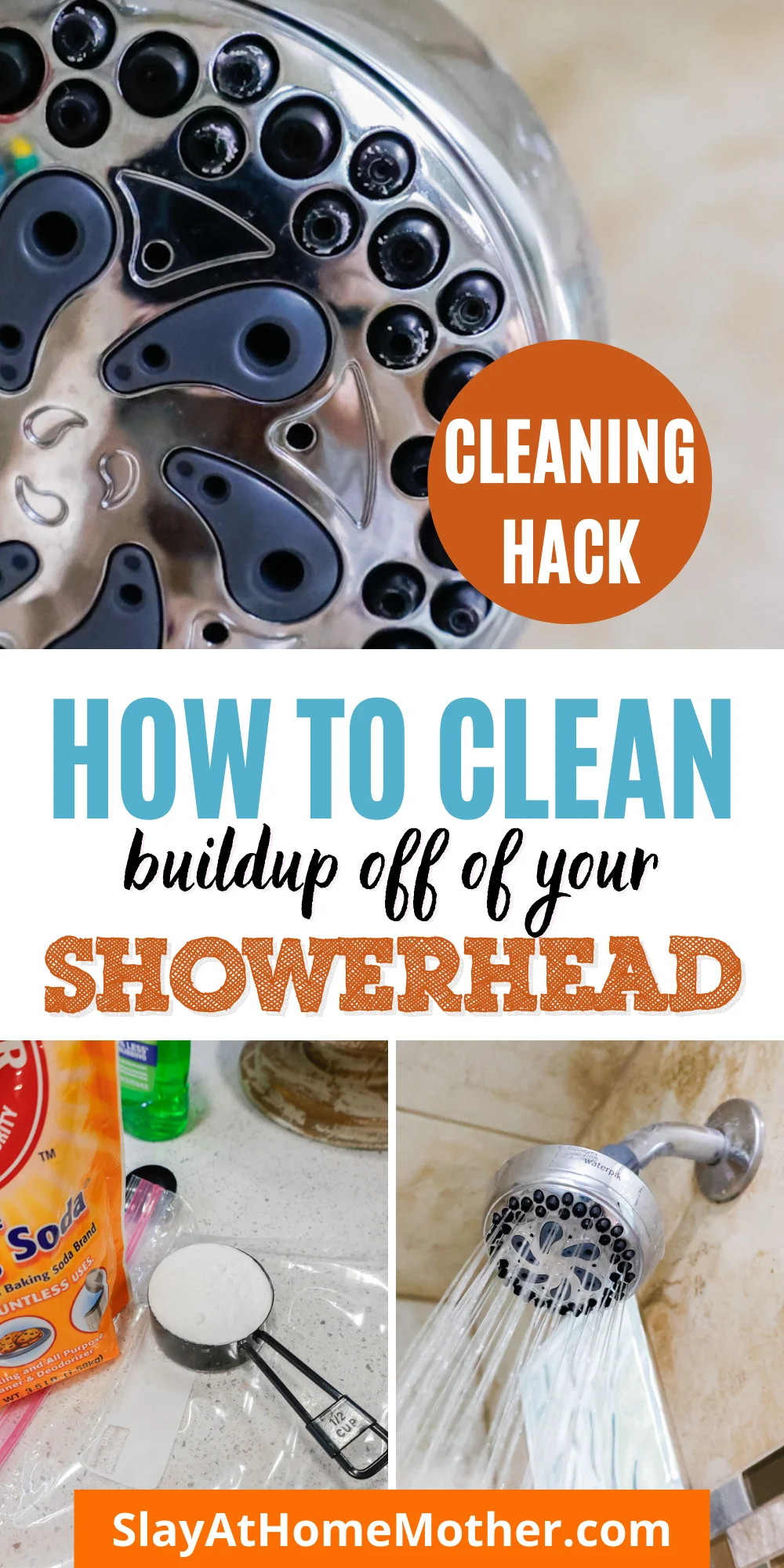 Hello, hello!
I'm excited to share one of my favorite cleaning hacks on my blog – I usually just share this one on Instagram or TikTok, but I know not everyone is on those platforms.
Sometimes, it's nice to just read a post and get the information that way, right?
In this post, I'll be sharing a simple hack for cleaning your showerhead.
What's great about this hack is that you can mix this up in 1 minute flat, and allow it to sit for 4+ hours.
If you're busy, you can even let this sit all day while you are at work, or overnight while you sleep.
I've definitely tried this overnight and removed it in the morning, and it worked beautifully!
This cleaning method uses no vinegar, so if you are sensitive to the smell of vinegar, this hack is for you!
*This post contains affiliate links, however, all opinions are my own, as always.
What You'll Need For This Cleaning Hack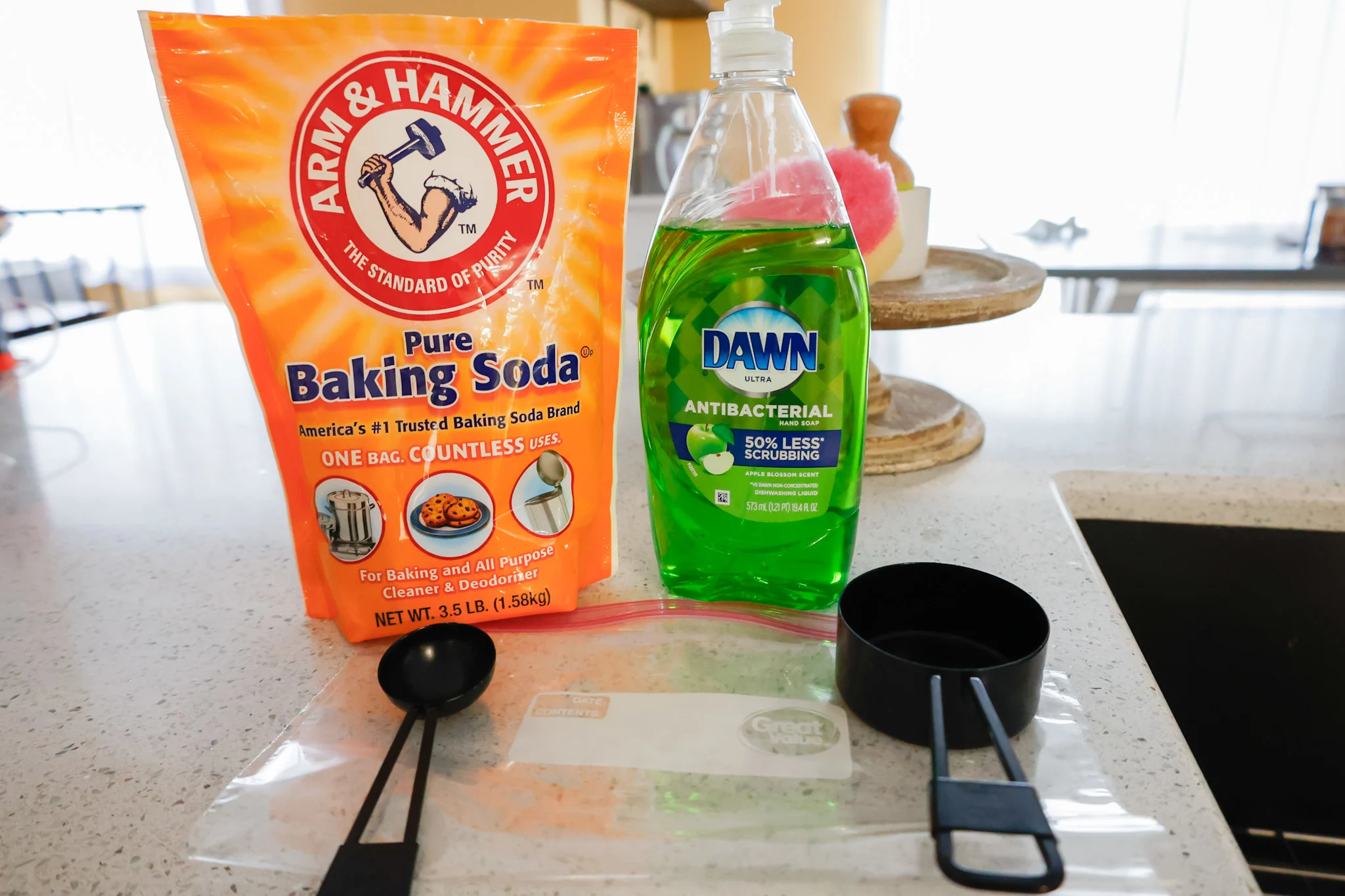 To clean your shower head, you'll need…
If you have a chrome showerhead, I would recommend using rubbing alcohol for a streak-free finish at the end, but if you don't have chrome on your showerhead, you can skip the alcohol!
How To Clean A Showerhead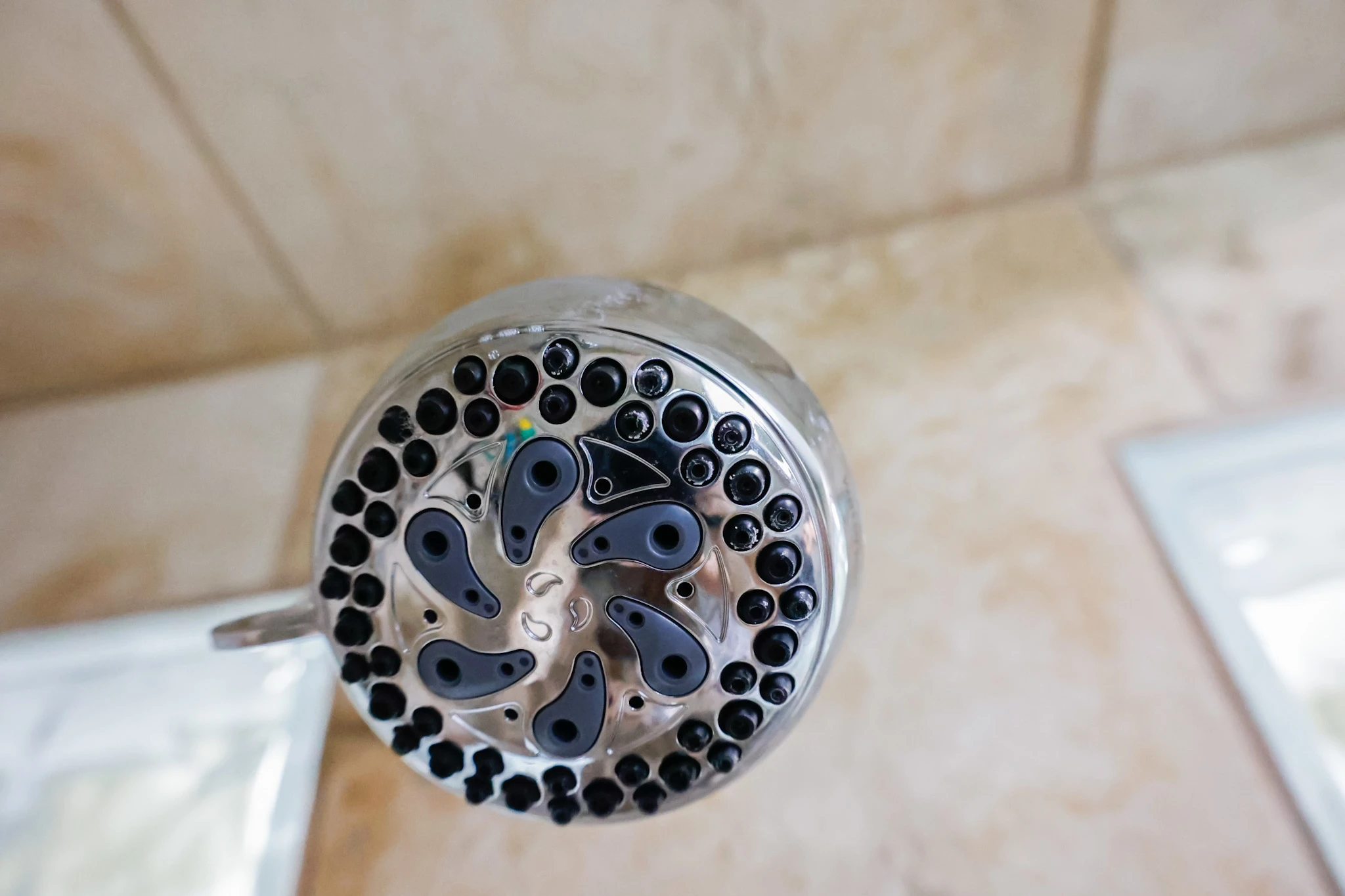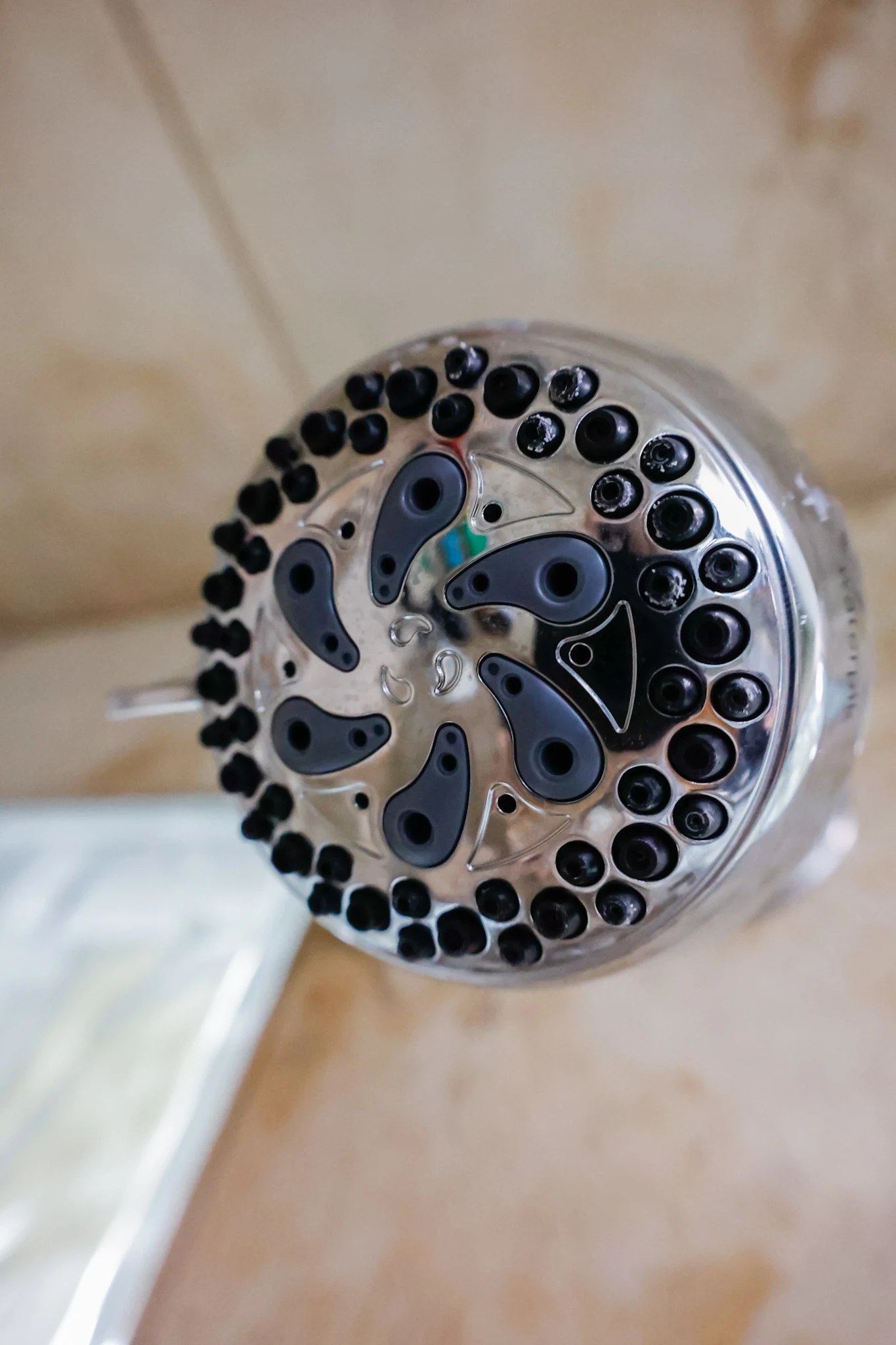 An easy way to clean your shower head is by grabbing some

baking soda

, a clear plastic bag, a rubber band, and your favorite

dish soap

.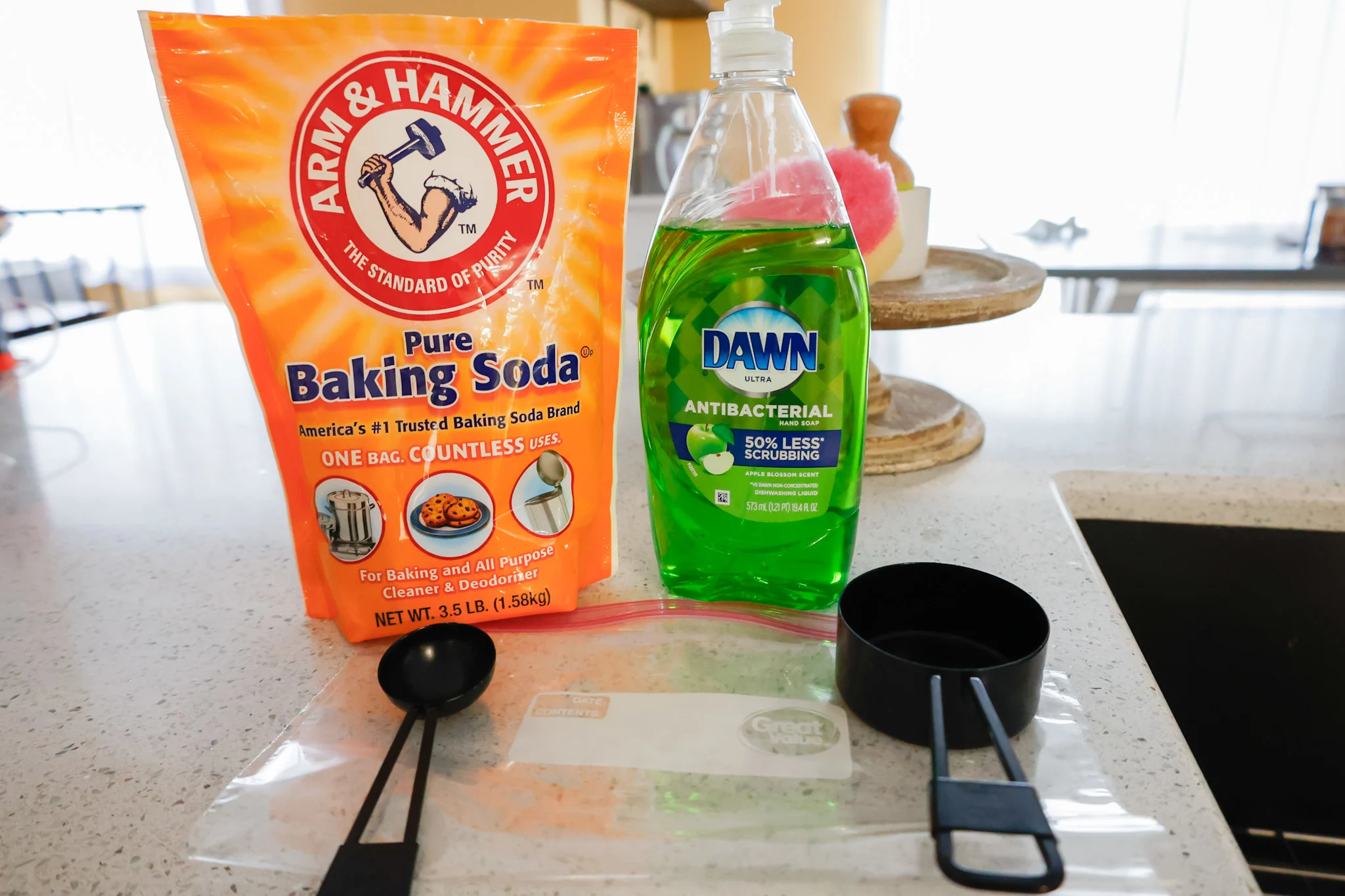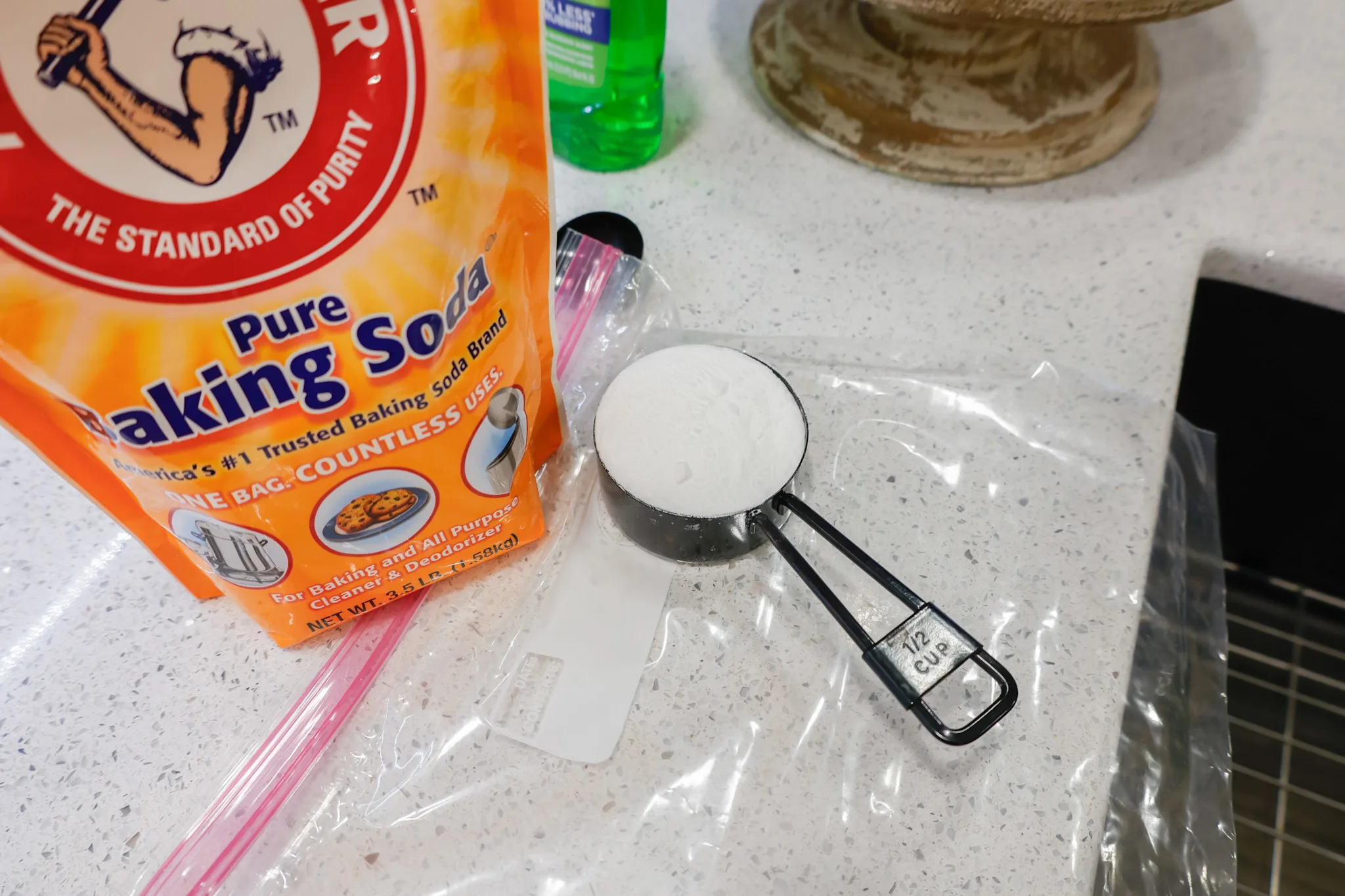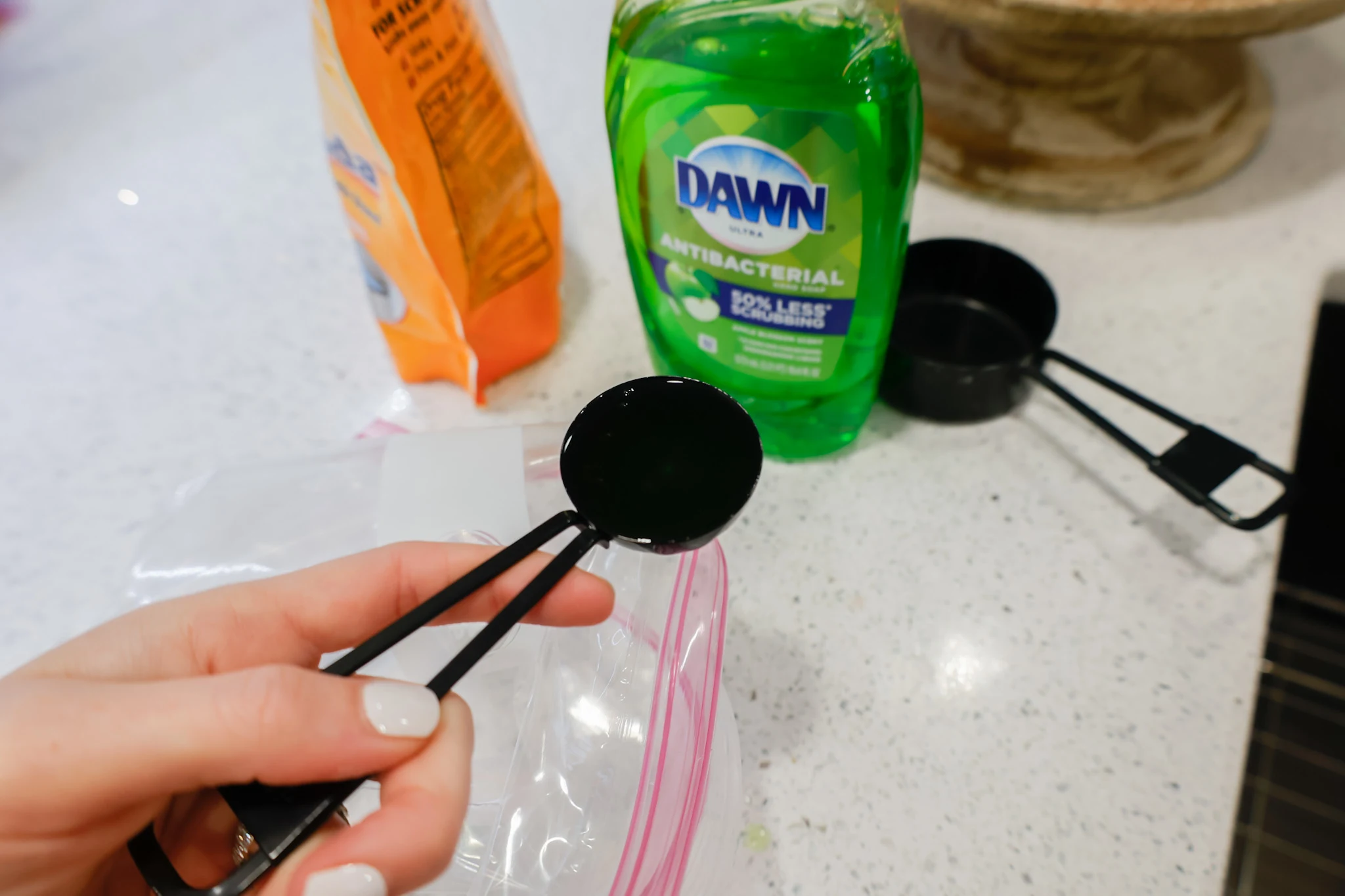 Fill the bag up about halfway with super hot water.
Shake to mix well.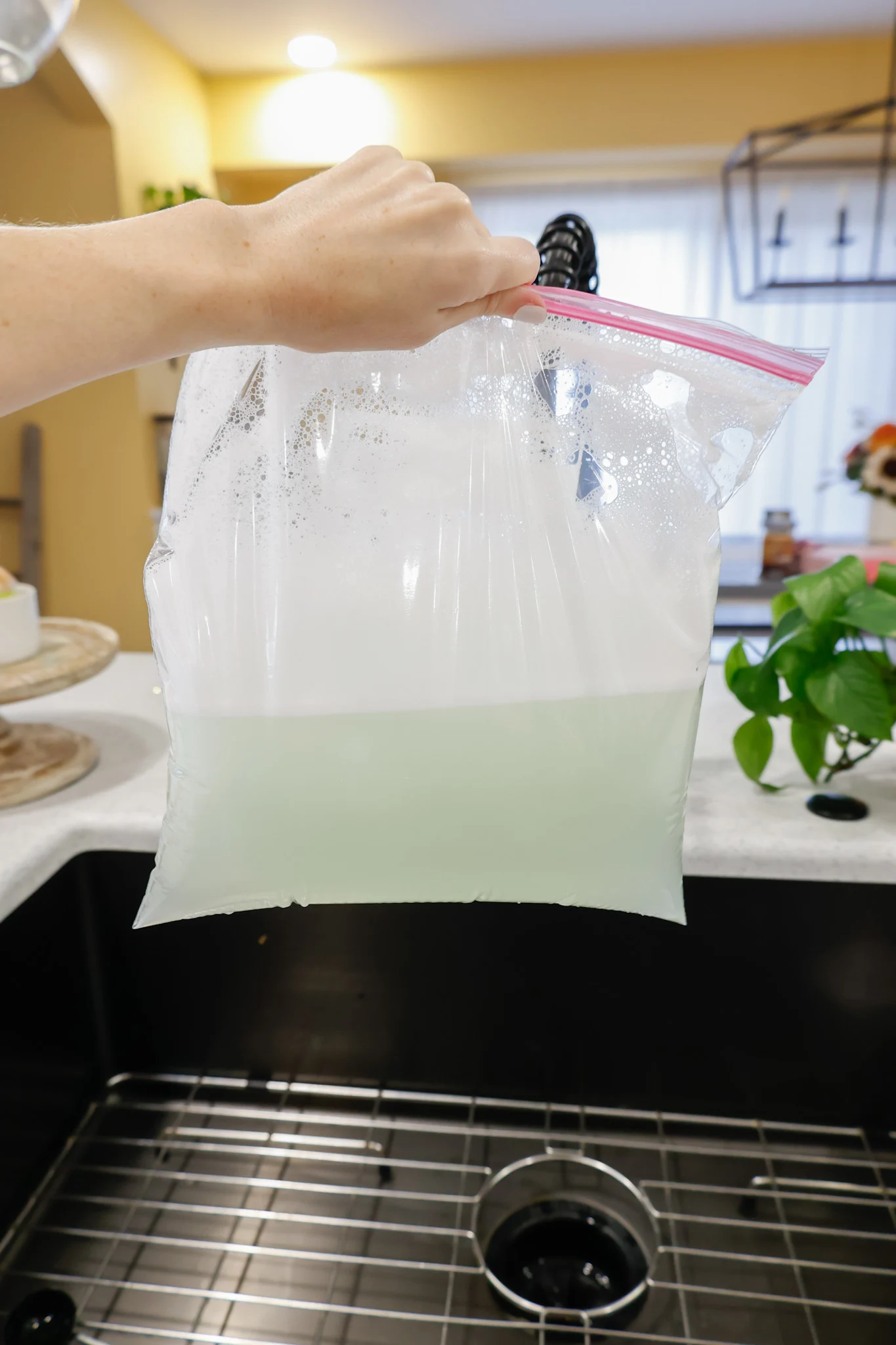 *Some people like to use vinegar with
baking soda
for this, and you certainly can, but they neutralize each other, so I don't like to use this method.*
Yes, there's a fizz reaction, but you're literally watching two substances cancel each other out. 😉
Slip the gallon bag over your shower head, and fasten with a rubber band.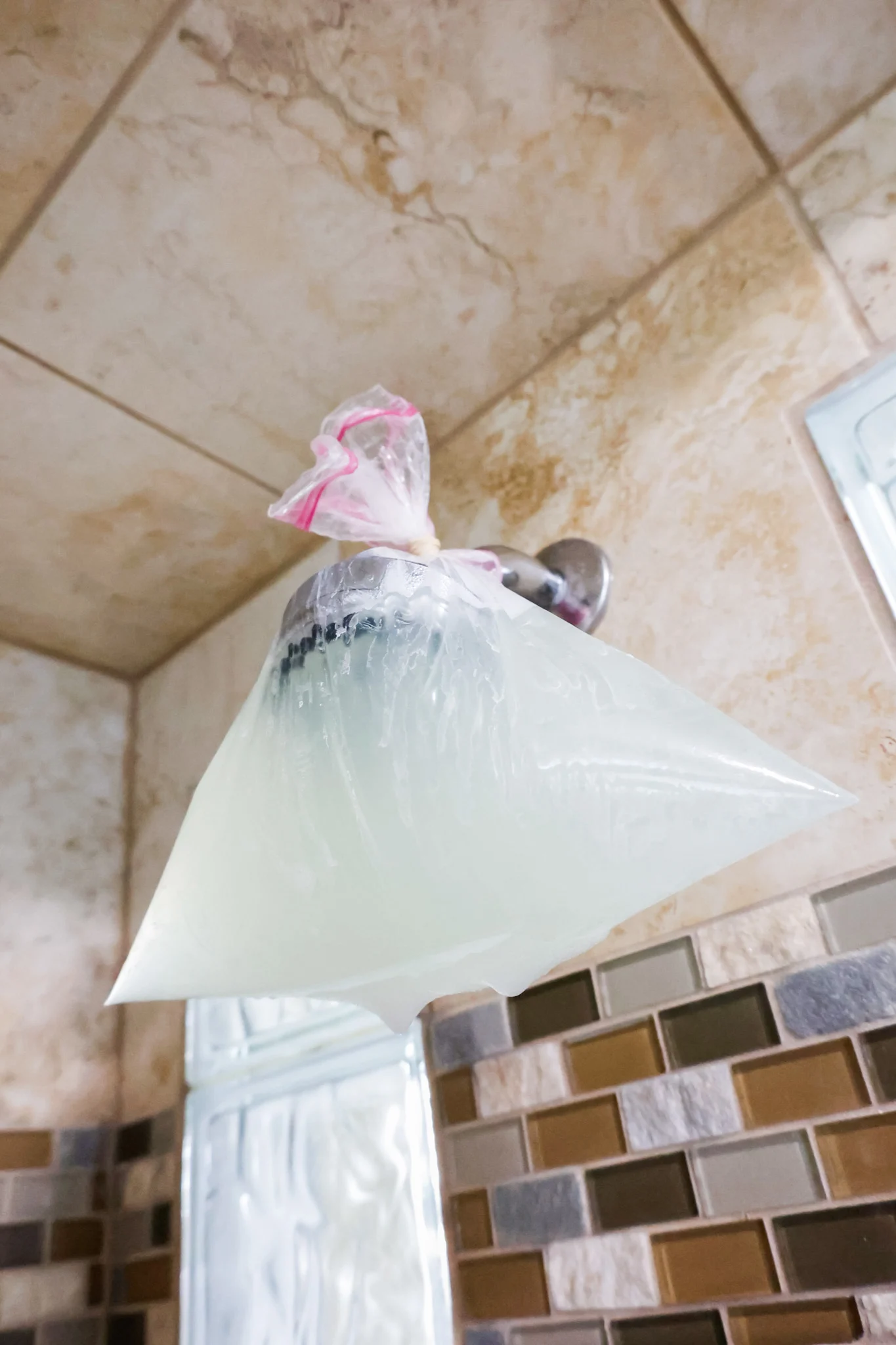 The showerhead (particularly the nozzles where the water comes out of) liquid should be submerged in the solution.
If you are petite like me, be careful and grab a step stool to help you reach the showerhead safely.
I would also recommend doing this when your shower is dry, not immediately after a shower when everything is still slippery!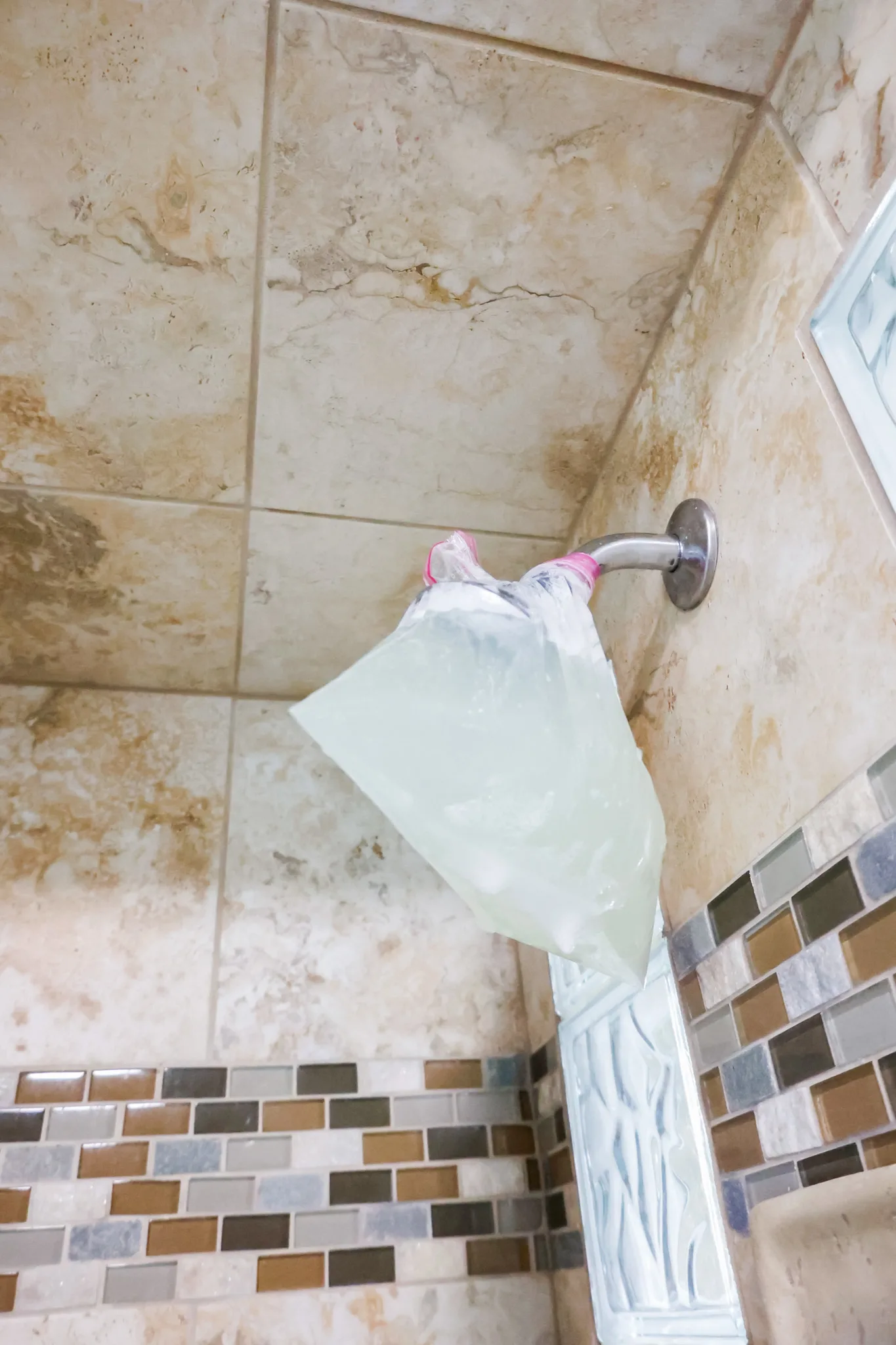 Allow the bag to stay in place for about 4 hours (or even overnight).
Then you can remove the bag run your shower with HOT water for a few minutes.
Run a damp rag or microfiber cloth over the nozzles to remove any buildup – it will easily fall away from the nozzles!
If your showerhead is chrome, you can take a cotton ball with
rubbing alcohol
and wipe down the showerhead for a streak-free finish.
Other Cleaning Hacks You'll Love…
How To Clean Mini Blinds The Easy Way
Microwave Cleaning Hack – The No-Scrub Method!
How To Clean A Garbage Disposal With This Simple Hack
---
Have you tried this cleaning hack before? Let me know in the comments below!