Bubble wands dumped out in the first 30 seconds? Learn how to make your own homemade bubble solution…
---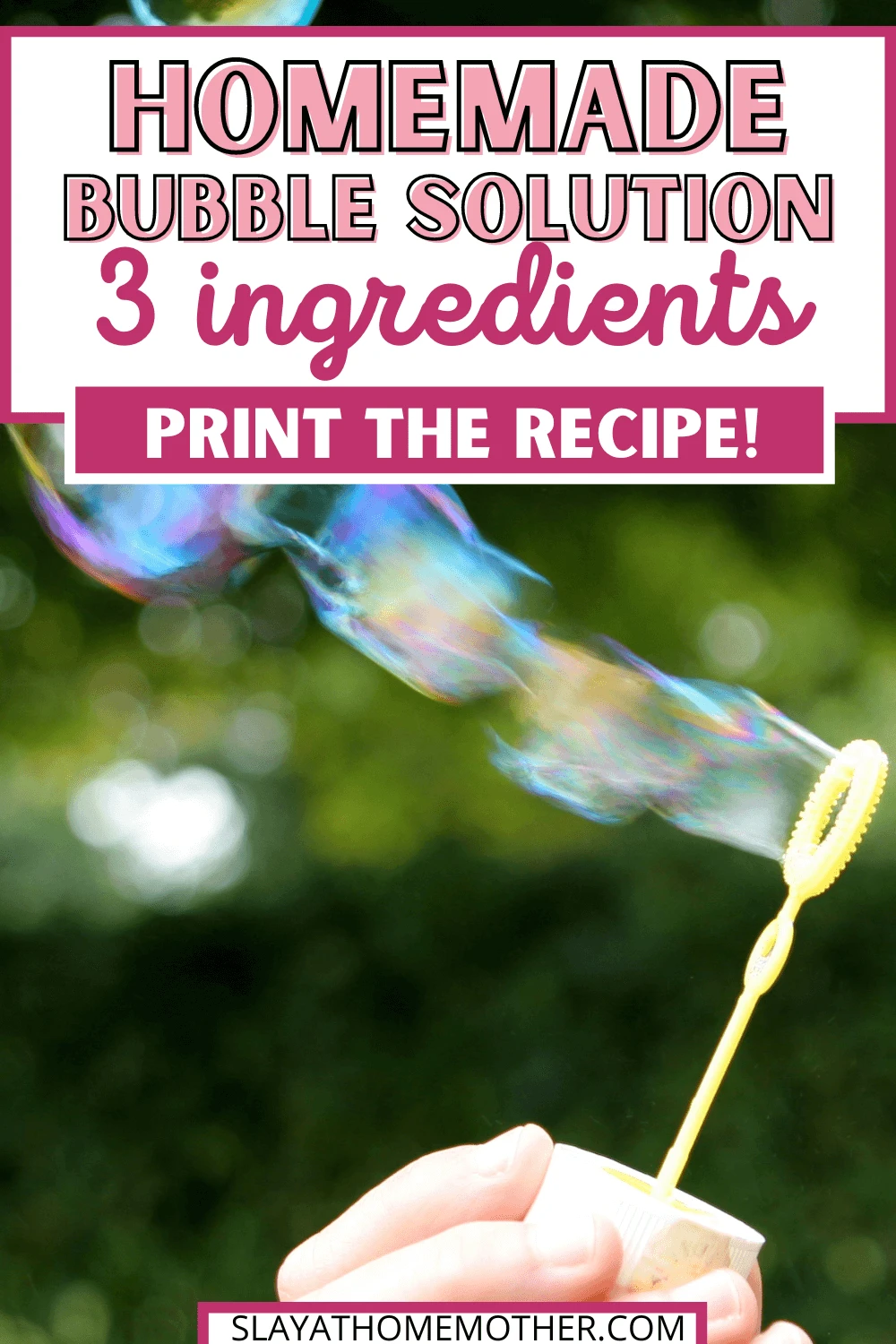 Let me just say – I hate buying bubble wands.
And no, I'm not a grouch. I'm a fairly pleasant person who loves bubbles.
Because bubbles make people happy, right?
Especially my kids!
There's just something magical about bubbles, am I right?
My kids love bubble wands, but there's usually a fumble, trip, or a tantrum that ensues as soon as they are handed one and the solution gets dumped out all over the ground.
It makes for a very fussy afternoon!
Things go SO wrong so fast when they get dropped on the ground. My 10-year-old even ends up dropping them after a minute or two.
I think the bubble solution makes the tubes slippery and difficult to hold onto.
The shape of the tube is the flaw in the design.
I was recently on the phone with my mom and talked about my husband Chris and I buying the boys bubble wands this summer but wasn't sure WHY we kept buying them when they only have a life cycle of 30 seconds ;).
She laughed and asked why we didn't just make our own bubble solution.
Um, what?!
I honestly never thought about it, and I'm a little mad at myself about it, ha!
She told me the recipe (although I had to adjust the mixture a bit because she was a little fuzzy on the details considering all three of her children are in their 20s and 30s), and I made my own homemade bubble solution!
Everything that we needed was already in our pantry (or by the sink), so I was really happy about that.
The boys were thrilled!
We even used this homemade bubble solution in their bubble machine with great success!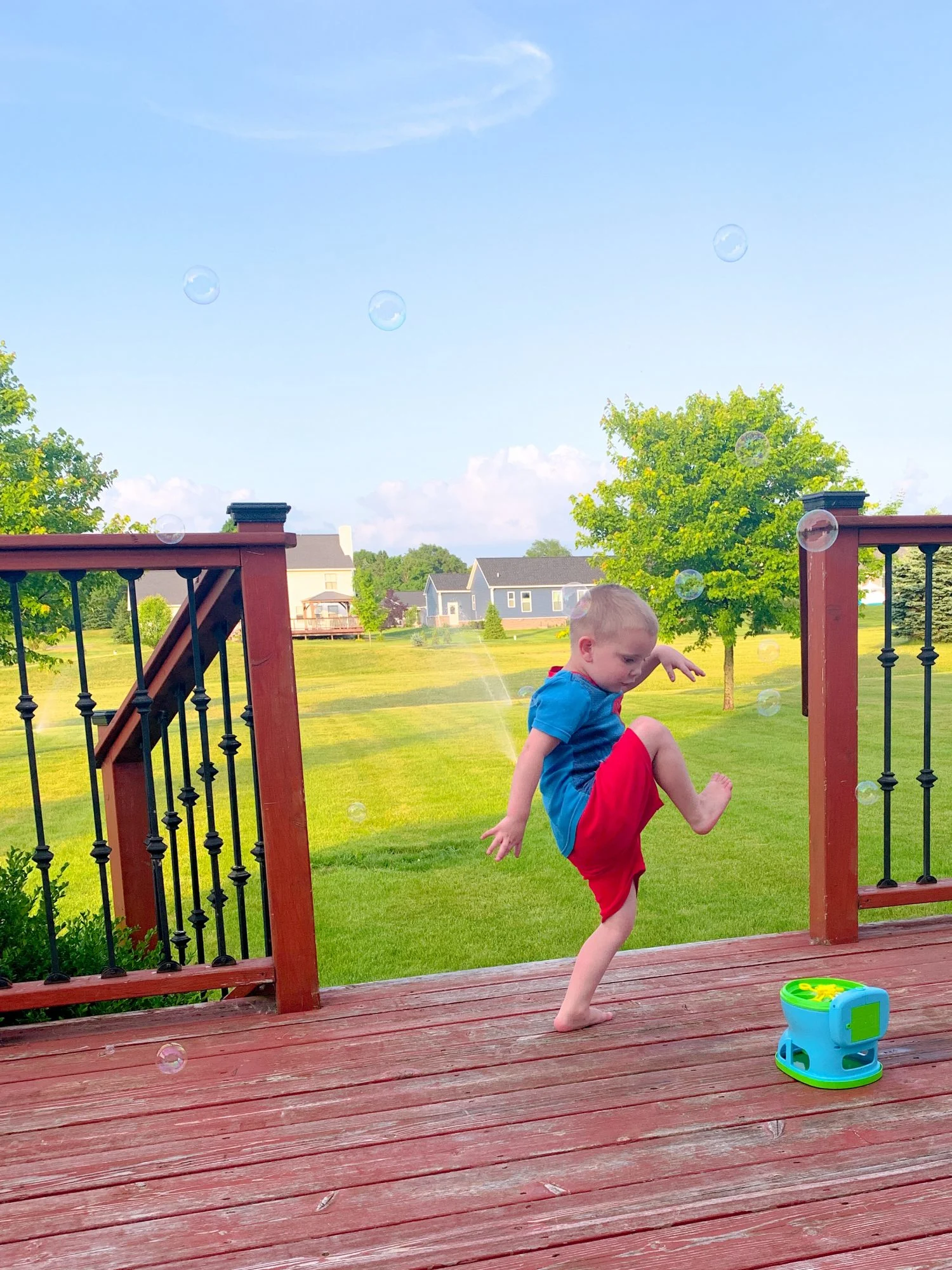 See the recipe below, or print it off and keep it nearby for summer playtime outside!
*This post contains affiliate links, however, all opinions are my own, as always.*
How to Make Homemade Bubble Solution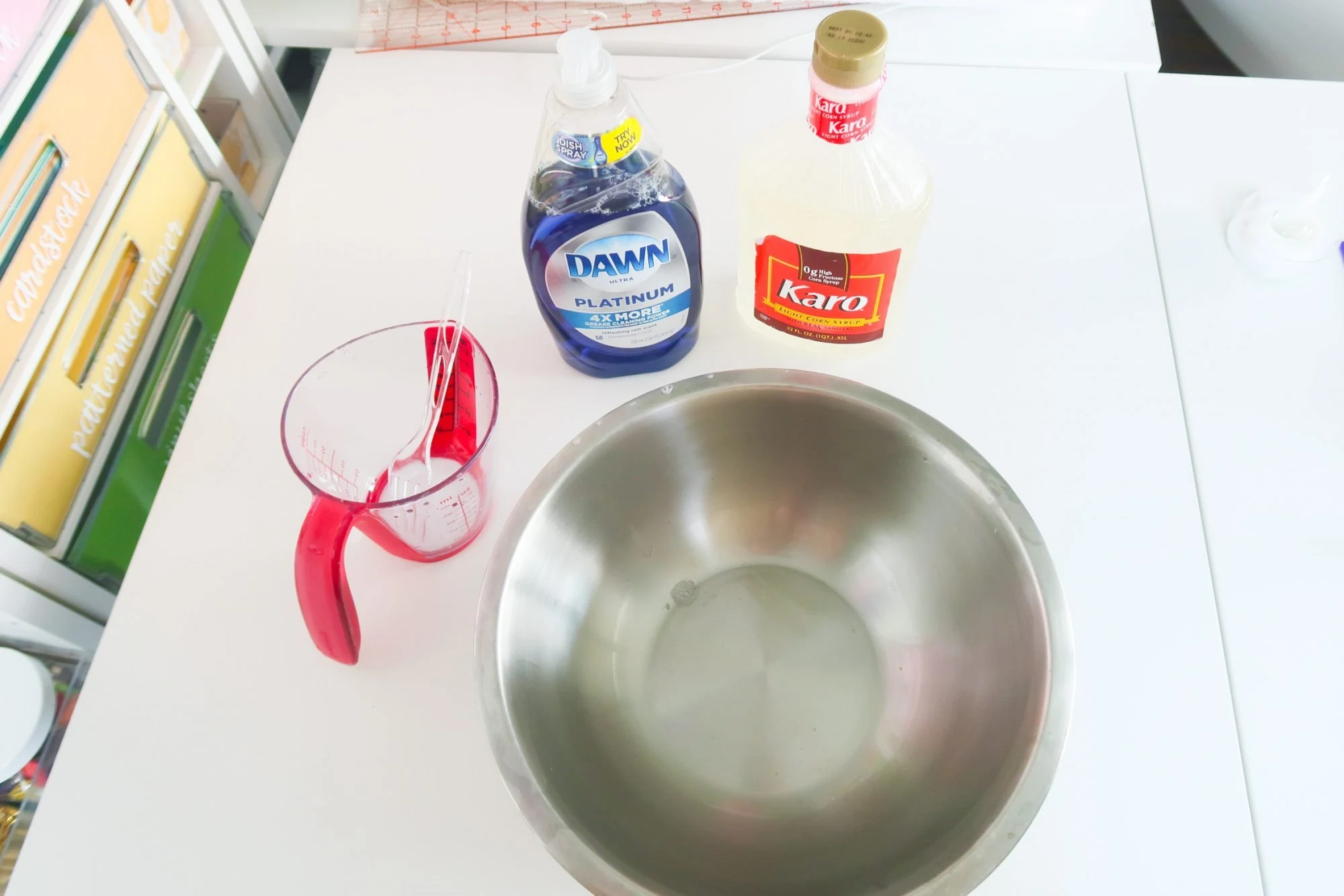 You May Also Like: DreamBox 2020 Craft Room Organization System Review & Discount Code
Here's what I used to make our homemade bubble solution:
My mom originally told me to use less water in this recipe, but I found it didn't work as well and made more of a sticky mess than actual bubbles, so I adjusted it a bit.
This recipe is pretty neat because I already had everything I needed in the house to make it!
How To Make Homemade Bubble Solution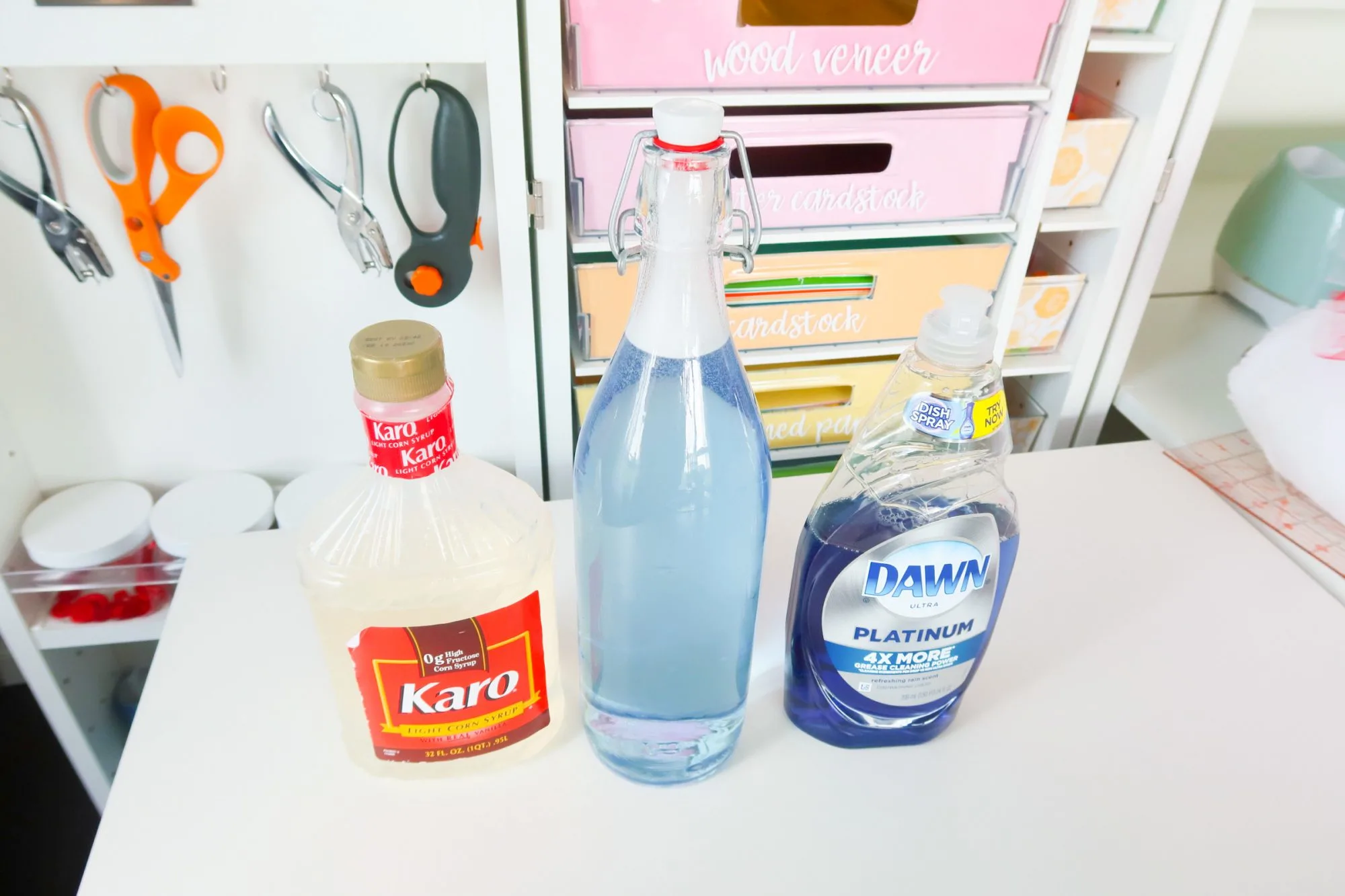 In a medium bowl, pour in 3 cups of water.
You can use regular tap water for your bubble solution.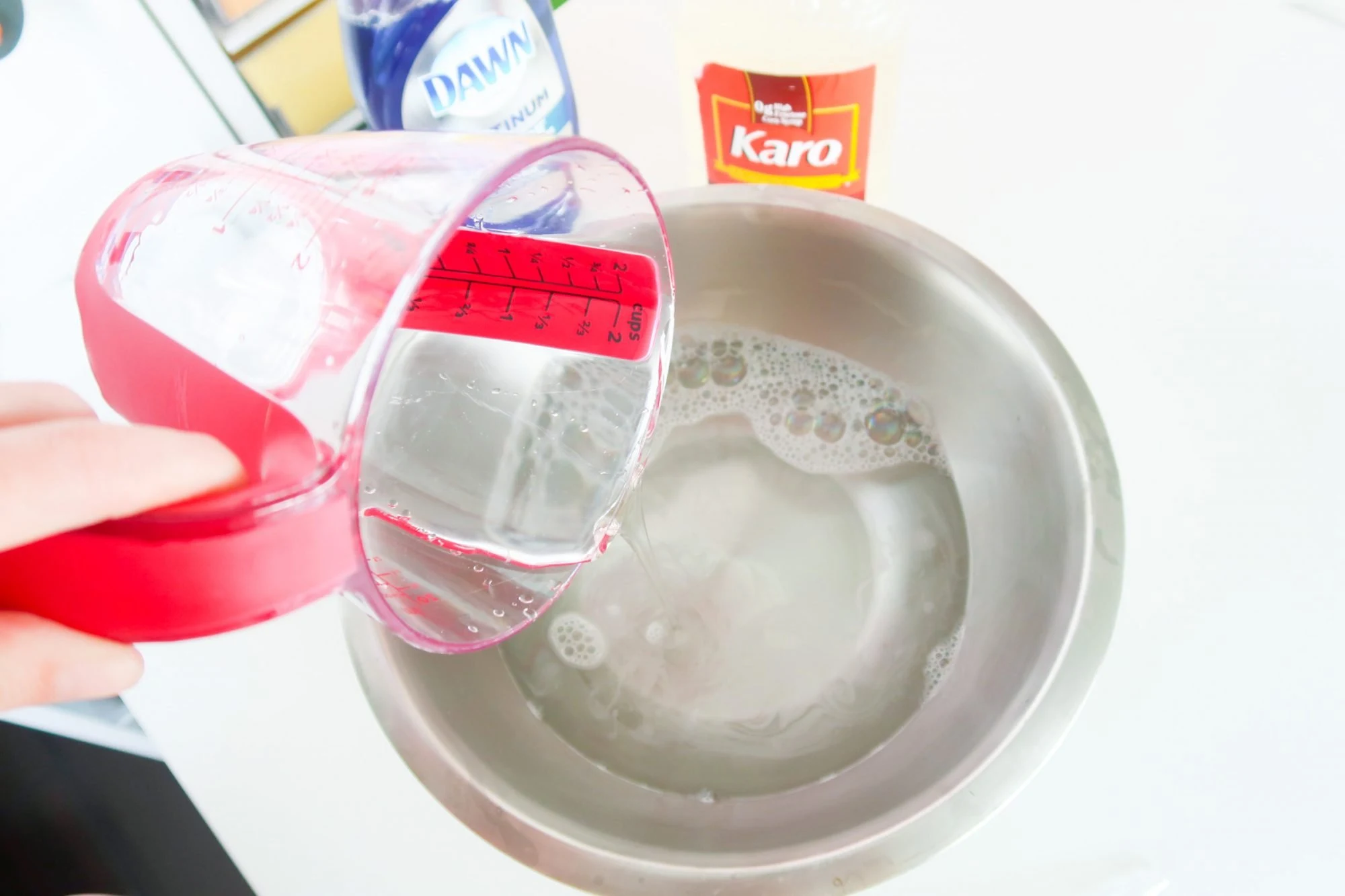 Add in 1/2 cup of Dawn dish soap, and 1/2 cup of Karo syrup.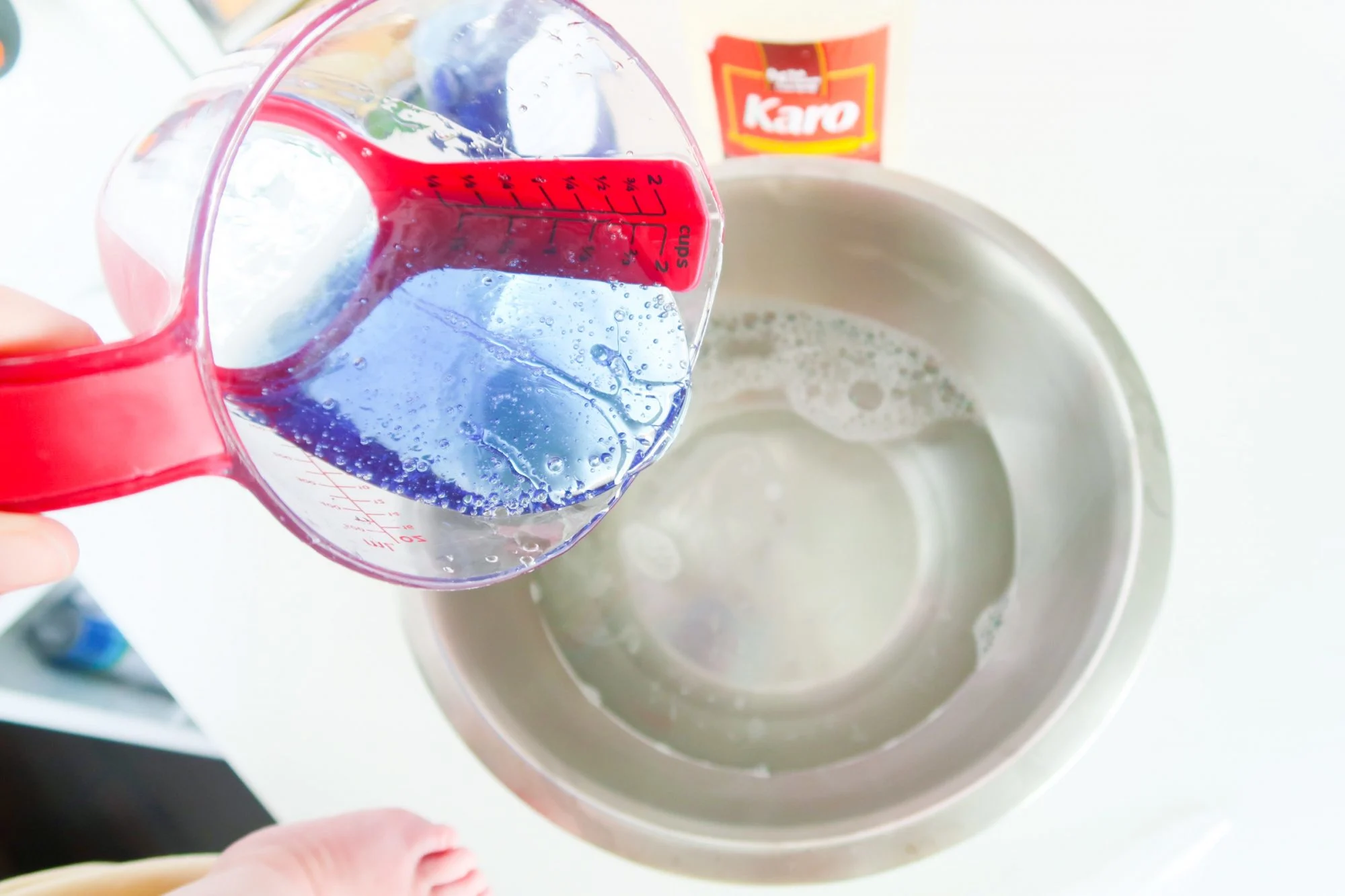 Stir to combine.
Pour the finished solution into a container or bottle.
I used this glass water bottle because it has a rubber gasket (to prevent leaks) and a locking top for safety.
If not using the solution the same day, be sure to tilt the bottom upside down and then right side up a few times to 'stir' things around before pouring in case there is any settling during storage.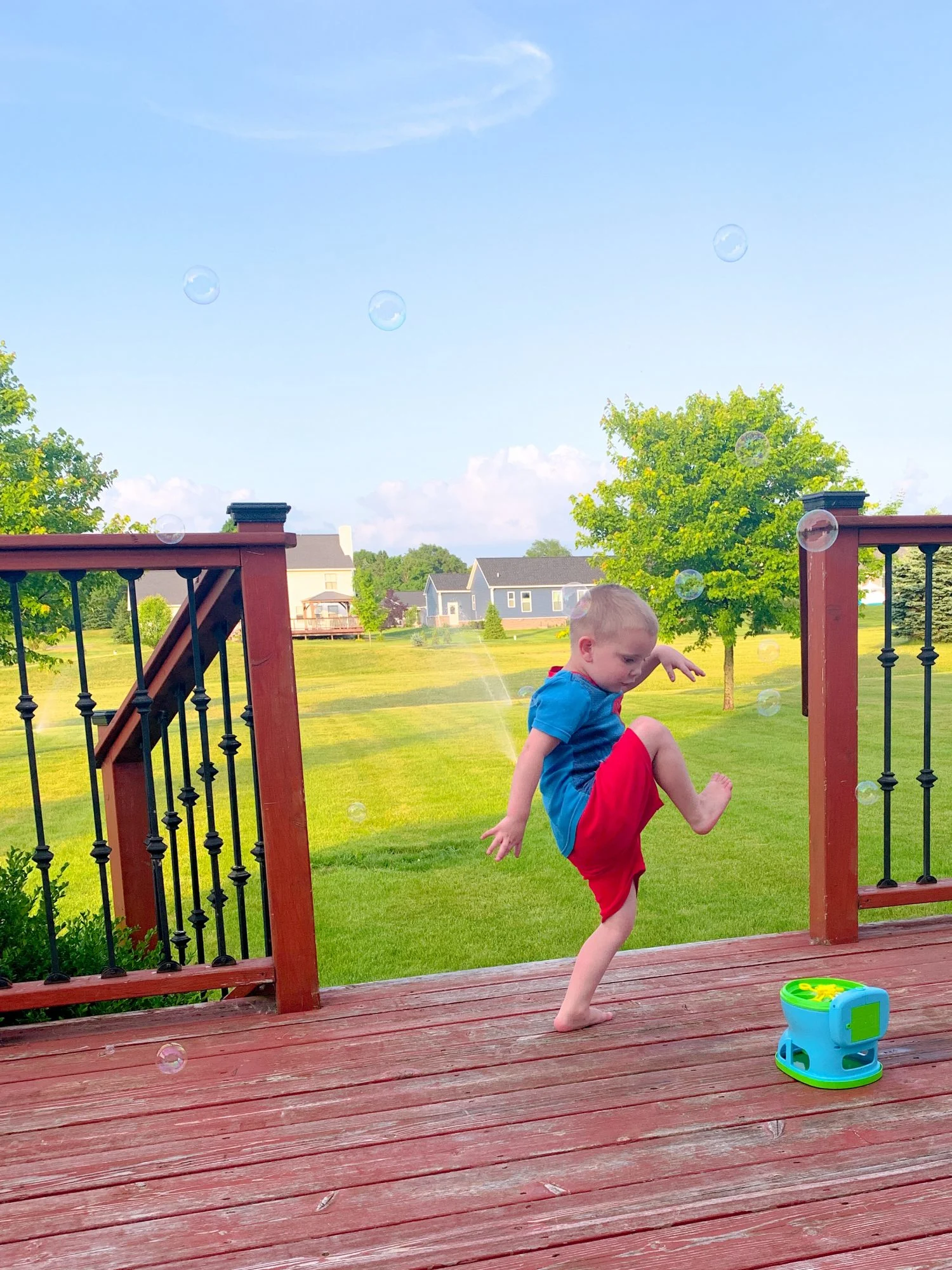 To be honest, I've totally skipped on the wands this summer and purchased a bubble machine on Amazon for the boys to play in.
It helps salvage the solution more, and they can more easily karate chop or ninja kick the bubbles as they come out.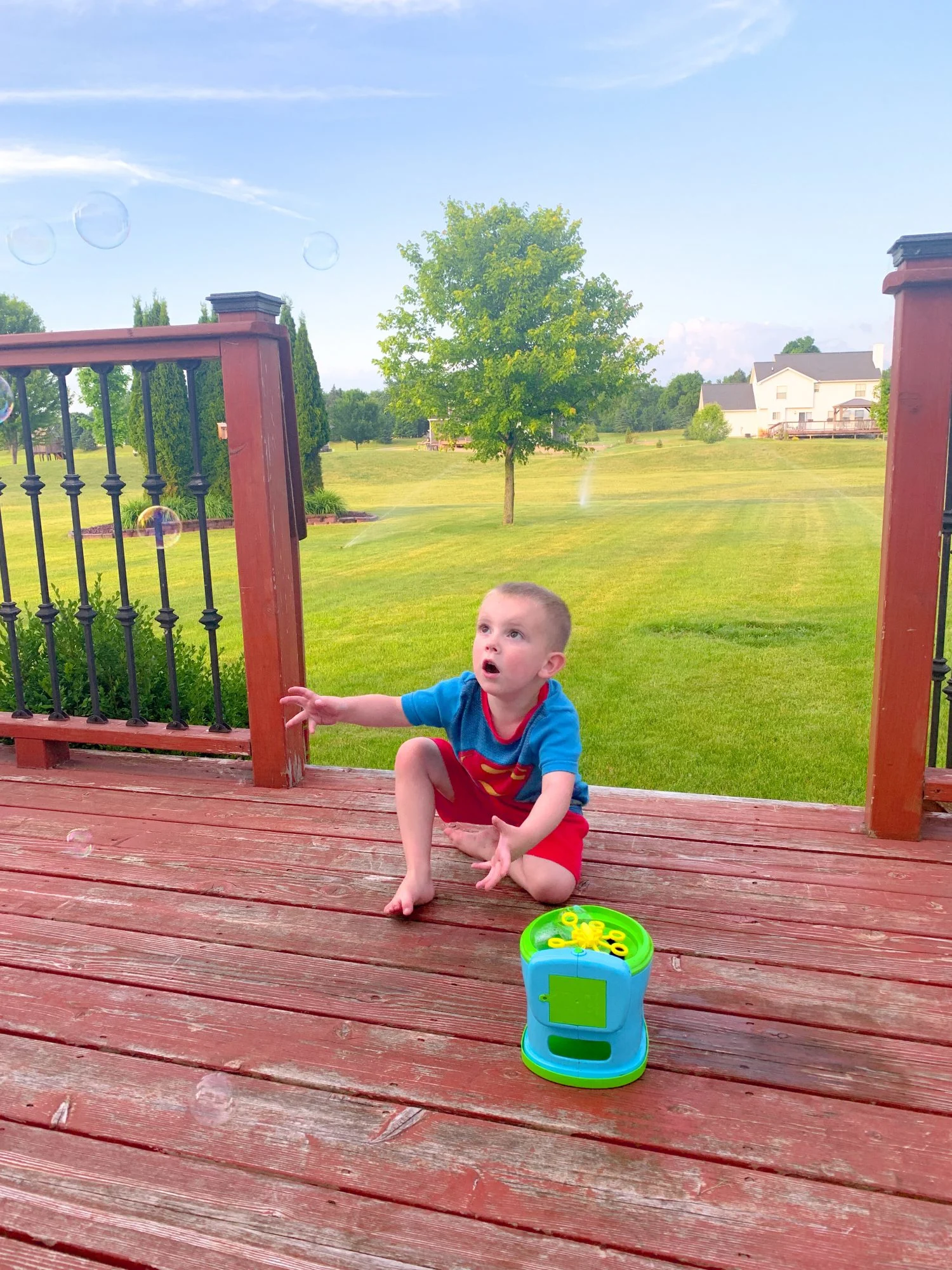 Feel free to print out the recipe below, and tag me on Instagram if you happen to make this!
*I cannot say whether this bubble recipe would be good for a commercial bubble machine as I have not attempted to try this in any other machine besides our personal bubble machine. If you are renting a bubble machine (i.e. for a wedding), I would follow all instructions for the solution required to be used so you do not face any penalty or disrupt the warranty if there is one.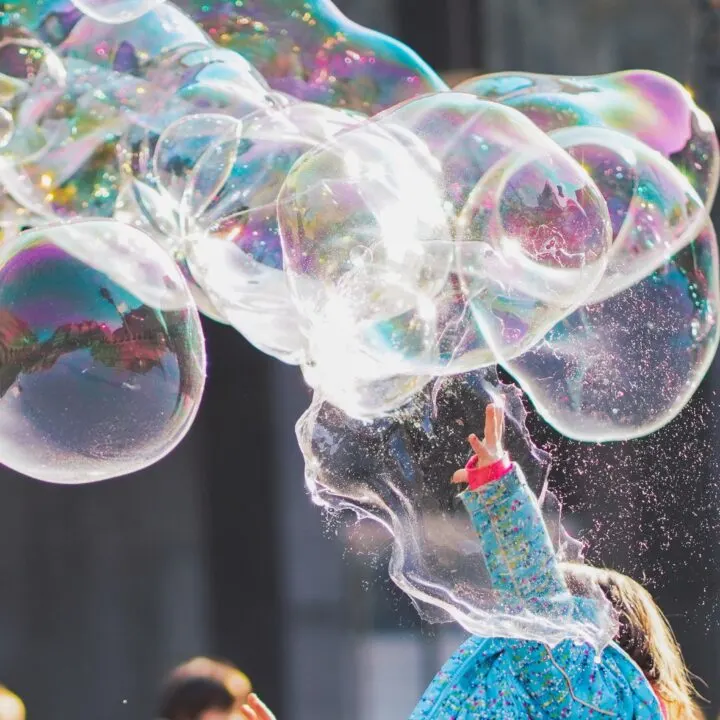 DIY Bubble Solution
The BEST DIY Bubble Solution for refilling bubble wands or to use in personal bubble machines!
Ingredients
3 cups water
1/2 cup Karo syrup
1/2 cup Dawn dish soap
Instructions
- Pour three cups of water into a large mixing bowl.

- Add in karo syrup and original Dawn dish soap (or another concentrated, sudsy soap like Dawn).

- Mix together with a whisk or fork.

- Fill bubble wands with solution, or pour into a personal bubble machine for hours of enjoyment!
Recommended Products
As an Amazon Associate and member of other affiliate programs, I earn from qualifying purchases.
*Post originally published June 2020, last updated January 2023.