Learn about the Lettuce Grow Hydroponics Farmstand in this thorough review, and start growing your veggies and herbs vertically…
---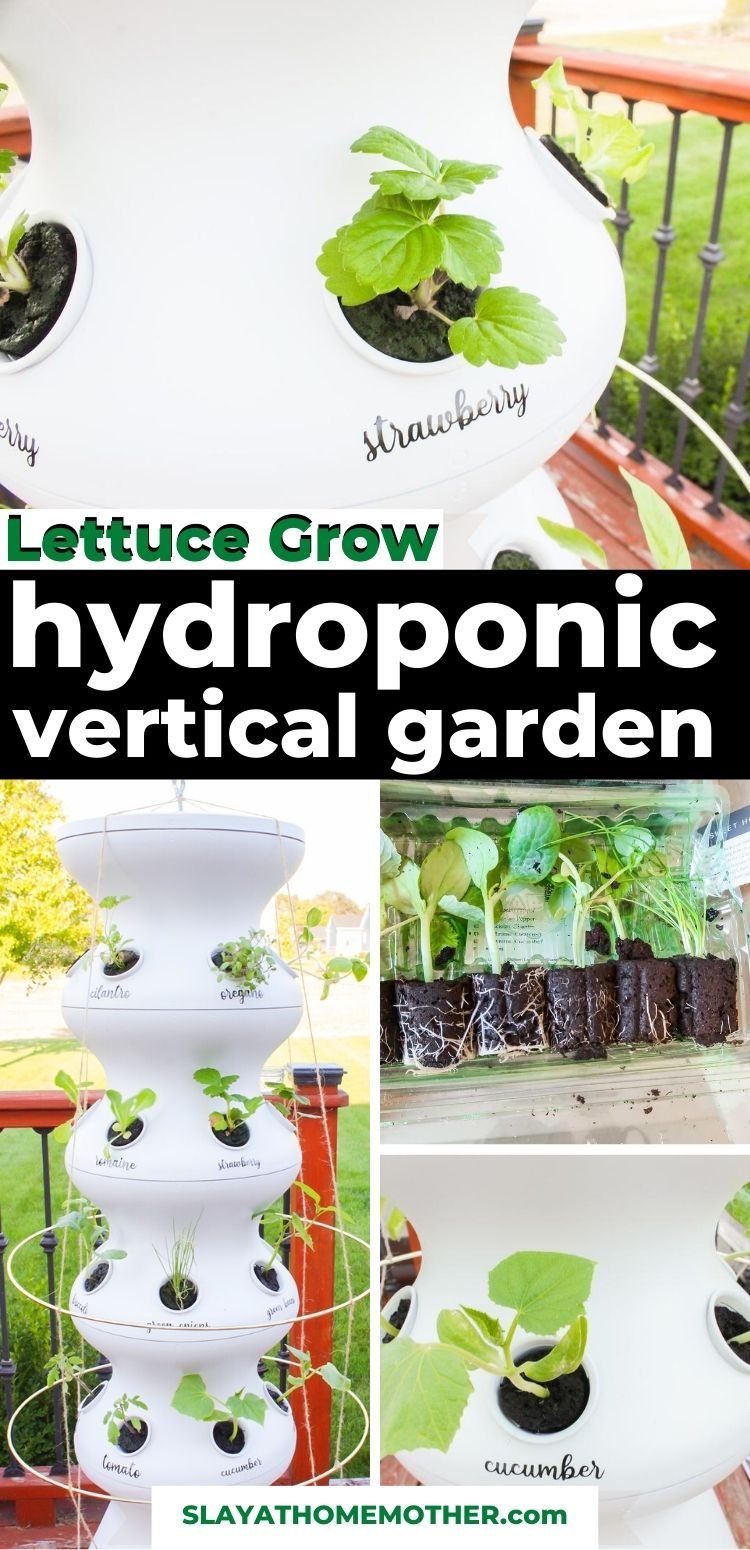 Hello, lovelies!
If you've been following along on my social media, I've been sharing a lot about my newest obsession: my Lettuce Grow farmstand!
It's been a dream of ours to own a hydroponic garden system and grow our vegetables vertically, and after a lot of research, we found the Lettuce Grow Farmstand.
I was immediately drawn to its design, ease of use, and transparency.
They even have a helpful Facebook group where owners can ask questions and get direct answers from other Farmstand owners, and even Lettuce Grow themselves!
Here's a quick video I did on Instagram that takes you through a quick setup of our Farmstand…
In this post, I'll be sharing all of the deets on why I think this hydroponic growing system is incredible, and my experience from delivery to growing…
This post is in partnership with Lettuce Grow and contains affiliate links, however, all opinions are my own, as always.
What Is The Lettuce Grow Farmstand?
The Lettuce Grow Farmstand is a vertical hydroponic growing system that uses nutrient-enriched water to grow fruits, vegetables, and herbs.
At only 22″x22″, the Farmstand can produce the same yield that a 40 ft. soil plot in your yard would yield!
So you can grow this on an apartment balcony, backyard deck, or even indoors – especially when it gets cold.
Because it's a self-watering, self-fertilizing system, little to no experience is needed to successfully grow food.
What is the Lettuce Grow Farmstand Made Of?
Lettuce grow fabricates their Farmstand from BPA-free, FDA food-grade, CA Prop 65 Compliant recycled ocean plastic right here in the United States.
How Big Is The farmstand?
Each row contains 6 pods for plants to fit into.
Also, if you find yourself wanting a larger Farmstand later, you can always purchase additional rows later when you're ready.
For example, I have the 24-plant Farmstand, but if I want to grow 6 more plants, I can buy another row and extend my Farmstand to a 30-plant growing system.
$50 off Lettuce Grow code: FRIEND-SAHM
How Much Water Does It Hold?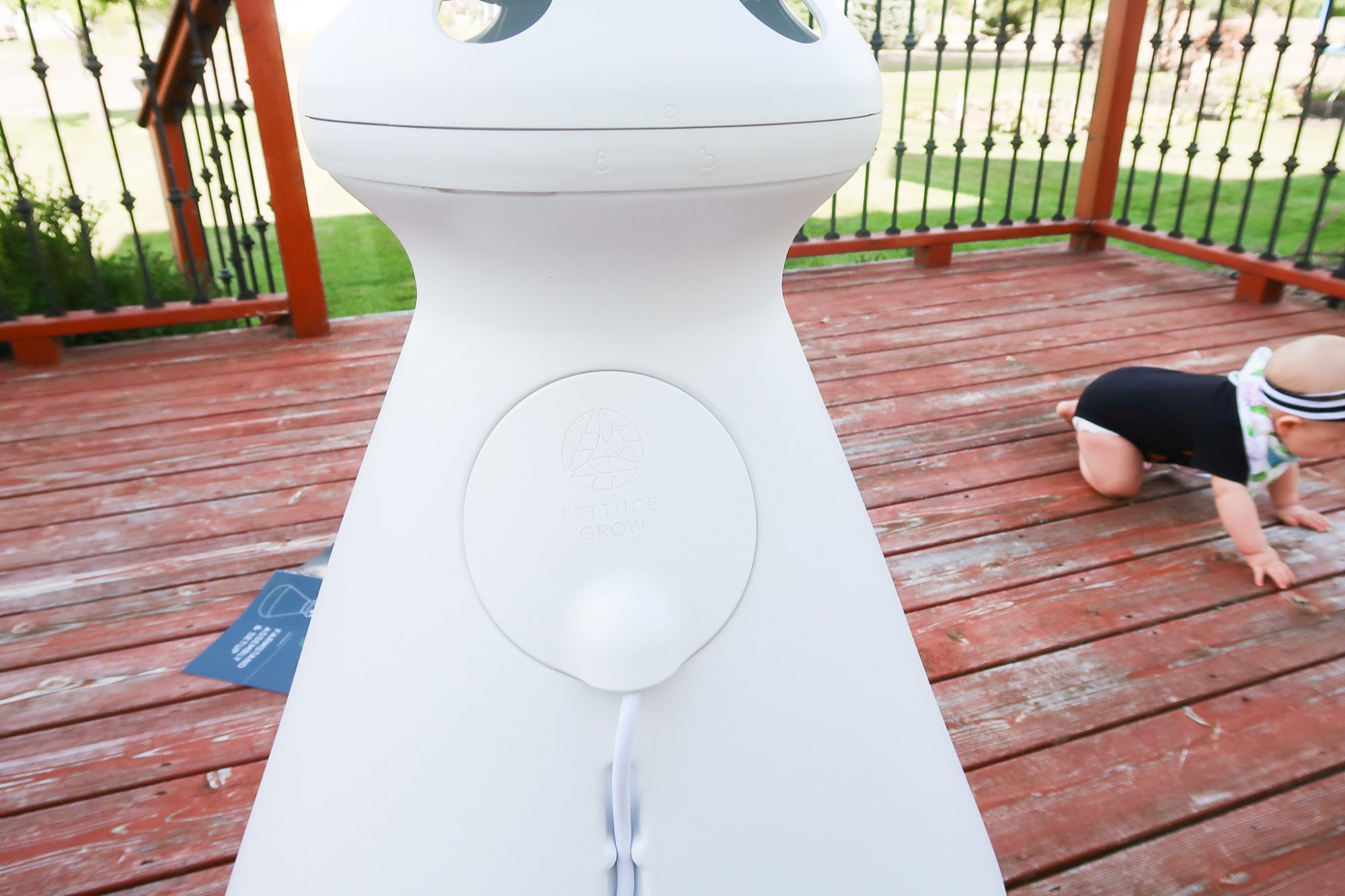 All Farmstands hold 20.5 gallons of water.
The water base is the same no matter the size Farmstand you buy.
How Does Lettuce grow Work?
A pump at the bottom of the tank is triggered by the timer and pushes the water up to the diffuser at the top, which sprays water down on the plant roots like a showerhead.
The timer is set by YOU and triggers the pump to run for 15 min increments whenever you choose.
Even with the pump running so often, the Lettuce Grow Farmstand conserves water by about 95% vs. soil-based growing (traditional farming).
That's because this system recycles the water and nutrients.
Here's a helpful image from Lettuce Grow's website to illustrate the watering process:
The water and nutrients are recirculated, which helps conserve water while still providing the perfect amount for each plant.
Farmstand Delivery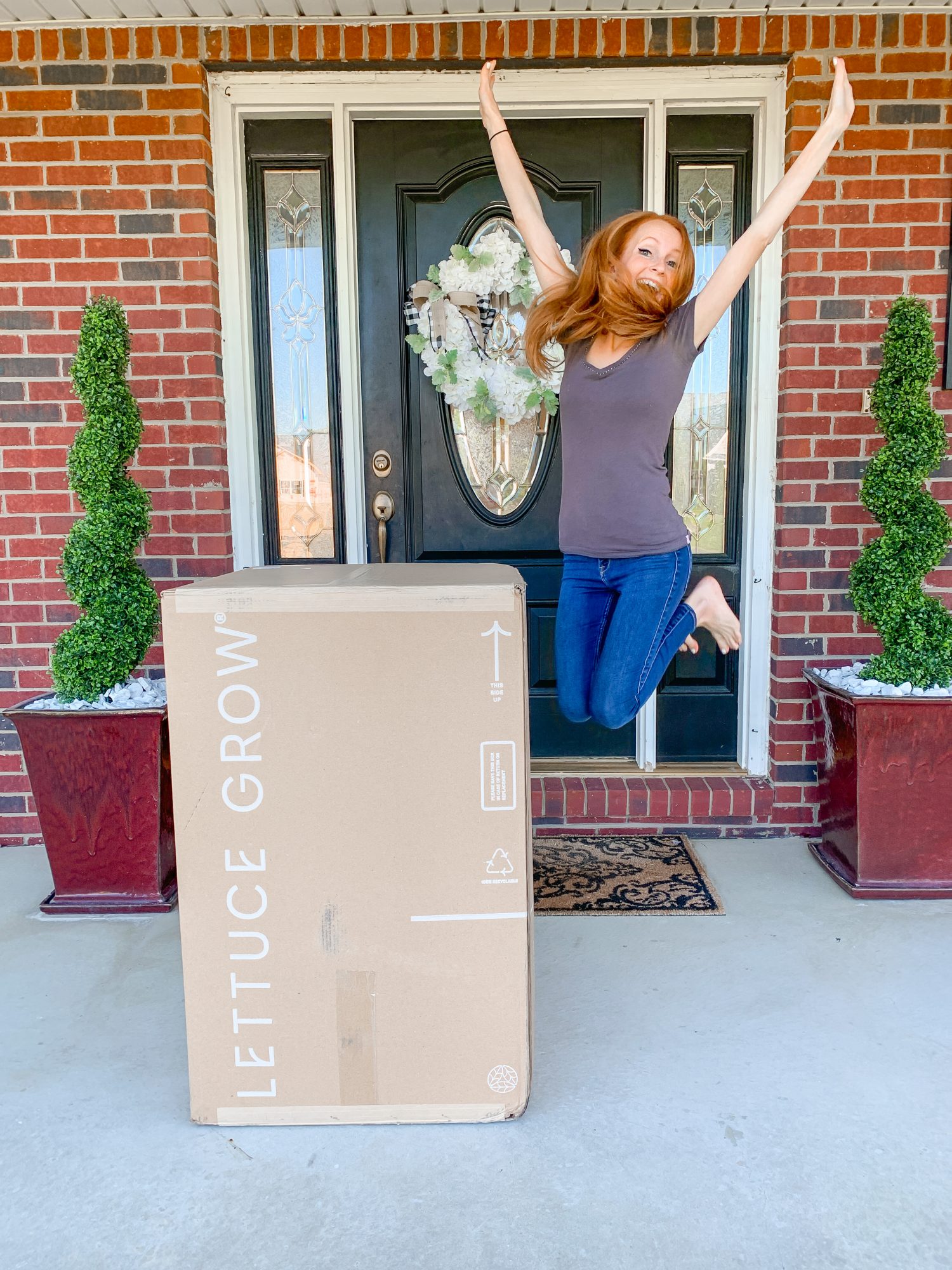 Once your order your Farmstand, Lettuce Grow will begin processing your order and getting it ready to ship.
They try their best to ensure the delivery of your Farmstand and plants is as close as possible so you can get right to growing your vegetables vertically!
The Lettuce Grow Farmstand arrives in a large box – mine came via FedEx.
The box has everything you need to begin planting and growing your herbs, fruits, and veggies…
nutrient essentials kit
farmstand
pH down (this helps you adjust the pH if it's too high)
pH test kit
pump and diffuser
timer
Seedlings Ordering And Delivery
Besides the Farmstand, Lettuce Grow also sells seedlings for $2.00 each.
These pre-grown seedlings are ready to plant and fill your Farmstand.
Do I Have To Use The Seedlings From lettuce Grow?
Nope! You can certainly grow your own plants from seeds.
Lettuce Grow offers their seedlings so you can harvest in 3-4 weeks and enjoy your Farmstand even more, but you don't have to use their veggies.
How To Order Seedlings From Lettuce Grow
When setting up your account and app, Lettuce Grow will ask you where you live.
You'll put in your zip code, and Lettuce Grow will show you what fruits, vegetables, and herbs you can grow successfully in your area.
Here's a screenshot of some of the veggies and plants that would grow well in my Farmstand based on my zip code: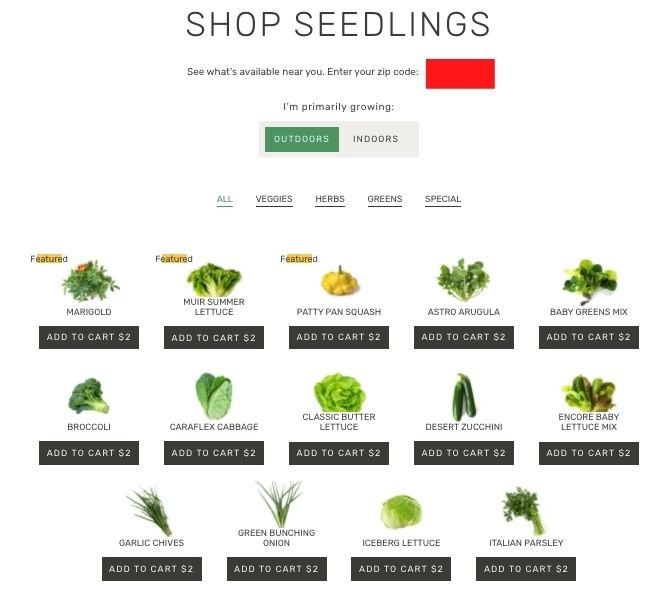 There were many more seedlings offered to my zip code, but I can only screenshot so many at a time!
My Experience With Seedling Delivery
Our seedlings were delivered by FedEx and arrived in great condition.
All of the seedlings were alive, and the soil resembled a soggy brownie – but in the soil world, that's a good thing!
One of the plastic containers that encased the seedlings was smushed a little on one side, but that isn't Lettuce Grow's fault and didn't impact our seedlings at all.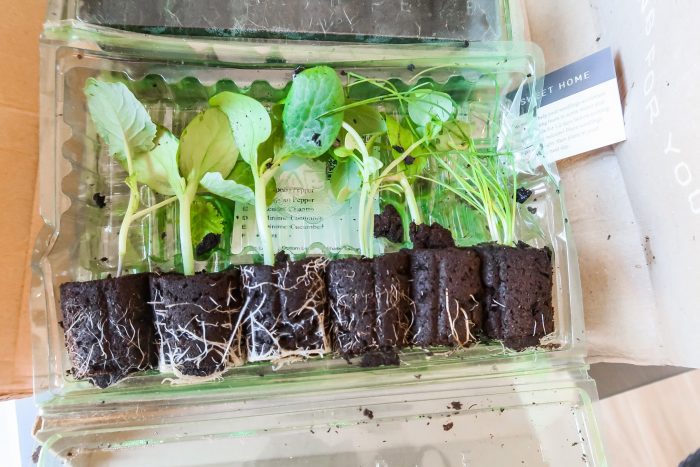 The fronts of each seedling container will have a label on them telling you what each plant is, as well as icons that indicate if a plant will do better on a top row, bottom row, or if a certain plant is shade-tolerant.
Lettuce Grow Farmstand Set Up – Video
Here's a comprehensive video I put together of the quick setup of our Farmstand – be sure to watch it in 4k HD!
To Trellis Or Not To Trellis
If you plan to grow heavier plants (like tomatoes) or vine plants (like cucumber or zucchini), you might want to consider building or adding a trellis system.
A trellis helps add support to plants that need it or would otherwise grow and drag on the ground, making them more susceptible to pests.
In the Facebook group run by Lettuce Grow, there are tons of suggestions for trellis' – one of them being the one I have pictured in this post.
I got the idea to use macrame rings and twine to build my own trellis from the veteran Lettuce Growers in the group.
Their advice guided me to build and secure one to my Farmstand prior to placing any veggies in, and I would have to agree.
Placing a trellis is ideal before your plants have had the chance to grow in the way and make placing one later on more difficult.
Here are the macrame rings and twine I used.
Adding In The Nutrients And Adjusting The pH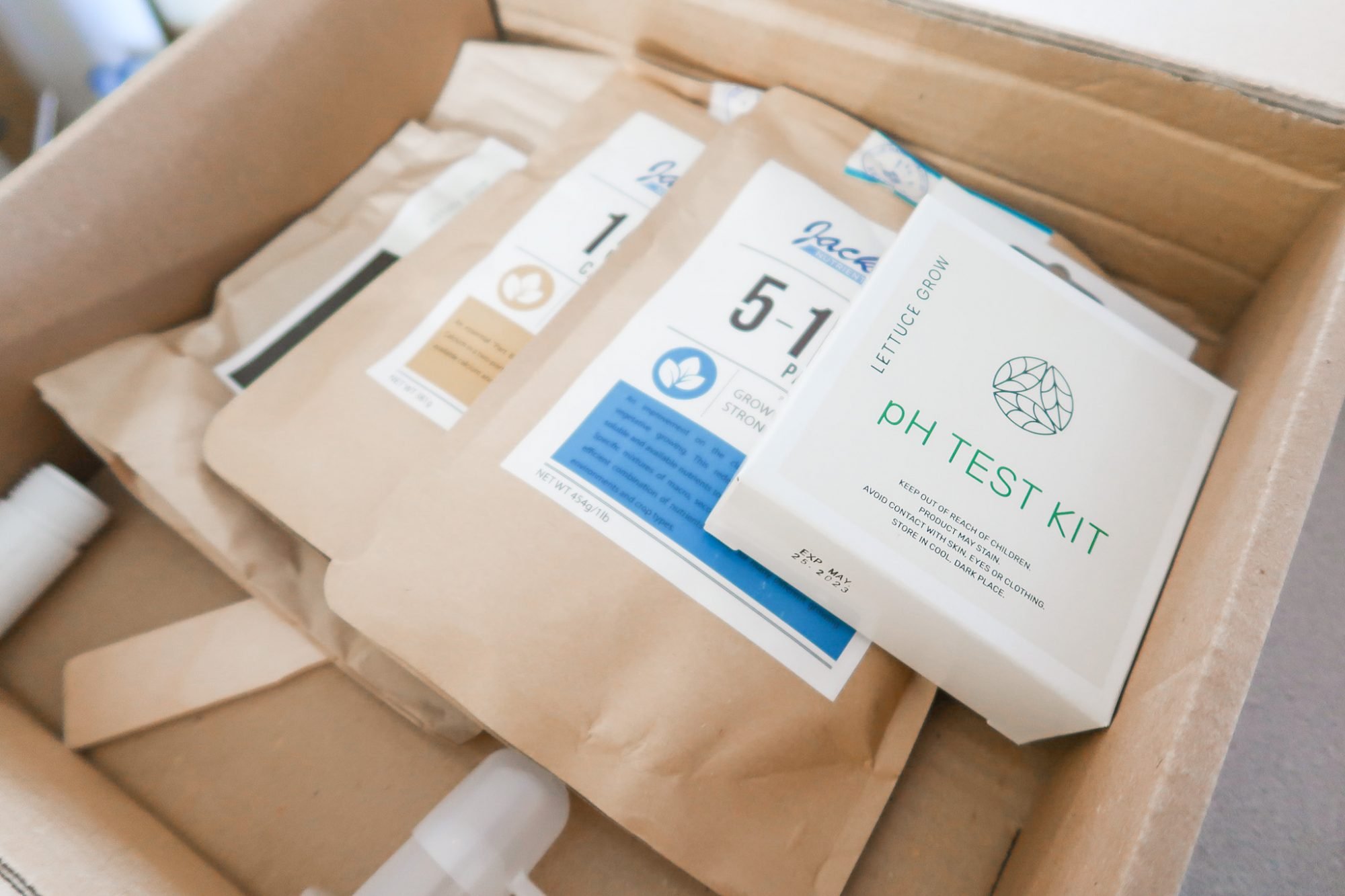 Each Farmstand comes with the included nutrients (pack A and pack B) that you'll need to add to the water.
At the time of this writing, the instructions read that you'll need 4 scoops of each.
Scoops are provided to make measuring easy!
A long wooden stirring stick is also provided and should be used to thoroughly mix your water solution so you can test the pH…
How To Test The pH
Also included in the box is a pH test kit.
Simply scoop up 5 mL of water, drop 5 drops of pH solution in, and swirl the water around in the cup.
Use the pH color chart to determine your water's pH level.
If the pH is too high, follow the guide's instructions to lower it to the ideal pH between 5.5-6.
Lettuce Grow notes in their guide that you shouldn't worry if your pH is a little above or below this range, as long as it's pretty close!
The water should be a yellow or lime green color.
Inserting The Seedlings Into Your Farmstand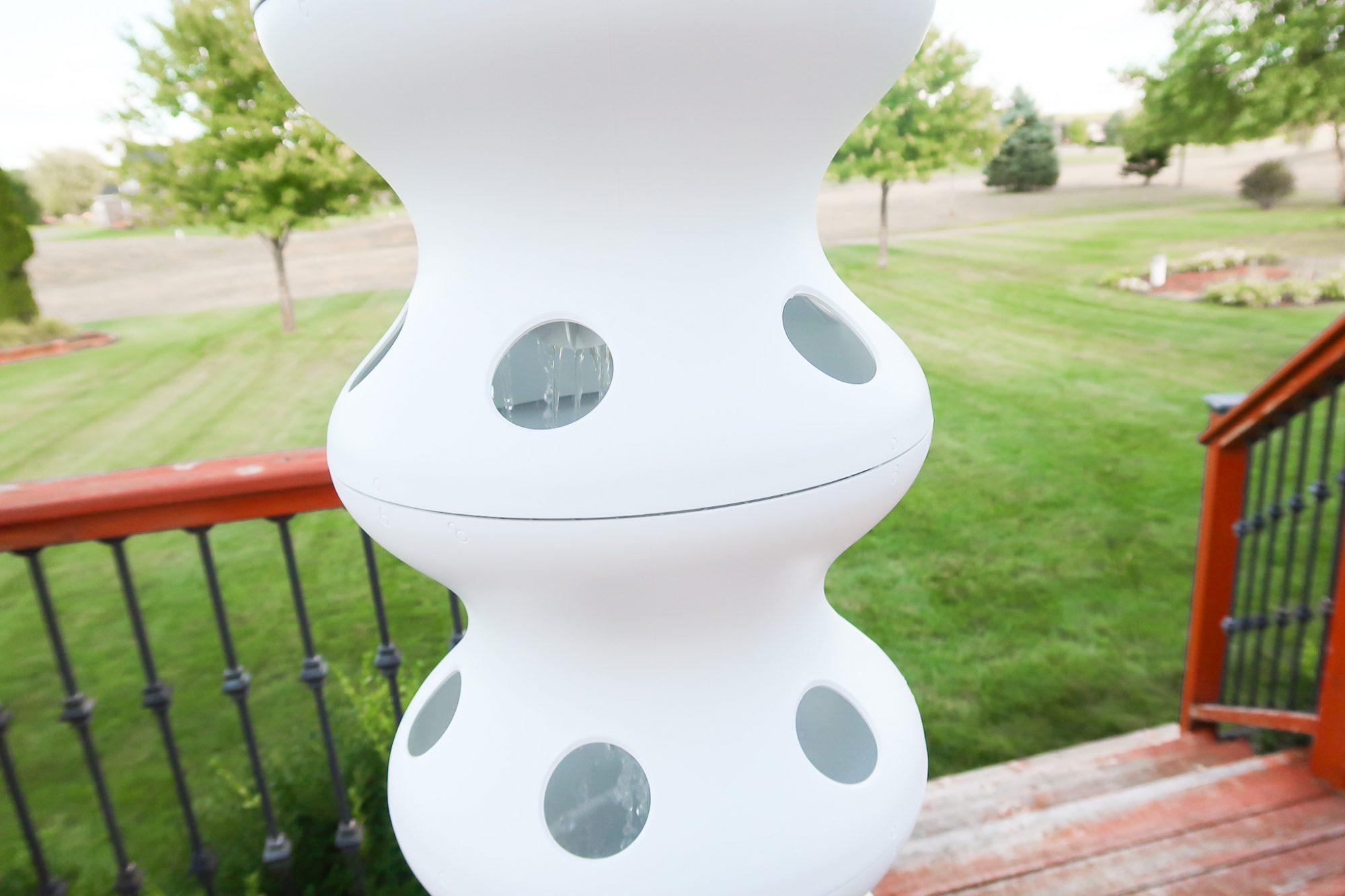 Once your seedlings have arrived, you can transplant them into the plant cups provided in your Farmstand box.
Have labels handy so you can keep track of what is what!
I used my Cricut to make vinyl labels for my Farmstand, but you can simply write the names of each herb or veggie with a sharpie on a wooden garden stake.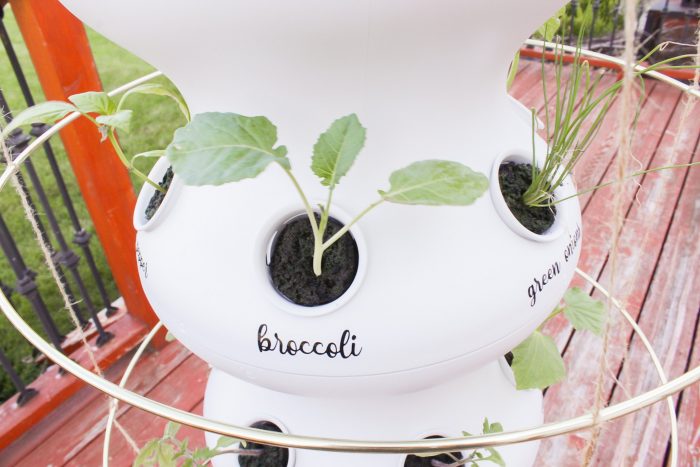 Setting The Timer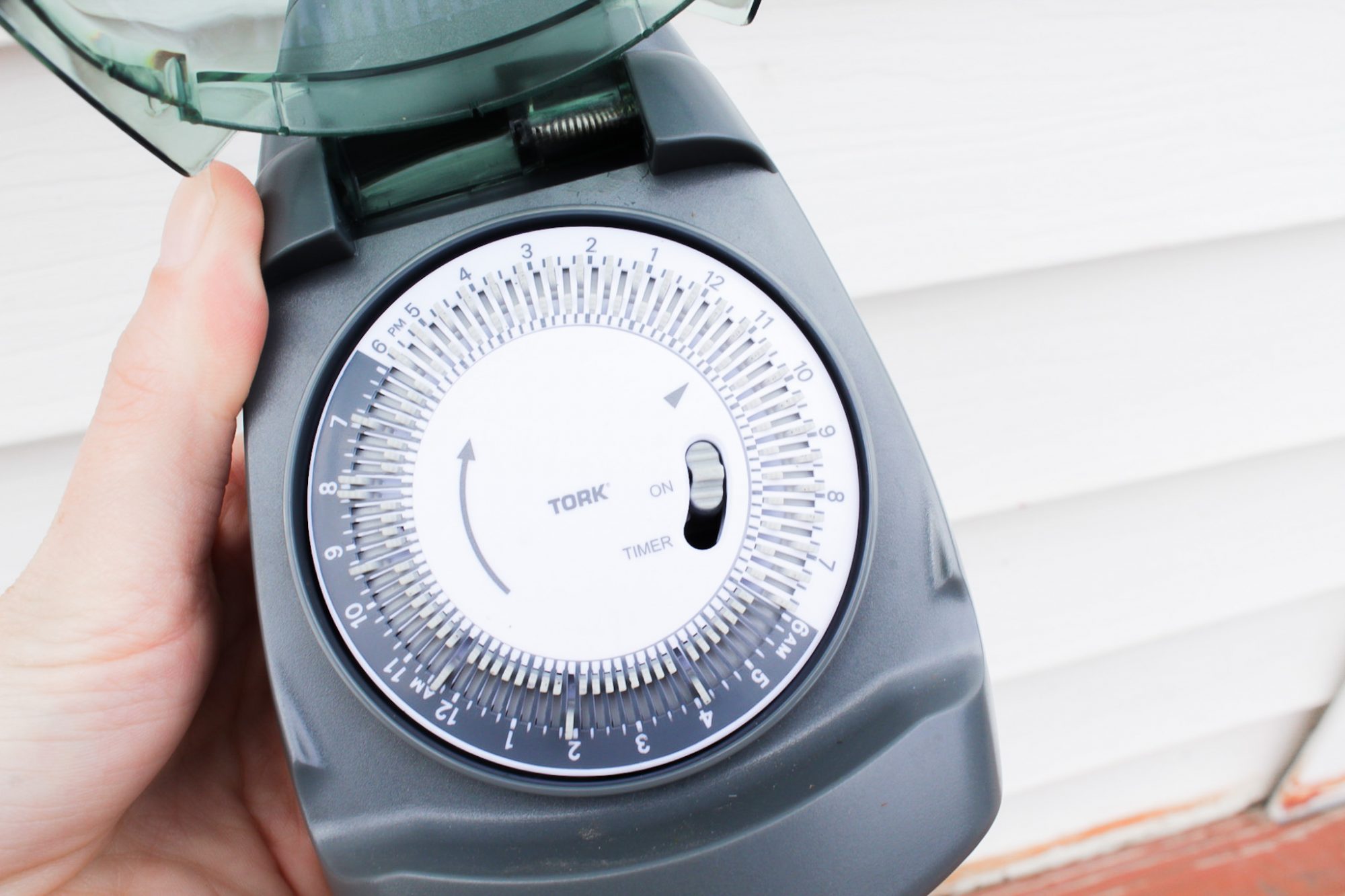 I featured the timer set up in the video within this post, but the timer is pretty simple to set up.
Simply adjust the arrow to the time of day you are currently at and then follow the directions in the booklet.
Each plastic notch in the timer represents 15 minutes.
You can use your thumbnail to move the notch UP – for each notch that it moved up, the pump will water your plants for that period of time.
Weekly Maintenance – What's Required Of Me?
Your plants will need some TLC each week, as all plants do, to grow their best.
You'll need to add in nutrients to your hydroponic garden weekly (Lettuce Grow has a free app that tells you based on your plants, the number of plants your Farmstand is supporting, and climate about how much of each nutrient pack to add), and then test the pH to make sure the plants will be able to properly absorb the nutrients.
Your water hardness or softness can impact the pH, and therefore the uptake.
After adding in the nutrients, stir with the wooden stick provided and allow your Farmstand to run for a few minutes.
Using the same process as you did initially testing your water's pH, take 5mL of water in the via provided in the pH test kit and drop in 5 drops of the red liquid.
Place the vial cap on and give it a few shakes to stir it. You can also swish the water around the vial if your cap goes missing ;).
Compare the color of your water to the chart.
If the pH is too high, you'll need to add in some pH down using the teaspoon scoop provided, one 1/2 scoop at a time.
Aim for the yellow to lime green color range, which puts your Farmstand water at the ideal pH range of 5.5-6.
One Week Of Growth Later…
So far, I've had my Farmstand for one week, so I wanted to create a before and after type picture for you guys to show you the amount of growth that's occurred in just one week…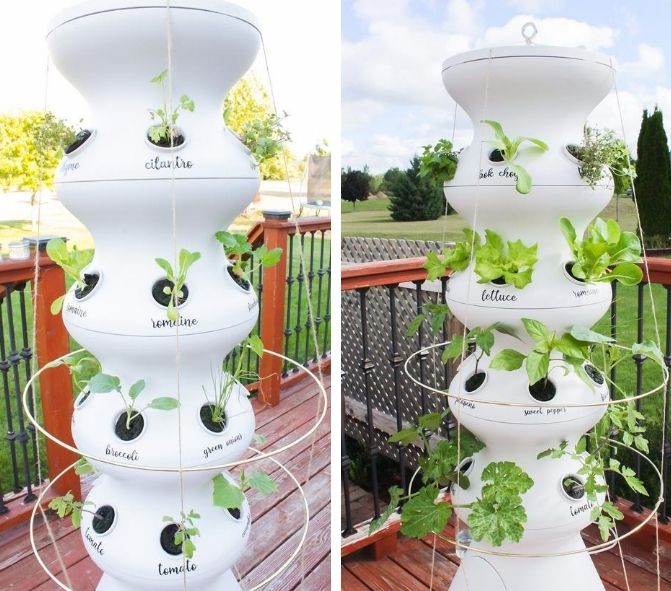 I'm thrilled with how fast these seedlings have been growing, and how beautiful the veggies are so far! I can't believe it's only been a week.
My cucumber and zucchini seem to be really taking off, with my tomatoes and peppers not too far behind.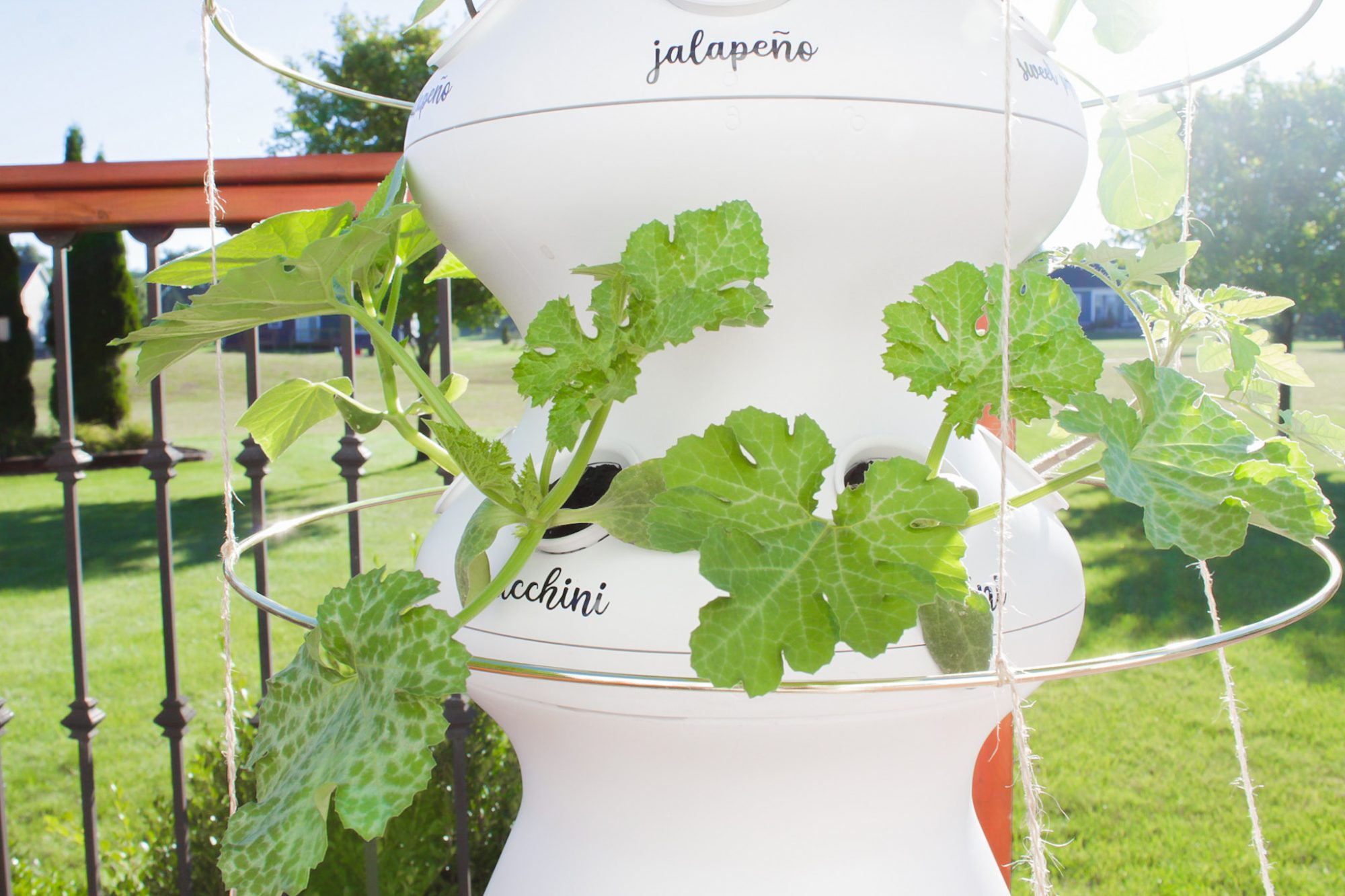 My lettuce and romaine are looking healthy and really spreading…
Everything looks amazing!
I think the only herb that gave me a little trouble was the mint, and that was simply because there were a few 90+ degree days where I needed to increase the watering schedule of my stand but didn't realize it and it suffered a bit.
Since then, I've learned to pay attention to the heat index and adjust the watering schedule accordingly!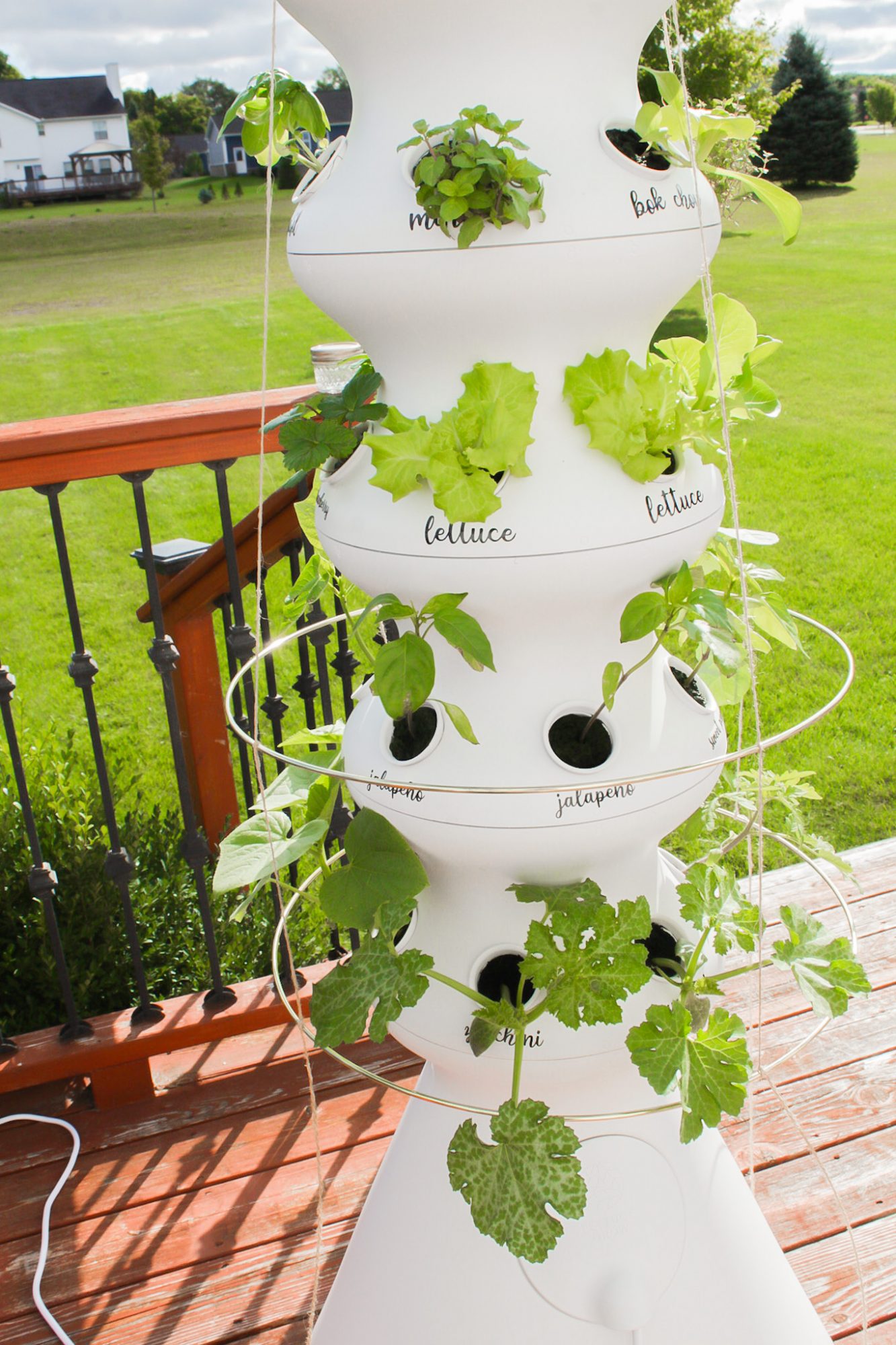 I'll be updating you all on my growing process and indoor growing once the temperatures fall here in the Midwest (Lettuce Grow is coming out with some fitting Halo grow lights this Fall that I a super excited for)!
I hope you found this post helpful – I can't recommend the Lettuce Grow Farmstand enough!
Have you tried growing veggies or herbs in water, or are you thinking of getting your own hydroponic system? Let me know in the comments below.
Update On Growing With The Farmstand From Lettuce Grow
Fall came here in Michigan, and so did the first frost…EARLY.
Most of my plants did not survive the shock of the first frost, and I was unaware it would come this early.
I tried to convert my Farmstand to growing indoors after this event, but most of my plants were already defeated.
I plan on growing again this Spring, and will do more posts on growing with the Lettuce Grow Farmstand this year once the weather allows again!
You can see my Indoor growing journey here with the Glow Rings HERE.
$50 off Lettuce Grow code: FRIEND-SAHM
**Post originally published in September 2020, updated in September 2021 to update referral savings code for my readers and provide an update.