4-week check-in and review of the Lettuce Grow Farmstand…
---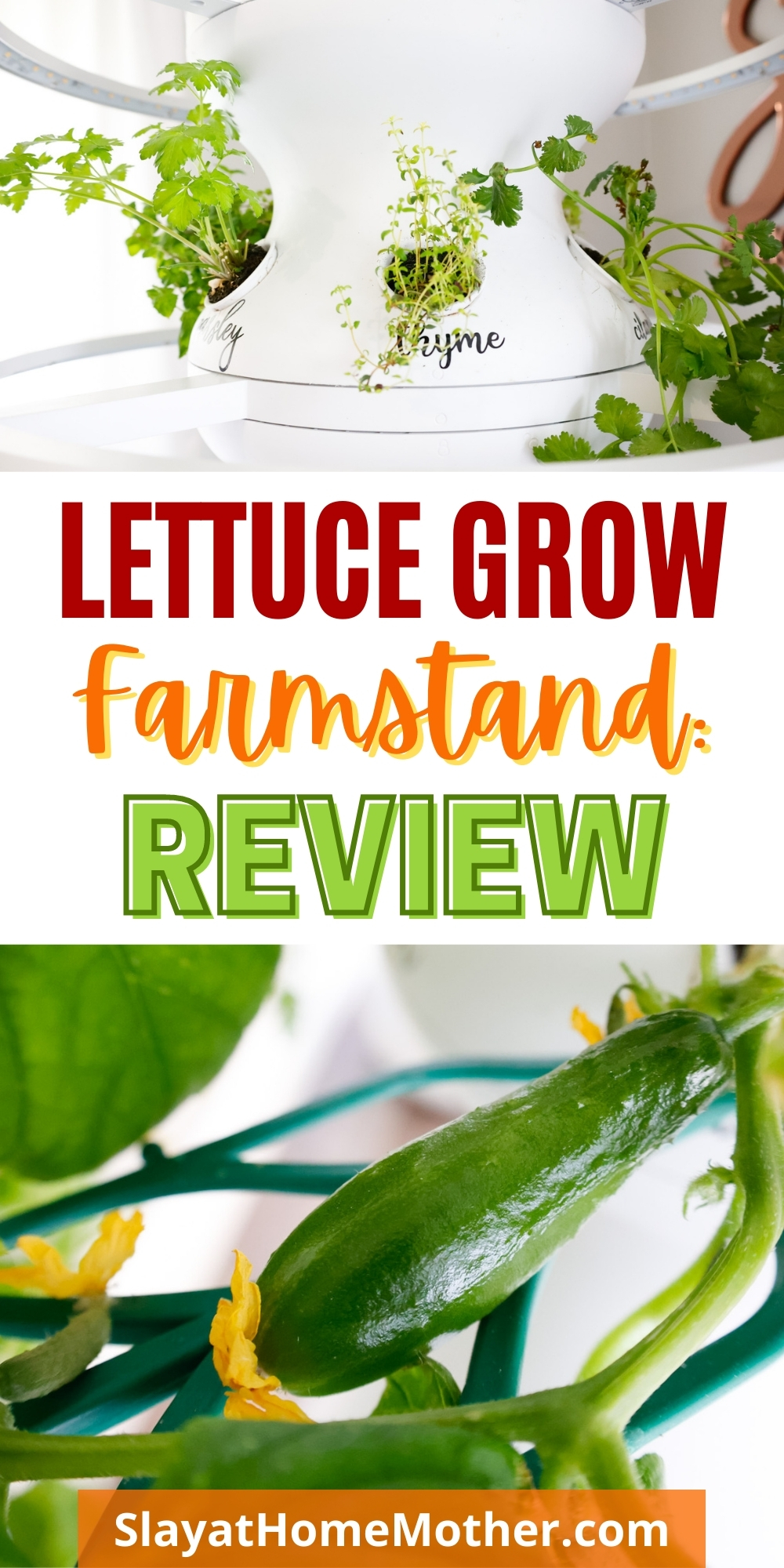 Hi, friends!
In today's post, I'll be sharing my Lettuce Grow indoor vegetable garden update.
Currently, I'm 4 weeks into growing with my Farmstand, and it's been wonderful!
I've decided to add an extension to my Farmstand so I can incorporate even more greens into our diet.
Read my other updates here:
BTW, I featured the extension installation in my latest YouTube video (see that here!) in case you want to see it :).
This post contains affiliate links, however, all opinions are my own, as always. Thanks so much for reading.
Lettuce Grow Farmstand Update – 4 Weeks In
I've loved growing with my Lettuce Grow Farmstand!
It isn't the cheapest setup, let me tell ya!
But it's truly incredible, and it's generated a lot of interest in eating veggies for our kids, which I am very happy with!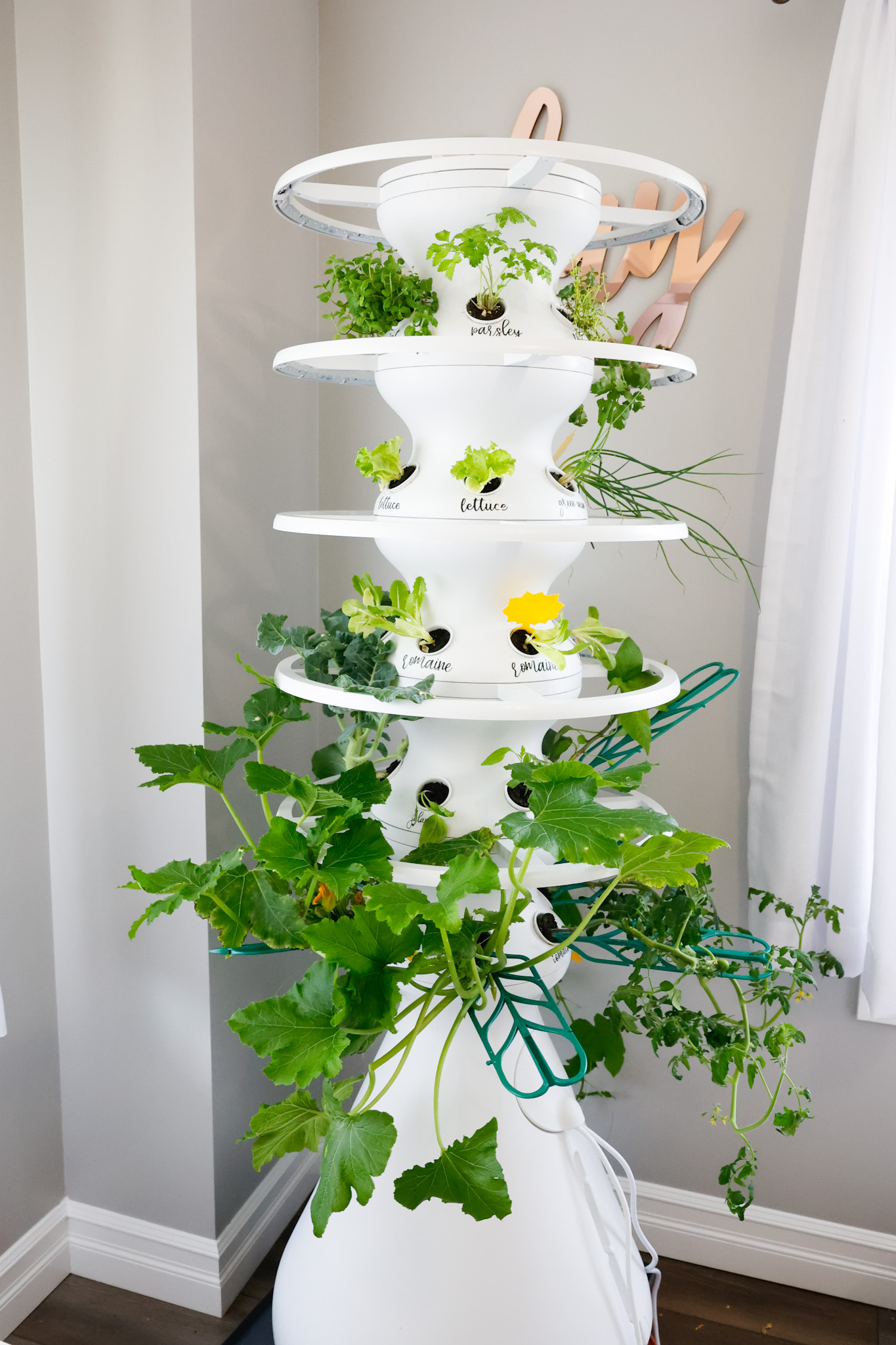 The extension setup was a little confusing at first (just trying to figure out the PVC pipe extension, and me wanting to add the additional tier in the middle instead of right at the top).
But I figured it out quickly, and it's working great!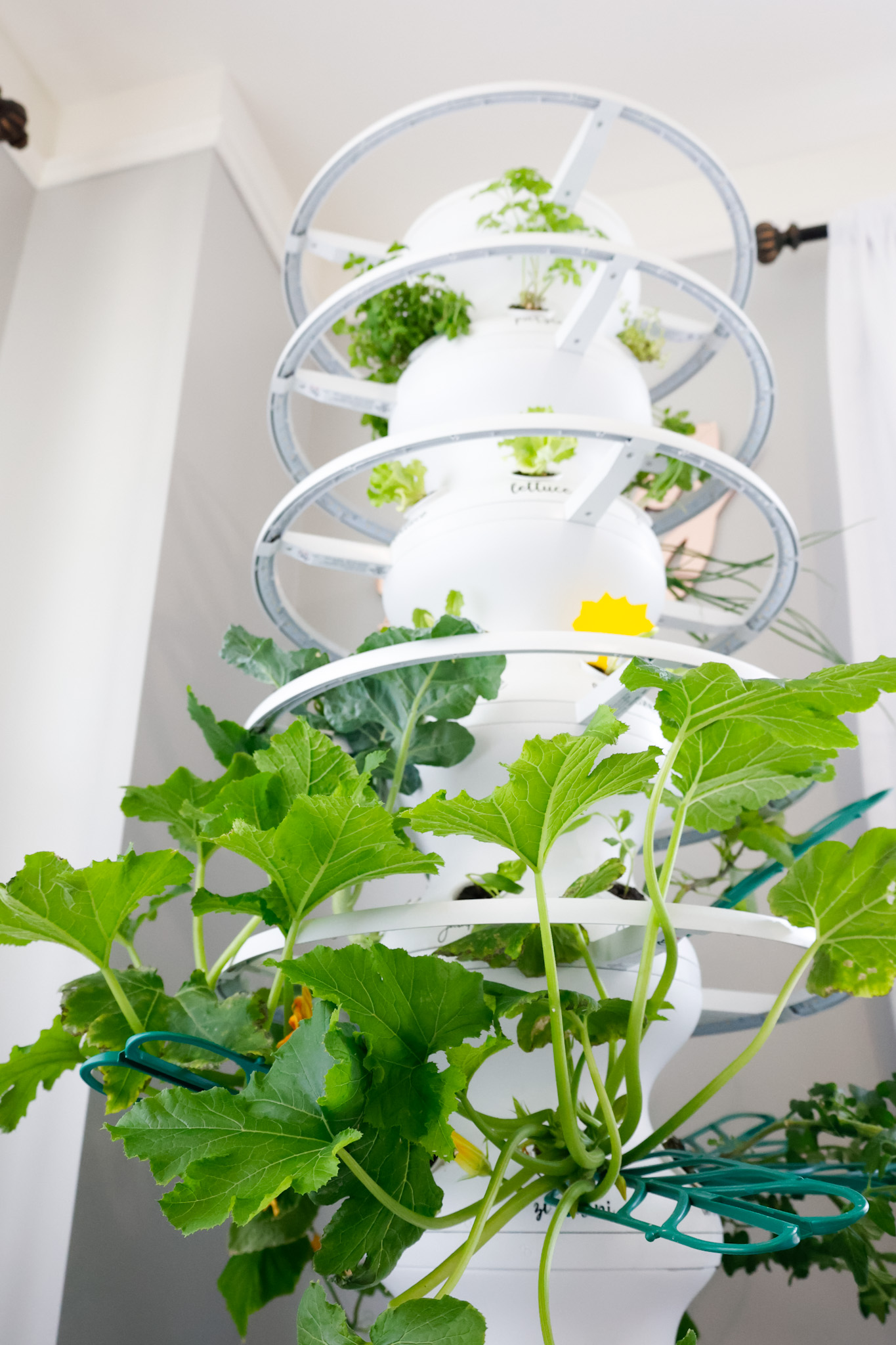 If you are thinking of adding on an extension (I went from 24 plants to 30 plants), be sure to remember to grab a Glow Ring extension kit as well (comes with an additional coupler and pipe to ensure enough height for the water to shower down out of the diffuser at the top).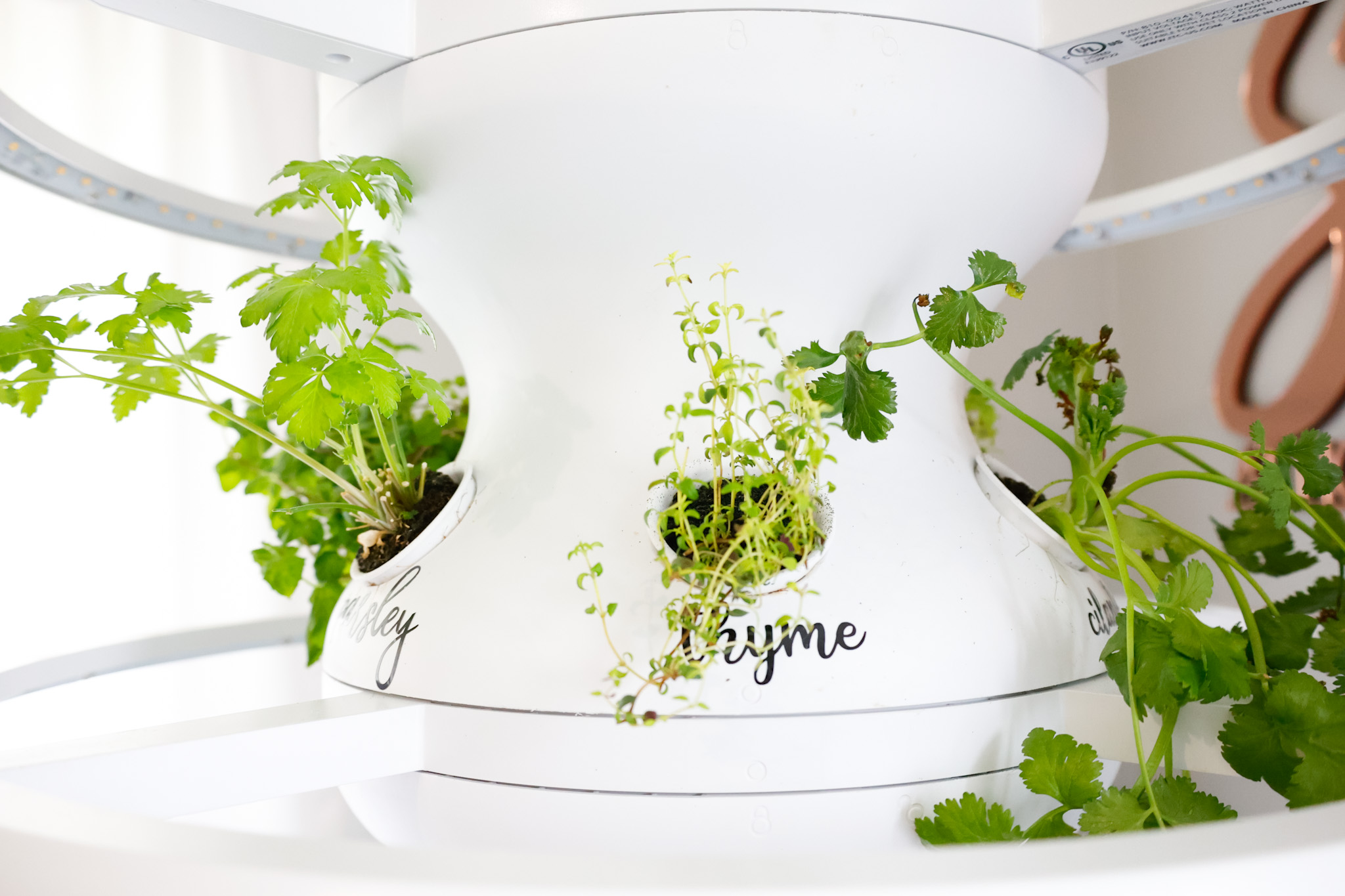 In the summertime, we eat tons of salads!
So I ordered a bunch of romaine and lettuce seedlings from Lettuce Grow.
One entire tier is dedicated to romaine.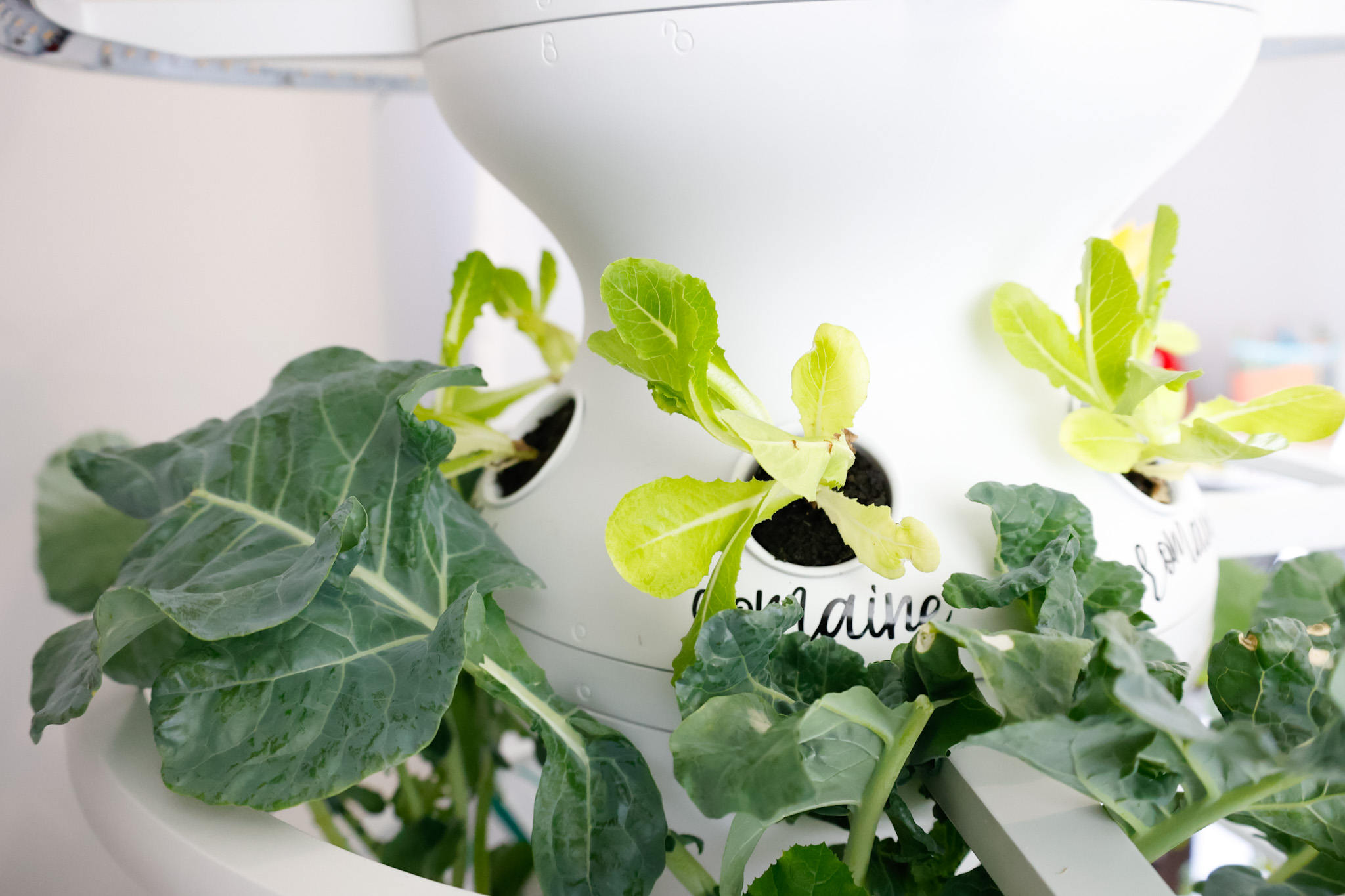 I think next round of seedlings, I will mix in a variety of greens for our salads like arugula and spinach.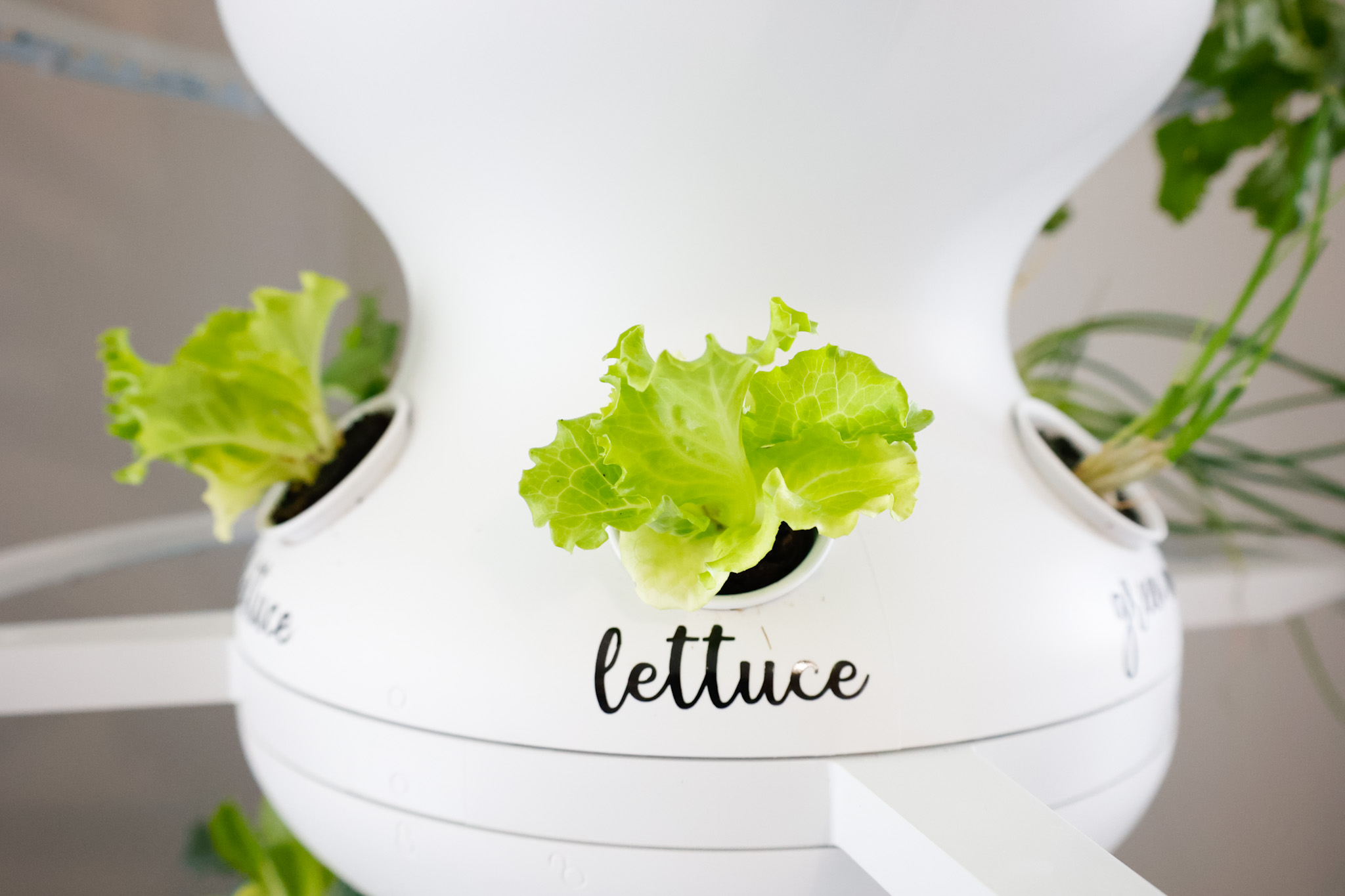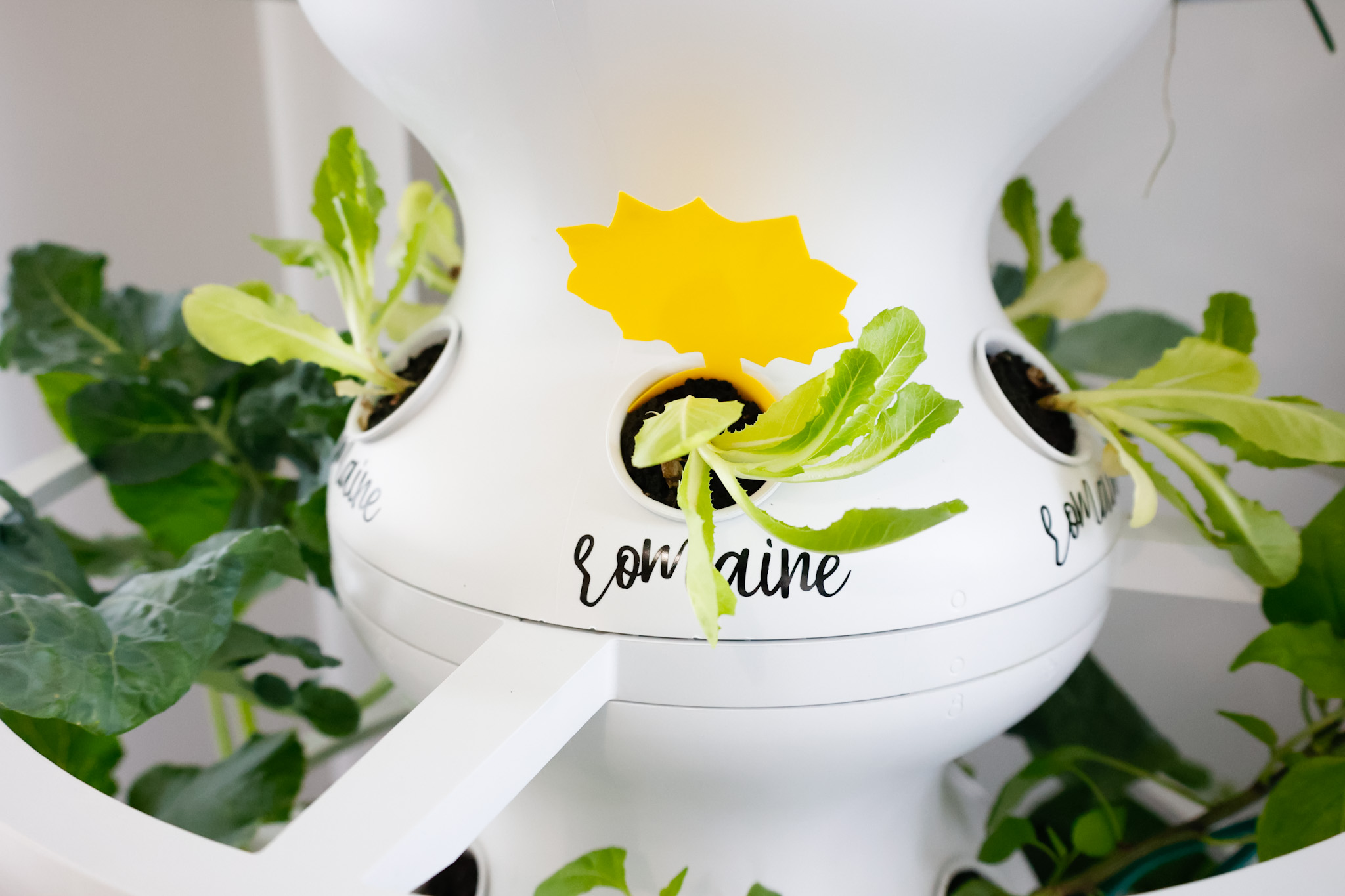 Our parsley, which I harvested last week, has already grown back and is looking great!
I'll continue to harvest, dry, and package our herbs as they grow and produce.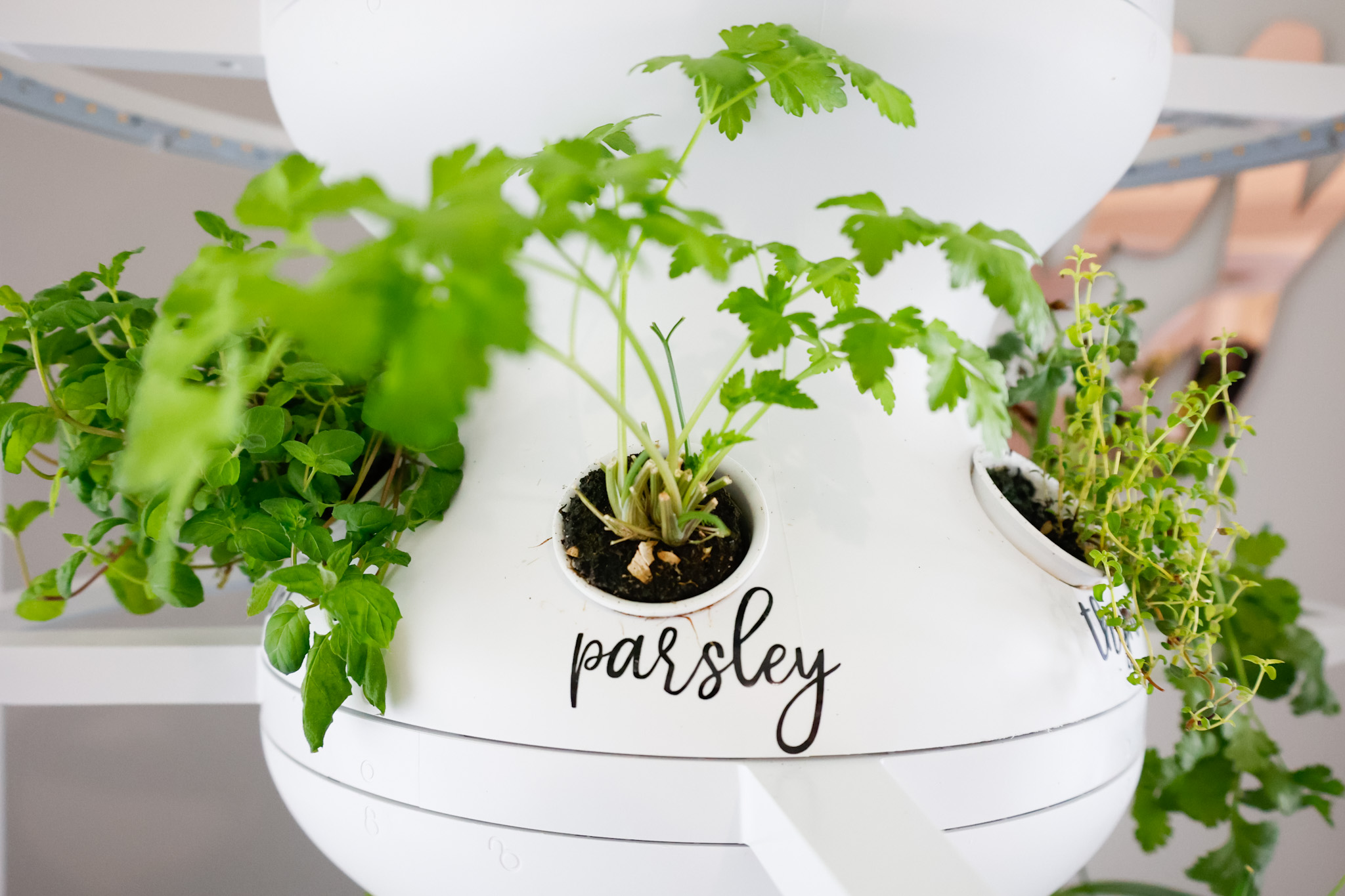 Vegetable Production
Here are some of the vegetables that have flowered and are fruiting…
These are scarlet cherry tomatoes…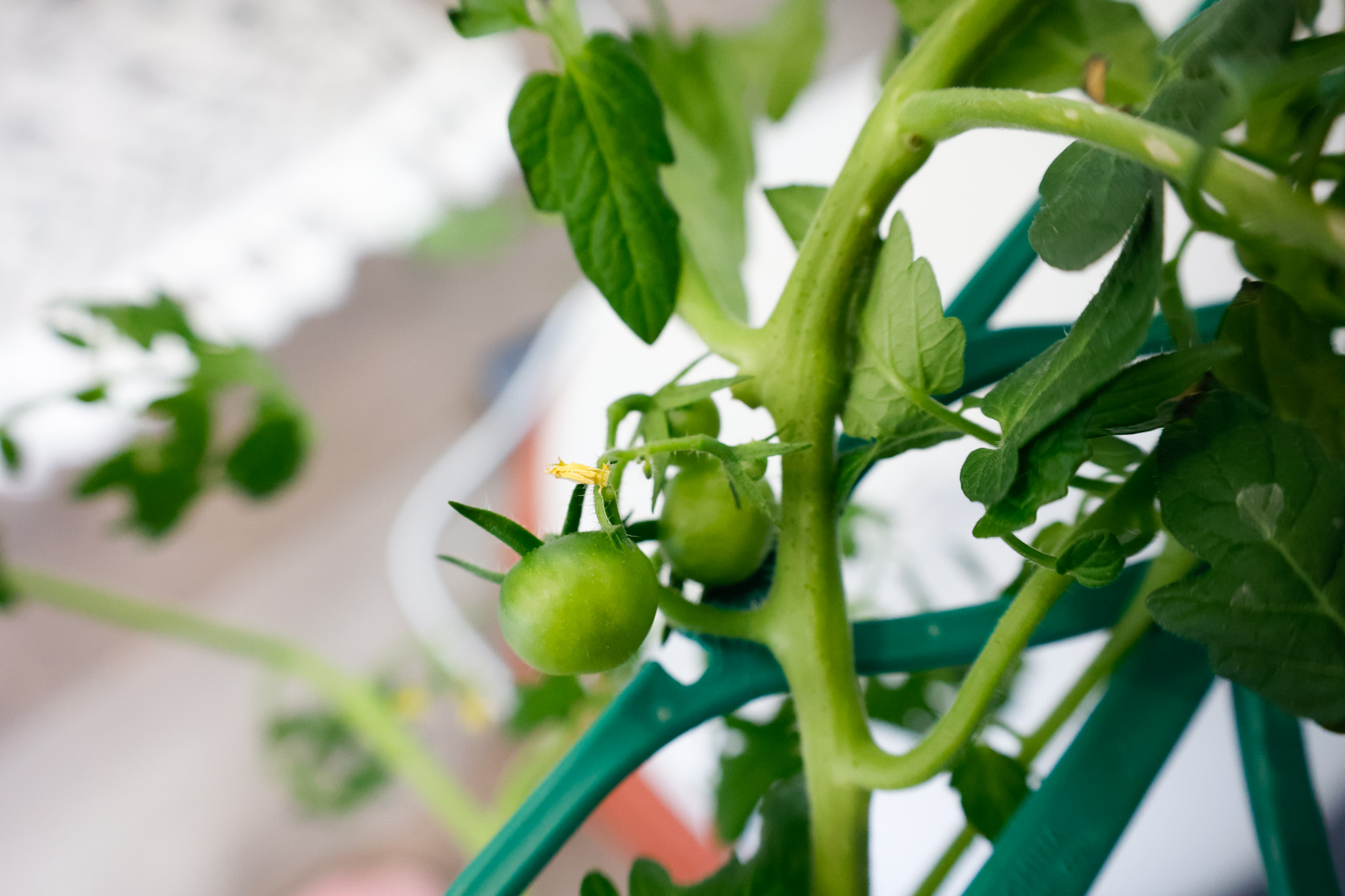 To help with fruiting, I tapped the main stalk of my tomato plants gently and quickly several times to help the pollen spread around the flower.
I've seen a friend take an electric toothbrush and set the base of the toothbrush against the stalk and let it vibrate against it – same concept!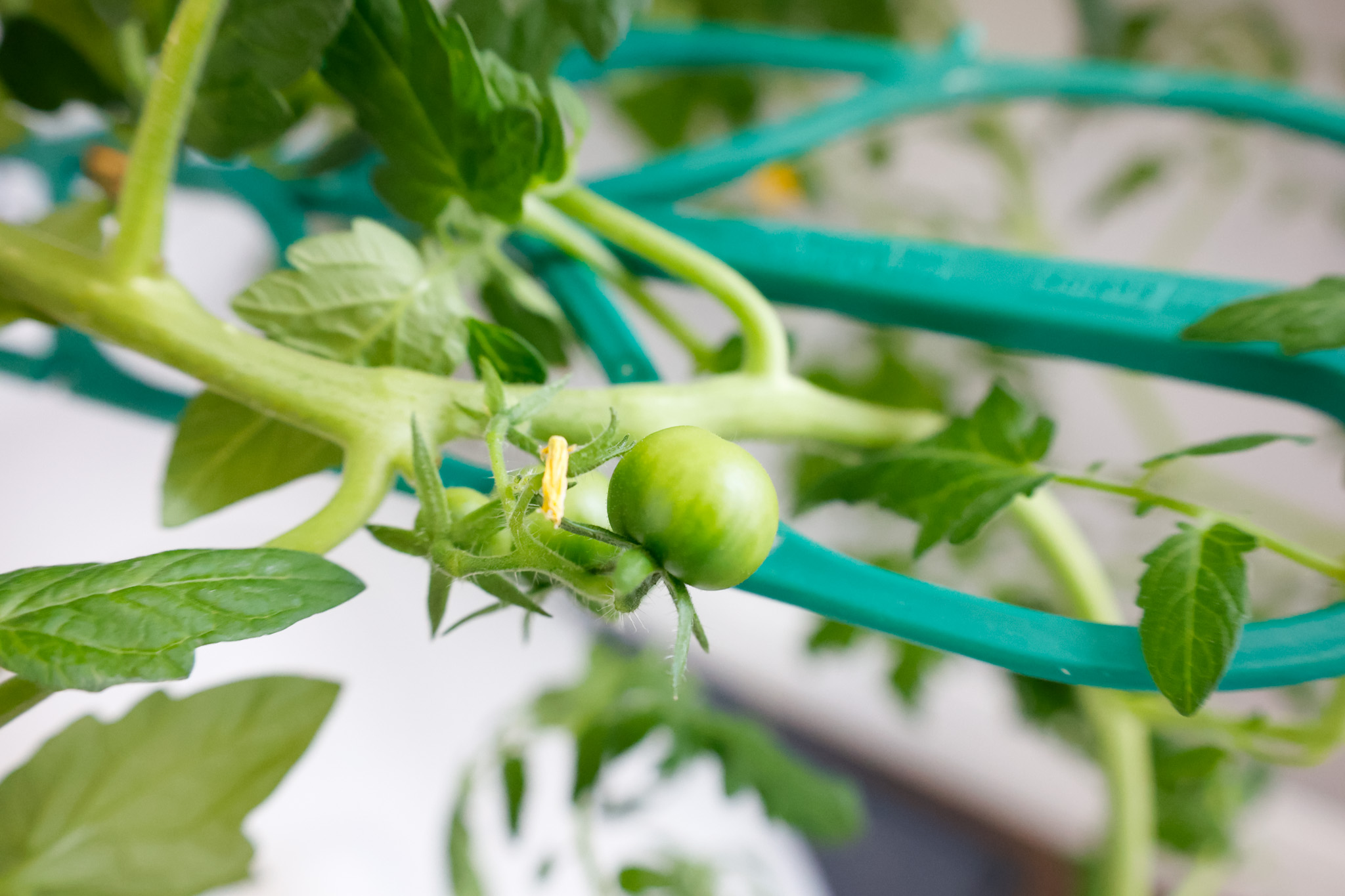 Here are my mini cucumbers…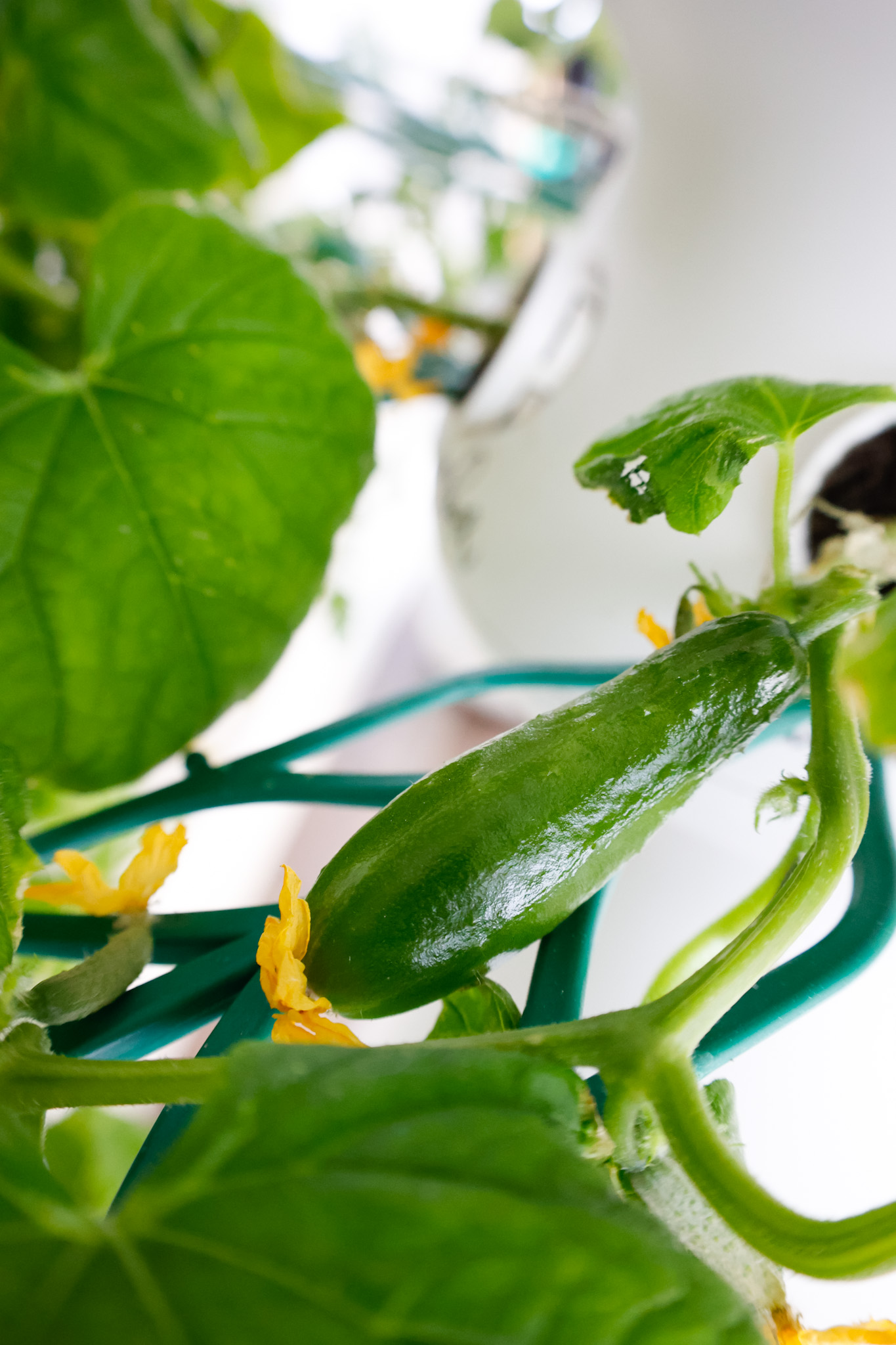 This is a plant that needs to be pollinated by either bees (outdoors) or by hand (indoors).
To pollinate my cucumbers, I simply took a clean small paintbrush and transferred pollen from the male flower to the female flowers.
This seems to be the only fertilized cucumber I can see for now, but I'm hoping the other female flowers take as well!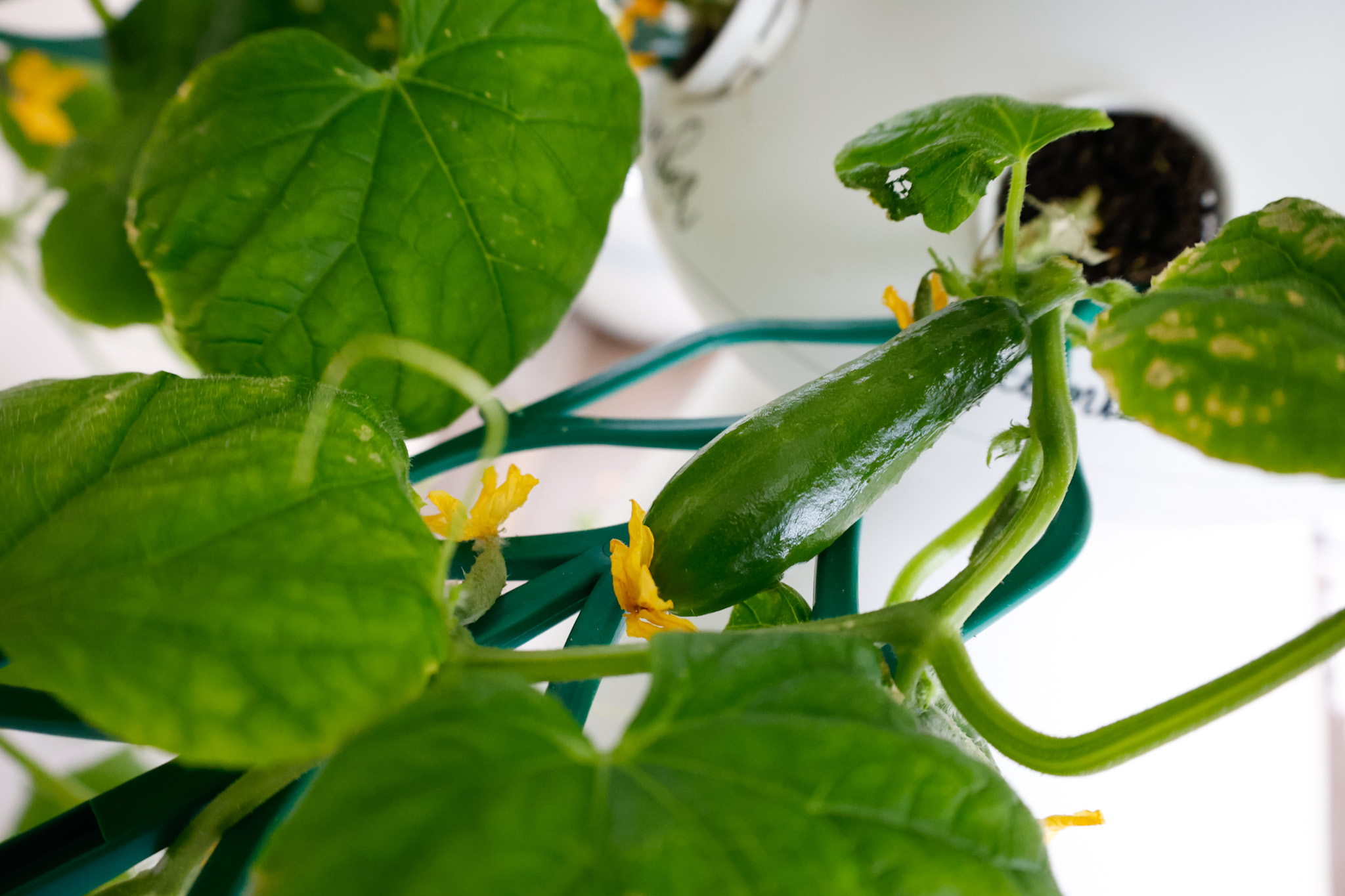 To better help with pollination, I also plugged in a small house fan to blow air onto my Farmstand throughout the day.
Fungus Gnats
My seedlings that came from Lettuce Grow seem to have had some fungus gnat larvae in them, so I am battling a little with gnats.
I will repeat the same process I did when I received my last batch and dip the grow medium (not the foilage) into some food-grade hydrogen peroxide.
I have been placing Mosquito Bits in a tea strainer within the tank (this helps kill mosquitoes and fungus gnats without harming anything else, including my plants) to help kill off eggs and larvae, as well as placing a few tbsp. of food-grade hydrogen peroxide in the tank.
In the future, I will be trying to grow my own seedlings from seeds and sharing that process with you!
I'm excited to start trying that and have already grabbed some Root Riot cubes that I've been advised work well in the Farmstand.
---
Be sure to check out my YouTube video to see the video update version and subscribe for weekly updates! If you have questions, please let me know what they are in the comments below!