We had such a wonderful family vacation and trip to Cedar Point this year in Sandusky, OH. Here are some tips to help you have the best vacation there this summer…
---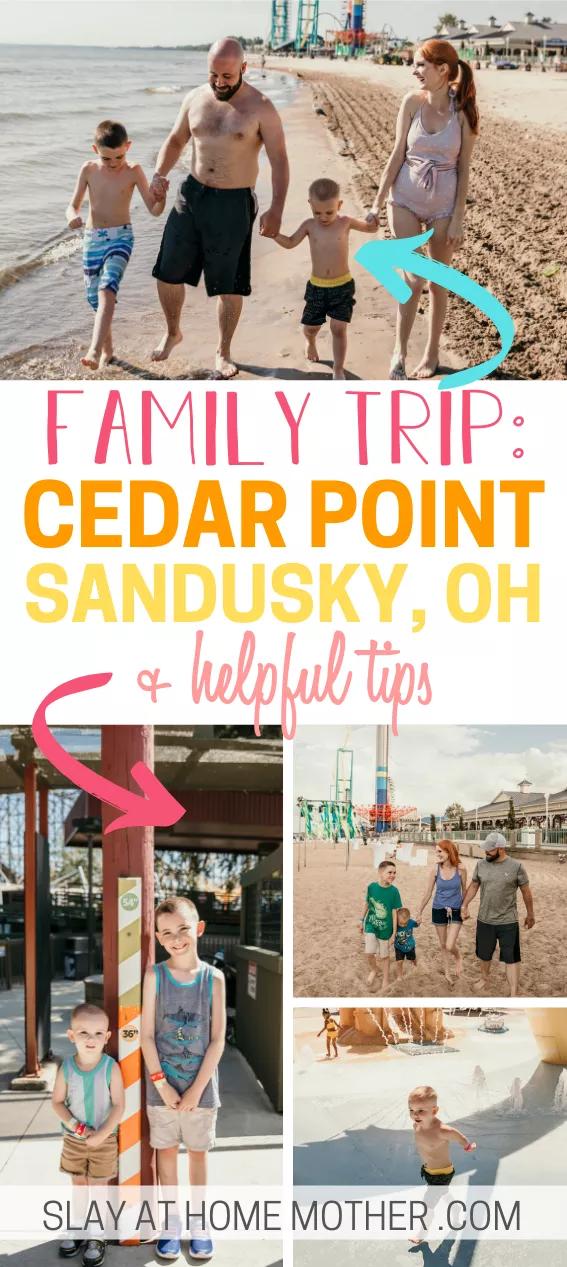 We were so lucky this summer that Hour Detroit reached out to us to grant us a weekend trip to Cedar Point!
I am so happy to share our experience with you all, but first I need to give the biggest shoutout to my wonderful photographer and friend, Olivia Stouffer from Liv In The Moment Photography, for accompanying us and taking all of these sweet photos.
I was actually able to relax during our trip and enjoy the weekend with our boys while she did her thang!
She's an incredible family and wedding photographer located in Metro Detroit, and if you haven't met her or used her for photos, I highly recommend her – you're seriously missing out!
She's amazing with our kids and knows exactly how to tell even a shy blogger who doesn't really like attention how to pose ;).
I shared our experience through Instagram stories, which are still available up on my 'CEDAR POINT' highlights, so this blog post is more of a recap of our adventures.
I'm throwing in some helpful tips and tidbits as well because there were a few questions I wanted answers to prior to our trip that Google couldn't quite give me…
This trip was more family-focused, and much of our time was centered around the kids having fun.
We ended up having just as much fun with the boys, though, and I have to say it was our best family vacation thus far.
While I was about 10 weeks pregnant during this trip, I was lucky that my morning sickness has passed and I was actually able to eat during our trip.
I also was up to walking through the park, which is approximately 364 acres in total.
Of course, we didn't walk that much.
The first day at Cedar Point was busy, and because we were focused on activities for the kids, our first stop was Camp Snoopy.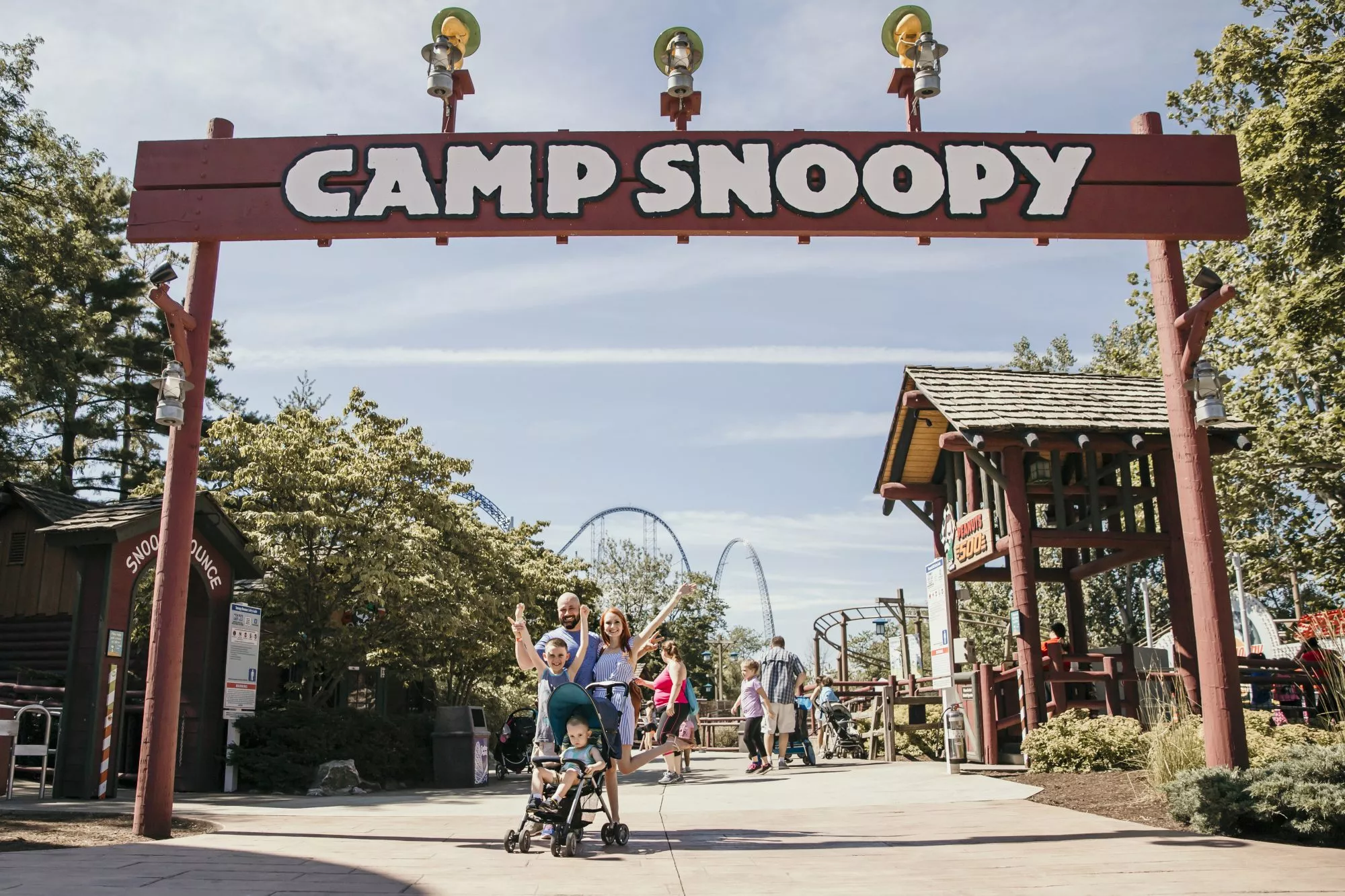 Here are some helpful tips that saved us a ton of sanity and money:
Bring your own stroller. This will save you about $20 a day from having to rent a stroller. Even if your kids are old enough to walk, they will need to rest from time to time as there is a ton of walking at Cedar Point. There were times we pushed around our bags in the stroller to save our backs while the kids were on rides or ran around as well.
Fast Passes are a real time saver and worth the extra cost if you plan on riding coasters all day! They shave your waiting time down from what might be anywhere from 20-60+ minutes to about 2-5 minutes…
All-day eating passes are also a MUST. I believe the all-day eating passes for 5 people came out to be around $175 per day. Our first lunch total would have come up to over $100 for all five of us (including Olivia) if we were paying out of pocket. You can eat every 90 minutes with these wristbands, and you have tons of restaurant options to choose from.
Take a good long look at the map beforehand. If you can divvy up what rides and areas you want to visit between the days you'll be at the park, be smart about it! This is done best before you walk into the park, so if you can look the map up online or grab one from the Hotel Breakers desk during check-in to look over, do it!
Hotel Breakers is the absolute best place to stay during your vacation if you have the extra money. The only downside is there is no complimentary breakfast, but you are able to enter both Cedar Point and Cedar Point Shores a full hour earlier than everyone else by grabbing an 'Early Pass' at the desk, woohoo!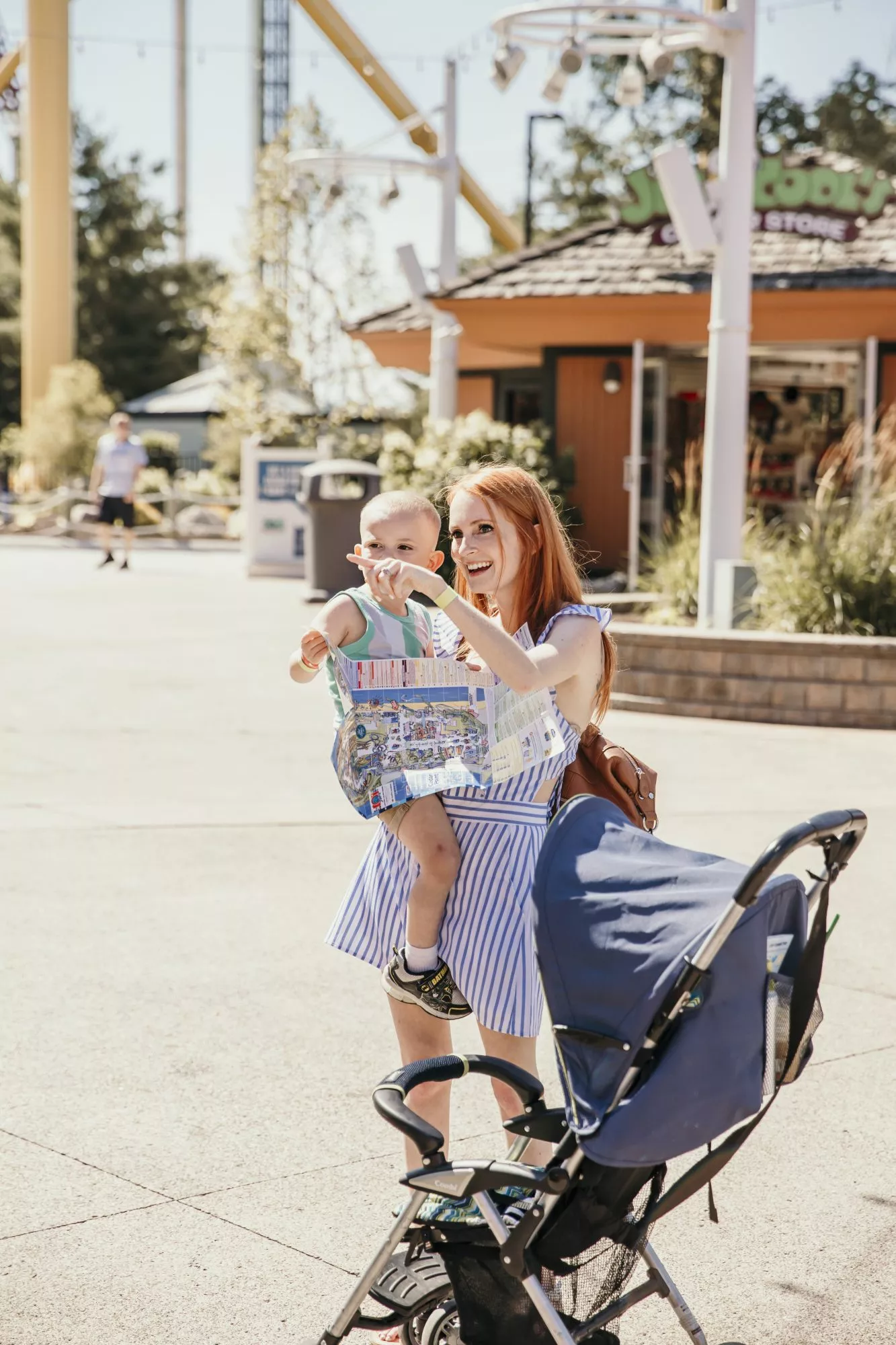 Before getting on any rides, we checked our 3-year-old and 9-year-old's height.
Jax, our little guy, luckily hit the 36″ mark, which meant he was eligible for just about any kid's ride (although some rides required an adult to be with him).
Given the fact that I was 10 weeks pregnant, that meant Chris accompanied him on most rides.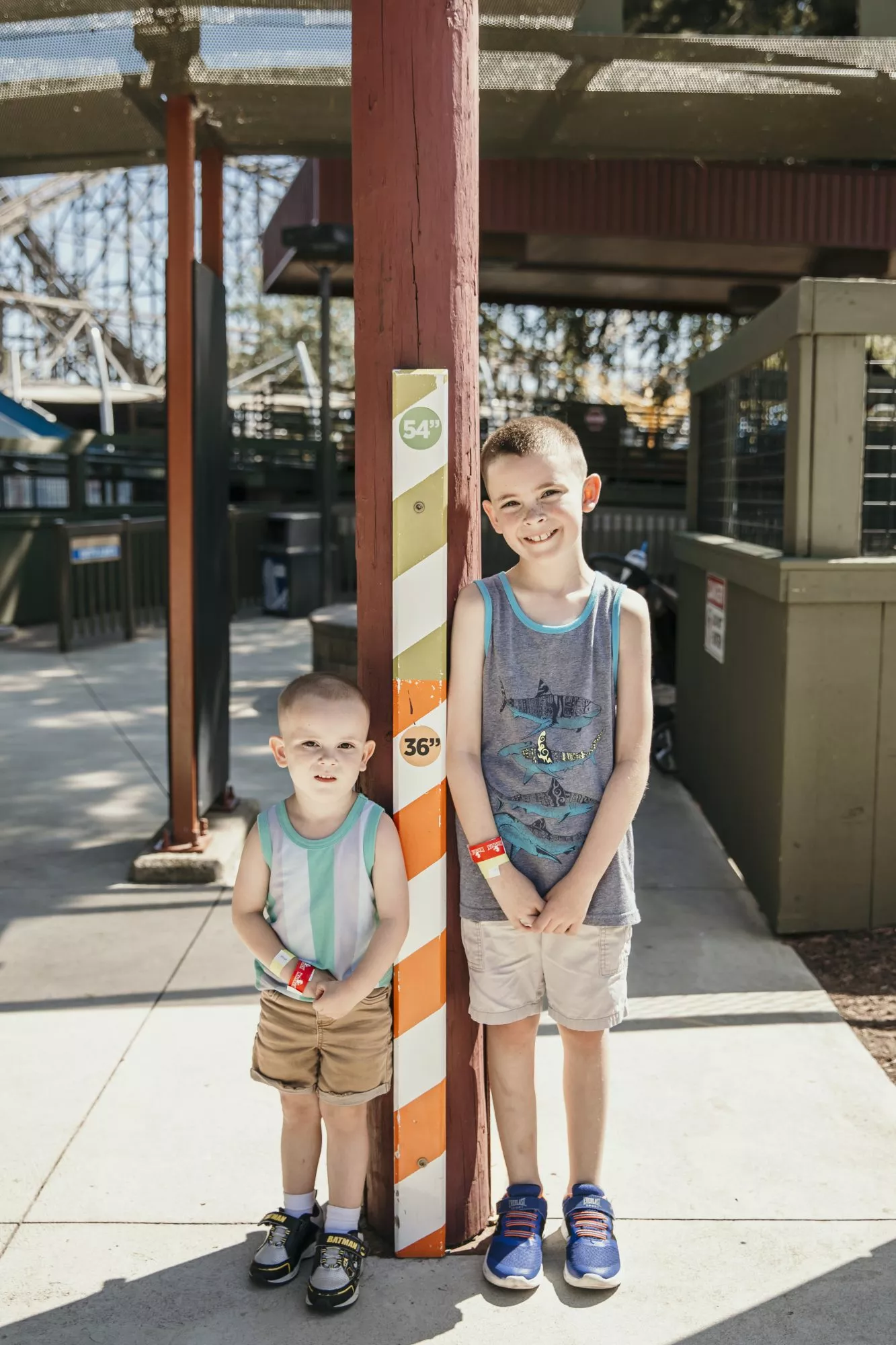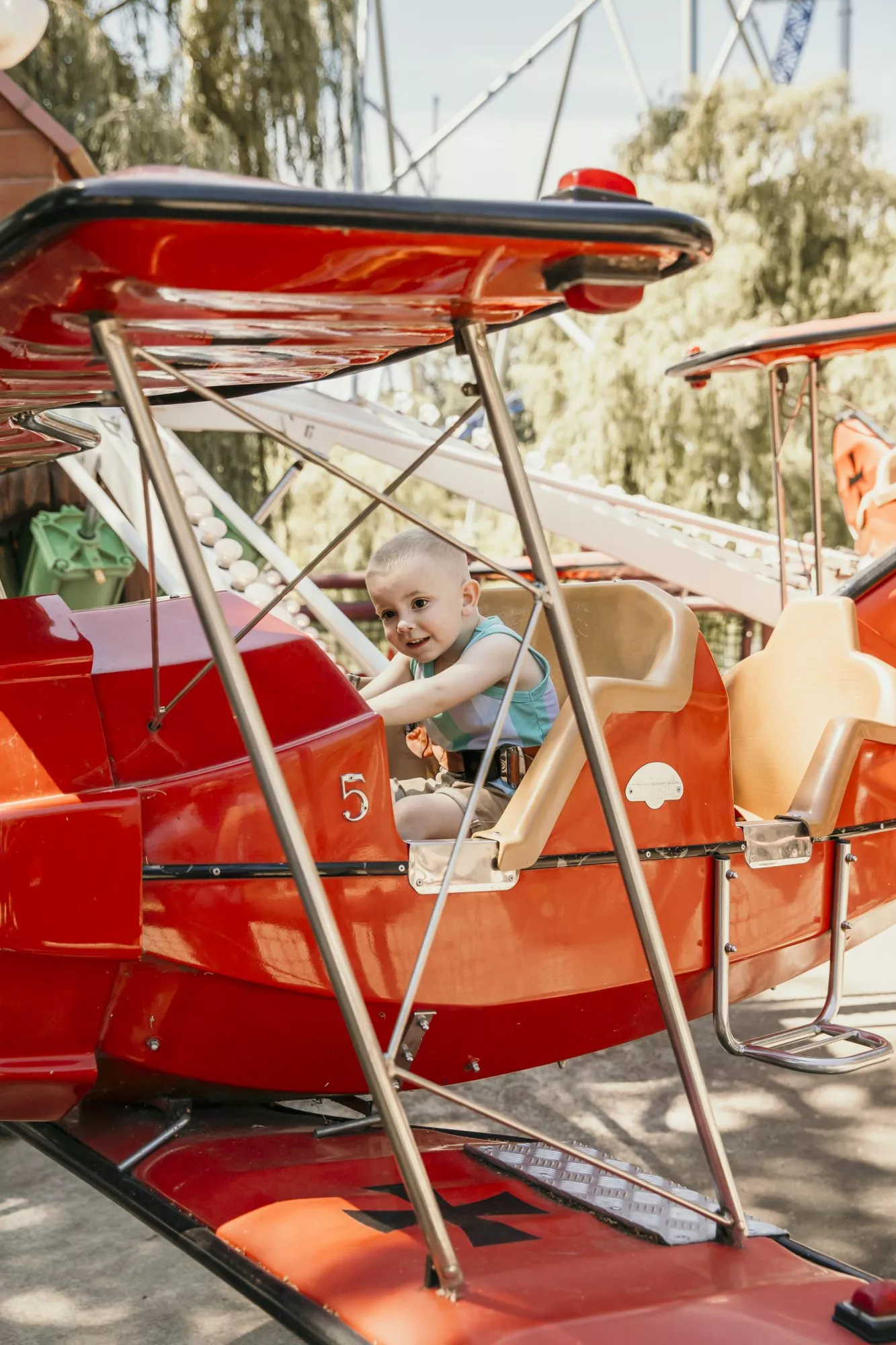 Jax is such a daredevil at heart, so I wasn't surprised when he expressed interest in going on this plane ride in Camp Snoopy.
My older son, Max, has a very mild case of sensory processing disorder and doesn't care for rides that go up in the air.
But to Jax, this ride meant adventure and thrill.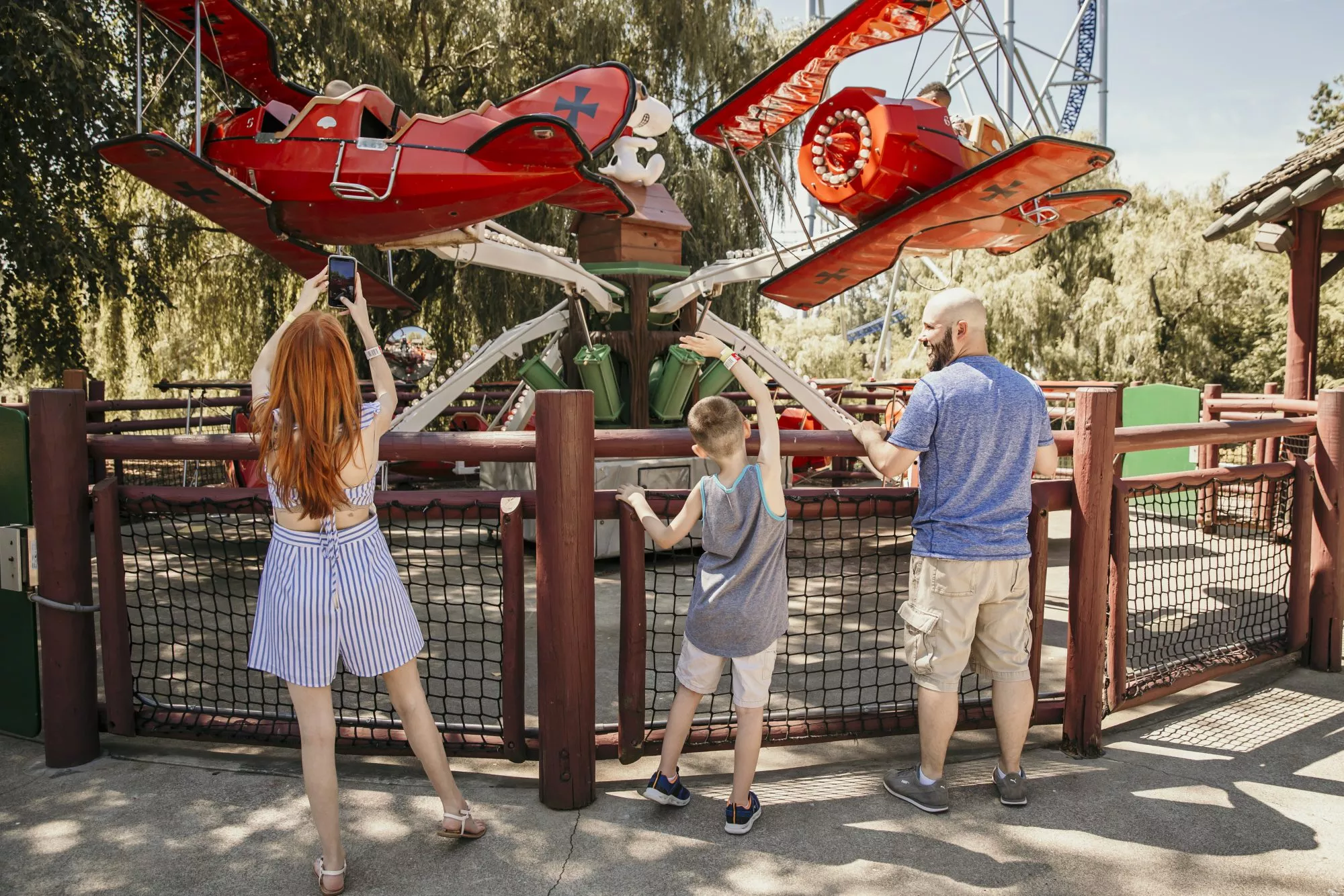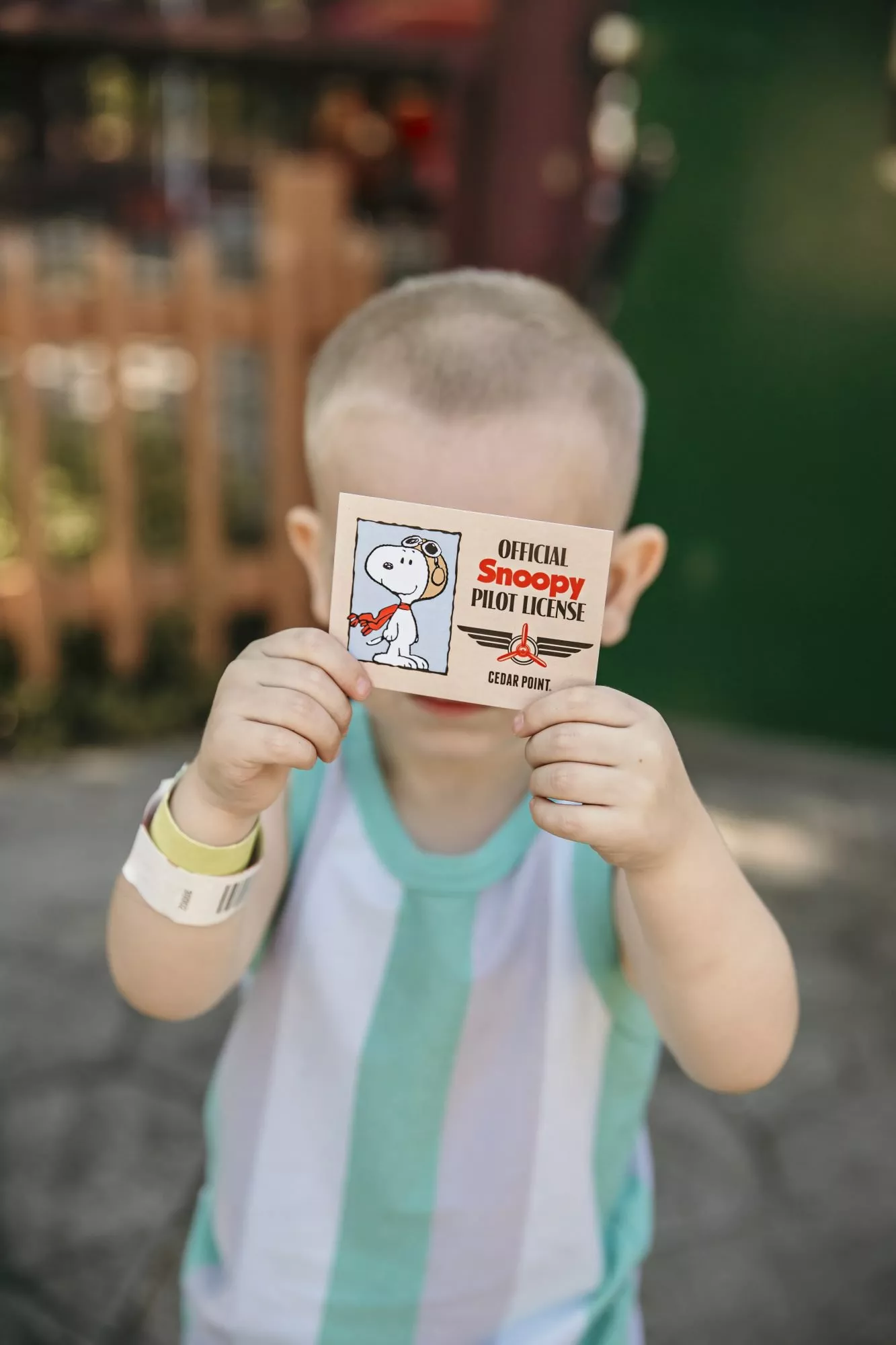 While my heart raced a little because my sweet baby boy was flying up in the air on his very first solo ride, it was also so very happy because this was perfect for his wild and adventurous spirit.
He was handed an official Snoopy pilot license after the ride and was more proud than ever.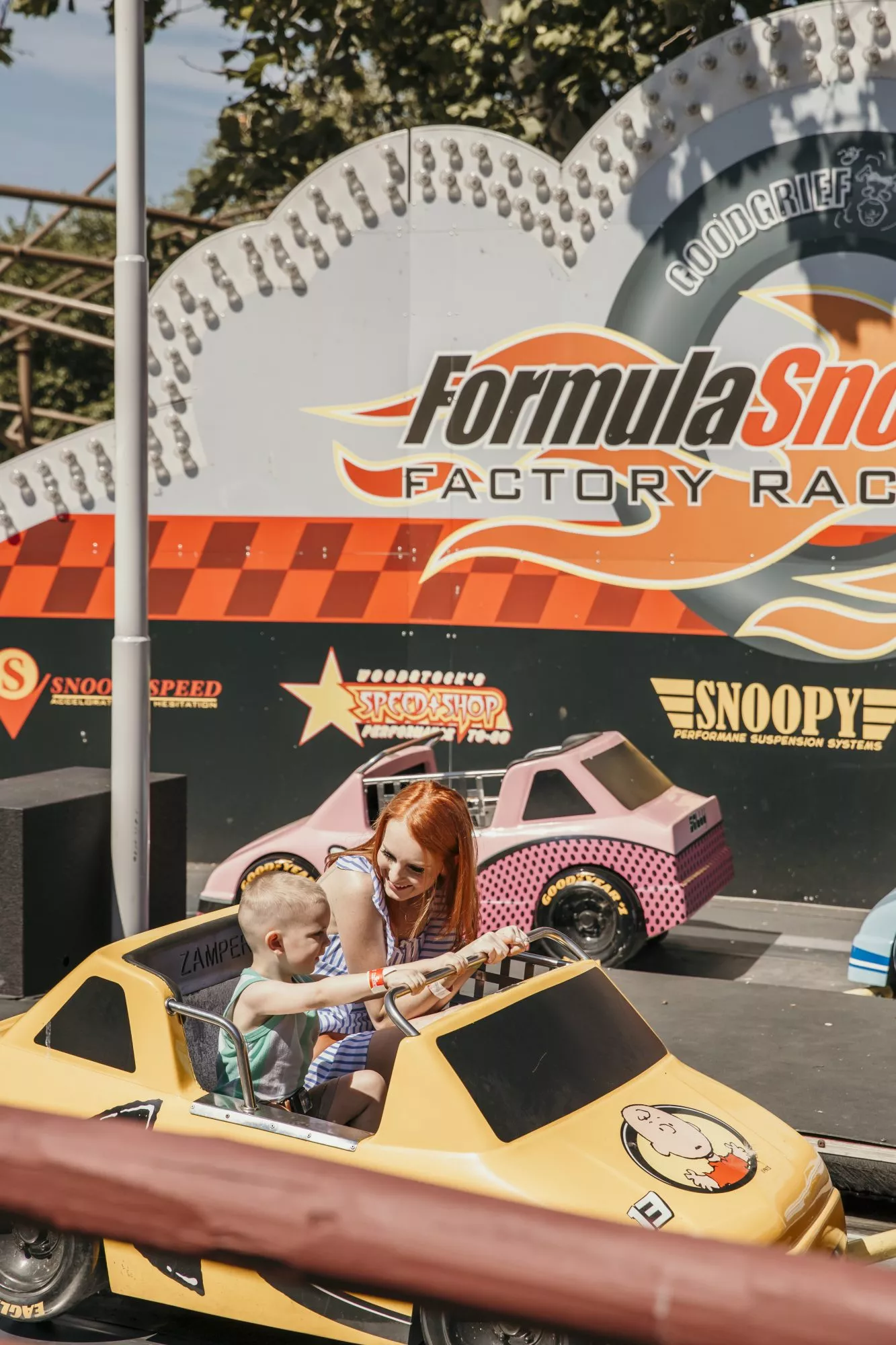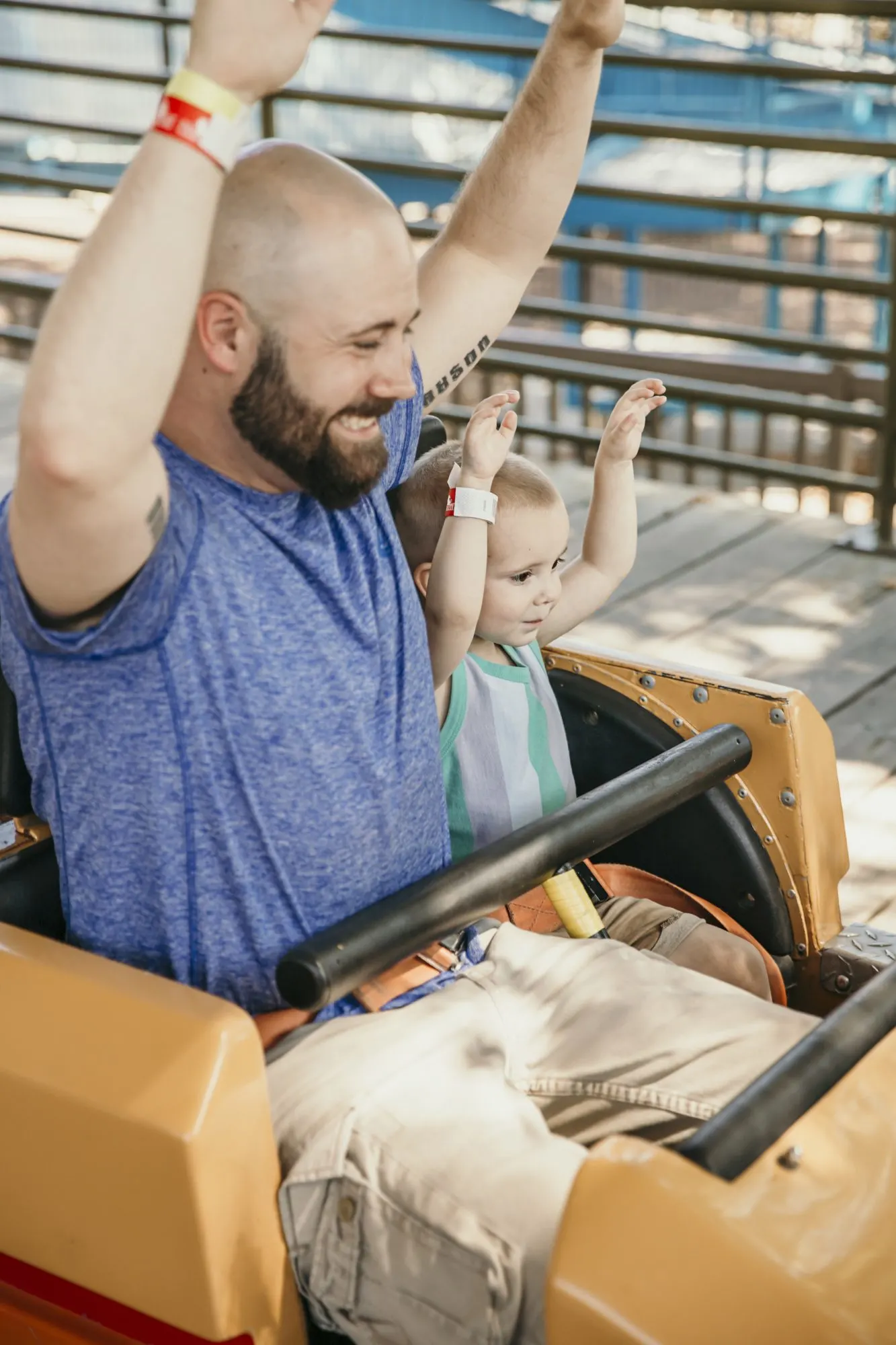 Jax then went on his first-ever roller coaster.
At only 3 years old and 36″ tall.
Chris accompanied him, and they rode the ride twice because they enjoyed it so.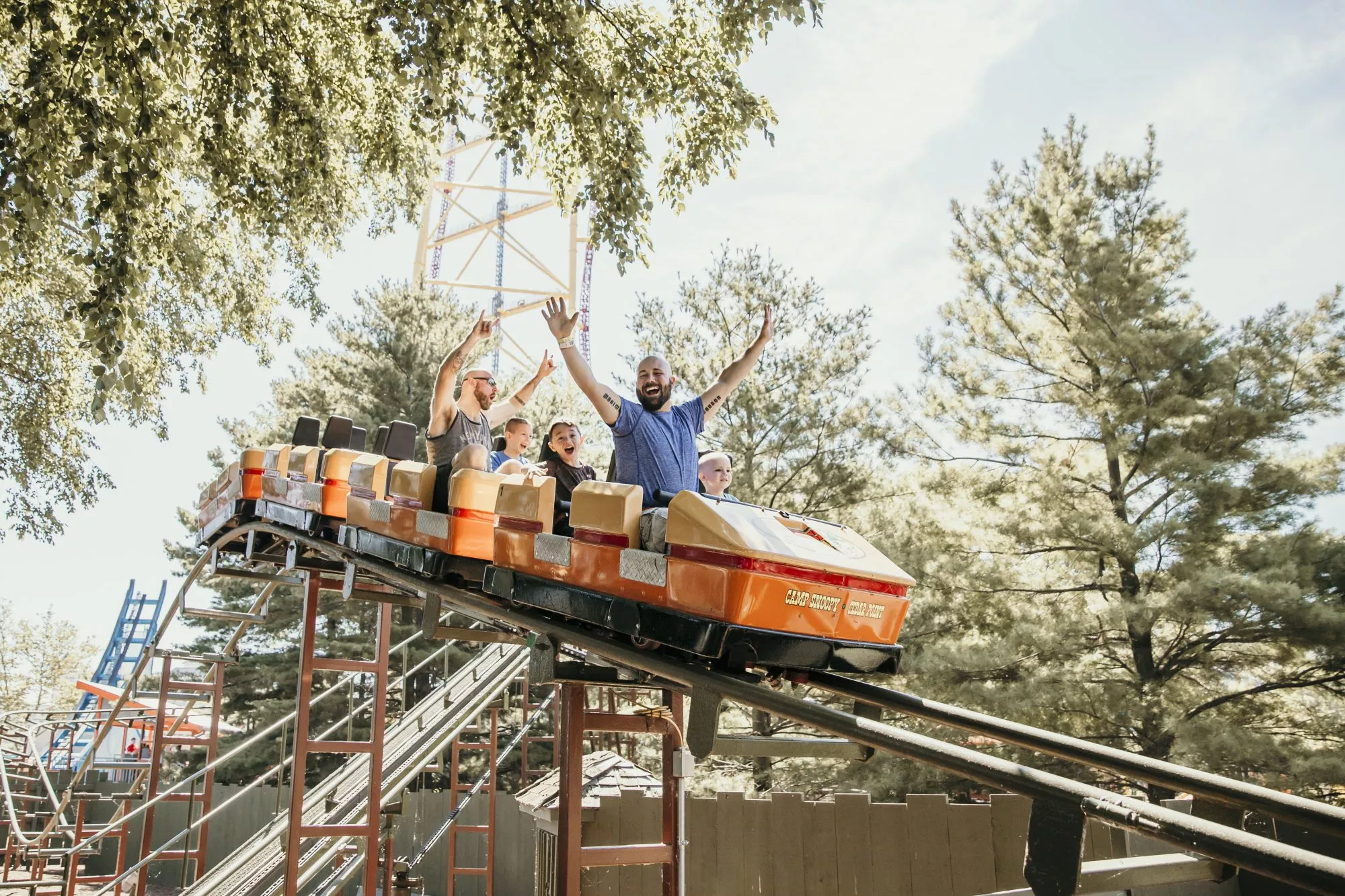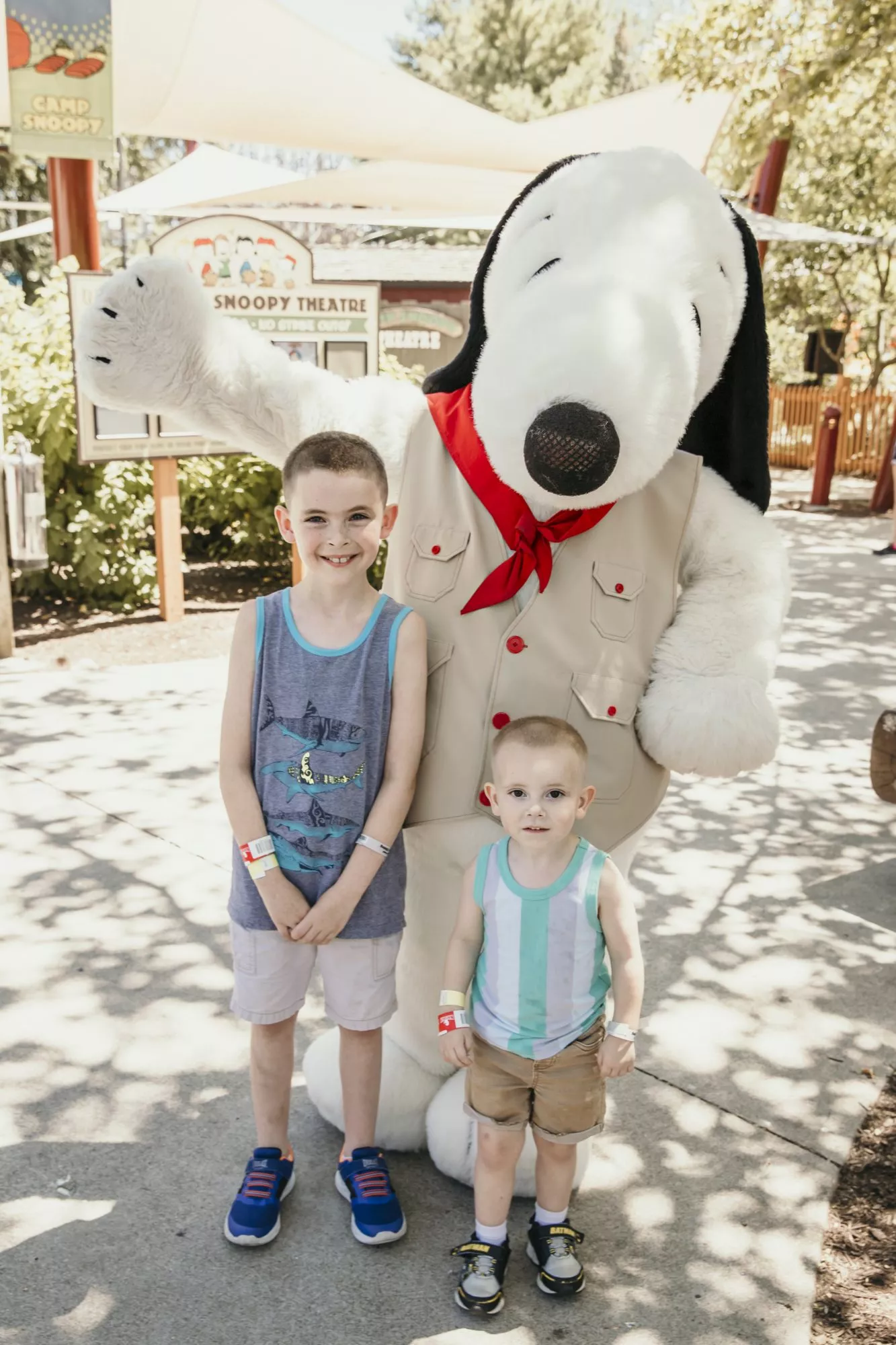 Both boys hopped around in the Snoopy Bounce and posed with Snoopy while we were walking through Camp Snoopy.
Seeing them both light up as we ventured through the park and went on all the different rides was incredible!
After Camp Snoopy, we decided to make the most of the sunshine and head to The Forbidden Frontier on Adventure Island.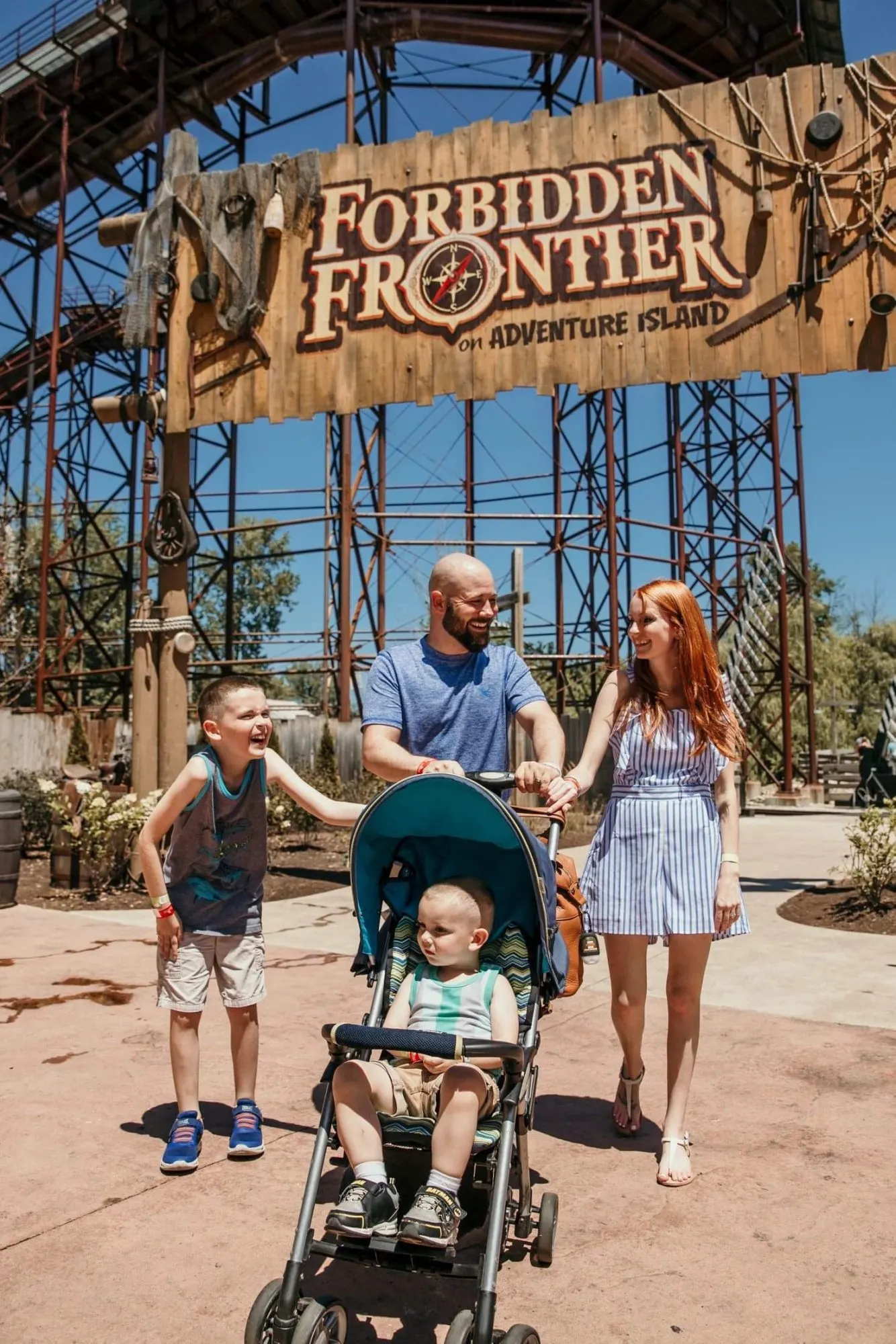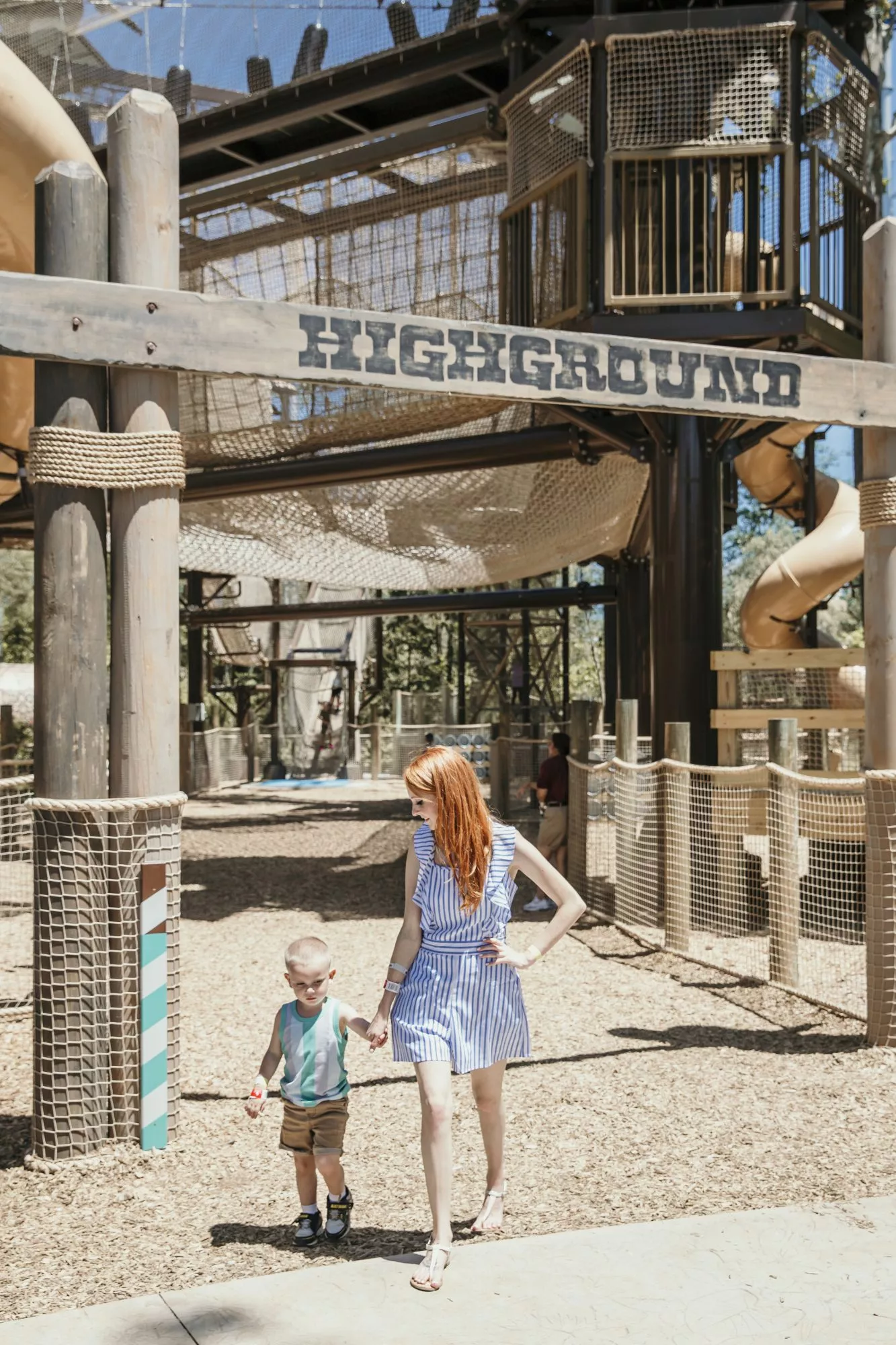 There, we let the kids play on the Highground (like a treehouse-style playground with slides, and rope bridges, and ladders) while we sat in wooden rocking chairs and relaxed.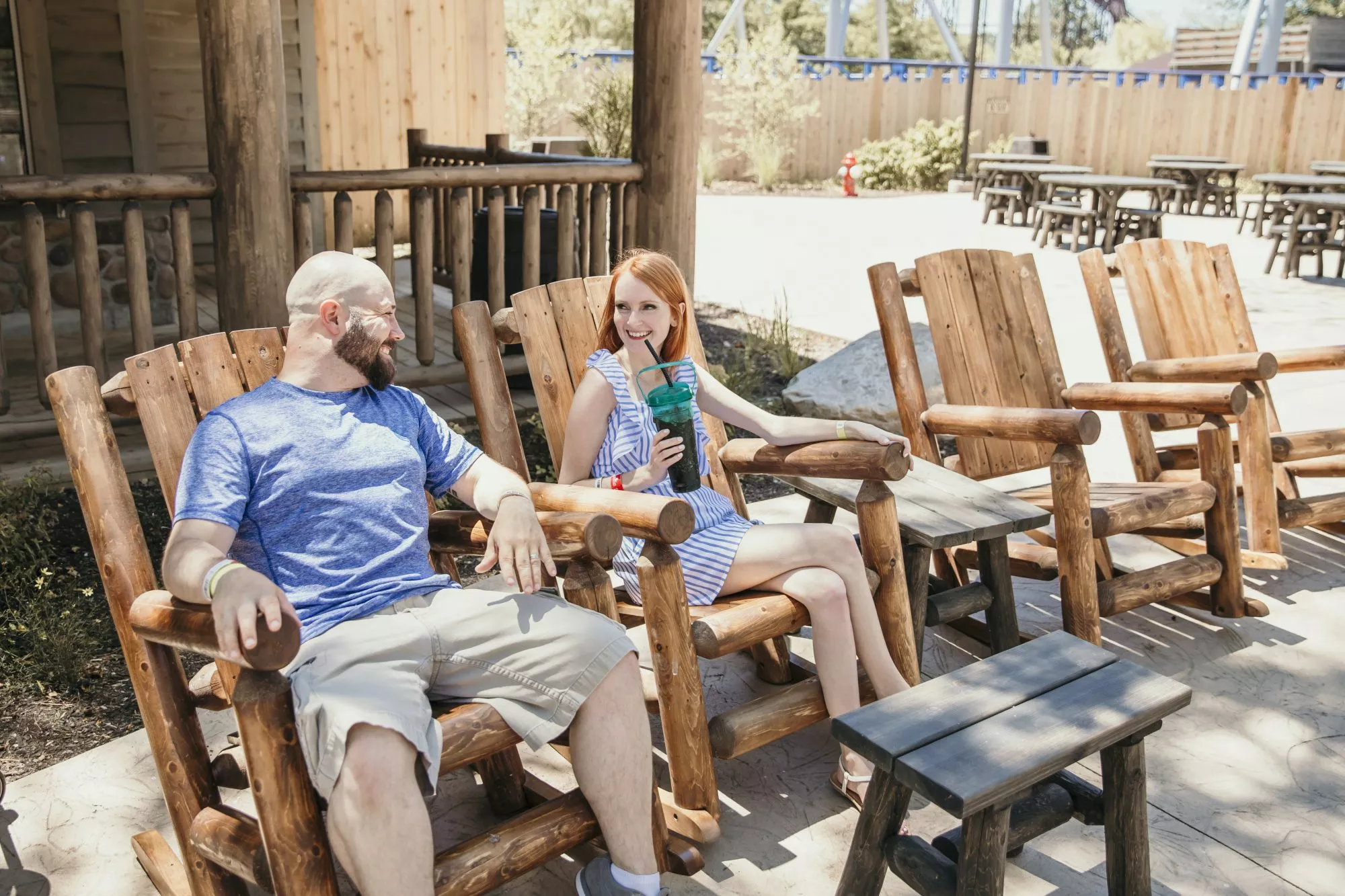 We also went exploring through The Forbidden Frontier, where it seemed 'Truce Day' was in full effect (or was it?!).
Clues and interactive staff led us on an adventure to seek the truth behind what was really happening there…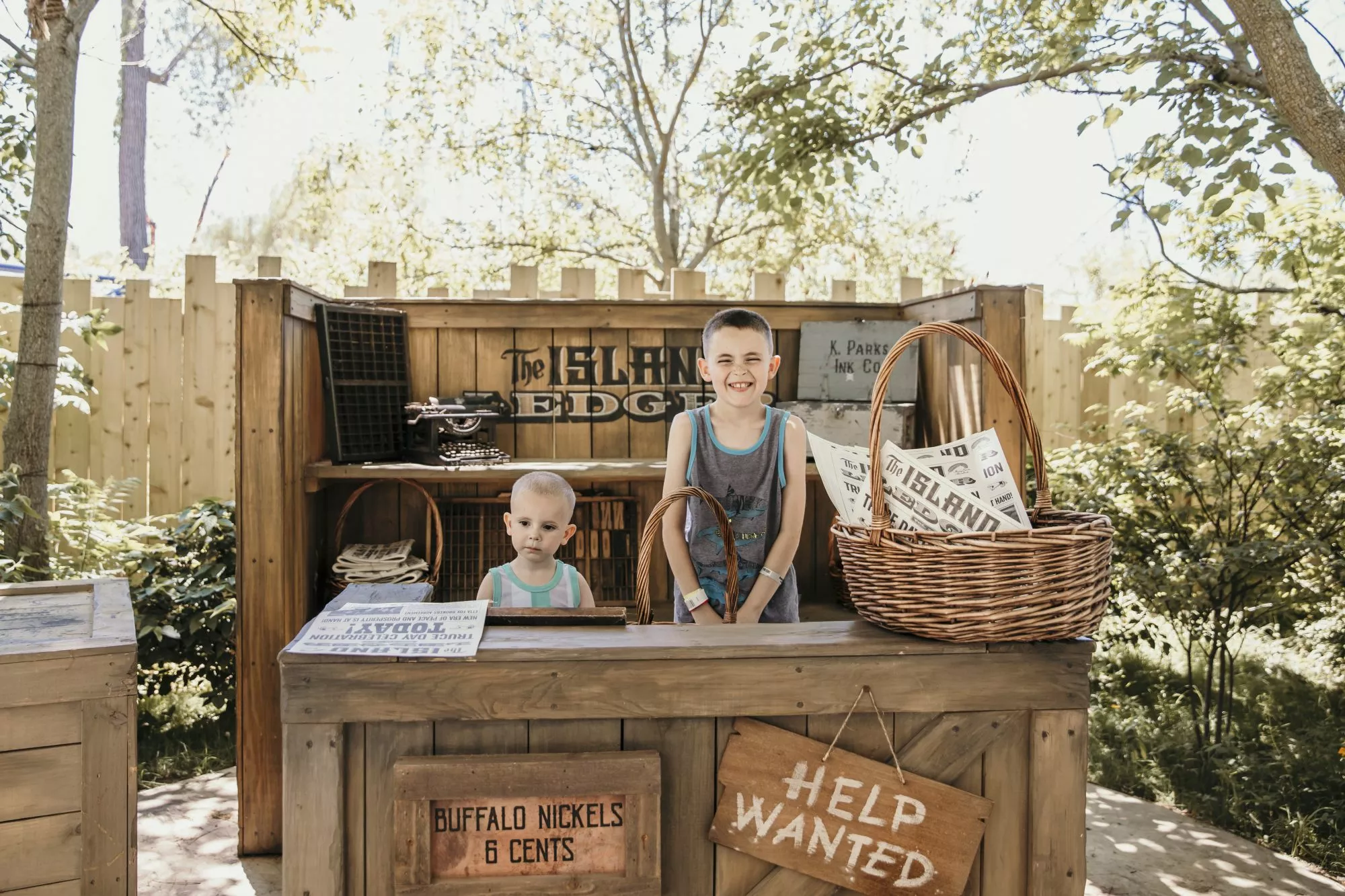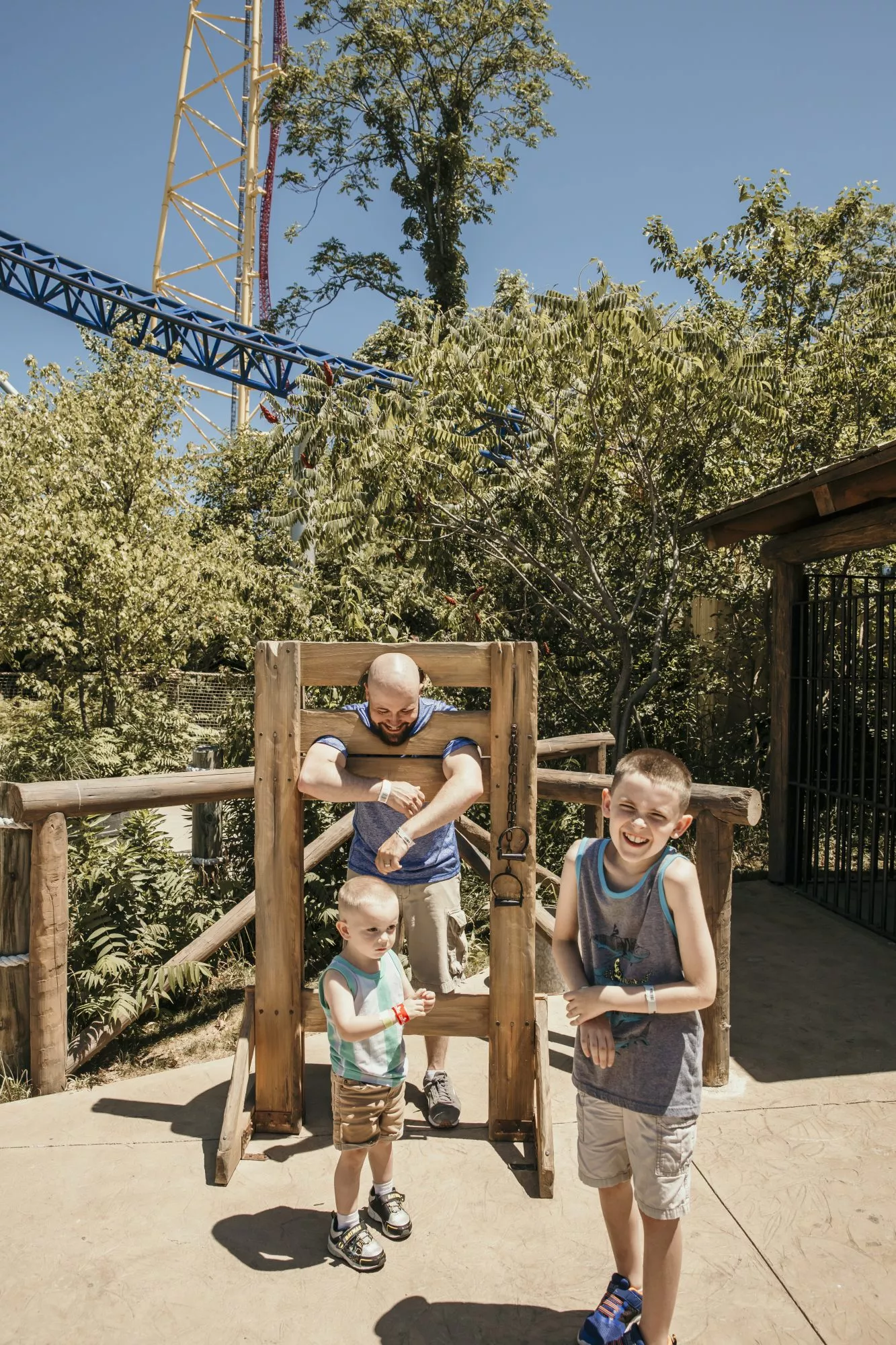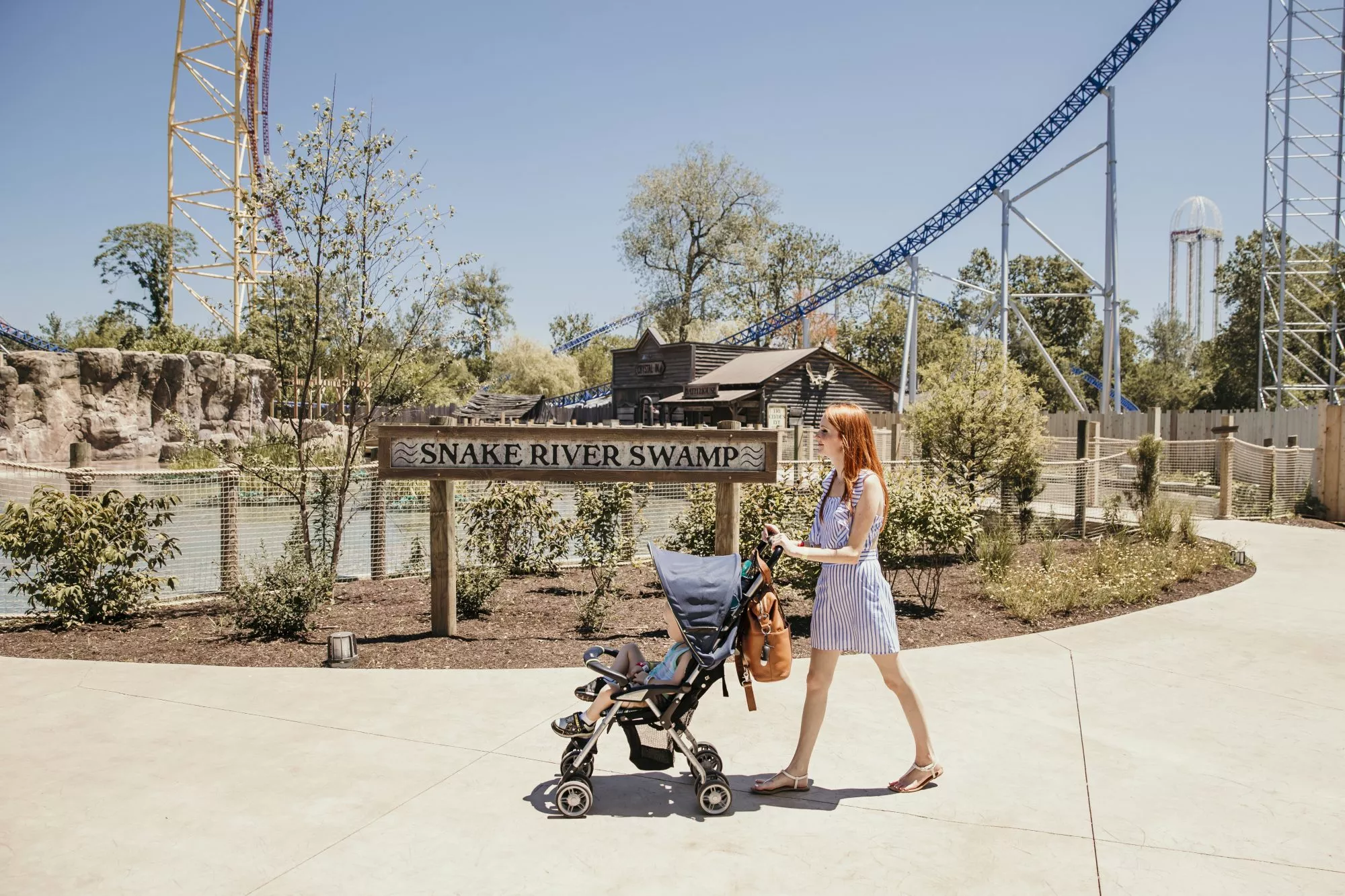 Located in FrontierTown's First Aid station is a sensory room for those with Autism and SPD.
Because Max has very mild SPD, the park was very overwhelming for him at one point, so we decided to explore Cedar Point's sensory room.
We went inside, and he was able to relax on a giant bean bag chair, look at some calming lights, and touch different textures with the sensory toys present on the wall.
If you want to see what the room looked like, be sure to check out my Instagram stories labeled 'CEDAR POINT'.
I can't tell you how thankful I was for that room, and for the chance to take 20 minutes so Max could recenter and recollect.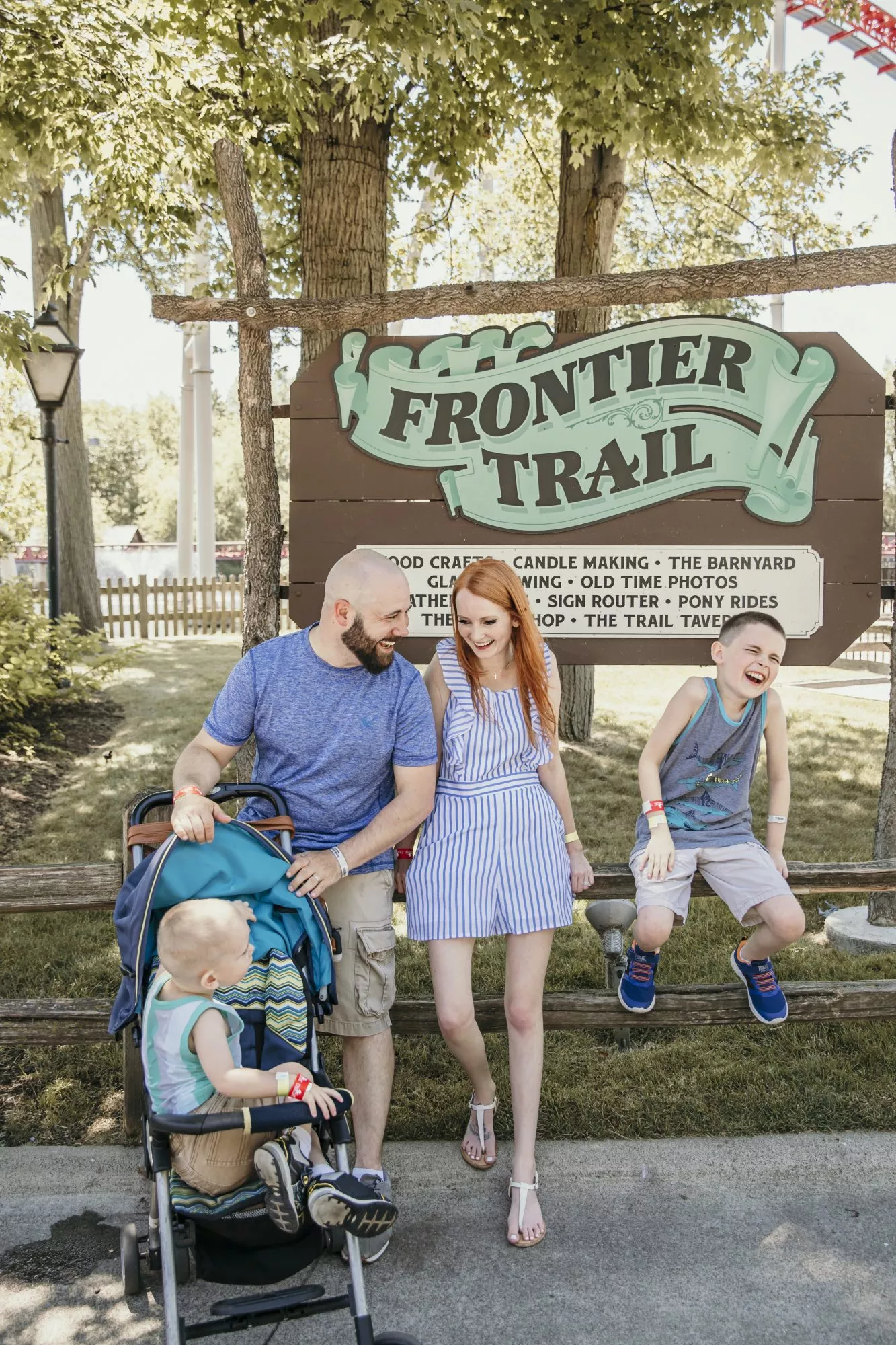 After a day of walking in the sun and laughing until we couldn't breathe, we retired to our hotel for the afternoon to rest our feet and our heads at Hotel Breakers.
We snoozed for a couple of hours before heading back into the park and enjoying some kiddie rides and games in Kiddie Kingdom.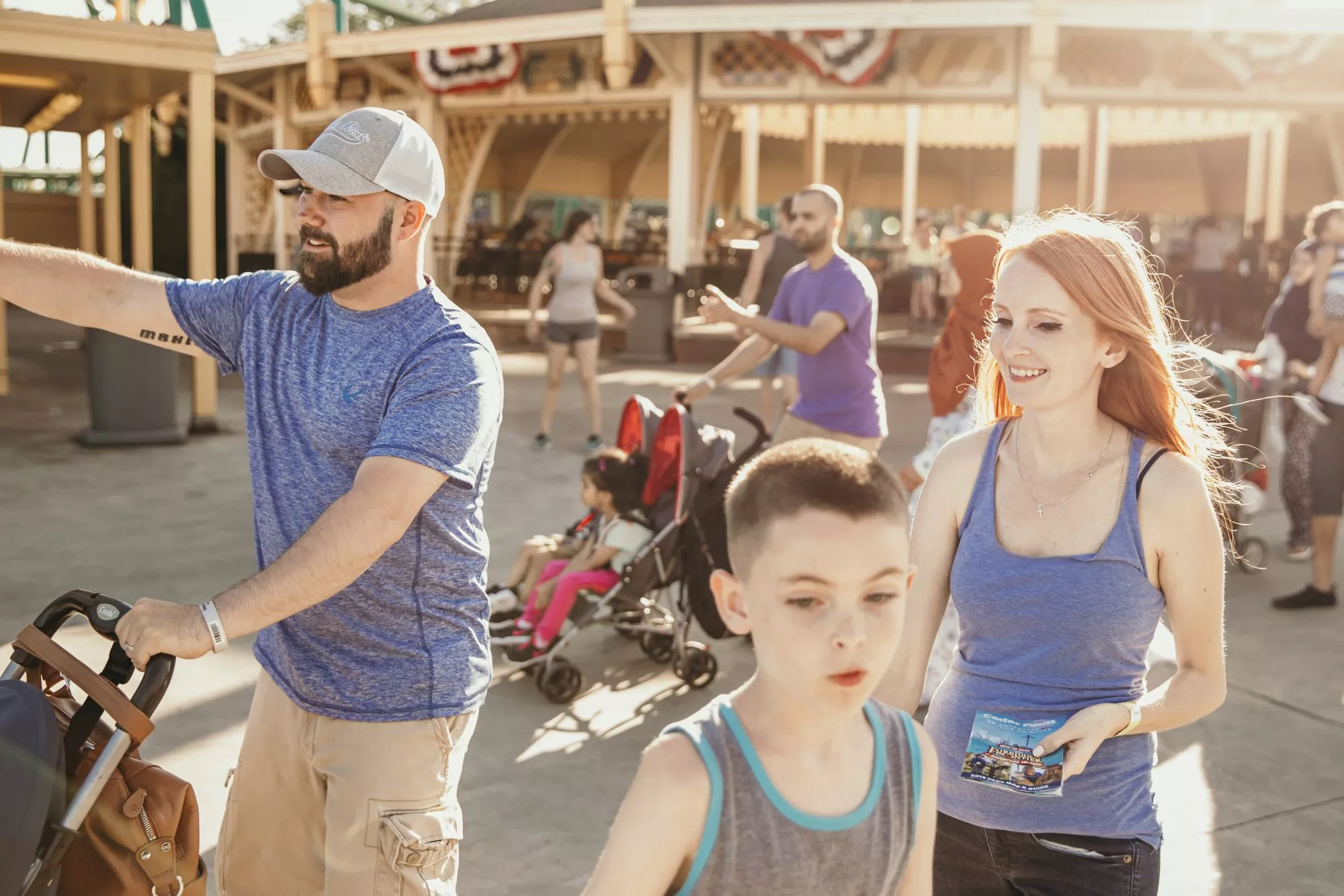 Max loved riding the Carousel with daddy, but also rode some rides with Jaxson!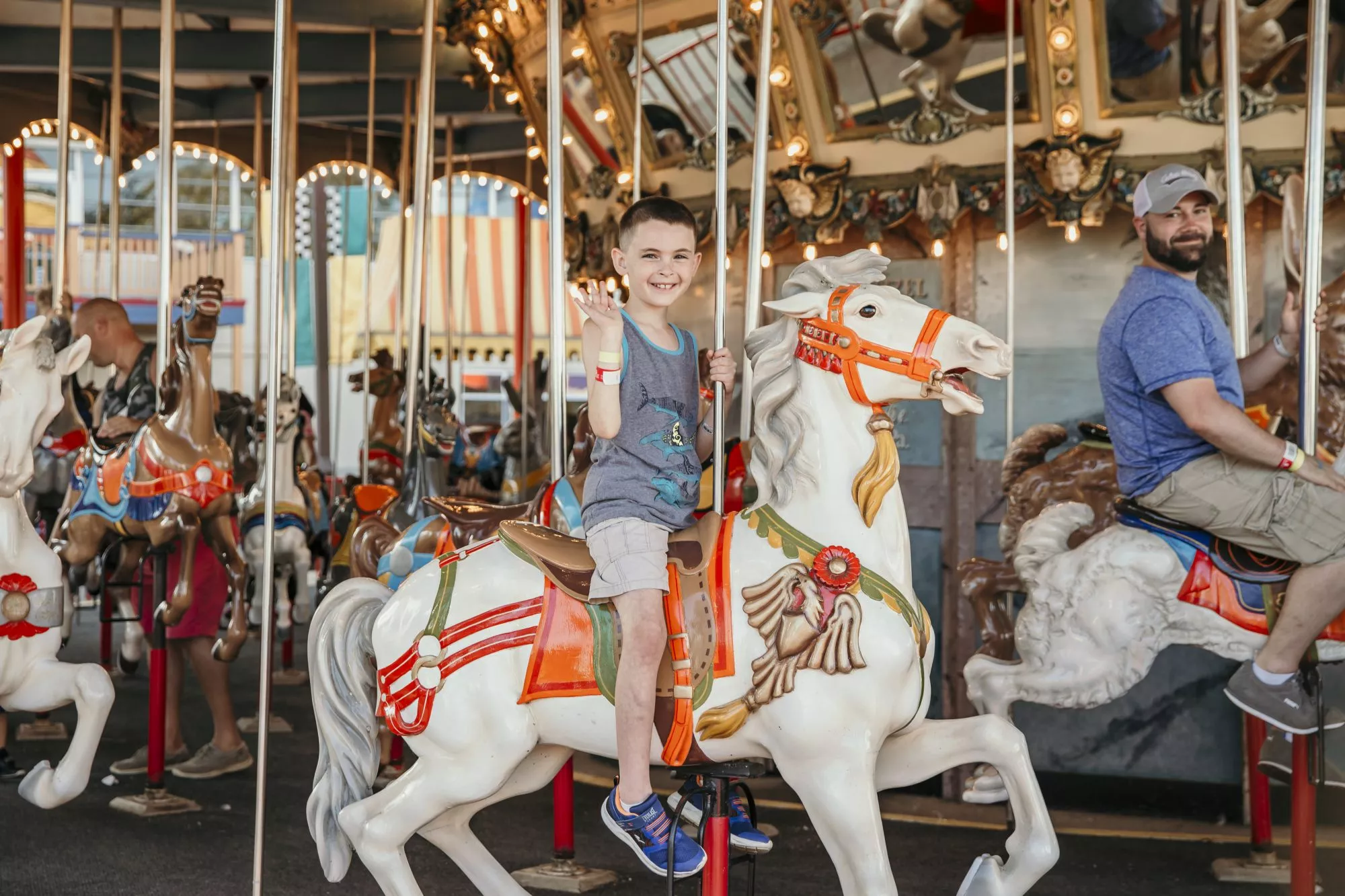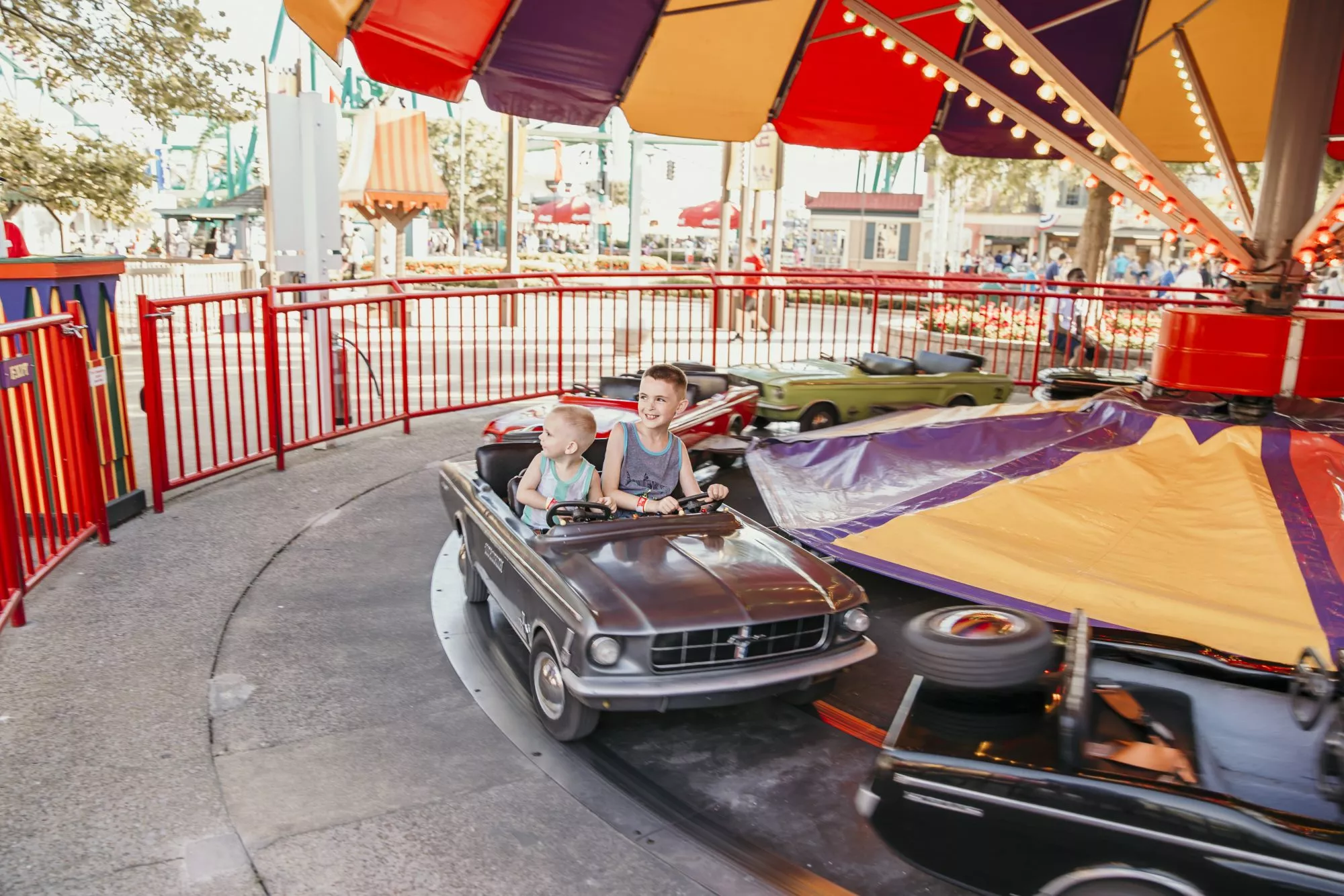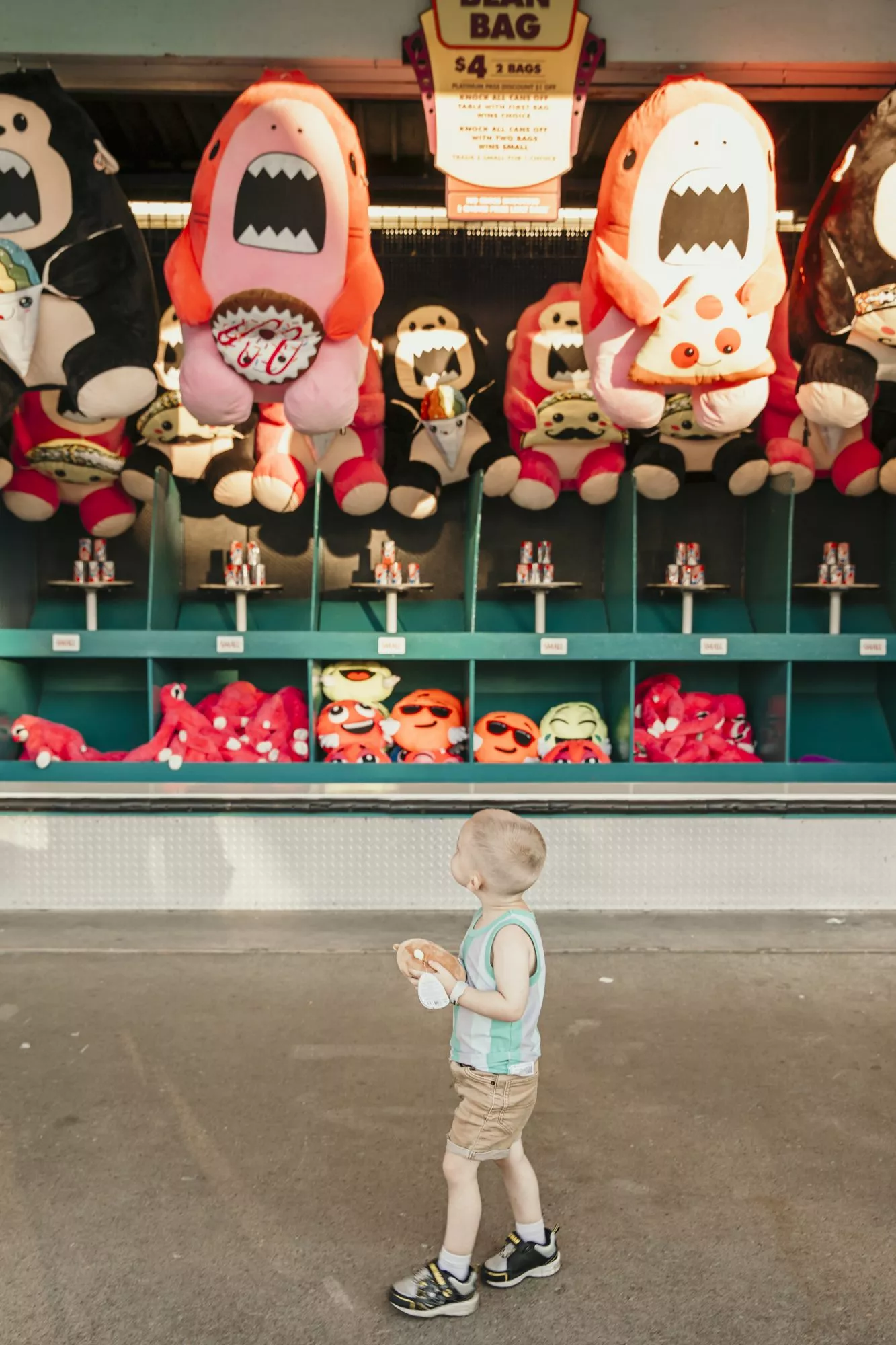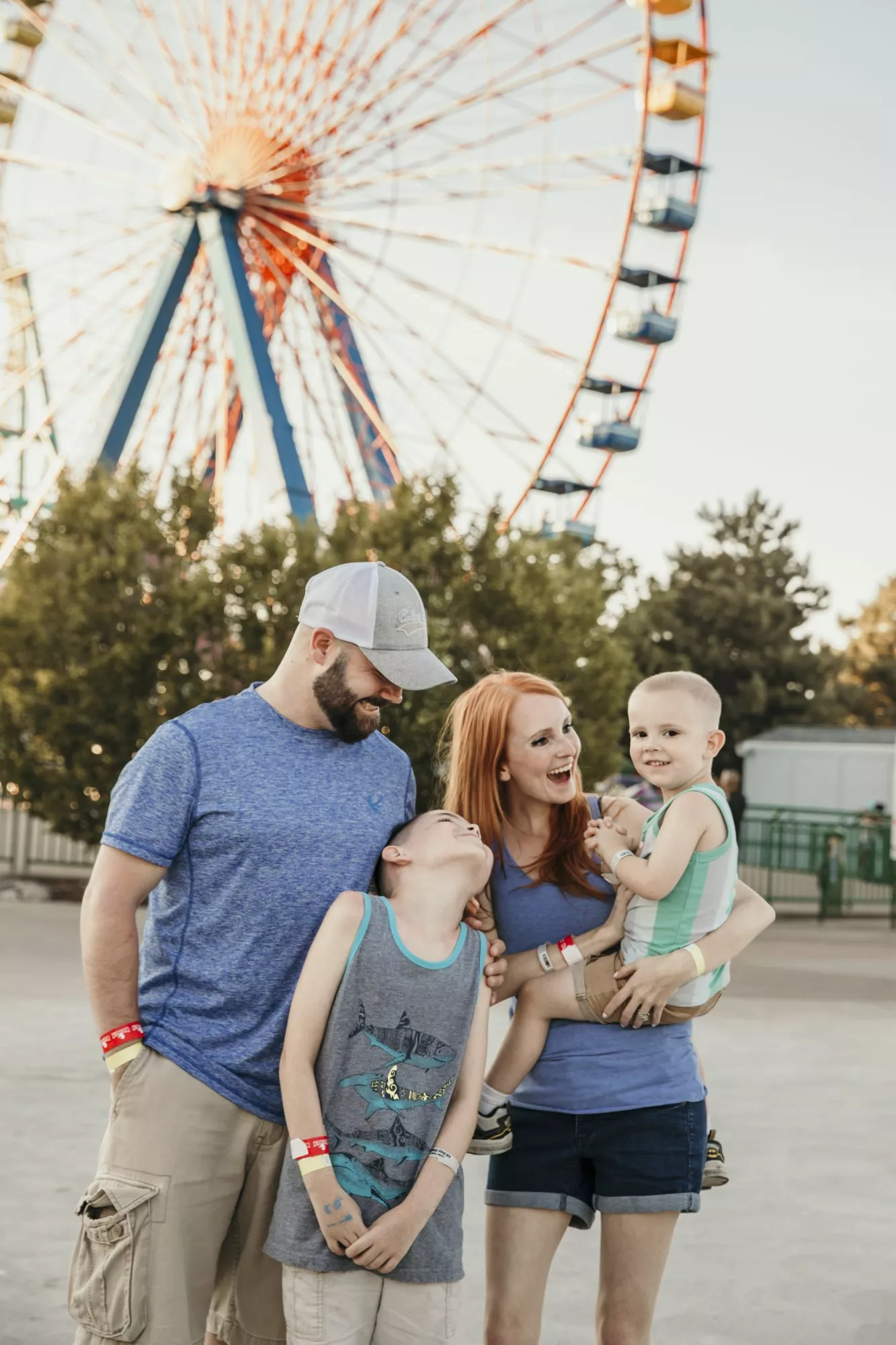 A few dozen rides later, we started hearing music playing by the beach and decided to explore a bit.
Cedar Point Nights was in full effect, with live music, dancing, and a party going on right on the beach, complete with limbo, games, and chairside bonfires.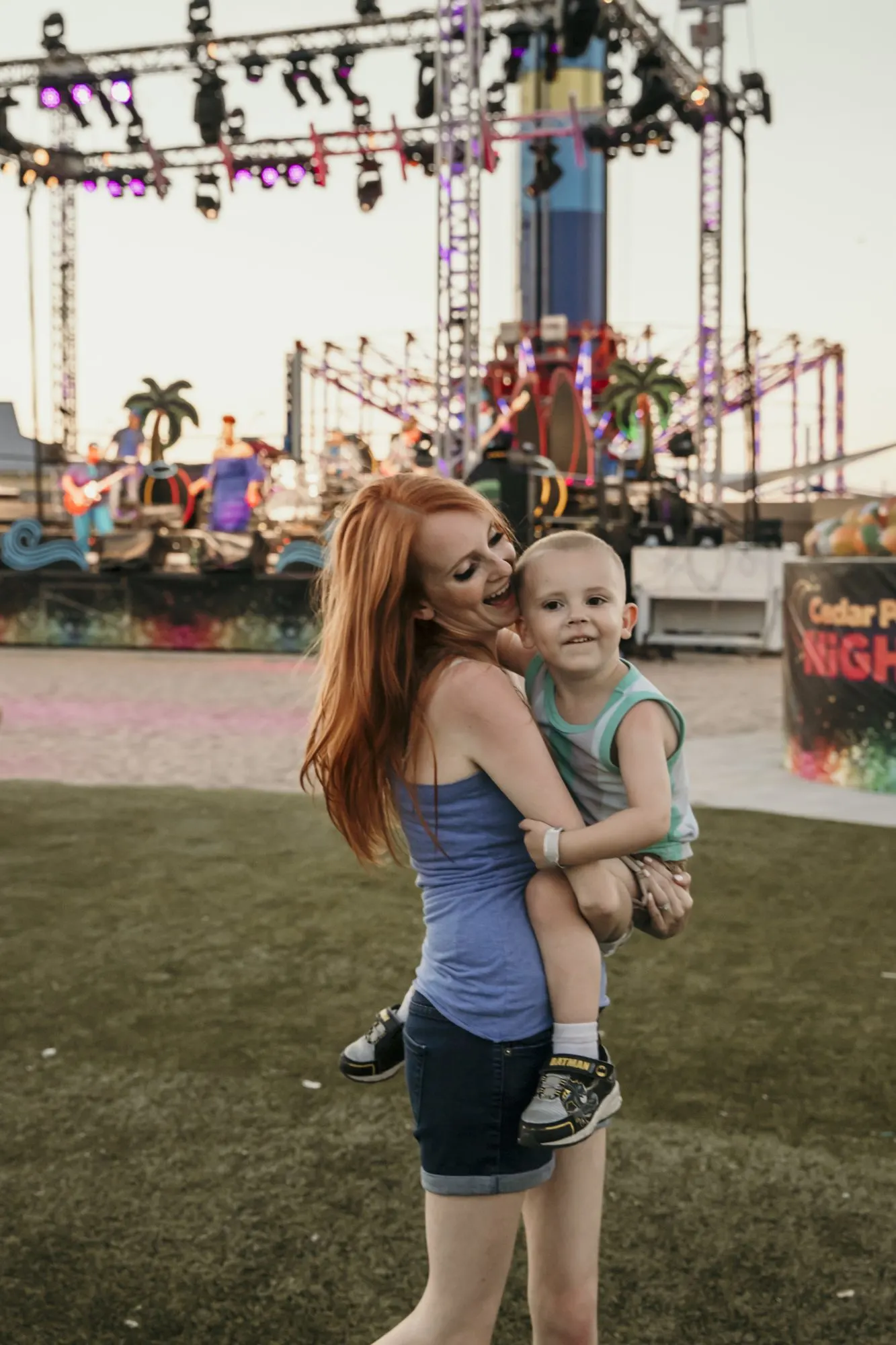 Jax and I danced to Walking On Sunshine because that's my jam!
As the music kept playing, a bunch of the kids in the crowd ran barefoot up to the sand in front of the stage and twirled and danced to the beat, which was so fun to see!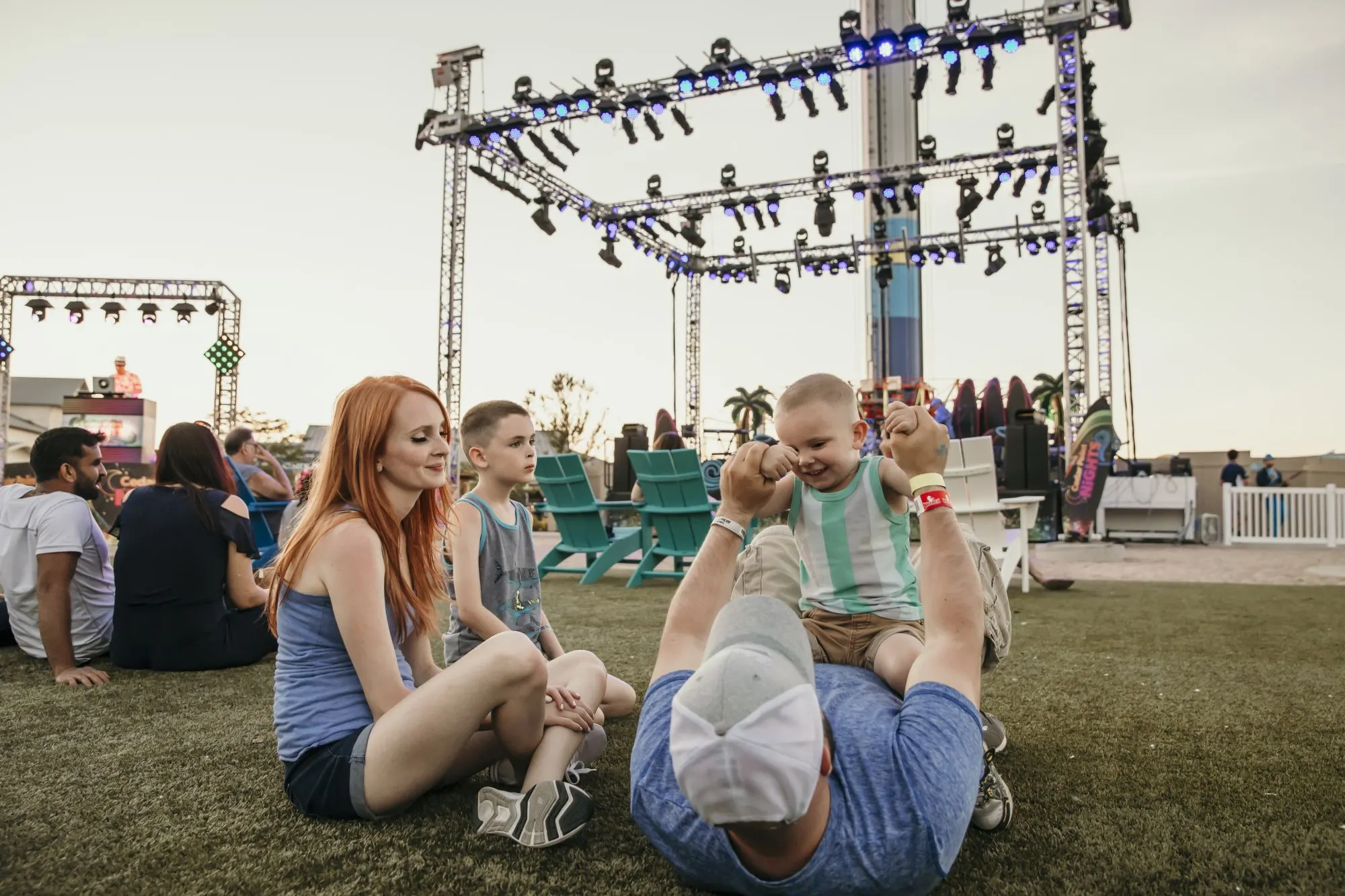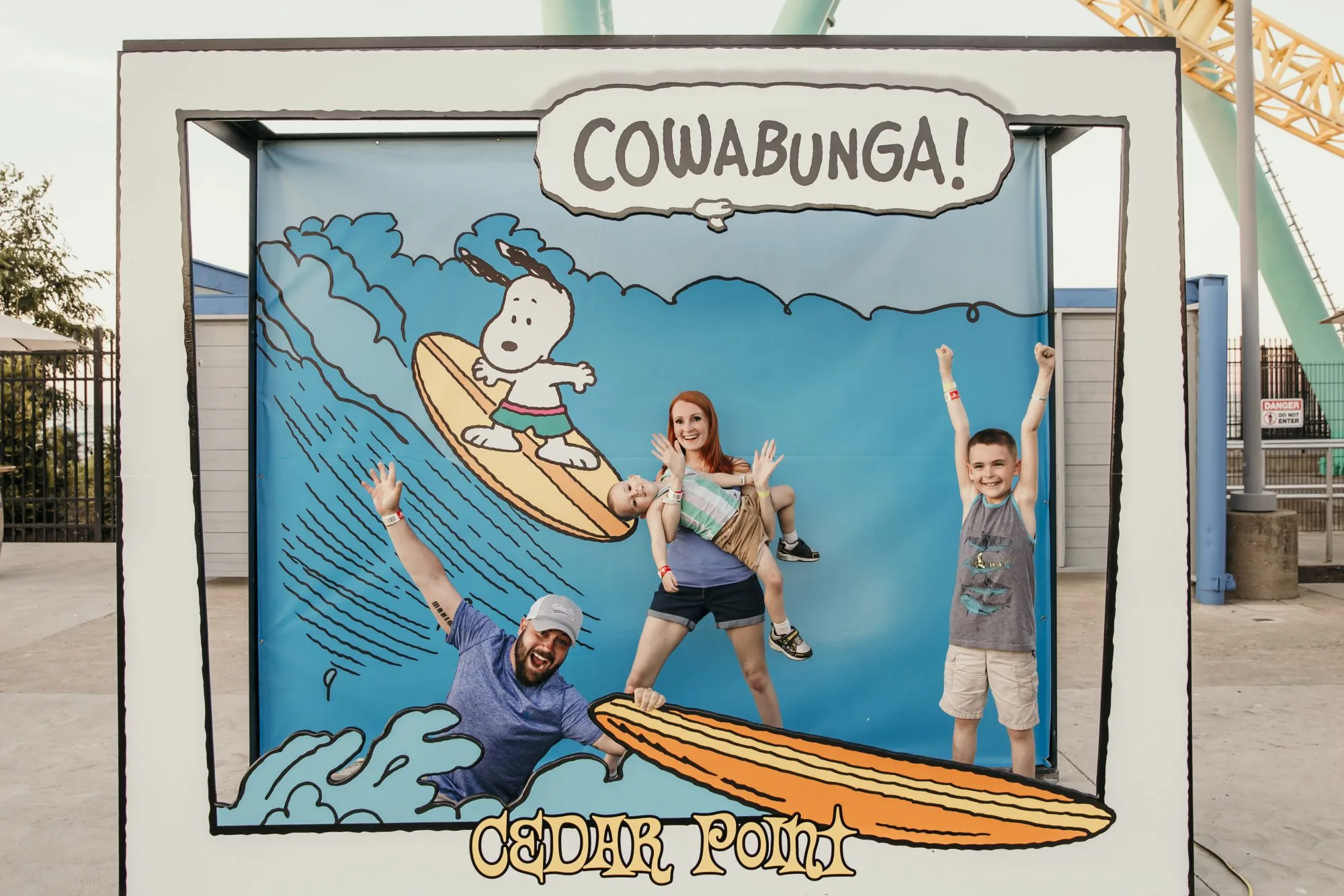 The next morning, we woke up from our comfy bed in Hotel Breakers (pictured below in the background) and decided to dip our toes in beautiful Lake Erie.
Donning our swimsuits and smiles, we raced along the beach holding hands and playing in the sand.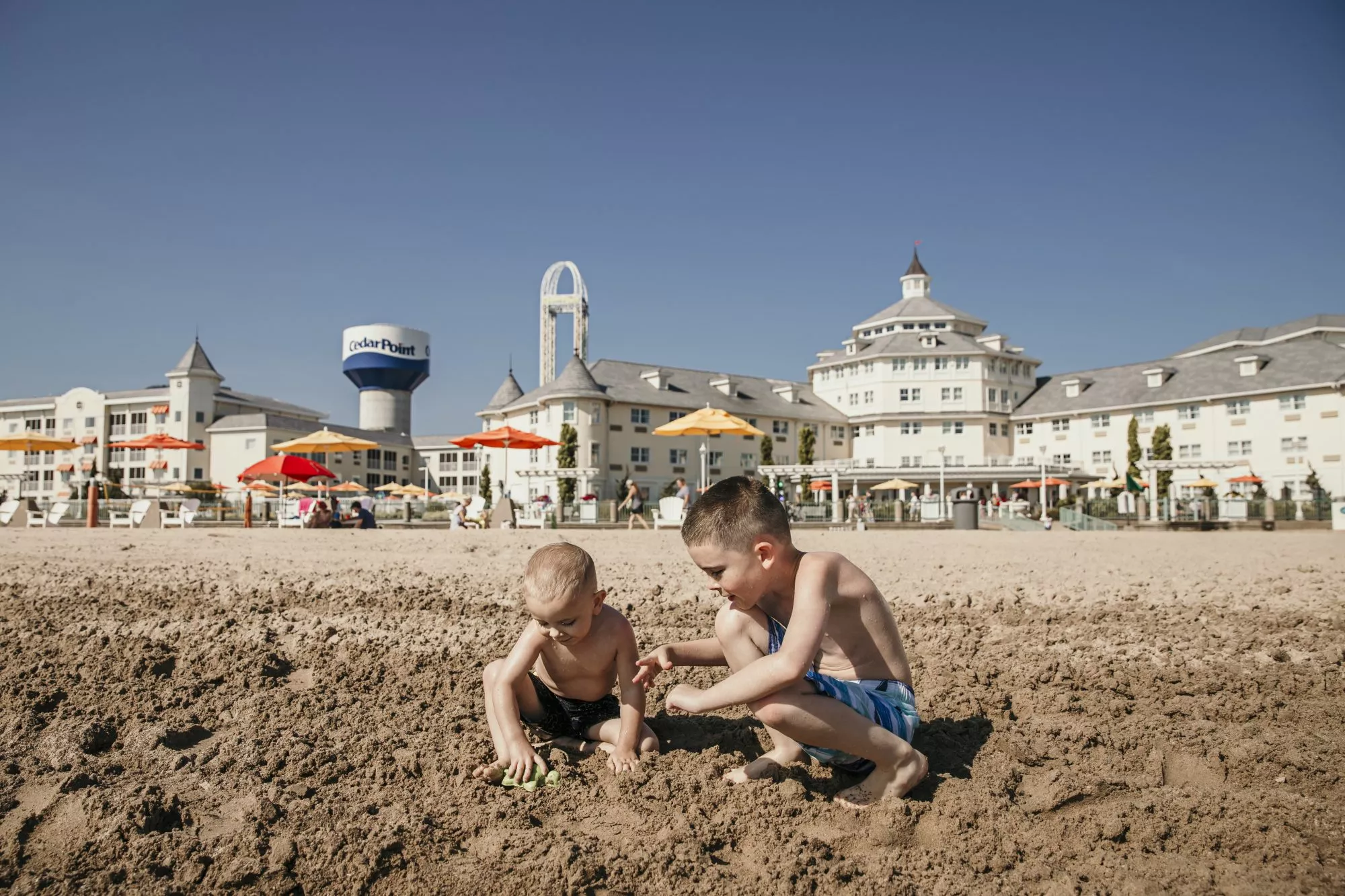 I know the boys have been craving some beach time, so this was the perfect way to start our morning!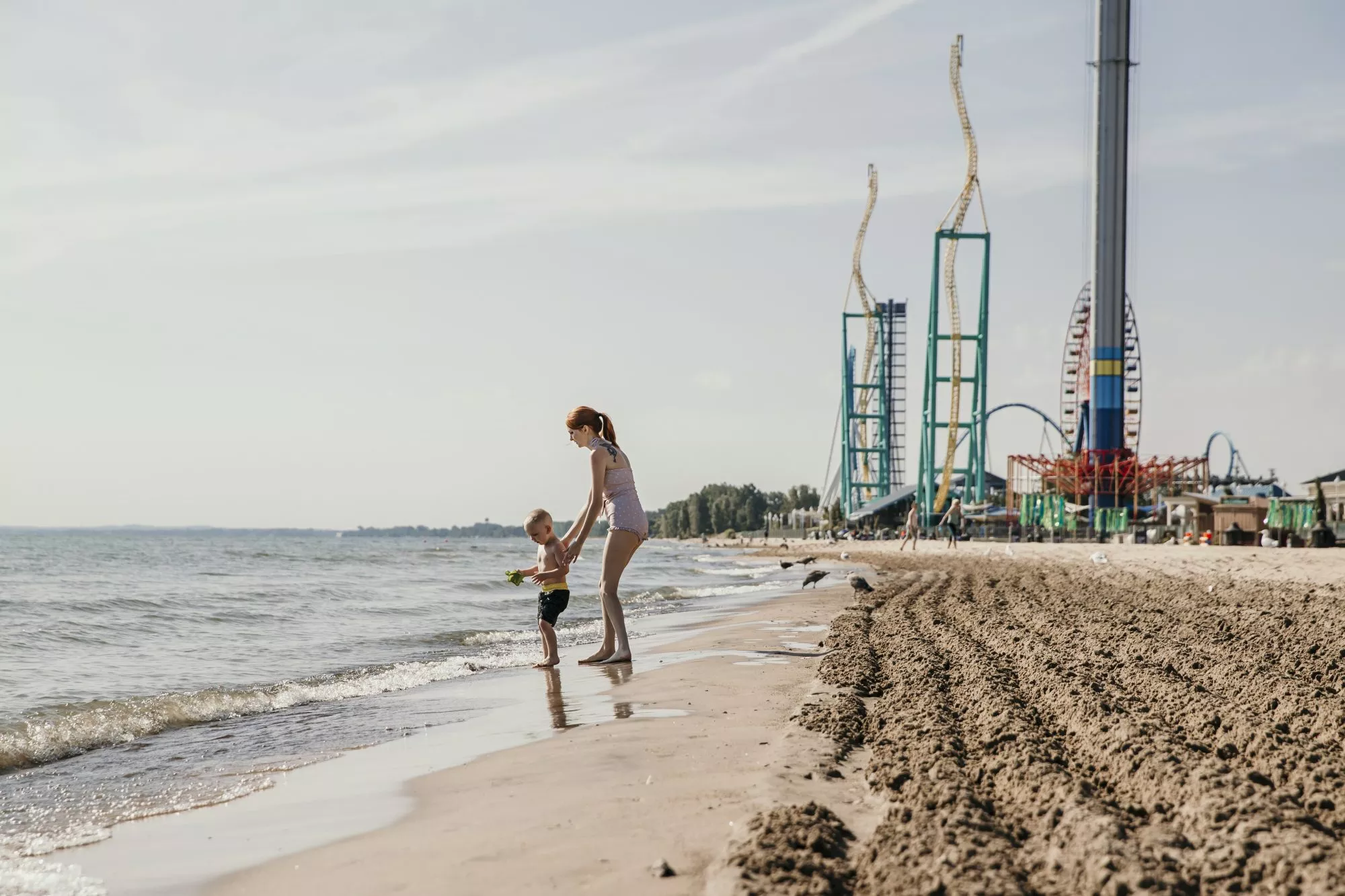 Hotel Breakers was an incredible place to stay during our weekend visit! They have plenty of on-site amenities, such as:
Starbucks
TOMO hibachi grill
T.G.I. Friday's
Perkin's Restaurant
Free WIFI
Domino's delivery
Fitness center
Bedtime stories with Snoopy (come down to the lobby in your pajamas to read a book with Snoopy!)
Indoor hot tub and pool
Outdoor water play area
Parasail and jet ski rentals
Beach access
Beach bar and patio
aaaaaaand more…
The hotel rooms are so colorful and comfortable.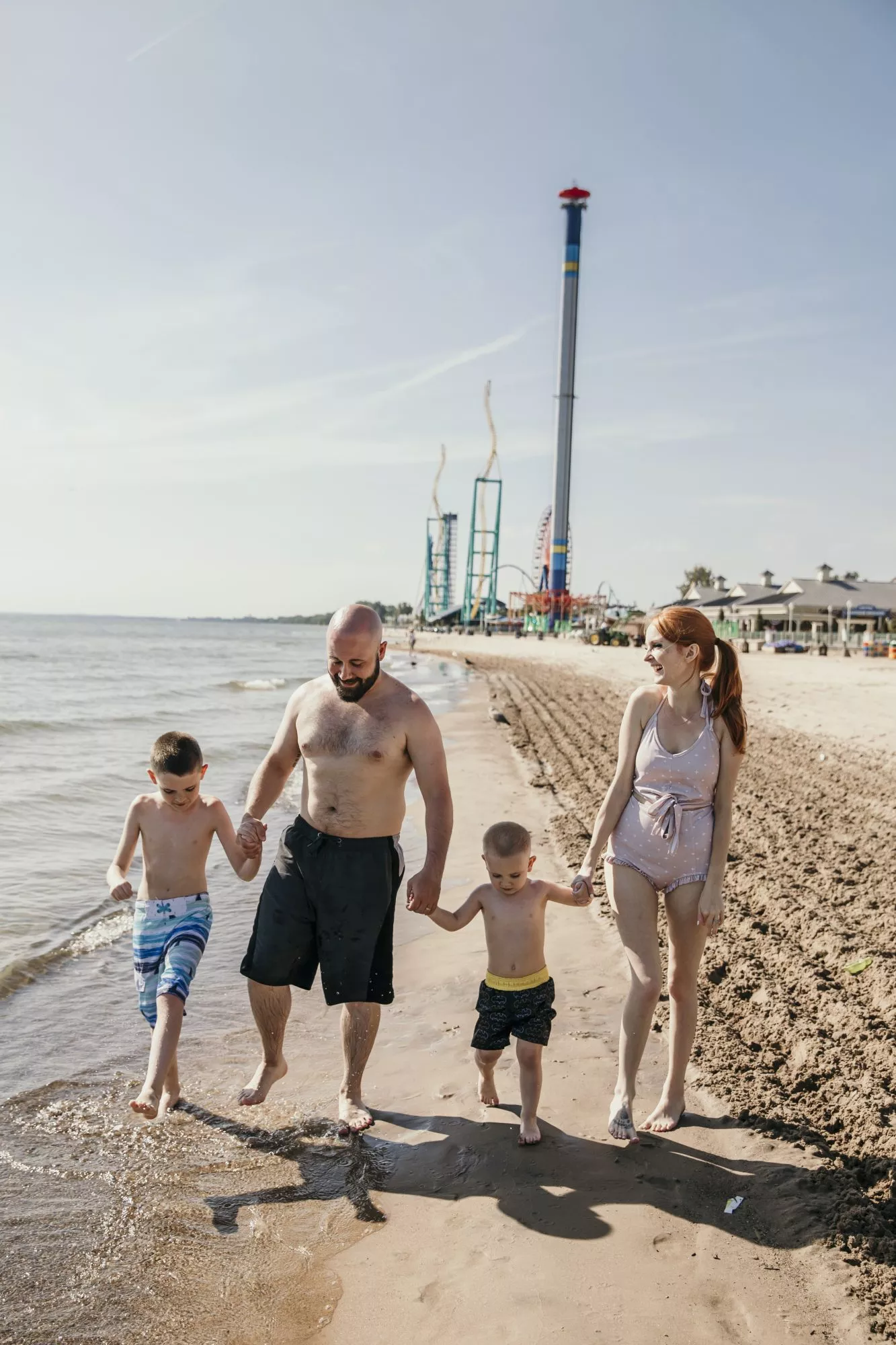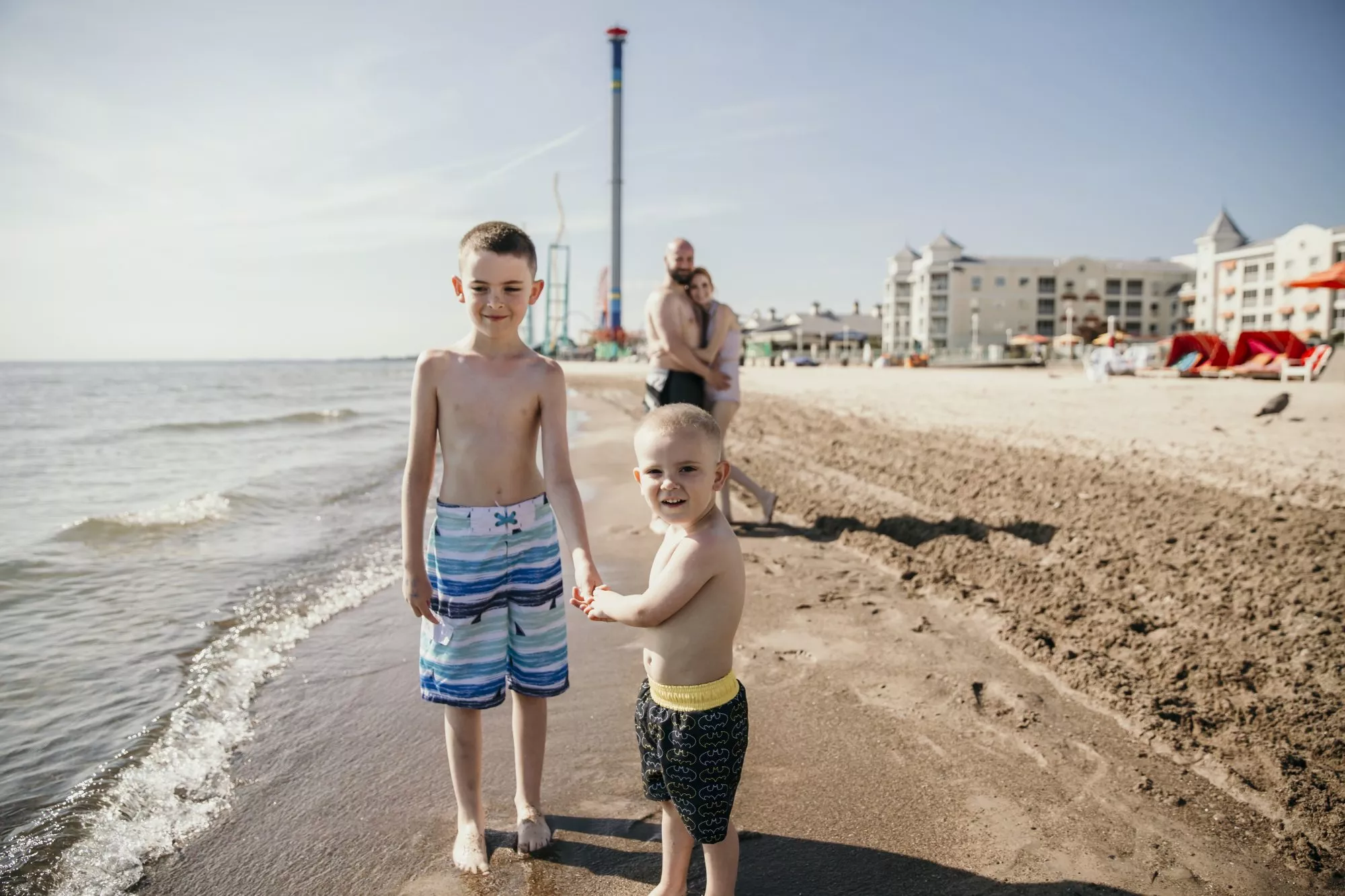 After Jax got bored with the sand and decided he was ready to go neck-deep in Lake Erie, we headed over to Cedar Point Shores where we could all safely play in the water.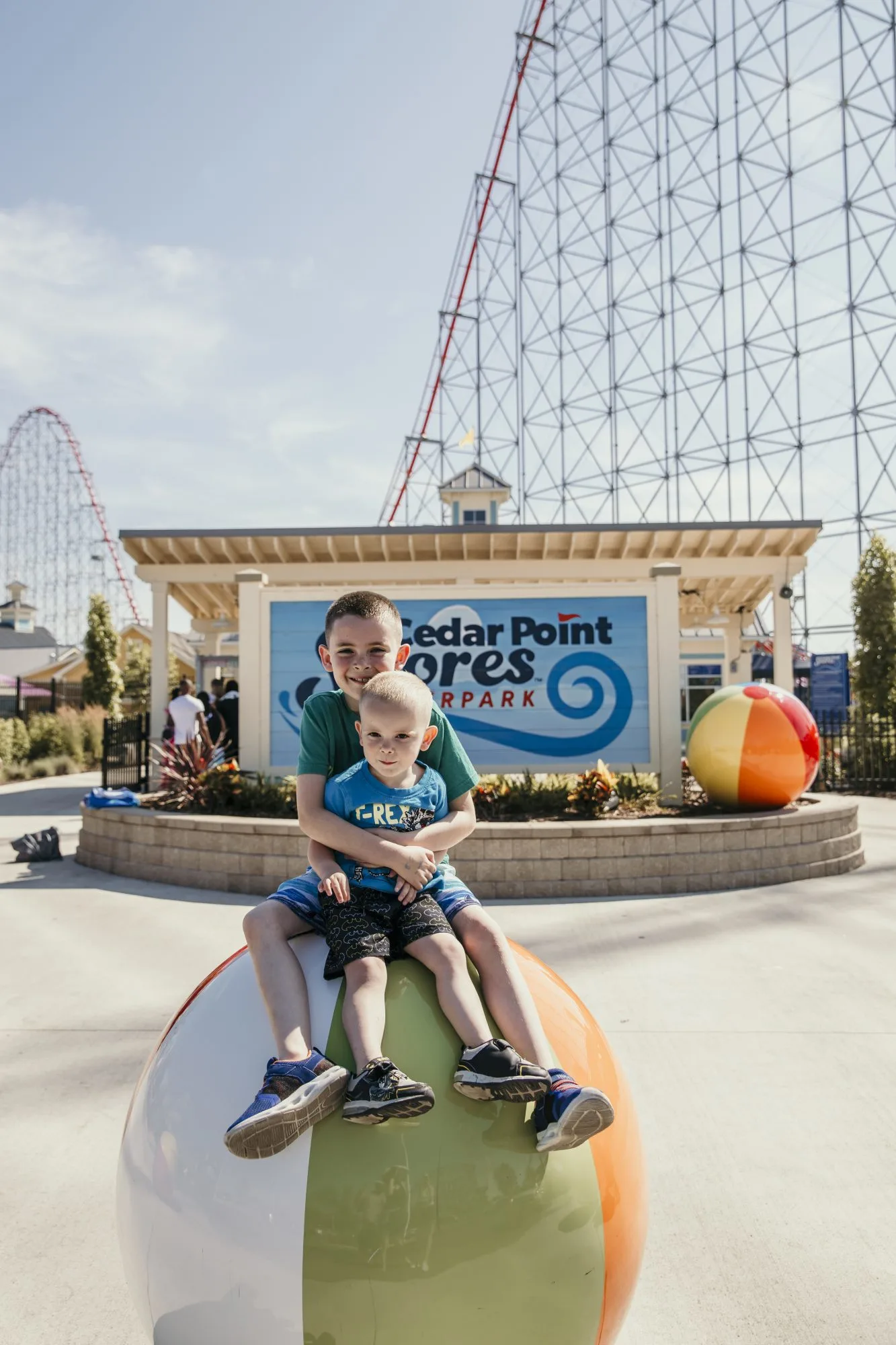 I just have two tips for Cedar Point Shores:
Have the kids' heights measured as soon as you enter the park – there's a custom height measuring station. They will be given a colored wrist band depending on their height, which saves you time measuring for each water slide.
Grab a locker for your wallet, purse, and personal belongings. That way you can have fun in the sun (and the water) while not worrying about your valuables! I believe our locker cost us $20, and we were able to fit my large diaper bag, clothes, towels, and an extra bag.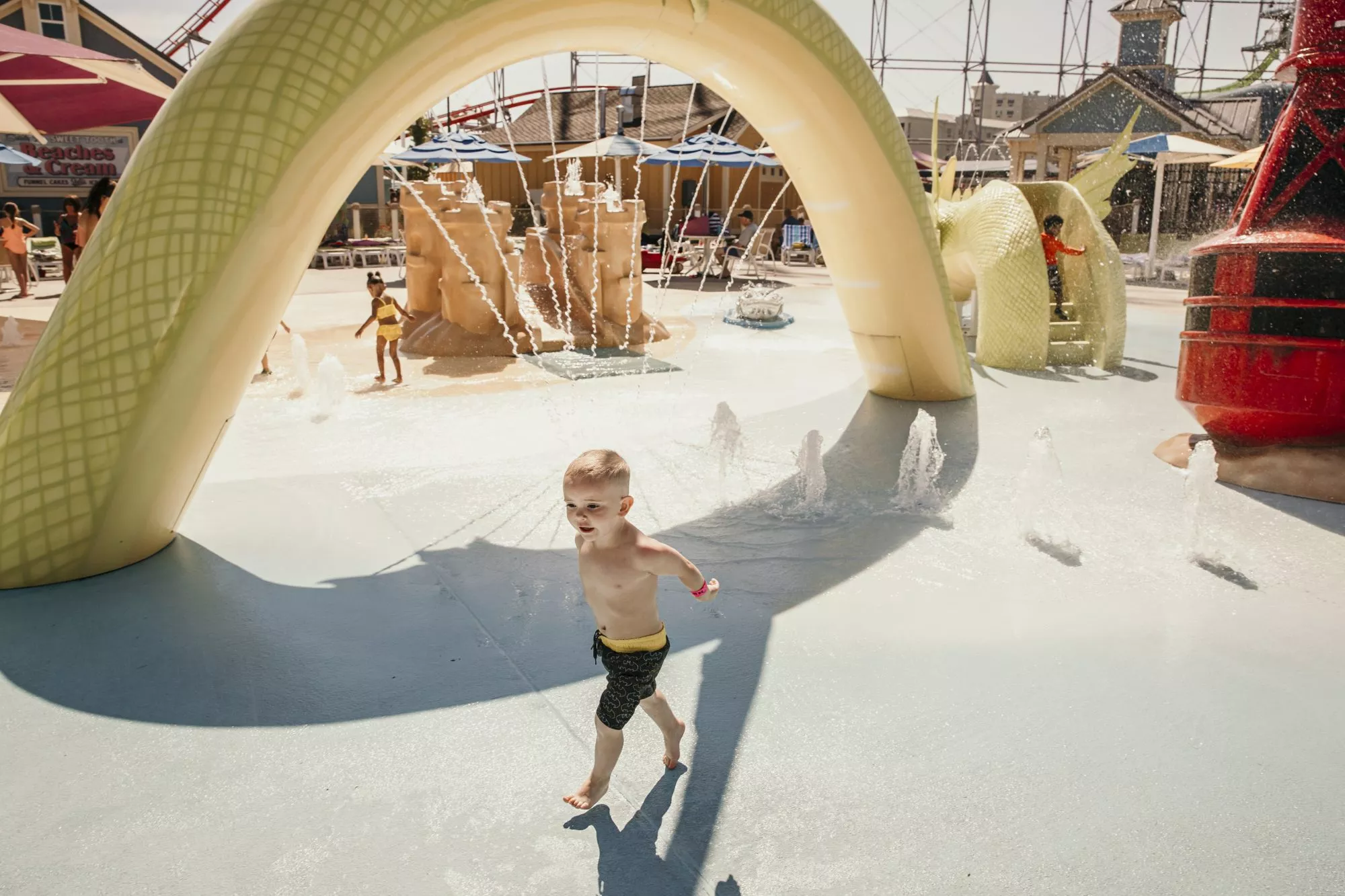 The kid's water play section in Cedar Point Shores was full of fun little water slides, spitting fish, and a giant dragon (with a hidden water slide inside its mouth)!
We didn't want to leave…
You May Also Like: Our Trip To Petoskey, Michigan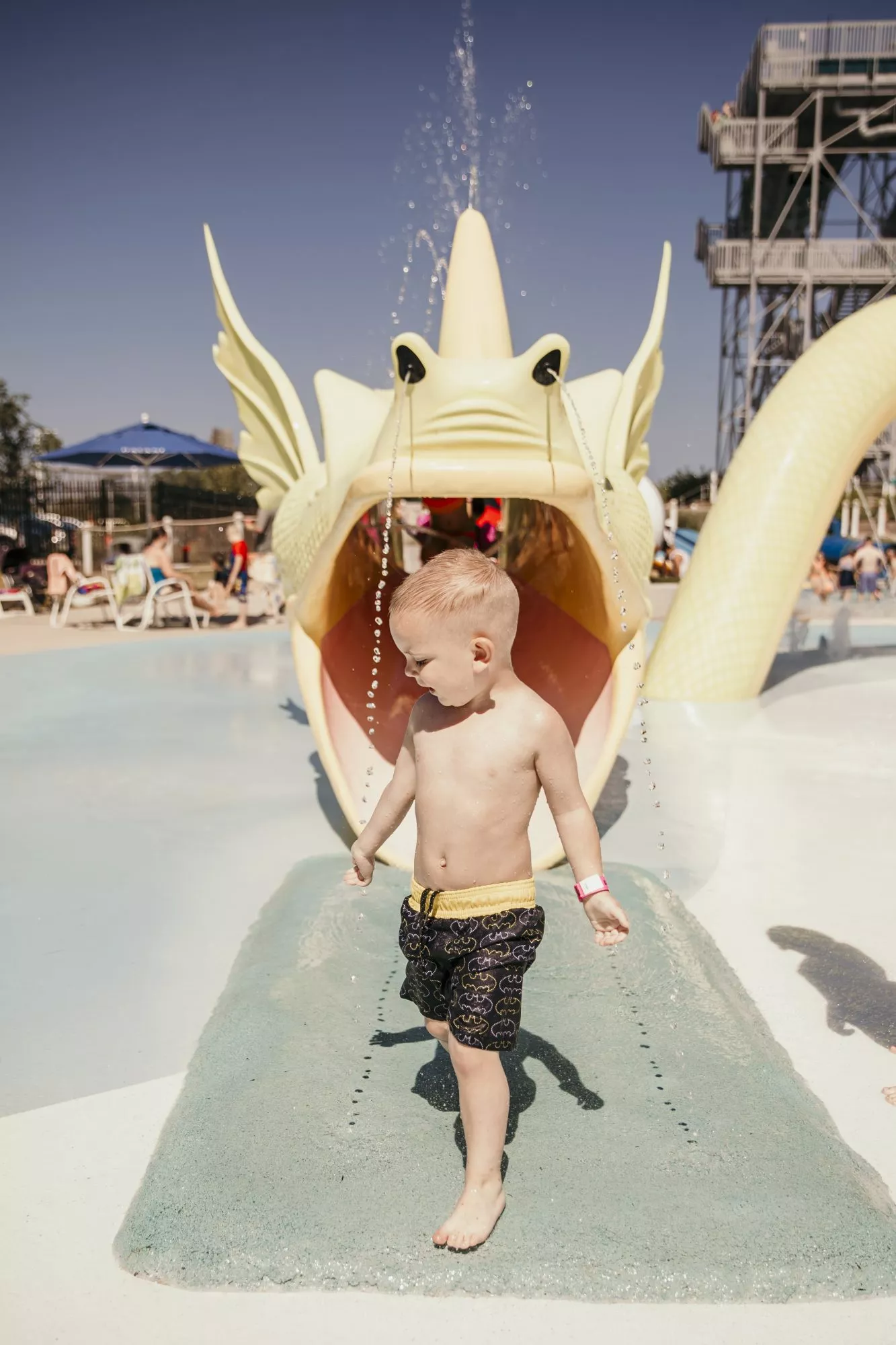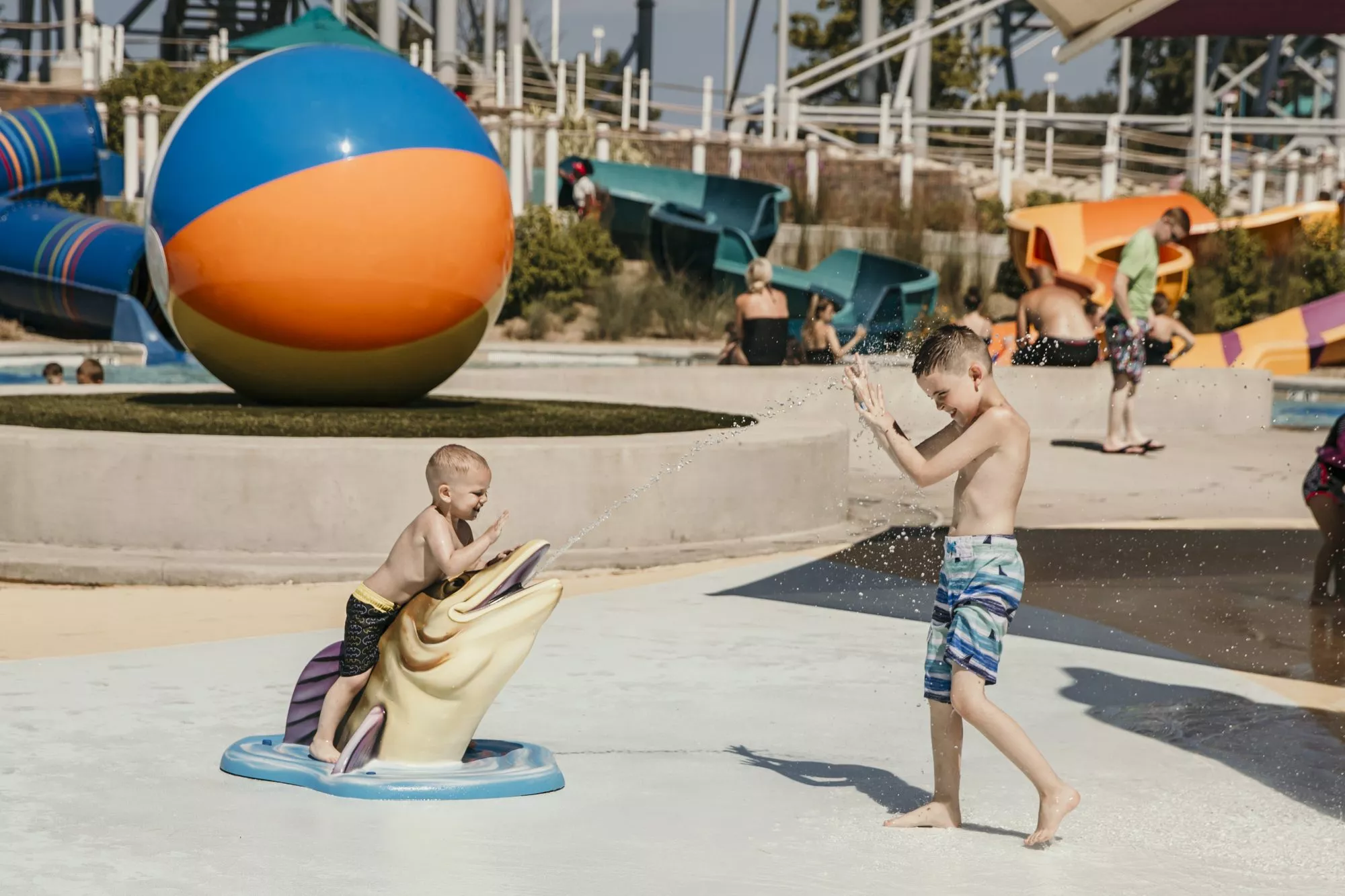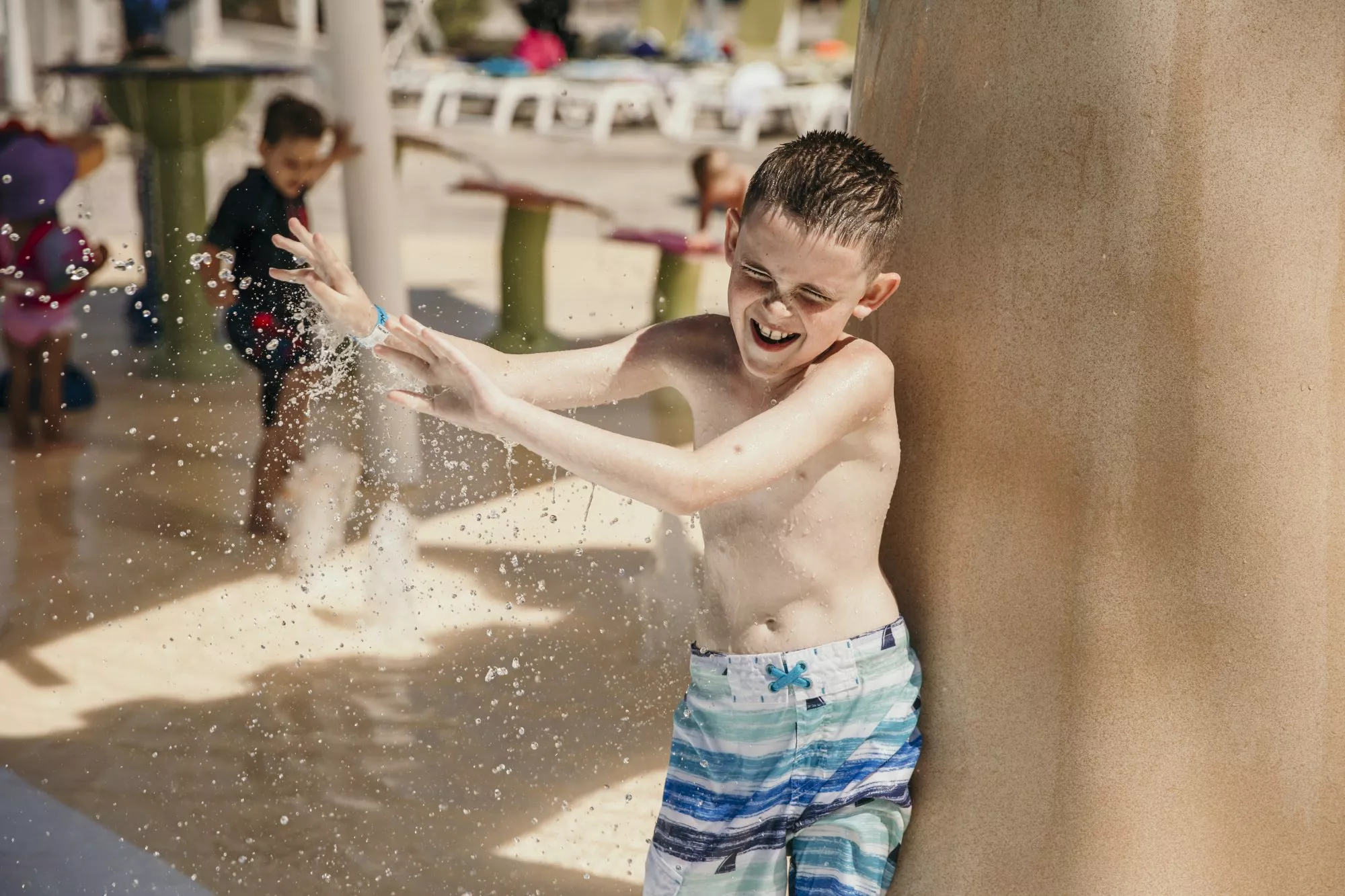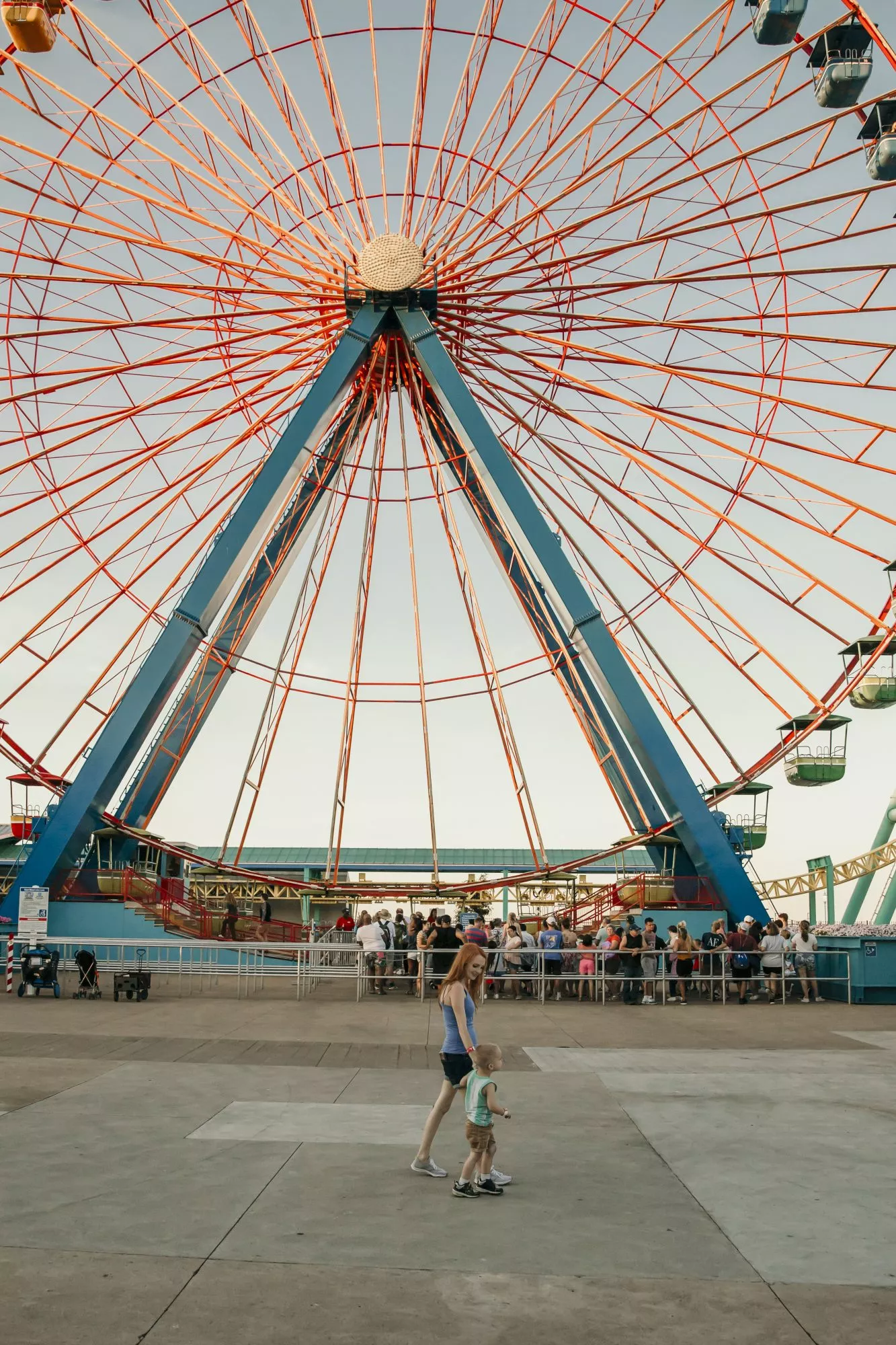 We did head back to the park so Daddy could ride some of the big coasters, though.
It wouldn't be a trip to Cedar Point without some thrilling roller coasters!
He went on just about every single roller coaster in sight, and only waited a brief couple of minutes with his Fast Pass wristband.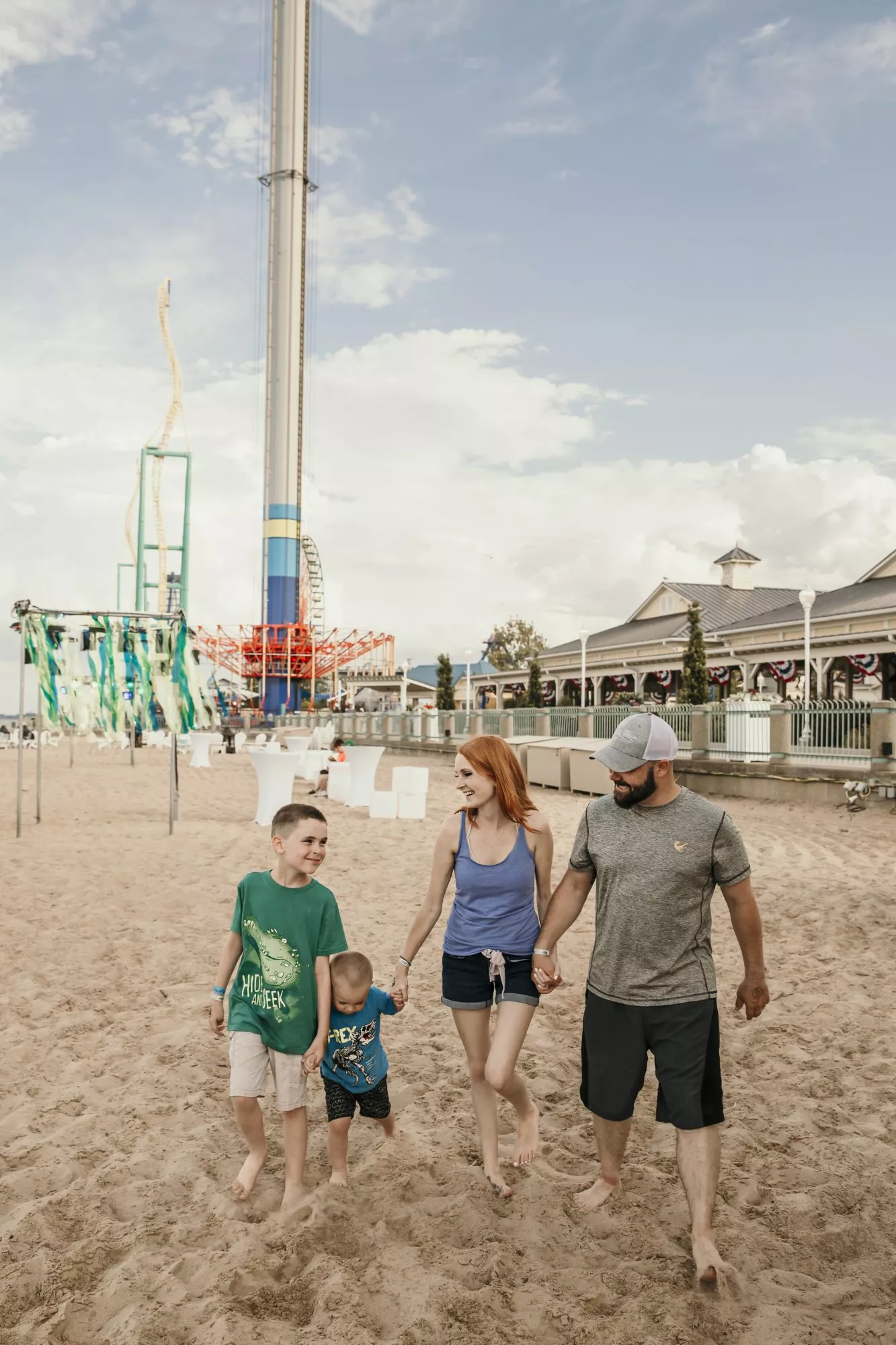 After a long day of water play and fun in the sun, we headed to the beach again for a relaxing night together.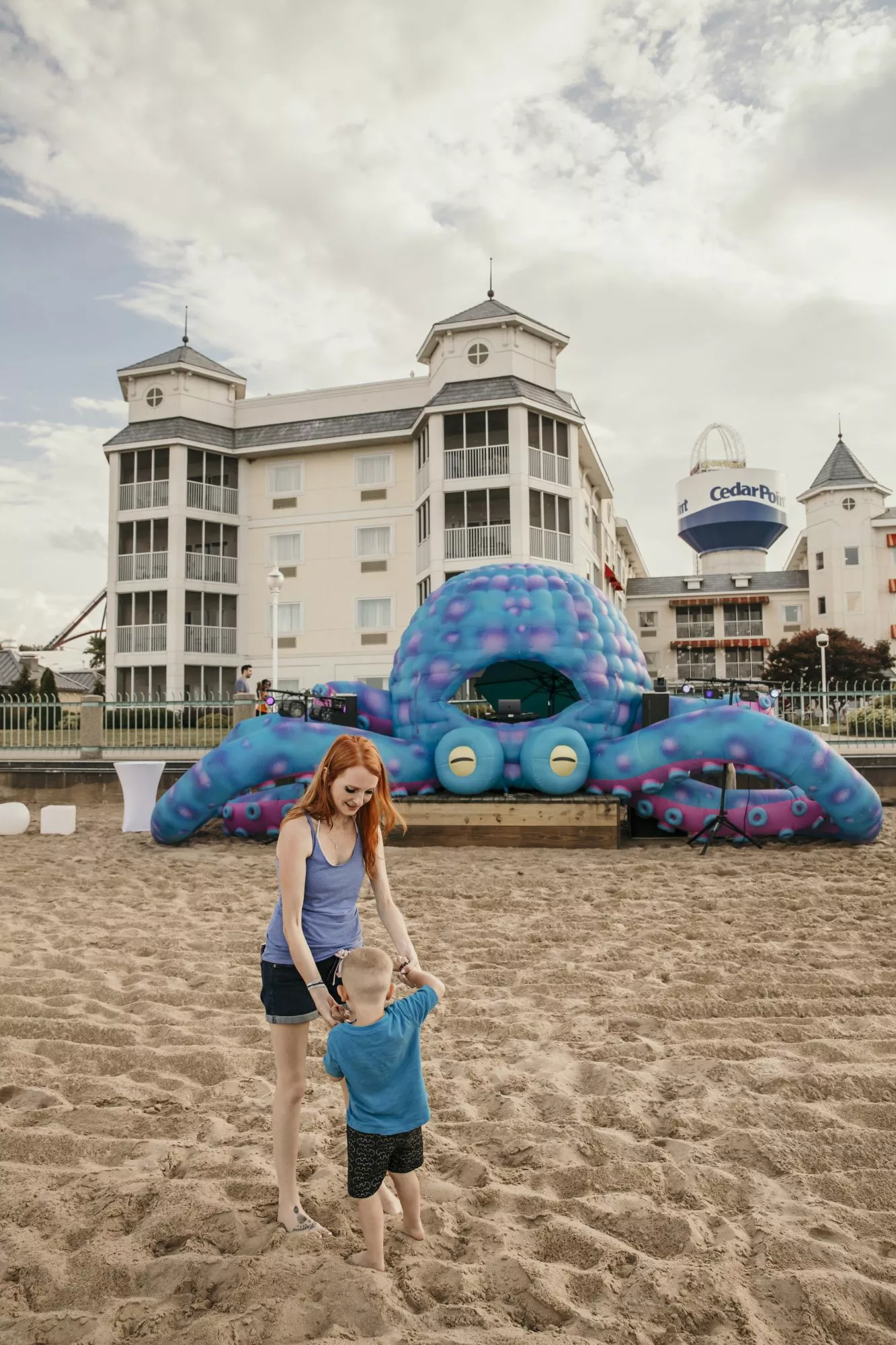 We danced to the beat in front of a giant octopus and relaxed in beach chairs while we sank our toes into the sand and listened to the waves crash behind us.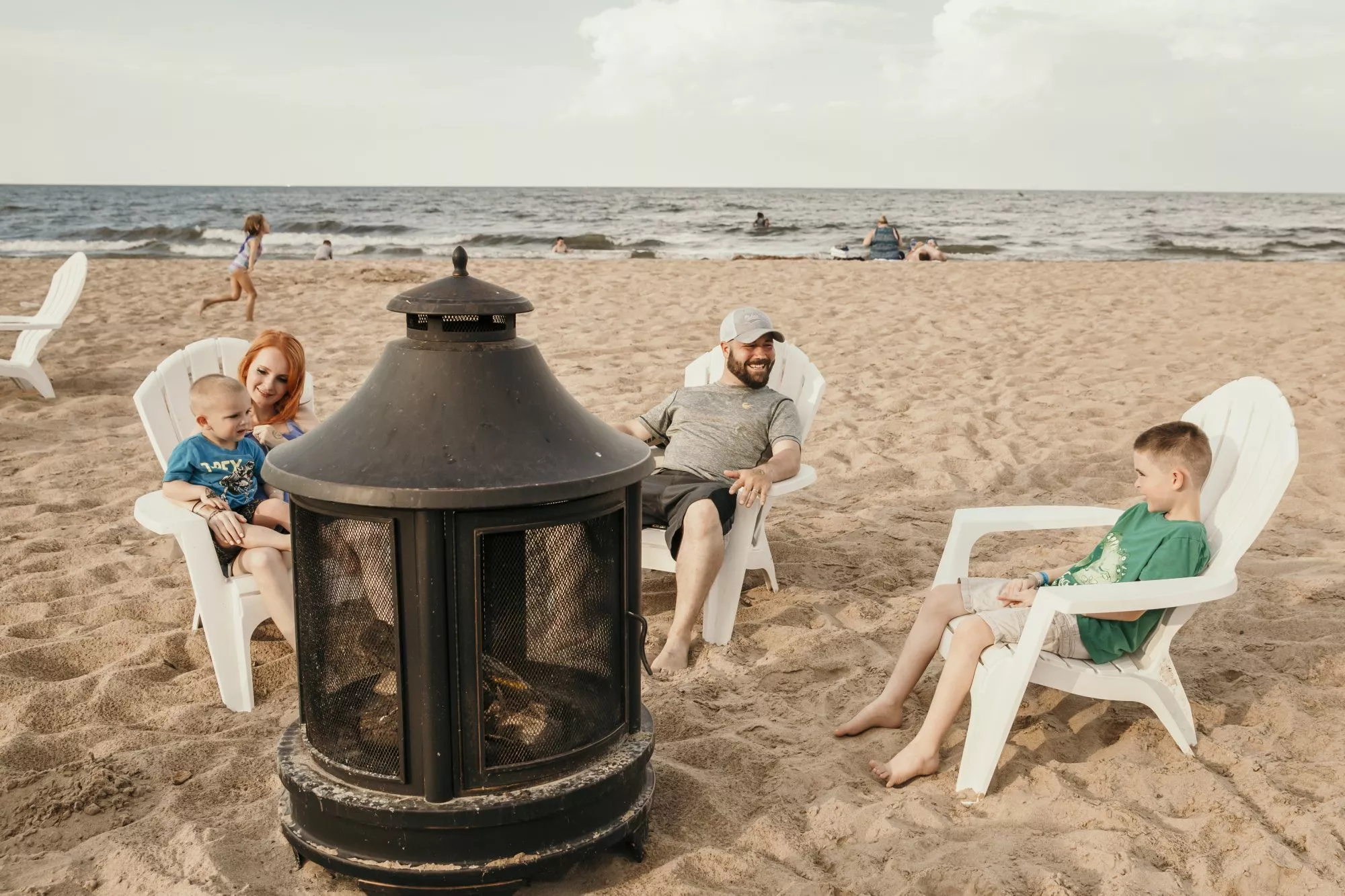 This was our best family trip, by far! I can't express how much fun we had, but I'm so thankful we have so many great pictures from the trip thanks to Olivia from Liv In The Moment Photography.
A huge thanks to Hour Detroit here in Michigan for sponsoring our family trip and affording us the experience of a fantastic family vacation!
*Post originally posted August 2019, last updated December 2021.