These cute and fun Halloween treats for kids are sure to get the whole family in the spooky spirit this Fall…
---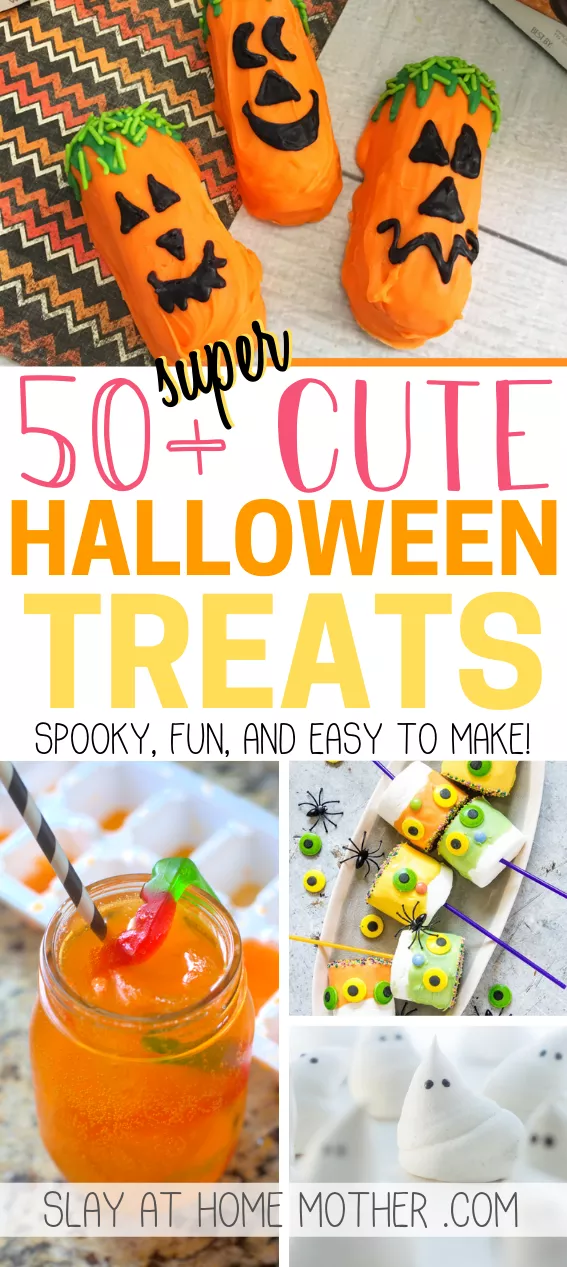 I love Halloween!
It's one of my favorite holidays to decorate for, and I love seeing my kids get dressed up to go trick-or-treating.
Last year was our first year of trick-or-treating where both boys were excited and in the spooky spirit.
While my toddler couldn't talk enough yet to say 'Trick-or-treat!", his eager smile and "Please" were enough to score him a serious amount of sweets!
You know those neighborhoods you can drive through during the Christmas season to see their extravagant lights and decorations?
Our neighborhood is like that, except during Halloween!
Our neighborhood gets really into the Halloween spirit!
One block away from us is a street where every house (except for one) decorates to the extreme.
Their doors, windows, roofs, front yards, sidewalks, street signs, and their very own costumes are straight out of the scary movies!
The one house that doesn't participate makes sure every single light in their house is off, too, so they aren't confused with the rest of their festive neighbors ;).
One house goes all out with a huge fog machine, coffins, and what must be thousands of dollars worth of Halloween props.
They even have real people dressed up in costumes as werewolves, vampires, dolls, etc. that will be hiding next to other props.
They wait until you pass them to move or jump out to scare you!
Max, my sweet 9-year-old, isn't a huge fan of that house, but they give out the best candy ;).
This year, I'll be about 5/6 months pregnant with this sweet rainbow baby I'm carrying when it's time to take the boys trick-or-treating this year!
One of our favorite things to do on Halloween, besides getting free candy and chocolate from our sweet neighbors, is to make our very own treats together.
We love to experiment with different sweets, flavors, and Halloween themes while making our own treats.
Whether you're looking for some spooky Halloween treats or cute Halloween treats, this post has it all!
These Halloween treats are perfect for the holiday season, or your upcoming Halloween party!
From cookies and brownies to sweet treats and punch recipes – these easy Halloween treats won't disappoint…
Get inspired this Halloween, and try some new homemade Halloween treats…
Over 50+ Halloween Treat Ideas
Candy Corn Rice Krispies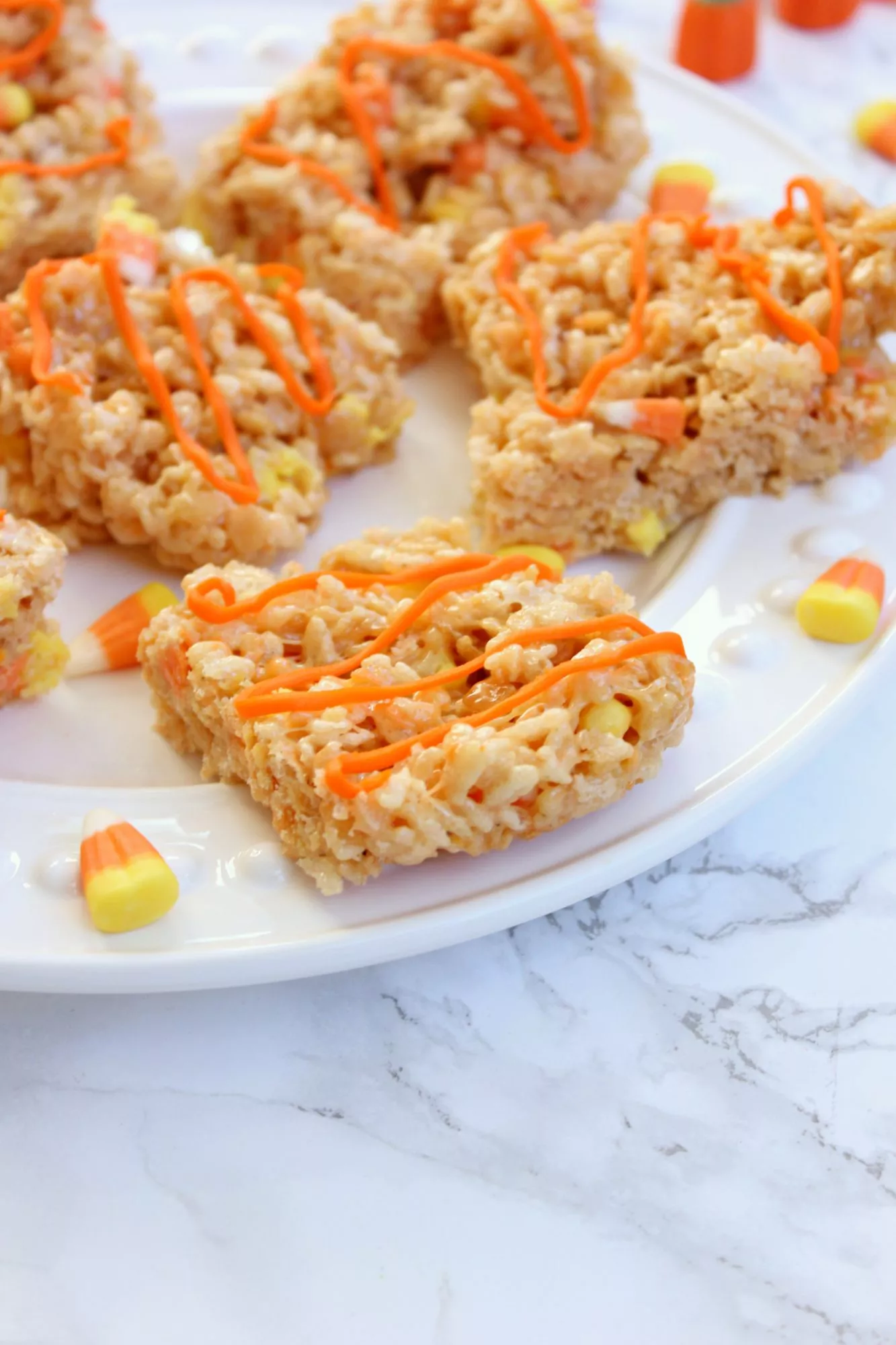 Simple and delicious, these candy corn rice Krispies are so colorful and perfect for the spooky season!
Halloween Apple Teeth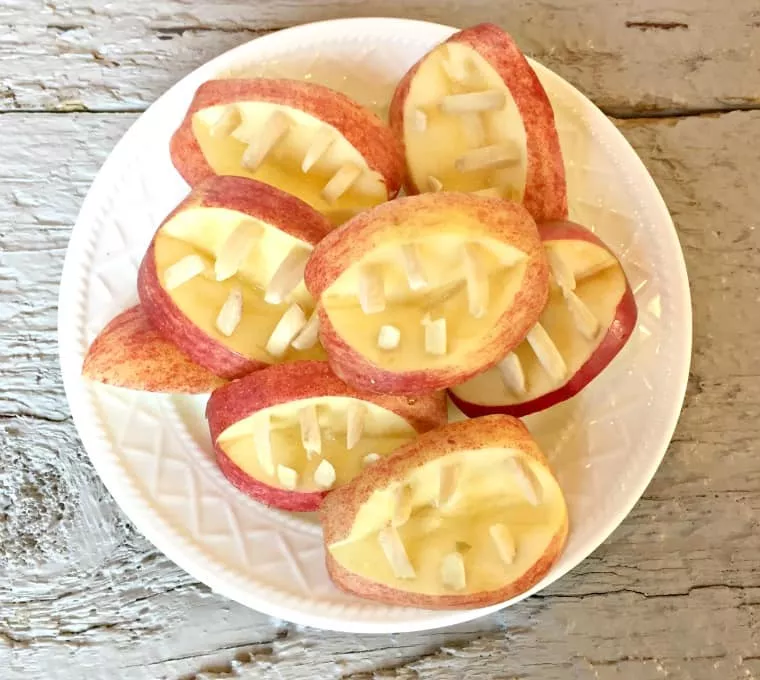 Forget vampires, these cute and Healthy Apple teeth are the perfect way to sneak a healthy treat into your child's lunchbox or in your Halloween party spread!
Marshmallow Ghost Hot Chocolate Halloween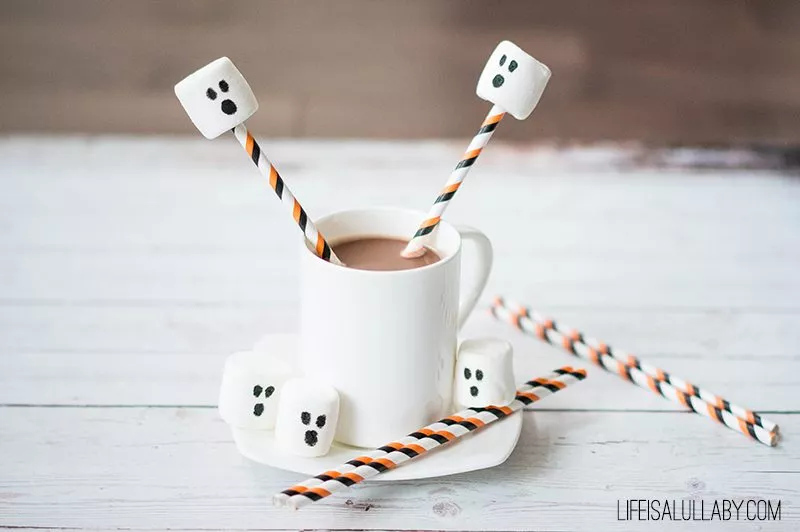 Image your adorable little trick-or-treaters coming in from the cold on Halloween night, bags and buckets full of treats but fingers and button noses frozen from a night full of spooky fun/
Warm them up with these marshmallow ghost hot chocolates!
Frankenstein Cupcakes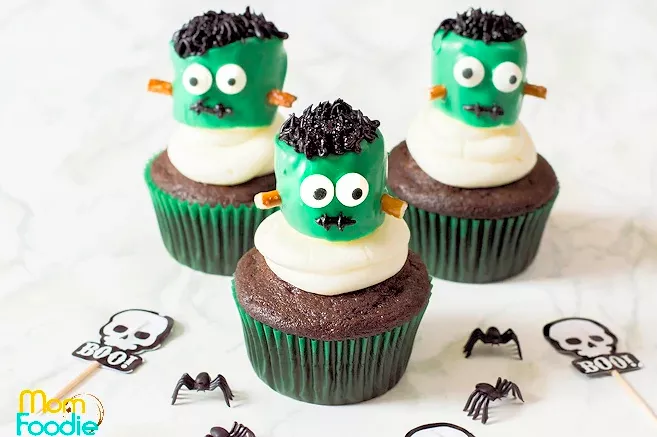 Easy to pull off and so adorable, these Frankenstein cupcakes are perfect for the Halloween season!
You May Also Like: Instant Pot Corn Chowder with Bacon
Easy Chocolate Mousse Graveyards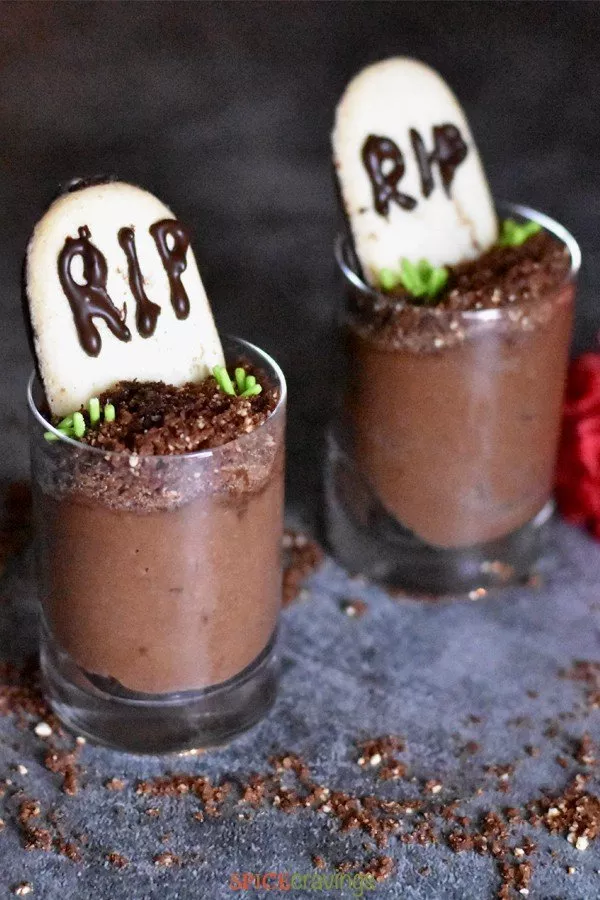 Spooky graveyards, move over! These yummy chocolate mousse graveyards are what's happening this Halloween season…
Dark Chocolate Halloween Cookies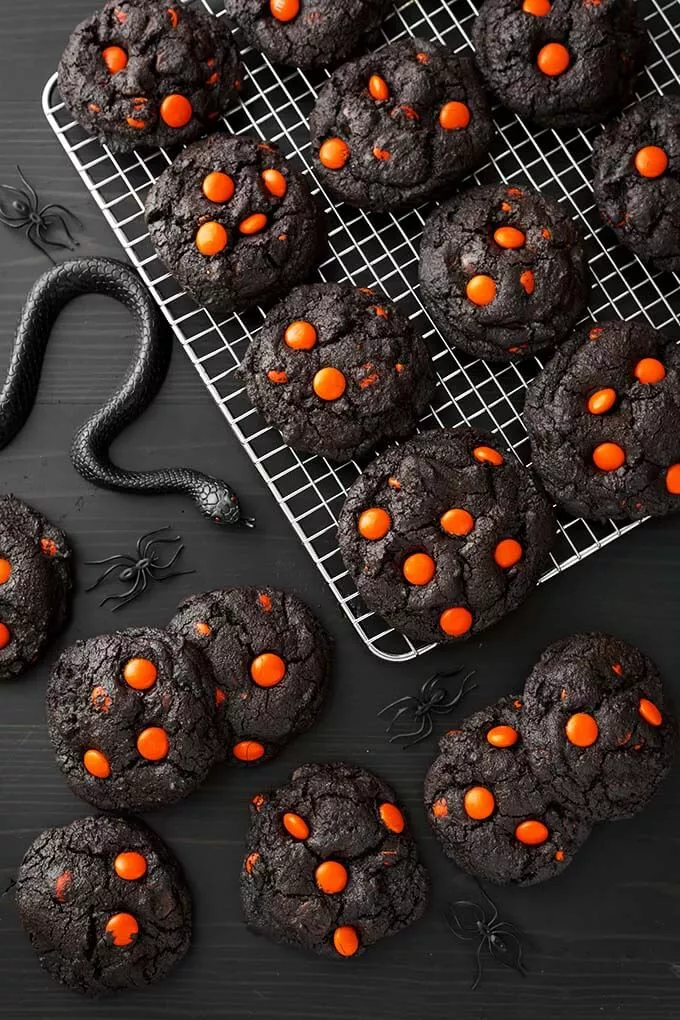 Super easy to make and just the right flavor and colors for Halloween, try these delicious dark chocolate Halloween cookies!
Halloween Monster Punch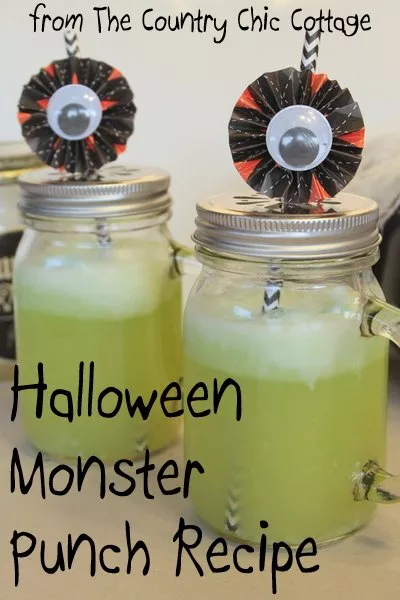 We're loving this super cute (and green) Monster Punch recipe.
Pair it with treats spooky and sweet for your Halloween shindig this year…
Chocolate Spiderwebs Bread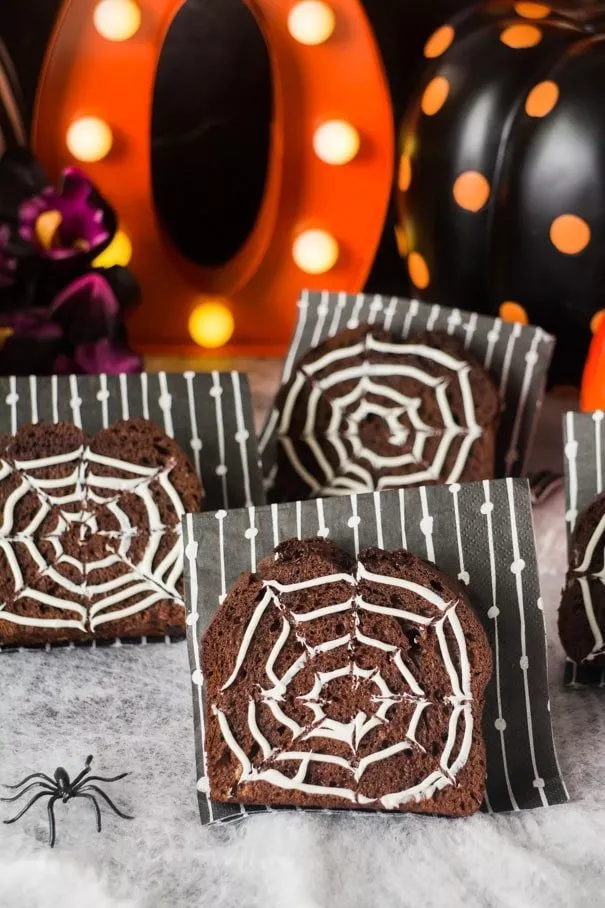 How cute is this chocolate spiderwebs bread?!
This is one yummy way to fill your trick-or-treaters up with a little more substance versus candy from their buckets.
Halloween Peanut Butter Eyeballs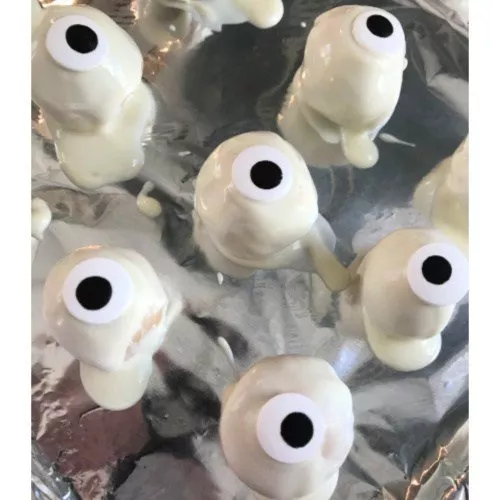 It wouldn't be Halloween without eyeballs!
Try these yummy peanut butter eyeballs for a treat that is both disgusting and delicious at the same time!
Halloween Chocolate Kettle Corn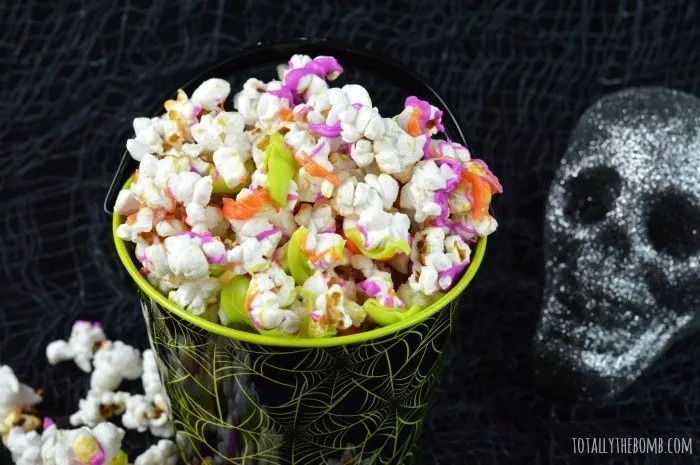 Packing in all the sweet and salty flavors you're craving, this Halloween chocolate kettle corn recipe is to die for.
Halloween Monster Marshmallows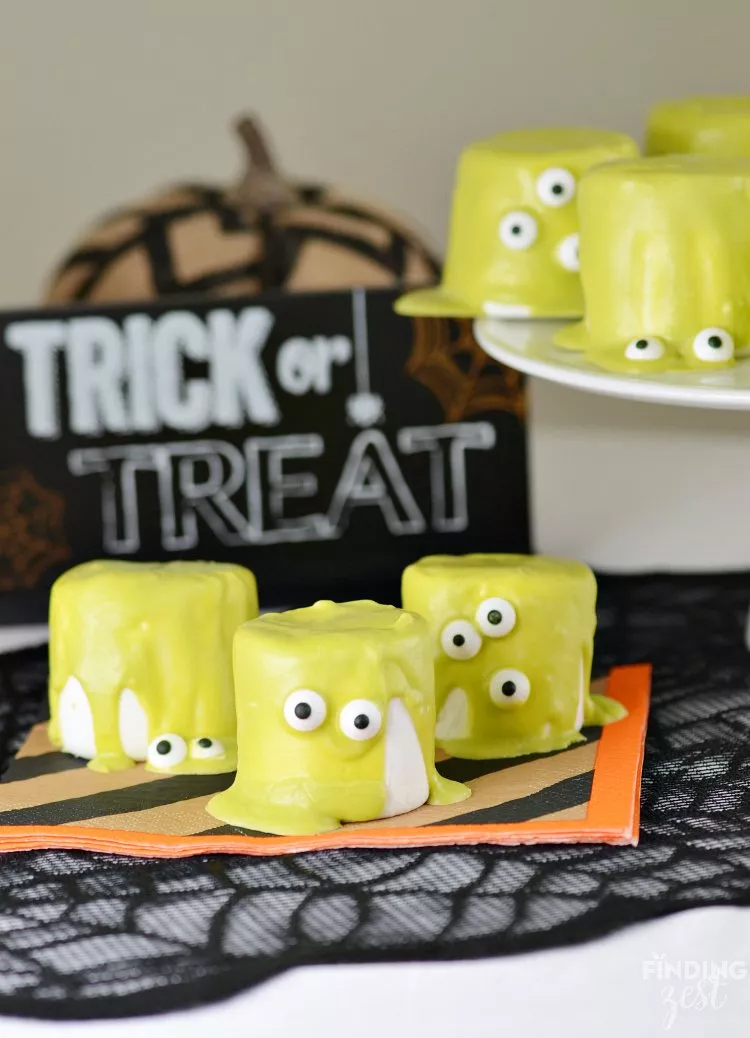 These green monster marshmallows are adorable and spooky at the same time – YUM!
Scary Monsters Halloween Bites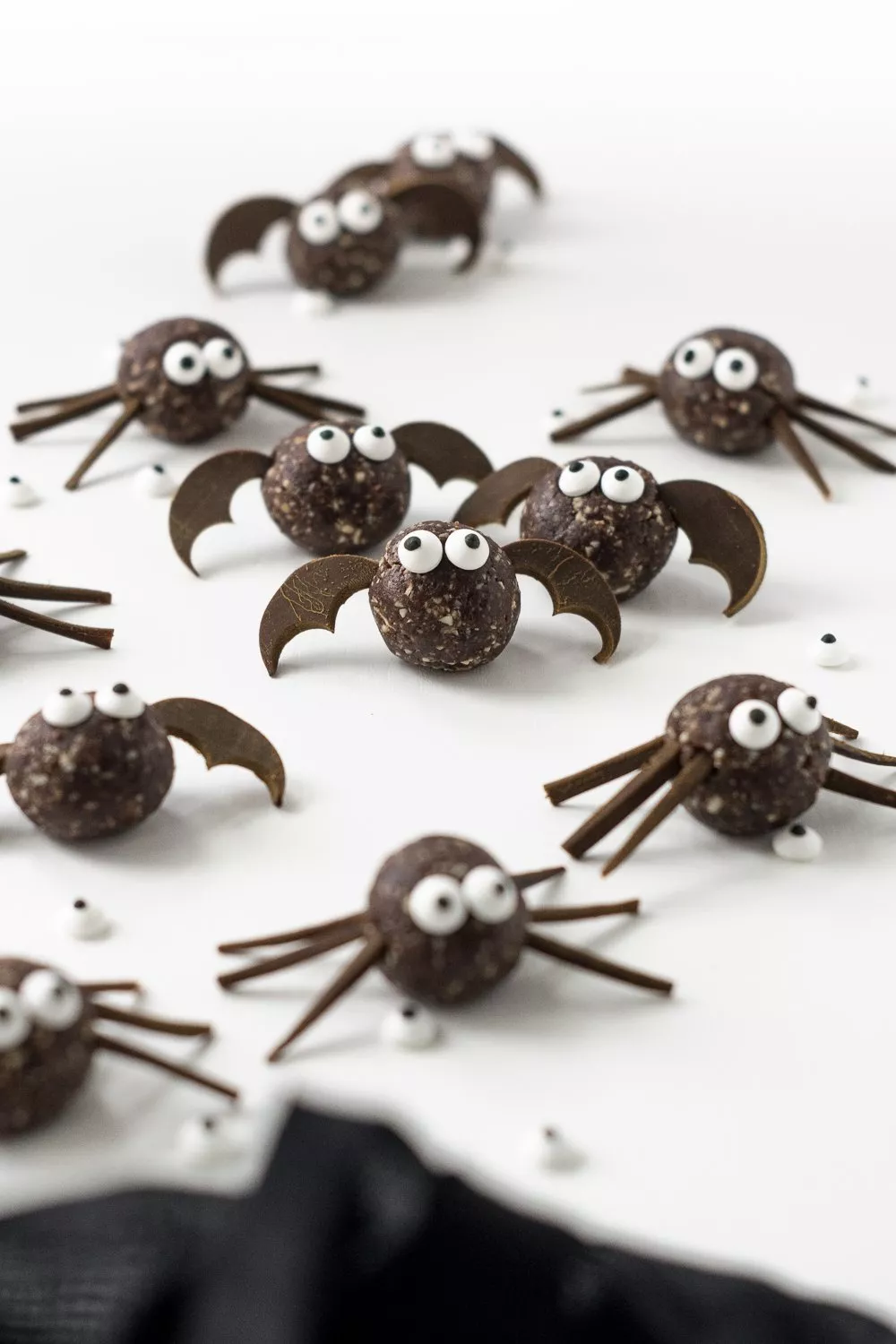 Spiders and bats and chocolate, oh my!
These cute Halloween monsters bites will have you screaming for more before the night is through…
Super Simple Mini-Pumpkin Pies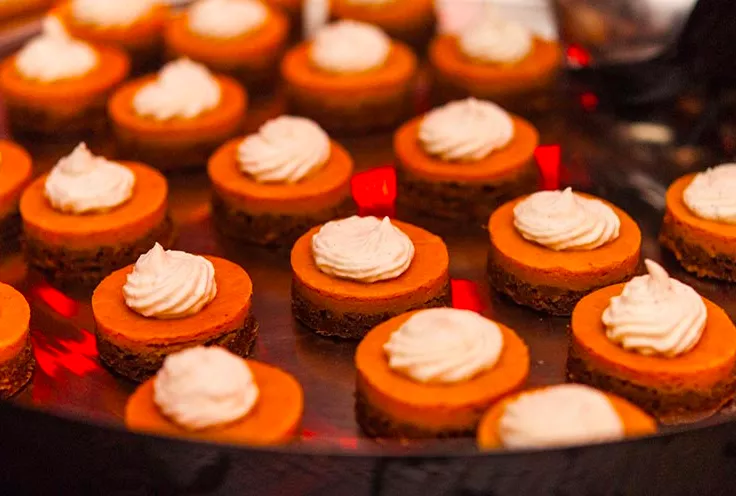 Ghosts, ghouls, and goblins alike will gobble up these cute Halloween treats.
Mummy Sugar Cookies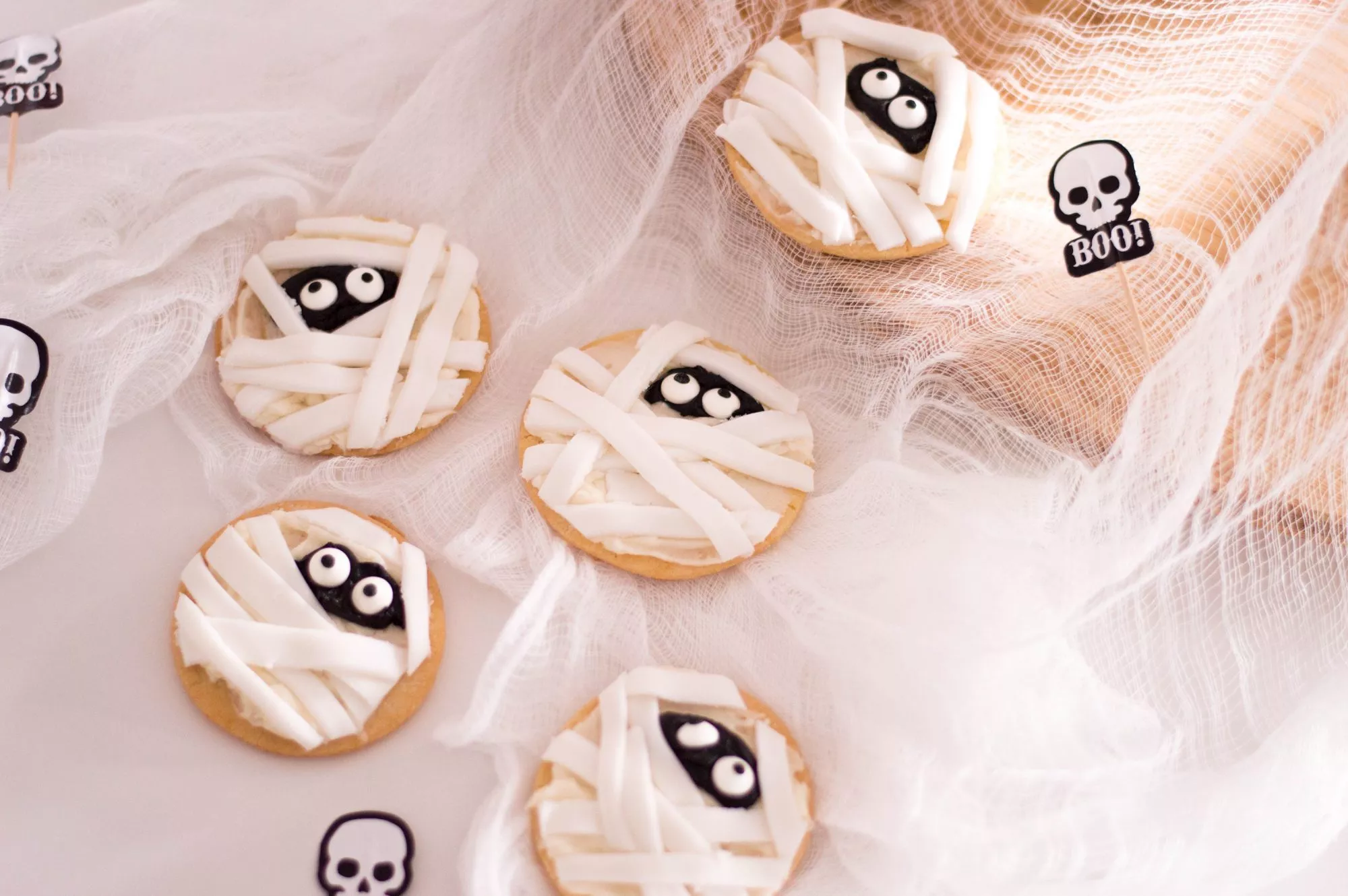 "Mummy, sugar cookies are my fave!"
Get wrapped up in the spooky spirit with these yummy mummy sugar cookies…
Vegan Halloween Ghost Cake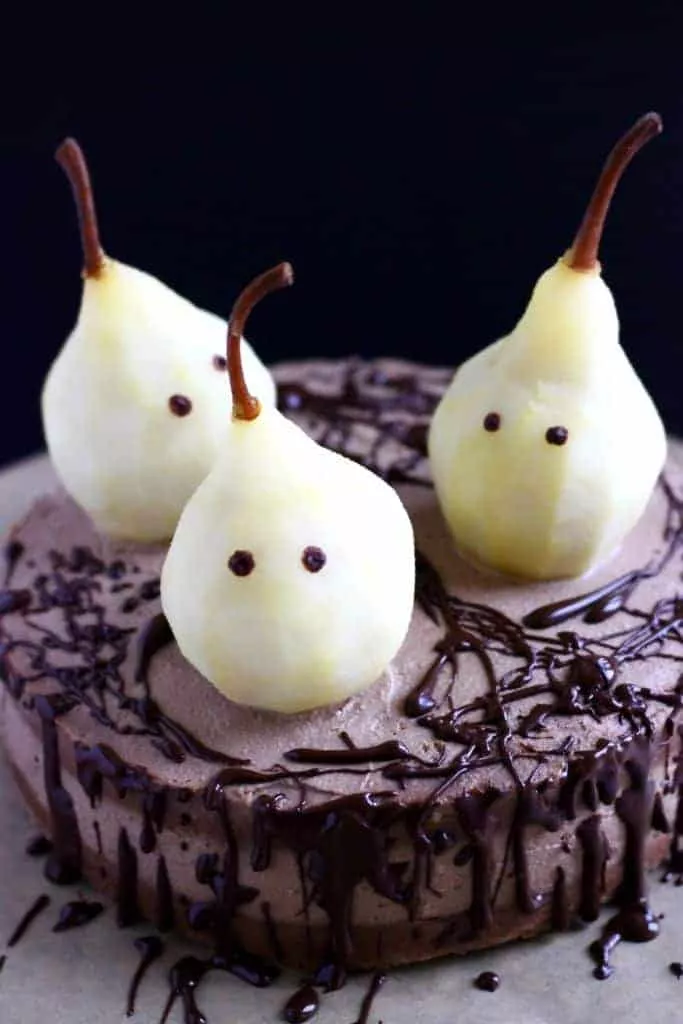 This cute Halloween ghost cake is a great vegan and gluten-free option, with delicious poached pear ghosts atop its chocolatey goodness ;).
Halloween Witch's Brew Punch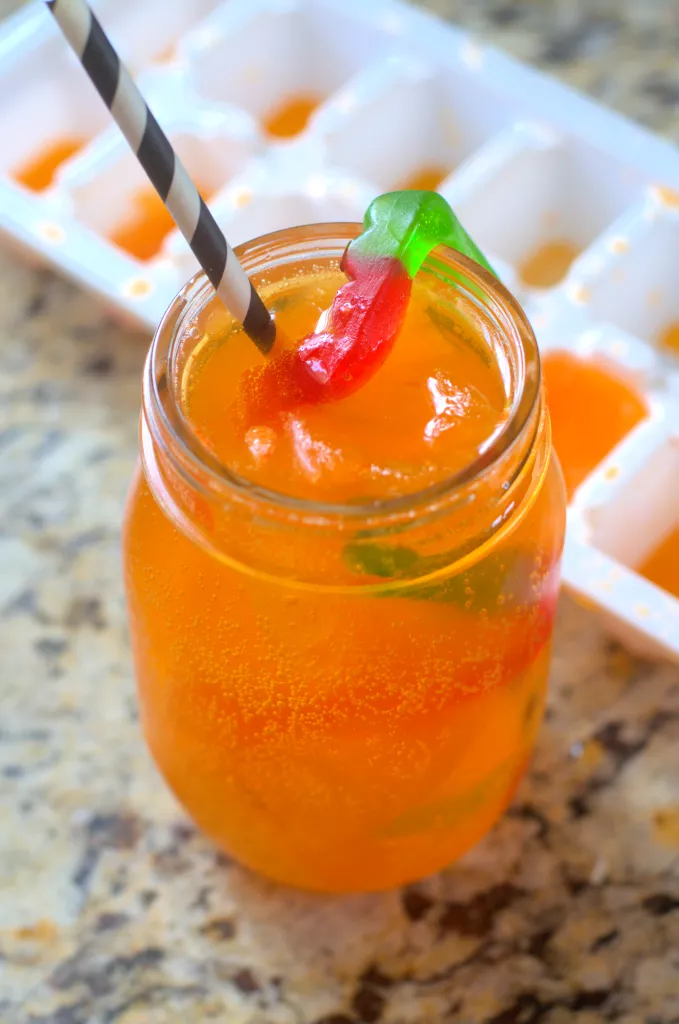 Kids and adults alike are sure to love this colorful Witch's Brew punch!
No-Bake Owl Cookies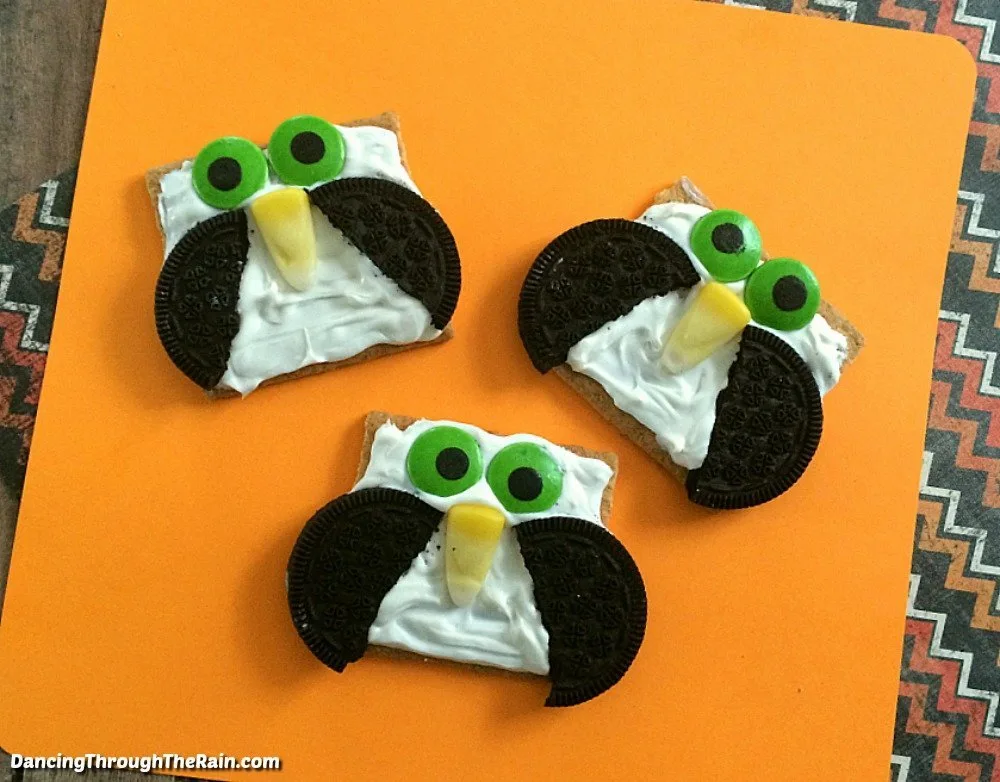 Whooooo wants one of these adorable no-bake owl cookies?!
I sure do!
"Poopcakes" Poop Emoji Cupcakes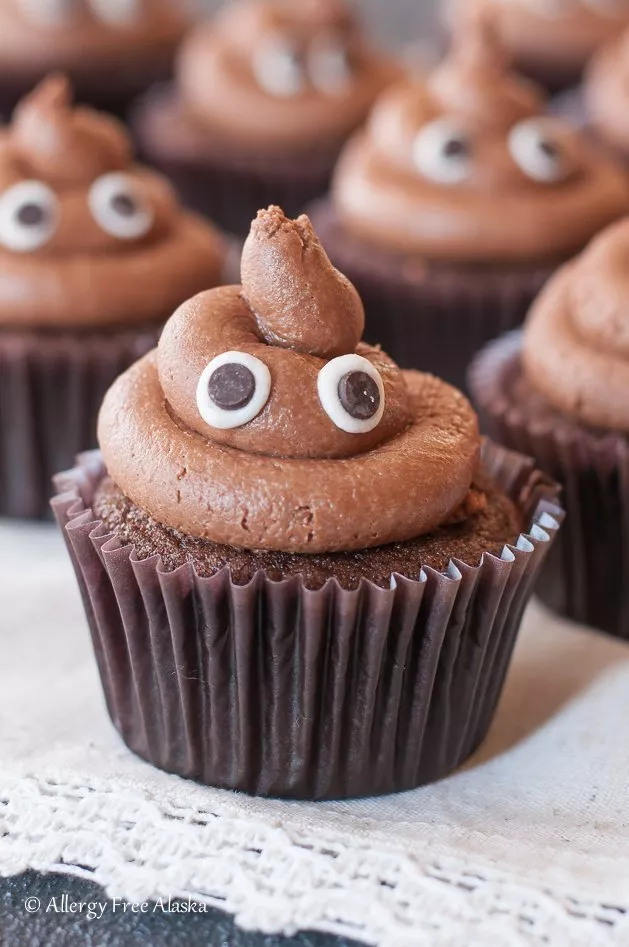 If you aren't afraid to go there with your food, these swirly, chocolatey poopcakes are sure to be a crowd-pleaser with their hilarity and emoji fame.
Pop Tart Ghosts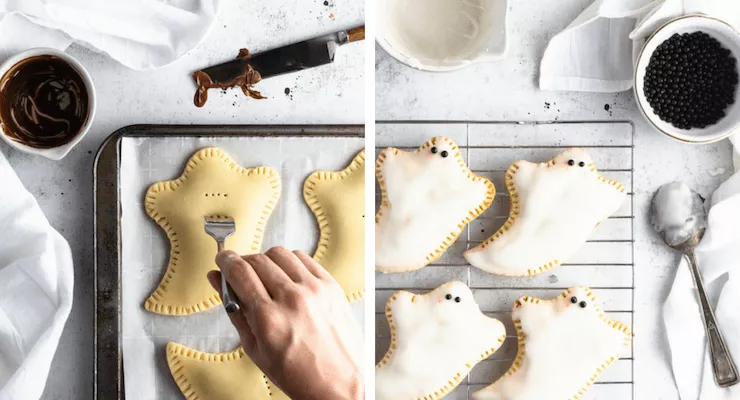 Make your very own ghostly pop tarts with this easy and tempting tutorial!
Witch Hat Cupcakes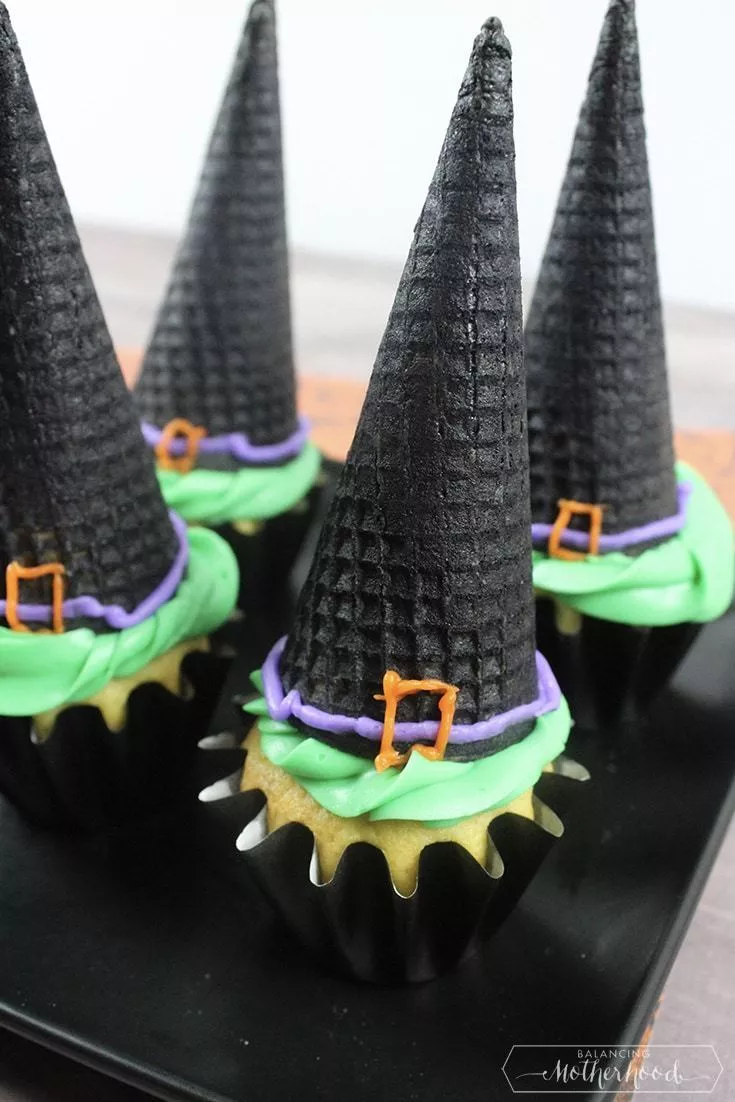 All that's missing from these fun and colorful witch hat cupcakes are the free flying lessons!
Easy Ghost Doughnuts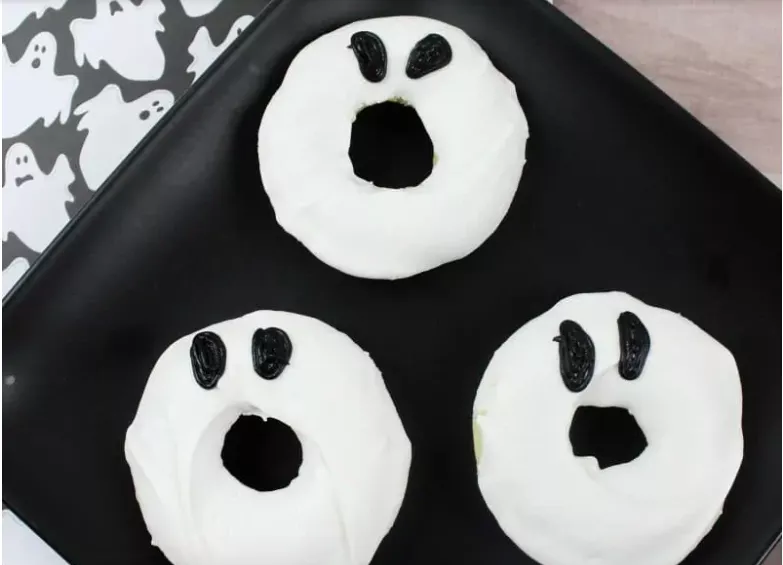 BOO!
These easy ghost doughnuts are as sweet as they are spooky!
Halloween Jello Brain
You know that handy brain mold you keep in your cabinet?
Use it to make a yummy jello brain this Halloween!
Easy Peanut Butter Pumpkins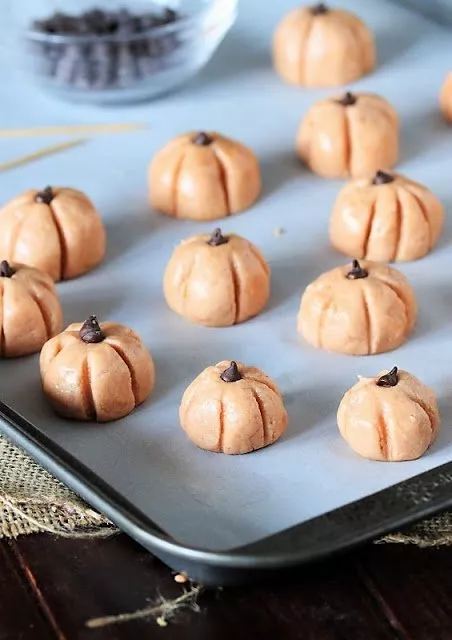 For the trick-or-treaters who are more into sweets and less into eating pumpkins, these adorable peanut butter pumpkins are perfect!
Monster Halloween Popcorn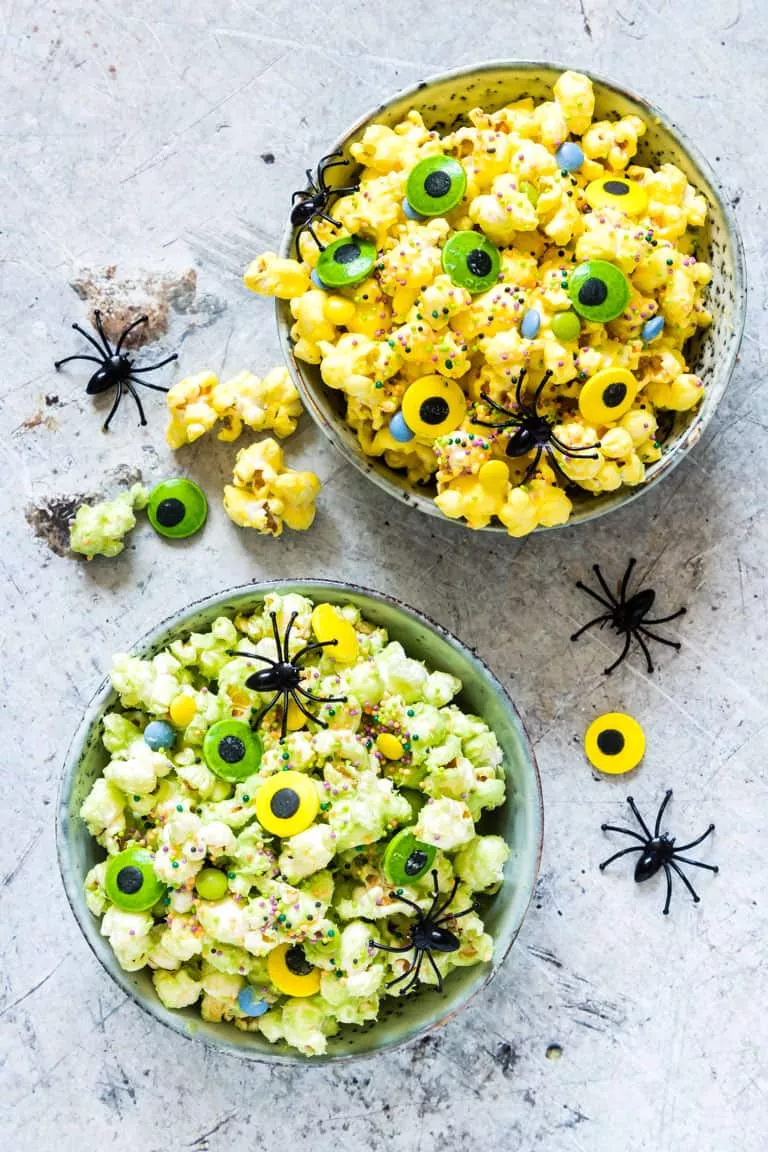 When Halloween is here the monsters appear and the candies disappear.
Make this delicious monster Halloween popcorn this season and cuddle up with a super scary thriller!
Body Parts Pudding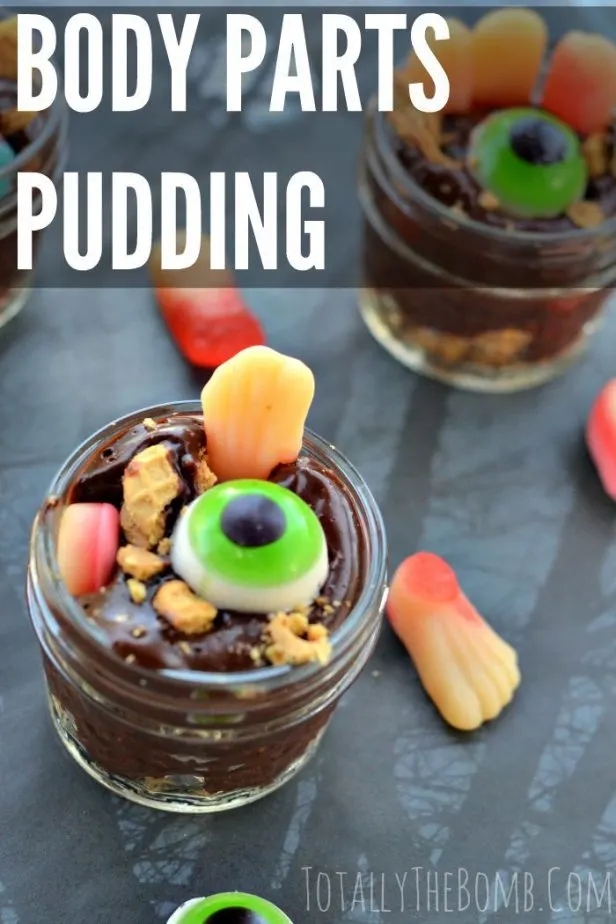 Calling all zombies this Halloween…..eat these yummy gummy body parts in cold blood pudding!
Spider Cookies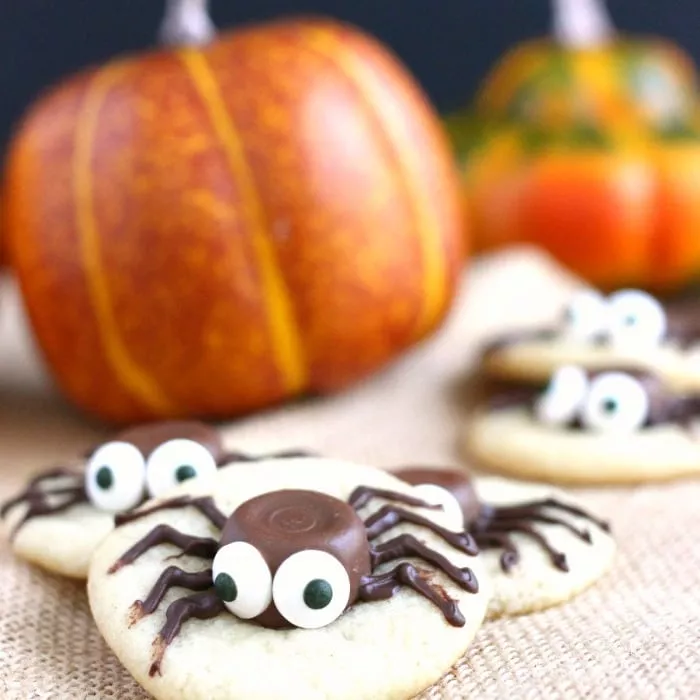 Nothing like a sweet treat greeting you with a scary spider on top!
These spider cookies are more cute than creepy-crawly, though, and sure to be loved even by arachnophobes everywhere ;).
Mickey Mouse Witch Sugar Cookies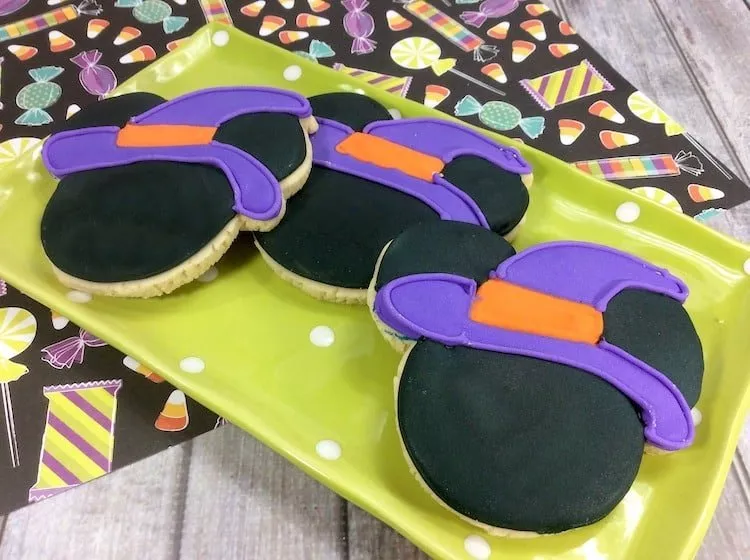 Having Mickey Mouse fans over for your Halloween party?
Make these adorable Mickey Mouse witch sugar cookies for them!
Spooky Cocoa Halloween Rice Krispies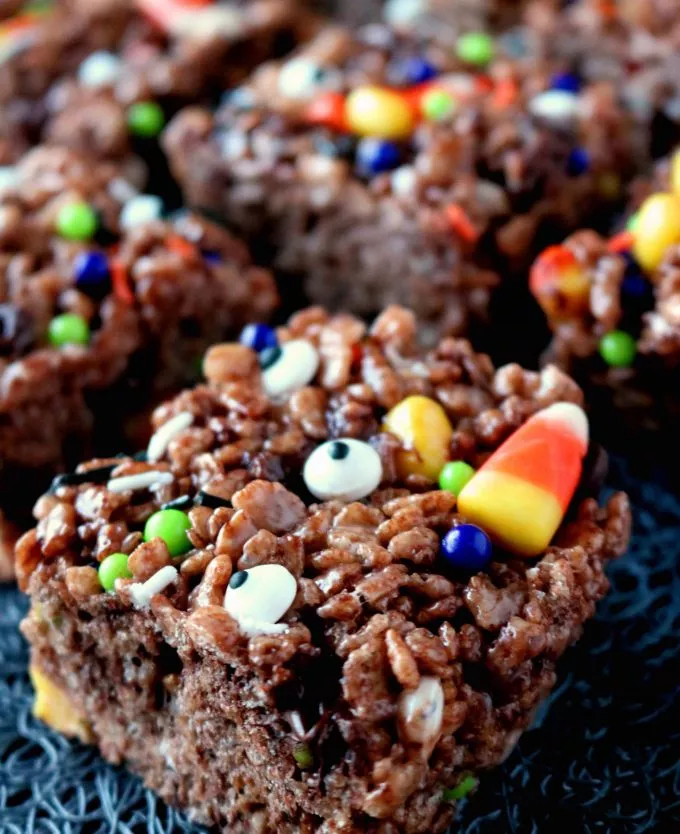 Move over, boring rice Krispies, Halloween is finally here.
And these scrumptious, spooky cocoa Krispy treats will have you screaming for more.
Easy Halloween Bats Candy Treats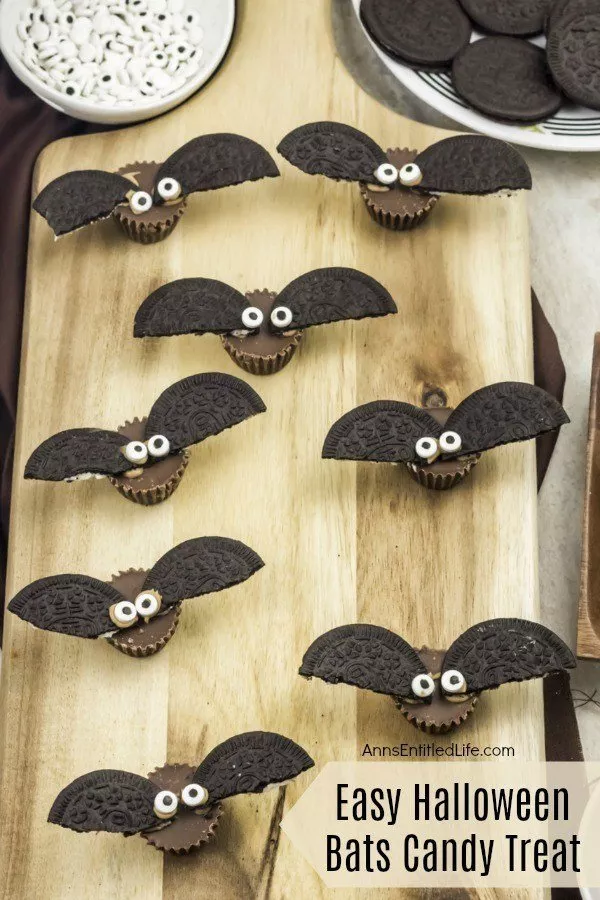 The only time you won't bat an eyelash over eating a bat…these cute Halloween bats are perfect for the spooky season!
Mummy Pumpkin Hand Pies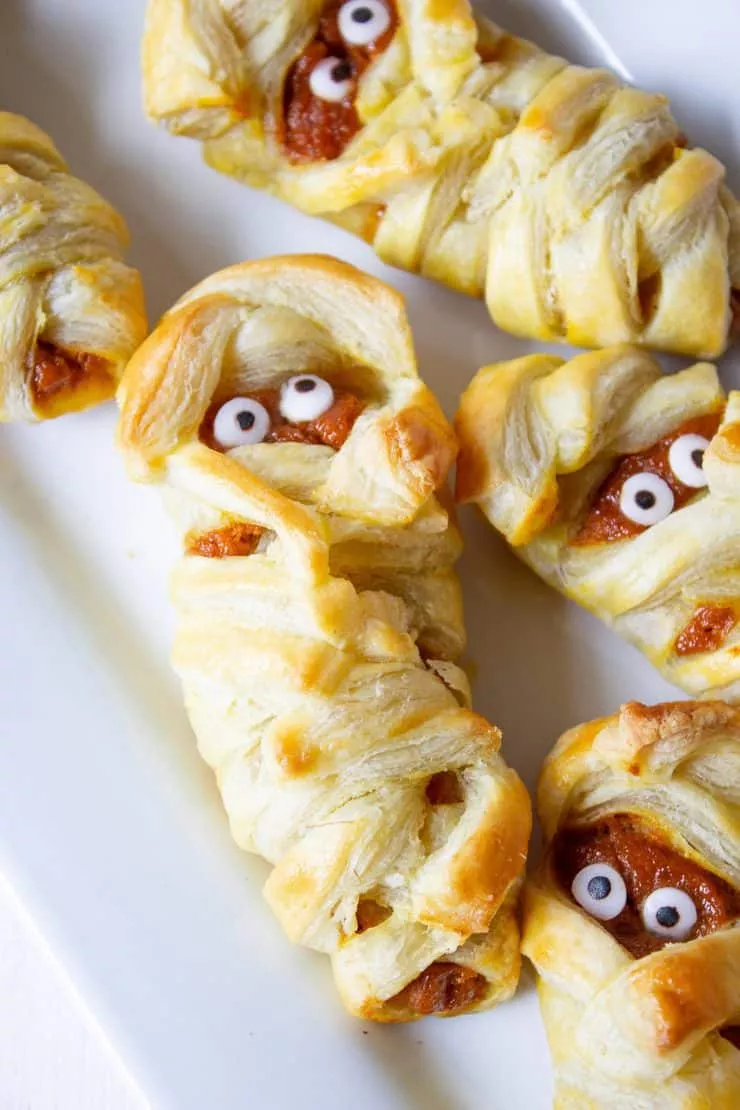 Perhaps the perfect post-trick-or-treating snack, prep and pop these delicious mummy pumpkin hand pies for a delicious snack that will warm up cold fingers after a night in the neighborhood!
Pumpkin Truffles (Sugar-Free)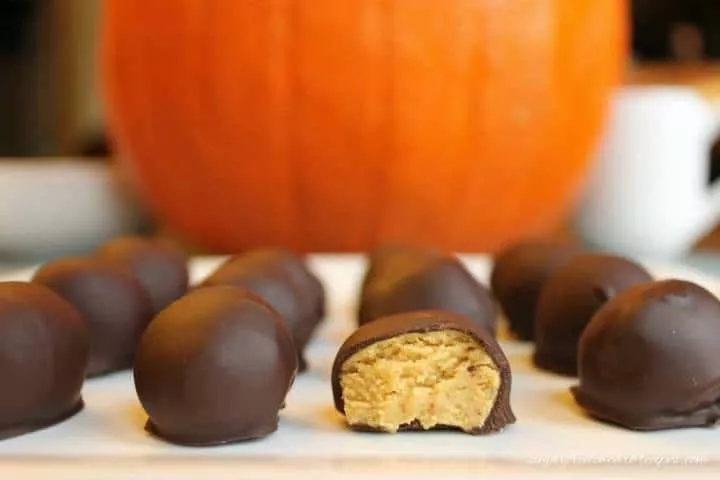 Skip the sugar but not the pumpkin with these easy, low-carb, sugar-free pumpkin truffles!
Frankenstein Jolly Rancher Suckers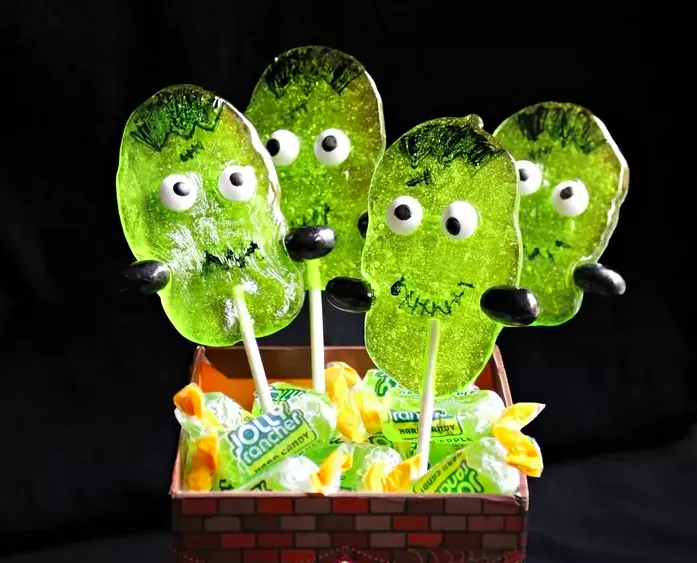 The famous doctor Frankenstein would approve (although maybe not your dentist) of these Frankenstein jolly rancher suckers, which are both a sour and sweet Halloween treat!
Monster Doughnuts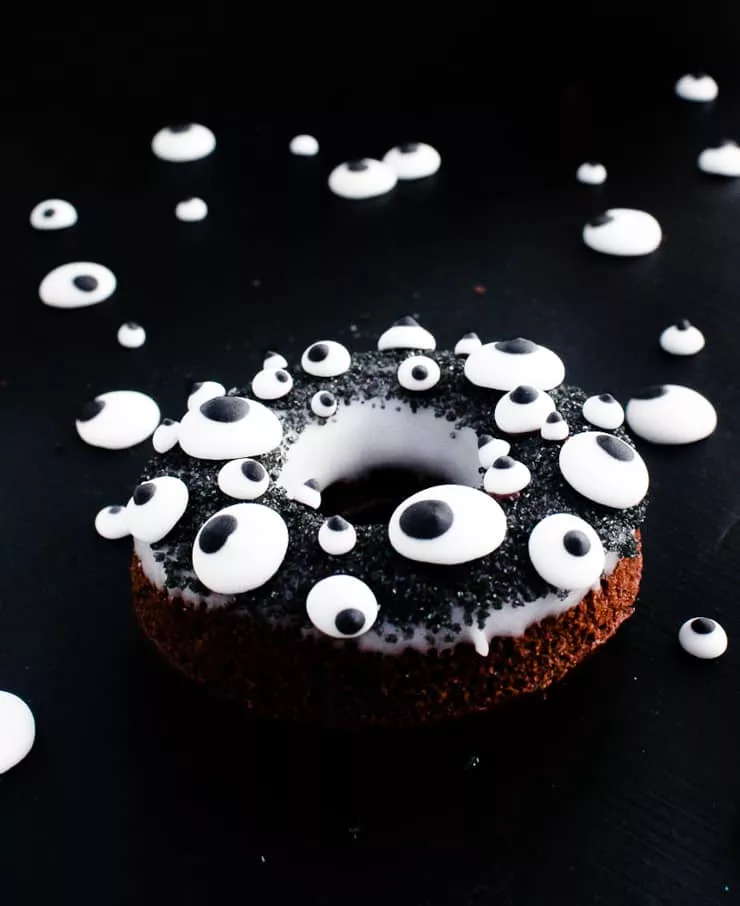 Eyeballs never looked so yummy!
These spooky monster doughnuts are perfect for Halloween parties, get-togethers, or a festive and spooky Halloween breakfast…
Halloween Pretzels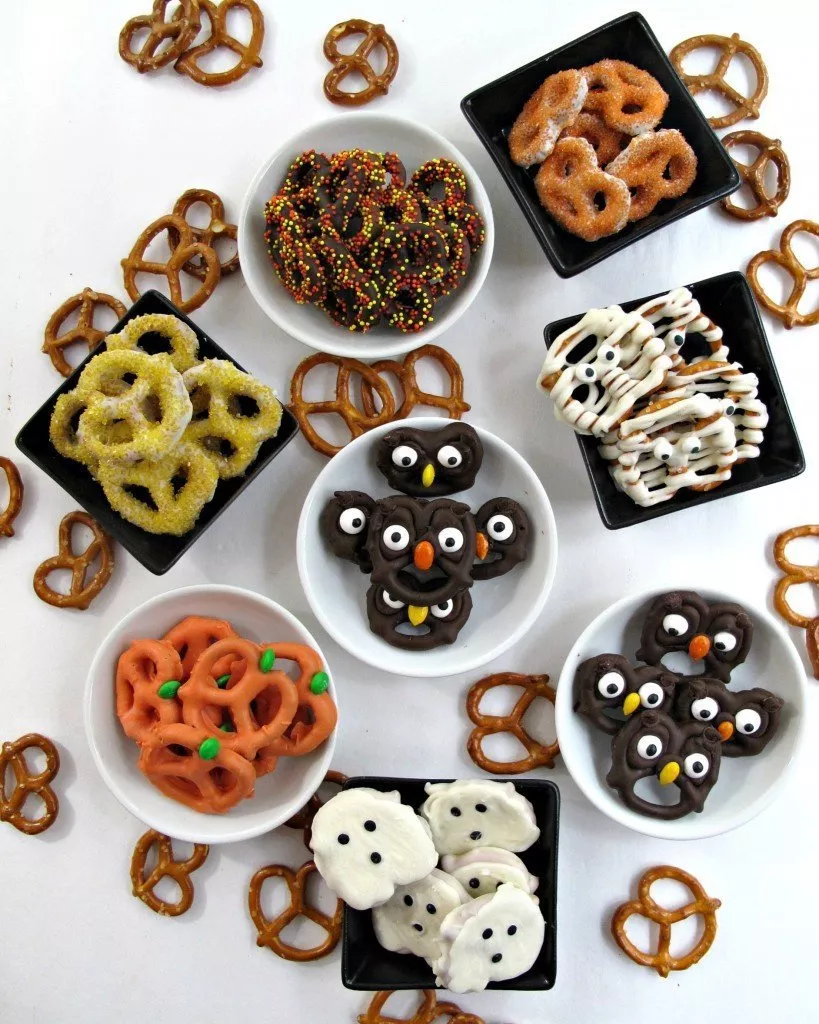 Halloween pretzels – 5 different ways!
Dip these salty treats in sweet chocolate, and learn how to easily decorate them to be spooky, fun, and perfect for Halloween…
Mummy Rice Krispies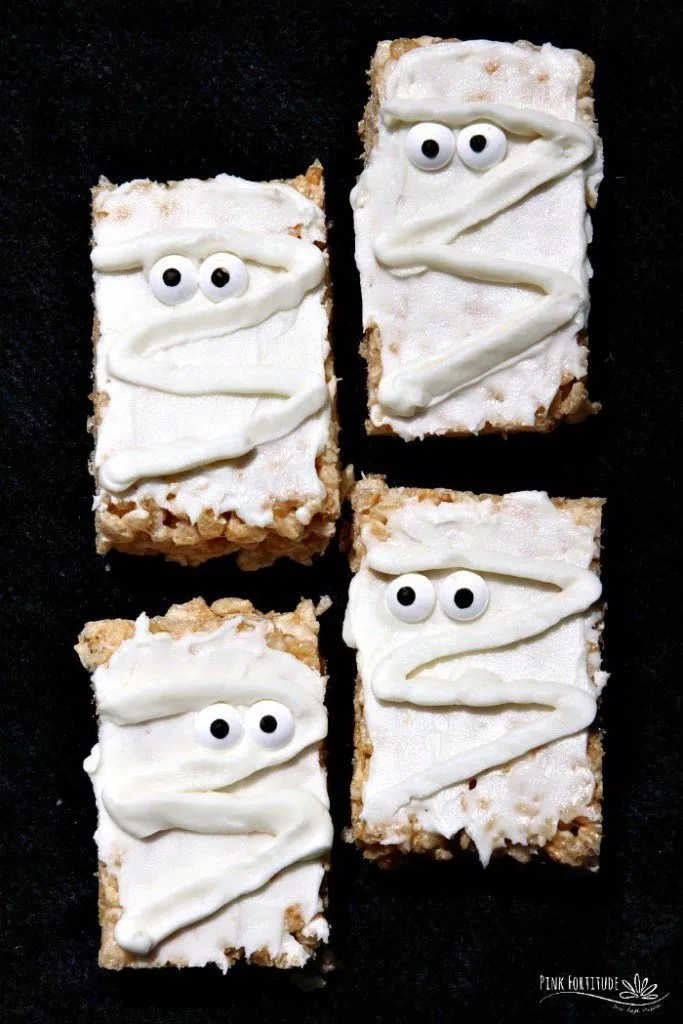 Super cute and easy to make, these mummy Rice Krispies are sure to put a smile on everyone's faces…
Halloween Owl Cookies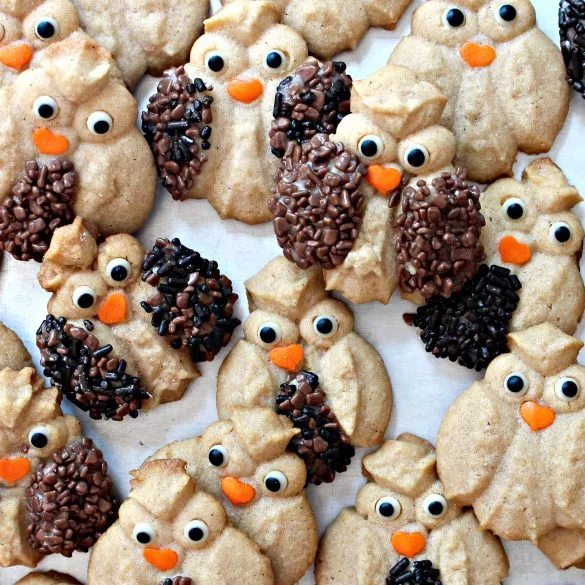 WHOOOOOOOO loves a good cookie recipe?!
These cinnamon spritz owl cookies are adorable, delicious, and a less spooky Halloween treat everyone will love…
Halloween Cakes With Chocolate Peanut Butter Cups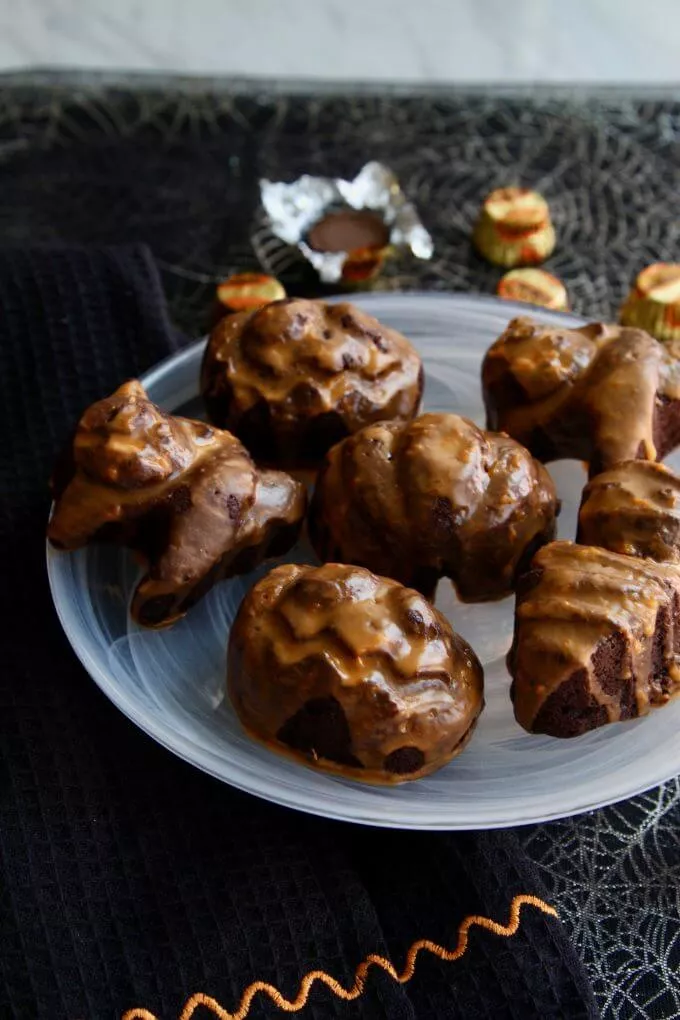 Was there ever a better pair than chocolate and peanut butter?
These delicious chocolate peanut butter Halloween cakes are to die for!
Kid-Friendly Halloween Snack Mix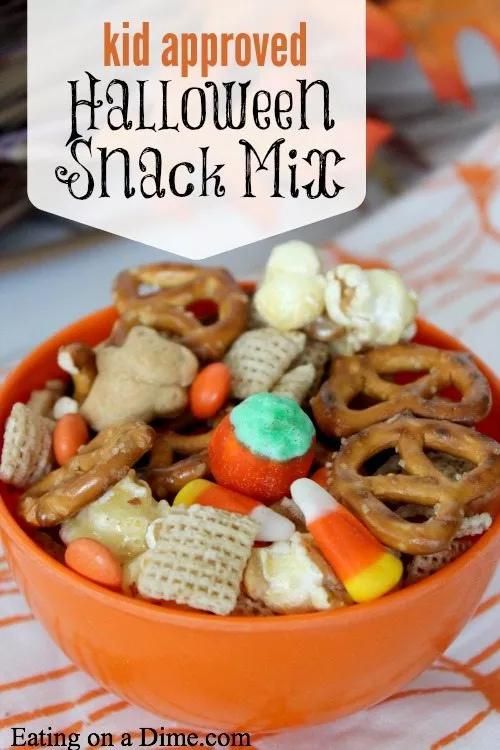 A cute Halloween twist to traditional snack mix, this sweet and salty Halloween snack mix is a must-try this spooky holiday…
Halloween Mummy Cake Pops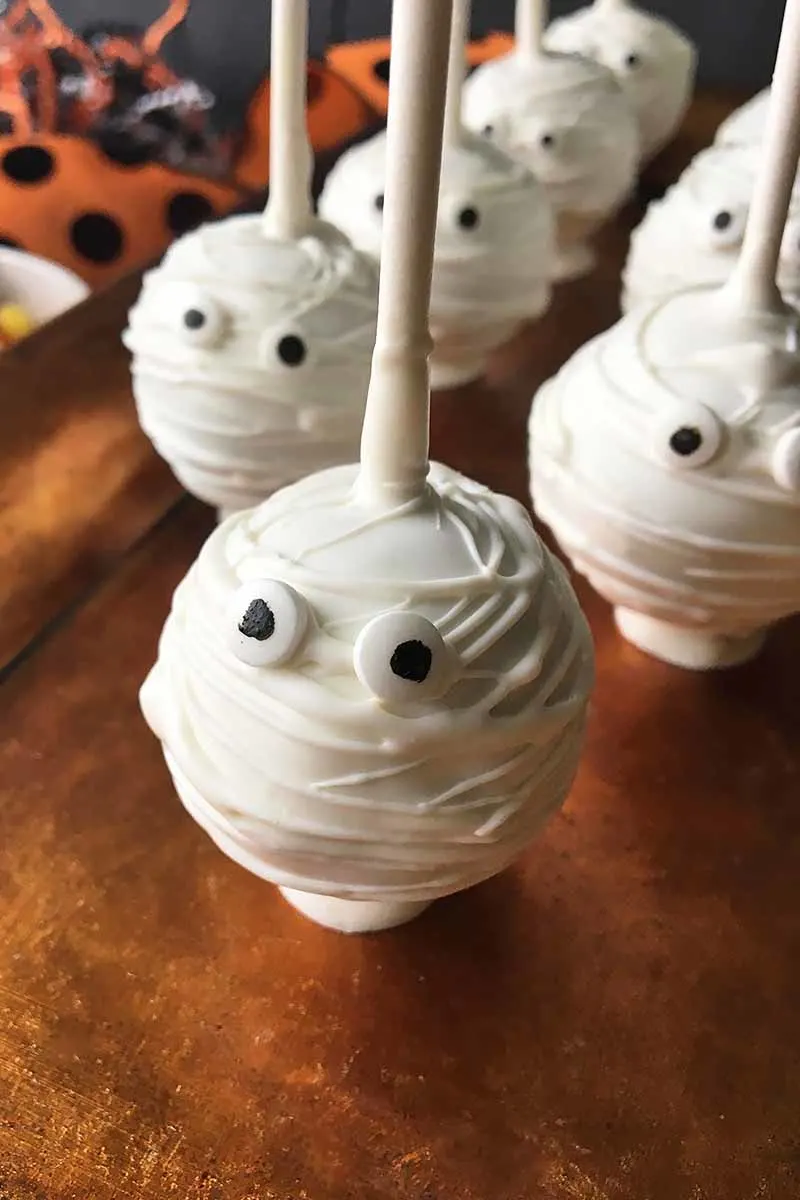 Wrap your cake pops up in delicious frosting with this easy Halloween mummy cake pop recipe and tutorial!
Ritz Spider Crackers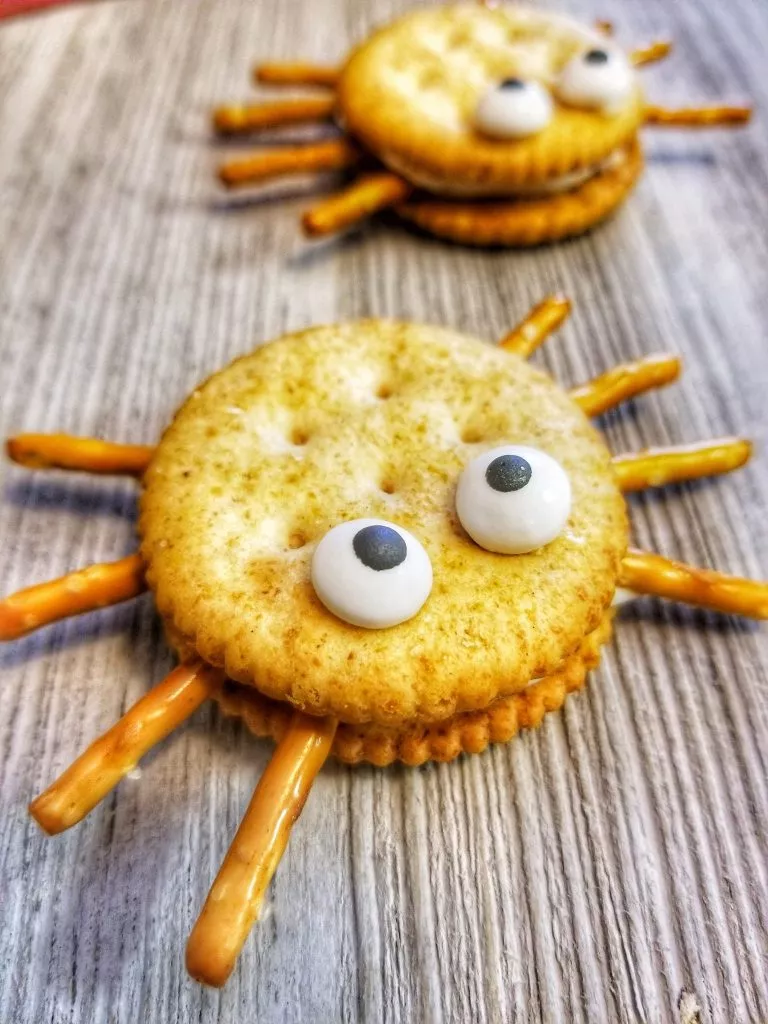 Sure to be a favorite treat, these cute and creepy-crawly spider crackers are easy to put together and are a great treat to feature alongside the sweets you'll be serving up.
Spooky Halloween Bark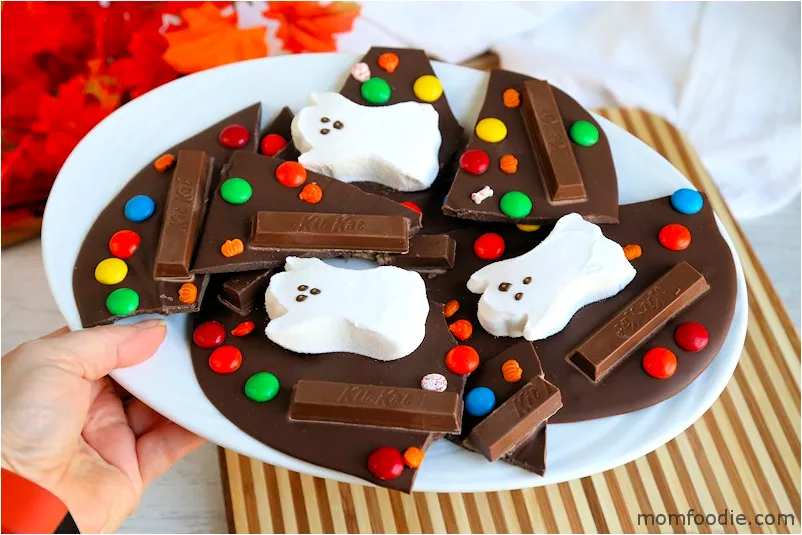 Made up of your favorite candies, this easy Halloween bark is an easy sweet treat everyone will enjoy!
Meringue Ghosts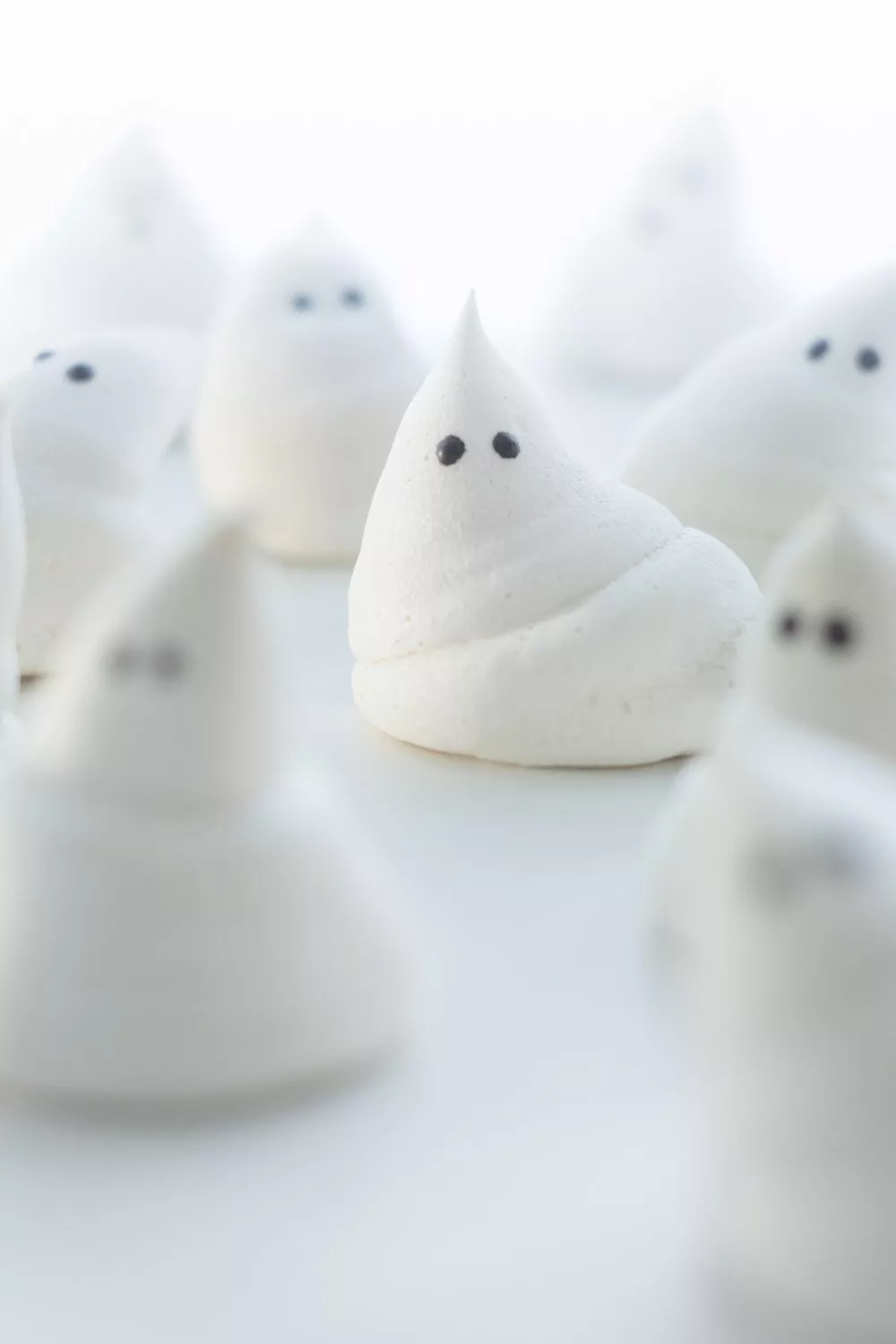 These light and fluffy ghosts are so easy to make – learn how to make your own meringue ghosts here!
Halloween Jack-O-Lantern Twinkies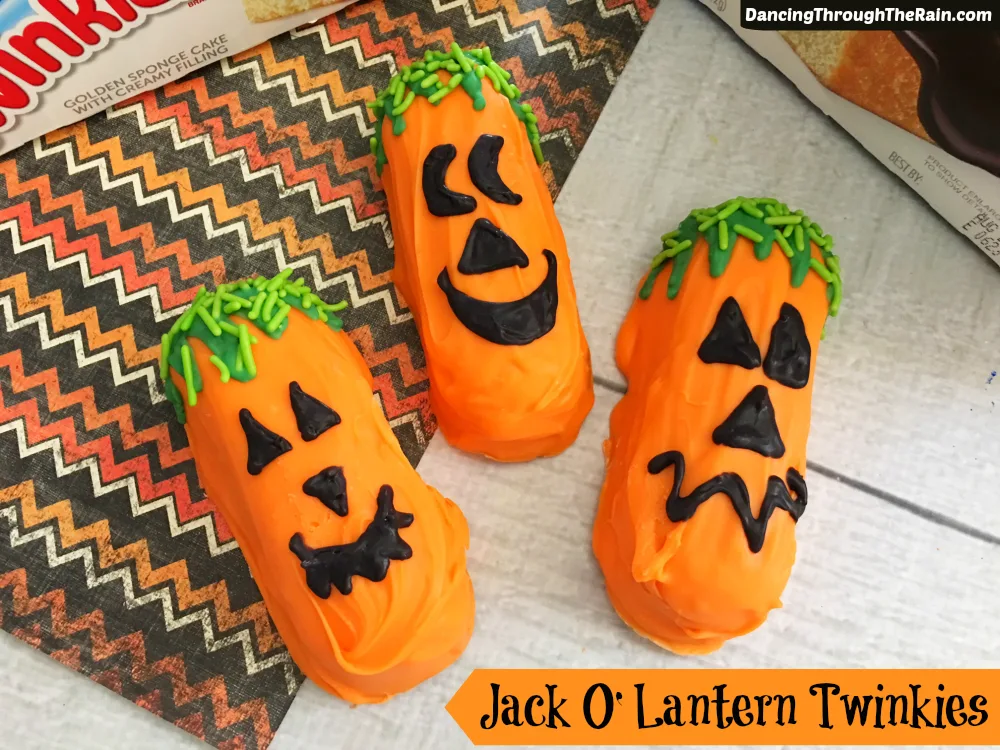 Break out the twinkies for these easy and delicious Jack O' Lantern treats!
Kids can help decorate the pumpkin faces, too.
Cute Monster Eye Cookies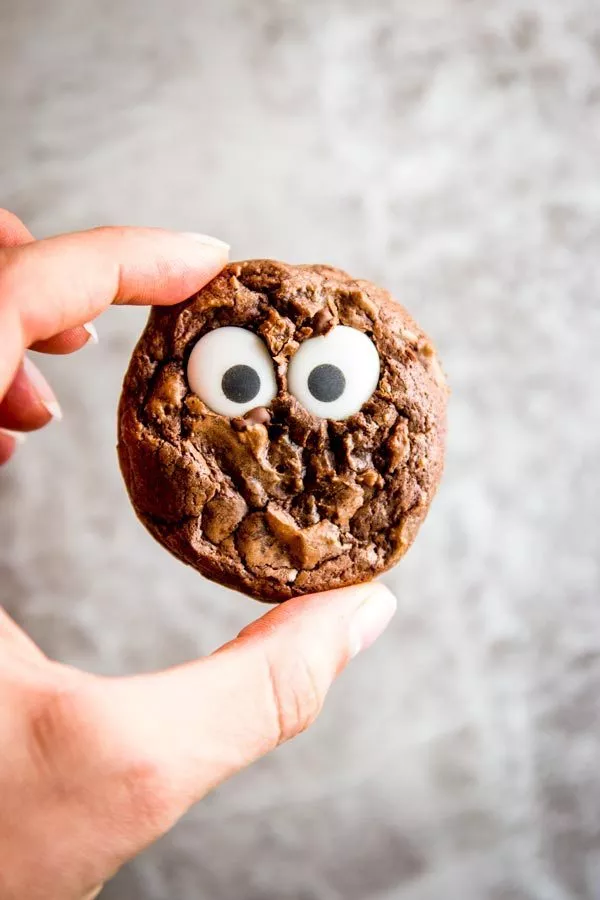 These cute Halloween monster eye cookies are so easy to make, with adorable little eyes looking up at you as you take a bite!
Mummy Water Bottles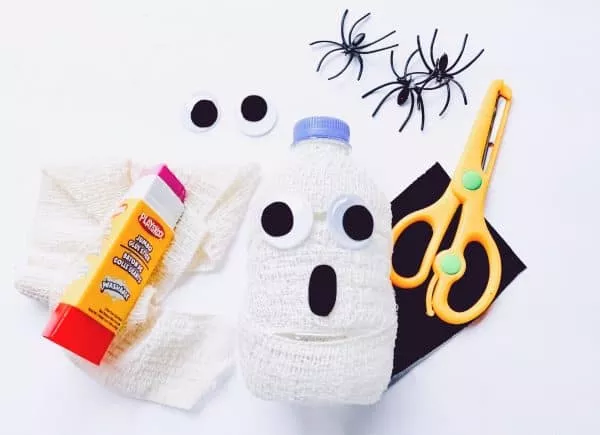 Serve up water at your monster mash with this easy mummy water bottle tutorial that will have your guests saying "WHOO!" instead of "BOO!"…
Mummy Apple Pie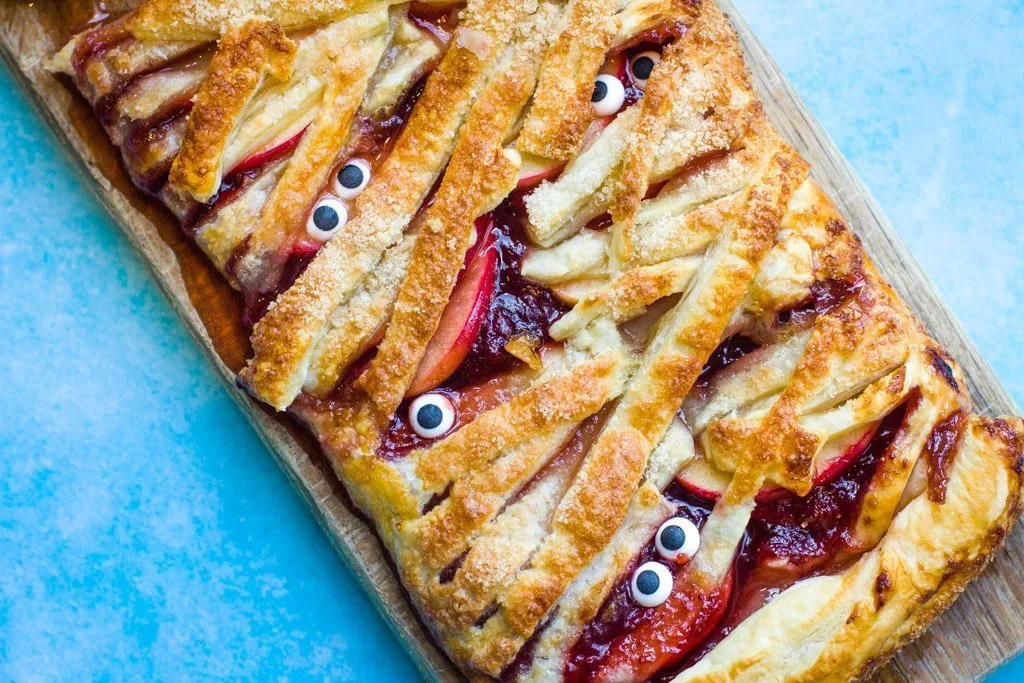 A sweet and savory Halloween party food dish with just the right amount of eyeballs…try this mummy apple pie recipe for your spooky party…
Monster Halloween Marshmallow Pops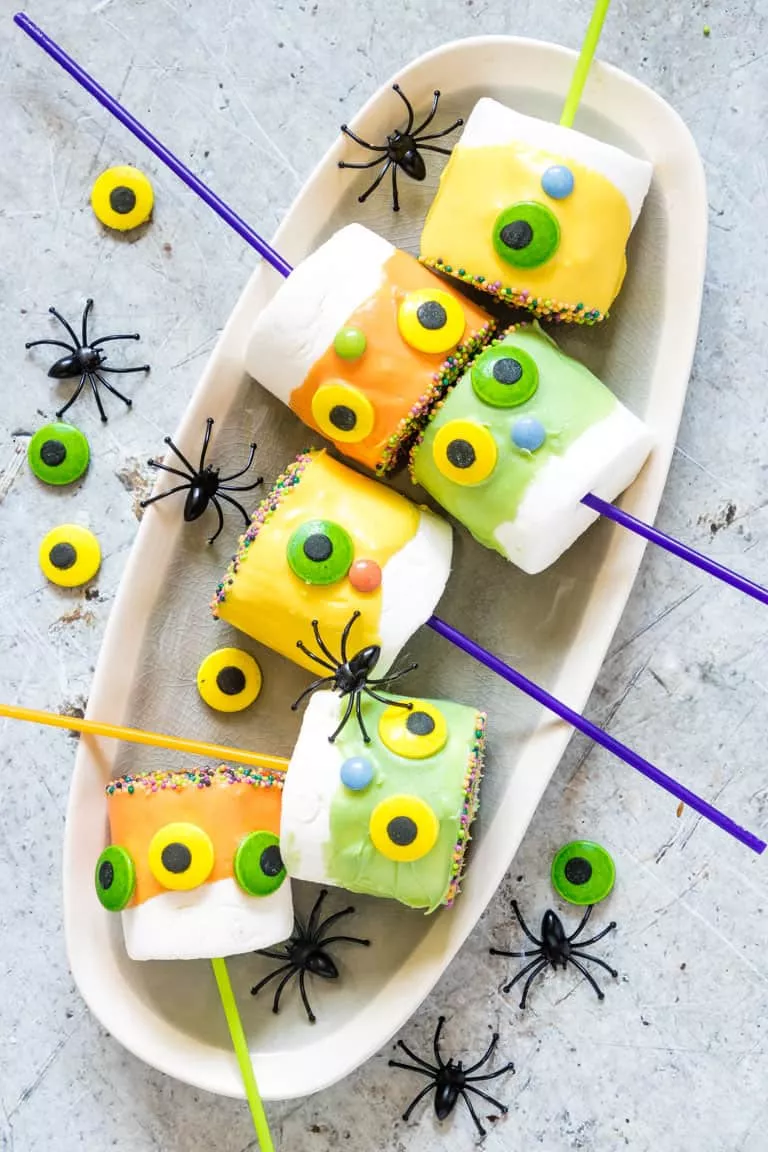 Easy to make, colorful, and spooky fun – these sweet Halloween marshmallow monster pops are perfect for monsters, ghouls, and vamps alike…
Halloween Brownies (3 Different Decoration Ideas)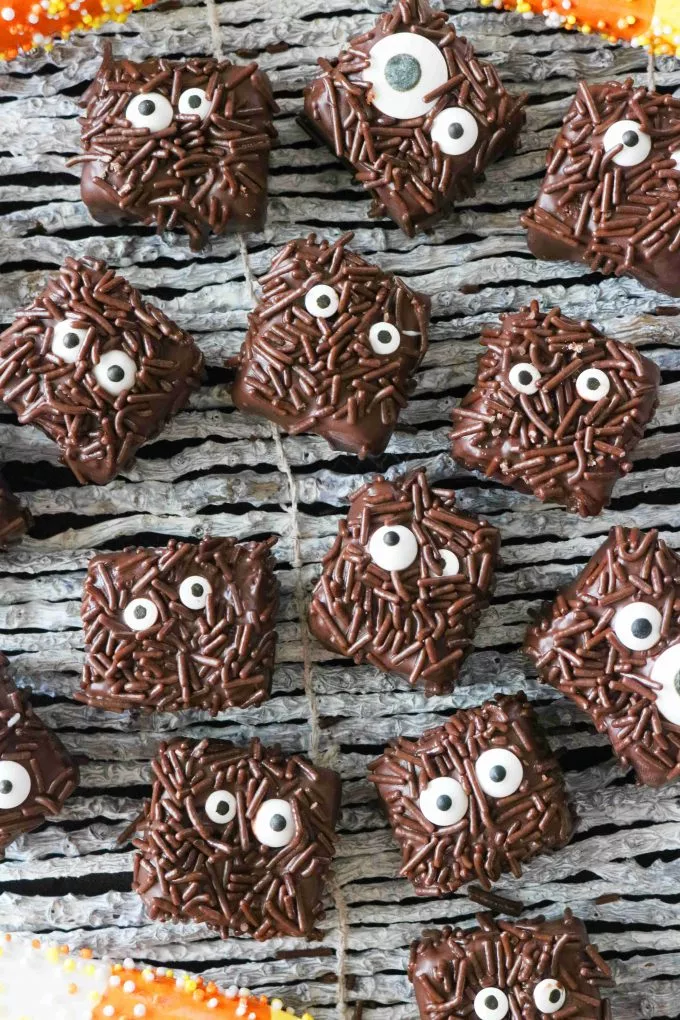 When you think of Halloween treats, brownies probably don't jump up into your brain at first.
But with these adorable Halloween brownies, you can decorate them to be just spooky enough to still be festive (as well as delicious!).
Mad Scientist Green Punch (+ Fun Experiment!)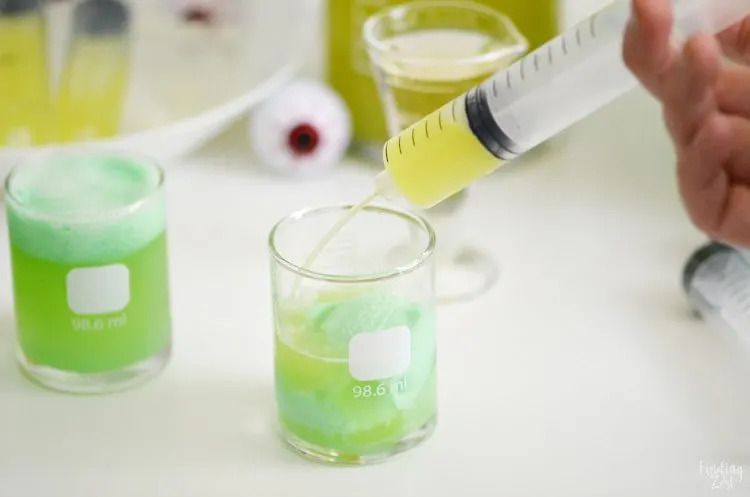 Dr. Frankenstein might not be alive and doing experiments anymore, at least we hope!
But don't let that stop your inner scientist. Make this yummy mad scientist green punch recipe, and practice a fun science experiment while you're at it!
Spooky Spider Treats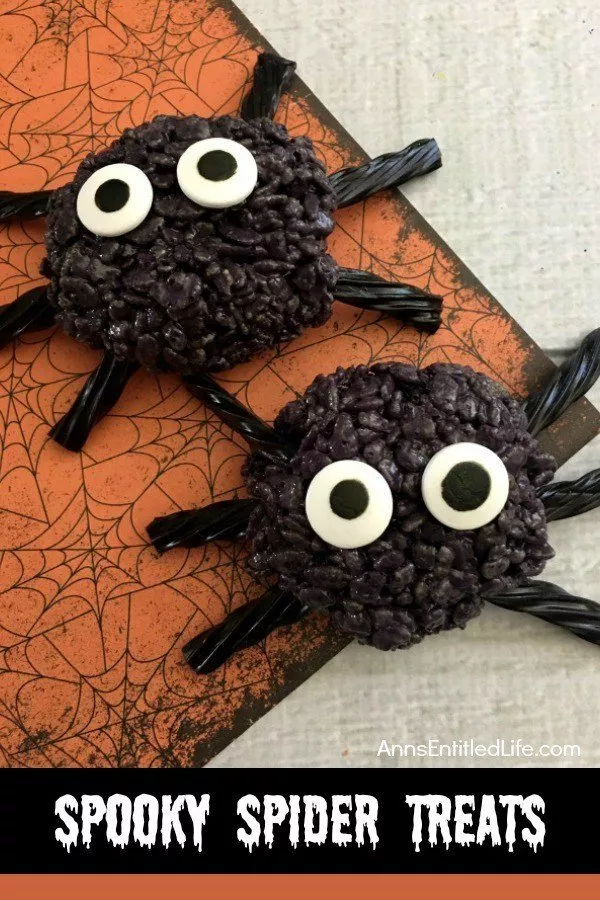 These spooky spider treats are just as sweet as they are creepy.
Perfect for your Halloween get-together this year (plus, they're so easy to make!).
Witch Hat Cookies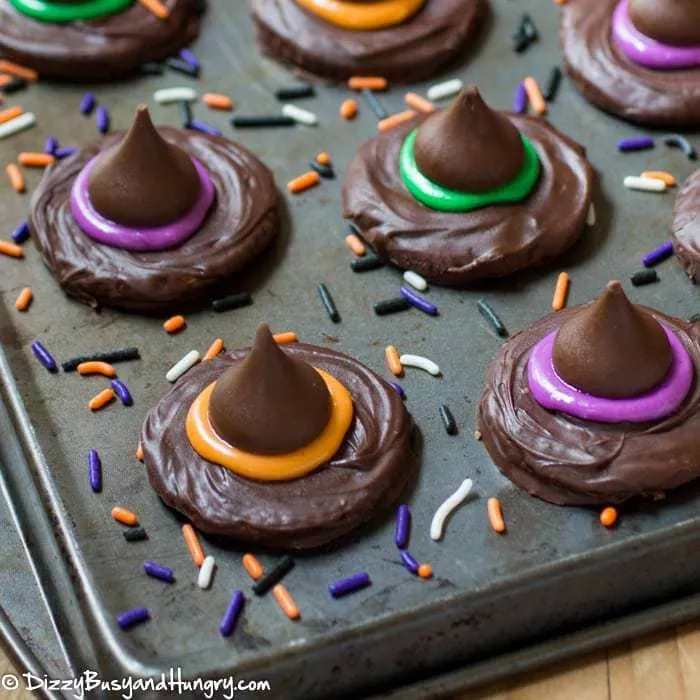 Witches be crazy – but this recipe isn't!
Whip up these adorable witch hat cookies for a fun and colorful Halloween treat!
Popcorn Hands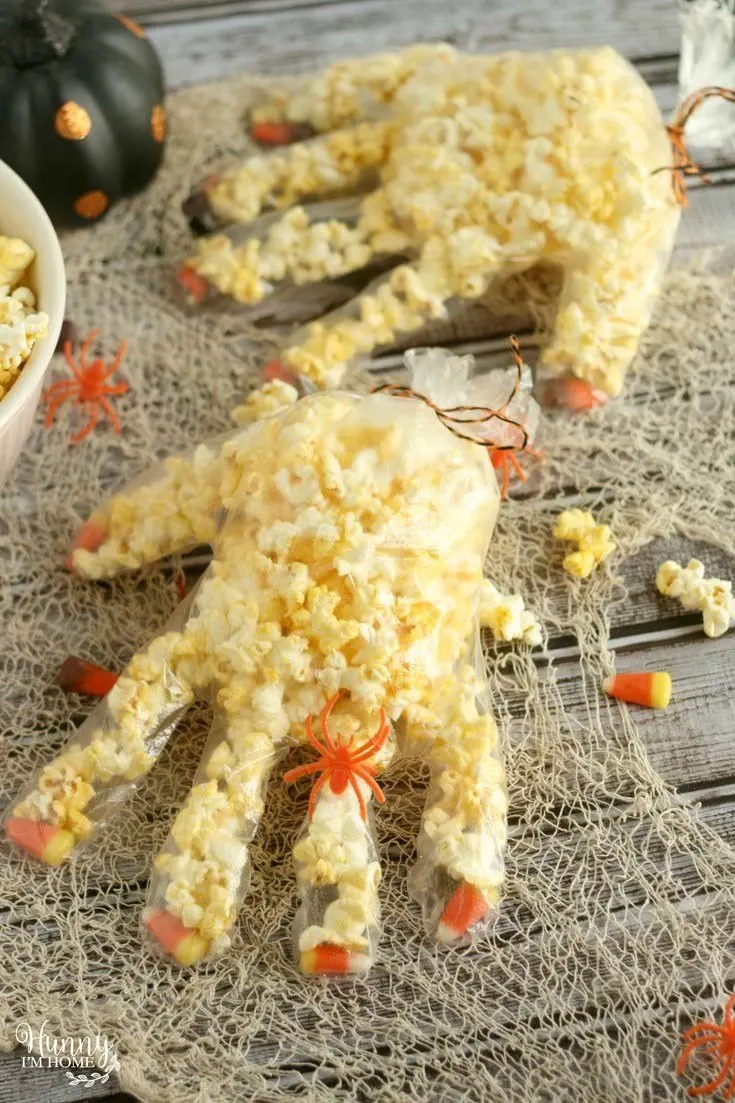 These popcorn hands are so cute, with candy corn fingernails!
Add these to fun Halloween treat bags for your party favors or for your child's classroom…
White Chocolate Halloween Ghosts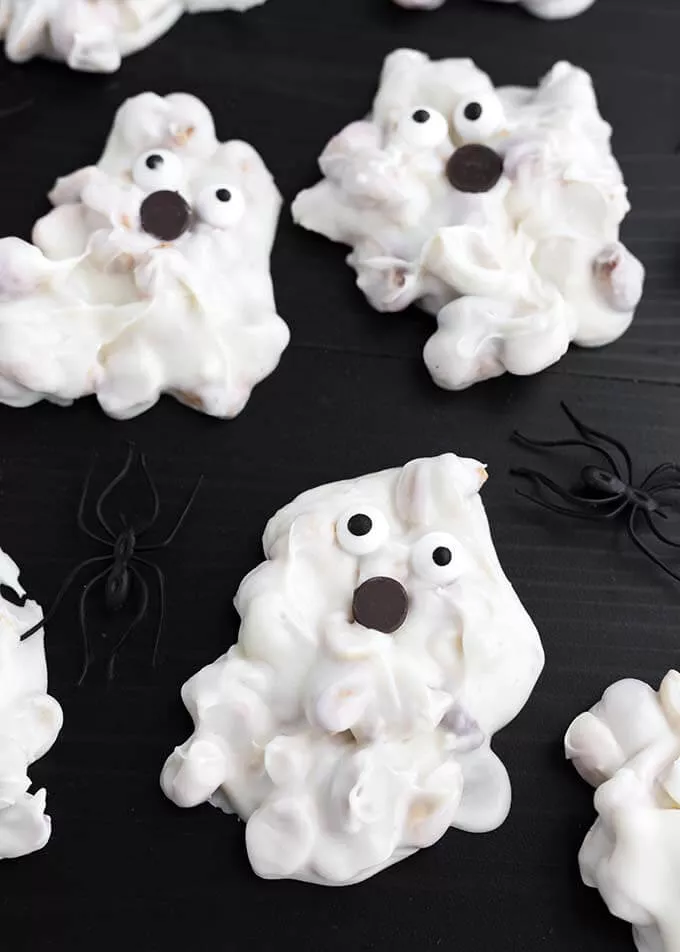 These white chocolate Halloween ghosts are BOO-tiful, wouldn't you agree?
---
Happy Halloween – I hope you love these Halloween treats for kids! Which one was your favorite? Let me know in the comments below!
*Post originally published August 2019, last updated October 2021.