Interested in the Simply Earth Essential Oil Recipe Box? Read my review, save $40, and enter a giveaway for the October 2020 box…
---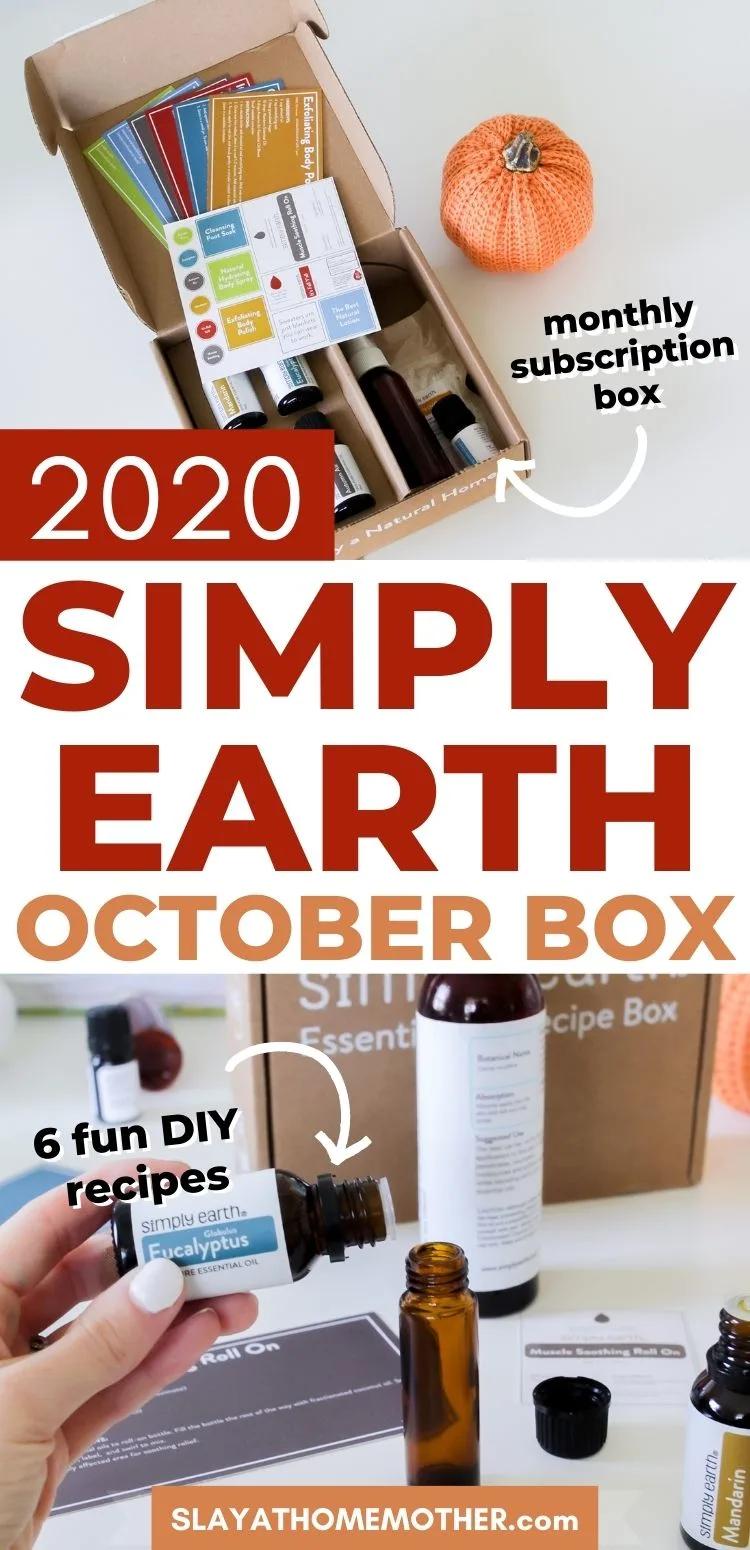 Hi, friends!
If you're a loyal reader (or a loyal follower over on my Instagram), you've probably already heard me GUSH about Simply Earth.
I've been receiving their subscription box for the last couple of months.
Here is August's review here, and September's review.
This is my third box, and possibly my favorite so far.
In this post, I'll be talking more about Simply Earth, their Simply Pure Promise, and what's in the October 2020 recipe box…
*This post is in partnership with Simply Earth, a brand I love, and contains affiliate links. All opinions are my own, as always.
A little about Simply Earth
Simply Earth founders, Katie and Shilah, who are also Certified Aromatherapists, came up with the idea for Simply Earth after many frustrating years of having to buy expensive essential oils through consultants and MLMs.
When they realized they could source oils themselves for much cheaper, they decided to start their own company to help other oil lovers save money, remove toxins from their home, and create a more natural home.
You can read more about their story HERE.
What I love about Simply Earth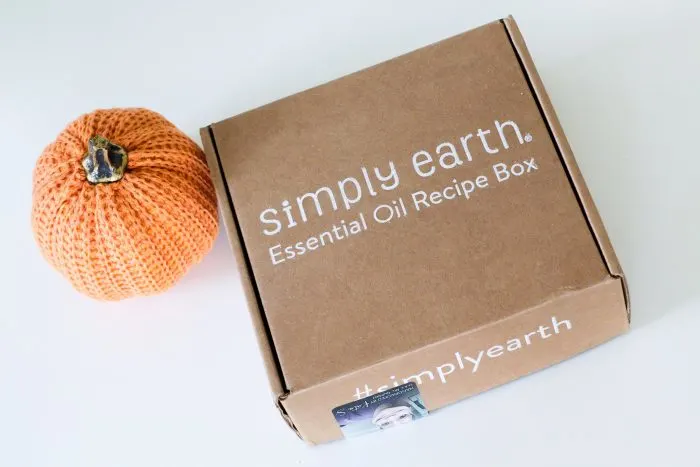 Simply Earth isn't just an essential oil supplier – they're educators.
They are intent on teaching their customers how to use oils in a way that is safe and purposeful.
And, this may not be the most popular opinion, but I love that they advise against ingesting oils.
I know plenty of MLMs will boast their oils are pure enough to ingest, and even market their oils to be ingested.
And this post isn't meant to bash or insult any MLMs ;)…
But I've always felt wary of the advice that you could ingest something so potent and not cause any damage.
Because essential oils are so potent, some of them can be poisonous and even fatal when ingested.
You can read more about Simply Earth's views on essential oil ingestion and safety HERE.
Simply Earth is also an independent company, and NOT an MLM.
You can always guarantee you're getting 100% pure oils at an honest price.
In my book, that earns them five shiny gold stars!
Have I mentioned they donate 13% of their profits to fights against human trafficking?
Let's just add on another 5 gold stars for that.
The Simply Earth Simply Pure Promise
Simply Earth oils are all ethically sourced from the area each plant grows best, third-party tested for purity and composition, and contain no fillers or additives.
They also have all of their oils third-party tested and list all GC/MS reports on their site.
What's Inside the October 2020 Simply Earth Box?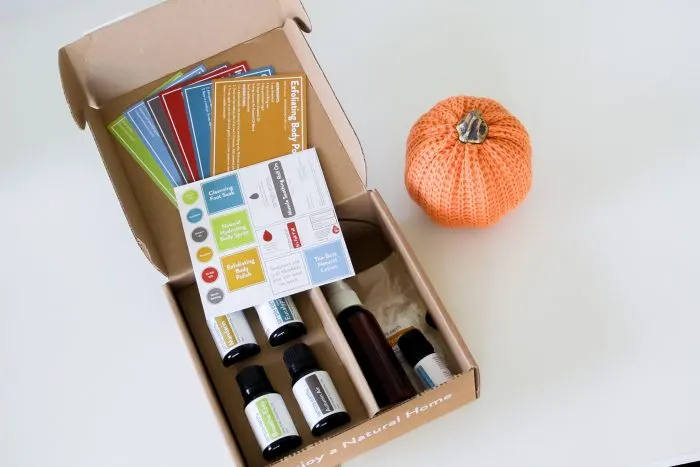 Here's what included in the October 2020 box from Simply Earth:
Autumn Air essential oil blend – 15mL

made with lemon, orange, balsam fir, ho wood, and cassia essential oils

Breathe Easy oil – 15mL

made with fir needle, cedarwood, frankincense and myrrh

recipe stickers
6 DIY recipe cards
emulsifying wax
vegetable glycerin
amber spray bottle (made with PET plastic, which is considered to be safe to use with essential oils)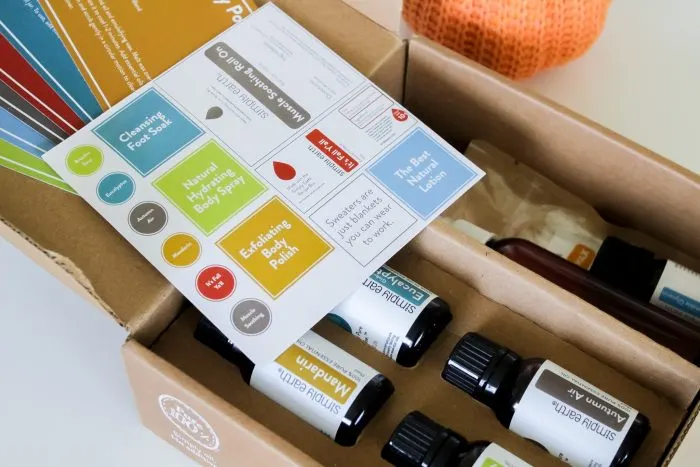 Each subscription box comes with 6 fun DIY recipes, 4 full-size essential oil bottles, and extras you need to make the recipes!
What's great about the recipes is they each only use a few drops of certain oils, which means this subscription can help you build up your oil arsenal in no time!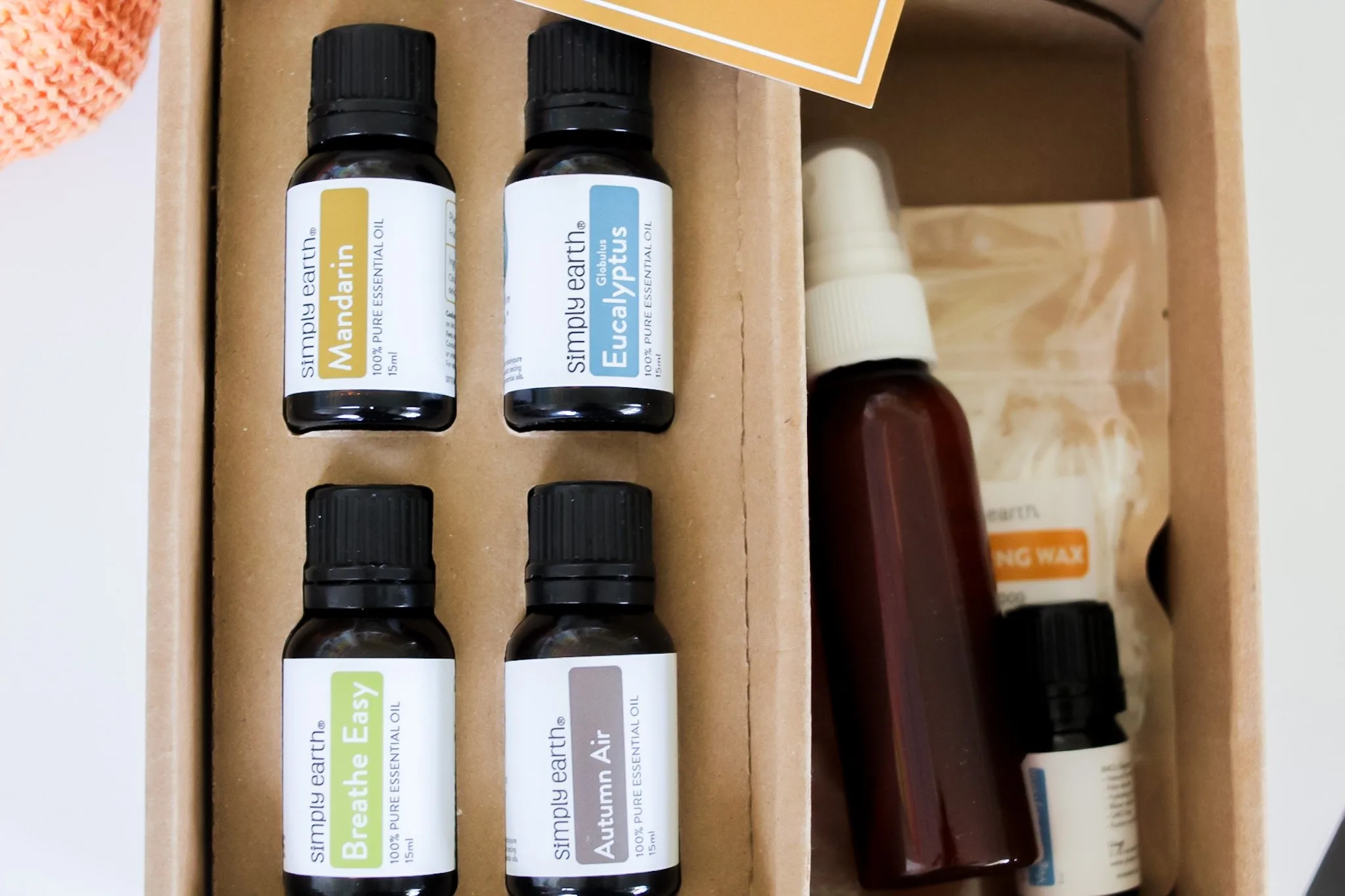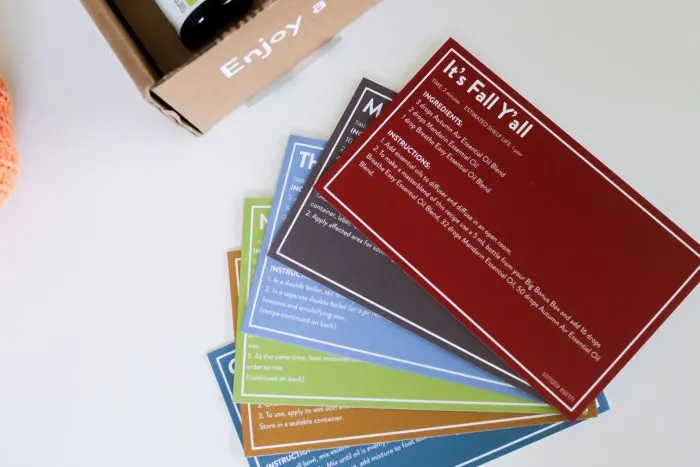 Along with the recipe cards, Simply Earth also includes and provides a quick, helpful guide to the oils included in the monthly box, which tells you the general use of each oil, if the oil is safe during pregnancy, whether they are safe for cats or dogs, and if you should dilute before applying to your skin.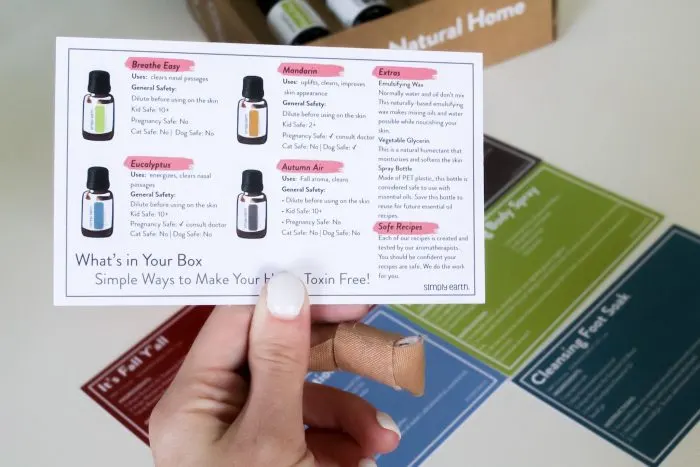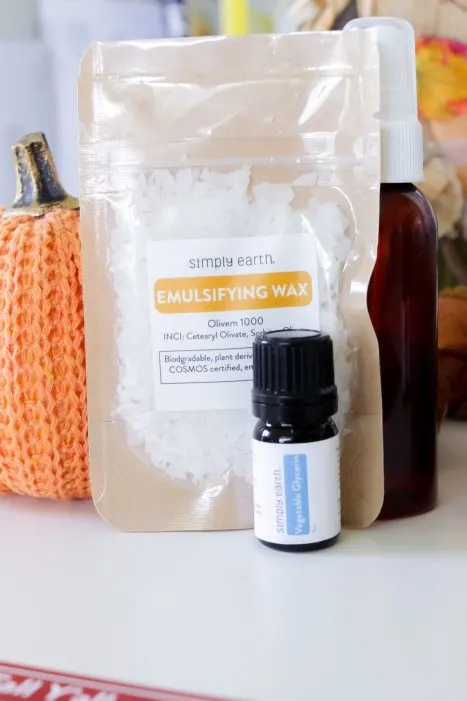 BIG BONUS BOX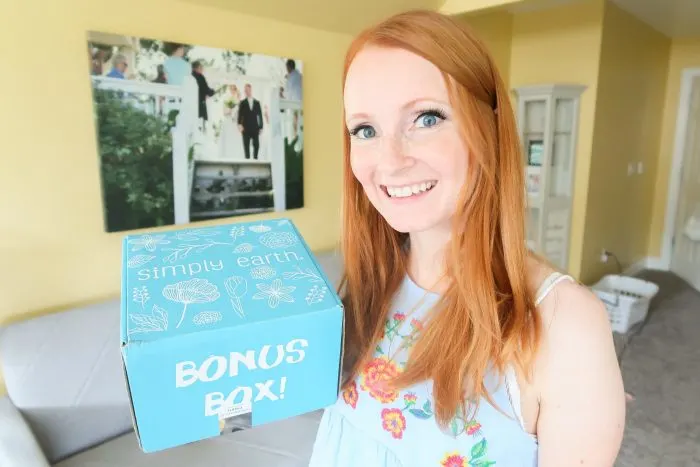 For first-time subscribers, Simply Earth offers their BIG BONUS BOX for free, which includes amazing extras that oil lovers use and need like carrier oils, roll-on bottles, and aloe vera.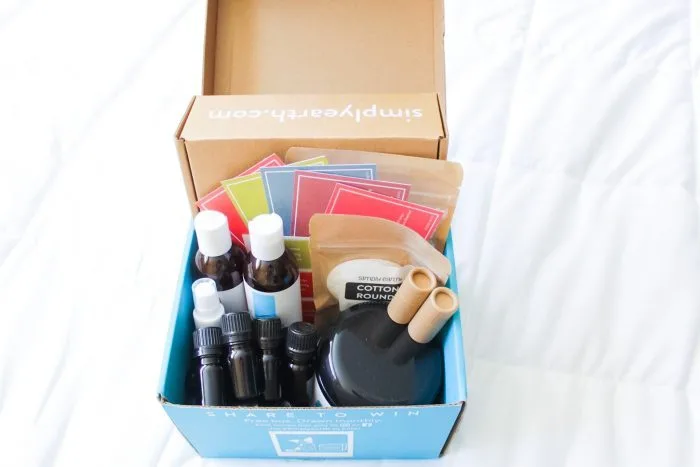 Here's what comes in the BIG BONUS BOX:
This box comes free with your 1st box, as well as your 6th box! Woohoo!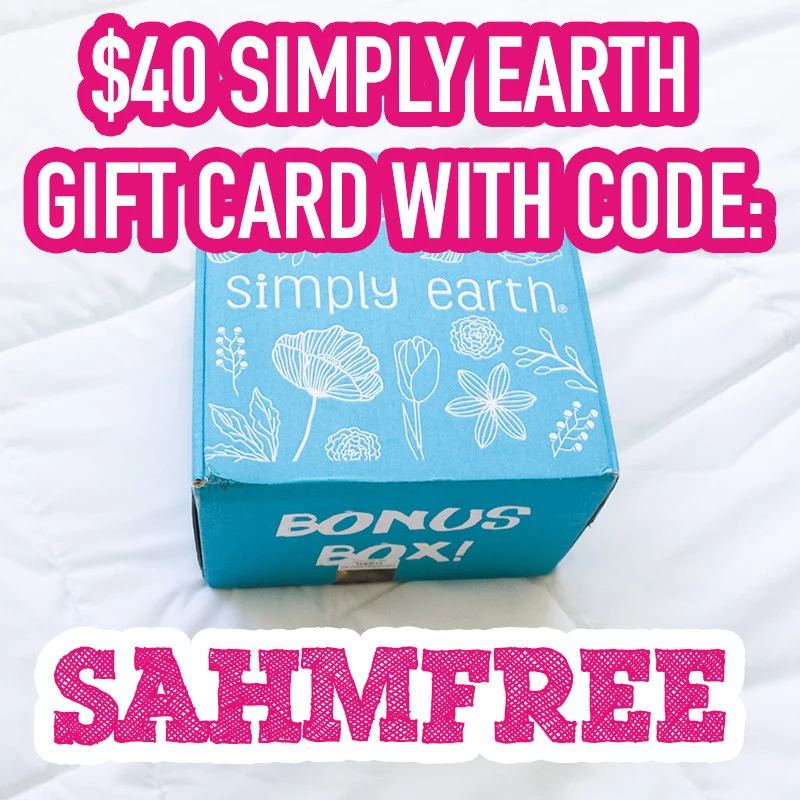 How does the subscription box work?
The Simply Earth subscription box is a monthly essential oil subscription that delivers a fun recipe box to your doorstep each month.
Filled with full-sized bottles of essential oils, the box includes recipe cards and essentials that help teach you how to use essential oils and make natural recipes for yourself and your home.
Let's Make A Recipe From The Box Together!
I'll be featuring two recipes from the October 2020 Simply Earth recipe box, with the first being their It's Fall Y'all diffuser blend…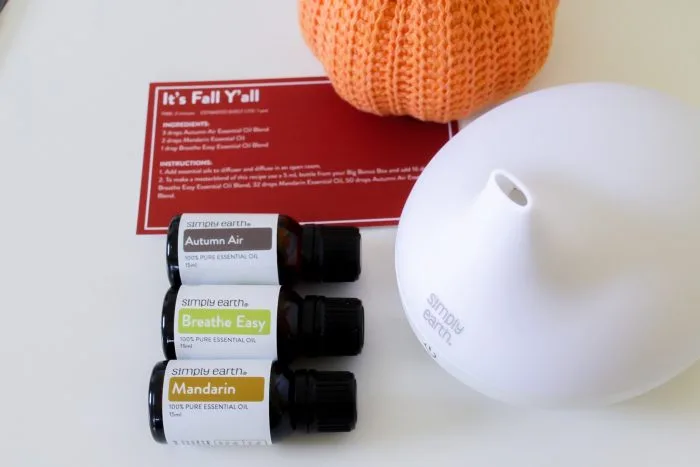 I am LOVING this diffuser blend – it really smells like Fall (without all the pumpkin vibes, which I don't mind at all).
The second recipe is the Muscle Soothing Roll-On, with eucalyptus and mandarin oil…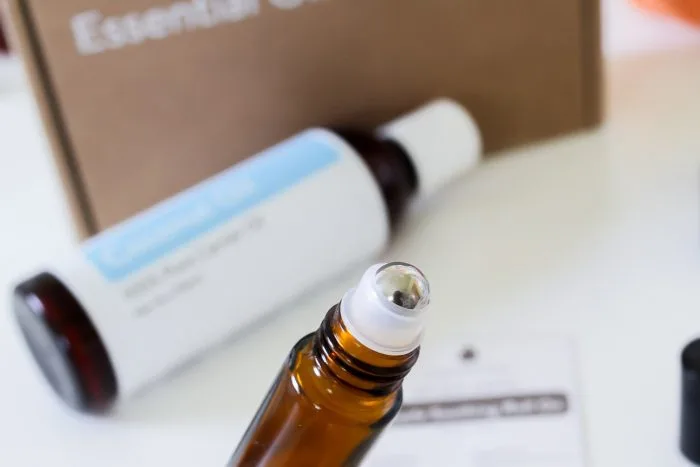 For this recipe, you'll need a roll-on bottle and carrier oil (it calls for fractionated coconut oil), both of which come in the BIG BONUS BOX for new Simply Earth subscribers.
The roller head comes off easily so you can mix up this amazing blend…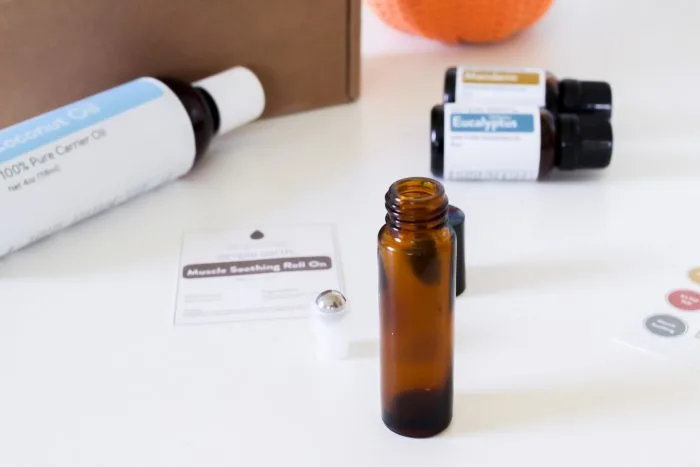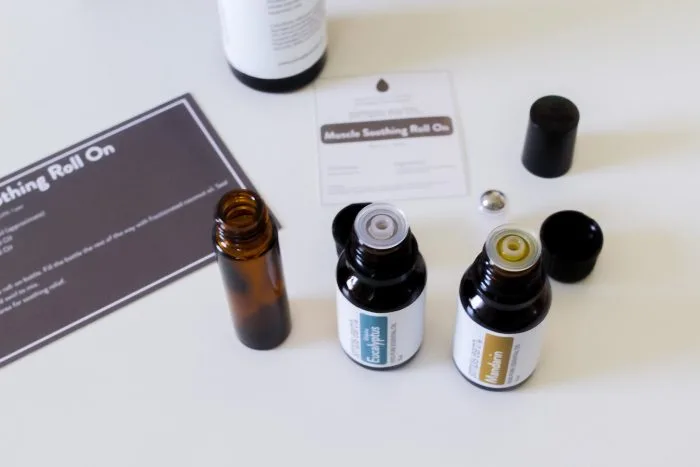 The part I love the most about the Simply Earth recipe box is that it teaches you how to use essential oils.
When it comes to eucalyptus, I usually just diffuse it…
But there are so many other uses for eucalyptus oil than just diffusing it, like this Muscle Soothing roll-on recipe, combined with mandarin oil to help provide tired, achy muscles with some much-needed relief!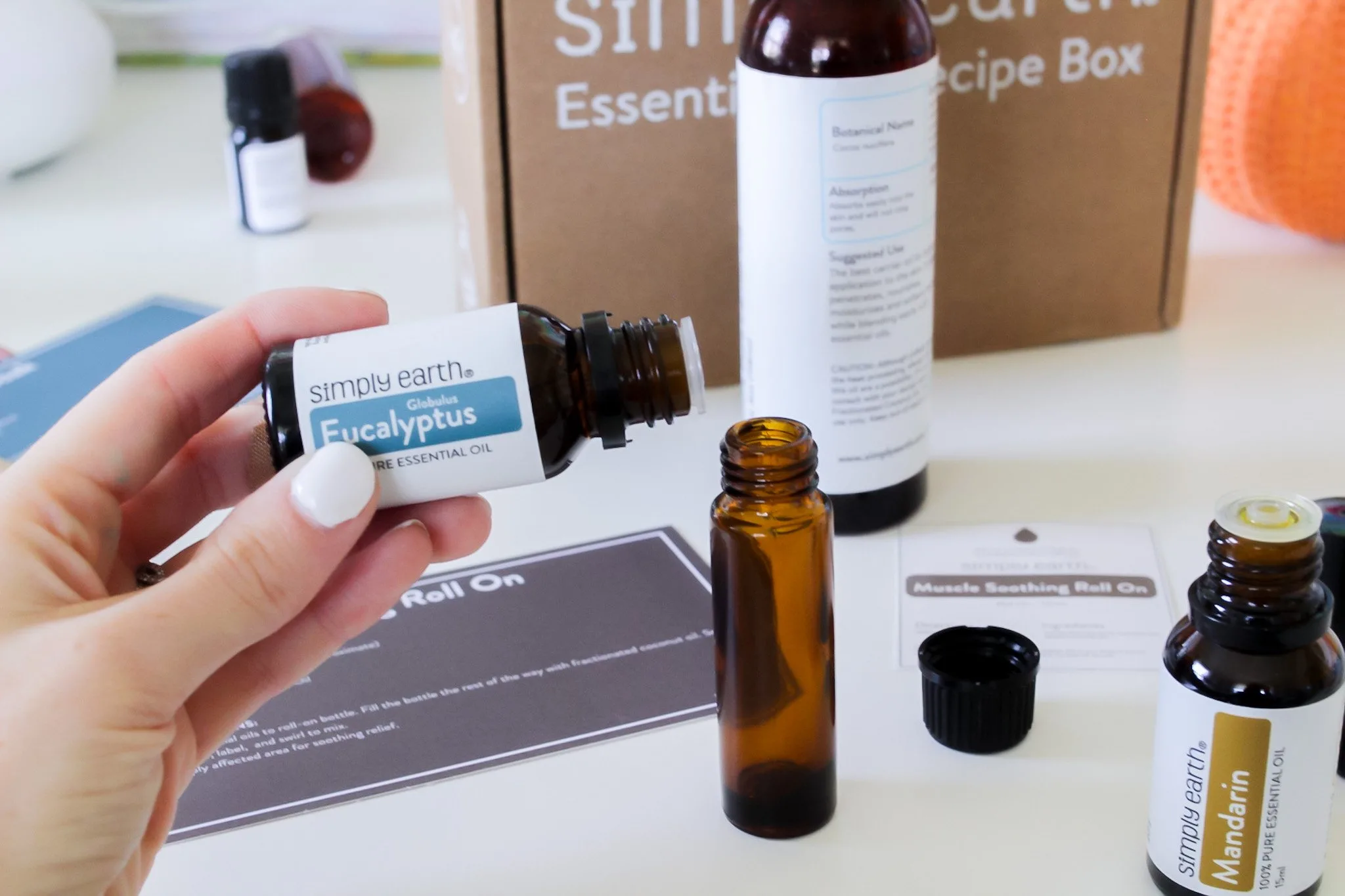 Before this box, I had no idea you could use eucalyptus this way!
Mixing up the roll-on blend is easy – just drop the recommended number of drops for each oil, add in approximately 10 mL of coconut carrier oil, and swirl to blend.
Simply Earth also provides useful labeling stickers for the recipes with helpful information like shelf life, ingredients, and directions.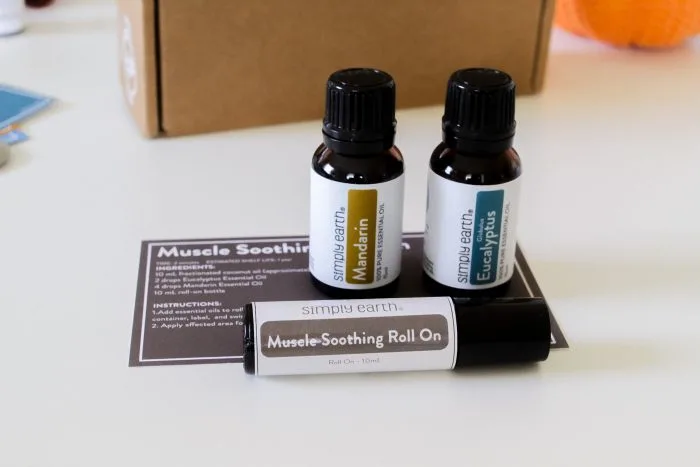 So far, this blend is working great on my shoulders.
When I experience stress, my shoulders feel like someone is pinching them.
This roll-on blend has helped ease that tension quite a bit, which really surprised me!
---
If you want to try the Simply Earth recipe box subscription, feel free to use my referral code SAHMFREE, which gives you a $40 e-gift card you can use towards your next box or purchase!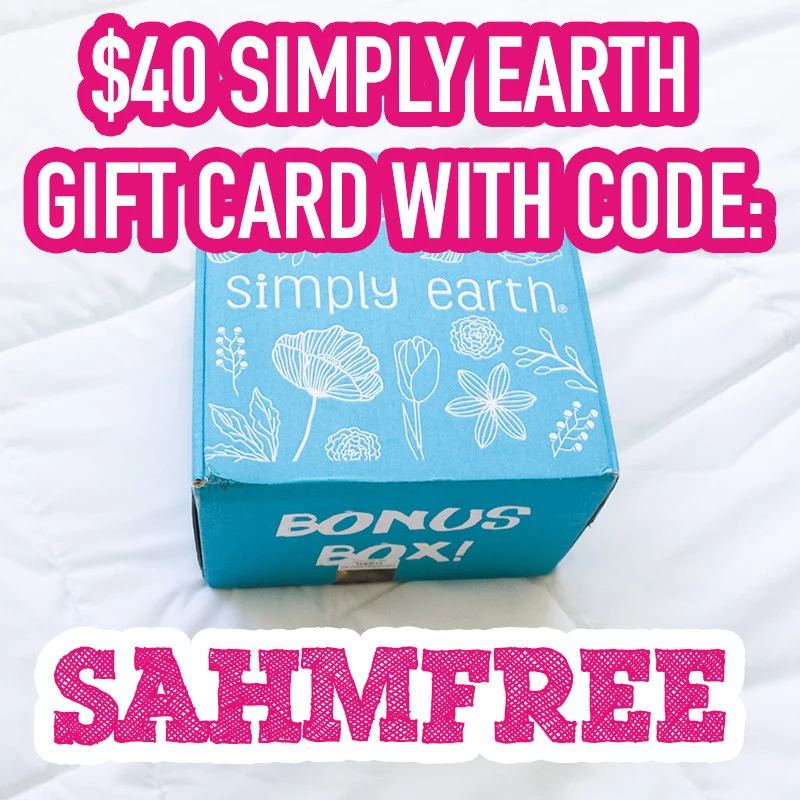 Simply Earth October 2020 Recipe Box Giveaway
I'm so excited to announce this Simply Earth recipe box giveaway!
This giveaway is sponsored by Simply Earth (so a HUGE THANK YOU to them for providing me with this opportunity to give one of their incredible recipe boxes away for the month of October!), and runs from September 22, 2020 until September 25, 2020.
The winner must be 18 years of age or older to win and is open to U.S. and Canadian residents.
I will announce the winner on my Instagram stories once the giveaway winner has been contacted and accepts the giveaway prize!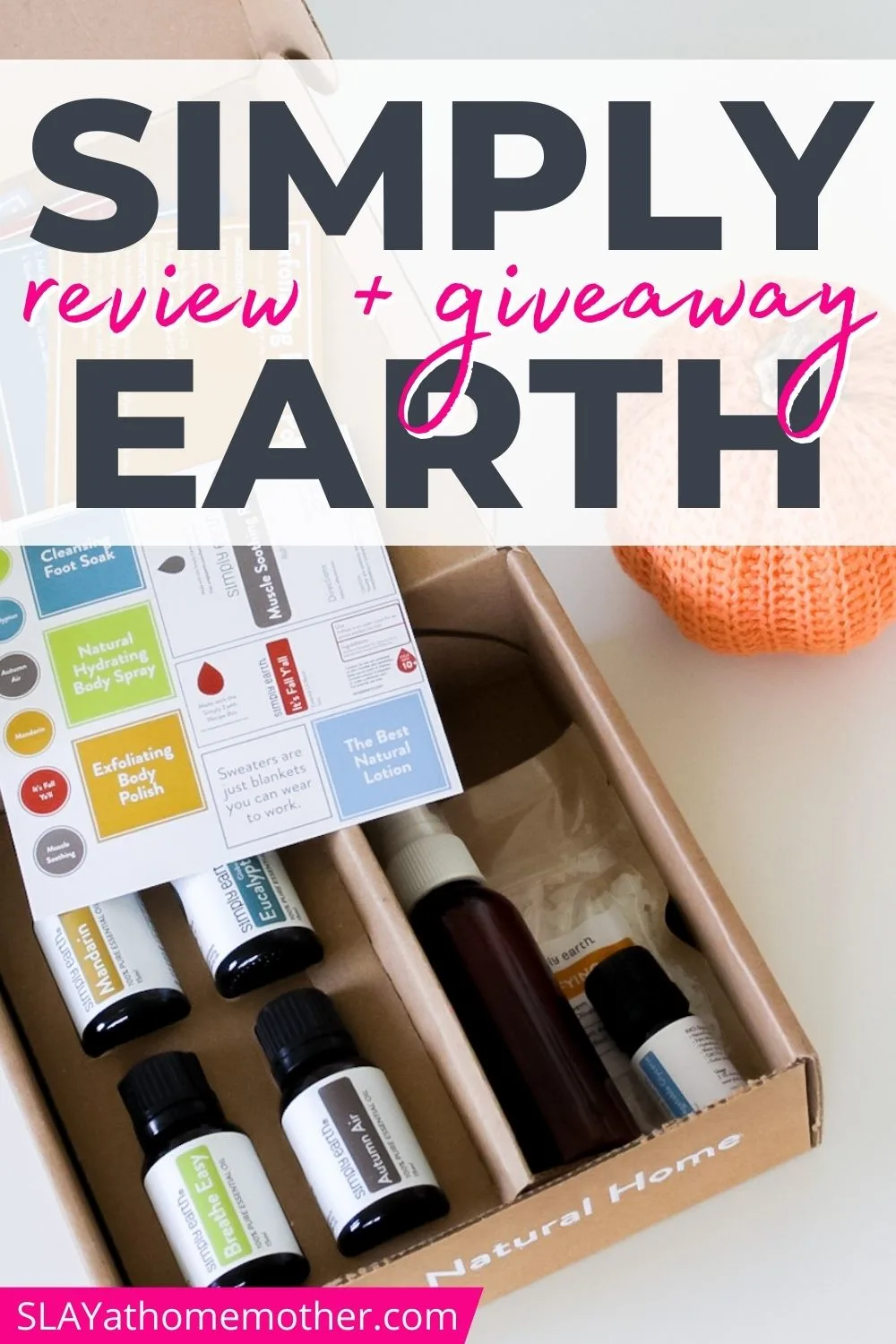 Thank you all so much for reading – I hope you'll consider trying out the Simply Earth recipe box as it is truly incredible, educational, and FUN!
What questions do you have about Simply Earth or their recipe box? Leave a comment below!
*Post originally published September 2020, last updated January 2022.