Make 6 fun DIY Essential Oil Recipes at home with the Simply Earth subscription box…
Use code SAHMFREE at checkout to get a $40 e-giftcard towards your next purchase!
---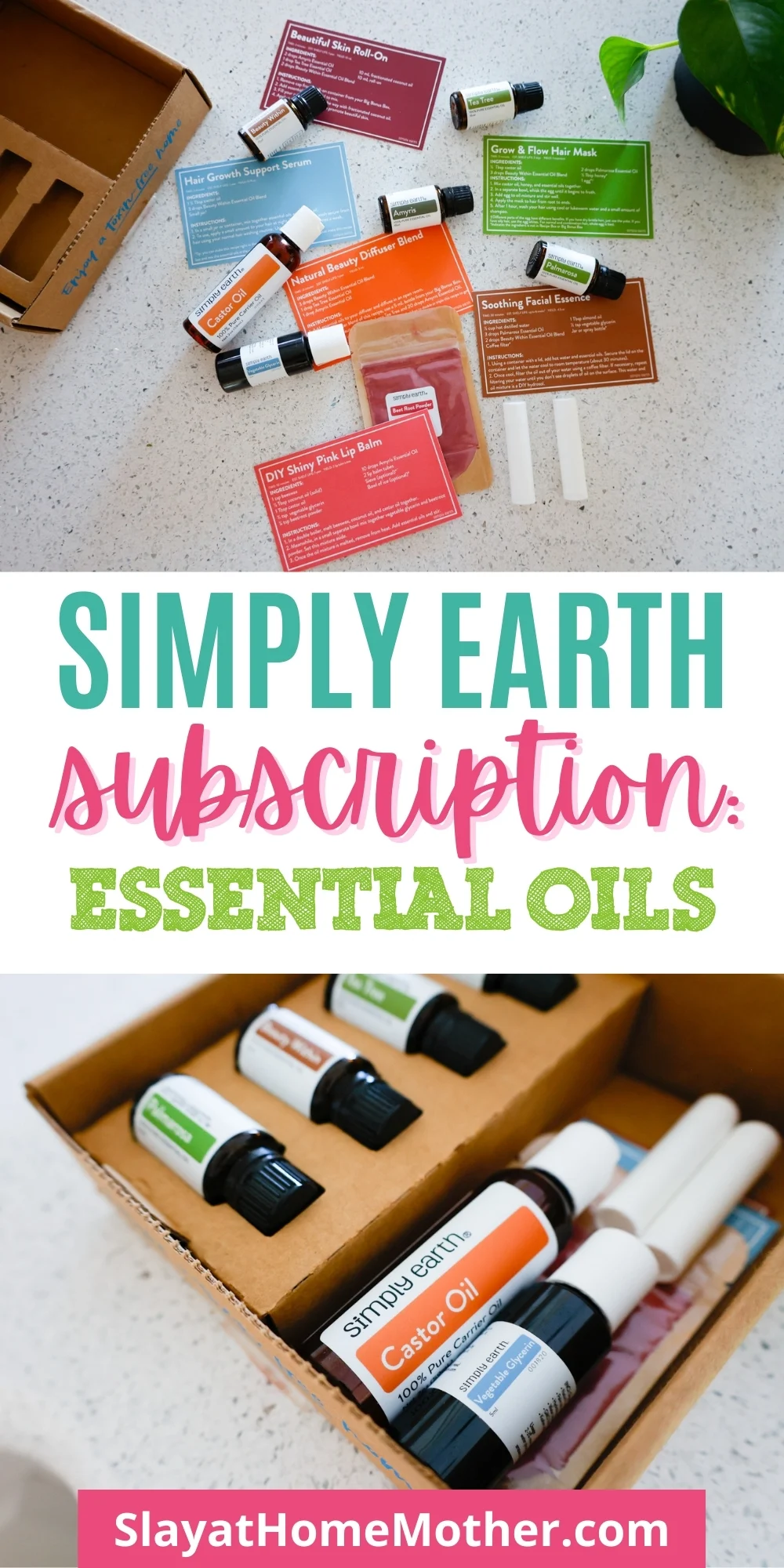 Do you loooove essential oils, but feel kind of lost when it comes to how you can use them?
I recently discovered Simply Earth, a non-MLM brand of 100% pure essential oils.
This women-owned oil brand helps teach essential oil fans how to use oils to eliminate everyday toxins and lead a more natural life.
They also emphasize safety and highlight how to properly use oils.
One of the great products they offer is their essential oil subscription box.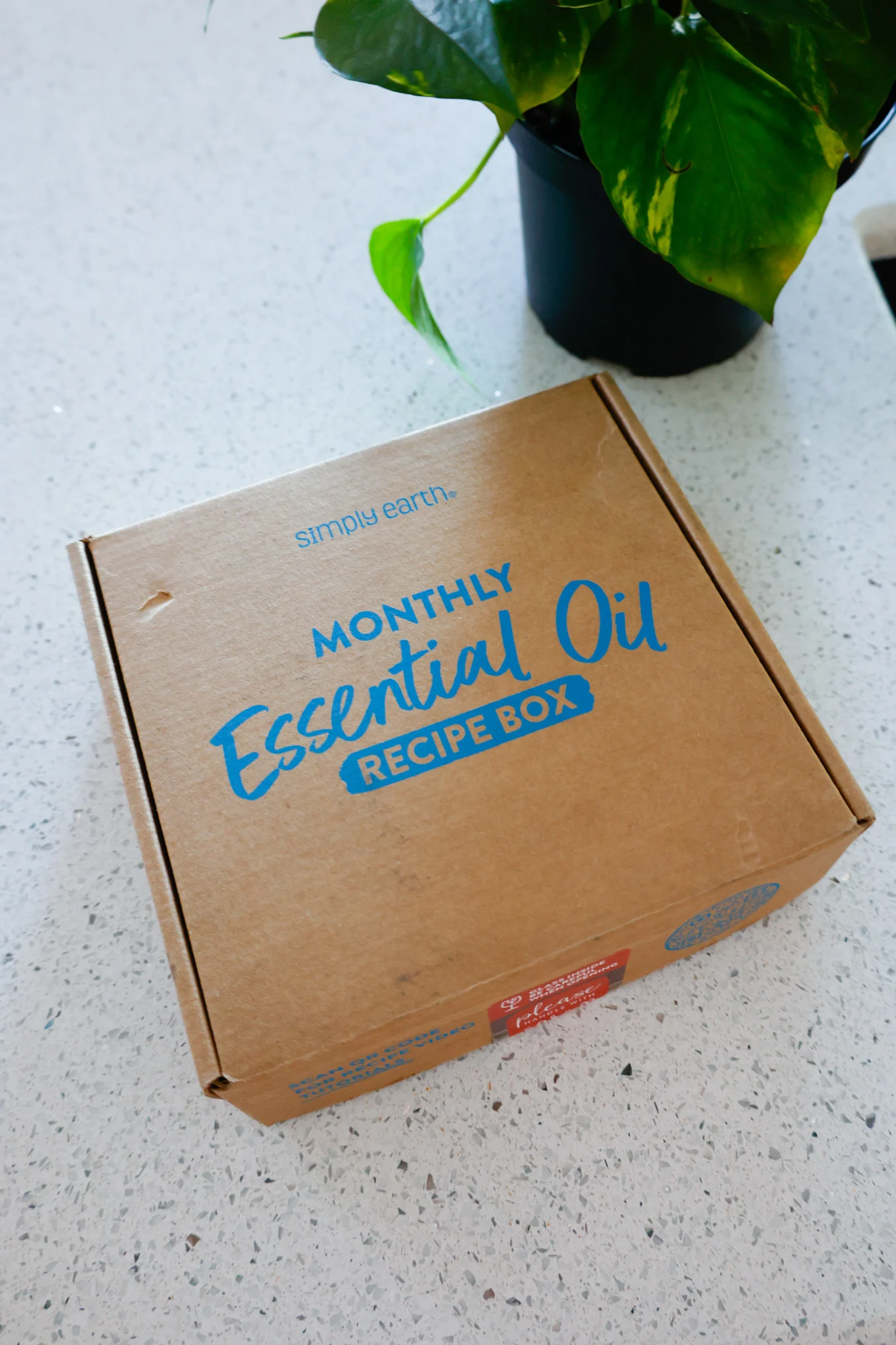 *This post contains affiliate links, however, all opinions are my own, as always.
Each month, Simply Earth ships out their essential oil recipe box to subscribers and includes:
I'll get more into detail with what's included in the box below, but if you want to see the BIG BONUS BOX, read last month's post, or my very first box in this Simply Earth review post here.
Since subscribing to their monthly essential oil recipe box, I've learned so much about how to use oils in my everyday life!
I've made all kinds of recipes, like diffuser blends, face masks, roll-ons, candles, deodorant, and so many more recipes.
BTW, I still use my Simply Earth essential oil deodorant every single day – it works great on my sensitive skin and I haven't noticed any breakouts or funk. 😉
Active subscribers also get free access to the Simply Earth Essential Oil Hero Course, valued at $250, which dives into how to use essential oils safely and with clarity.
In this post, I'll be showing you what comes in the March 2021 Simply Earth subscription box, and make one of the recipes from the box for you…
What Makes Simply Earth So Great
I am a huuuuuuuge fan of the Simply Earth brand!
If you don't believe me, check out these past recipe box features…
Their oils are 3rd-party GC/MS tested, and results are available on their website.
They donate 13% of their profits to fight against human trafficking.
Their oils are 100% pure.
They aren't an MLM.
They are a women-owned business.
Simply Earth focuses BIG on educating their customers so they can use essential oils safely and confidently.
I can't recommend them enough!
What's Inside The March 2021 Simply Earth Box?
This month's box is all about beauty!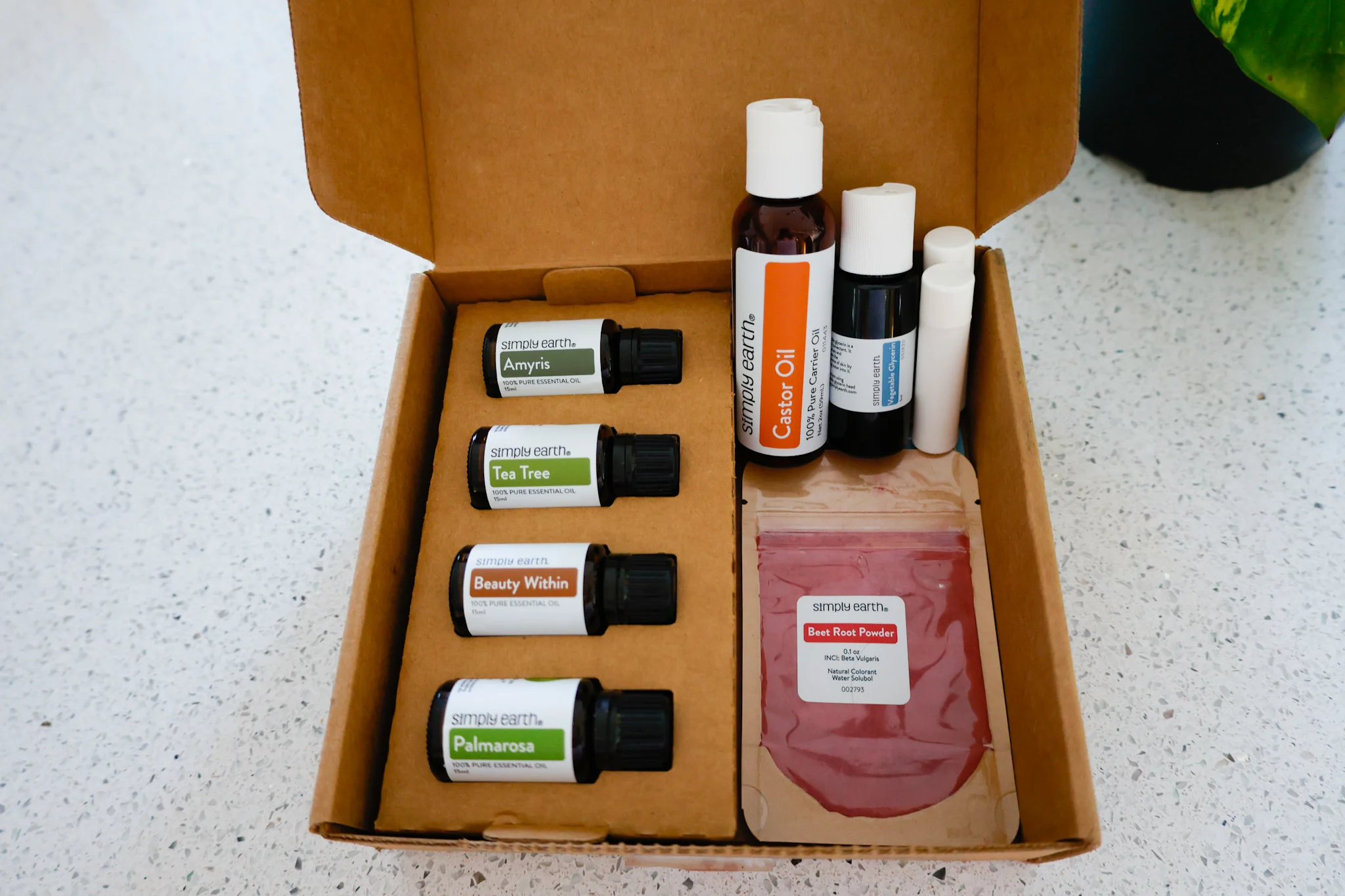 The March 2021 Simply Earth box comes with…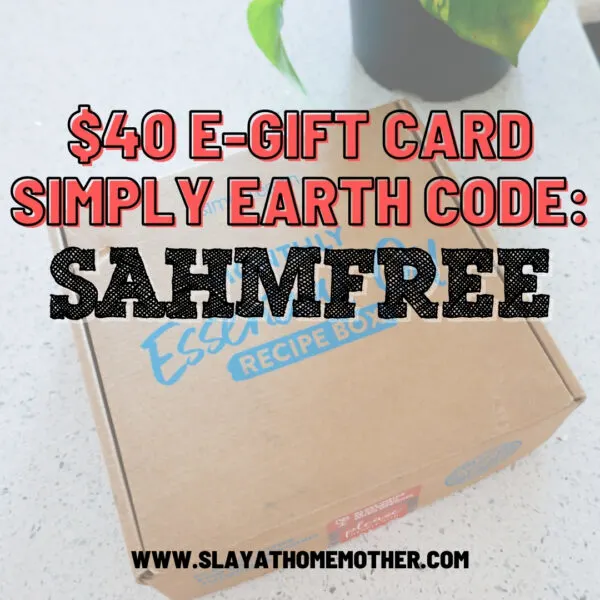 This Month's Oil Recipes – March 2021
This month's DIY essential oil recipes include Grow & Flow Hair Mask, Hair Growth Support Serum, DIY Shiny Pink Lip Balm, Soothing Facial Essence, Beautiful Skin Roll-On, Natural Beauty Diffuser Blend.
For this post, I'll be making the Beautiful Skin Roll-On recipe, featuring Simply Earth's Amyris, Beauty Within, and Tea Tree oils.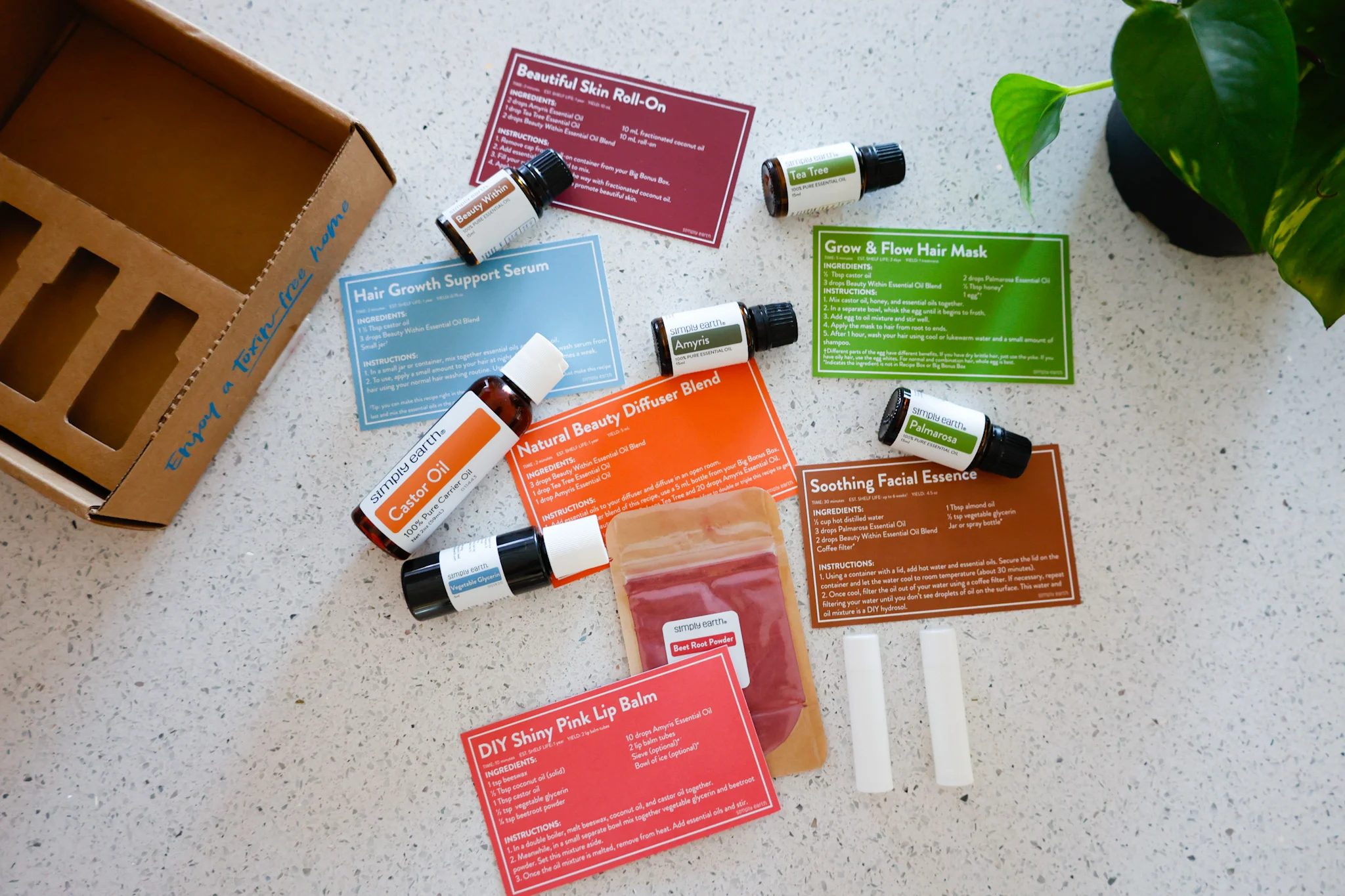 Simply Earth's Beauty Within Oil Blend
In this month's box, Simply Earth included one of their newer essential oil blends: Beauty Within.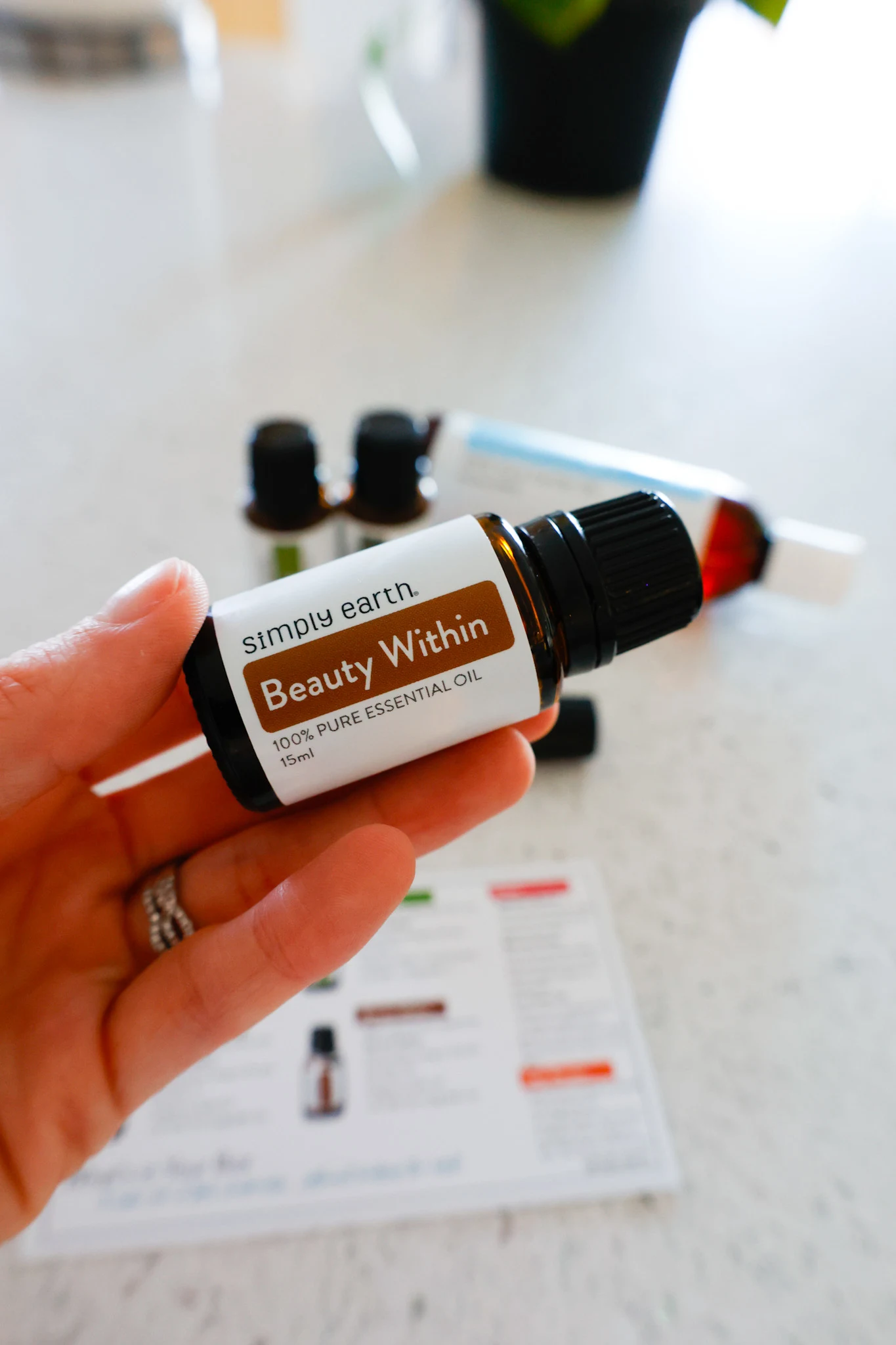 BTW, Did you know that Simply Earth donates 13% of its profits to help fight human trafficking?
The Beauty Within blend is a mixture of four oils:
These oils help reduce fine lines and dry, dull skin.
They're perfect for this month's box, which is all about BEAUTY.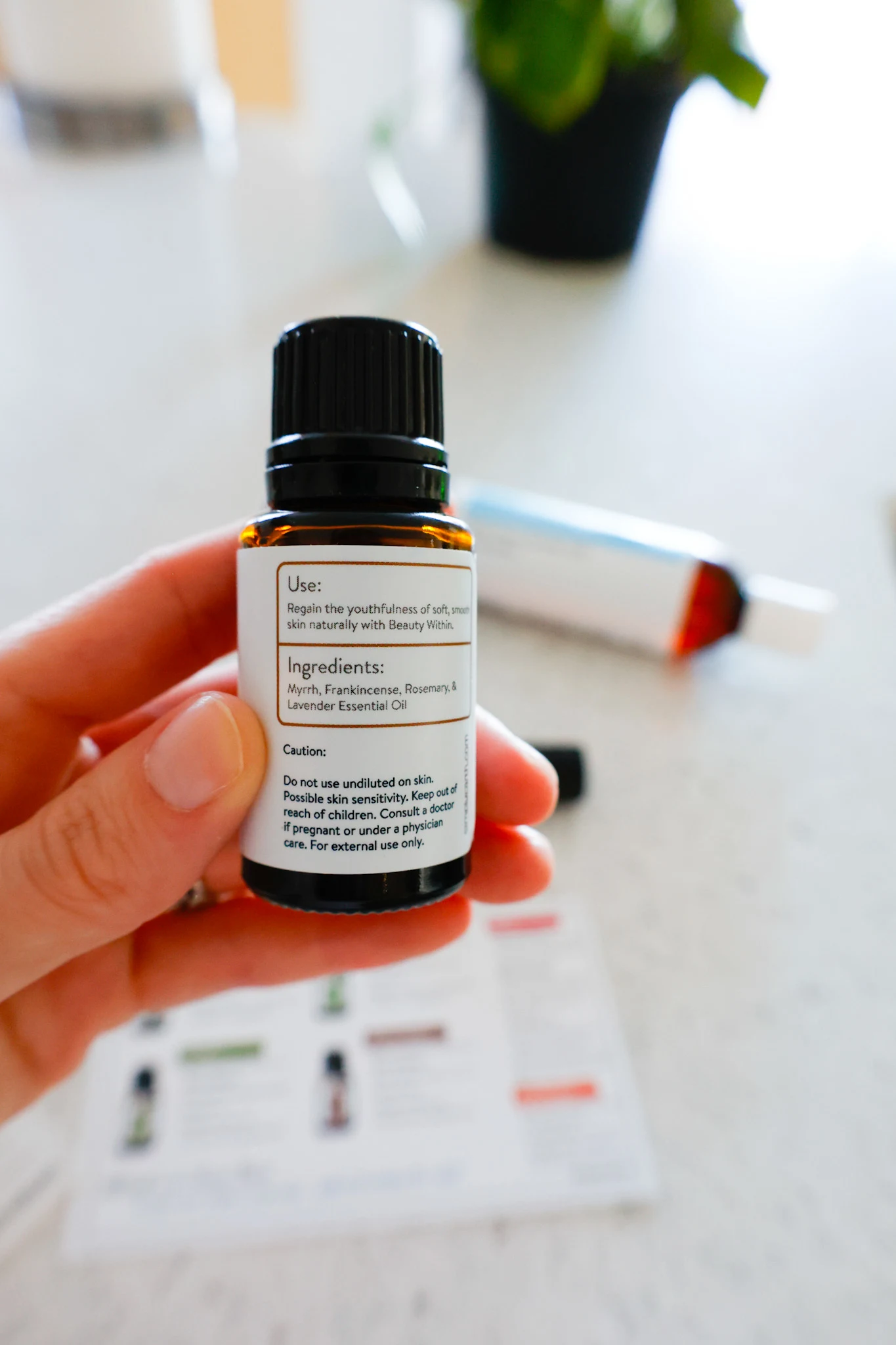 Beautiful Skin Roll-On Recipe From The March Simply Earth Box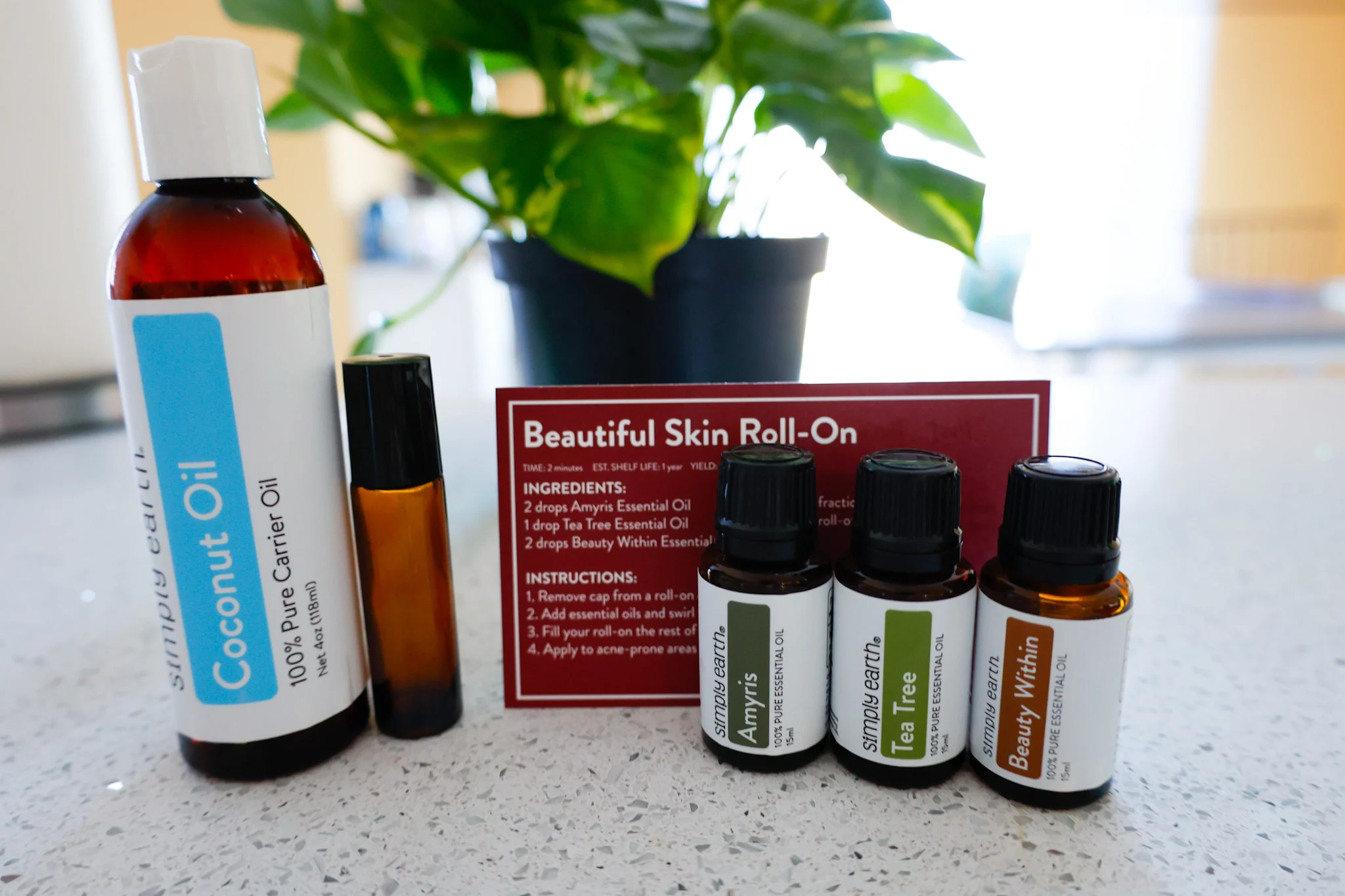 For this recipe from the March subscription box, I need…
*These come in the BIG BONUS BOX, free for first-time subscribers, and every 6th recipe box!
For my roll-on, I followed the recipe card from my Simply Earth subscription box and added two drops each of Amyris and Beauty Within and 1 drop of Tea Tree oil.
I swirled the oils together in the roll-on bottle to combine, and filled the bottle the rest of the way up with coconut carrier oil.
Once my roll-on blend was made, I popped the roller ball top back on and put on one of the beautiful sticker labels that come in the subscription box.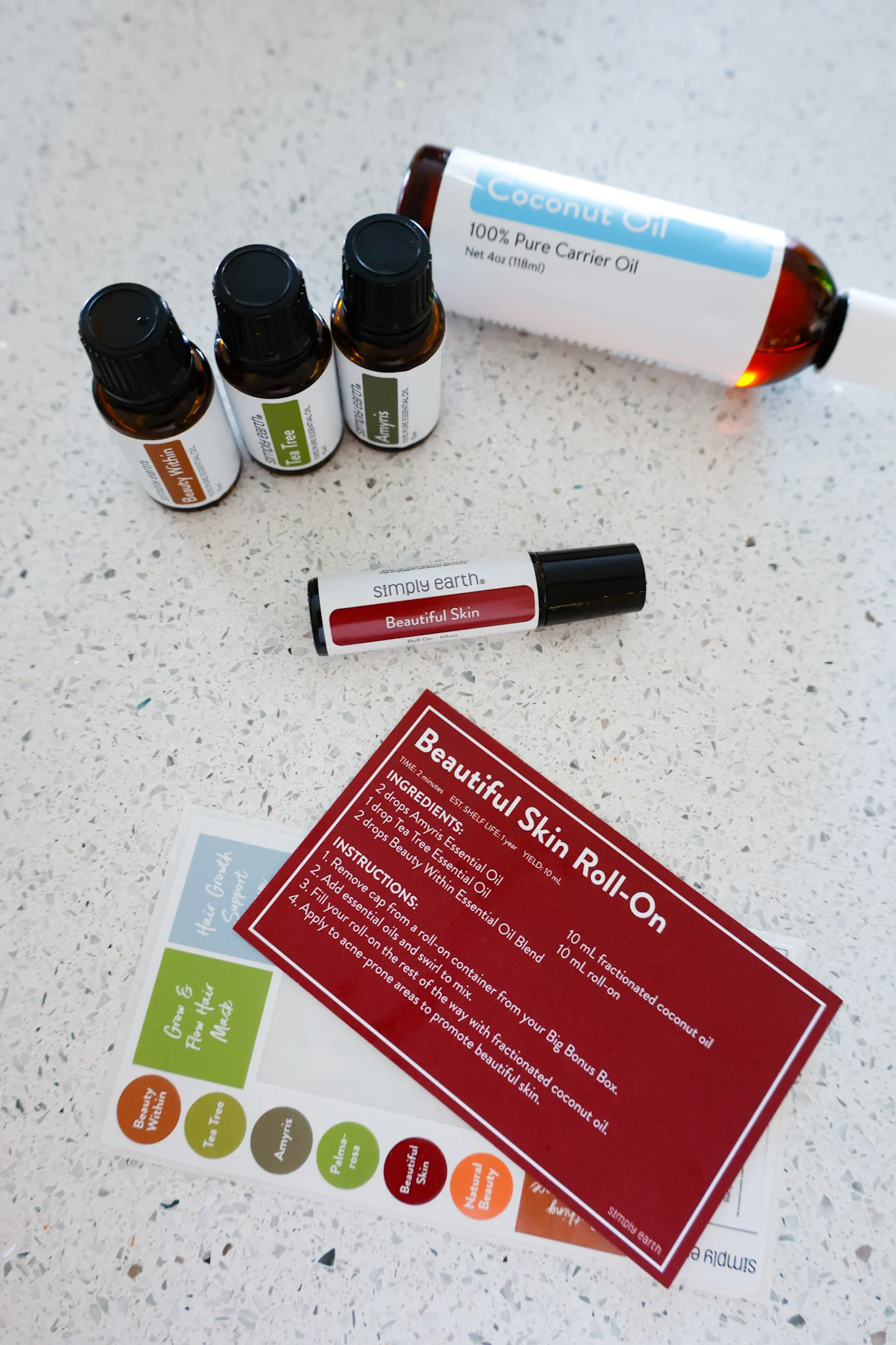 This sticker label contains the finished product name, directions, ingredients, and safety information.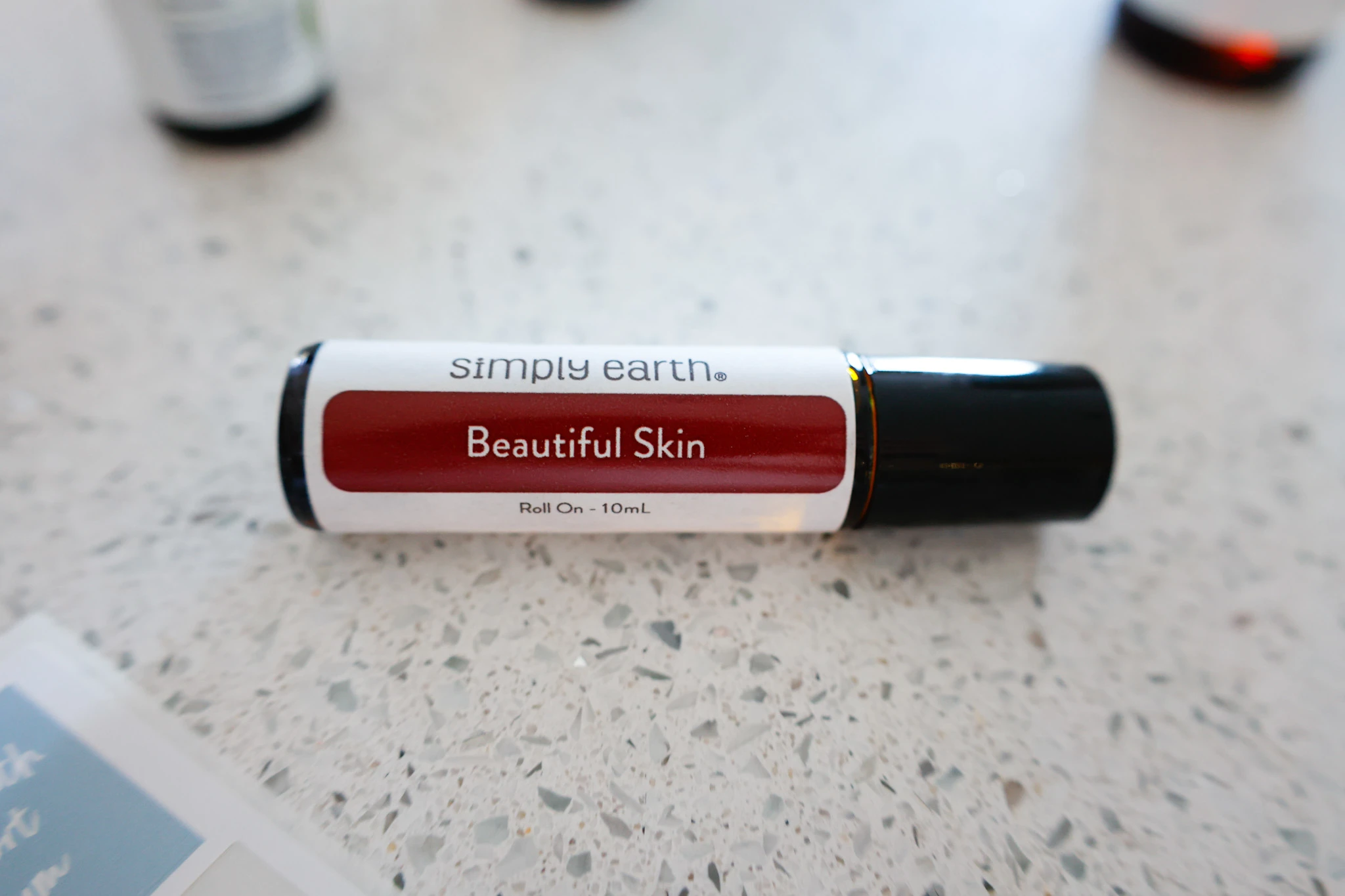 Now I can apply this roll-on mixture to my acne-prone skin areas to help promote healthy skin and reduce blemishes.
The lavender in this roll-on blend is the scent that sticks out the most to me.
How Much Does The Subscription Box Cost?
For $39 a month, this amazing subscription box will be delivered right to your doorstep.
The box, with four full-sized oil bottles, extras, and recipes, is valued at $188.
And first-time subscribers get a free BIG BONUS BOX, which comes with:
Be sure to follow me on Instagram (@slayathomemother) to see me make this recipe and more each month with the Simply Earth subscription box!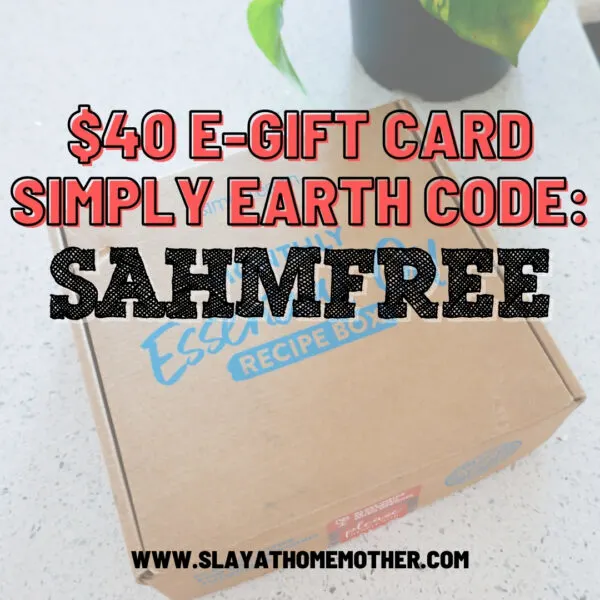 ---
What questions do you have about Simply Earth or the recipe box? Let me know in the comments below!
*Post originally published March 2021, last updated January 2022.