Learn how to use essential oils with the Simply Earth Recipe Subscription Box, with 6 fun DIY essential oil recipes…
Use my code SAHMFREE at checkout to get your next box free, or use towards a future purchase.
---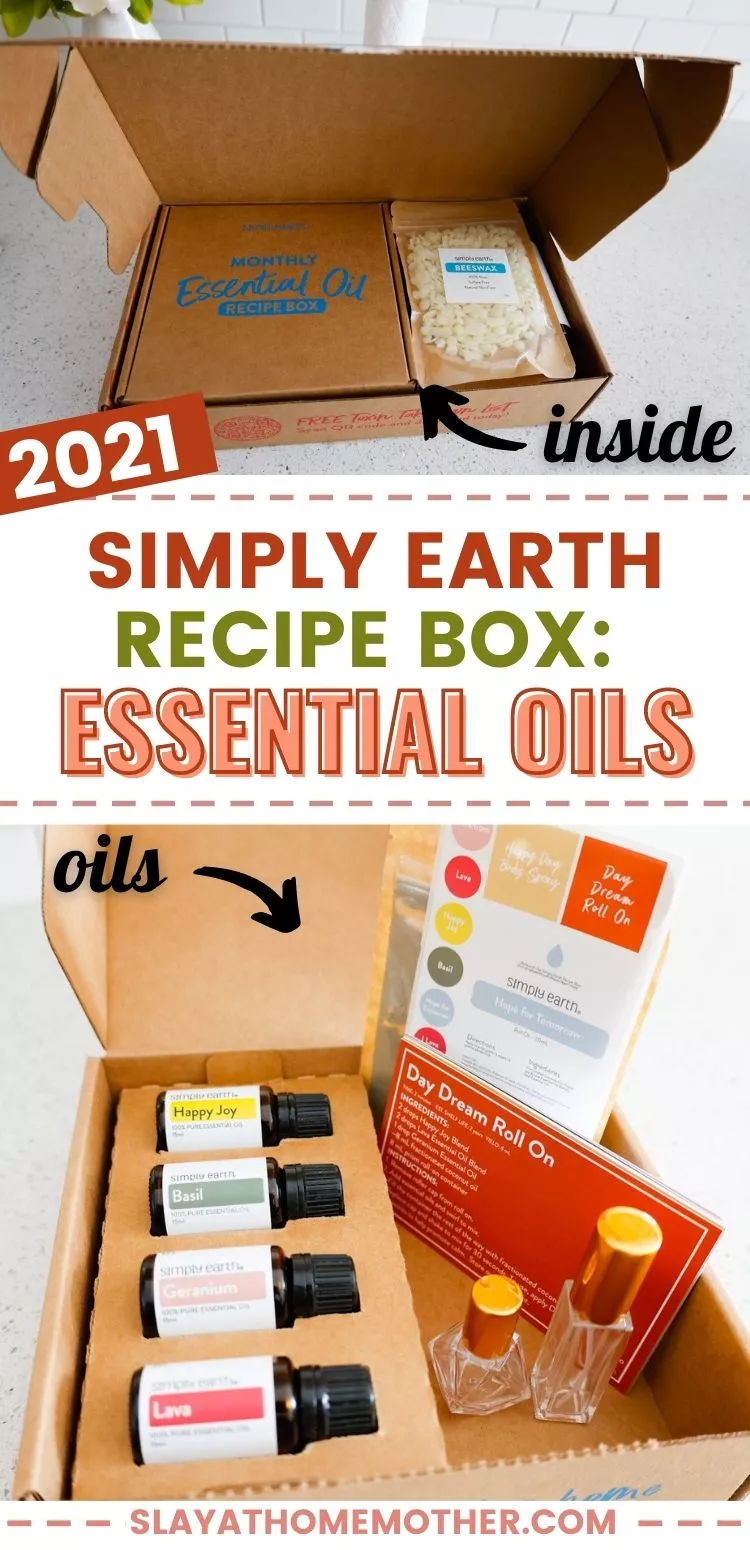 Hey there, lovelies!
I got more HAPPY MAIL this week from one of my favorite brands, Simply Earth.
That's right, my monthly subscription box is here!
If you're a loyal reader of my blog, you have probably read some of my past reviews, but if you haven't, I'm going to link them here:
Looking through those posts can help give you an idea of what is in the box each month.
There are tons of pictures in each review I do, as well, if you only have time to skim through!
To put it simply, I am so glad I found Simply Earth.
I was with another brand of oils, and while I liked the quality, my wallet wasn't digging the price.
I cringed each time I ran out of an oil because man, things were getting expensive.
Since switching over to Simply Earth, however, I have loved the quality of oils I've received.
Simply Earth oils are 3rd-party GC/MS tested, ethically sourced, and honestly priced.
They also work hard to ensure customers know how to use their oils safely.
I think that's something I've always struggled with…
I love the smell of essential oils and the idea behind using them…but how can I actually make the most of my purchase and use my oils?
I used to be someone who only diffused oils.
But since getting this subscription of essential oils recipes, I feel confident in trying out and using the oils I get each month!
There's also detailed information about each oil in the box that tells my at what age each oil is safe to (10+, 2+, etc.), as well as if an oil is safe for cats, dogs, or pregnant women.
If you're curious about the Simply Earth essential oil recipes box, I'm here to answer your question as a long-time subscriber and dive right into the box with you…
*This post contains affiliate links, however, all opinions are my own.*
What First Time Simply Earth Subscribers Get
What you see is what you get!
First-time subscribers get the BIG BONUS BOX, as well as a recipe box for the month.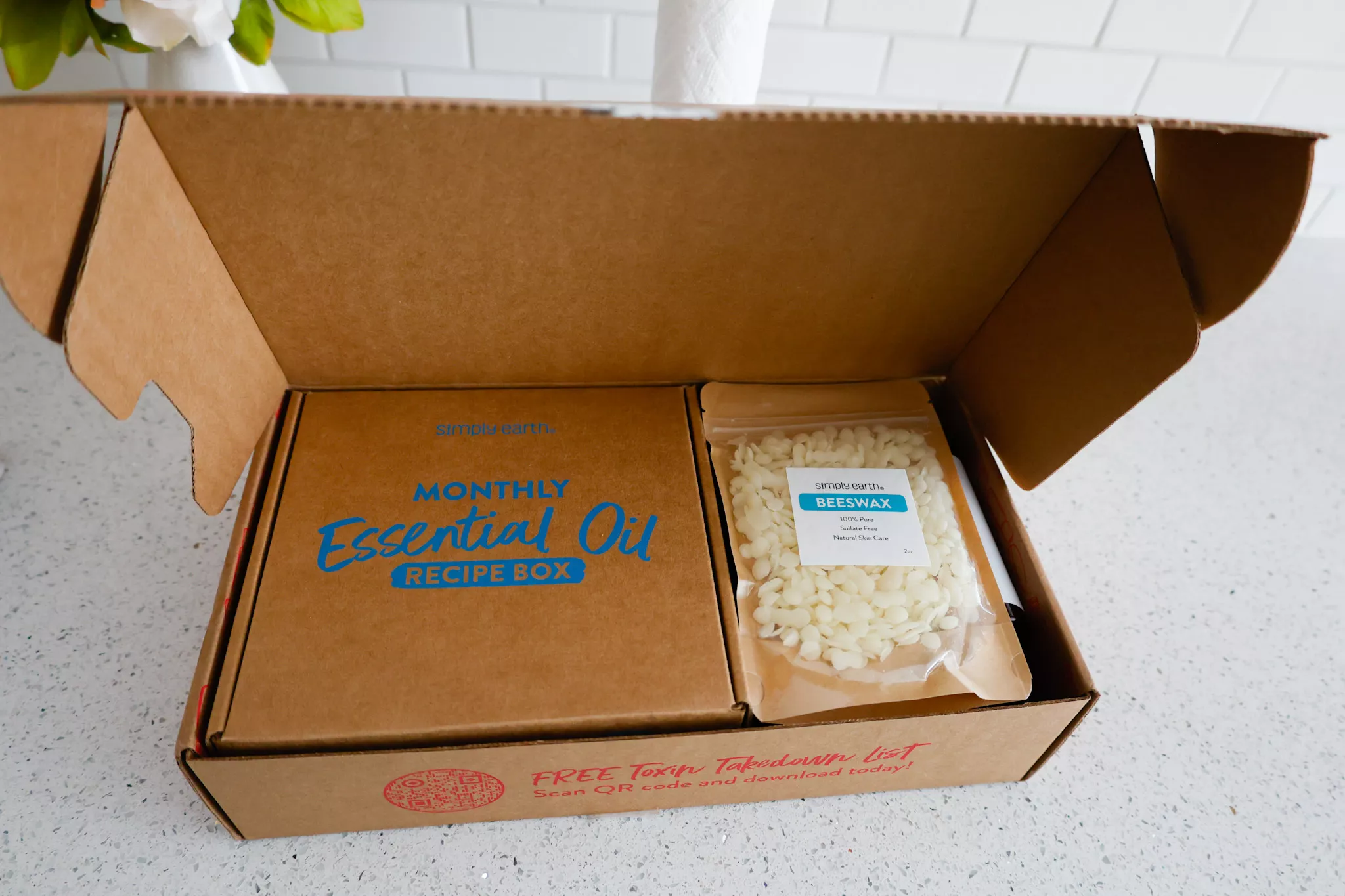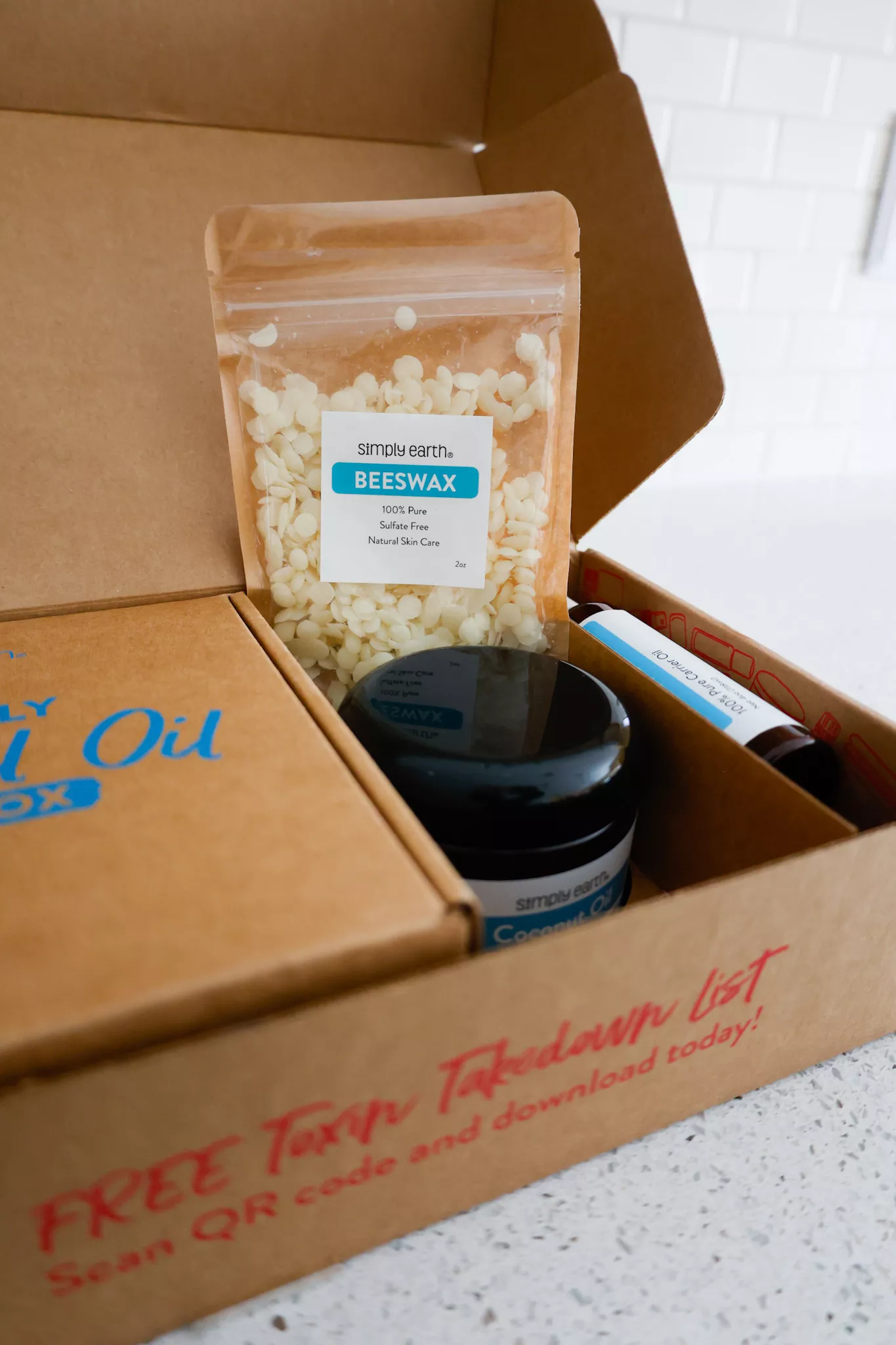 First, I'll detail what comes in the BIG BONUS BOX:
6 amber essential oils bottles
The items that come in the bonus box are ones you'll need throughout your subscription, which is really nice of them to provide, in my opinion!
You'll also receive the BIG BONUS BOX every 6 months.
This is my second bonus box from Simply Earth.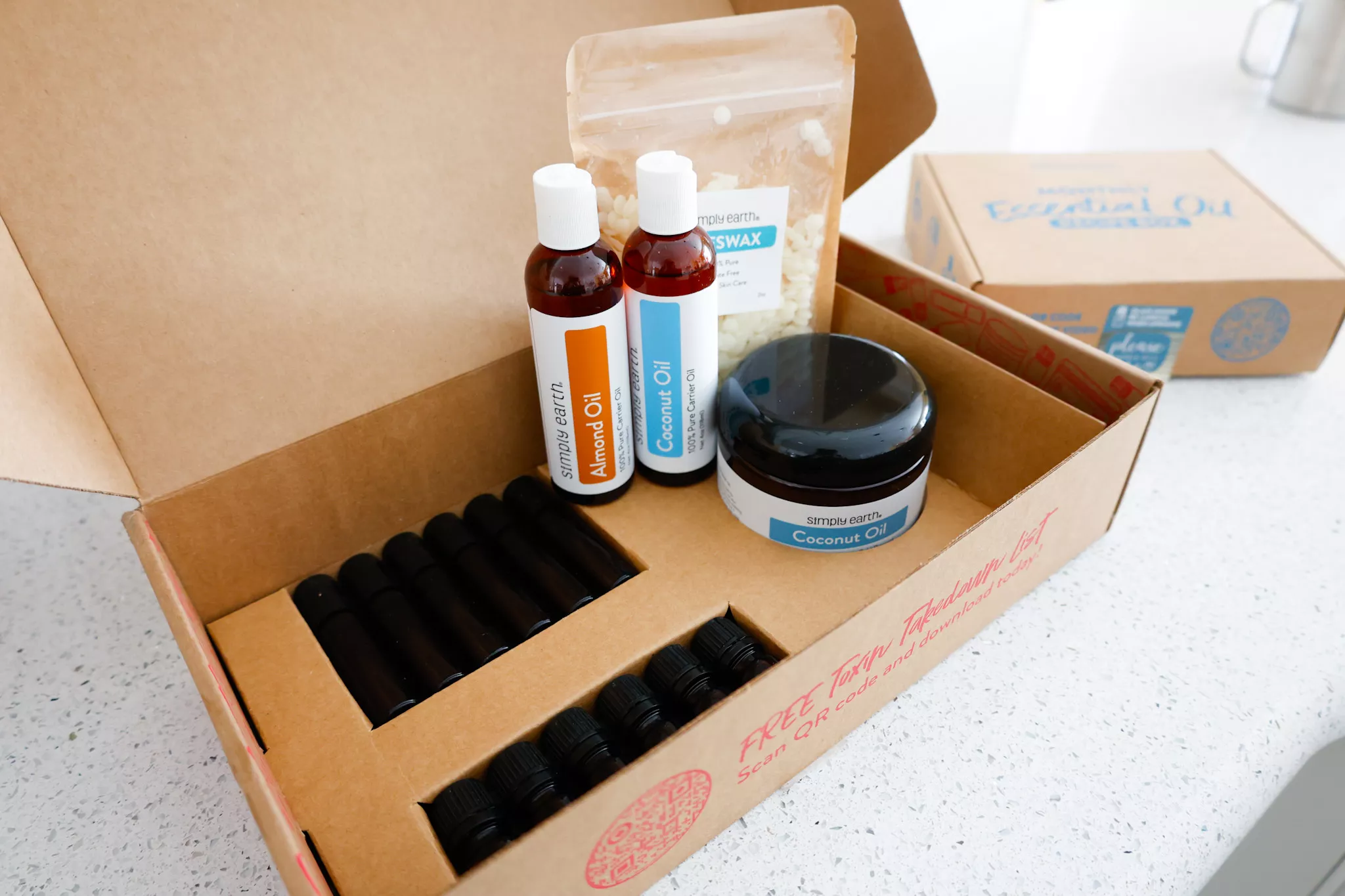 You'll also get that month's recipe box.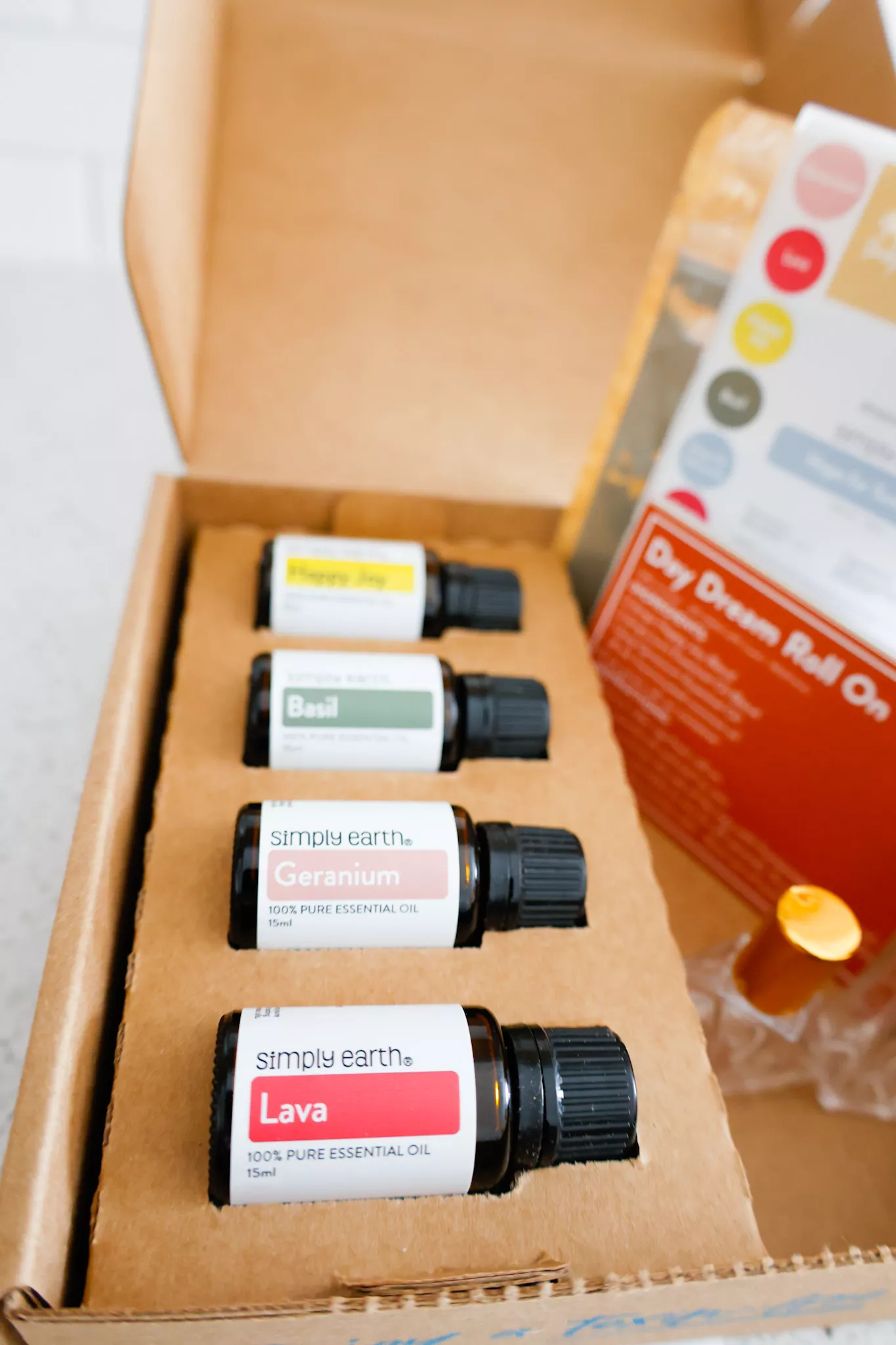 Here's what comes in this month's box for February 2021…
Lava essential oil blend
sea clay powder
sticker labels
perfume spray bottle
prism roll-on bottle
6 fun DIY essential oil recipes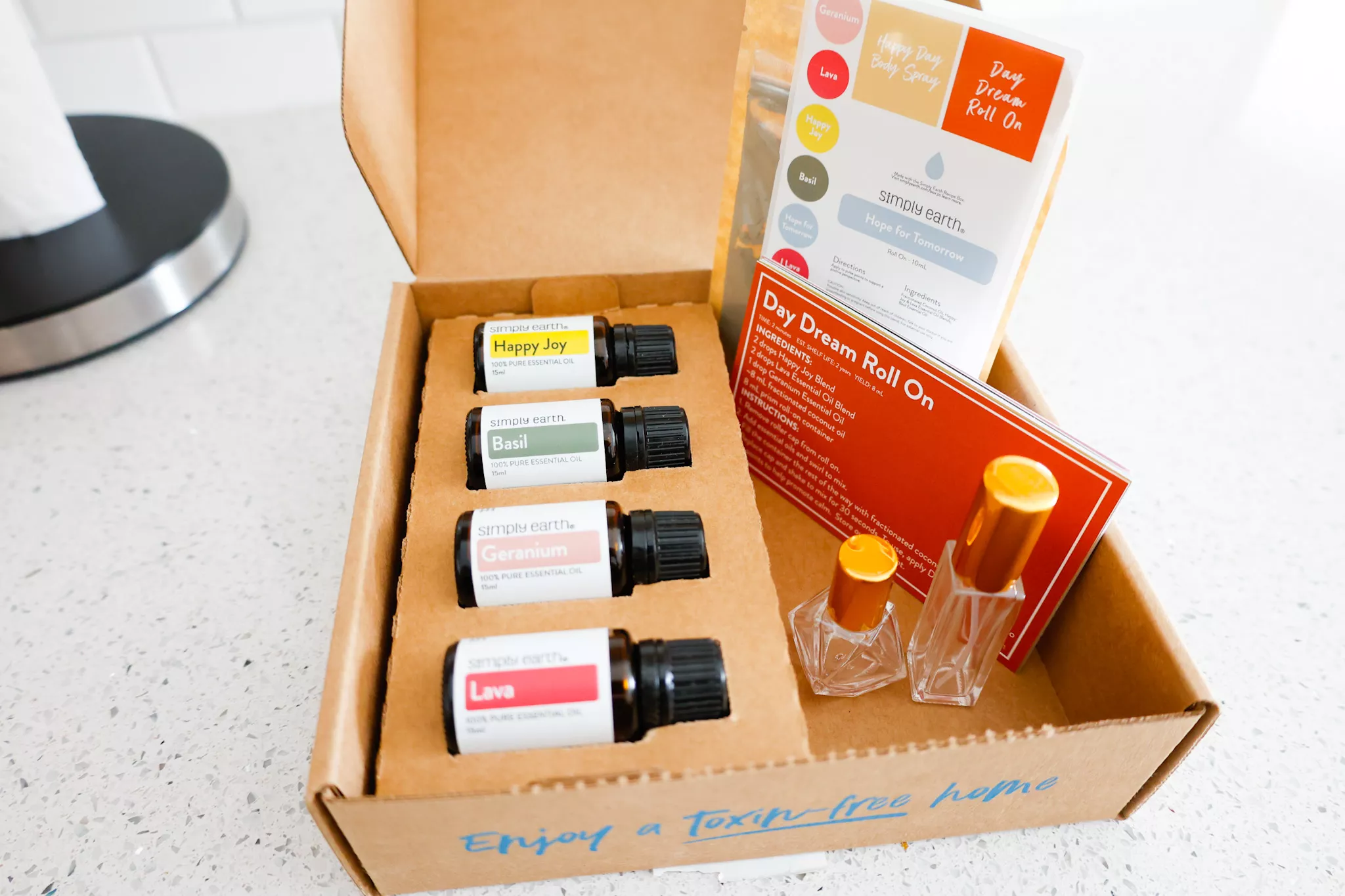 The sticker labels are my favorite – I love to organize everything!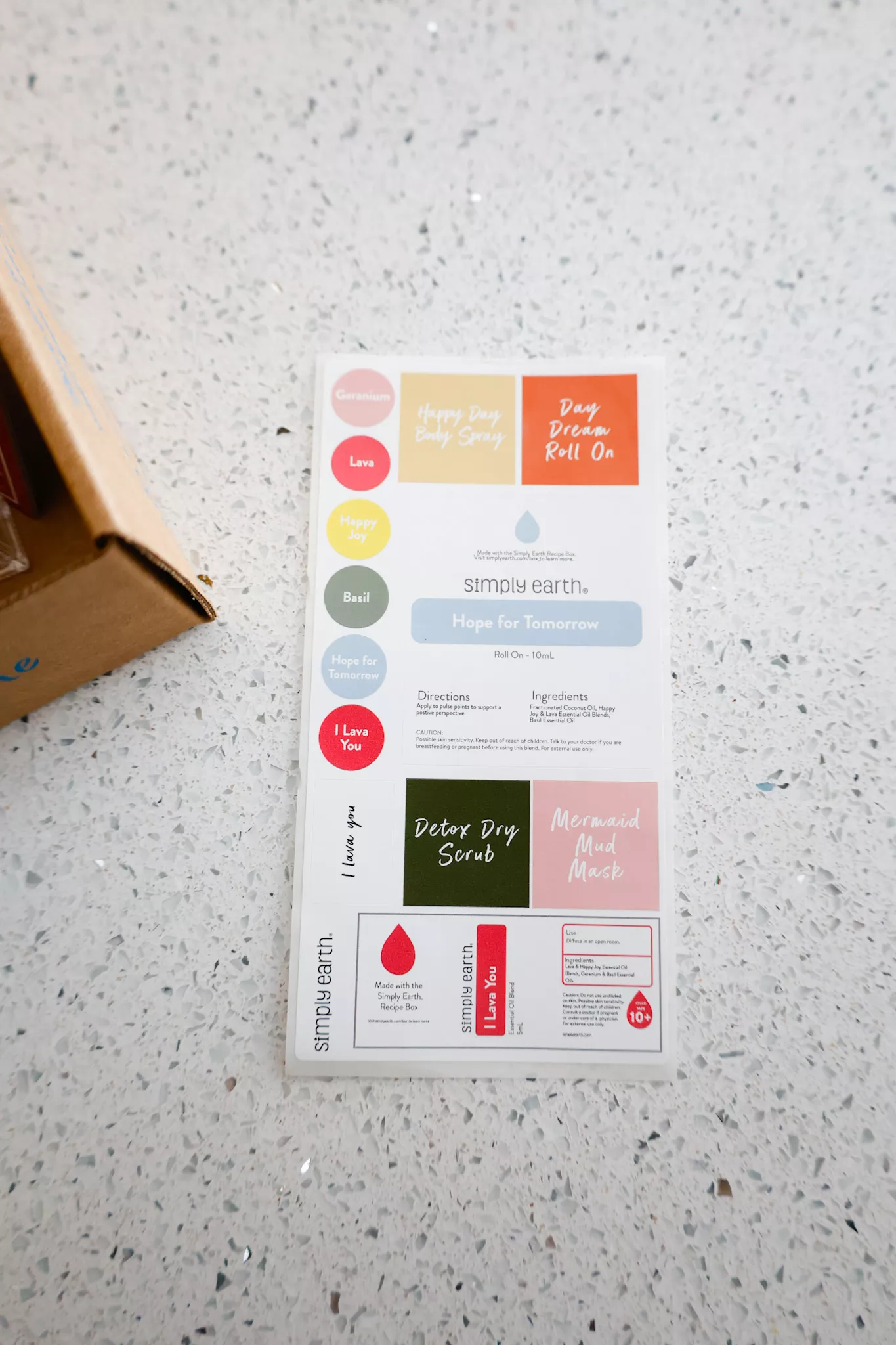 I am loving the sweet-smelling oils in February's box.
The Lava essential oil blend scent is out of this world!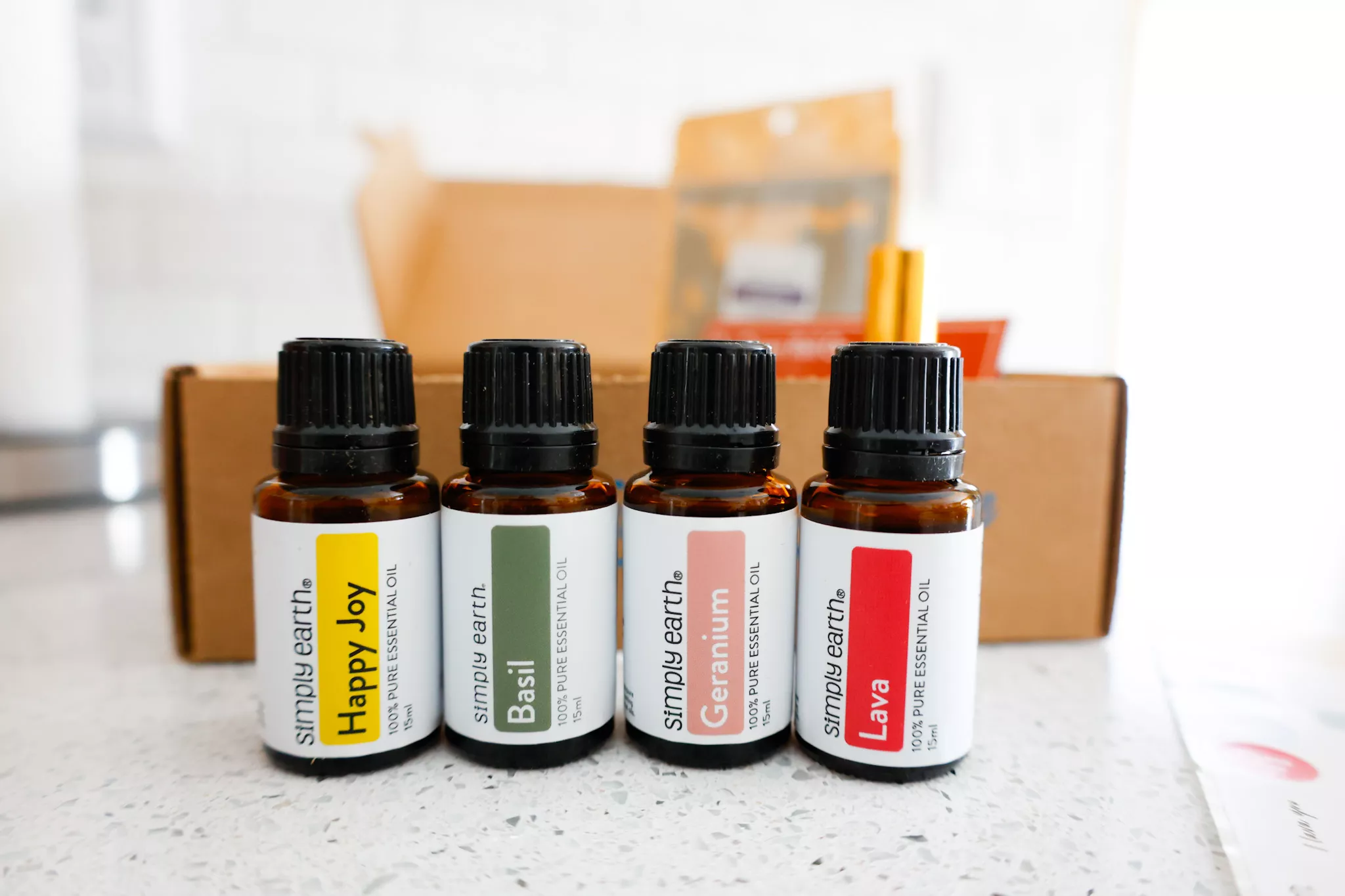 Here is a glimpse of the recipes included in the February 2021 box…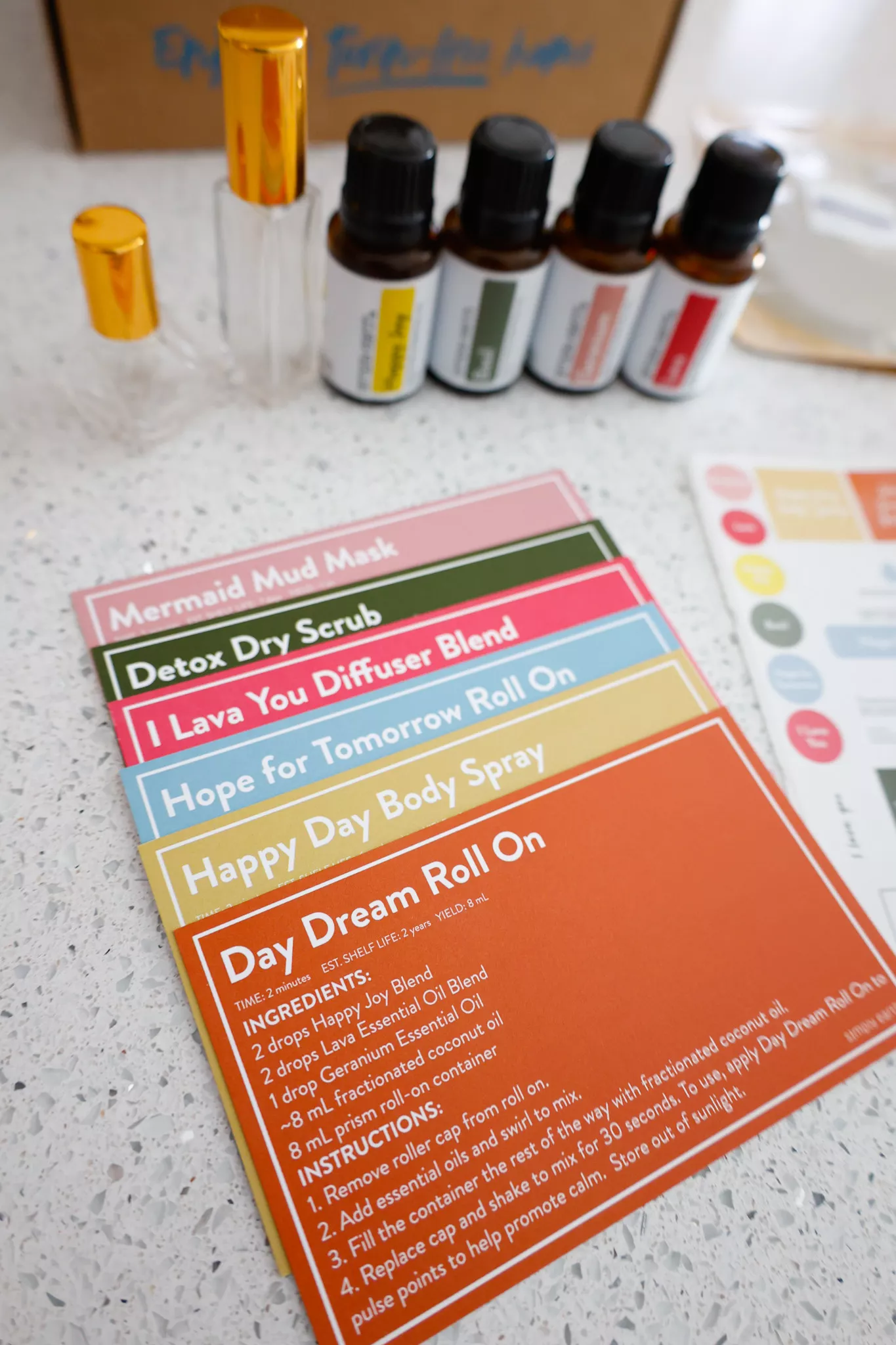 Mermaid Mug Mask
Detox Dry Scrub
I Lava You Diffuser Blend
Hope For Tomorrow Roll On
Happy Joy Body Spray
Day Dream Roll On (I'll be making this in this post!)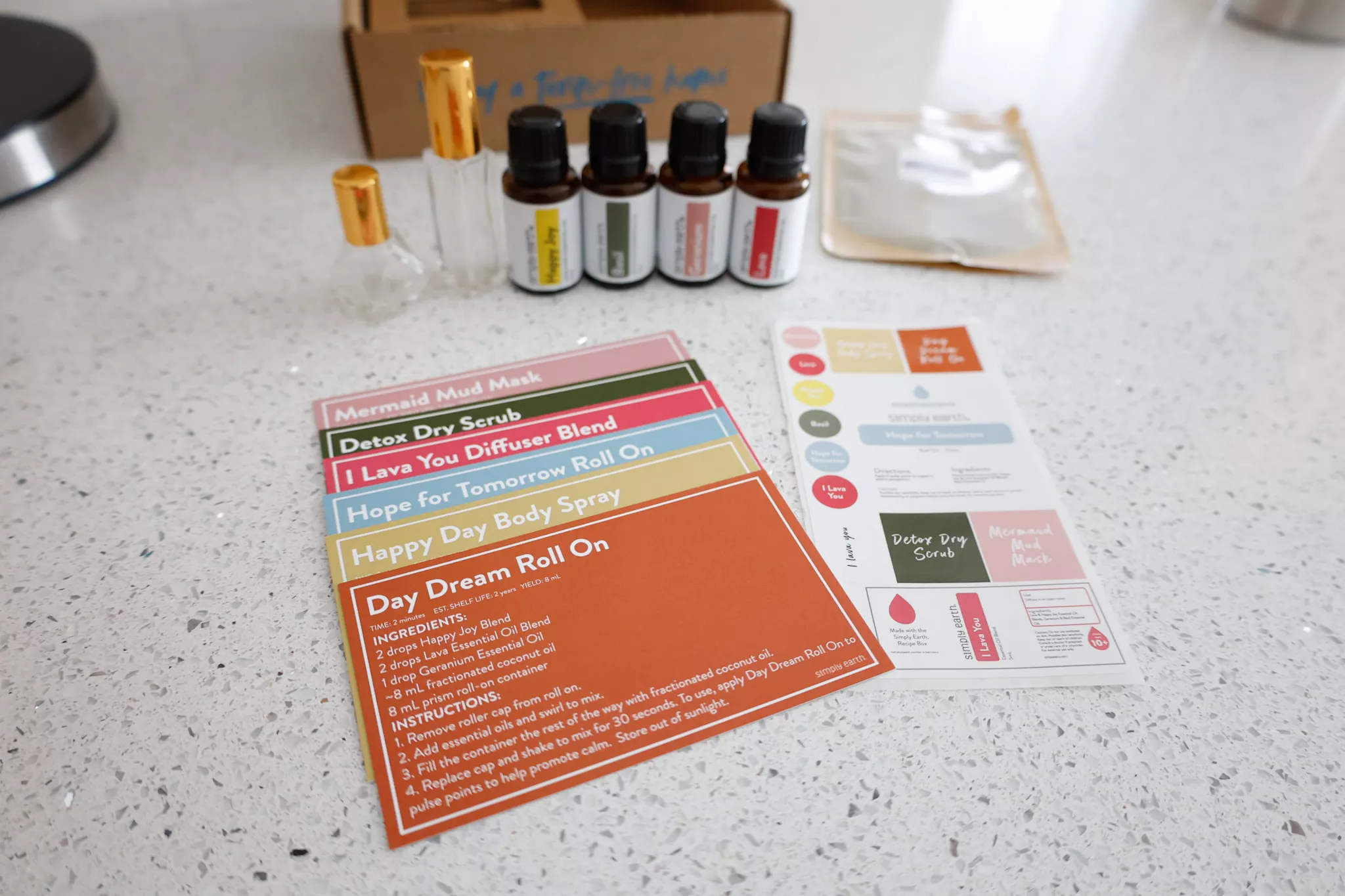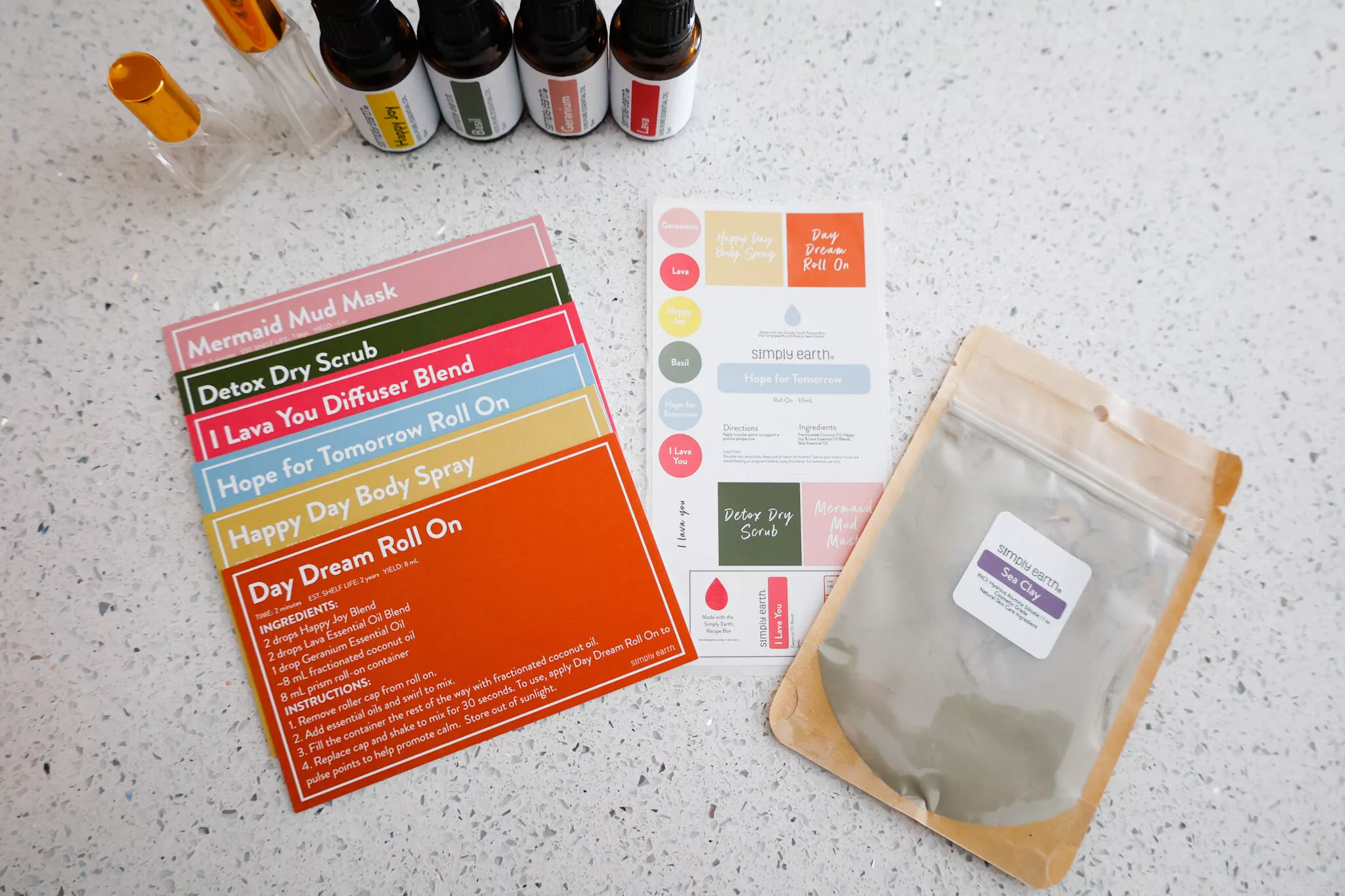 For this post, I'll be making the Day Dream Roll On recipe.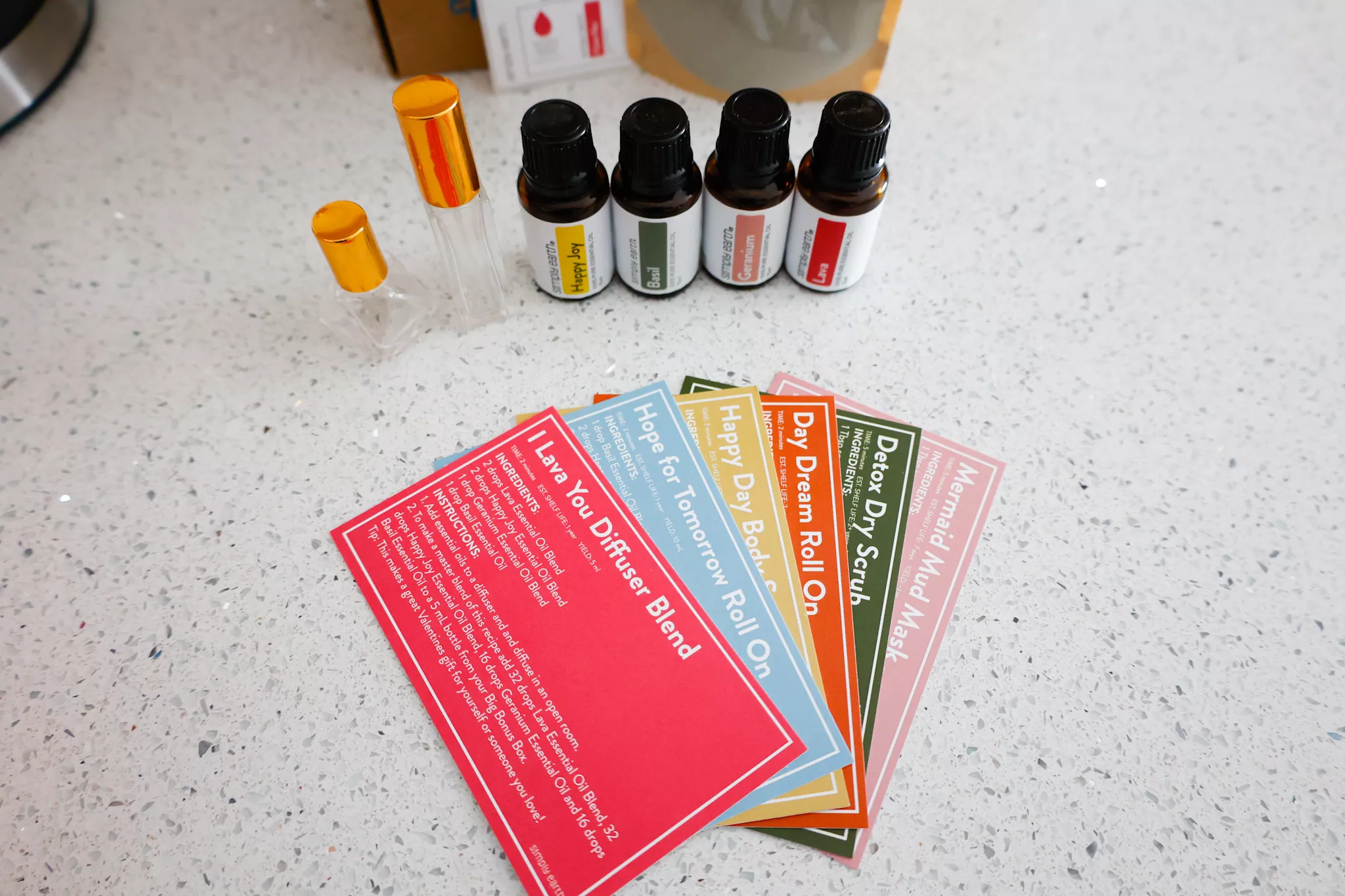 This recipe calls for three of the four essential oils included in the box.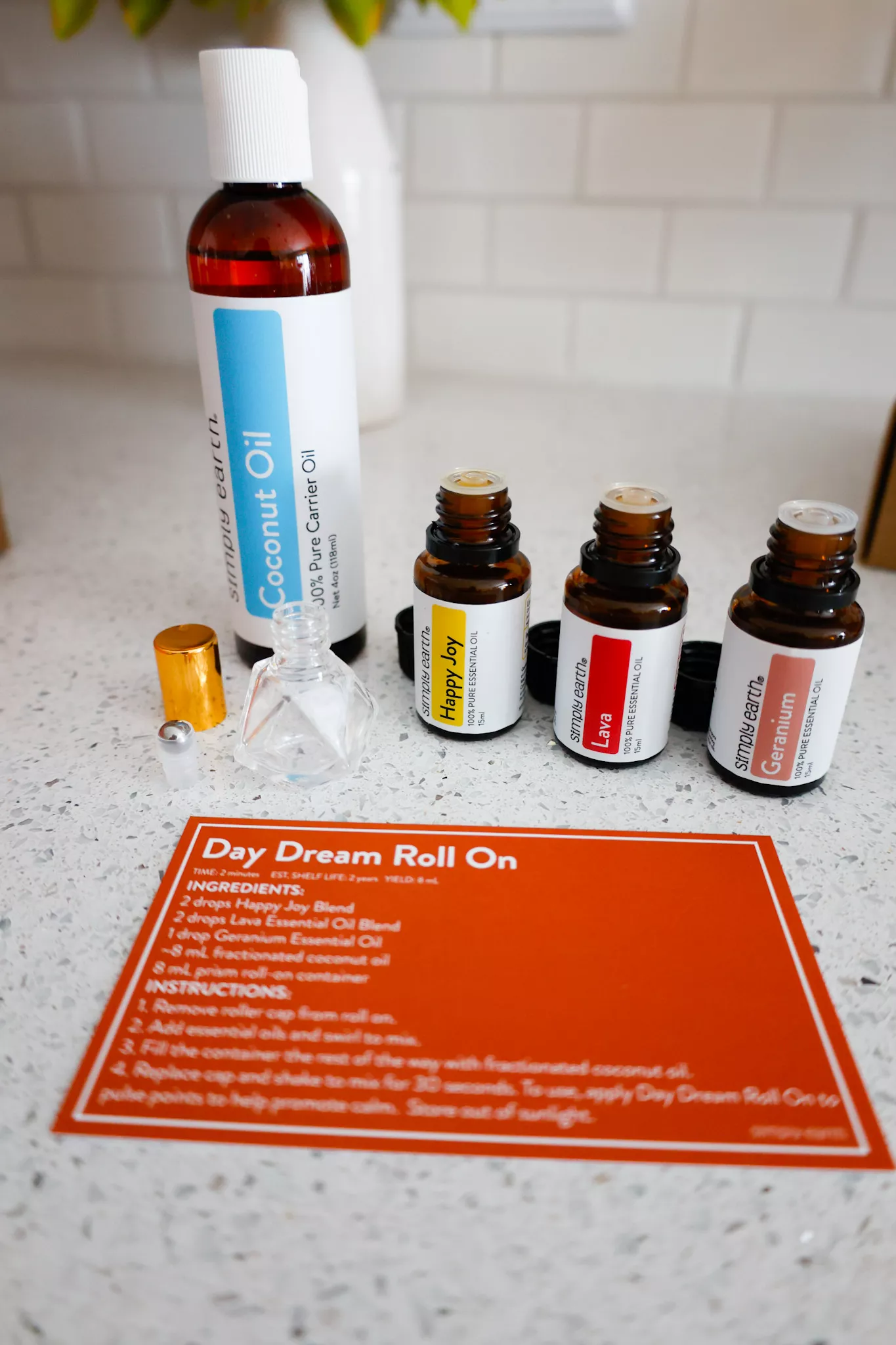 After I wiggled off the roller ball top from the prism bottle included in the box, it was time to drop in the oils.
I dropped in each one, swirled it around as the instructions told me to, and filled the rest of the bottle with fractionated coconut oil.
Which, hey, wouldn't you know – that's included in my BIG BONUS BOX!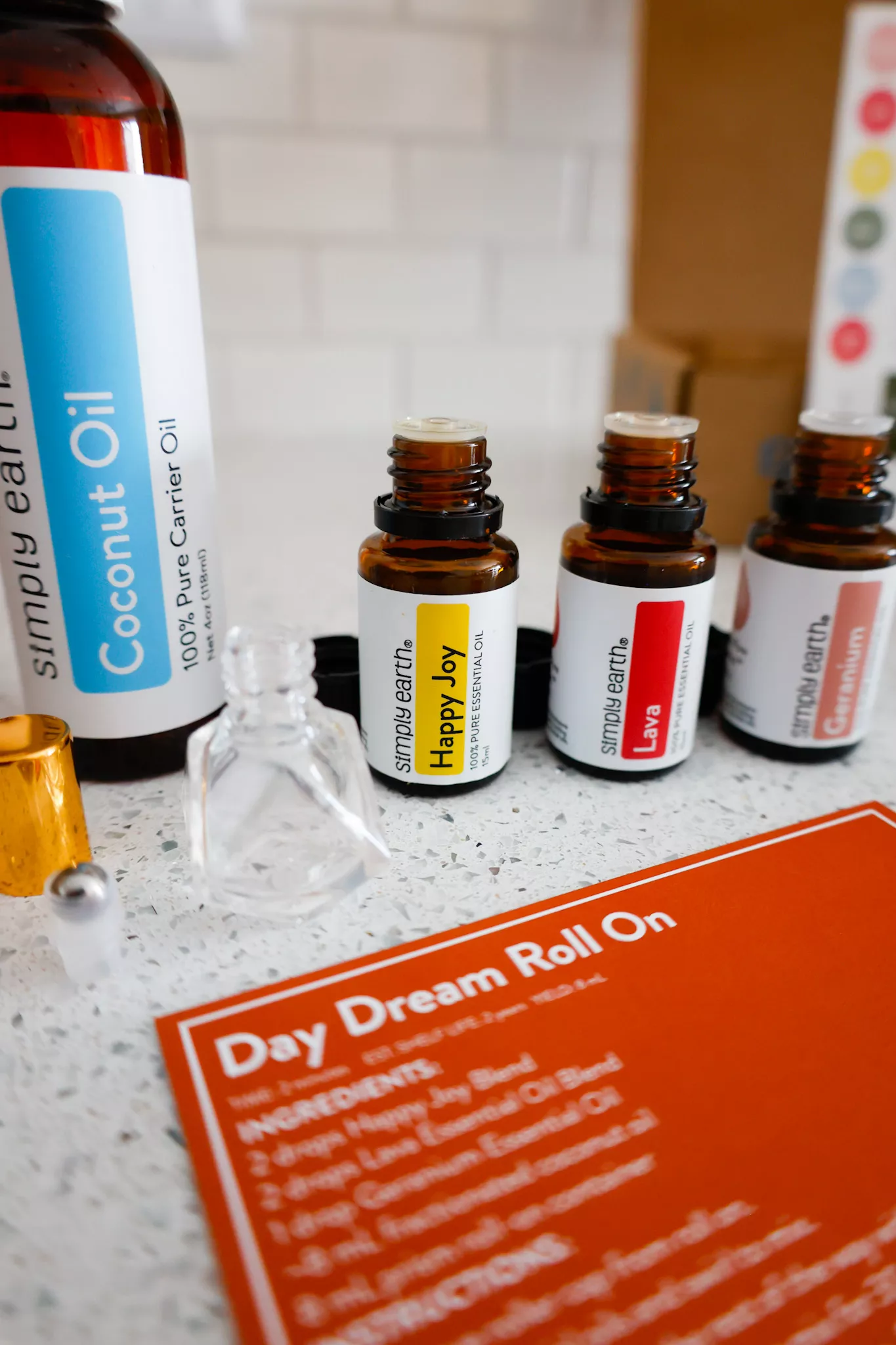 I applied this to the pulse points on my wrist, and WOW – this roll-on blend smells amazing!
Probably my favorite scent so far!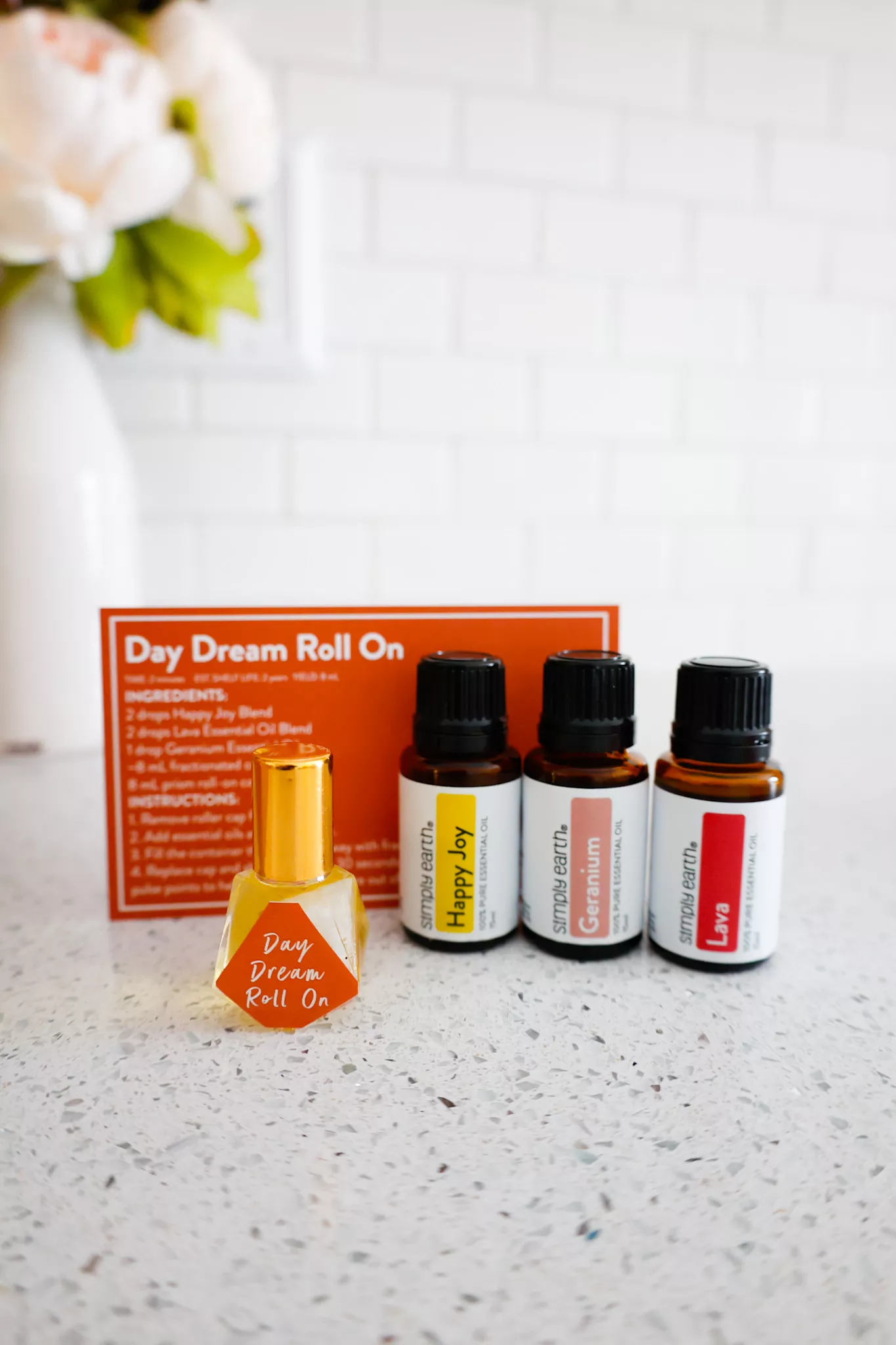 I'll be sharing more of the recipes from the box throughout the month on my Instagram stories, so if you aren't already following me there, go do it!
Last month I made DIY deodorant with the January box, which was so fun to make with my audience.
Check out last month's box review HERE.
I hope this helped answer any questions you might have about Simply Earth and their amazing subscription box.
I can't recommend it enough, especially if you love high-quality oils at an honest price.
Remember to use code SAHMFREE at checkout to get a free $40 e-gift card towards your next box or a future purchase!
Have more questions? Drop them in the comments below and I'll answer them!
*Post originally published February 2021, last updated January 2022.