Finding a quality farmhouse trestle table that is also beautiful can be hard, but I've found quite a few that are under $700…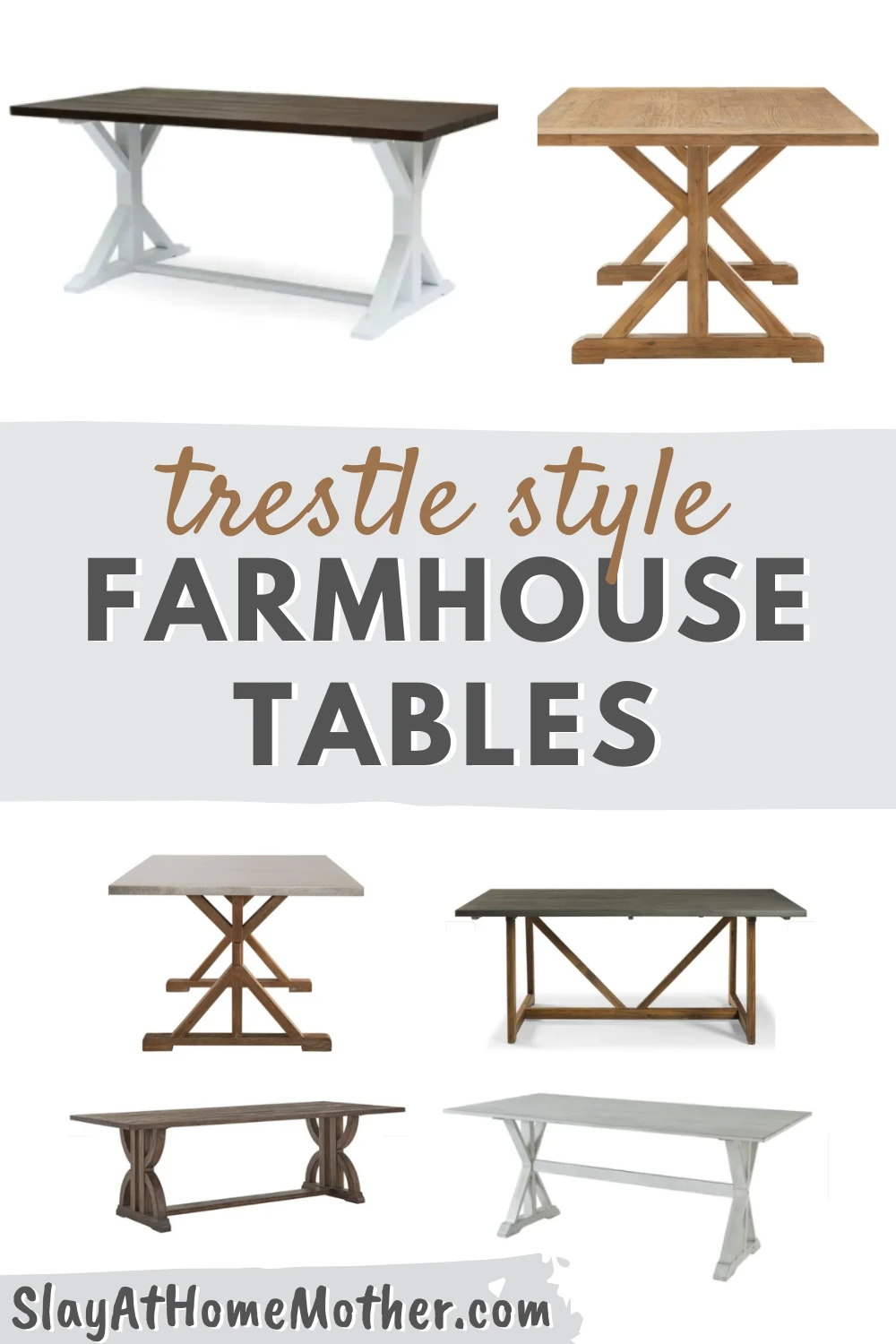 I looooove my trestle table!
It's so stunning, and we get many compliments on its beauty.
But when people ask where they can get it, I have to let them know that we had it locally made by a contractor who doesn't ship!
We like having our furniture locally made when we can because it helps support small businesses around us.
Plus, we always get a quality product.
But the downside is not being able to refer anyone outside of a 25-mile radius to buy the same table :(.
Here's what our table looks like…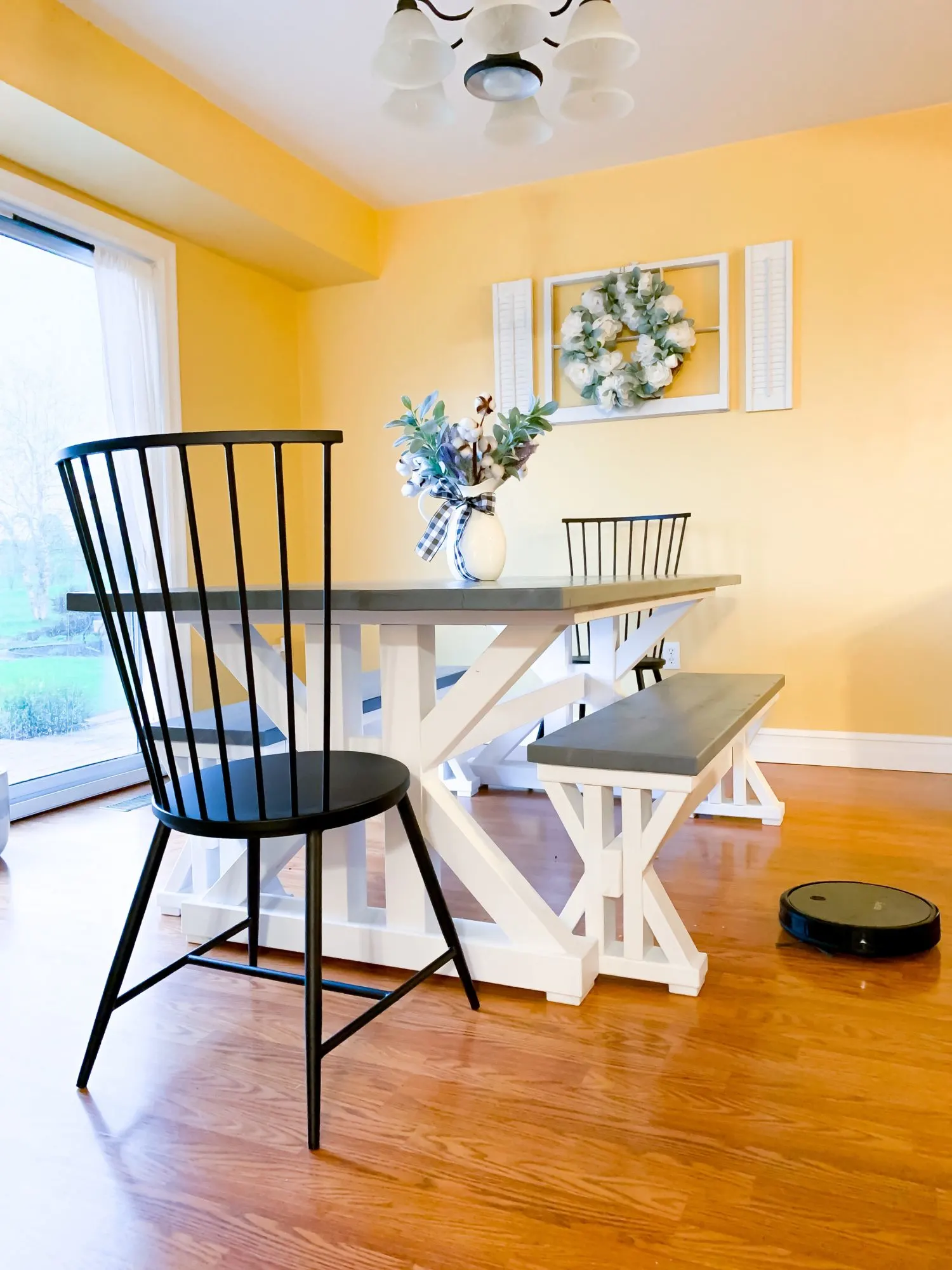 Chairs | Vacuum | Farmhouse Window Fram & Shutter Set | Peony & Lamb's Ear Wreath
So since I can't link my actual table, I decided to look into other trestle tables for my readers so you can find a similar table that works for your living space.
Overstock is having a HUGE Memorial Day sale on items across their site right now, including some gorgeous trestle-style tables.
Walmart also has some great choices for trestle tables (I was pretty shocked to discover this).
I'll be linking to some of my favorite tables under $700 (this particular style happens to be a tad more expensive than a traditional kitchen table) that you can easily add your own chairs to customize the style and look of what you want…
Rustic Pine Trestle Dining Table – overstock
This table at Walmart is only $589! I can't get over how gorgeous it is – if we were buying right now, this is one table I would be seriously considering.
Stainless Steel Dining Table – overstock
Normally over $800, this table is on sale on Overstock.com at $696 and I'm kind of loving the stainless steel top and wood legs!
Paloma Reclaimed Wood Dining Table – overstock
Okay, okay…so this table is technically ONE DOLLAR above the $700 threshold for this list, but it is stunning!
I couldn't not mention it.
68-inch Rustic Dark Oak Wood Trestle Base Dining Table
Another stunner from Overstock, this dark oak farmhouse table is PERFECT!
It also has a ton of 4 and 5-star reviews online, so you know it's a decent table ;).
Gray Oak Trestle Table – Walmart
I was so shocked to see a gorgeous trestle table like this available online at Walmart, but here is this beauty at just over $500!
Rectangular Table With Concrete Inlay – Walmart
Alright, this is a top favorite of mine! With a concrete inlay and a gorgeous design, this trestle table does not disappoint.
Dark Espresso Trestle Table – Walmart
This table is so gorgeous! Its tabletop is over 70″ long so it can seat at least 6 people comfortably.
7-piece Dining Set In Walnut And Black – Overstock
I know this post is all about trestle tables, and less about chairs, but I found a dining set with a table and six gorgeous chairs all for less than $700 with amazing reviews and knew I had to include it in this post.
P.S. This table/dining set is also available at Target, but for a much higher price!
Natural Rectangular Trestle Table – Walmart
This trestle table is so pretty! I would couple it with some black chairs and a pretty white pitcher filled with lamb's ear stems.
Two-Tone Farmhouse Table – Overstock
This pretty trestle comes in on sale at just over $400 and is a STEAL! It's also two-tone like my table.