A year later, is the DreamBox worth it? Here's what I think…
Use my affiliate code SLAYATHOMEMOTHER at checkout to save $100!
---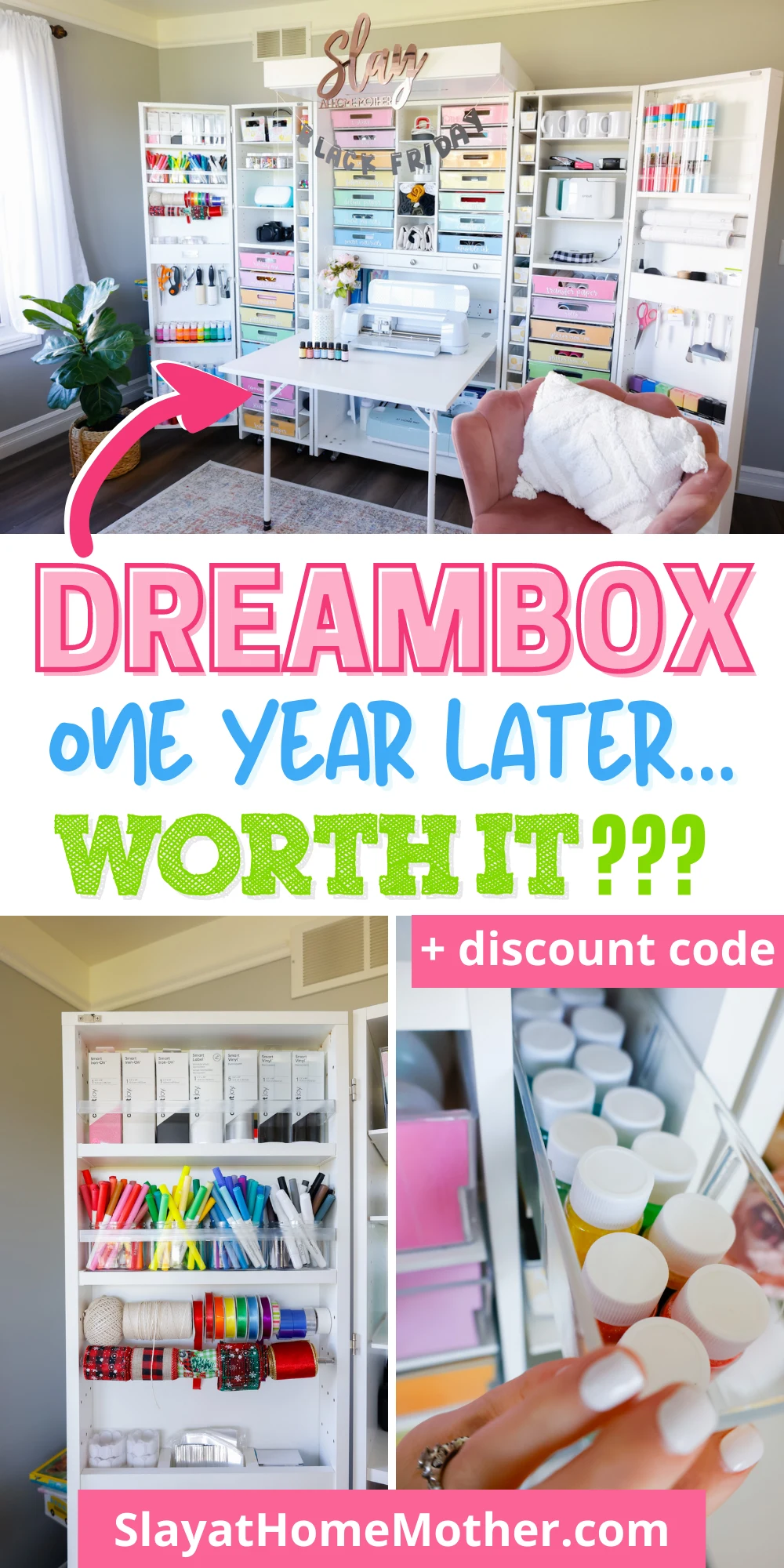 Hi fellow crafters and organizers!
In today's post, I'll be sharing an update on my craft room.
*This post contains affiliate links, however, all opinions are my own, as always.
If you've been a reader of mine for a while, you've probably seen my craft room before.
I made the decision over a year ago to invest in a DreamBox from Create Room and wanted to share my thoughts now that I've owned mine for so long…
My Dreambox Order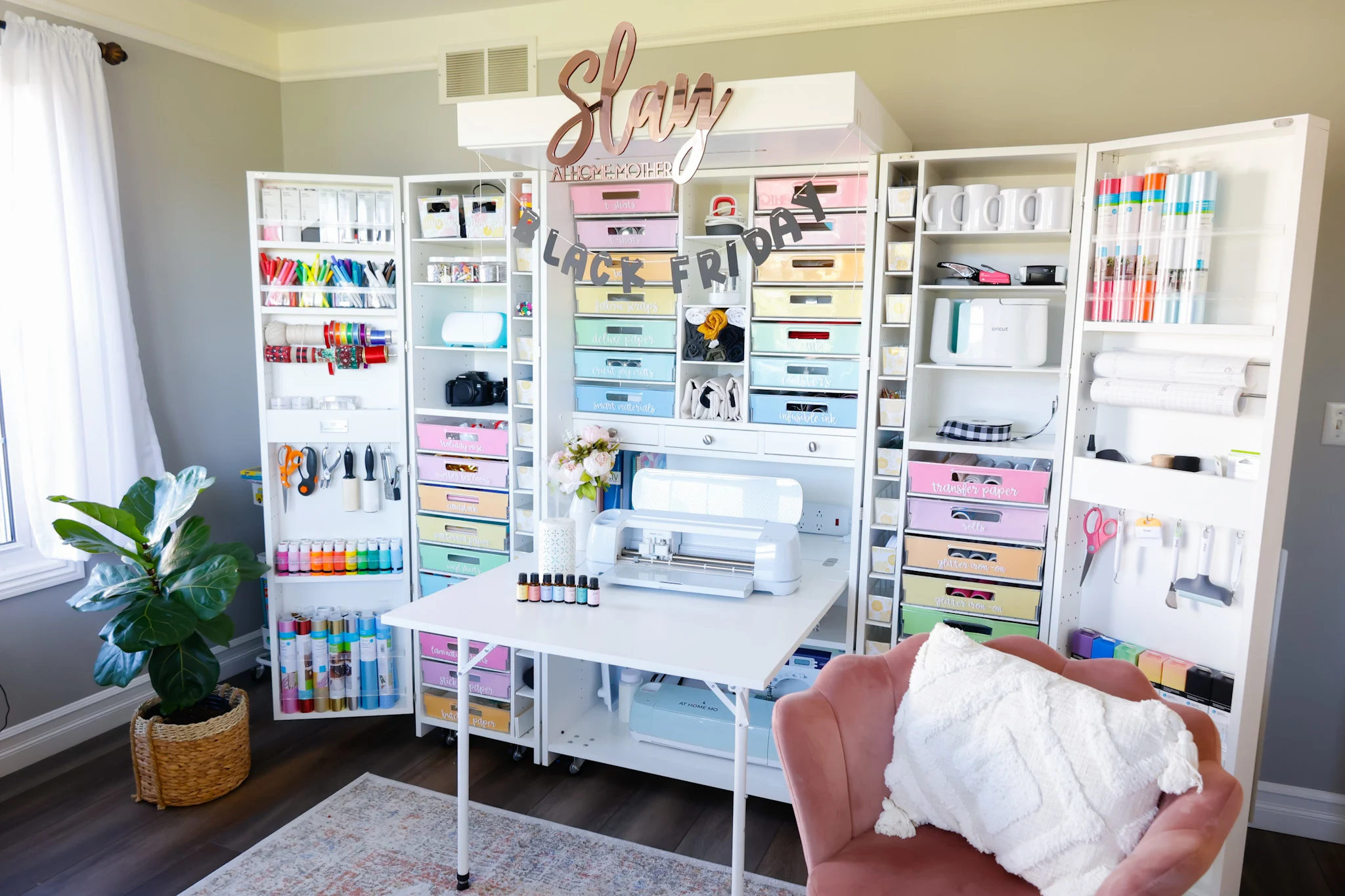 Here is what I ordered from Create Room last year…
Crown light
3-drawers
80-tote package
The Dreambox comes standard with the 40-tote package, so if you find yourself wanting to organize more items in your DreamBox, you can double up on your shelving and totes to store more.
I love my 3-drawers accessory from Create Room – it not only looks beautiful in my DreamBox, but it also stores my small items like…
replacement blades for Cricut machines
sewing needles
markers
stamps
stickers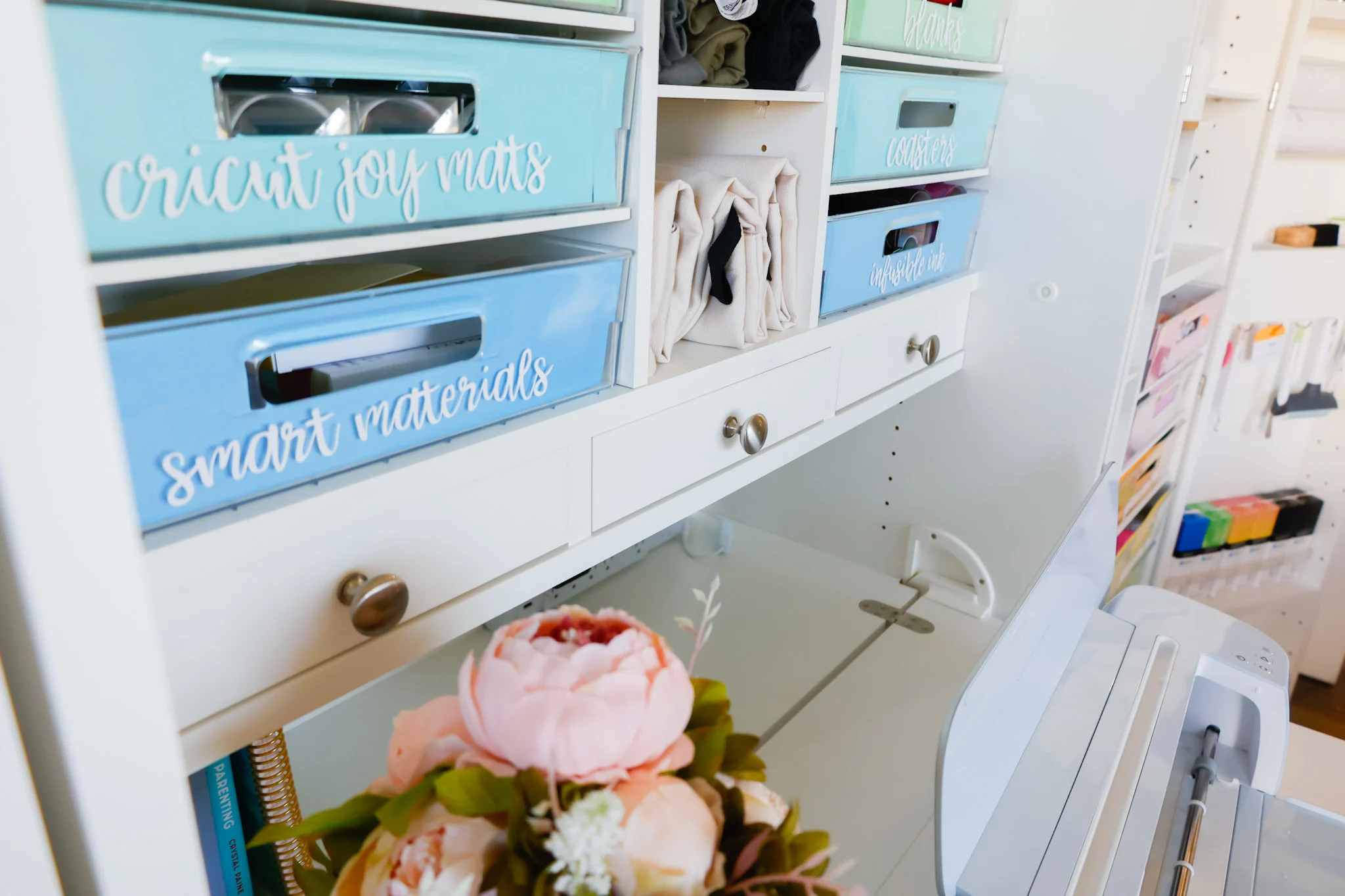 Each door contains items I grab frequently, including my pens and markers, vinyl rolls, ribbon, and tools.
In my small in-view totes, I have small items stored like glitter bottles, pipe cleaners, googly-eye stickers (can never have too many of those around with my kids!), and more.
Related: DreamBox Unboxing, Setup, And Craft Room Organization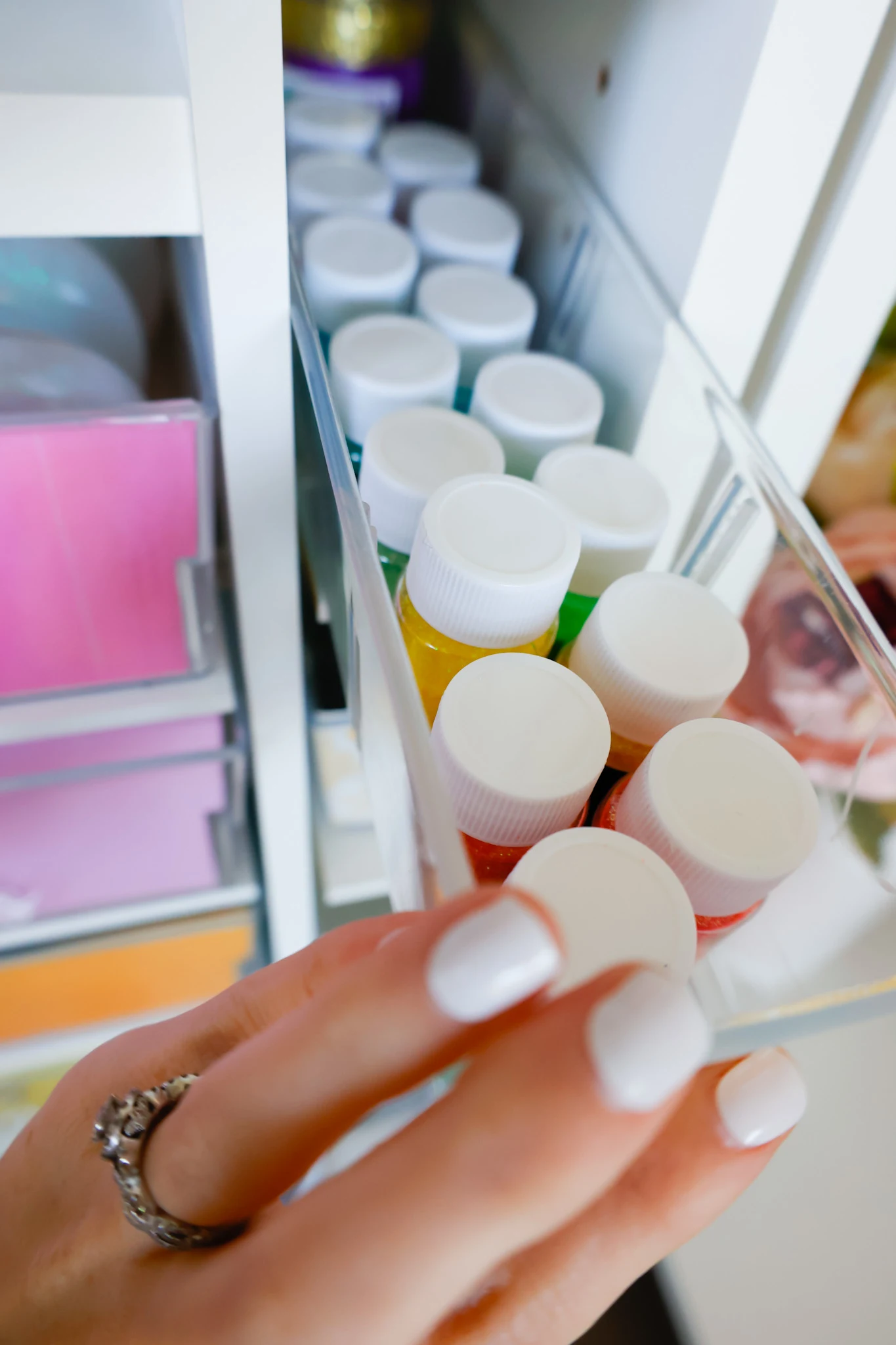 I chose to remove some of my totes over this last year to accommodate some extra machine storage.
I love storing my Cricut Joy and cameras here on the left side of my DreamBox to easily grab when I need them.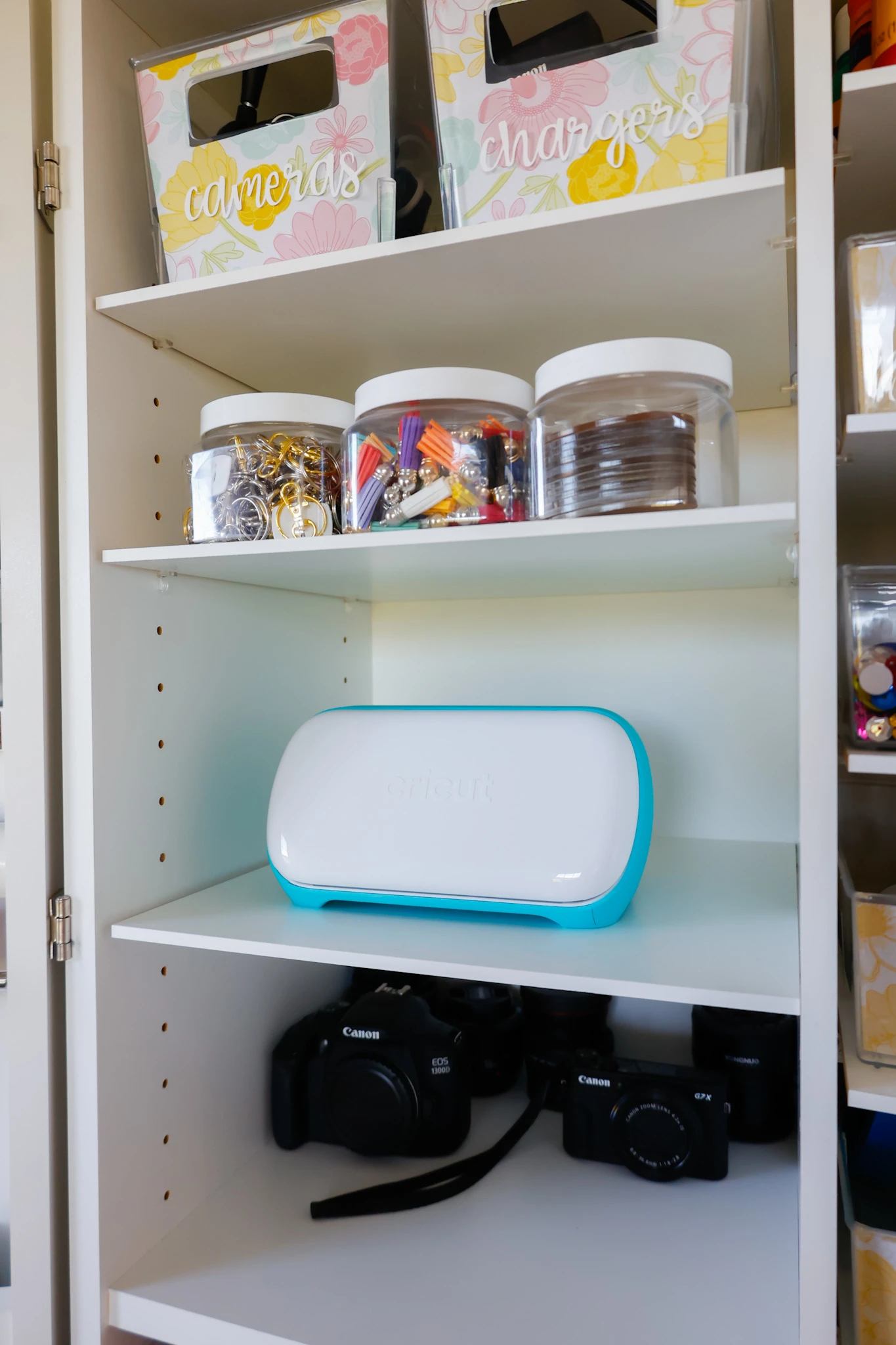 Also on the left side of my Dreambox, I store all of my paper…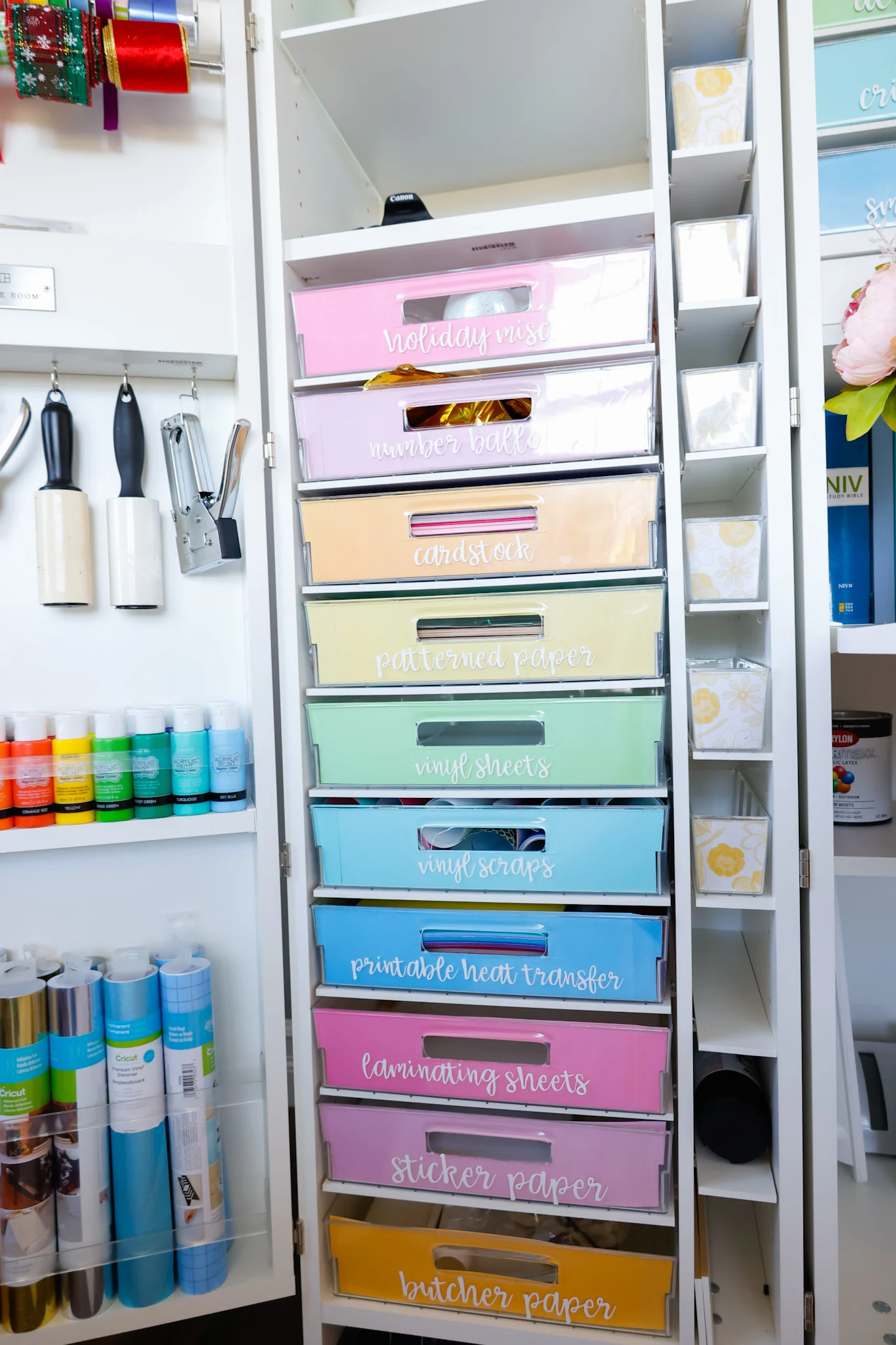 The totes (bins) are strong, durable, and perfectly sized to accommodate huge stacks of paper and other items.
In the middle, I am storing most of my infusible ink sheets and blanks.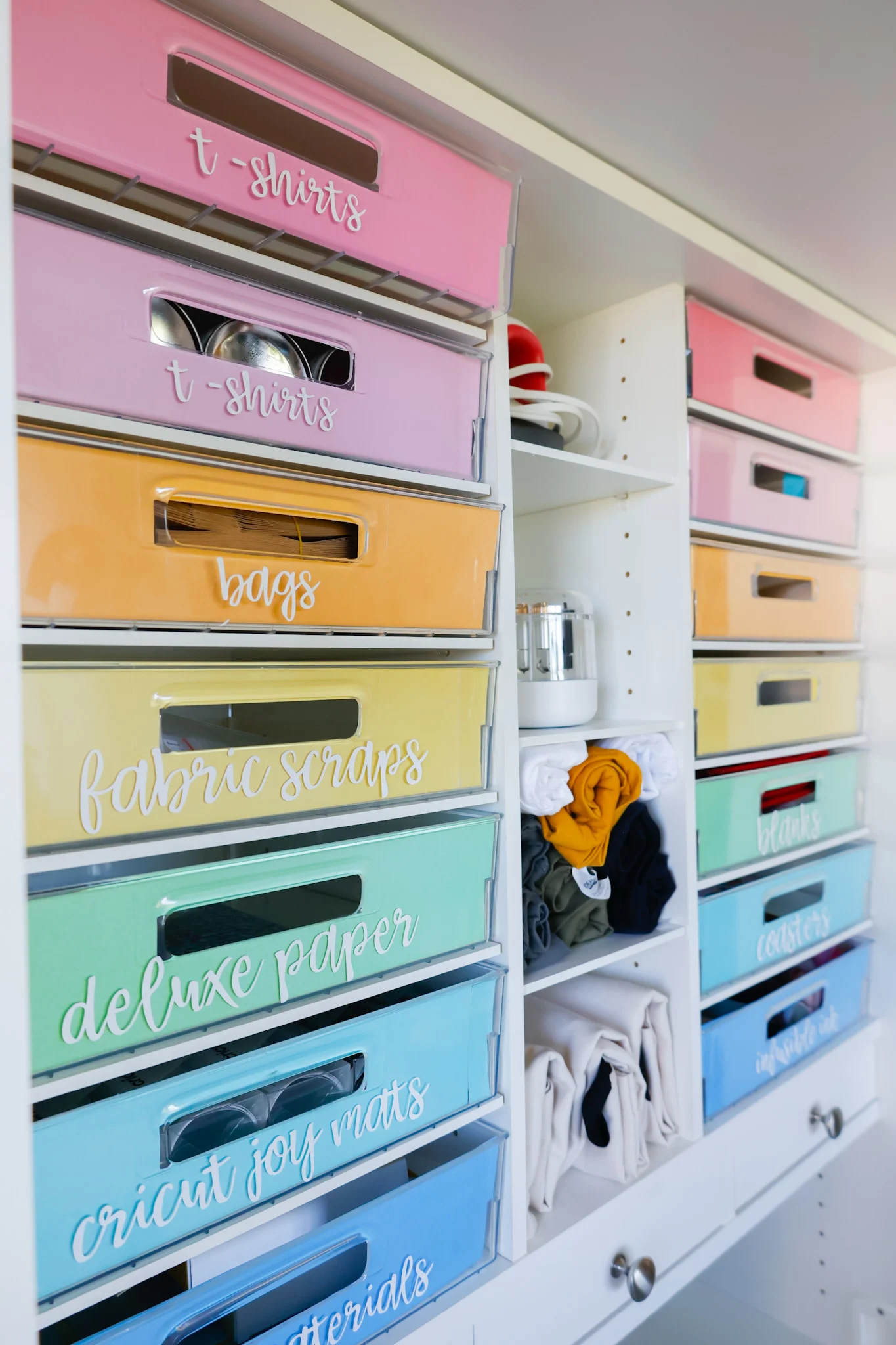 On the right side, I store my Mug Press machine, extra sublimation mugs, and extra crafting items.
I have tons and tons of storage in my DreamBox!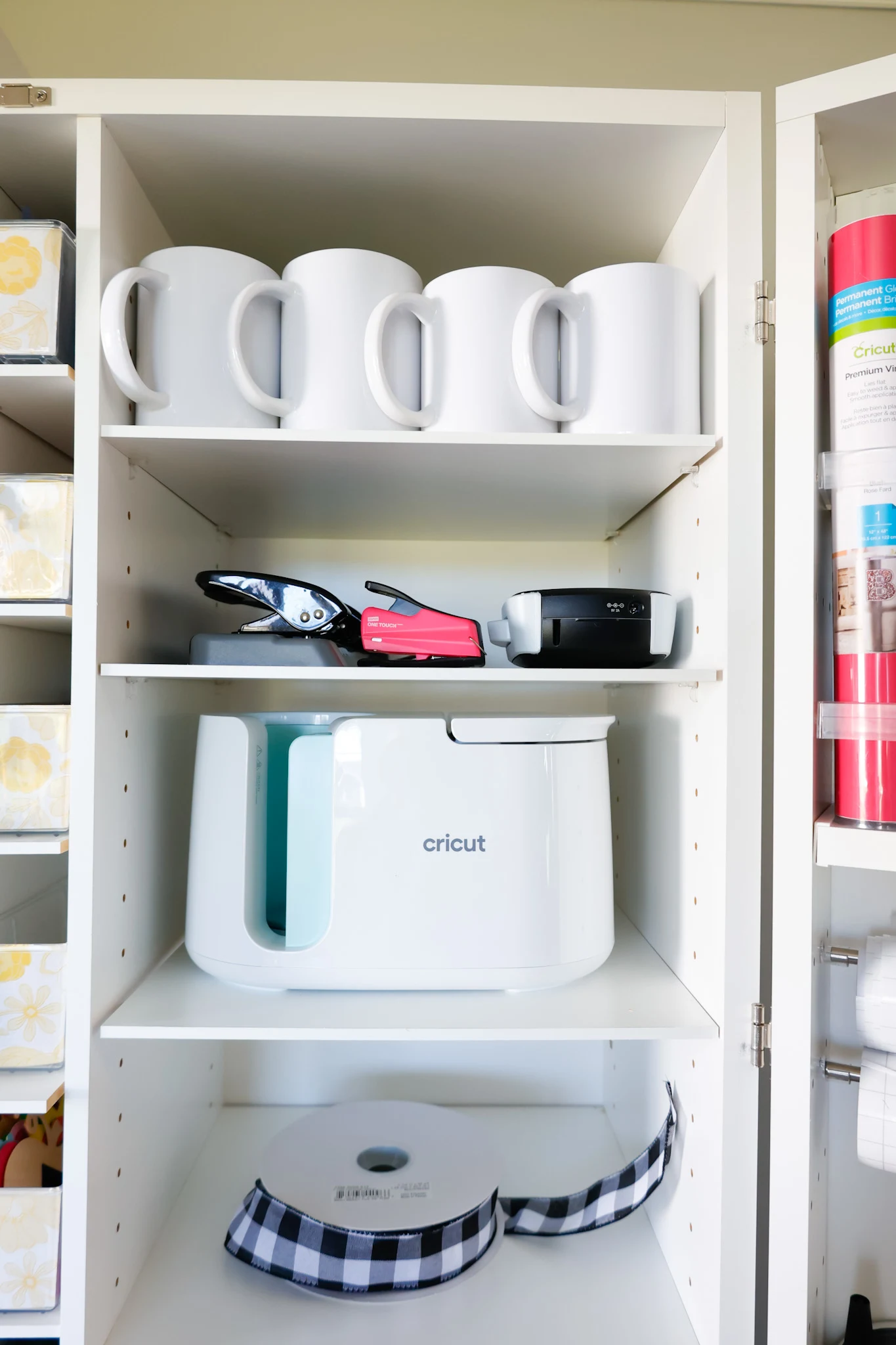 My permanent vinyl hangs out in my DreamBox door in the same spot it did last year, but I've been crafting so much I need to stock up on more rolls!
I also started placing rolls of transfer tape on the horizontal bars within the door to easily unroll and cut pieces as I need them – it's a real time-saver!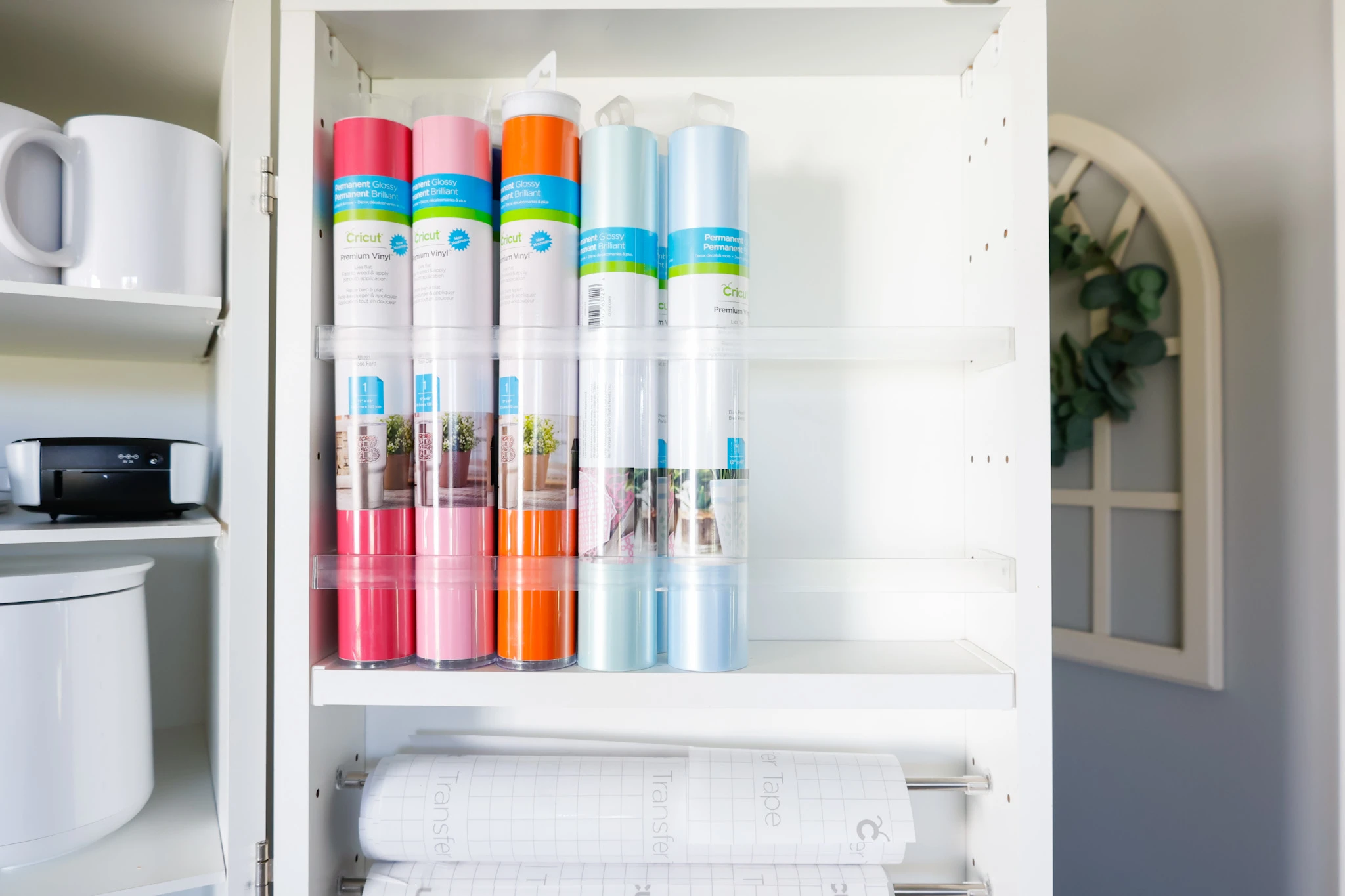 Below my permanent vinyl, I have totes dedicated to transfer tape and iron-on of all different kinds.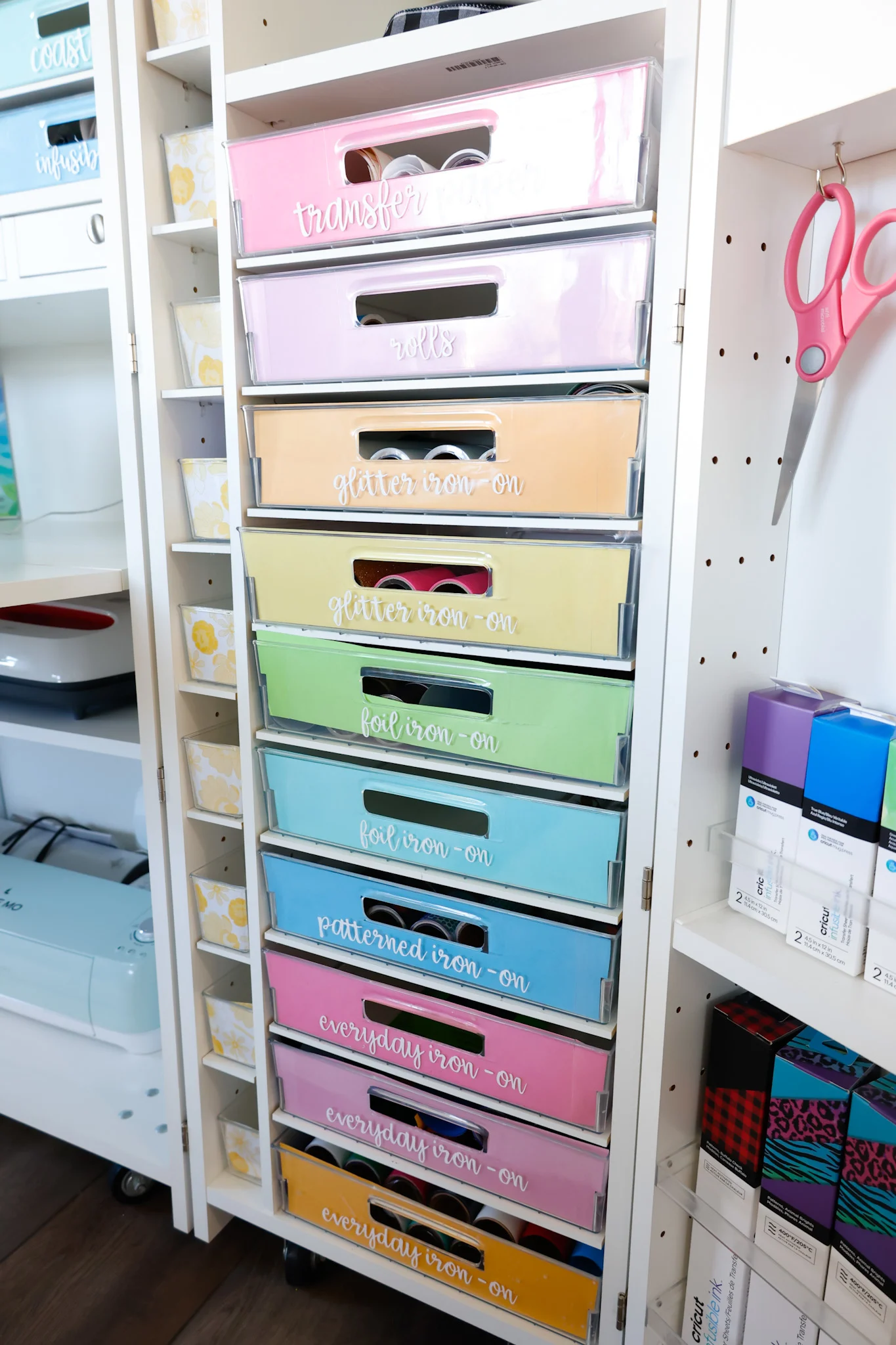 I hang my Cricut tools on hooks in the DreamBox doors to easily grab and craft when I want.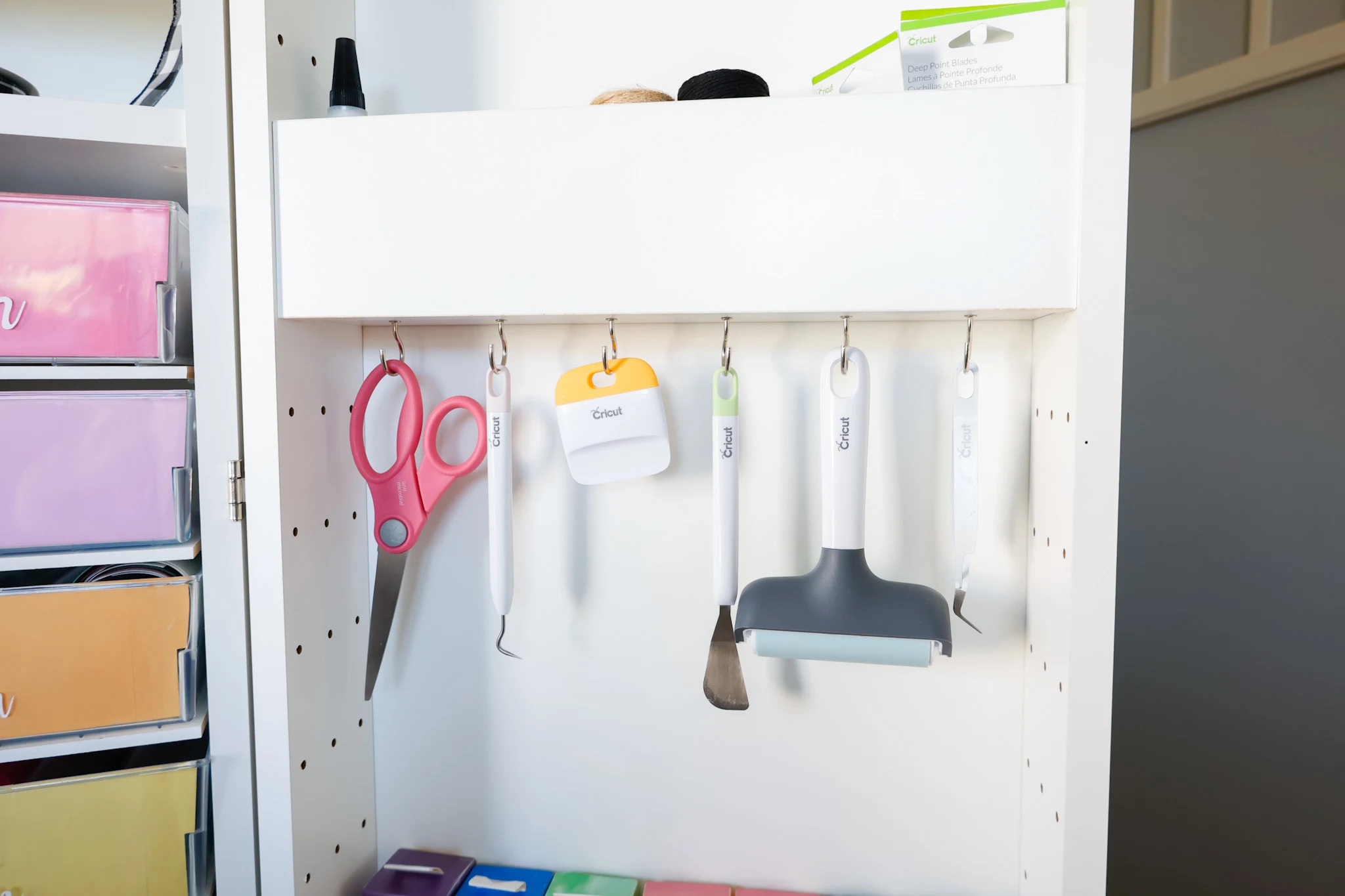 For my Cricut mats, I stuck some command hooks on the backside of the doors and hung them there.
I love storing them there, and my DreamBox can still easily close up with them hung up.
My gray self-healing mat needs to be removed before closing my DreamBox because it is wider than the width of the door.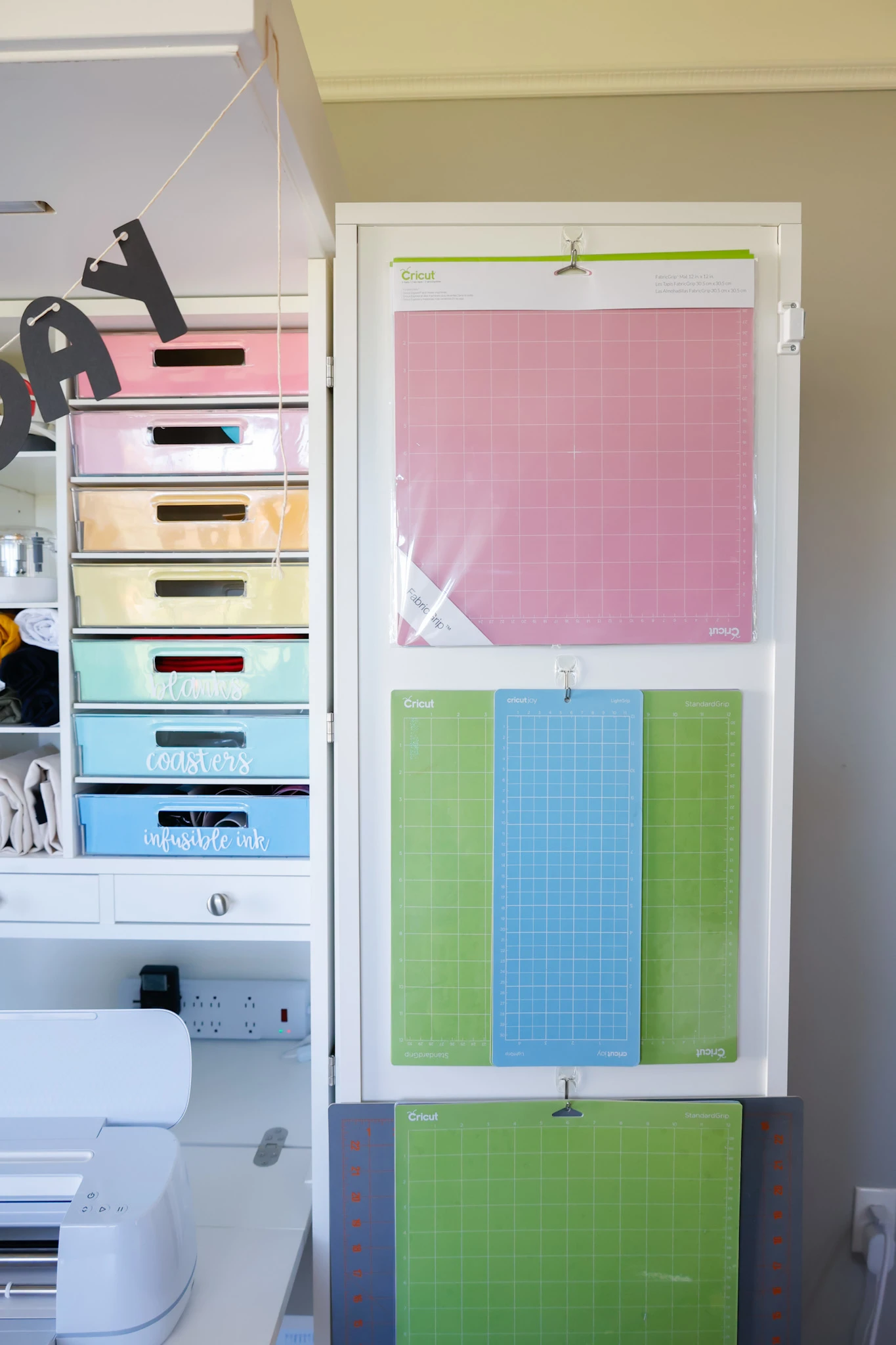 I also have Create Room's new diffuser set and oils (7-pack) that they just released – they all smell wonderful!
The diffuser is powerful and feels and looks like a quality diffuser.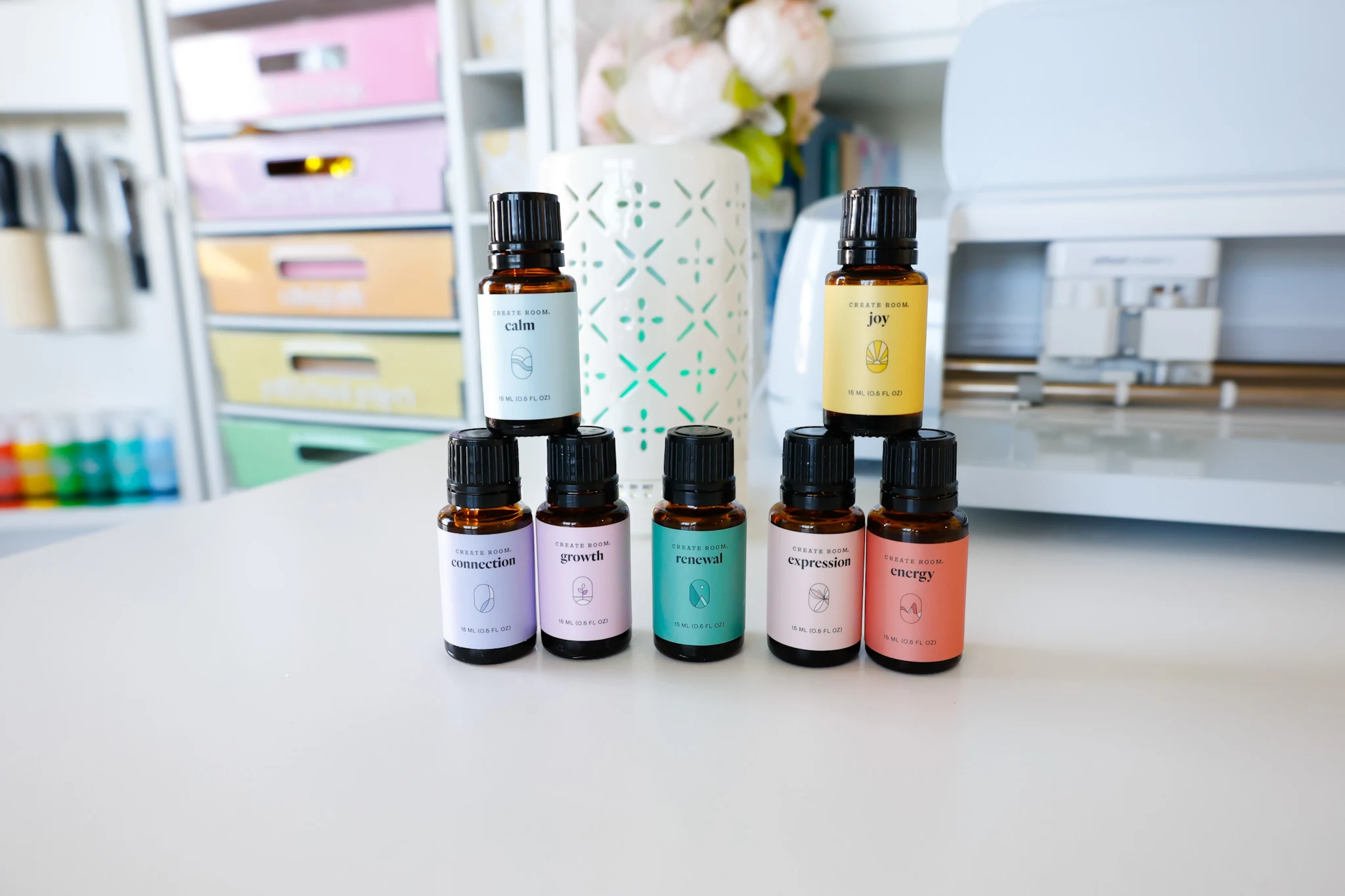 My Thoughts After One Year Of Owning A DreamBox
I still love my DreamBox – it's been through so many different crafting seasons with me throughout this last year and a half.
I love sitting down (or standing up) at the built-in desk and crafting.
The crown light proves to be a strong light source to use while crafting or working at night.
If I were to recommend just one accessory to get with your DreamBox, it would hands down be the crown!
With the customizable storage options, I haven't found a single negative to owning my DreamBox.
Being able to open and close it whenever I need to or want to, having all of my favorite crafting items within reach, and having all of my craft supplies completely organized is such a gift!
Create Room Discount Code
Use my code SLAYATHOMEMOTHER at checkout to save $100 on the Create Room Dreambox, and SLAYATHOMEMOTHER50 to save $50 on the DreamCart.
Create Room Financing Options
I want to mention Create Room's financing options because I feel that it's a point a lot of people miss when trying to figure out how to afford theirs…
Create Room currently offers up to 0% APR for qualifying customers so you can make monthly payments (as low as $52/mo with my discount code applied), so you can craft now and pay later.
My husband and I chose this financing option because it worked best for our budget at the time.
Financing might not be the right fit for everyone, but it was for us, and I wanted to spell that option out for my readers because it was something I'm so glad we found out about and took advantage of.
We were also able to pay off my DreamBox early without any fees or penalties!
---
Do you own a DreamBox, or are you hoping to get one this year? Let me know in the comments below!
*Post originally published November 2021, last updated January 2022.