These 13 simple ideas on how to organize your fridge will help you transform your fridge space, preserve food longer, and create an organized space you can be proud of!
---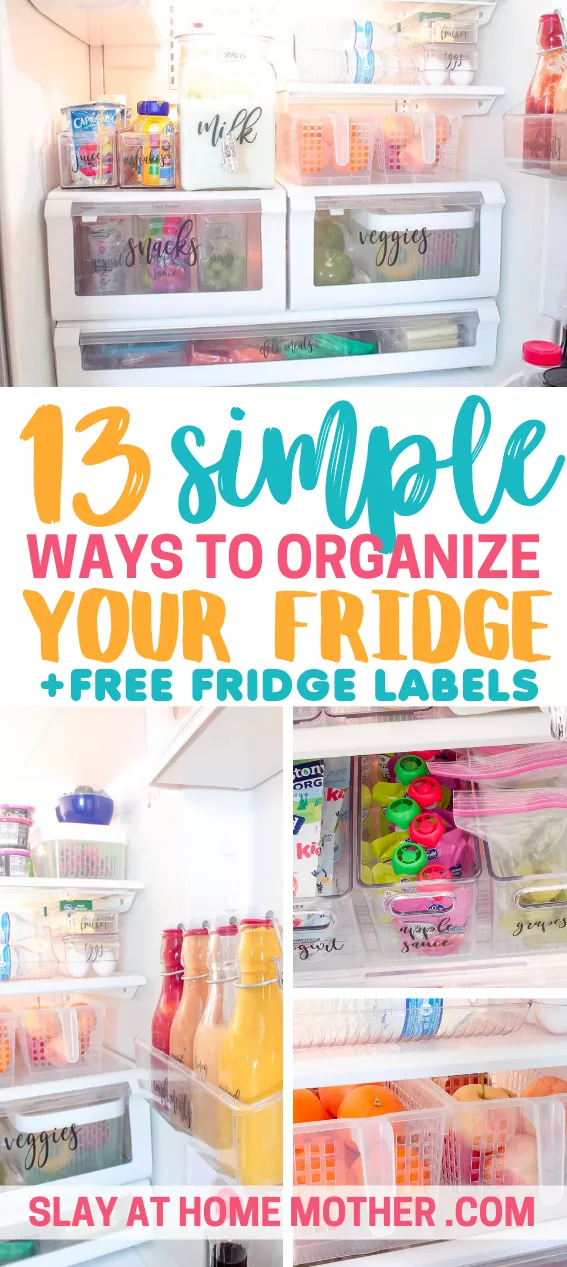 Looking for creative ways to organize your fridge?
I recently partnered with The Container Store on my fridge cleaning and organization project, and couldn't be more thrilled with the turnout.
Our fridge is gorgeous now, but it wasn't always.
In fact, this cleaning and organization process really opened my eyes to how much food we were wasting, how much money was going into the trash can each month, and what a mess our fridge was.
Food, for my family, is something we use to connect with each other.
We make and eat dinner together, we prep school snacks together, we talk about foods that are healthy and foods that aren't. I use food as a tool to educate my kids and I love how it brings us all together no matter what kind of day we've had.
But, besides digging out two or three ingredients I needed from our fridge for dinner each night, I hardly ever looked at it.
Before I organized it, we had so many leftovers, one too many gallons of milk, and food that had expired that was going back at the back of our fridge.
I was constantly overlooking the mess, the clutter, and the expiration dates that were being exceeded silently in the back of the fridge.
I debated even being completely honest about our #realife fridge. It was truly embarrassing to admit that there was so much food WASTED. And all because I hadn't organized our poor fridge.
Wasting food is never intentional in our household. We consider ourselves to be pretty frugal when it comes to spending money and didn't even realize how much money and food was being wasted in our fridge.
I honestly had no idea it was as bad as it was until I cracked open the door and got down to business.
When I chose to clean out our fridge and go through it, I learned a lot about myself and my family's habits. It was a true eye-opener.
I couldn't be happier with the turnout, and I have to say it truly helped me with my meal planning, freezer meal prep, and everyday anxiety just having it organized.
I hope this post helps you organize your fridge and opens your eyes to what organizing your fridge can do for your life and your family…
*This post contains affiliate links, however, all opinions are my own, as always.
Fridge Organization Vlog
If you want to see the organization process in a vlog, check that out below…
[embedyt] https://www.youtube.com/watch?v=cJdlLnmpEik[/embedyt]
Clean Out Your Fridge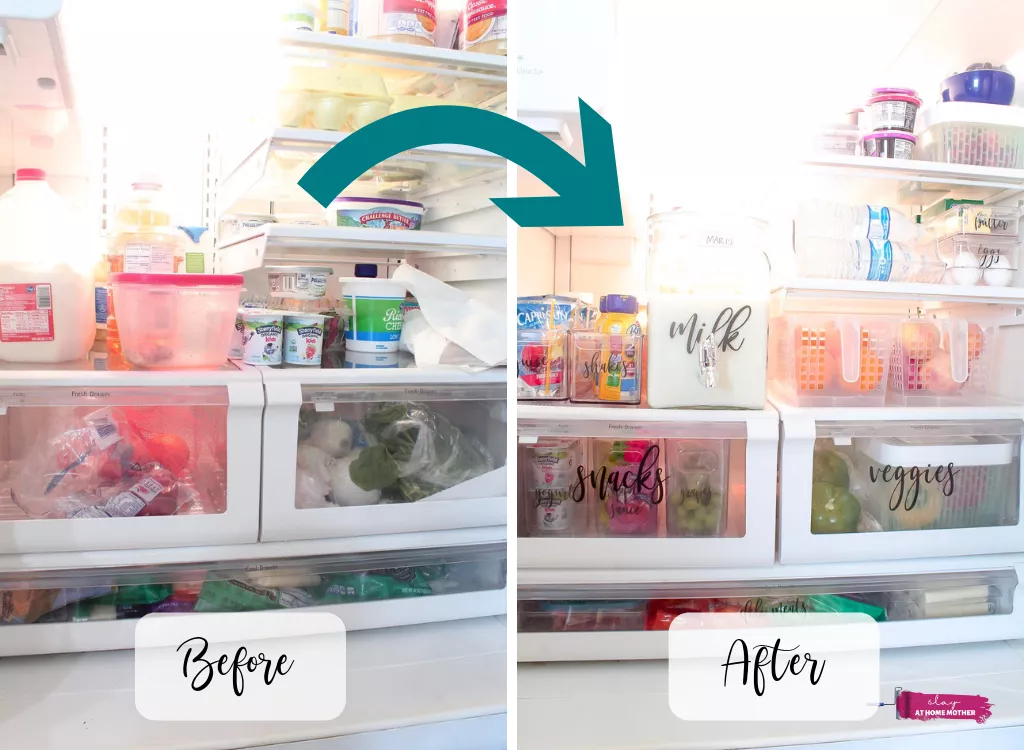 The first step to organizing your fridge would be cleaning it out!
Take a good 30 minutes to remove all of your food items, toss old food that's gone bad or has expired, and wipe down your fridge shelves, drawers, and walls.
You'll also need to wipe down any bottles and food items (the bottoms and sides) you plan on placing back into your fridge.
Once the bottles and containers reach room temperature, any sticky messes that are stuck to the bottles can re-stick and create a mess in your fridge after you've cleaned it – not ideal!
Measure The Interior Dimensions Of Your Fridge
If you plan on going forward with organizing your fridge, you'll need to measure the interior of your fridge to see how deep, wide, and tall your fridge interior is.
It's helpful to know the measurement of the space you're working with so you can best organize and implement solutions that will work for YOUR fridge!
Measure each shelf, drawer, door shelf, and the main interior.
This should be done with a tape measure so you know exactly what dimensions you're working with and can compare those to containers that will fit in your fridge.
Related: 13 Family Crockpot Freezer Meals
how t Organize your fridge With clear Containers
This is my favorite way to organize a fridge – clear containers!
Clear containers, like the ones I have pictured above in our fridge, are great for storing food items in your fridge because not only is everything stored based on type/group of food, but you can also see what's in each container!
The containers I chose (and recommend) are those that take up the depth of your fridge.
This helps you store food longways in your fridge so you can eliminate random food in the back being forgotten and expiring in the back of your fridge.
It also helps if you can stack your containers on top of each other – look for containers that are stackable, or have a hard plastic top lid that will allow stacking.
For example, in the photo above, I've stacked my container with our sticks of butter on top of our eggs to conserve space.
top fridge organization tip: remove shelves
I used to think that more shelves meant more space – but it doesn't!
When you have too many shelves in your fridge, you have plenty of horizontal space, but not enough vertical space.
This is a recipe for expired foods to get trapped and forgotten in the back of your fridge!
Open up the vertical space in your fridge by removing a shelf or two (depending on how many you already have and the current space you have for food).
This way you can fit your clear containers and stack them as you need.
With our fridge, I found that by eliminating 1/3 of our fridge shelves, I was able to fit more of the food we actually used, stack containers I had organized with food items, and was able to more clearly see where and what everything was inside.
Organize With fridge Labels
Now, this may just be me, but I find that when I label things, I'm less likely to mess with it too much because it looks so pretty!
My kids seem to catch on to the fact that things are totally different when they're labeled and treat them with more respect.
You can easily organize your fridge using fridge labels by either breaking out your cutting machine and crafting some custom vinyl labels you like or printing some off using clear sticker paper.
I have some great free printable fridge labels (the same ones I have pictured here in this post!) that you can use to help organize and label your fridge!
With my free printable fridge labels, you'll just need a laser jet printer and some clear sticker paper. I used these labels in my fridge, and have them pictured throughout this post.
Rethink where you store your food items
Some people like to do things by the book and store certain things in certain places because that's just where they go!
But when it comes to your individual fridge and food storage needs, I invite you to think outside the box and rethink where you want to store food items!
This part is genuinely fun because the possibilities are endless…
Incorporate A Snack Drawer For your Kids
Kids love snacks! And while some of your snacks are probably kept in the cupboard and pantry, the rest are probably kept in the fridge.
Consider incorporating a special snack drawer or basket for your kids where they can easily grab the snacks that they need after school or when hunger strikes.
This can also be a great way to suggest healthy snack options for your kids!
Only stash the good, healthy snacks in your child's designated snack drawer/basket/shelf so they don't even have the chance to debate grabbing a less healthy snack.
You May Also Like: Small Pantry Organization On A Budget
Keep Veggies Fresh With Containers
Whether you keep your fruits and veggies in the produce drawers or you put them somewhere else in your fridge, produce containers can help lengthen their fridge life – here are the ones I use!
These produce keepers can be used with just about any fruit or veggie that will fit in them, and even has a chart on the inside of the lid that helps you know whether to keep the vent open or closed depending on the produce you're storing in it.
I use these for berries, onions, and peppers.
Make Room For A Defrost Shelf
We frequently defrost food from our freezer (like these delicious freezer meals!), so a special spot designated for defrosting helps us organize our fridge better and keeps yucky raw meat juices from dripping everywhere or leaking all over the fridge.
Try to pick an open spot that is usually available – whether that is a lower shelf in your fridge or a spot in your fridge door (like I implemented in our fridge, pictured above).
I wouldn't recommend storing defrosting meats and freezer meals on a higher shelf in your fridge because there's always the chance your freezer bag could leak and the juices could end up dripping down onto all the food, drinks, and shelves down below.
Trust me, I've been there and done that. Even my trusty Ziploc freezer bags have leaked on me.
Leave Room For Leftovers
Realistically, you're going to have leftovers.
Try not to pack your fridge so full of baskets and containers in an effort to organize that you leave NO room for leftovers!
Your 'leftovers' space doesn't have to be large at all, it can even be a small shelf in the fridge door or a space just large enough for a container next to your gallon of milk.
In our fridge, I place our leftovers in a container or plastic bag and use the deli drawer to store them.
I scoot the bags of shredded cheese (which are beautifully fanned out for pictures, ha!) together and store our leftovers there!
Use a lazy susan to rotate and store smaller items
If you like the easy of a spinning lazy susan, put a small one in your fridge!
Lazy susans can be a great storage option for sauces, mason jars, containers, and even drinks for yourself or for the kids!
store produce in handled baskets
Consider using handled baskets to store fruit or produce in your fridge!
Your kids can easily grab the baskets and produce they need for school lunches, and you can easily see how much of each food item you need.
lay down fridge mats to line shelves and drawers
Lining your fridge drawers and shelves helps with clean up, can keep food and drink items from sliding, and looks FAB!
There are so many colors and patterns for fridge liners that you can find online and in stores. Some have a ribbed texture while others are more smooth.
Here are the ones I bought and love – you can easily trim them with kitchen scissors to fit the width and depth of your fridge.
---
Thanks so much for reading! Let me know what you've changed in your fridge to help you organize it, and some other organization posts you want to see in the comments below…
*Post originally published September 2019, updated for relevant links and ideas October 2020.