Easy Kitchen Cabinet Organization Ideas to help you stay organized this year…
---

Hey there clean freaks and friends!
Today's post is all about organization – something I looooooove!
Organizing frees up space and contributes to a clutter-free mind and home.
Which does wonders for our mental health.
As someone who suffers from anxiety and depression, I know this very well.
Not to say my house doesn't have clutter – because it does from time to time. Especially considering the fact that we are a family of five.
Over the last month, I've been focusing on getting rid of clutter (AKA decluttering), whether that be paper and mail clutter, mudroom clutter (hello dozens of boots that never make their way into the mudroom bench 😉 ), or extra items in our closets and bedrooms.
But I'm super excited about today's post because it's all about organizing kitchen cabinets.
I'll be honest, we spent a pretty penny on new kitchen cabinets during our kitchen renovation.
We invested in slow-close cabinet doors, custom hardware, the works.
We figured if we were going to rip apart our kitchen from floor to ceiling, we needed to do it right and get all the little perks and features we always wanted.
And let me tell you – I'm so glad we did.
If you have kids, by the way, go with the slow-close cabinet doors – it'll prevent them from being slammed (purposefully or accidentally).
Once we were done and the kitchen was wrapped up, we slowly started putting items in our cabinets.
I believe I still have a couple of boxes out in the garage from the move that I haven't even opened.
You can see the full transformation and before/after pictures in this post.
New cabinets call for organization – you don't just spend that kind of money and then stuff them with all the stuff you had!
At least, I don't!
I wanted to better organize our cabinets and find the perfect place for each item.
Buuuuuut I kind of slacked in the organization department this last year…
Life, you know?
I'm finally over making excuses, though, and in this post, I'm sharing how I organized our kitchen cabinets, what tools and organizers we used, and offering up some helpful ideas to get you motivated….
*This post contains affiliate links, however, all opinions are my own, as always.
Kitchen Cabinet Organization Ideas
If you need some BOMB kitchen cabinet organization ideas, I got you!
Here's what I did…
Cabinet Organizer Ideas For Pots & Pans
Previously in our cabinet under the induction cooktop (this is the one we got, BTW!), we had this going on…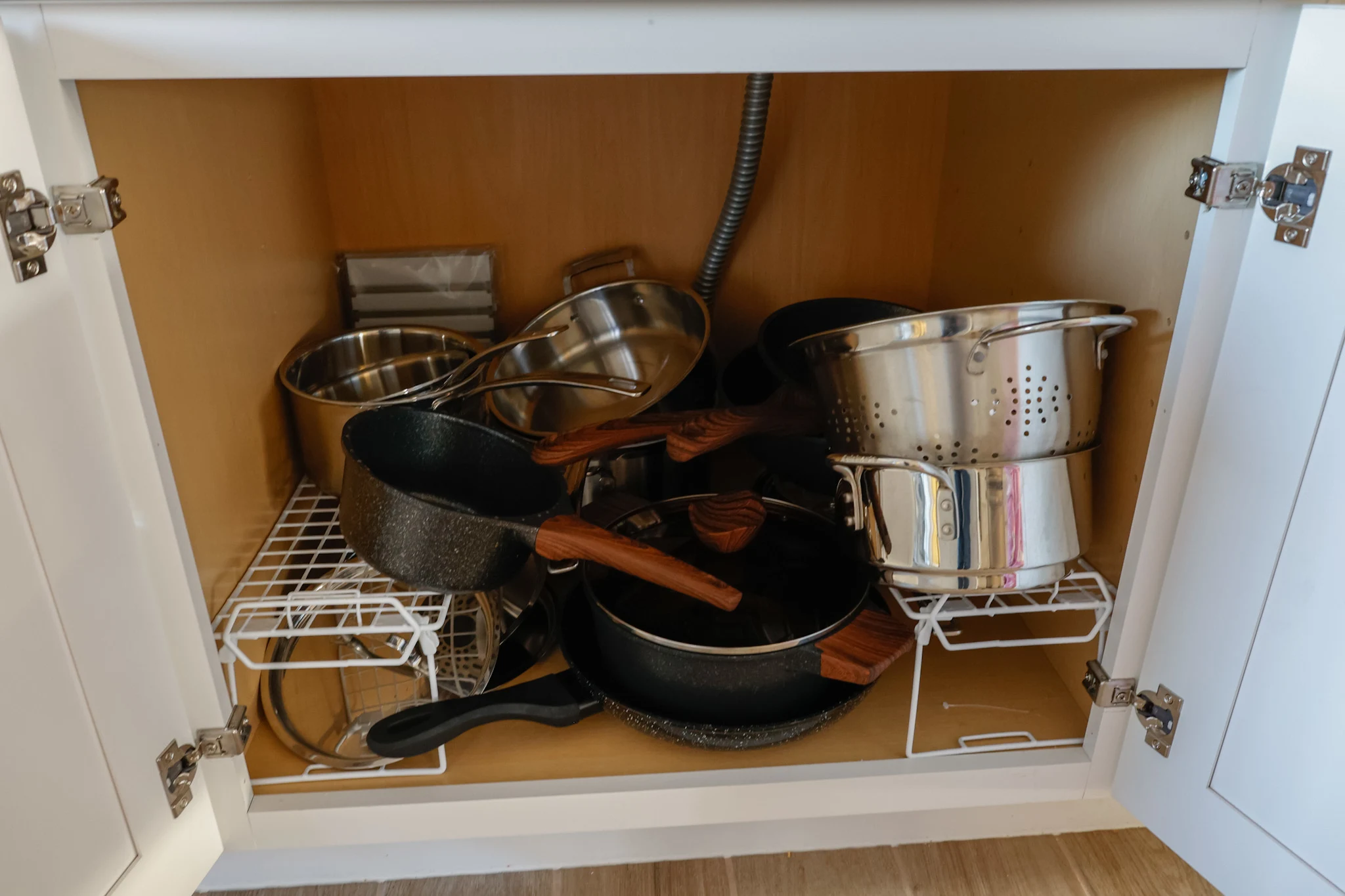 We've tried to do a stacking method of sorts, but it always ends up looking disheveled.
I know, I know. It's a wreck.
The shelf riser system and random stacking didn't hold up over time, although it was cost-effective!
I think the two shelf risers pictured here were only $3-5 apiece.
They take more work to consistently organize with and weren't entirely sturdy, but they're a solid option if you're on a budget!
For us, we were too busy to constantly reorganize pots and pans each time we took one out.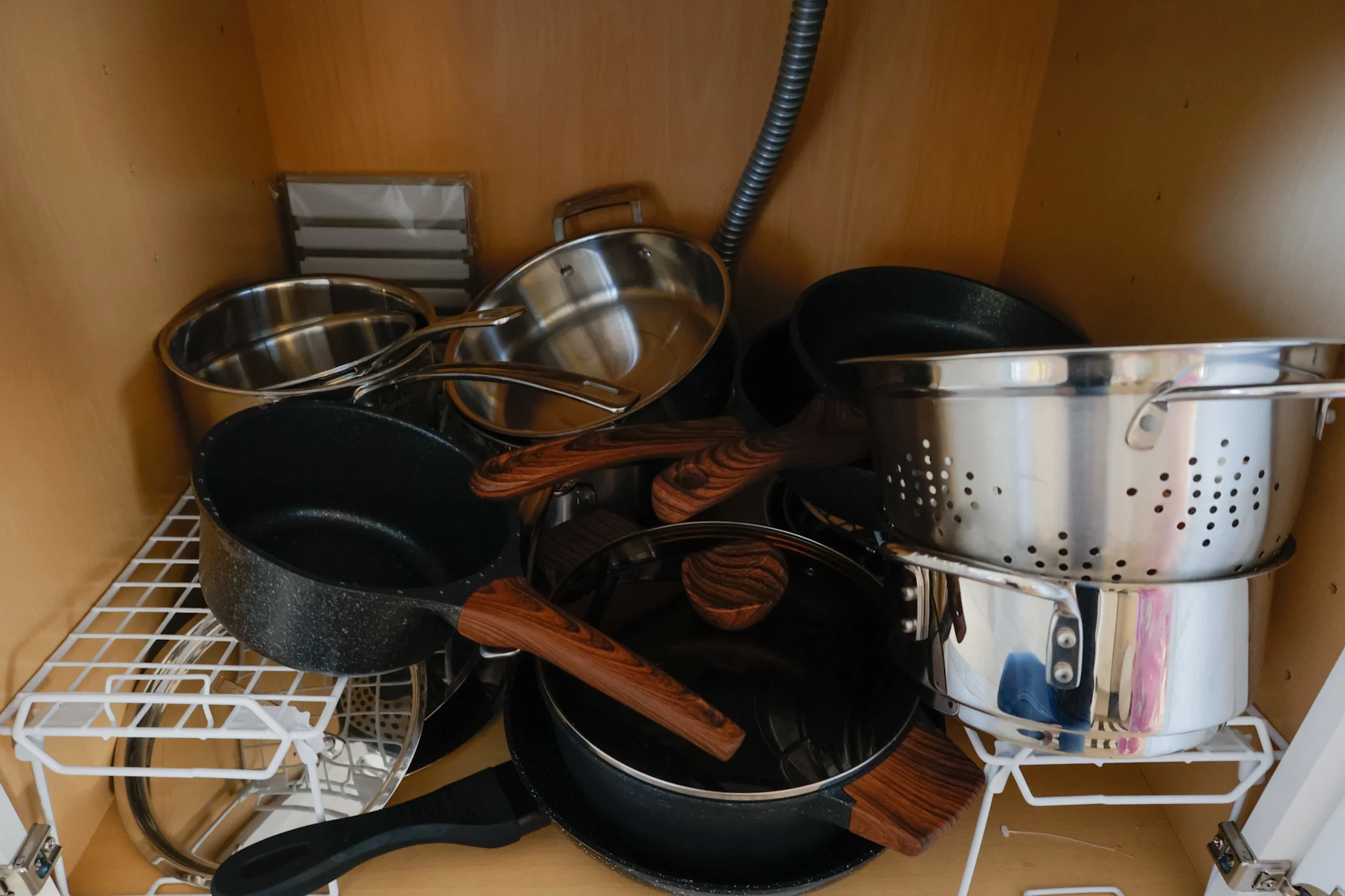 I finally decided to invest in a slide-out pot and pan organizer, and WOW.
The difference is incredible…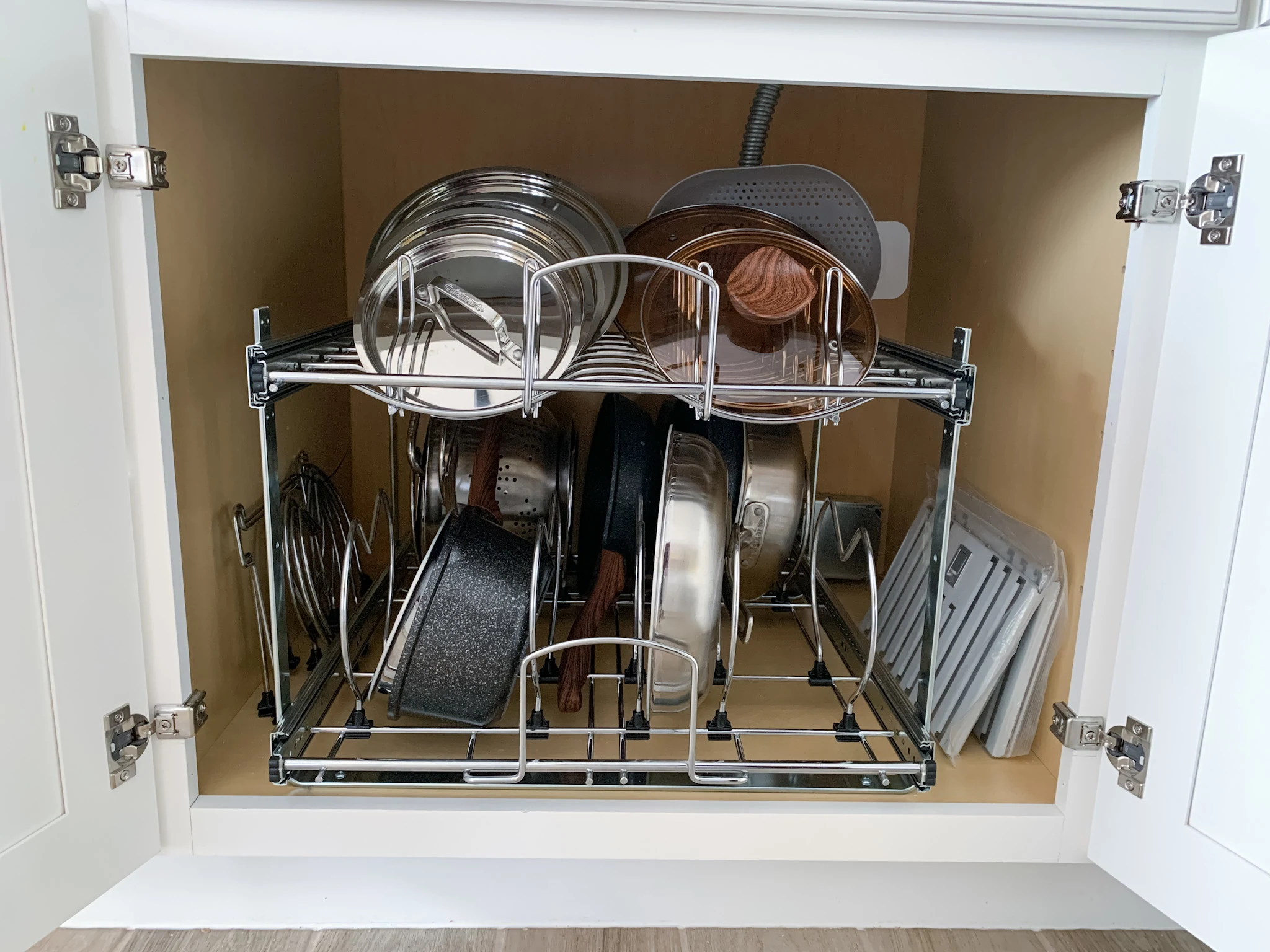 Some of our pans were running through a cycle in the dishwasher at the time I took these pictures, but you can see there's still room to put them in!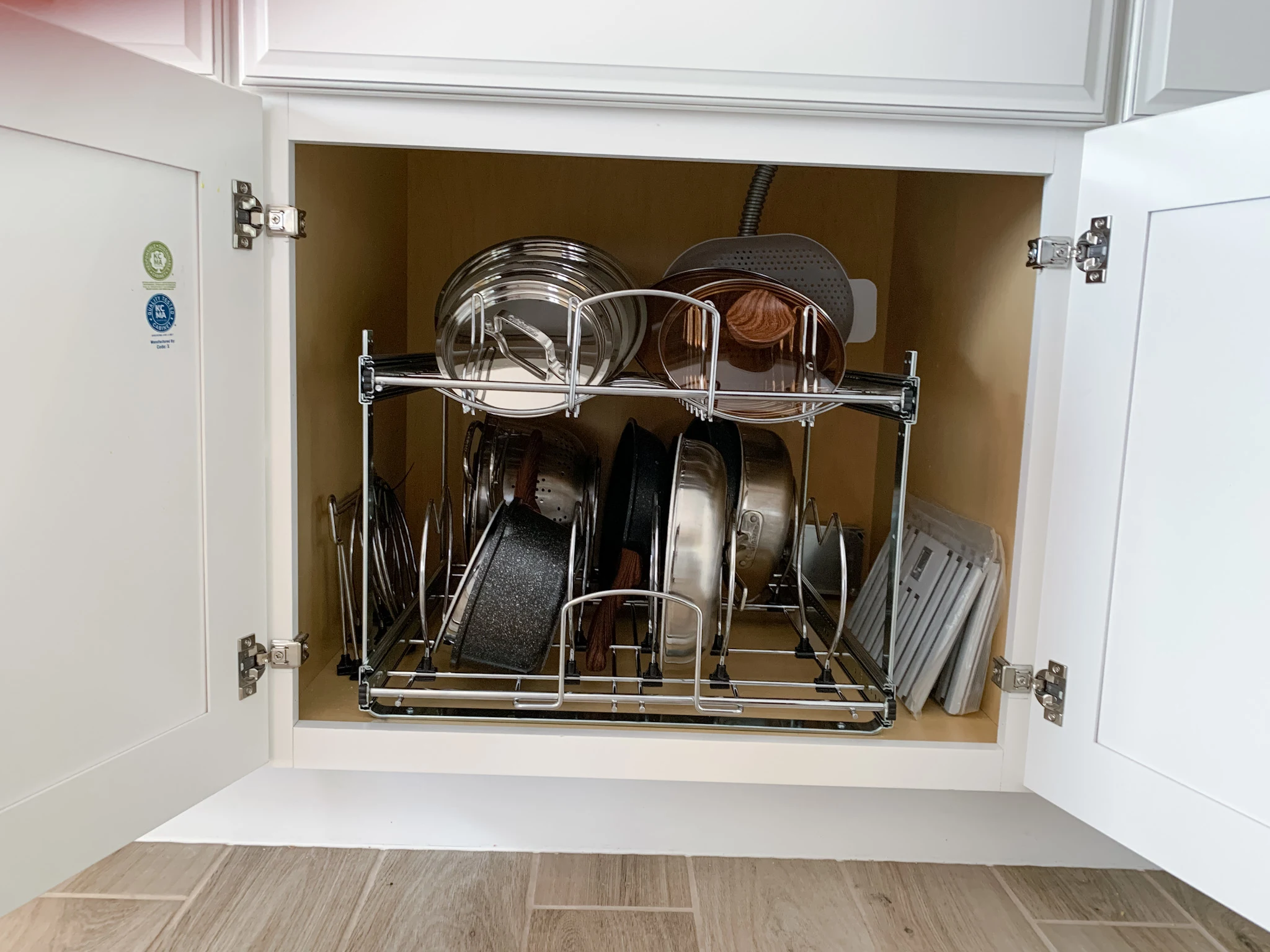 Look at how organized everything is, now!
The pull-out organizer we picked was heavy-duty – I wanted to ensure it would last us, especially if we were going to have to drill into the cabinet to install it.
Be sure to measure the interior of your cabinet space and compare those measurements to the organizer measurements, though.
If you have a smaller cabinet under the sink, here are some other organizers you could use to help organize under your cooktop, or within a separate cabinet:
Organizing Under The Kitchen Sink
Here's what I had going on under my kitchen sink before I organized it…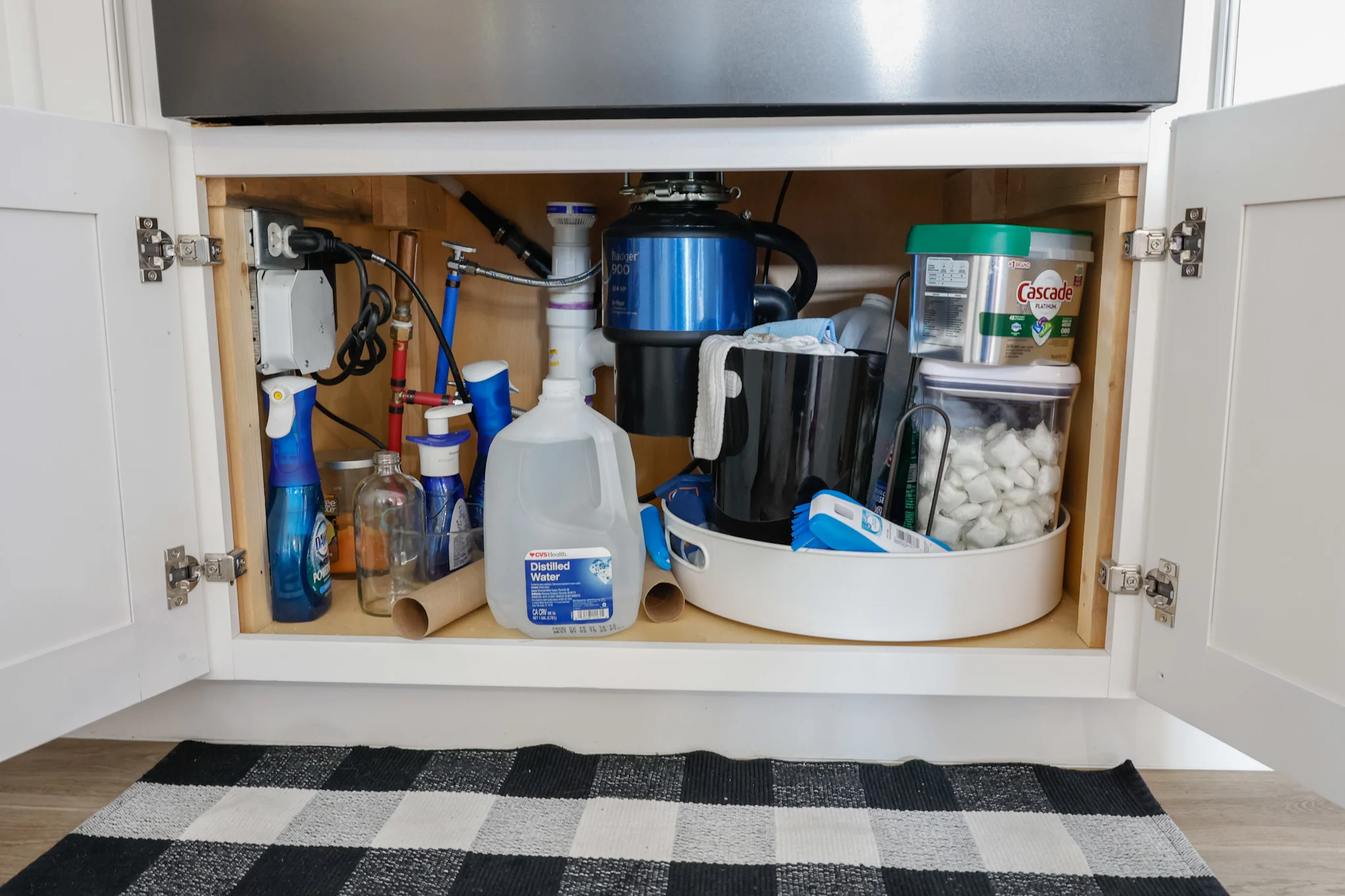 Under our kitchen sink, I had a bunch of dishwasher pods, water and cleaner jugs, soaps, and random stuff.
I decided to clean it out, declutter, and get rid of the things that would be better off in other places.
For our dishwasher pods, I donated the ones I didn't care for to a friend who does like them and consolidated the rest into an airtight container in case there were any future leaks.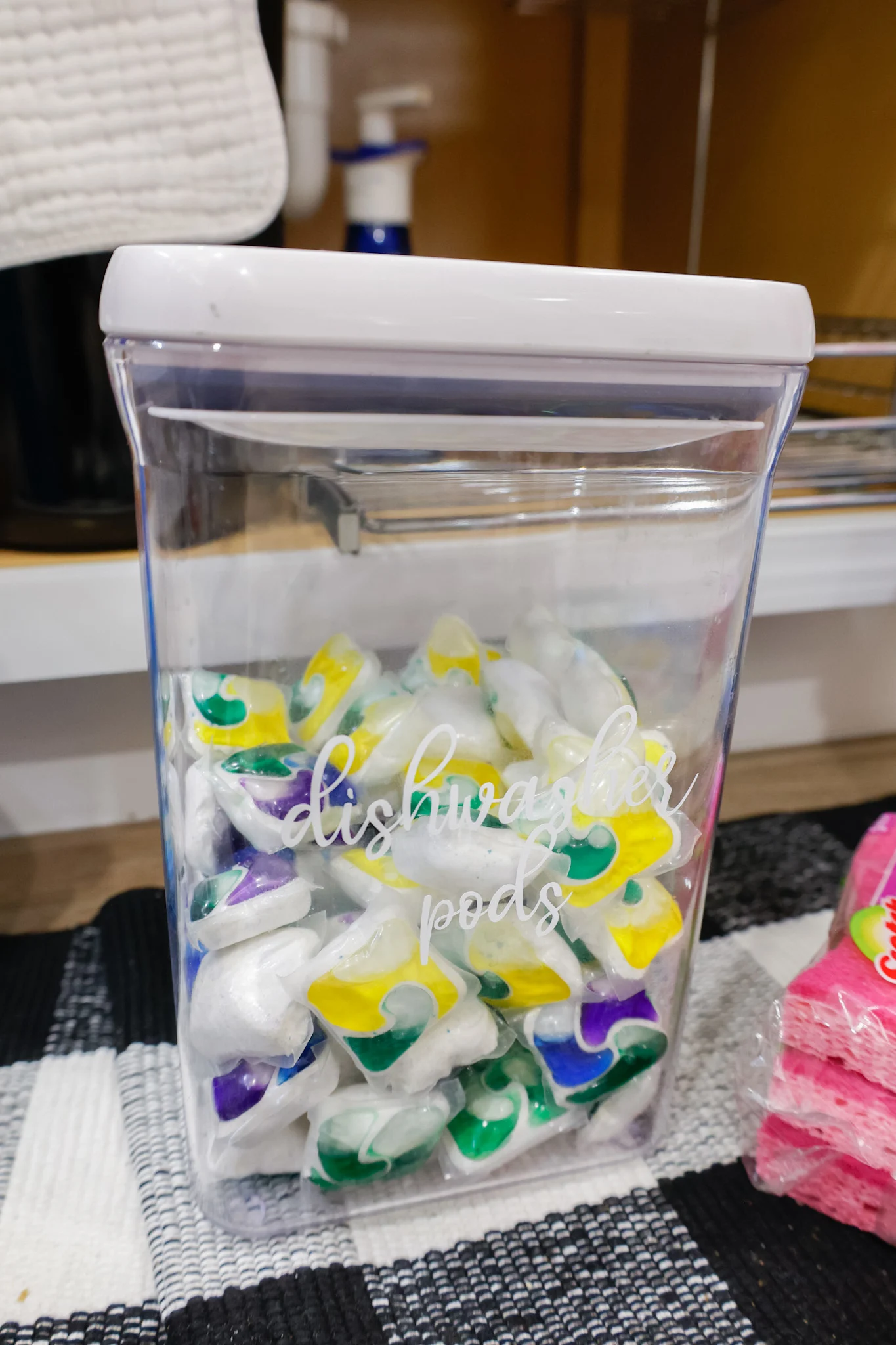 I grabbed a pull-out two-tier organizer that we installed under the sink…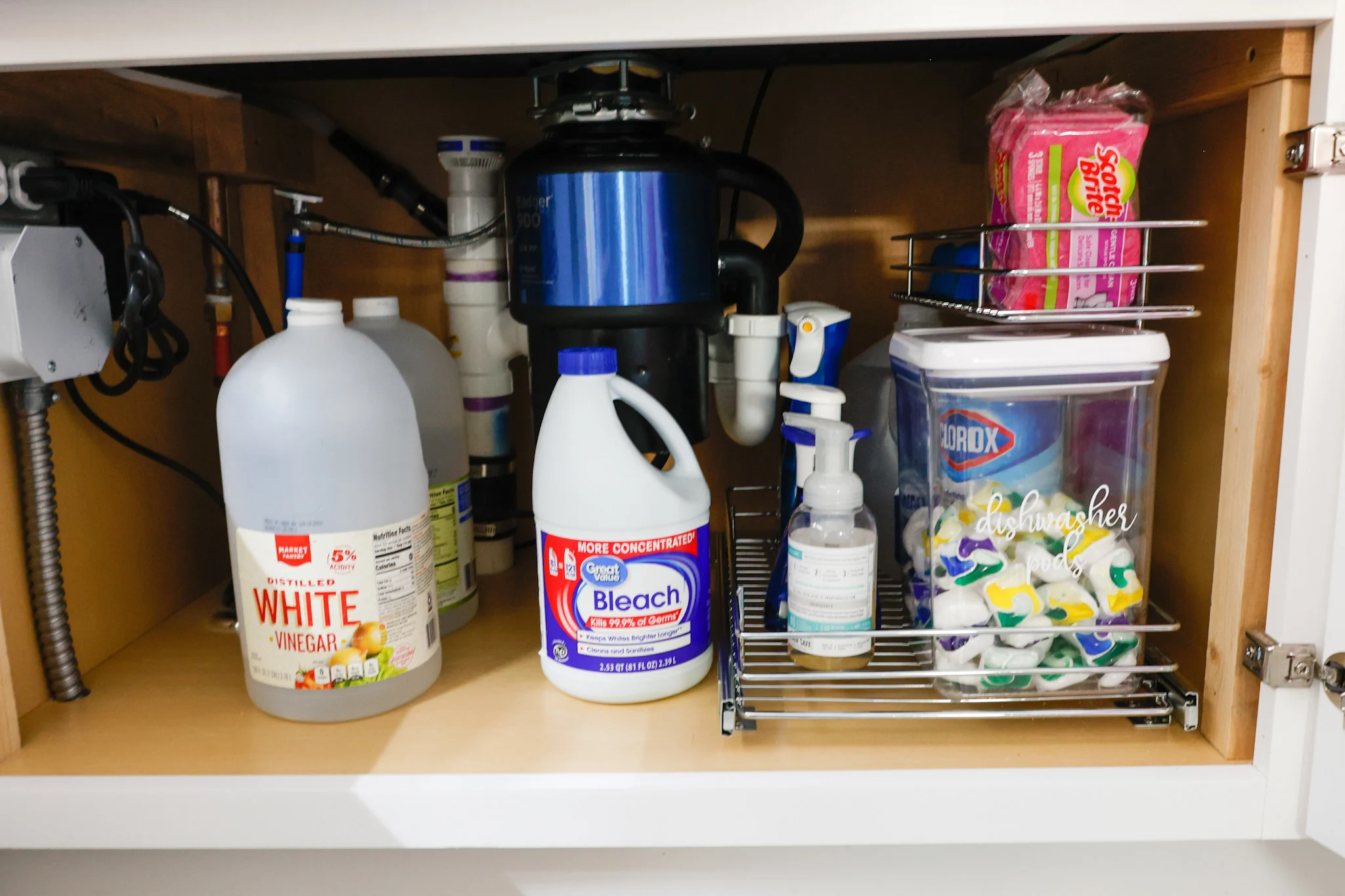 This one can be used with the top tier on the left or the right, which I loved because our contractor didn't do us any favors when he installed the plumbing under the sink – so much space is wasted on the left from the placement of hoses and fixtures.
Ugh, I could tell you some awful stories about our contractor.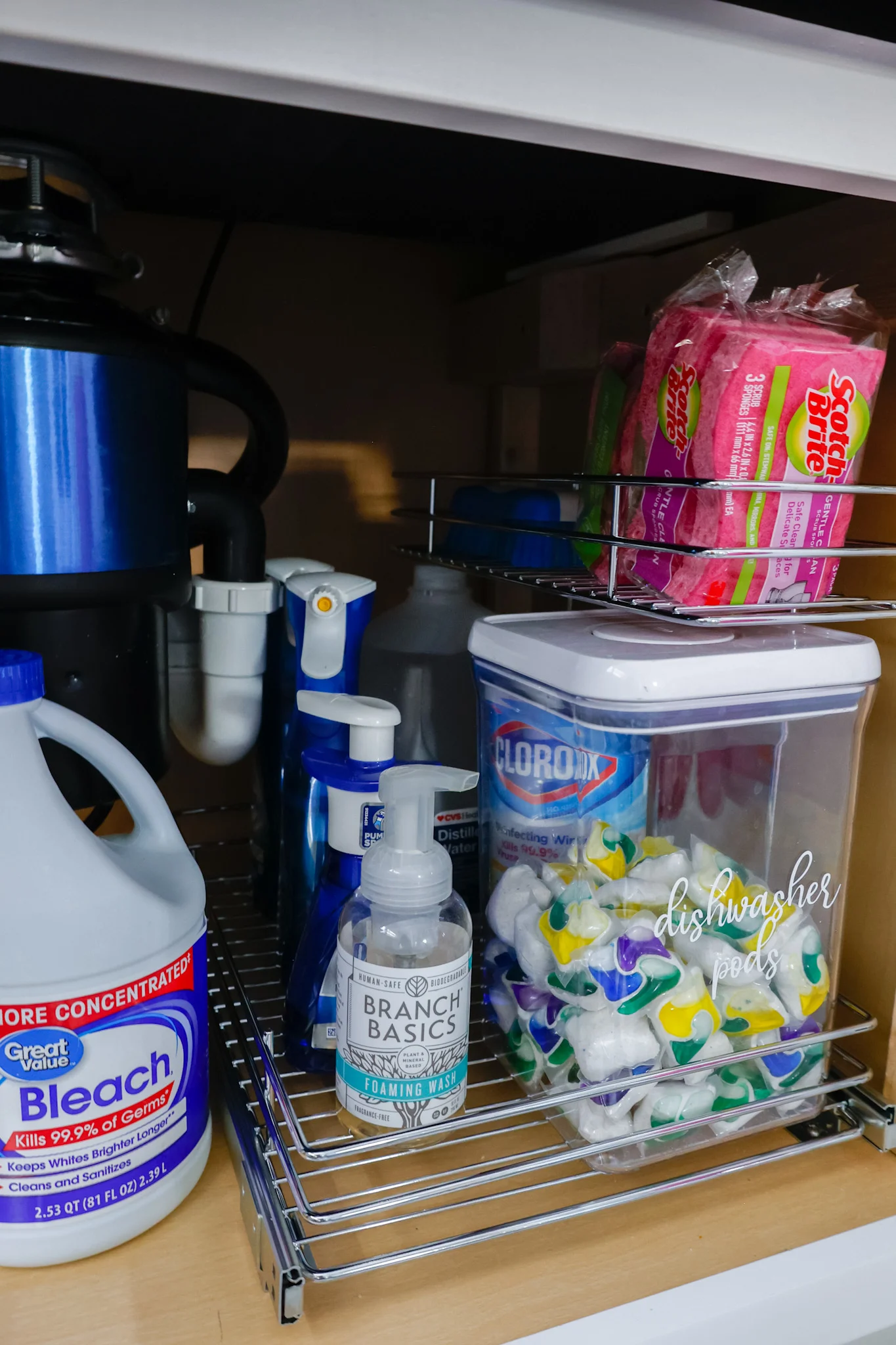 For my cleaning gloves, I fixed a command hook to the inside of one of the doors to hook them onto.
I found these sturdy pink gloves – they have a plastic hook for easy hanging!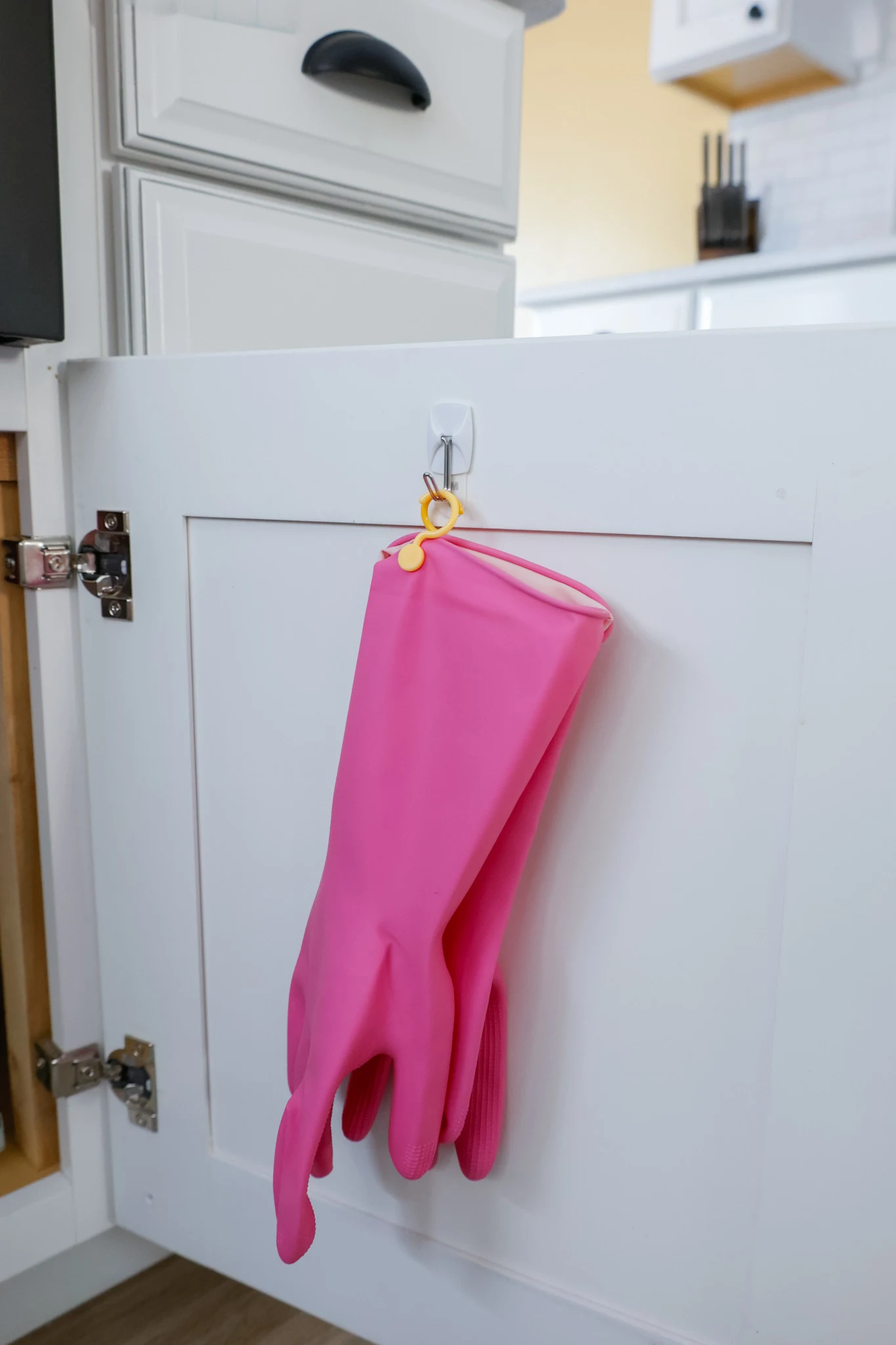 Organizing Our Pantry + Pantry Labels
Here's what our pantry looked like before…
Guys, I didn't take a BEFORE picture for the first time EVER. But I linked an Instagram reel I recently did above that shows you guys what it looked like prior to this for reference.
I'm not saying it looked BAD, but I felt like I wasn't using the space and shelving as best as I could.
To better organize our pantry, I grabbed some spice and pantry jars on Amazon and created some custom labels.
After washing the jars, I dried them and started labeling them with labels I made with my Cricut.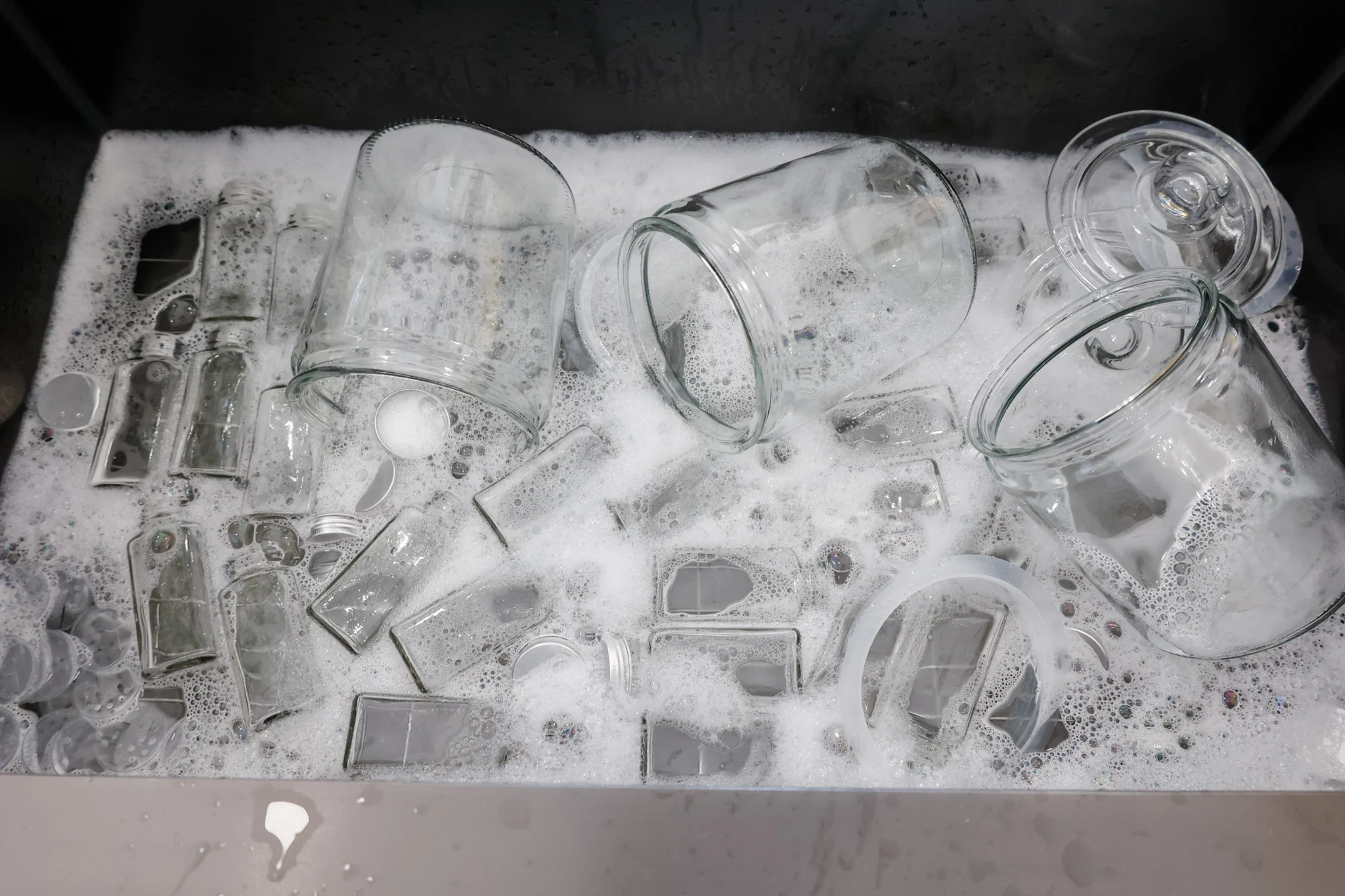 I labeled our new spice jars with a font called Mottion from Da Font (here's the Cricut Design Space Link – I'm not sure if it'll work for you guys since the font isn't a Cricut font – maybe I should make an SVG for it?).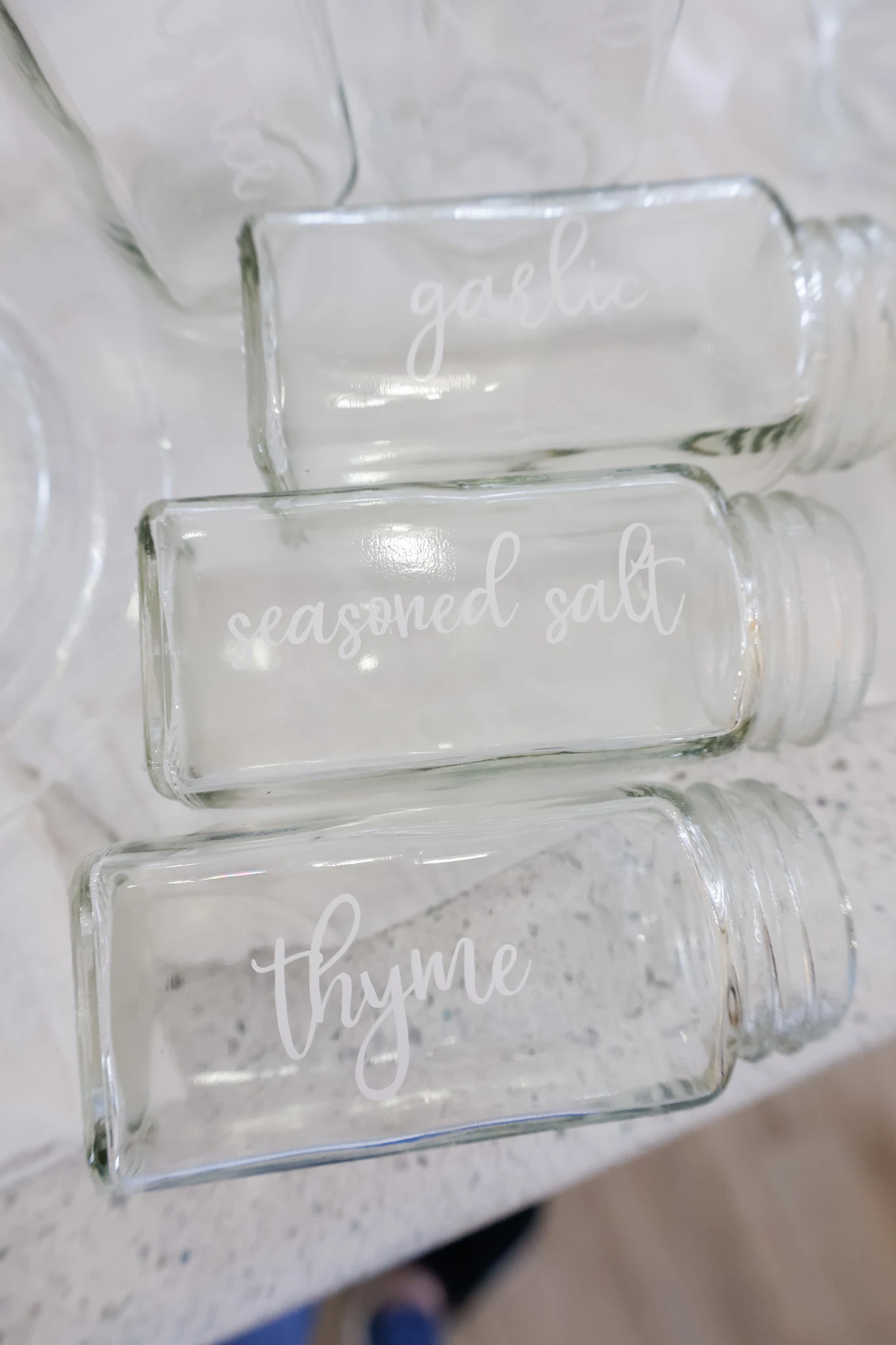 Incorporating another pull-out two-tier organizer for our spices, I filled each container and organized them on their new shelf…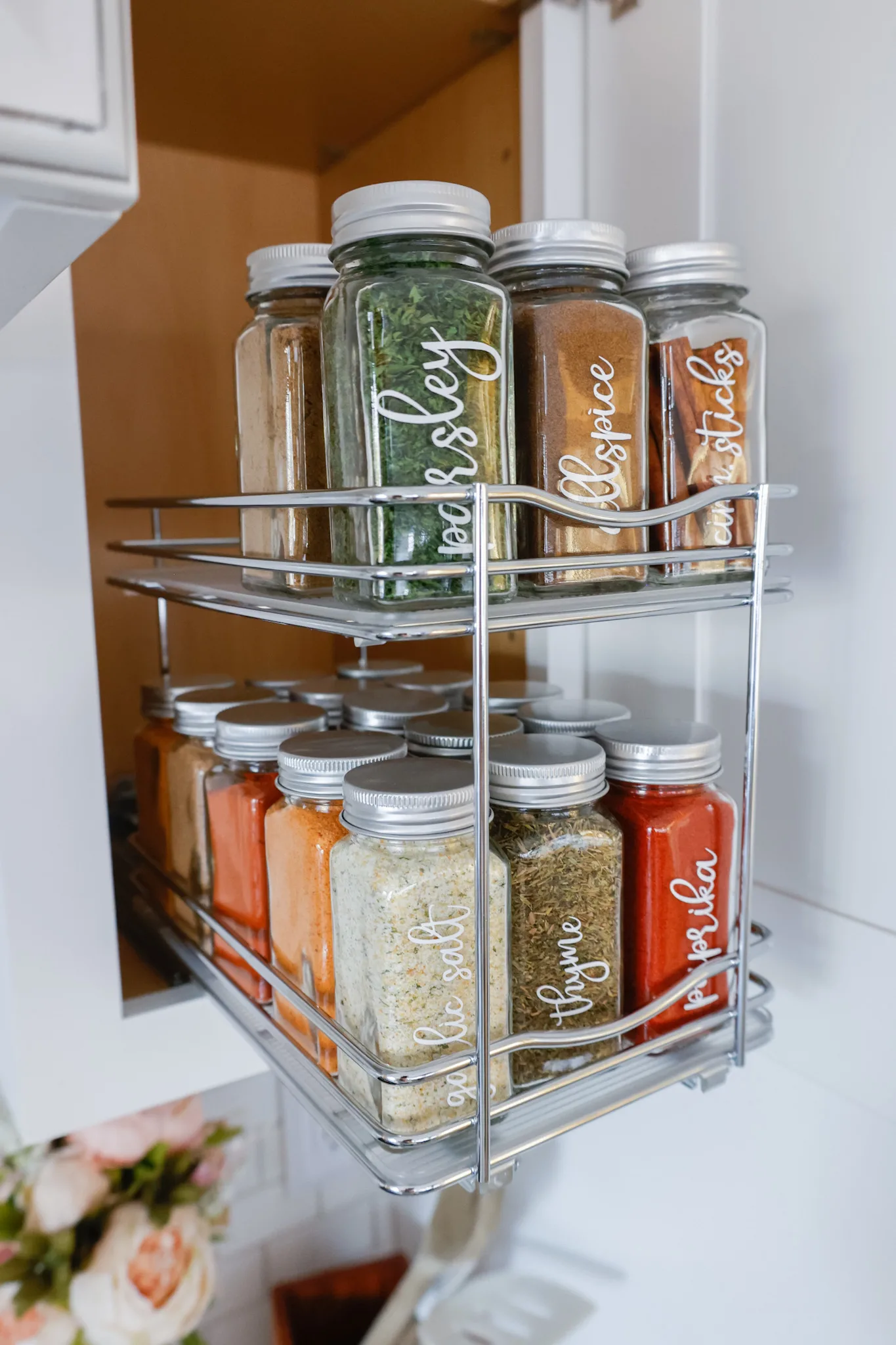 You May Also Like: Easy Organization Hacks To Try This Year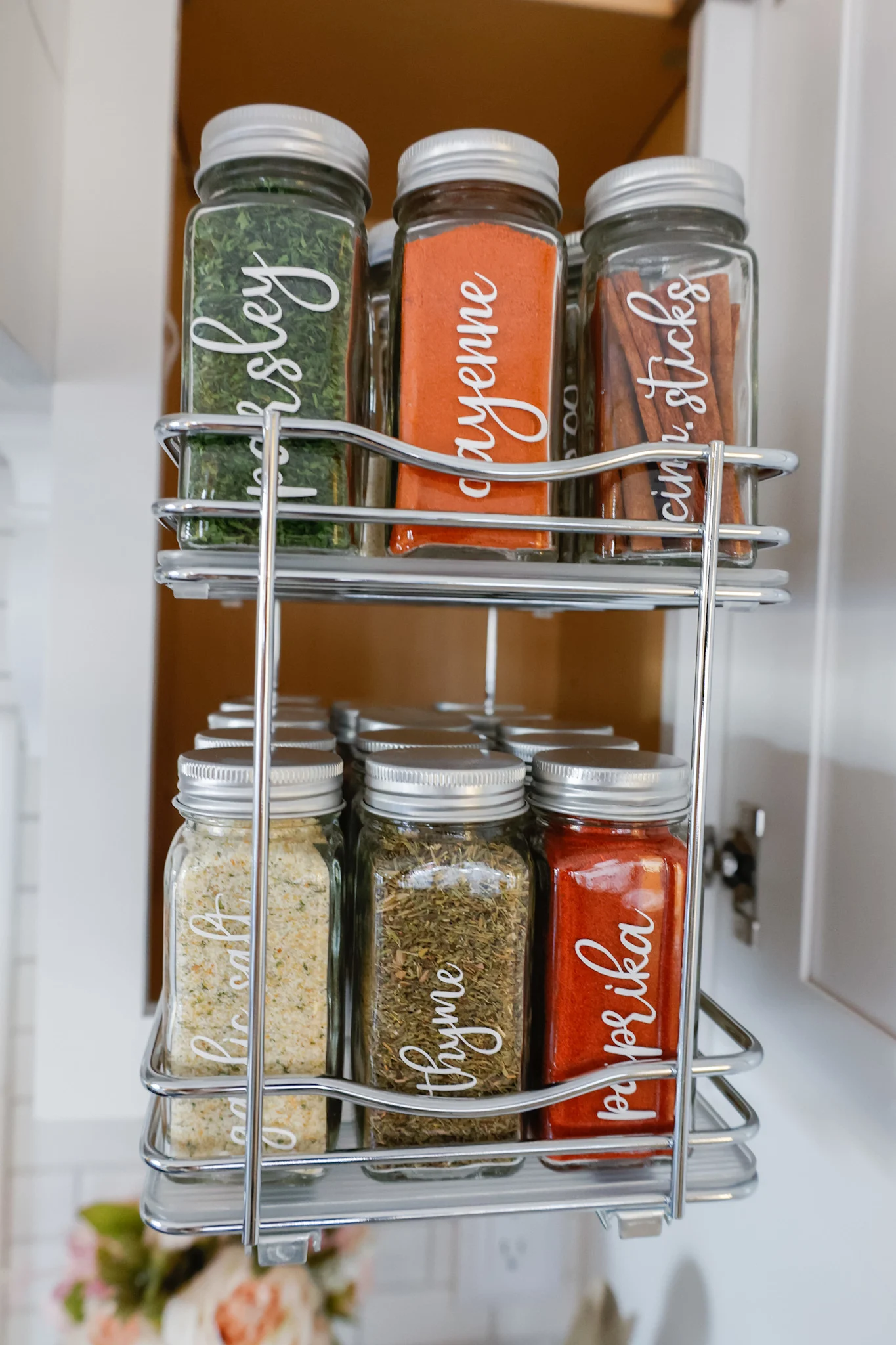 These spices I kept in their original container because it didn't make sense to transfer them – don't feel like you have to transfer everything to make it 'look' uniform, either…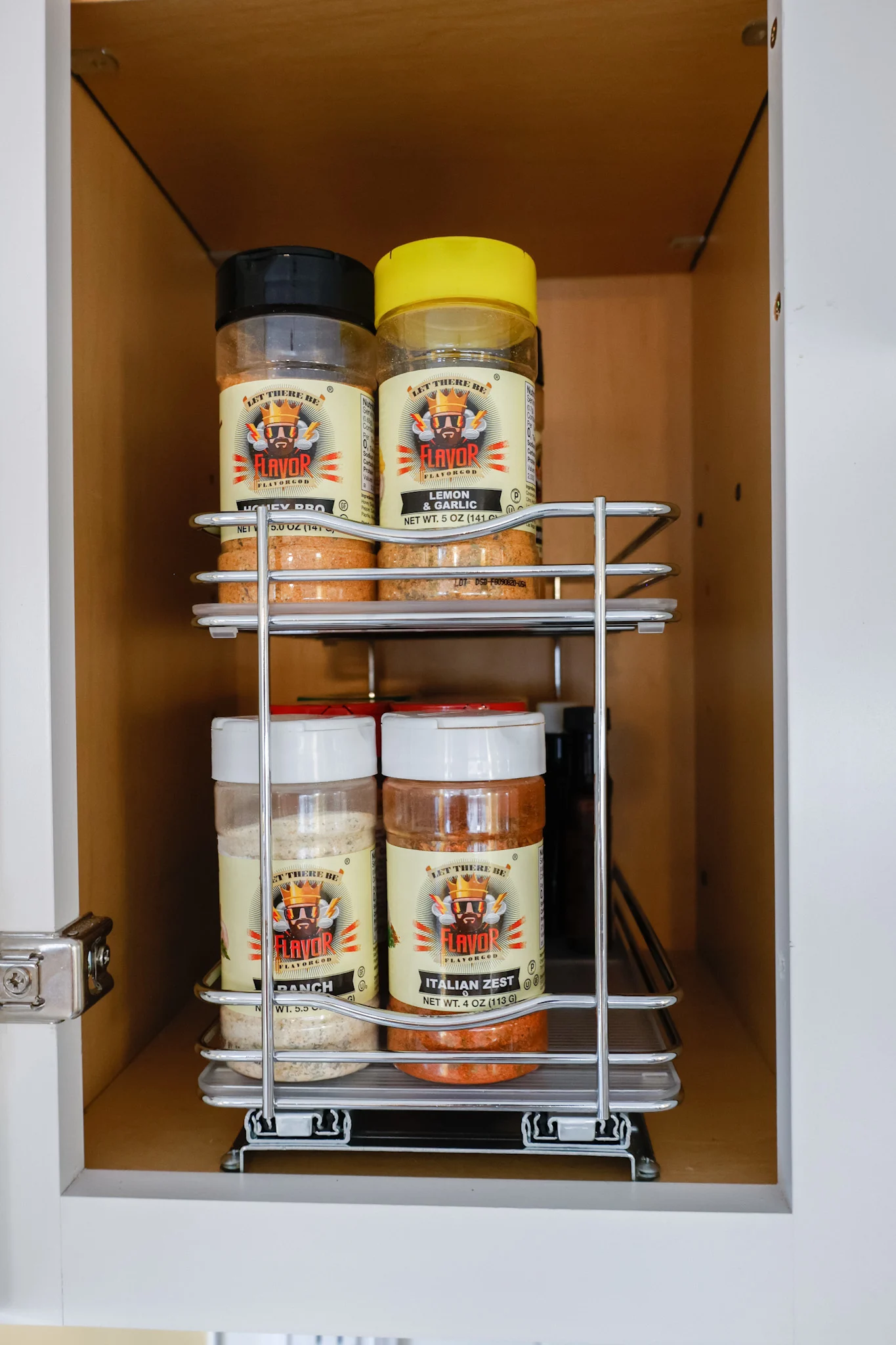 As long as your storage and organization methods help tidy things without giving you a huge headache, do what works for you :).
I decided to store our powdered pouches for taco seasoning and the like in the empty section on one of the organizers behind the jars.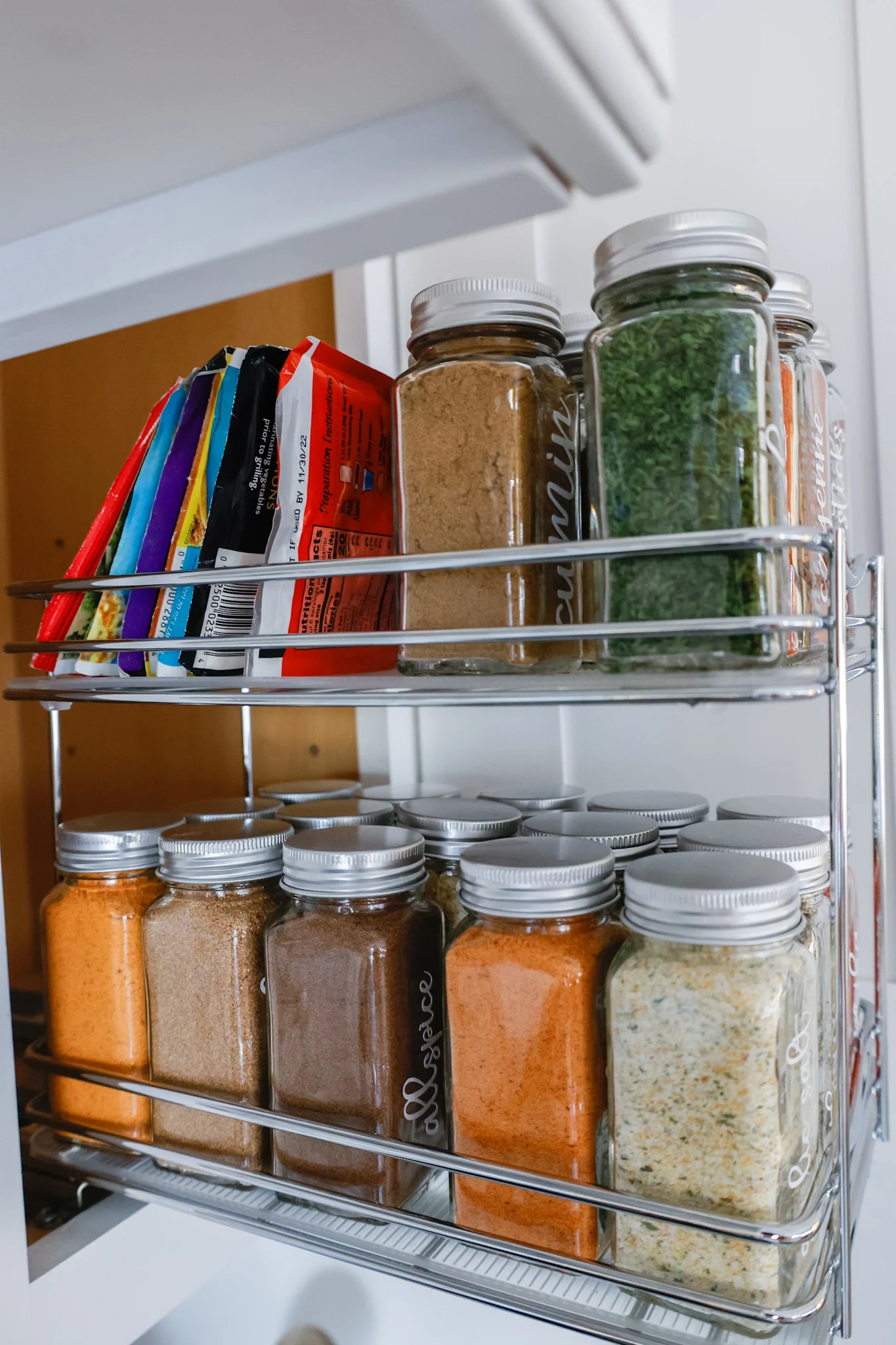 For liquid storage (oils), I grabbed some gorgeous oil bottles online in a 3-pack to put our olive oil, vegetable oil, and apple cider vinegar in.
I picked these bottles because they have a closable top to the opening of the oil bottle hole, where a lot of bottles don't.
I think that's kind of gross considering dust or random particles could float in there, but maybe I'm strange. 😉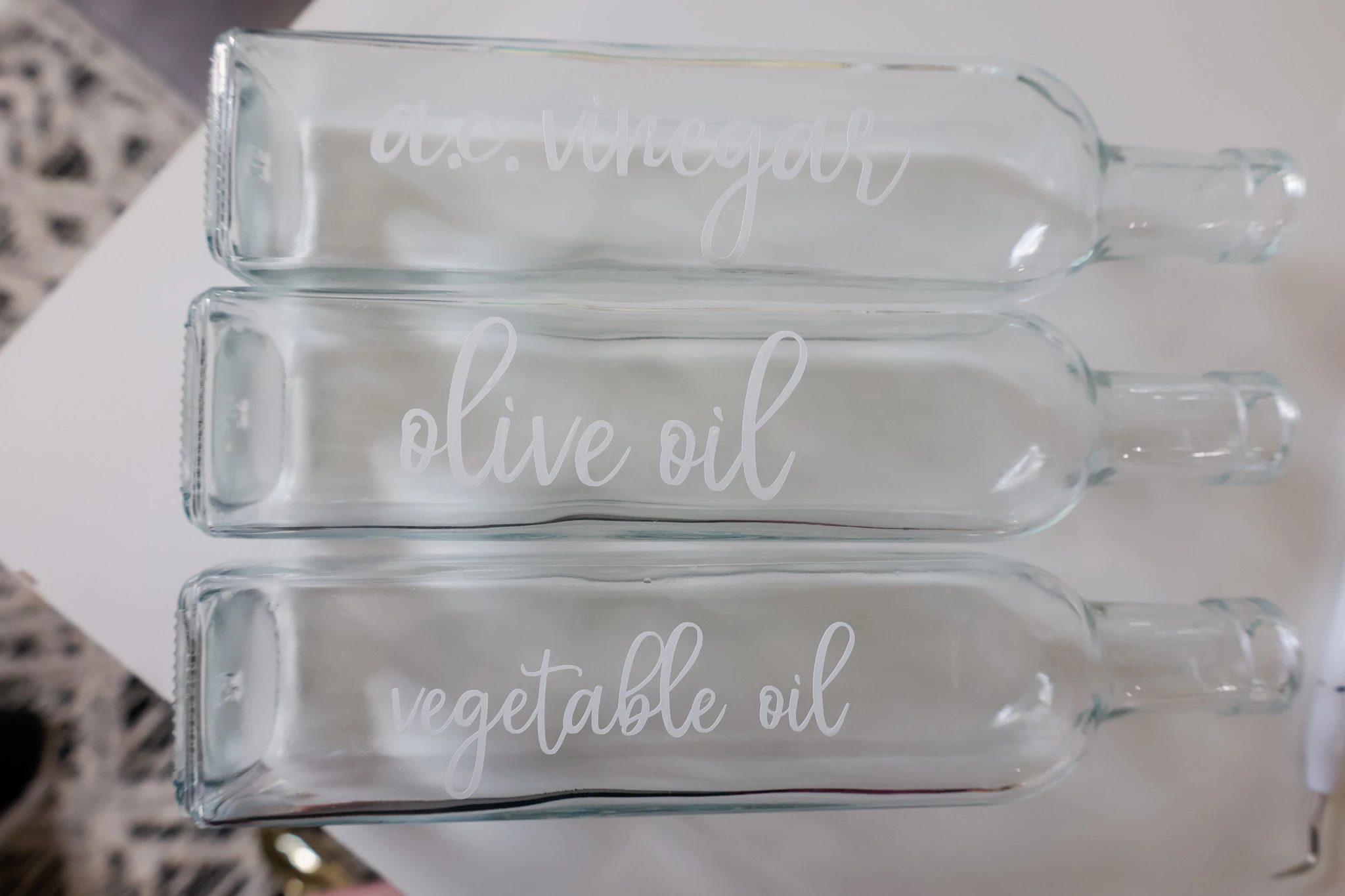 For dry goods, I bought some 1/2 gallon jars with airtight lids to label.
I placed our pancake mix, flour, and sugar in them.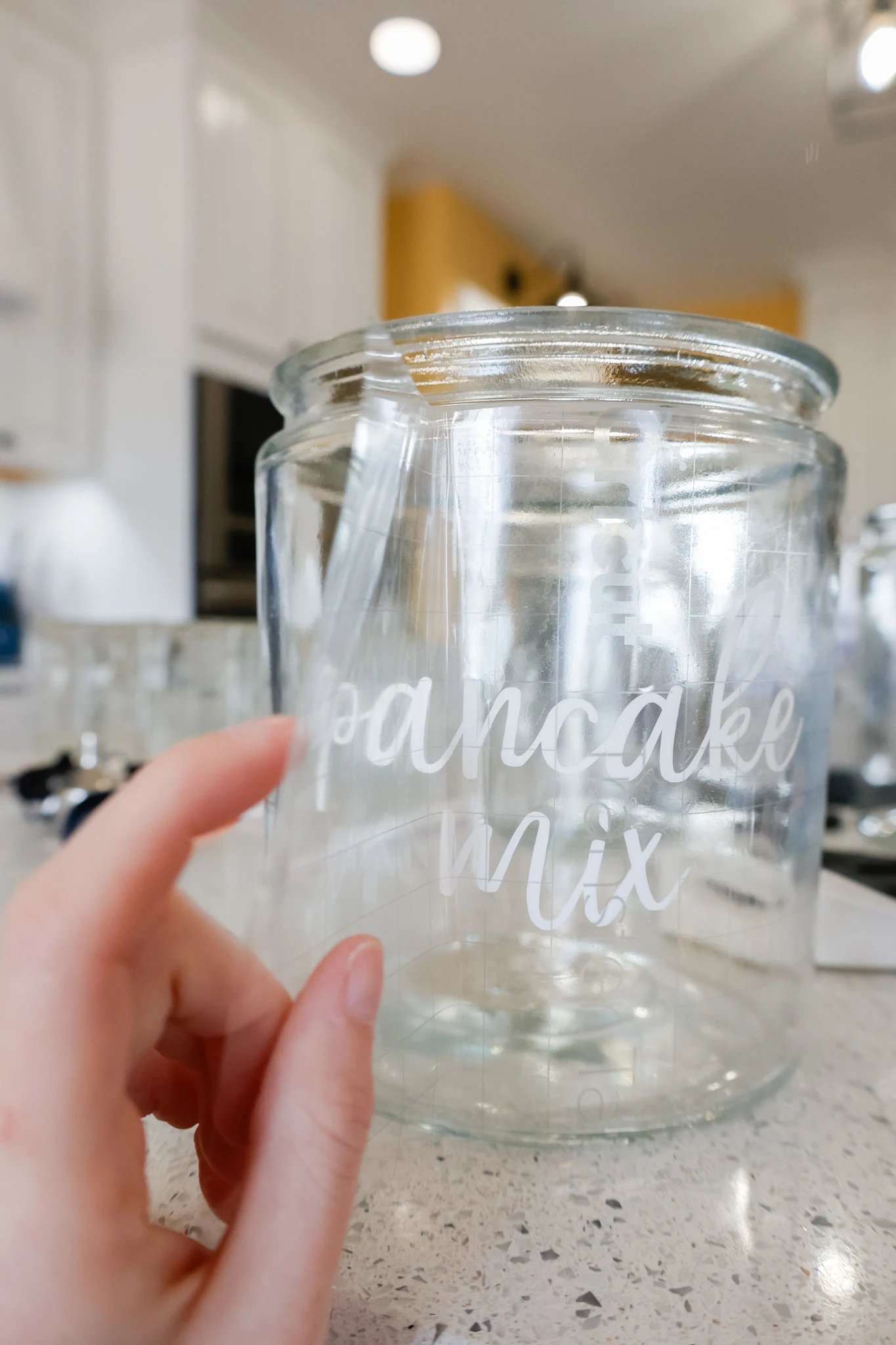 I also decided to get some new metal tags for our pantry baskets to go with the new look in our kitchen, which I guess would be a modern farmhouse look with an industrial feel.
All of our hardware and faucets, garbage disposal air button, etc. are black (except for the pot filler, which is stainless steel).
With our pantry painted white inside, I decided to switch from our white basket tags with black lettering to black tags with white script lettering.
I also decided to label each basket 'snacks' instead of differentiating them so if I want to rearrange things or eliminate certain types of snacks (chips, cereal bars, etc.) in the future, I can!
Here are the black metal tags I bought.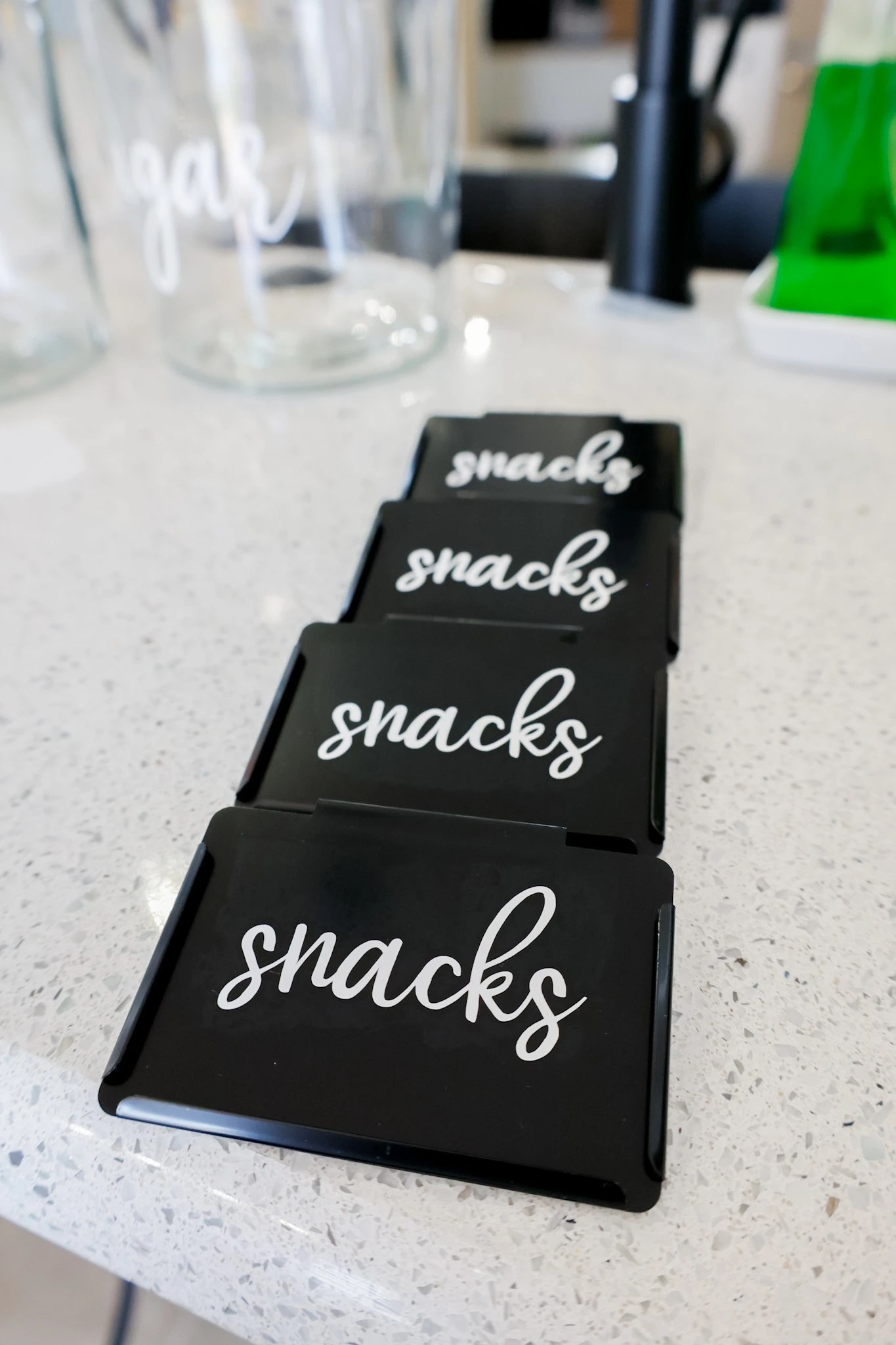 Once I was done labeling, it was time to fill up all of my jars and bottles – this part was my favorite!
See the top on these bottles that covers the opening hole? They're perfect!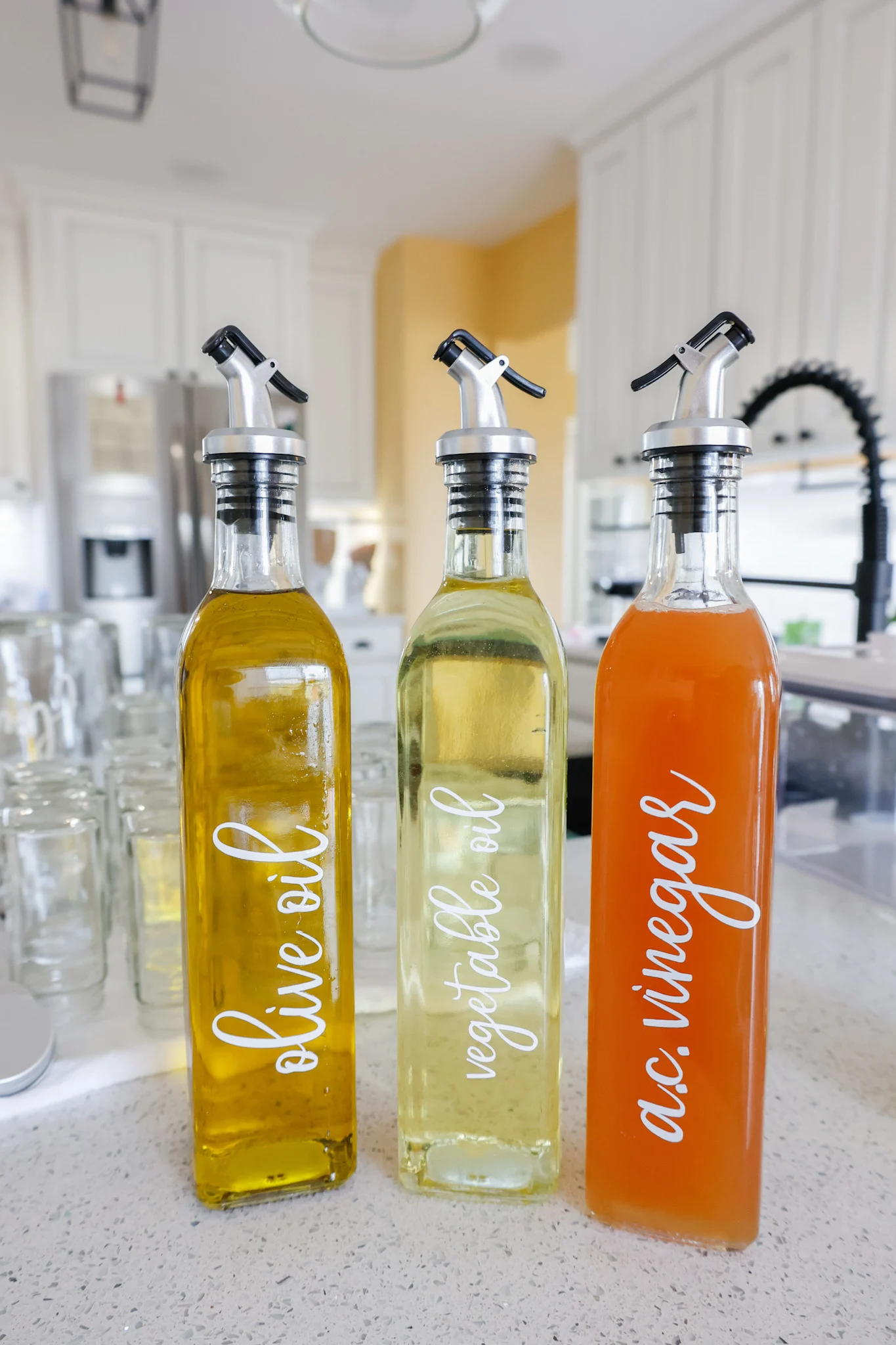 Related: 2021 Fridge Organization Ideas
Here's what our finished pantry looks like now…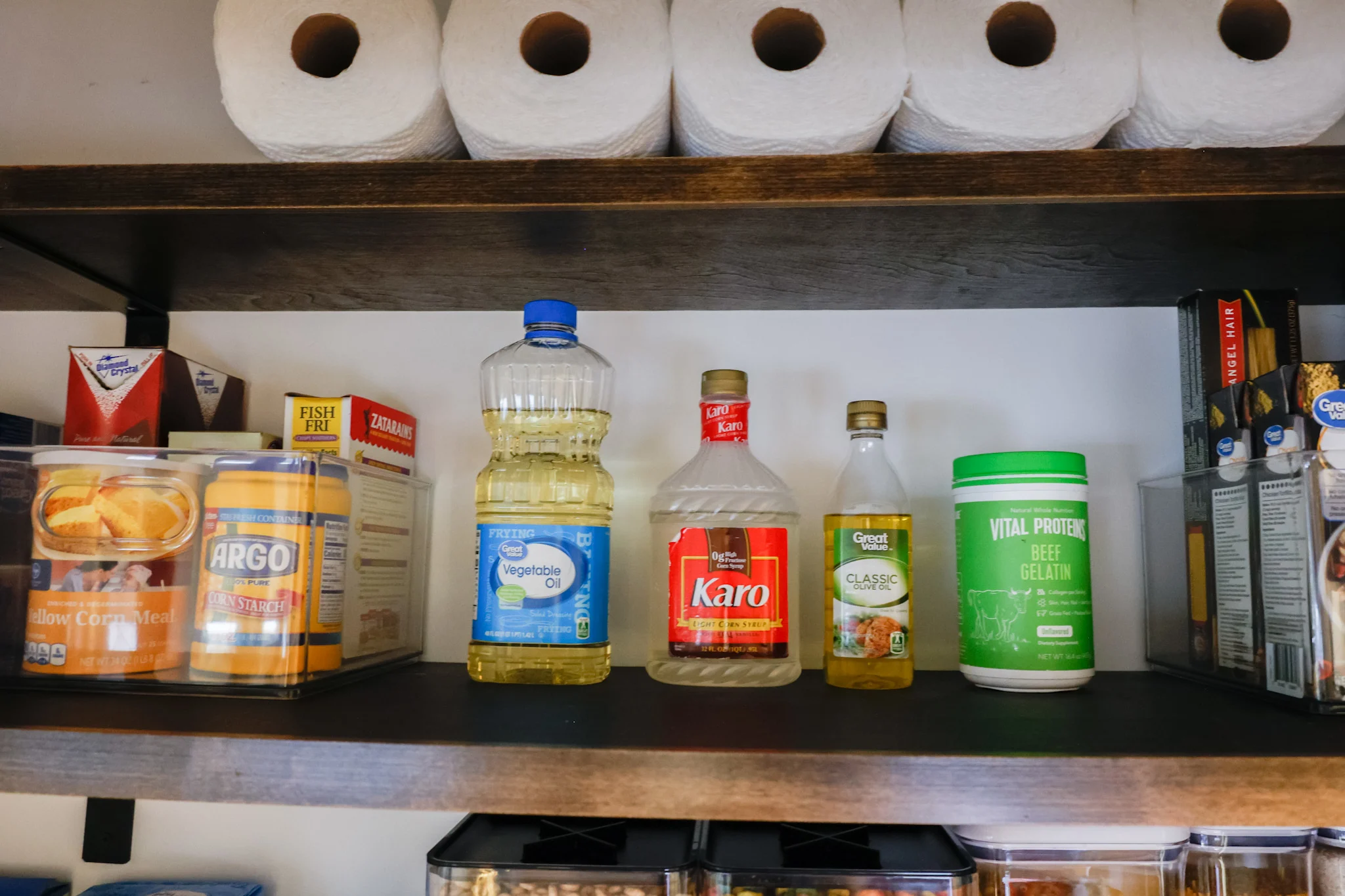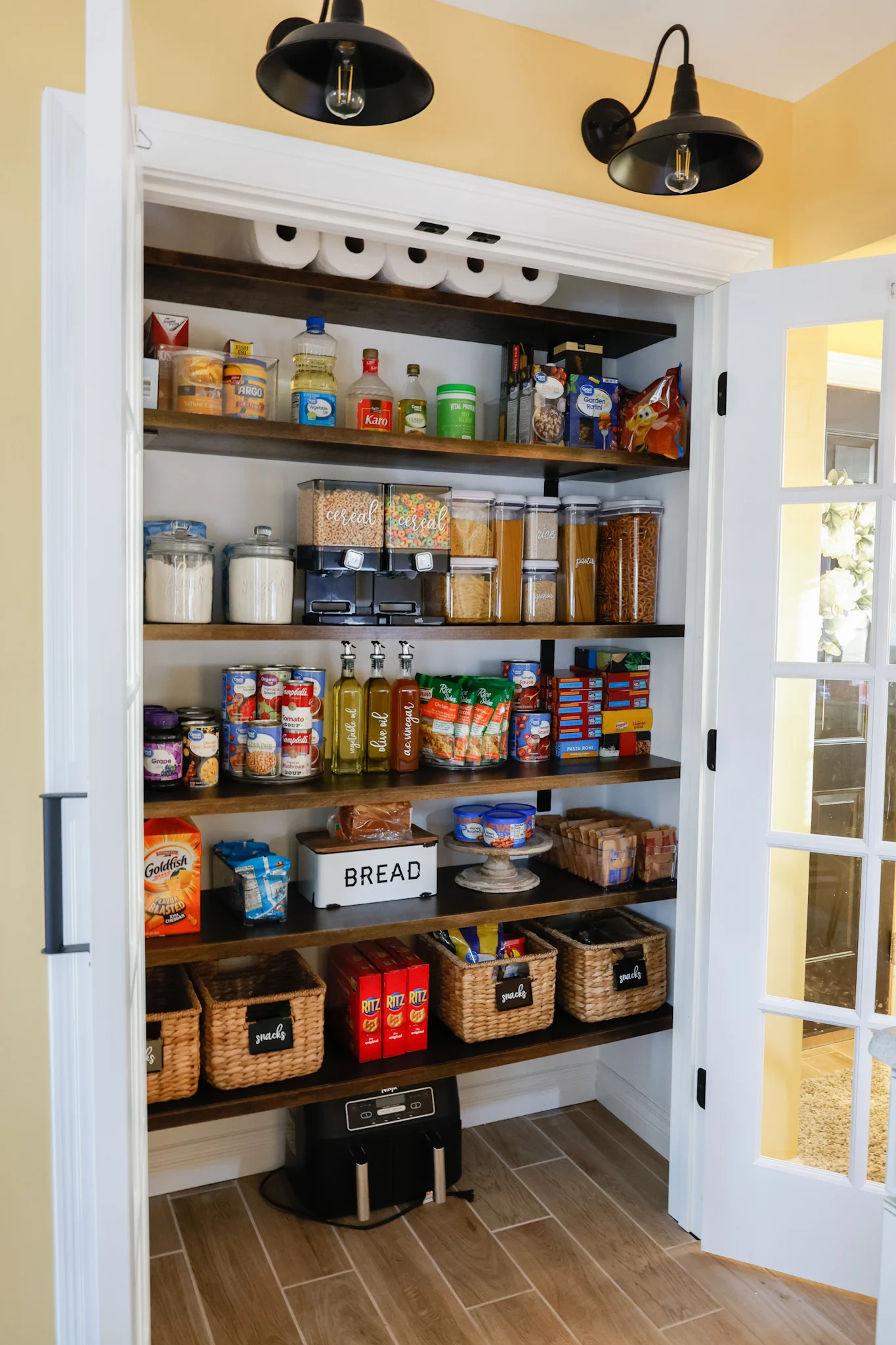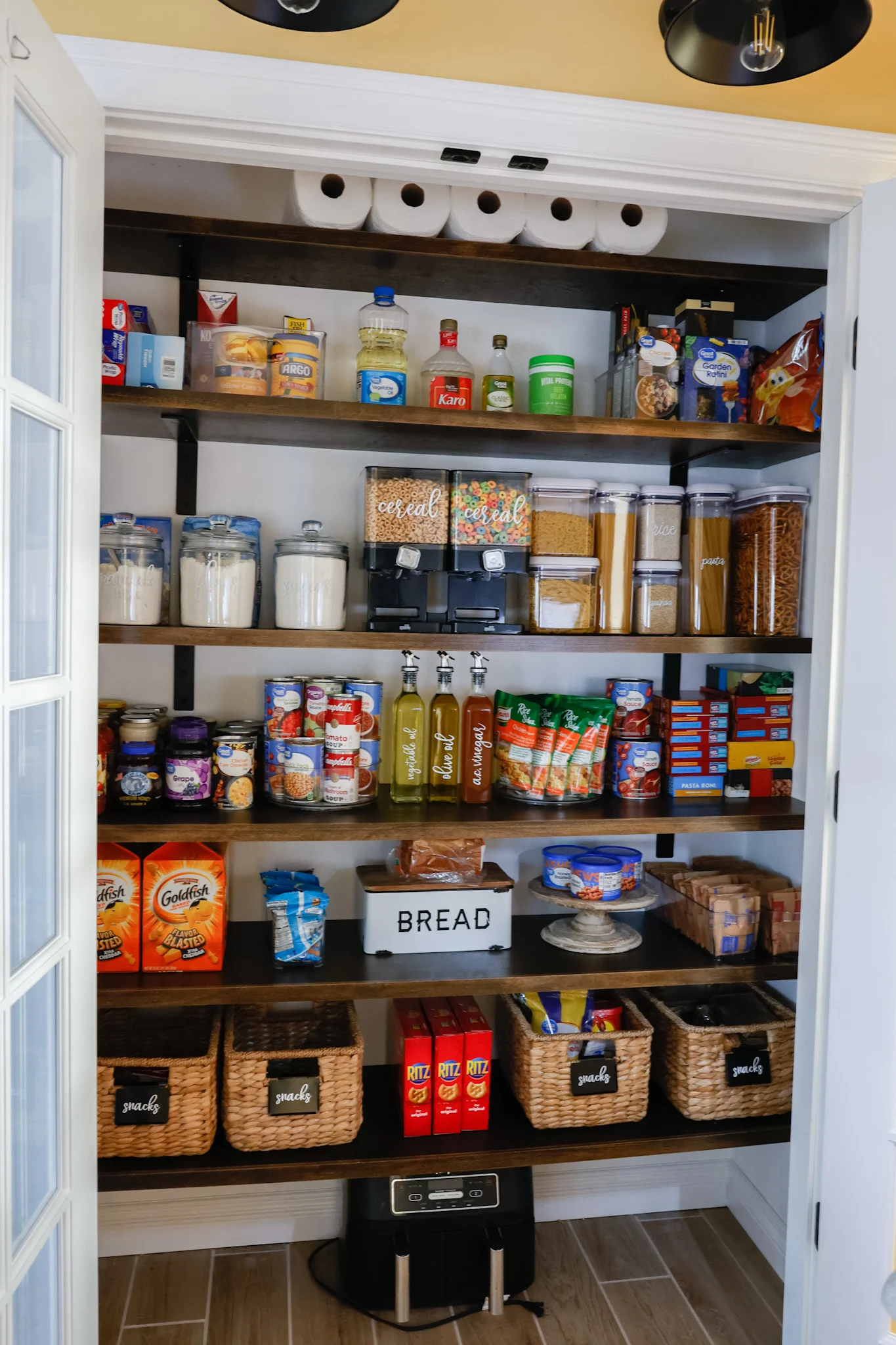 For the most part, I kept things in the same general location but I consolidated similar items to eliminate clutter and waste.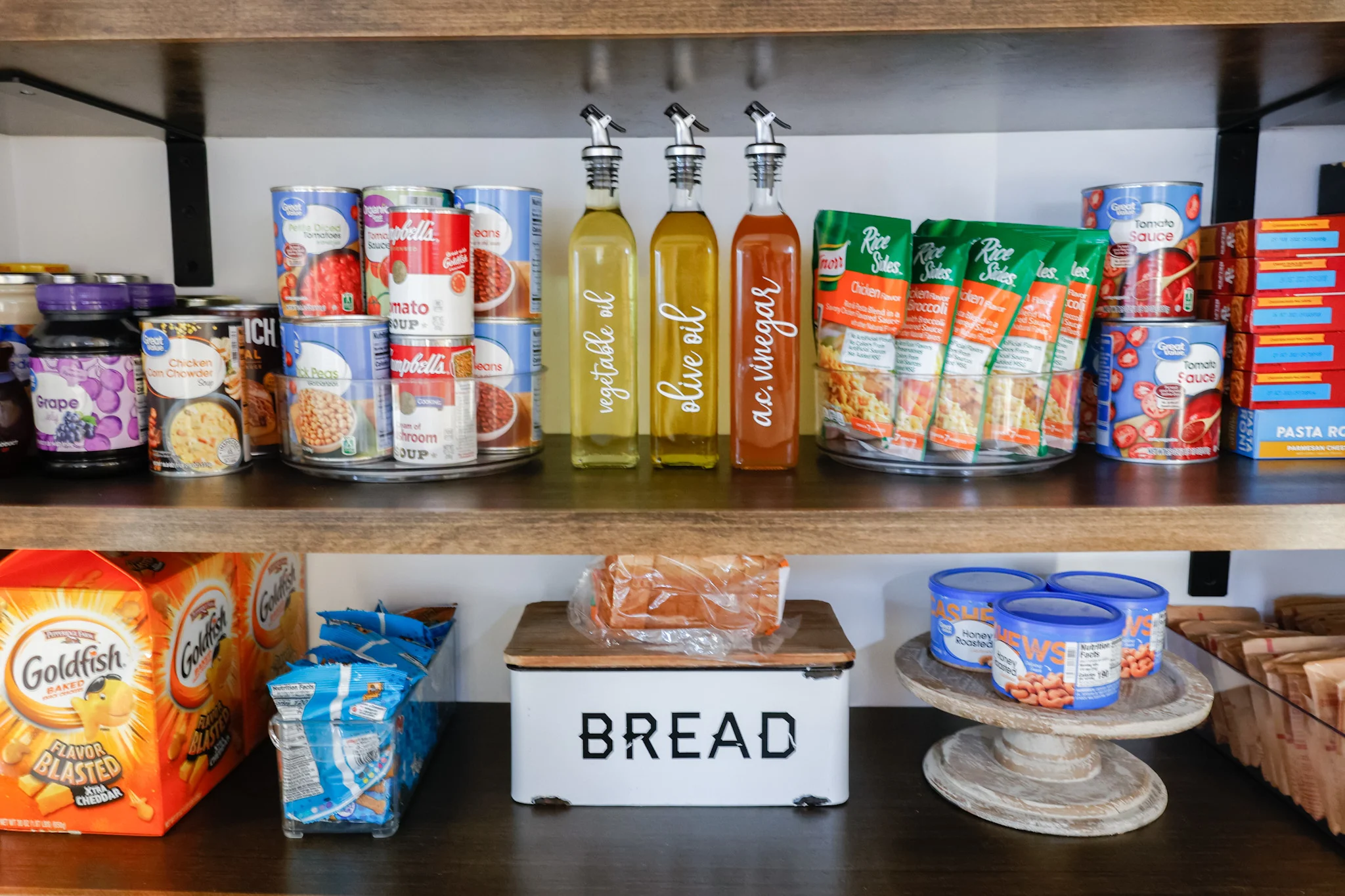 For instance, I had dozens of penne, elbow noodle, and spaghetti noodle boxes at the top of our pantry.
I consolidated the pasta together into airtight containers and was able to recycle 10 boxes which freed up so much space in our pantry!
For box dinners like Hamburger Helper, I found that by stacking them horizontally versus vertically, I was able to free up even more space.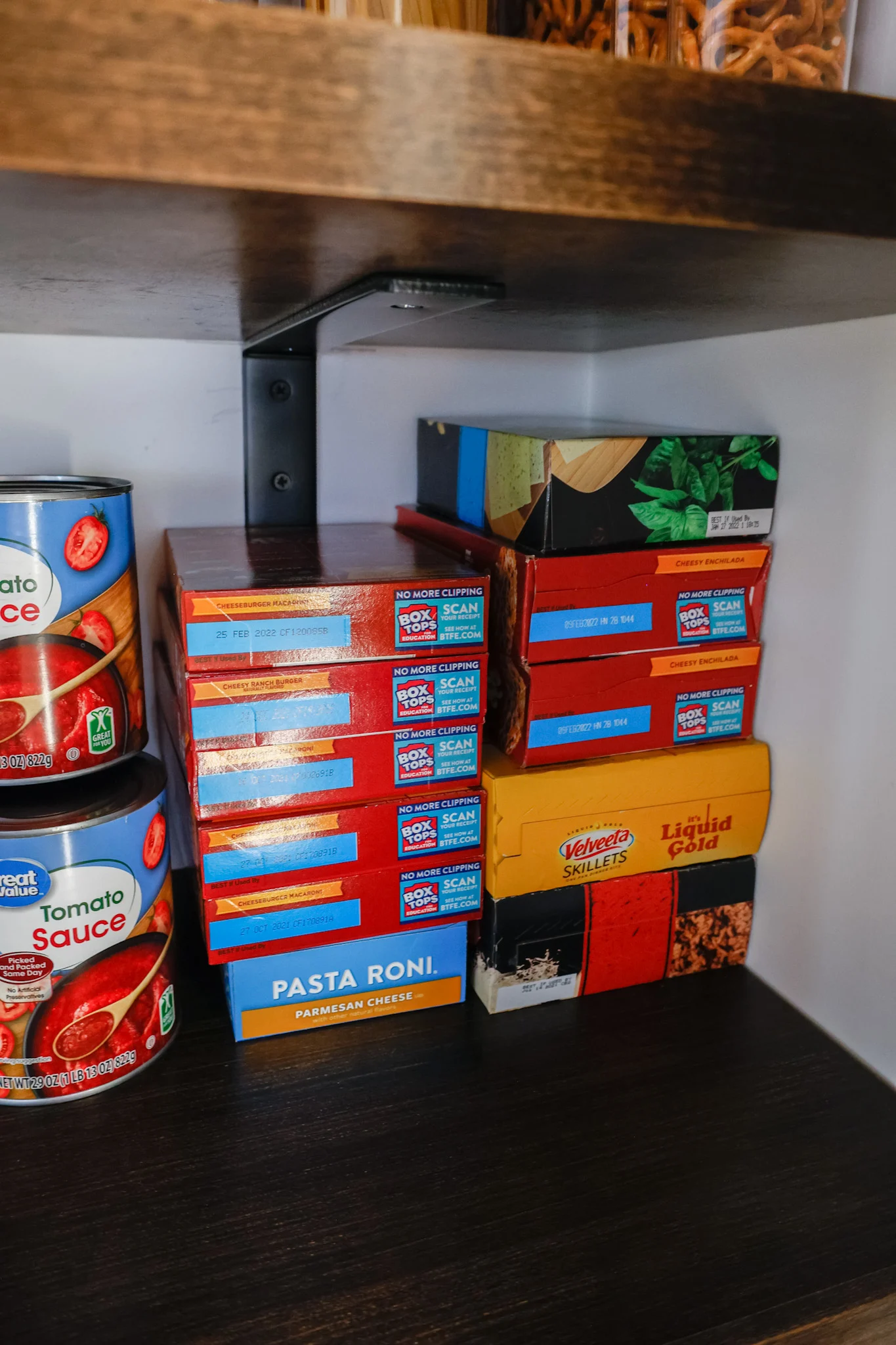 Luckily, that brand labels the dinner name on the top of their box, so I can still see what kind of dinner it is even stacking them this way!
I love storing our dry pantry goods (pancake mix, flour, and sugar) in these 1/2 gallon jars. I tossed in some stainless steel dishwasher-safe scoops to go in each jar and placed any extra bags we had behind the jars so I know how much we have on hand.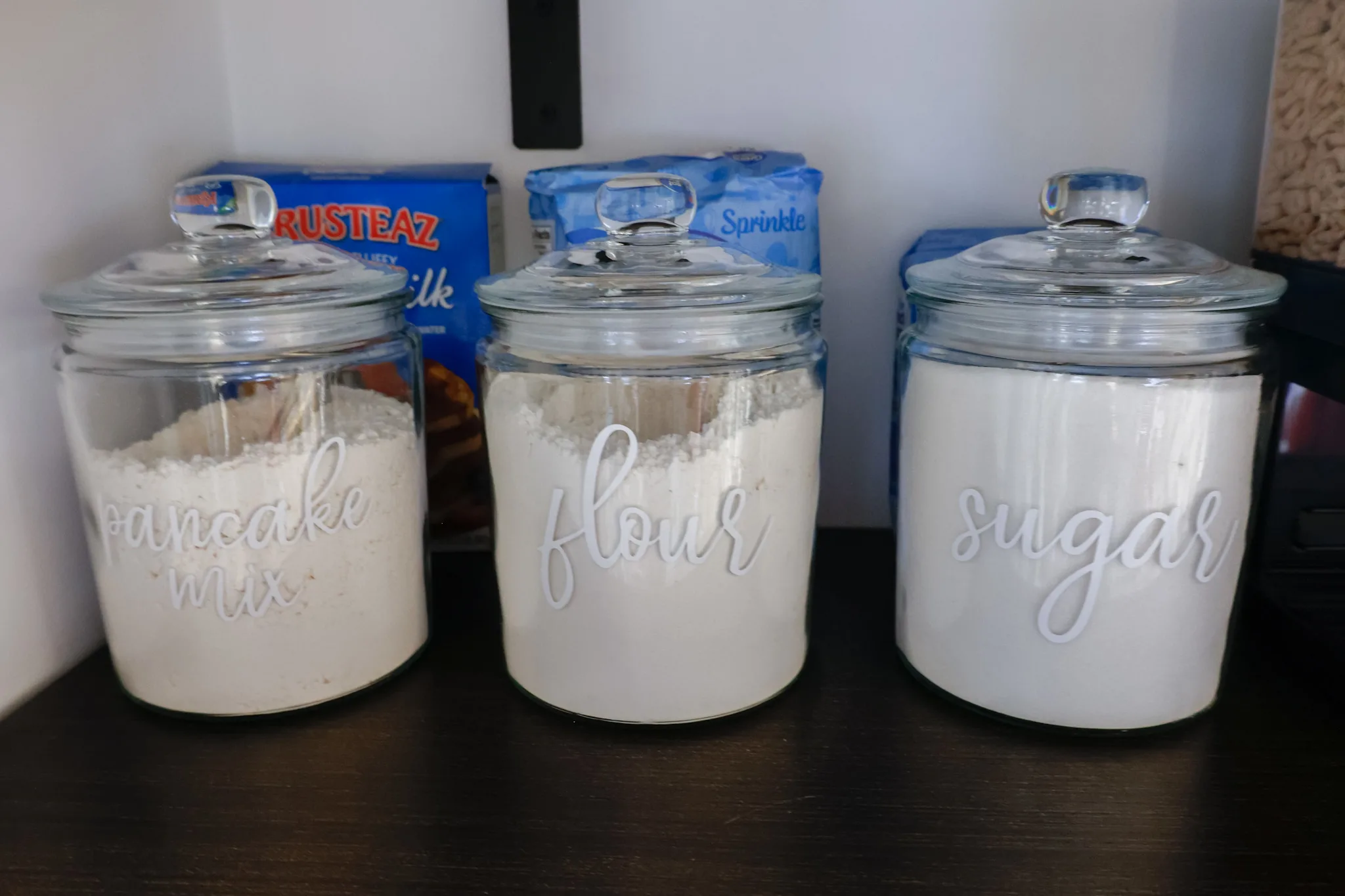 The scoops HAD to be dishwasher-safe – that was an absolute must. 😉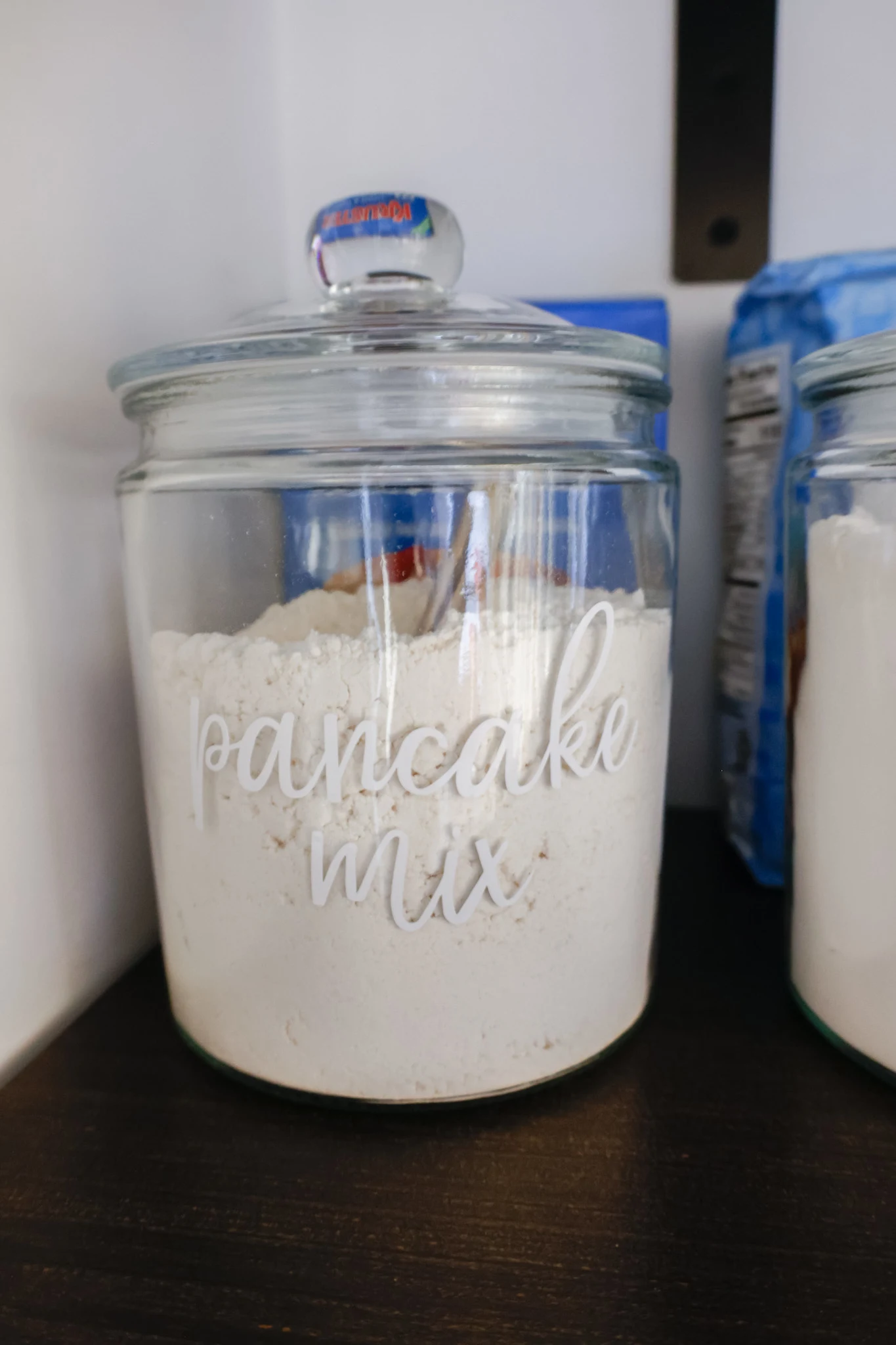 For cereal, I grabbed this cute cereal dispenser for the kids – I love how this simplifies things and the kids are able to get their own breakfast on busy mornings!
They just turn the knob, and out comes the cereal…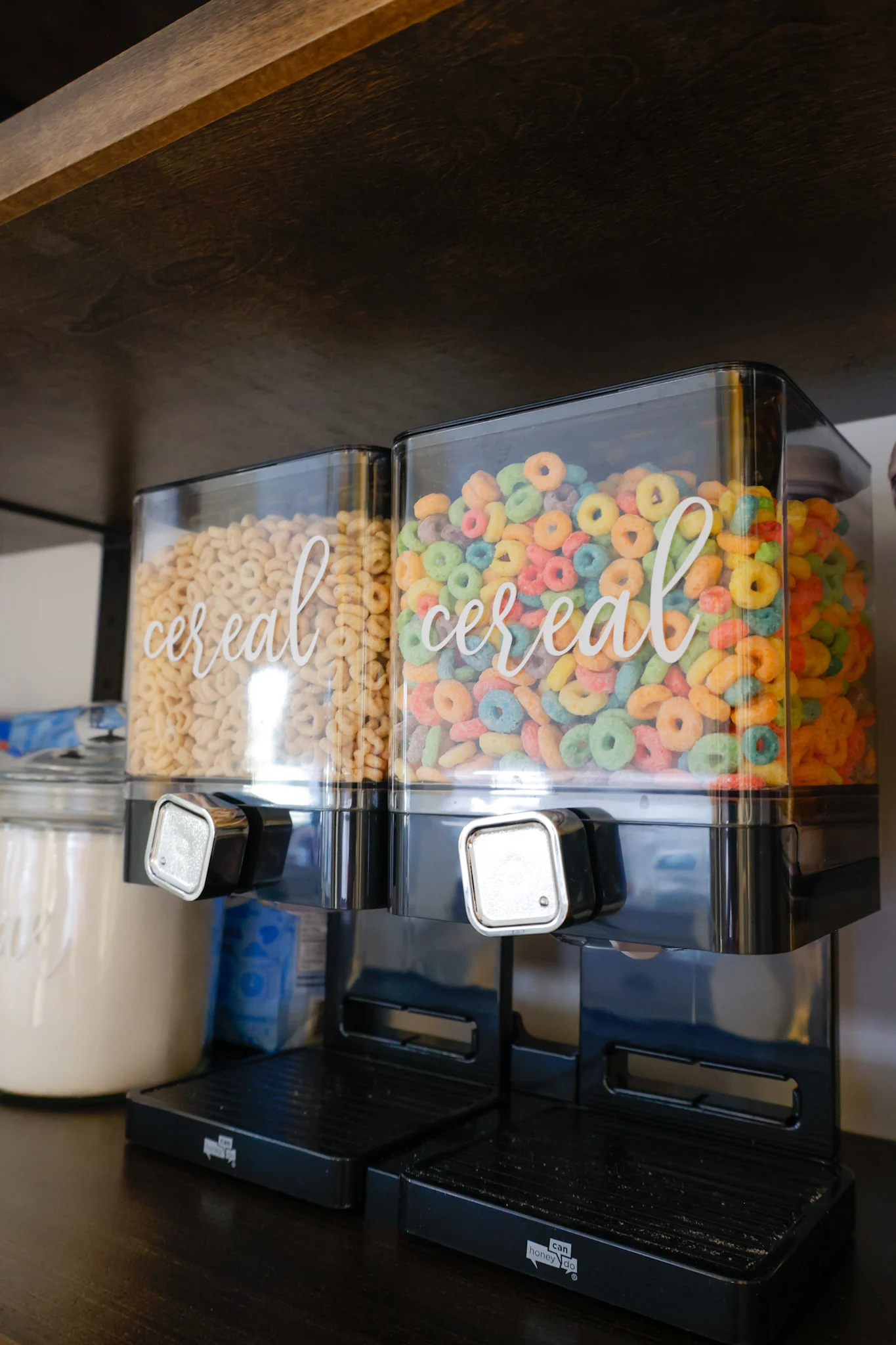 I also implemented some clear lazy susans on one pantry shelf to help free up some space and group together cans and rice pouches for dinner.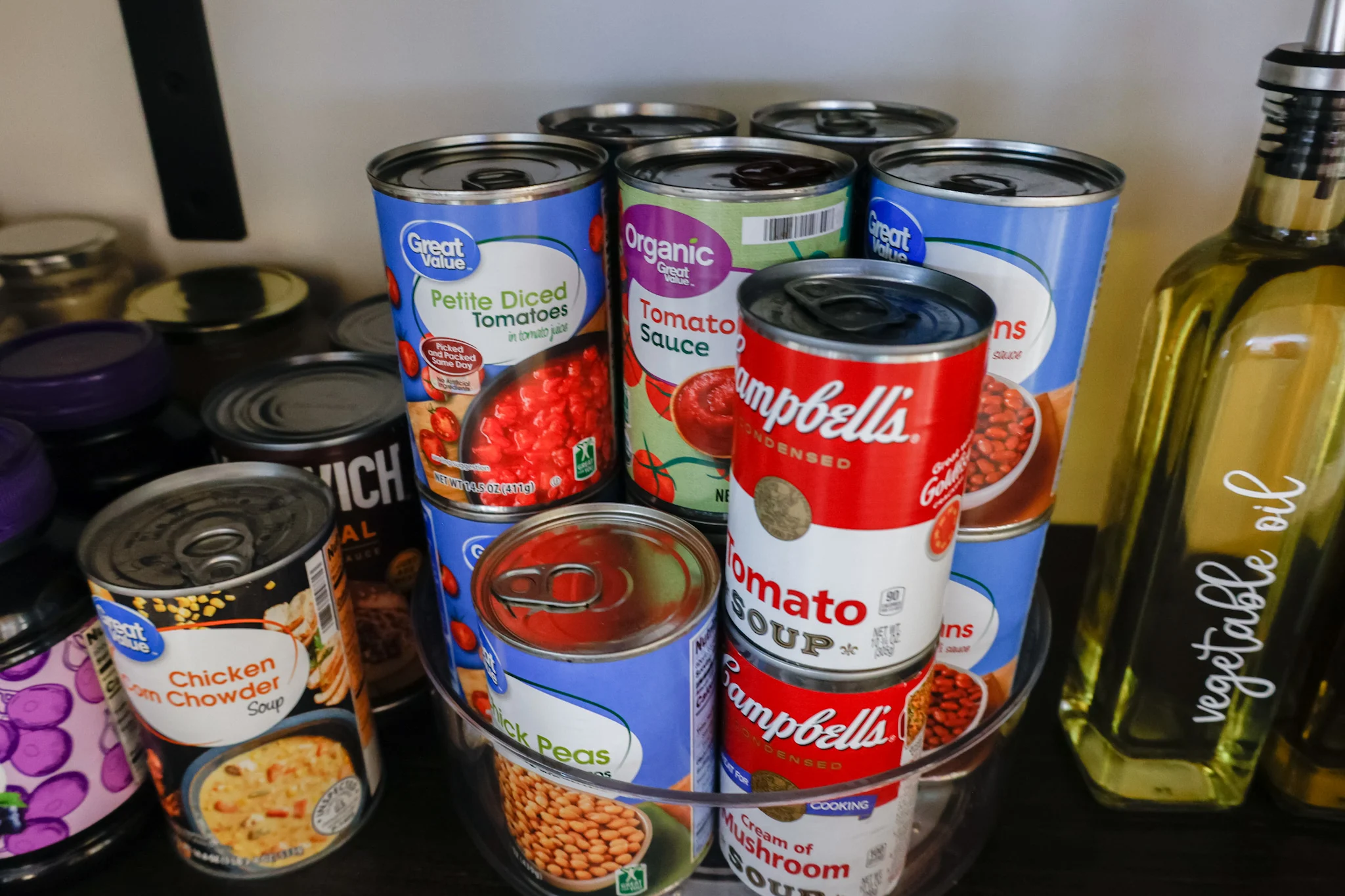 Here are the snack bins with their new black metal tag labels…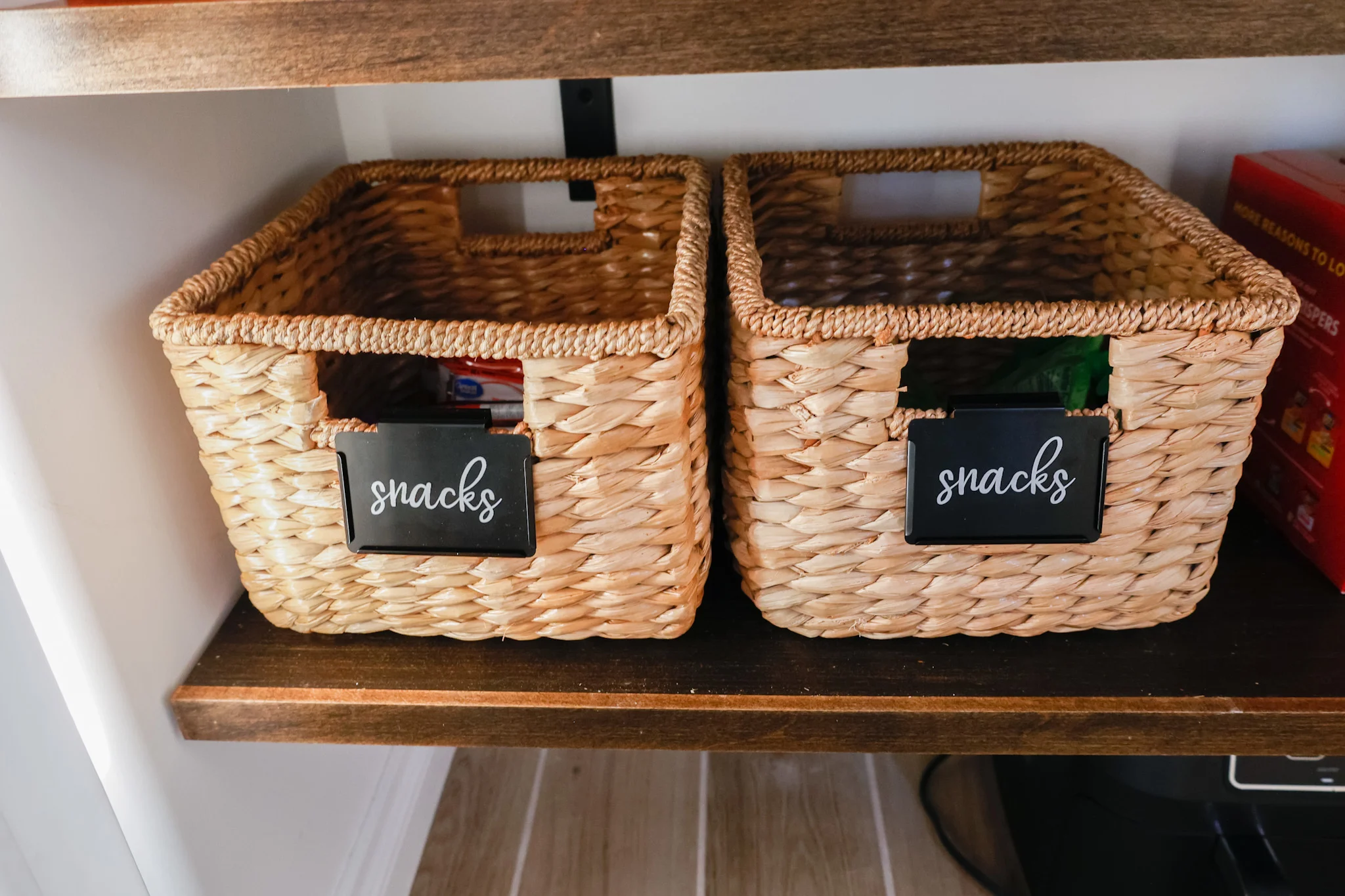 I love the look of the white lettering on the black tags much better with the current look of our kitchen.
I need to go grocery shopping so I can fill these up!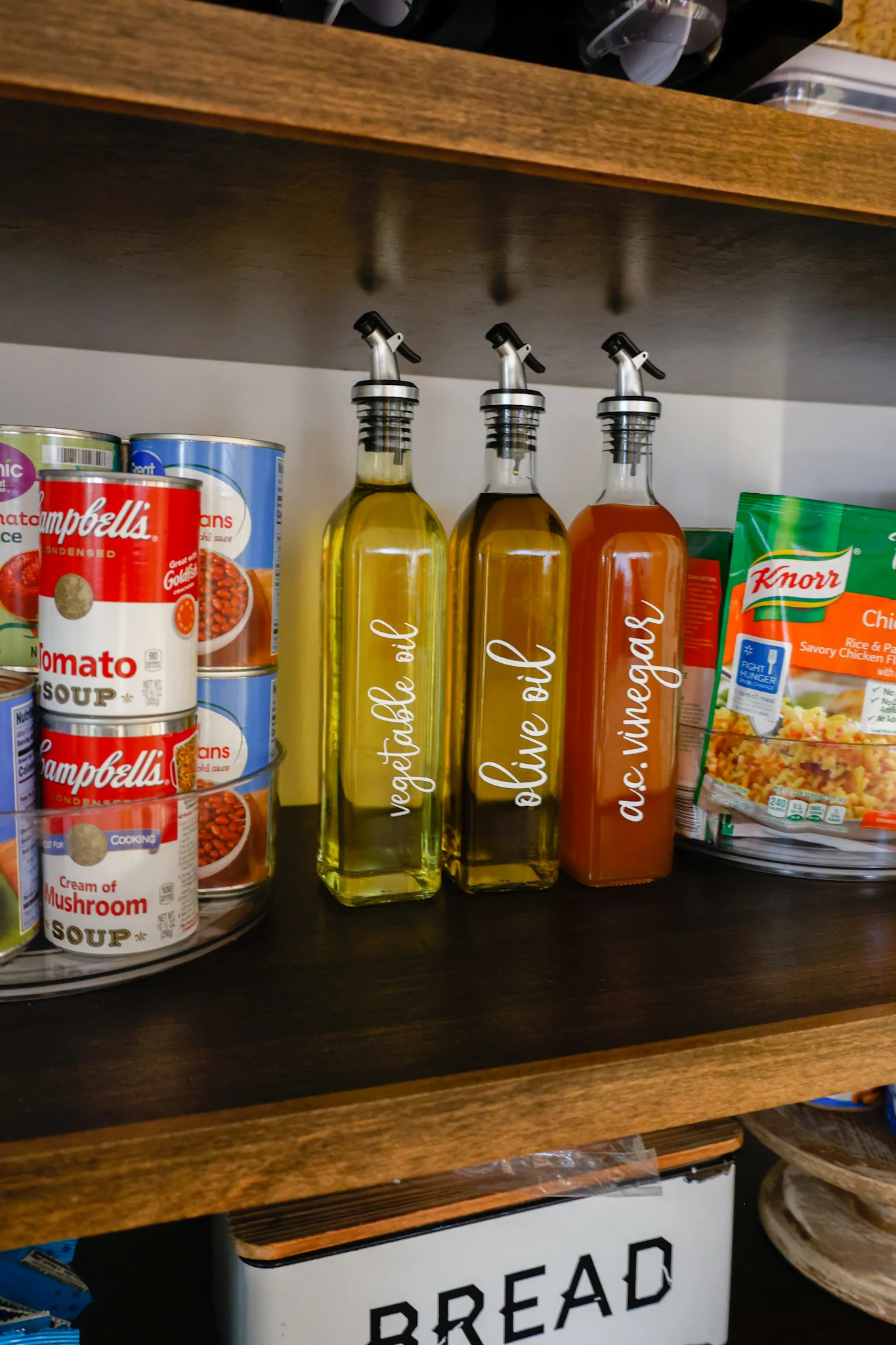 That's it for my kitchen cabinet organization ideas! I hope this post helped inspire you to organize (or reorganize) areas in your kitchen cabinets, spice cabinet, under the kitchen sink, or pantry.
What areas have you organized in your home this year so far? Let me know in the comments below…