Unbox the May Simply Earth Recipe box, with essential oils and extras to make 6 fun DIY recipes with me…
**use code SAHMFREE at checkout to save $40 on your second box or future purchase**
---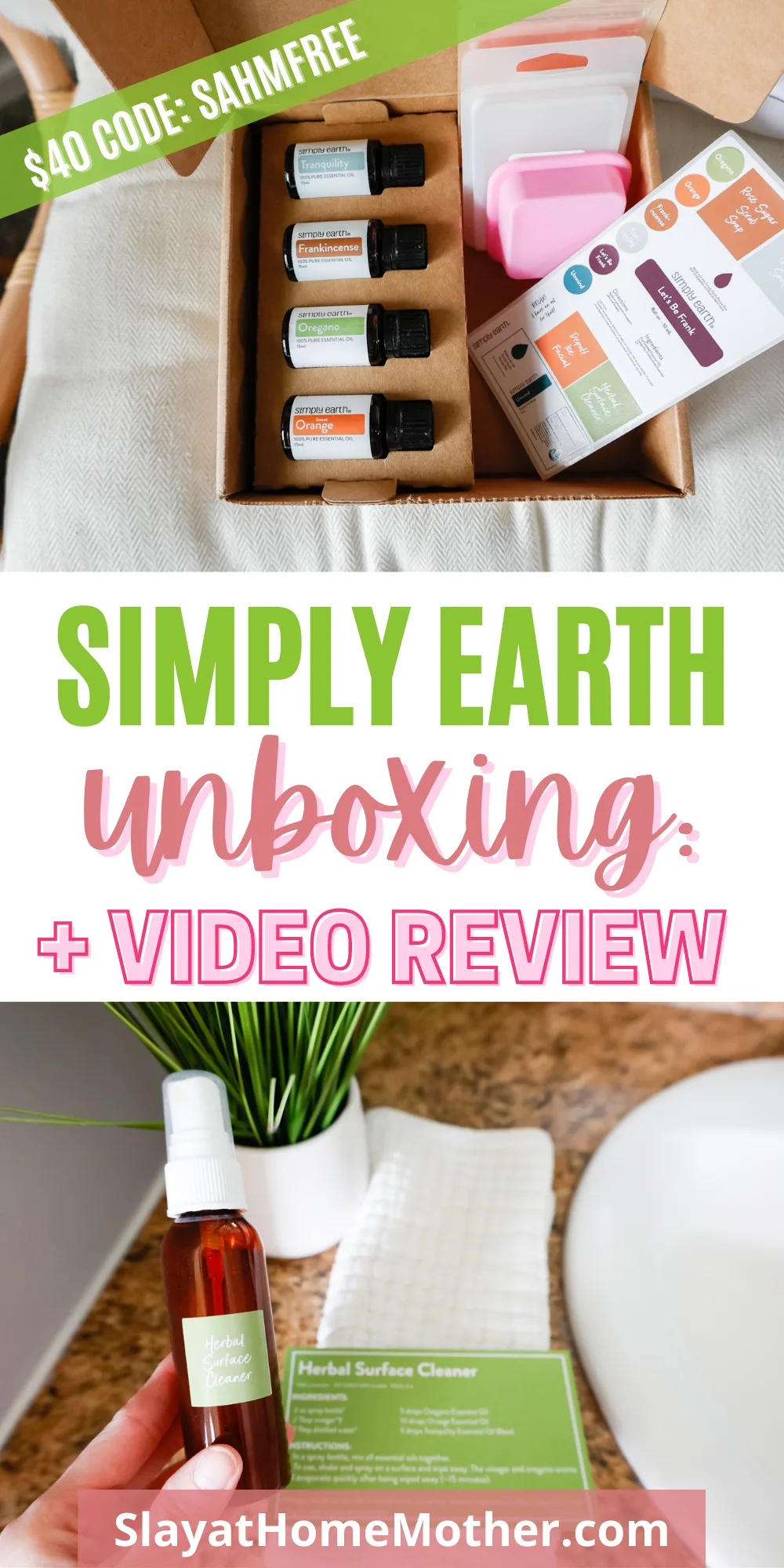 Hello, lovelies!
In today's post, I'll be unboxing the May Simply Earth box – woohoo!
I discovered Simply Earth on my way to break free from my previous MLM brand.
I wanted to break away from the MLM business model and find a brand that was focused on providing quality oils to consumers at a fair and honest price without sacrificing quality or purity.
Simply Earth oils are 100% pure, ethically sourced from where they grow best, and have detailed information about safety, topical dilution, and use.
Their oils are also third-party GC/MS tested, and backed by their Simply Pure Promise.
Each month, I get a new subscription box in the mail with oils, recipes, and extras needed to make the recipes.
This subscription box is so fun to make recipes with, and I love learning new ways to use essential oils.
Before you read this month's unboxing, be sure to check out April's unboxing and feature here.
*This post contains affiliate links, however, all opinions are my own, as always.
May Simply Earth Recipe Box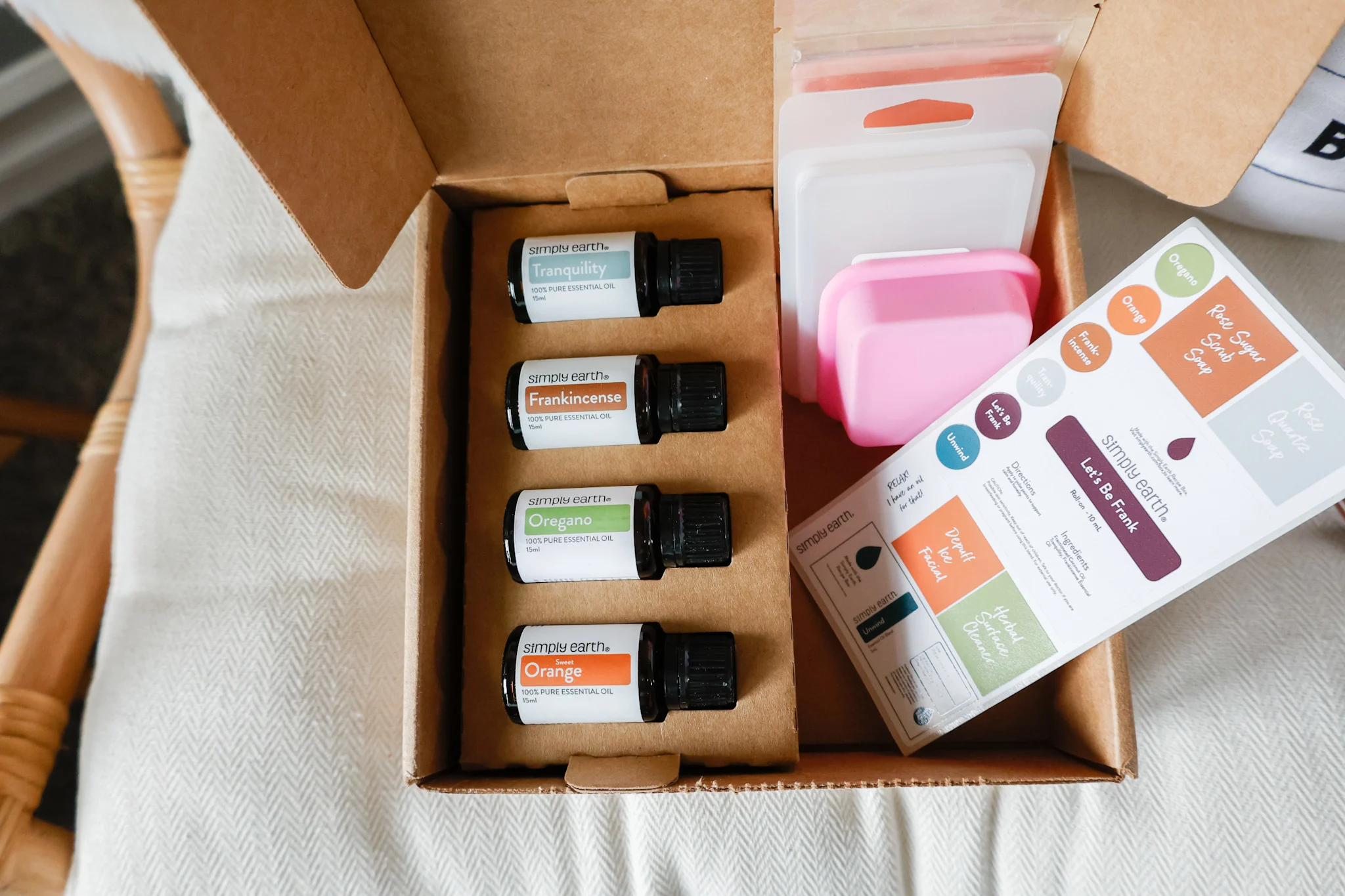 Here's what comes in the May Simply Earth Recipe Box:
4 full-size oils

Tranquility oil blend
Frankincense oil
Oregano oil
Sweet Orange oil

sticker labels
silicone mold
soap base
rose clay
This month's box is valued at over $213, but Simply Earth has it priced at just $39!!!
Subscribers also get free access to the Essential Oil Hero Course ($250), where you can learn how to use essential oils with confidence and clarity.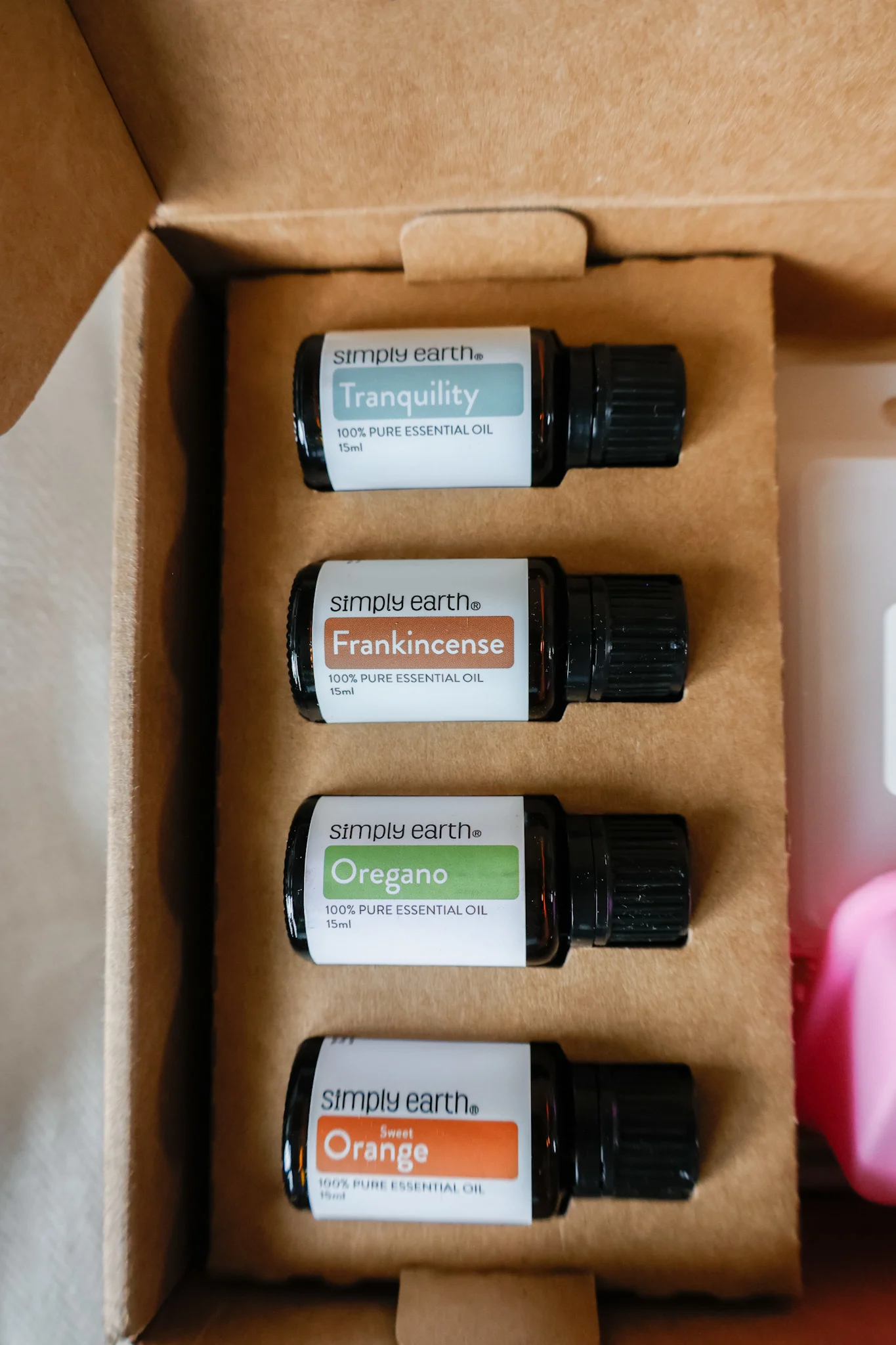 I absolutely adore the sticker labels included in each box, so I can label my recipes once I've made them!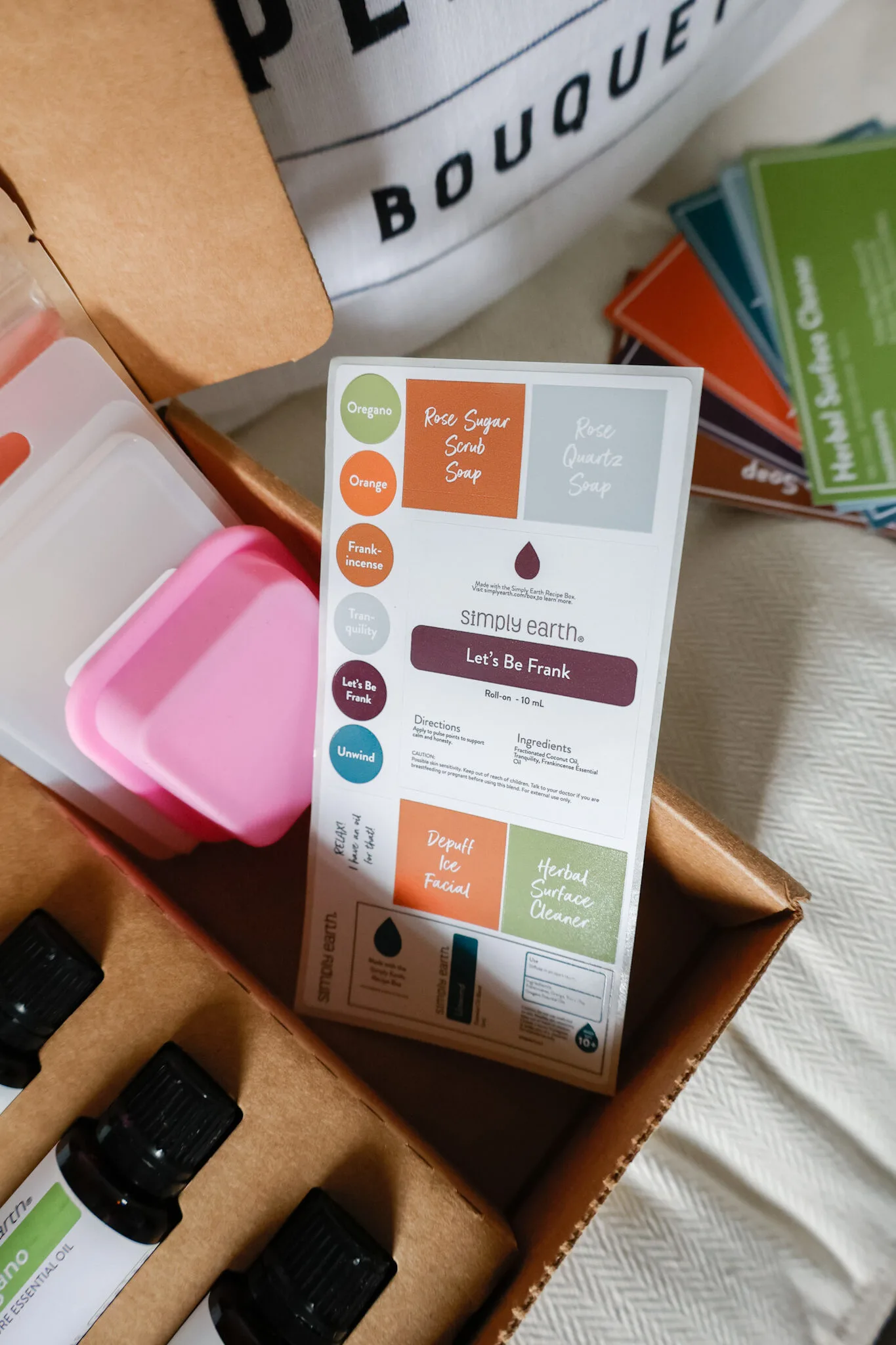 The 6 recipes included in this month's box are:
Herbal Surface Cleaner – I'll be making this recipe for this post!
Rose Quartz Soap
Unwind Diffuser Blend
Depuff Ice Facial
Let's Be Frank
Rose Sugar Scrub Soap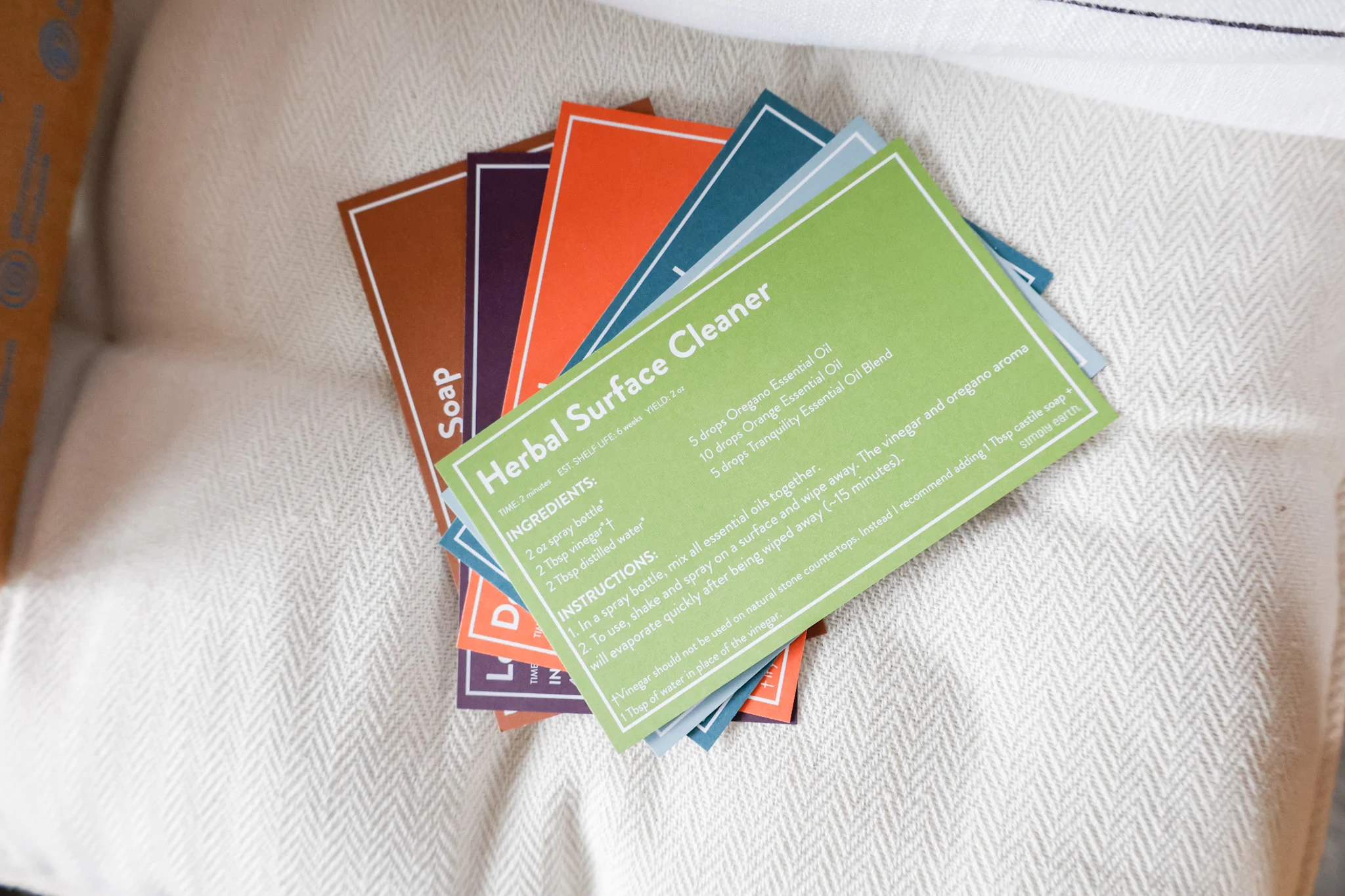 What Comes in The BIG BONUS BOX from Simply Earth?
New subscribers get a BIG BONUS BOX with their first subscription order, and then with every 6th box.
Here's what's included in the BIG BONUS BOX…
(6) 5 mL bottles (great for making your own blends)
(6) 10 mL roll-on bottles
fractionated coconut oil
coconut carrier oil
almond carrier oil
beeswax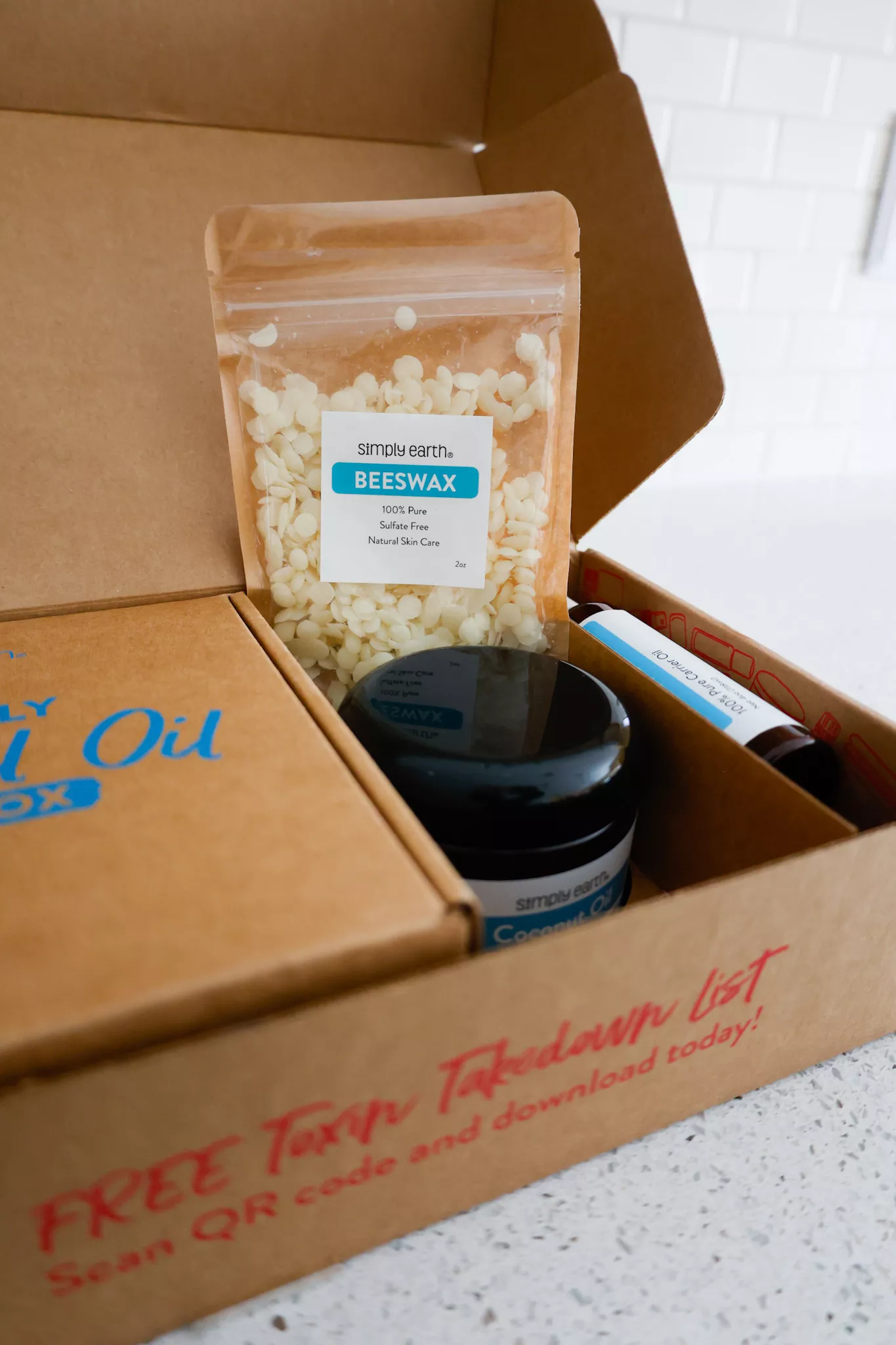 Herbal Surface Cleaner Recipe
For this post, I'll be making the Herbal Surface Cleaner recipe, with the Oregano, Orange, and Tranquility oils from the May recipe box…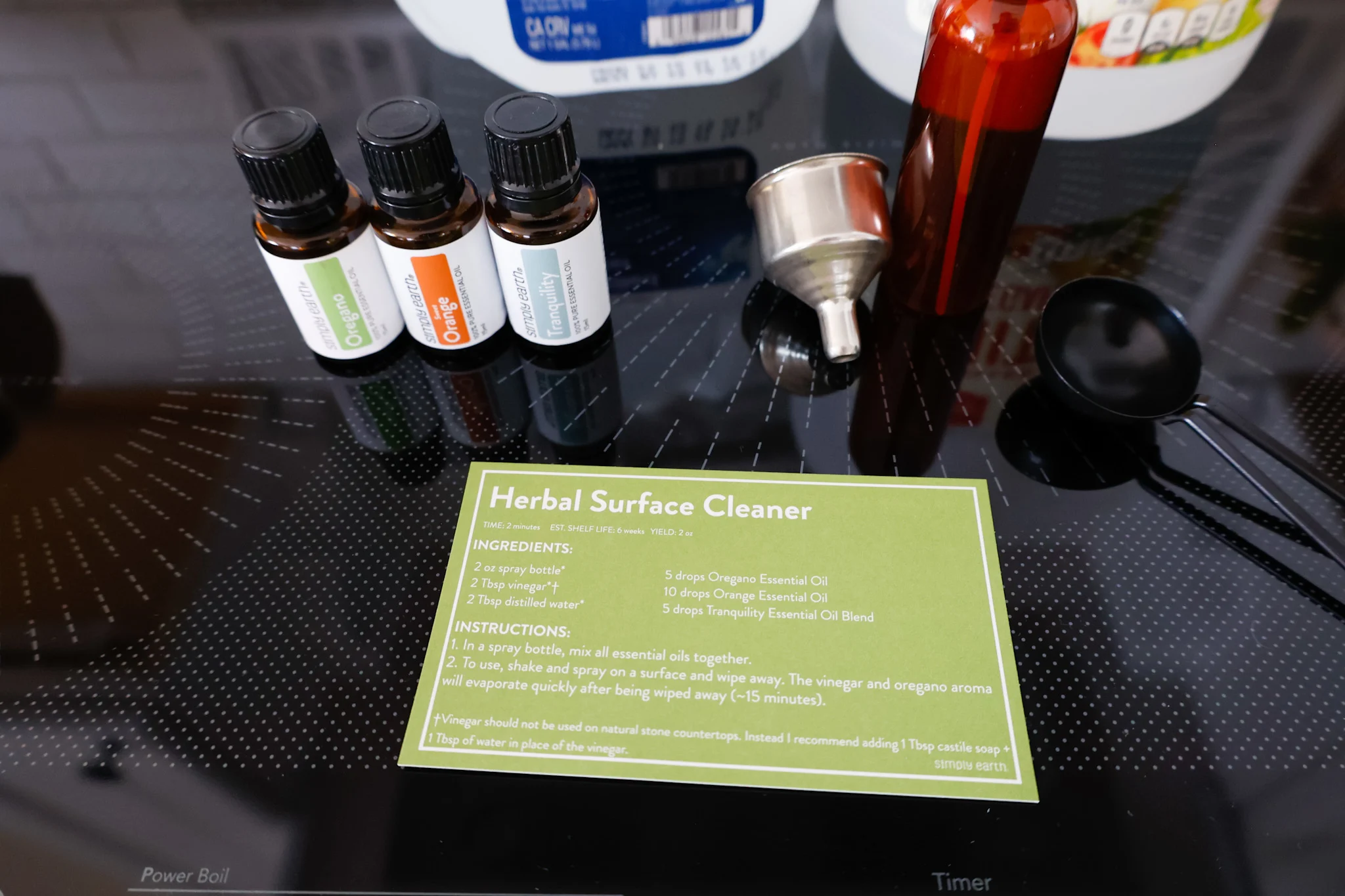 *This recipe cannot be used on natural stone countertops like marble, granite, or quartz unless substitutions are made, as listed on the card.*
Oregano oil has been shown to be antimicrobial when tested (source).
Orange oil has known antibacterial results when tested (source).
The Tranquility oil blend from Simply Earth contains Lemon, Patchouli, Sweet Orange, Amyris & Ylang Ylang oils.
All of the oils contained in the Tranquility blend have been shown to have antifungal and antibacterial properties, as well as bacterial-inhibiting properties.
These oils are perfect for this recipe!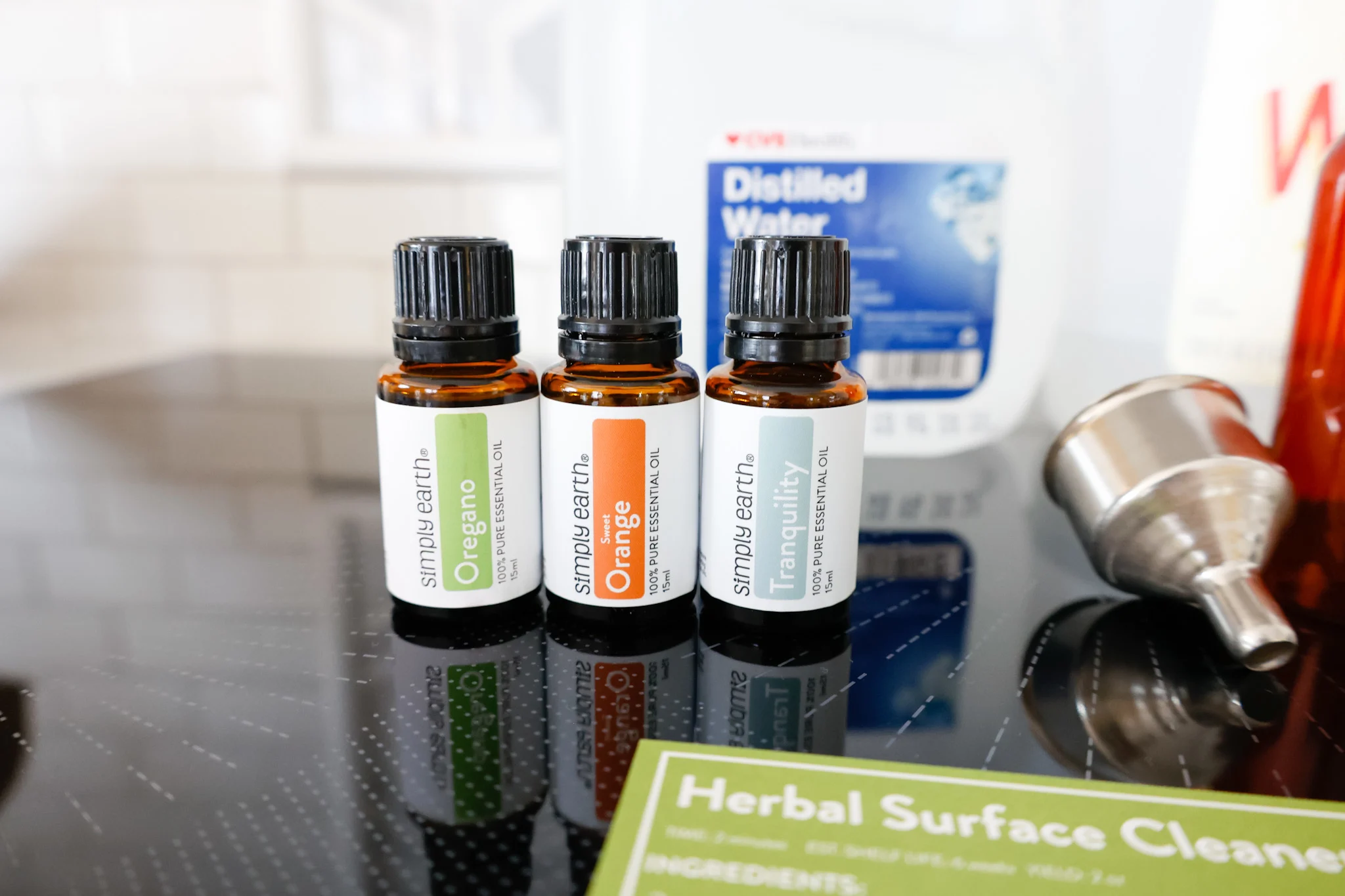 Besides what's included in the box, I needed distilled water and white vinegar for this recipe.
I also chose to use a stainless steel funnel I had on hand to make pouring the liquids into the 2 oz. spray bottle easier, but it wasn't 100% necessary.
The 2 oz. spray bottle was from the BIG BONUS BOX, as well, which comes with your first subscription box, and then every 6th.
See details above for what comes in the BIG BONUS BOX.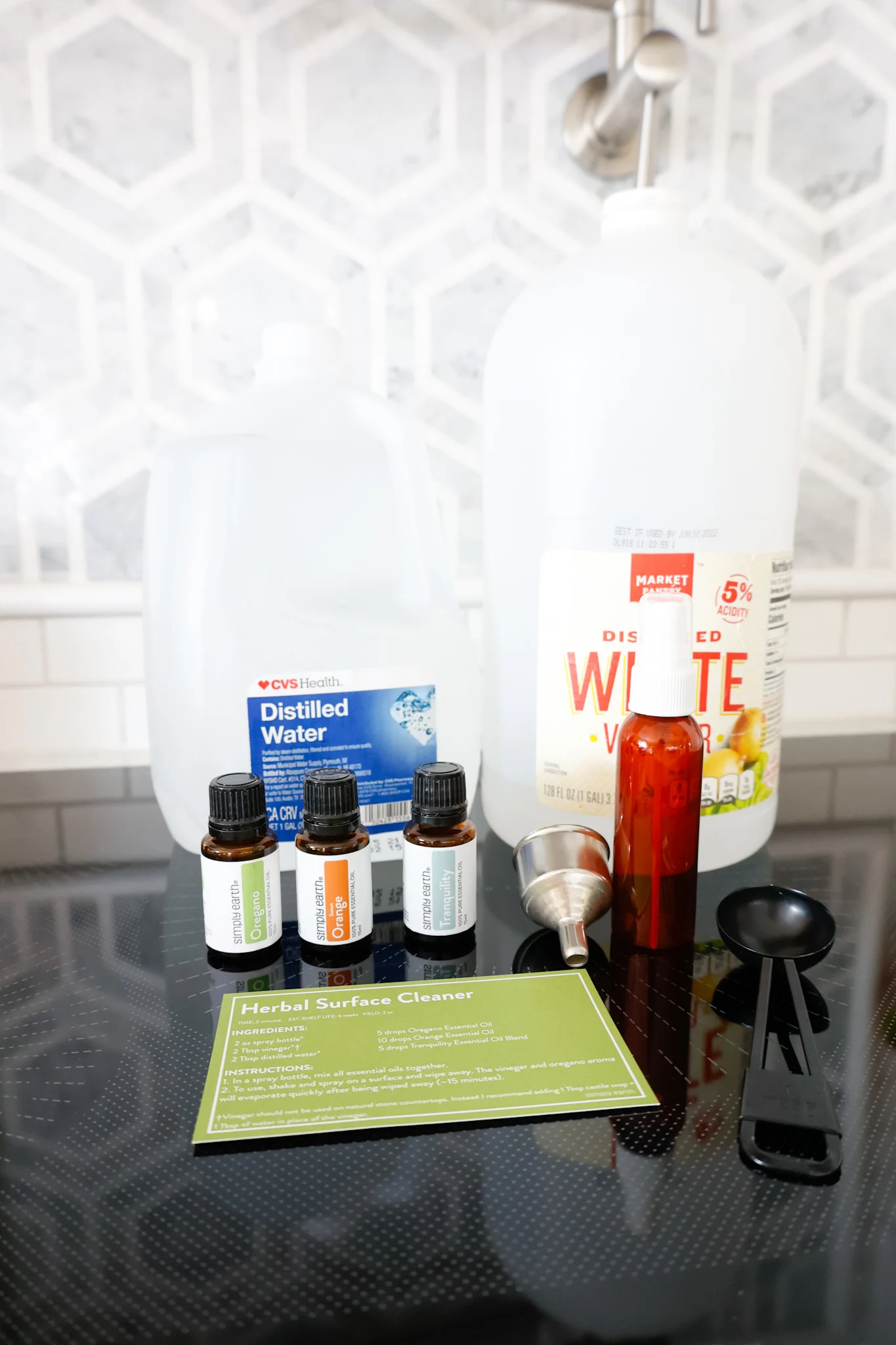 You can see me make this recipe in my unboxing video on YouTube below at the 7:54 mark…
This recipe was so fun to make!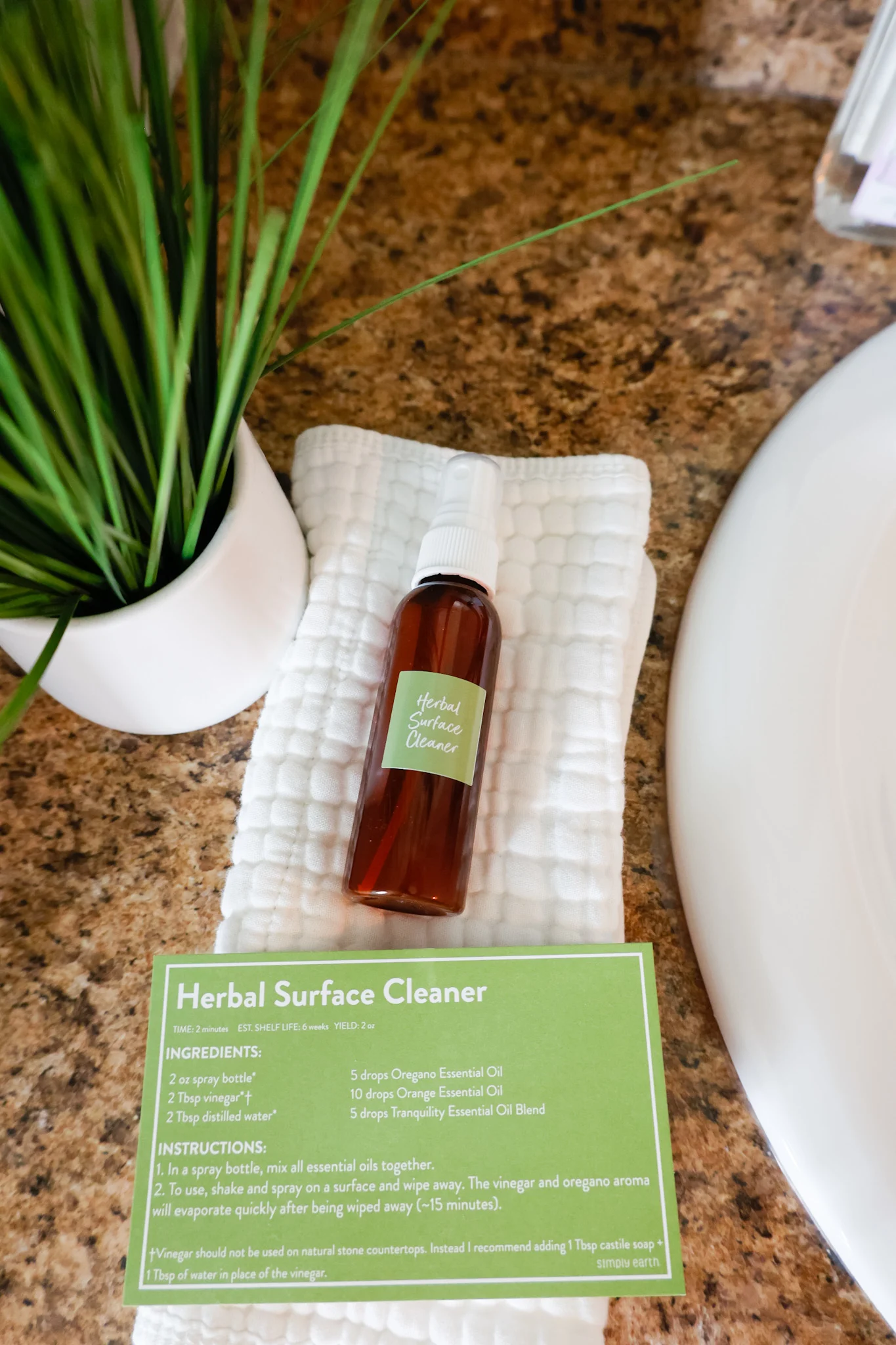 This spray cleaner smells of Oregano mostly.
I sprayed it on our bathroom counter in our half bath and wiped it away with a soft cloth.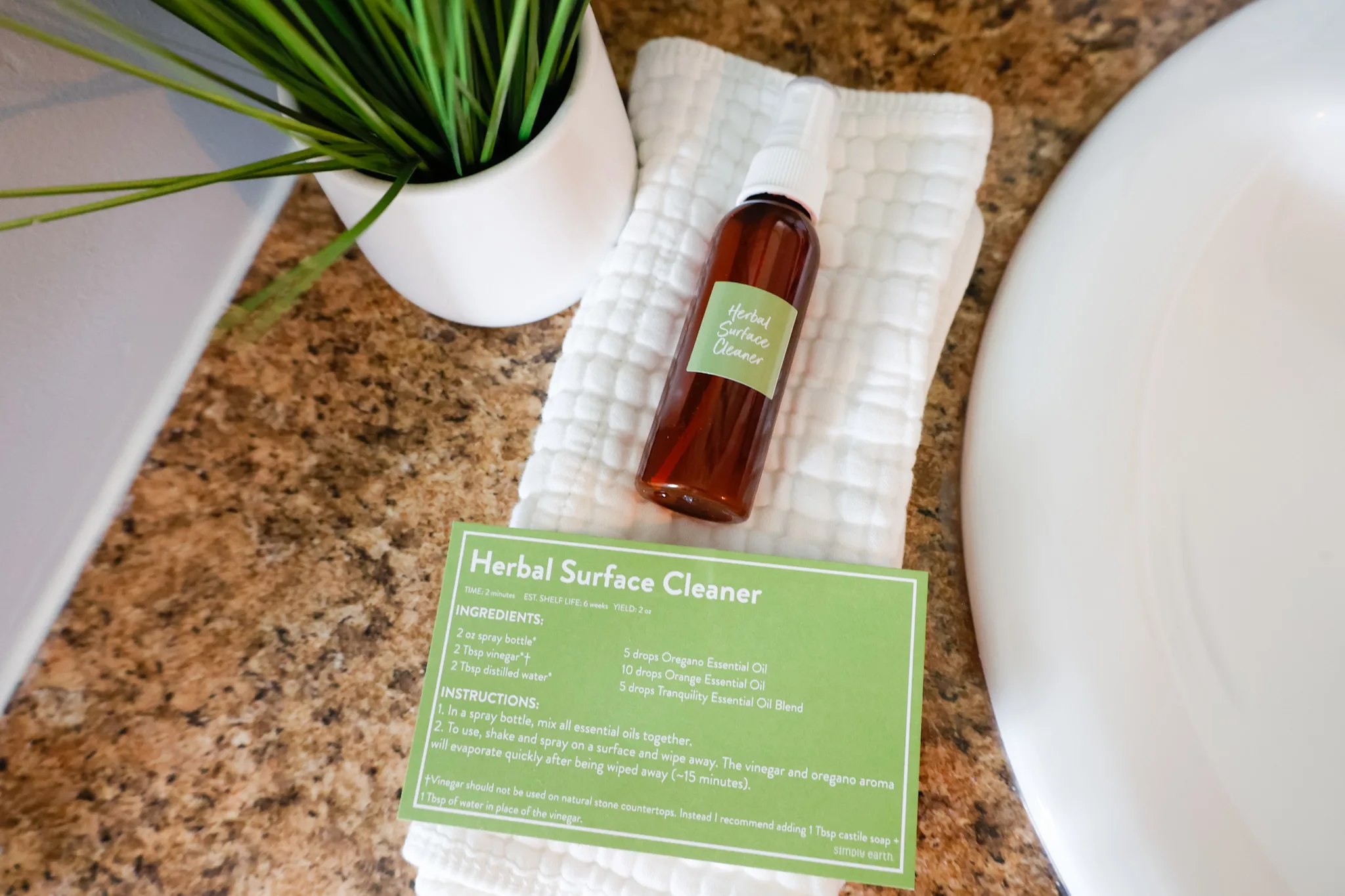 I felt this cleaner did a great job cleaning up our counters.
The smell lingered all day, however, the bathroom I used it in is small (just a half bath) and I closed the door afterward because we have a toddler that I didn't want to wander in there on accident.
I think if I had left the door open, the aroma would have dissipated much sooner! 😉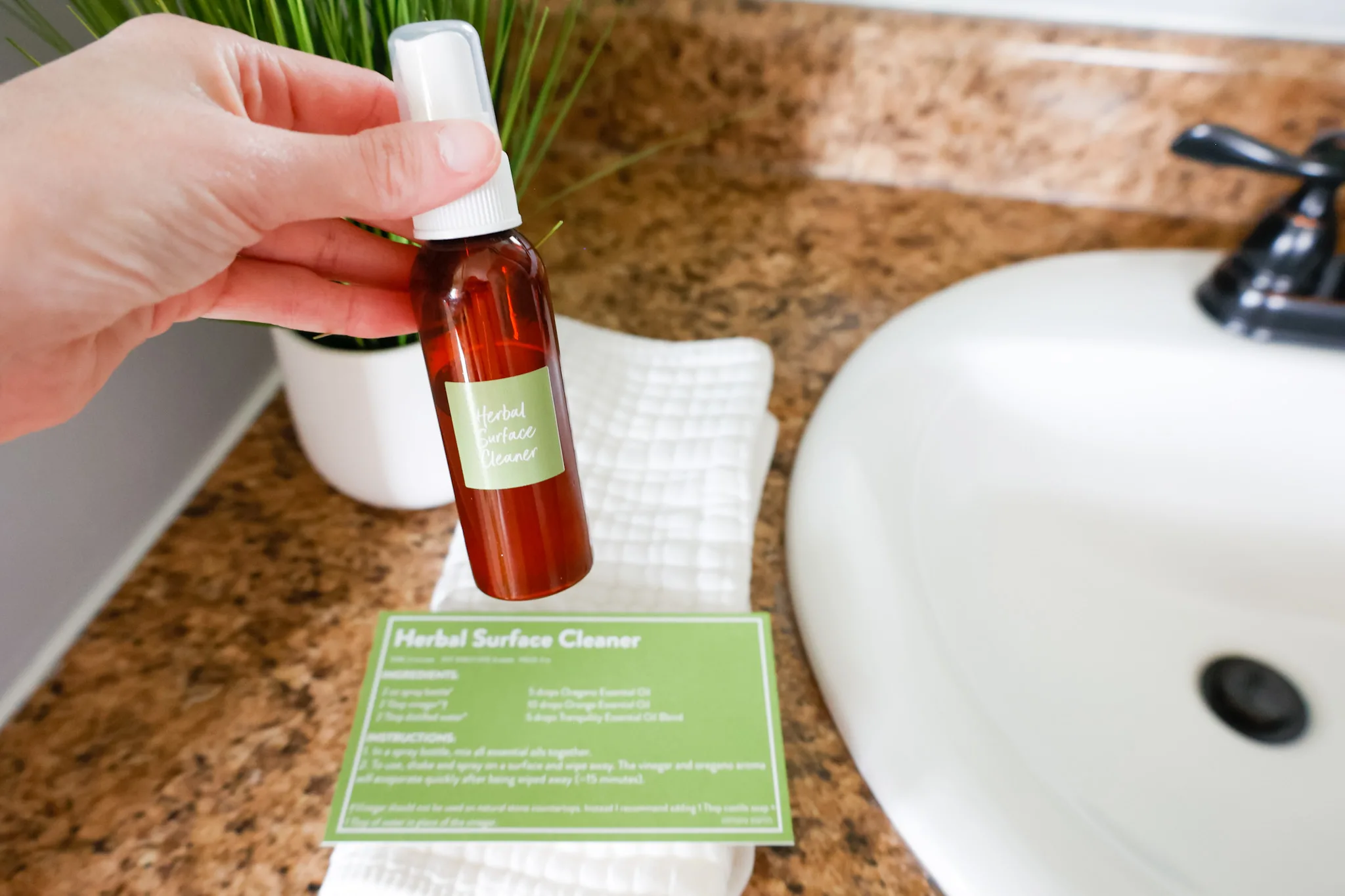 Check out some of my previous Simply Earth unboxings…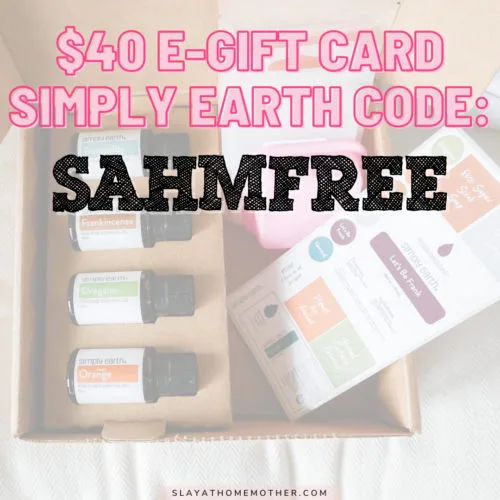 ---
I love my Simply Earth recipe box subscription, and I hope you will, too! Be sure to use code SAHMFREE at checkout to get a free $40 e-gift card to use towards your *next* box or future purchase!
*Post originally published May 2021, last updated January 2022.