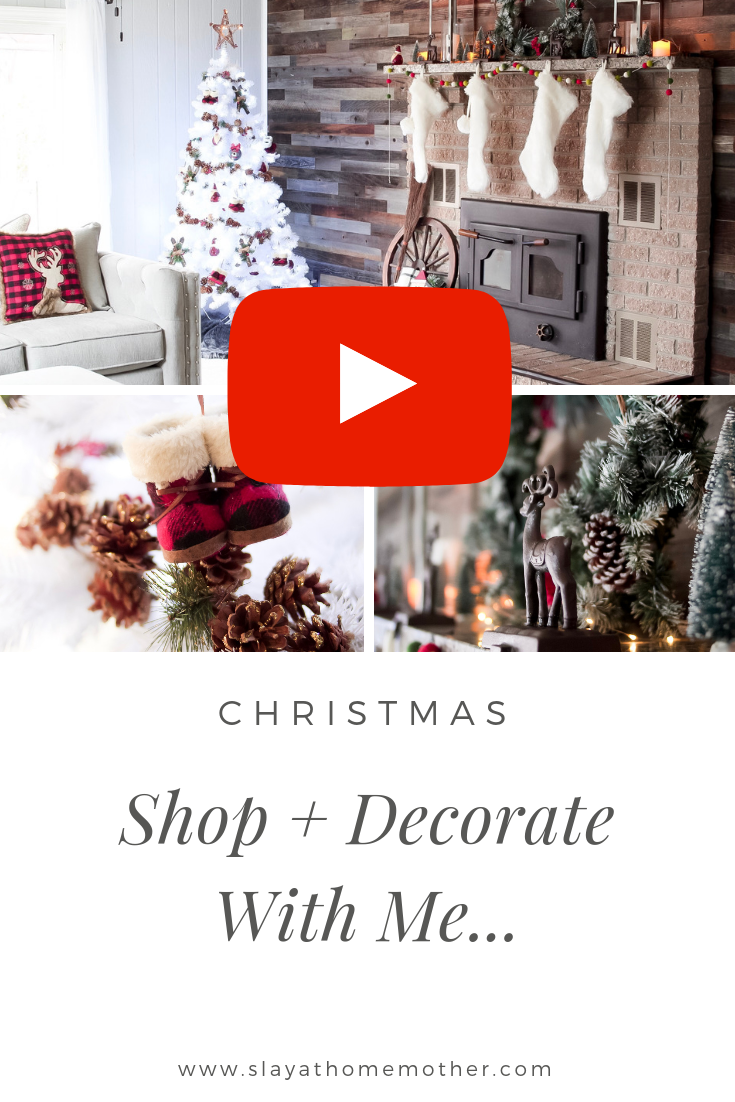 I've partnered with Christmas Tree Shops for this post, however all opinions are my own (as always), and I only share brands I love and trust with my readers.
Hi friends, and happy December 1st! I'm crazy excited to start off one of my favorite months with a BANG.
I know, I know – you guys have been patiently waiting for this blog/vlog for what seems like FOREVER! But I'm finally ready to share our decor with you (and even included a vlog at the bottom of this post if you want to decorate with me). If you're a long-time follower of my blog and social media, you probably already know that I appreciate a good deal, especially when it comes to decor! I recently went to Christmas Tree Shops to update all of our Christmas decor this year (mainly because everything we have is from about 7 or 8 years ago, and our tastes have certainly changed since then), and scored some awesome deals with one of their 20% entire purchase coupons! Seriously, if you aren't already part of their e-mail newsletter list, they have some stellar coupons!
This year, I'm opting for a Woodland Christmas theme – think cozy cabin + classic Christmas feel. But before I get going with my decor, be sure to check out my 'Christmas Decor Haul' post!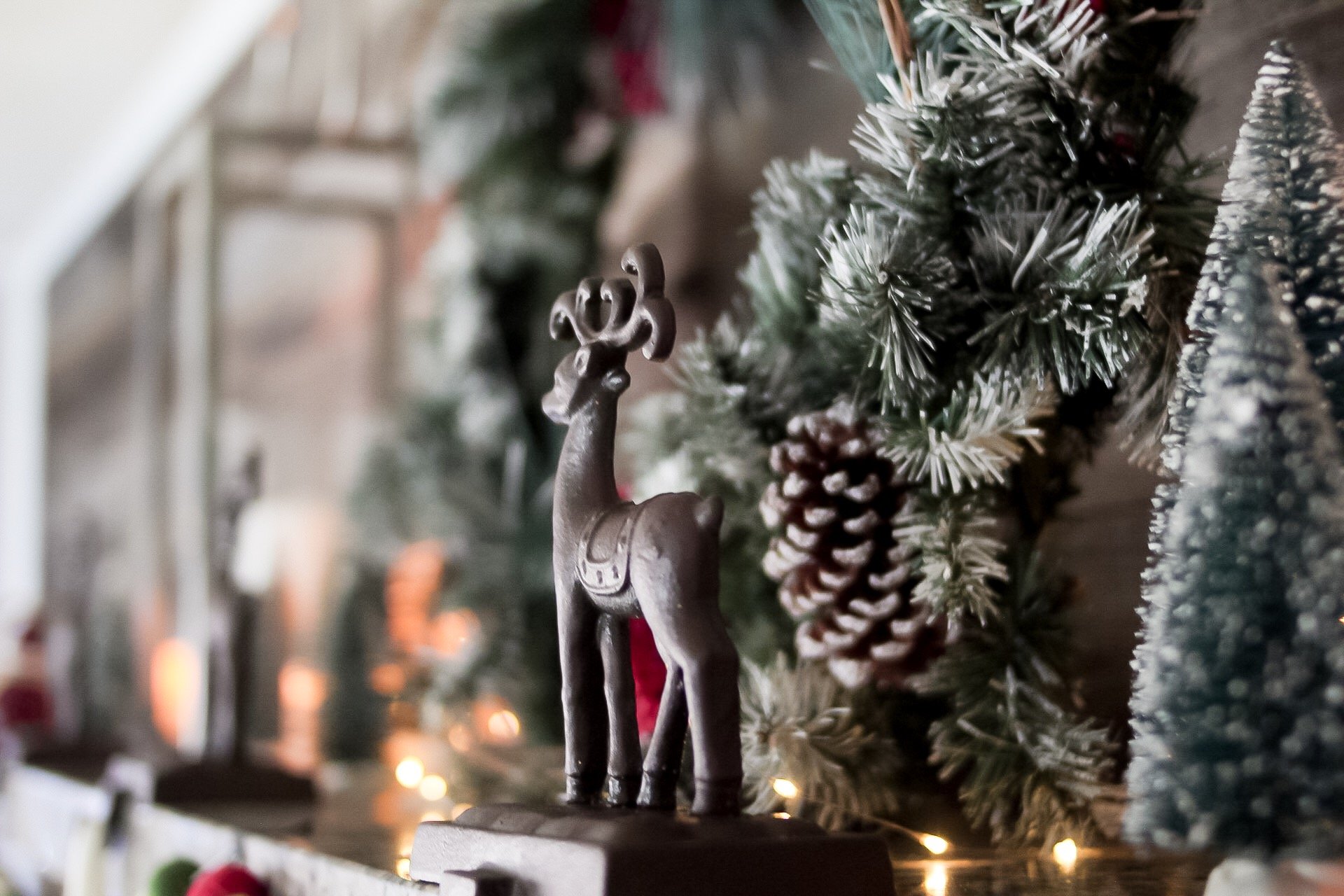 stocking holders | snow tip Christmas trees | snowy pinecone & berry wreath | LED string lights
For our mantle, I chose some adorable deer stocking holders and paired them with faux fur stockings. With all of the brown and gray tones in this room, I wanted to brighten things up with white! These soft and fuzzy stockings balance the room out quite well with the help of our white Christmas tree, and the pom pom is both on-trend and super cute!
I placed a gorgeous pinecone and berry wreath on our mantle, scattered some snow tip trees and LED candles/LED string lights and called it a day!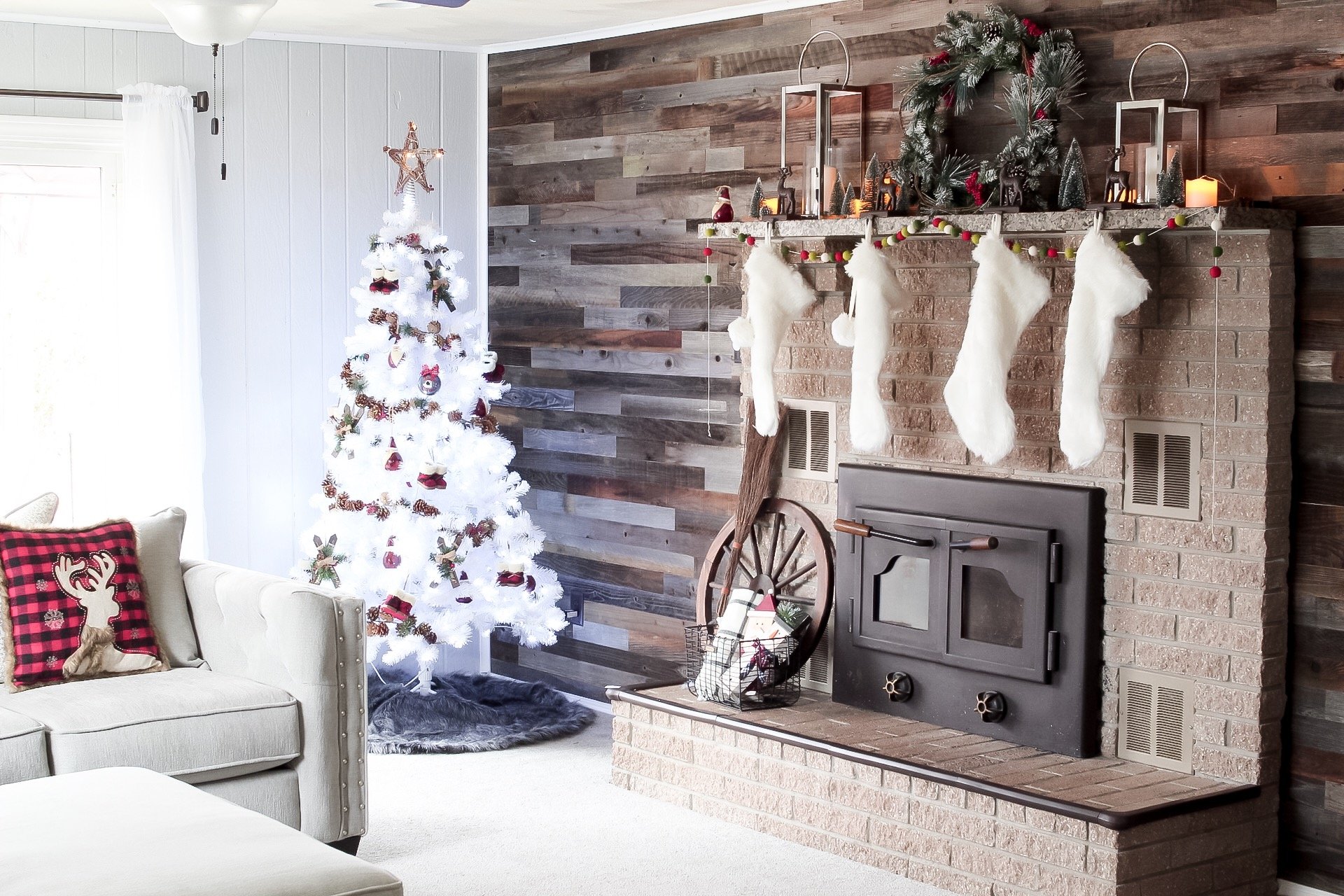 lighted twig & berry star topper | faux fur stockings
For the tree, I wanted to incorporate more 'natural' elements – enter the pinecones! Now, this pinecone garland I selected has glitter galore, which I know certainly isn't 'natural' by any means, but l couldn't pass up the opportunity to add in some glitter where I could.
I used four garlands to trim the tree, although I wish I had picked up six total. I may go grab some more this week if our busy schedule allows it ;).
If you're buying garlands for a tree, always opt for 2-3 more than you think you need. You'll almost never be over-shooting it, and if you do, Christmas is the time of the year when garlands are welcome just about anywhere and everywhere!
Our tree topper is usually an Angel, but it's always super depressing when Angels fall – and that's usually what happens to our poor dear Angel! I chose a pretty lighted twig and berry star tree topper, and I think it goes really well with our theme.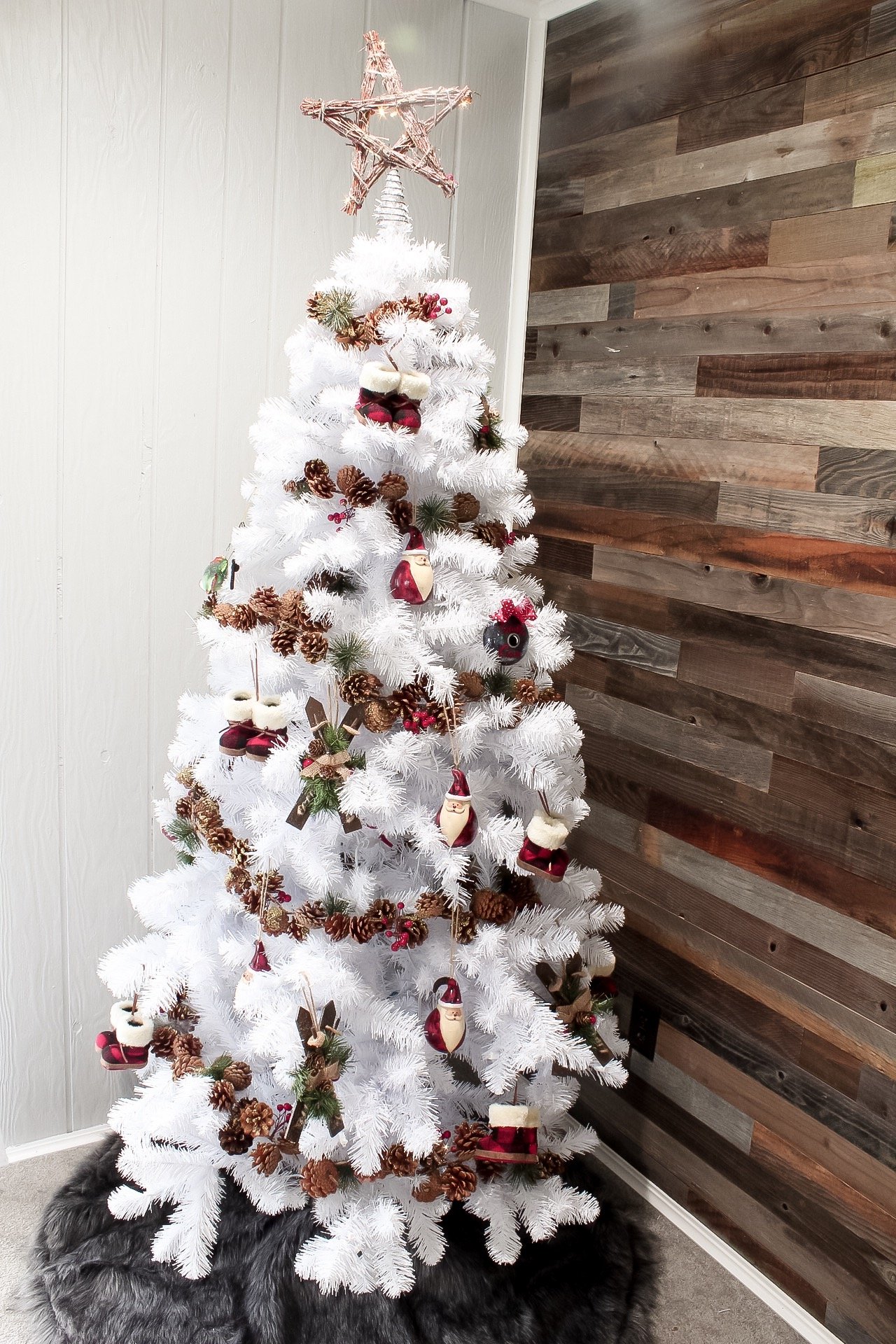 faux fur tree skirt | booties(similar) | glittery pinecone garland (similar)
The tree skirt was a bit of a risk for me – Christmas Tree Shops did not have a white faux fur tree skirt to match the stockings like I was hoping – although when I really think about it, I'm not sure a white tree skirt would pair well with a white Christmas tree after all! I kept going back and forth between the brown and the gray color fur skirts they had, knowing that my carpet was a light gray and my accent wall was a mix of brown tones.
As you can tell from my photographs, I chose the gray, and I'm totally loving it!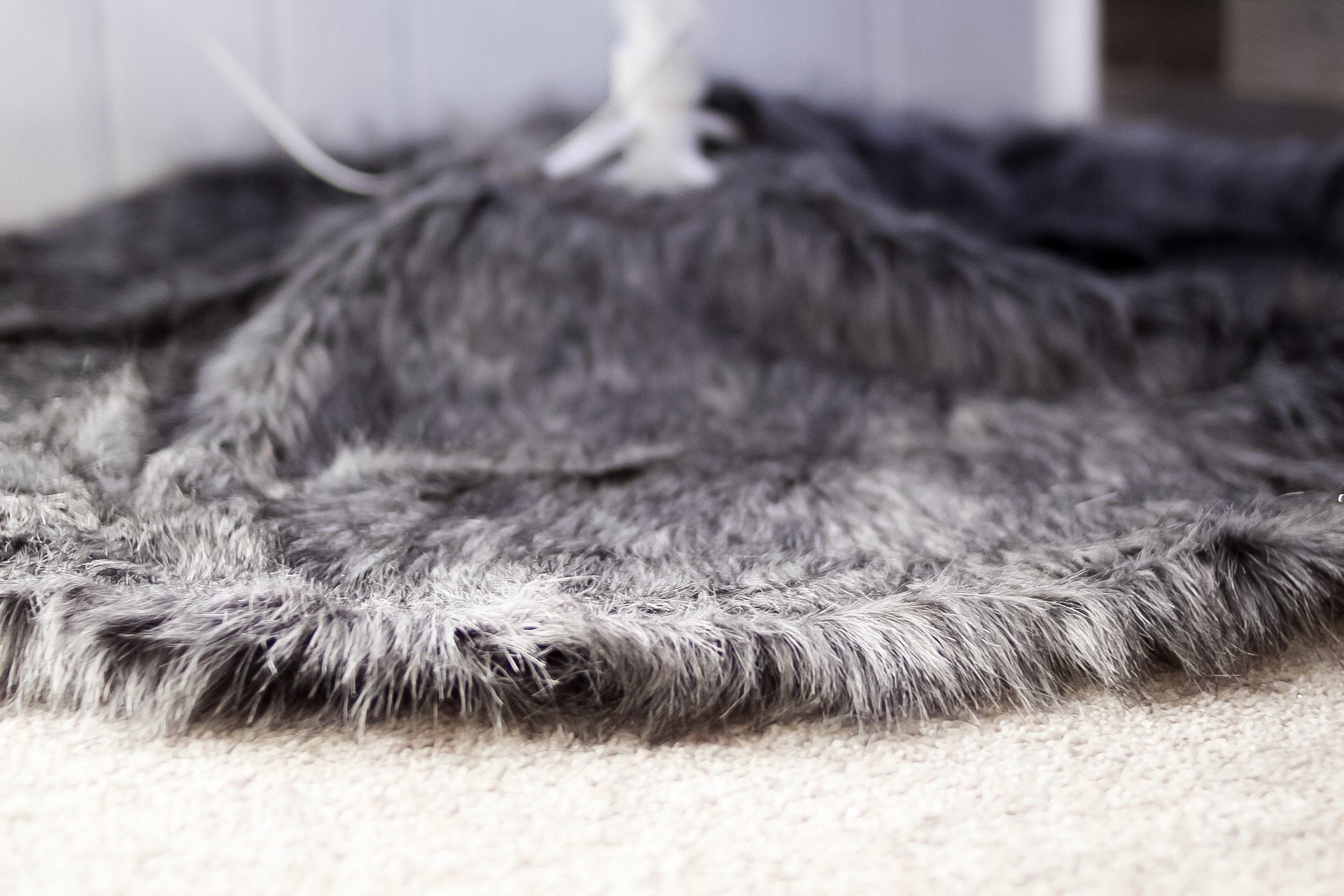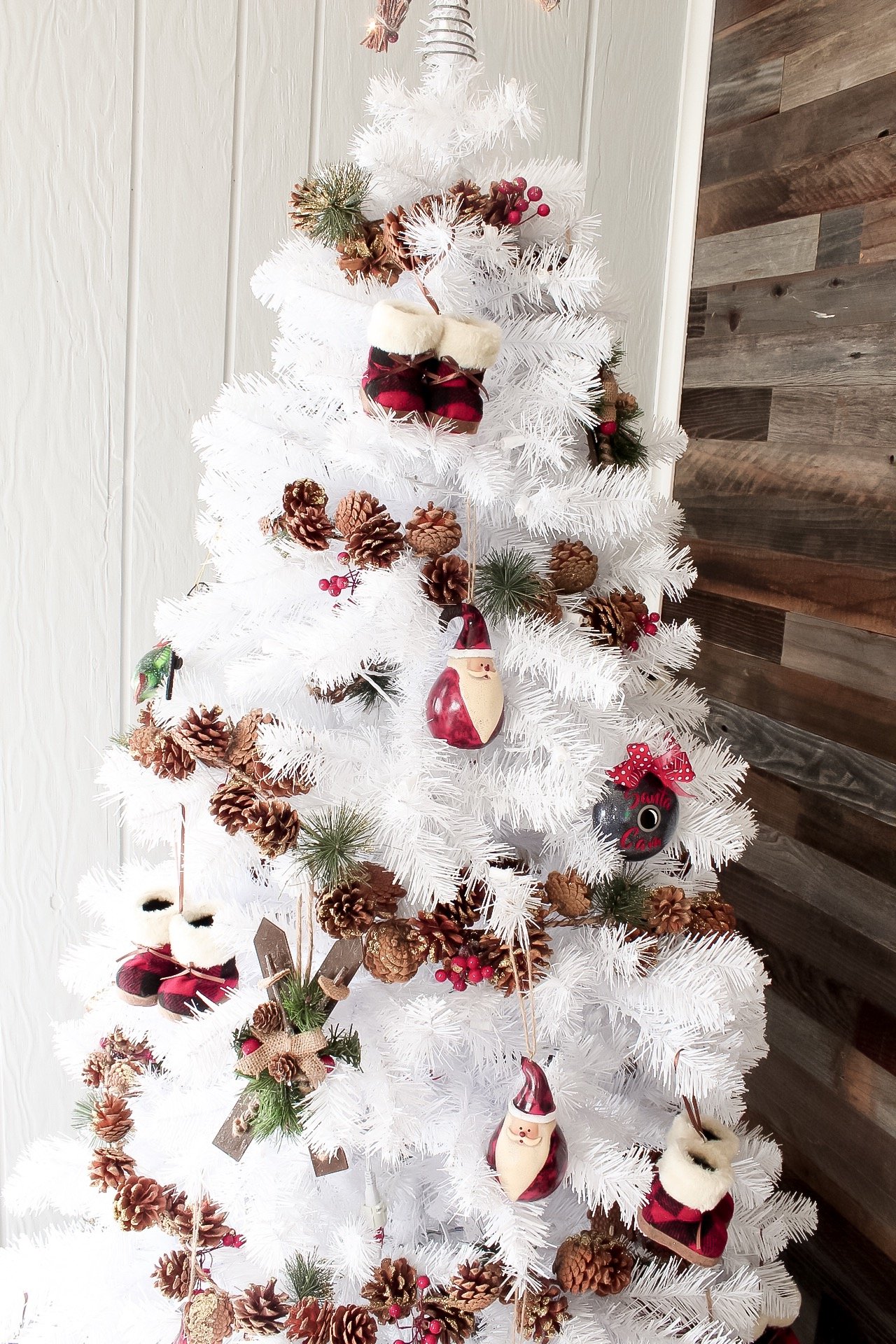 For our ornaments, I simplified things by including three 6-pack sets of ornaments (booties, Santa's, and ski/burlap bows), our Santa Cam, and a fishing ornament that my husband Chris 'couldn't live without'.
I think they all go together perfectly!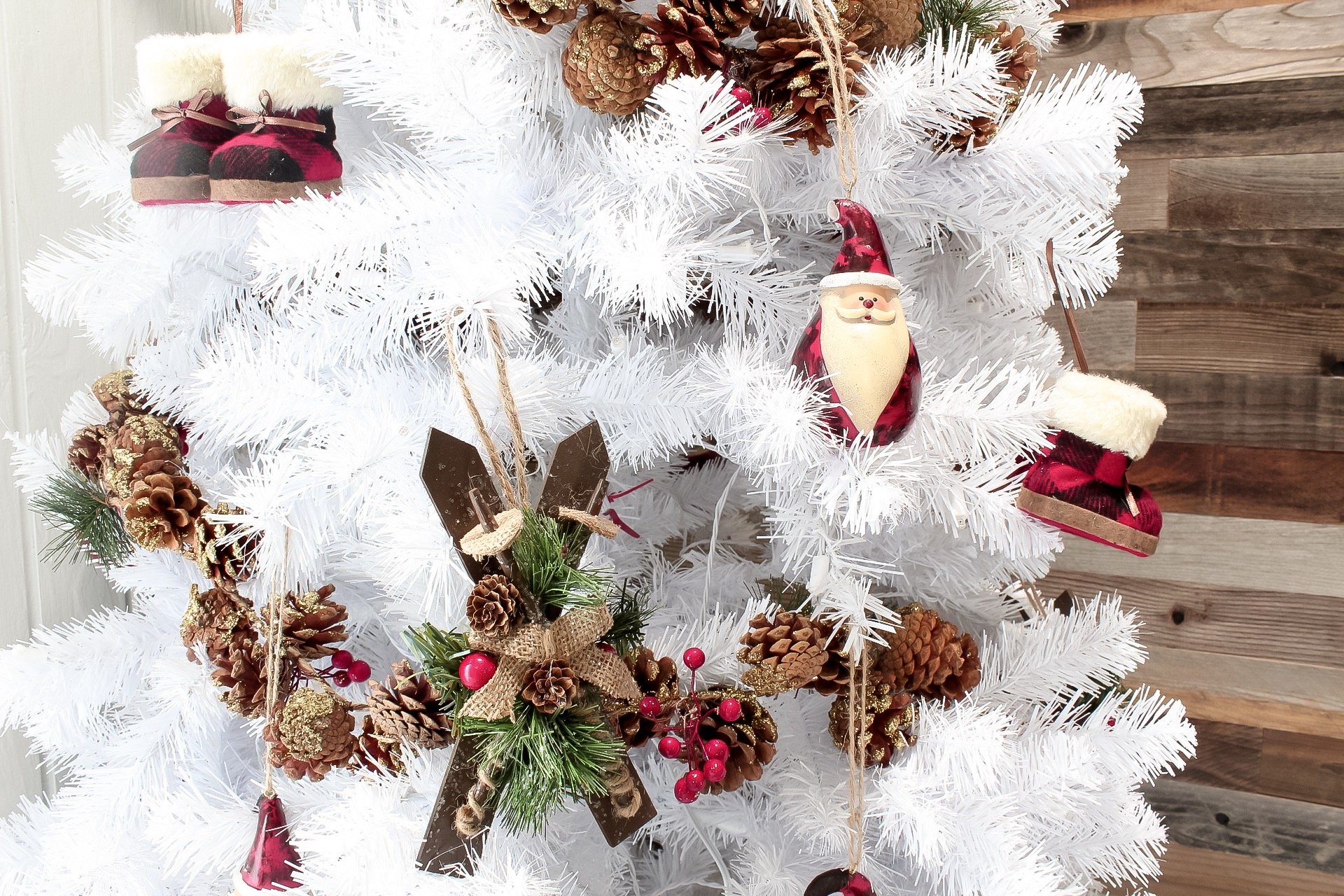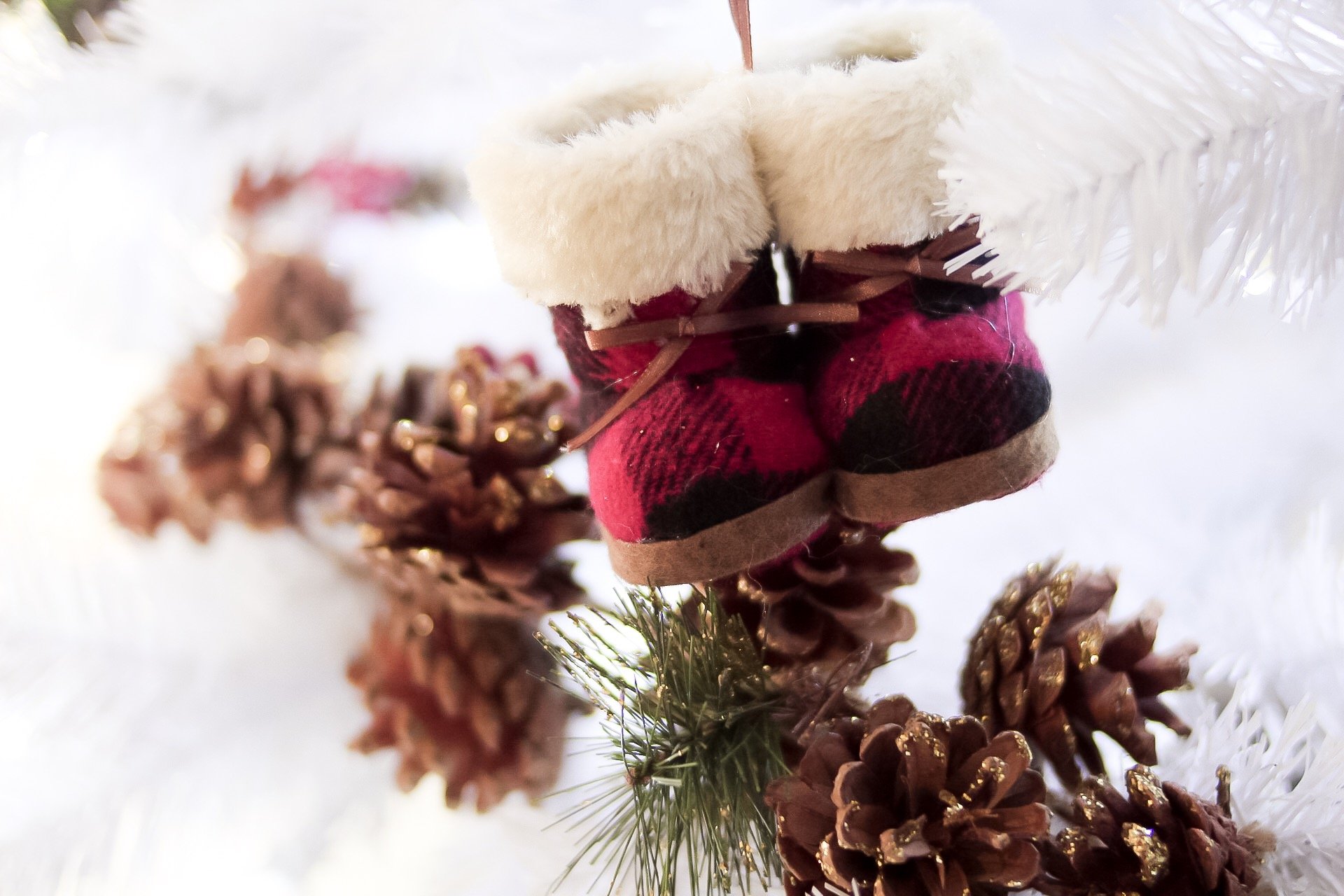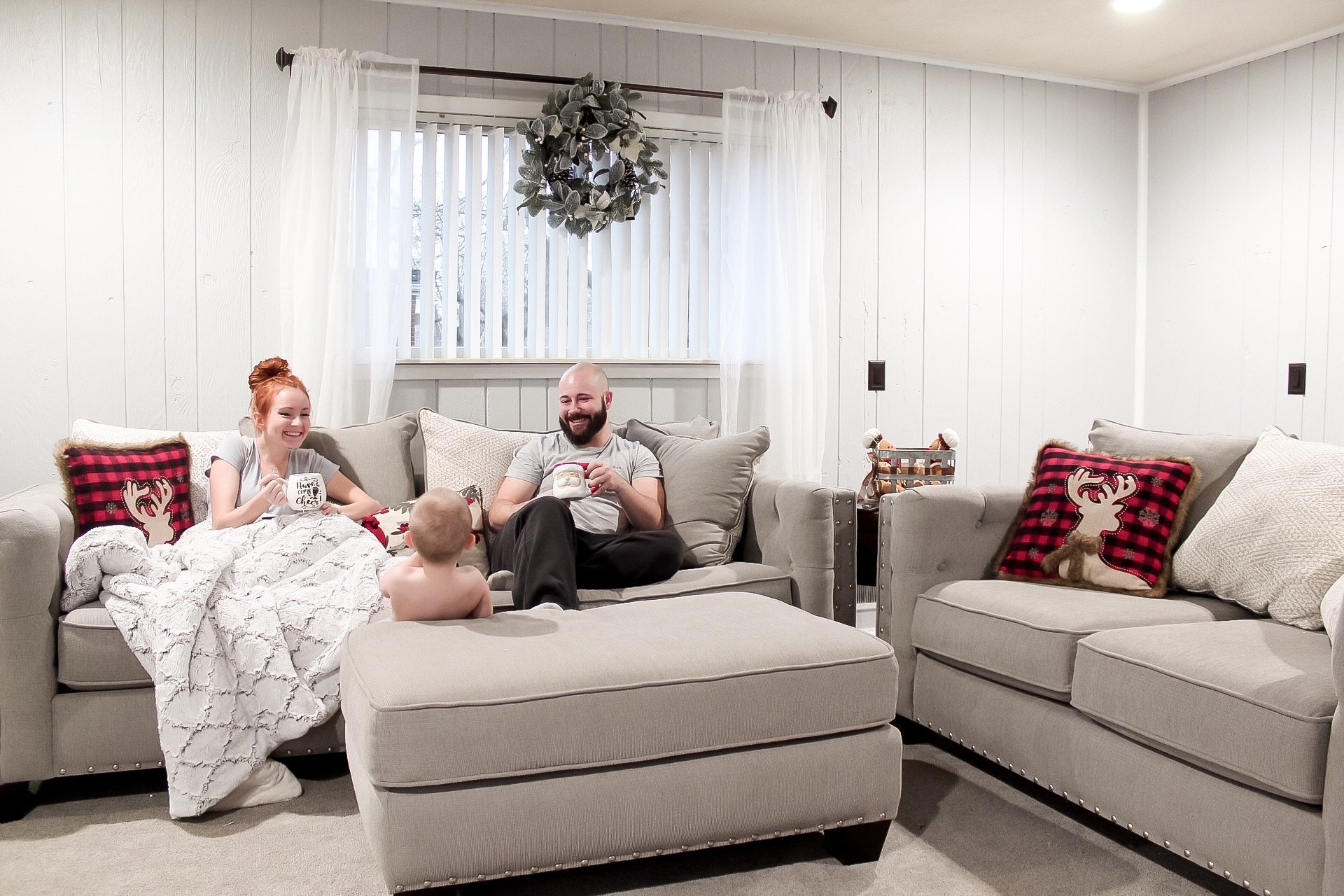 For our cozy new couches, I chose some Christmas-y pillows that go great with the gray color!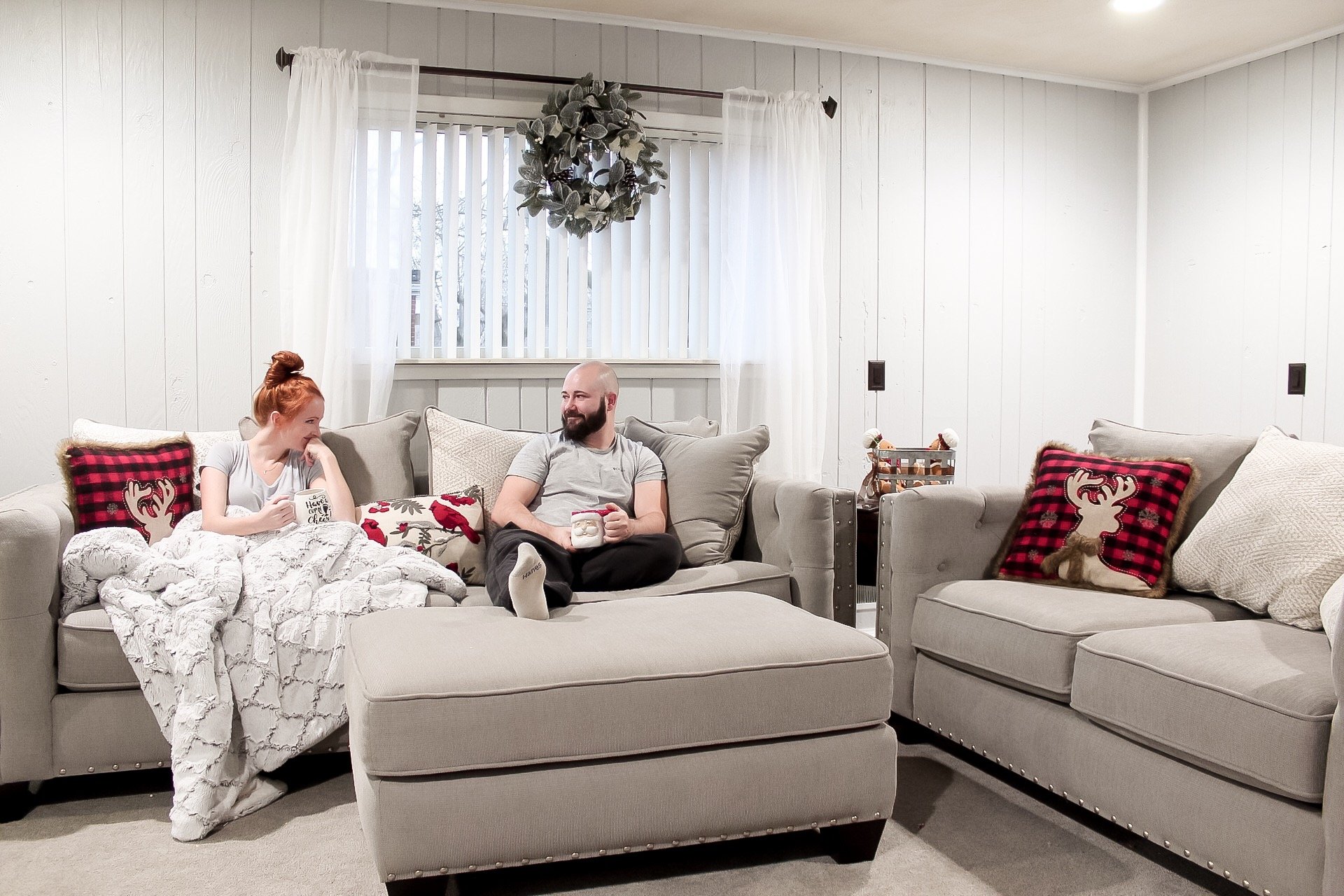 BTW, if you missed our Living Room Furniture Refresh featuring these couches – you can check that out right HERE ;).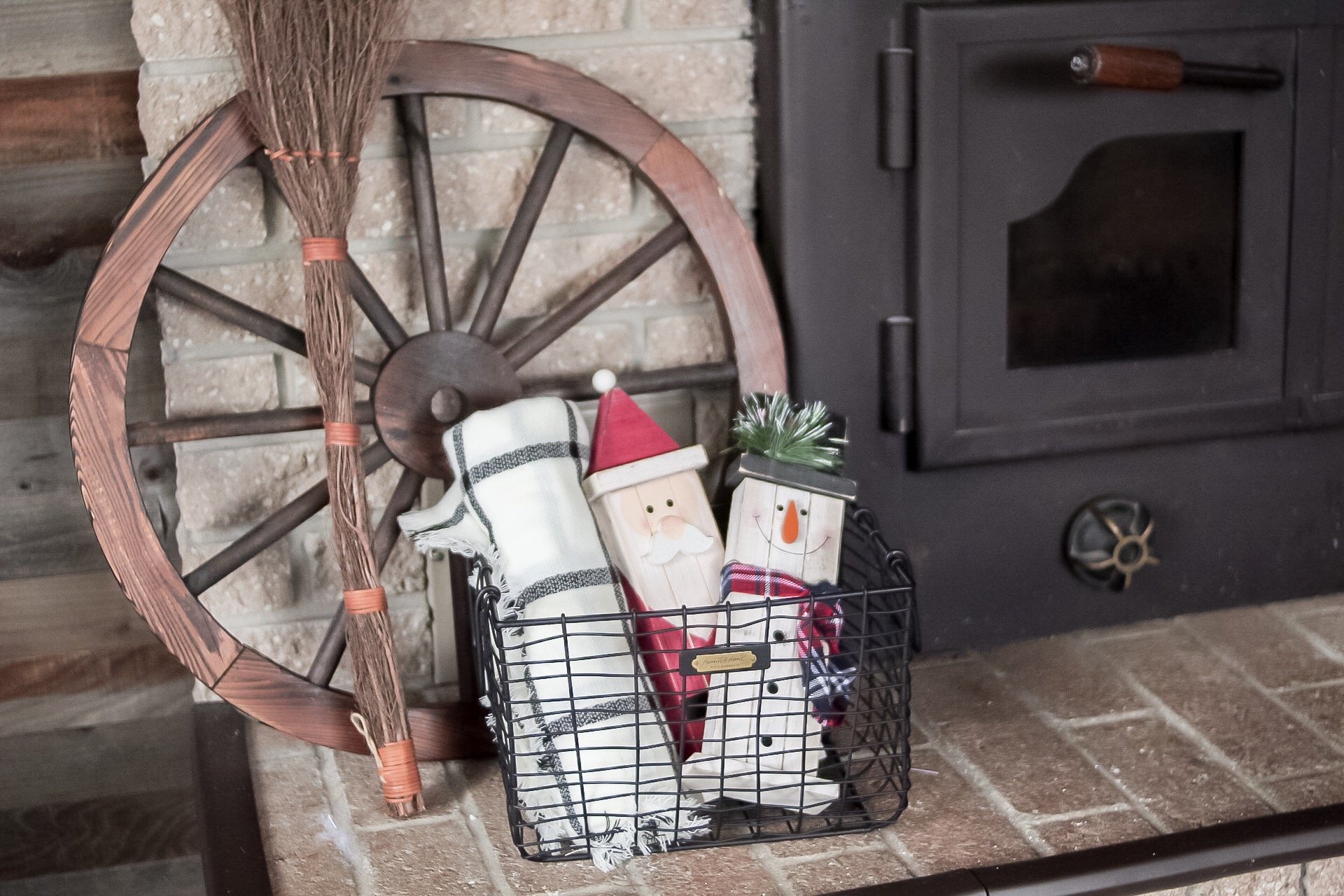 For our fireplace, I coupled these Santa and Snowman wood block figures with my cinnamon broom and wagon wheel from Christmas Tree Shops.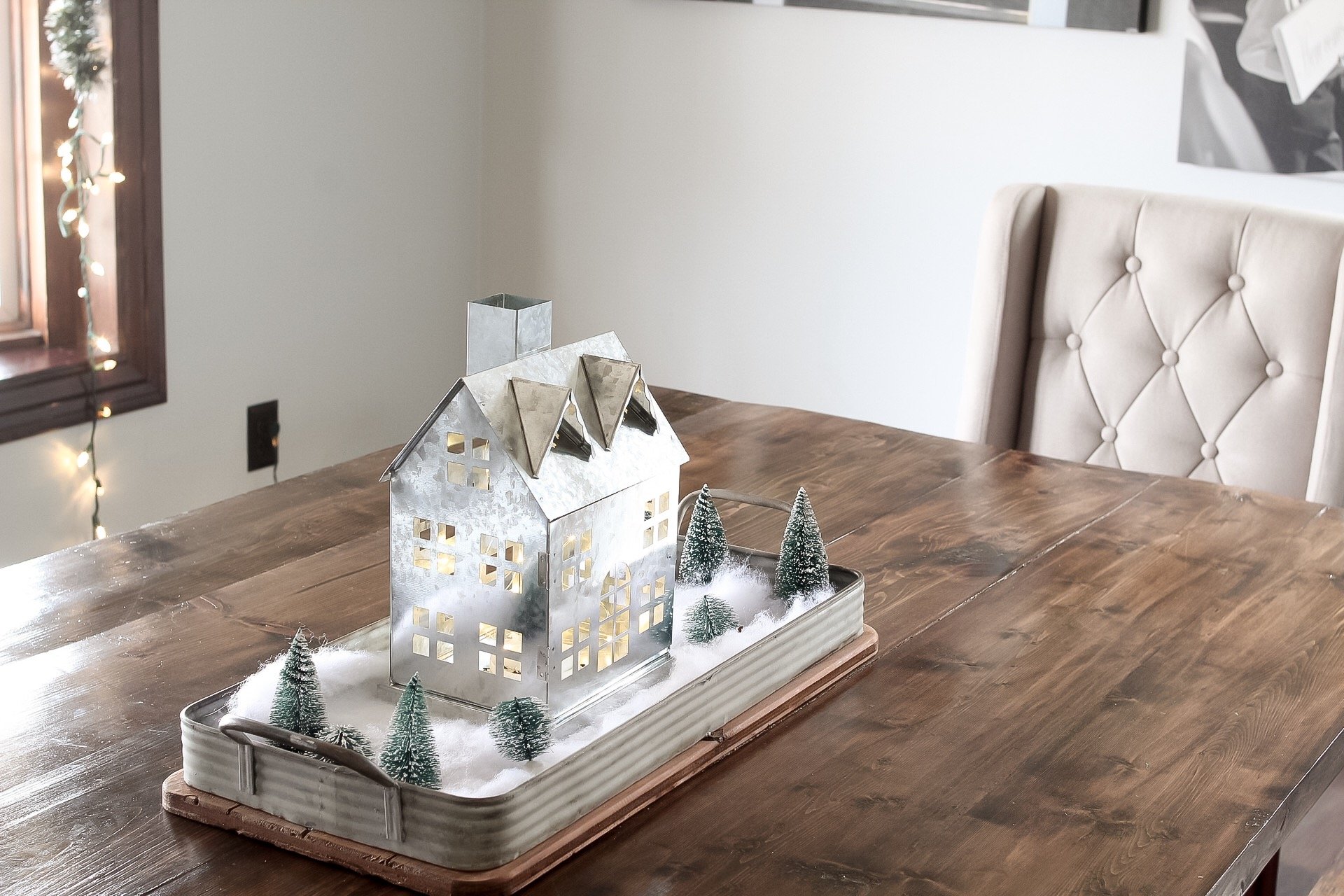 This galvanized metal house wasn't on my shopping list, but I knew as soon as I saw it that I had to have it! It came with LED string lights inside, and screamed 'year-round decor' at me. I happily placed this gem in the cart, and went on my merry way!
I wasn't quite sure where I wanted to put this house though, and then it struck me that the metal would be a great color to pair with our farmhouse table top. I used a old serving tray we had, put some faux now in, and placed our new metal house and some snow tip trees together. I think it makes for a beautiful centerpiece.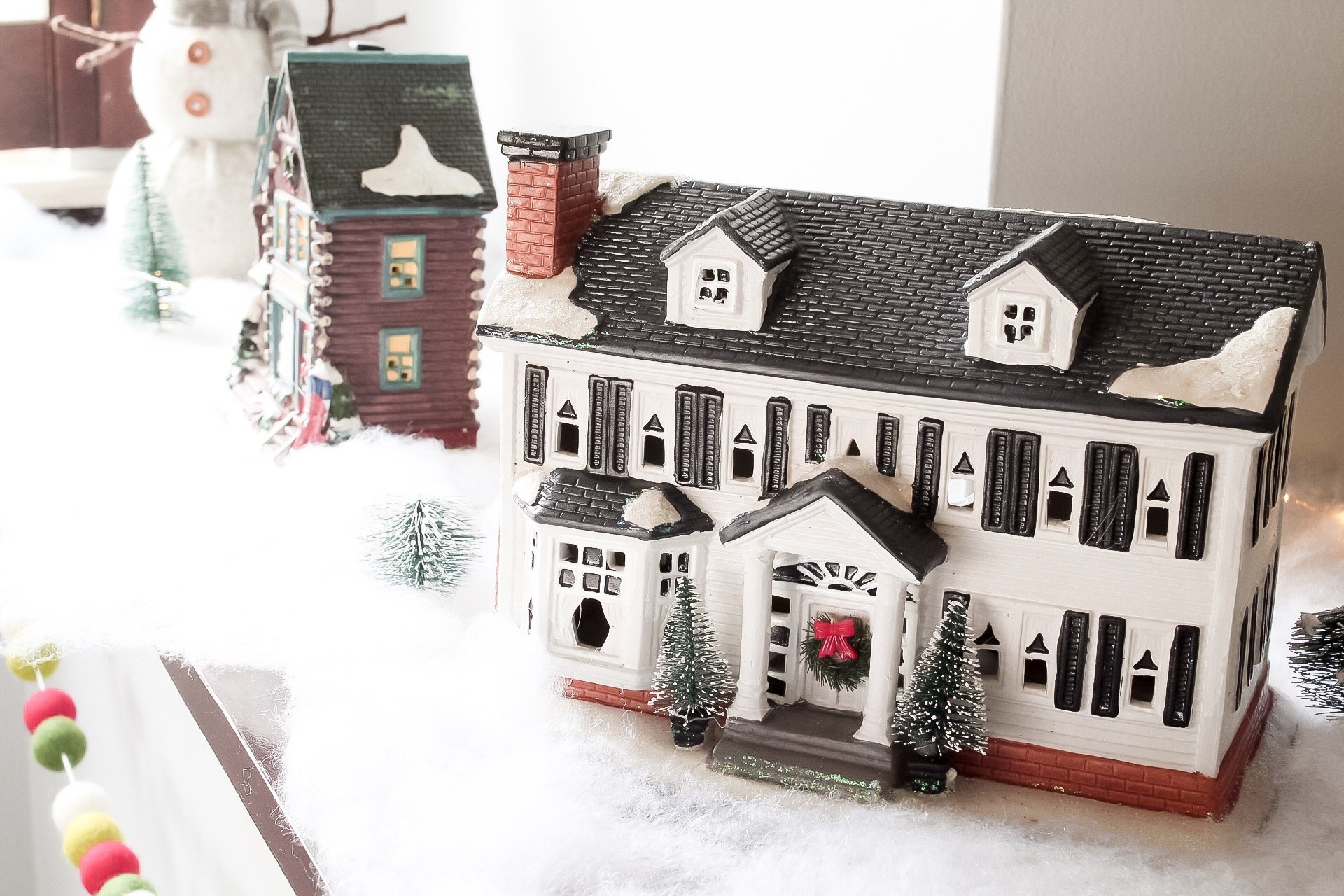 white colonial | train station | school
This year, after having admired many Christmas villages in other people's homes, I wanted to create a miniature village of my own – they're just so cute!
The corner ledge in our dining room was the perfect spot for our village. To create the 'lighted' tree look, I took an LED string light set and laced the string through the village, and wrapped it around a couple of trees.
For our coffee bar, I picked up some new Christmas mugs at Christmas Tree Shops, as well as this cute (and very bright!) snowman light.
________________________________________________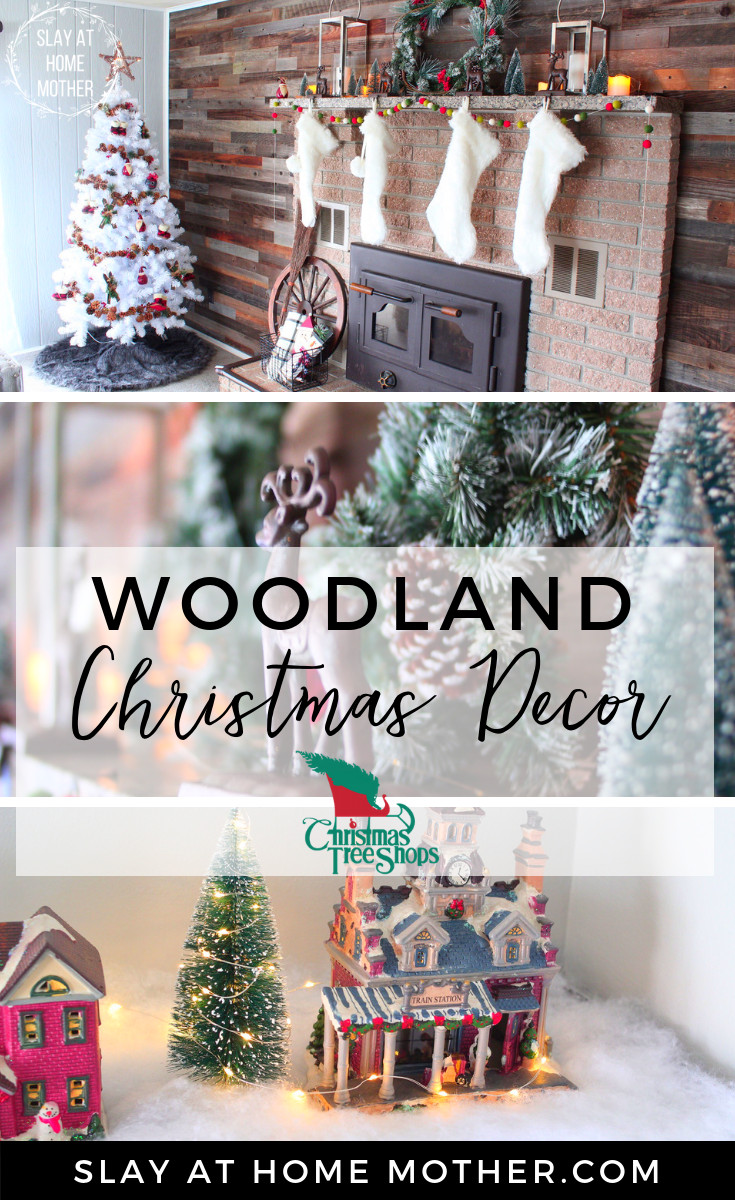 Alright guys, that's our Christmas decor this year – thanks so much for reading! I had so much fun getting our home ready for the holidays with all of this adorable decor, and turning our home into a Winter Woodland Wonderland! 😉
Be sure to check out Christmas Tree Shops for budget-friendly decor year-round!
[do_widget id=enews-ext-5]