We're all ready for the spooky season! See how I scored our Halloween decor on a budget…
---
This post is in partnership with Christmas Tree Shops andThat!, a brand I love. All opinions here are my own.
Hi friends!
It's the first day of FALL! This is my all-time favorite season, and I'm changing things up a bit for 2018…
I'm so excited because this year marks our first time diving into Halloween decor. Usually, I stick to just Fall decor for our home, but the kids have been bugging me to Halloween-ify our house ever since they saw their first glimpse of costumes at the store last week. There's something so magical about getting to dress up for Halloween, and taking our kids trick-or-treating has always been fun. So this year, I thought Why not?, and brought some spooky decor into our home.
This post is in partnership with Christmas Tree Shops andThat!
I went to my favorite home decor store, Christmas Tree Shops andThat!, to get some ideas and score affordable decor ;). Because I'm all about saving money where I can! I got some really good deals for Halloween decor on a budget, and I wanted to share them with my readers!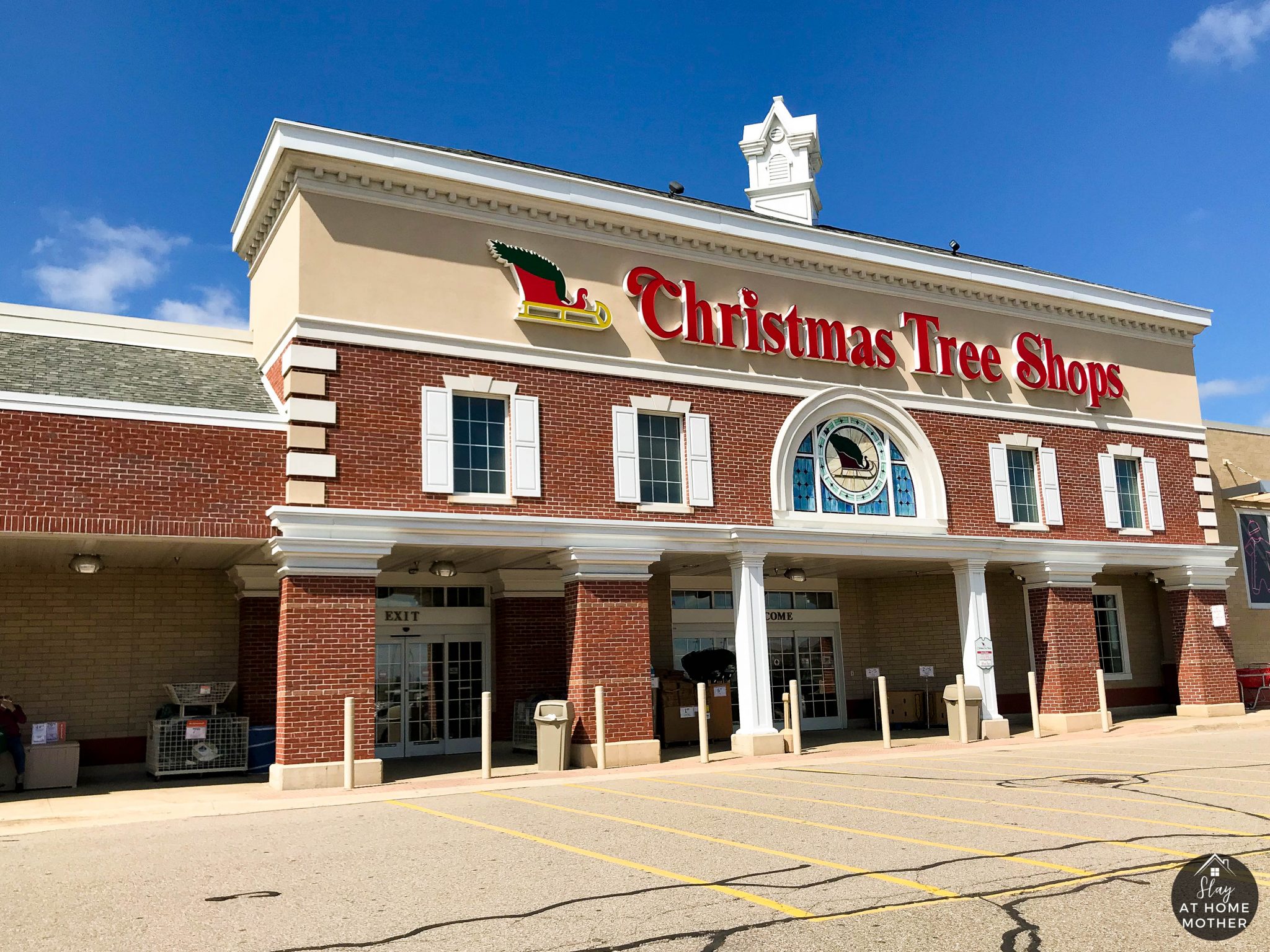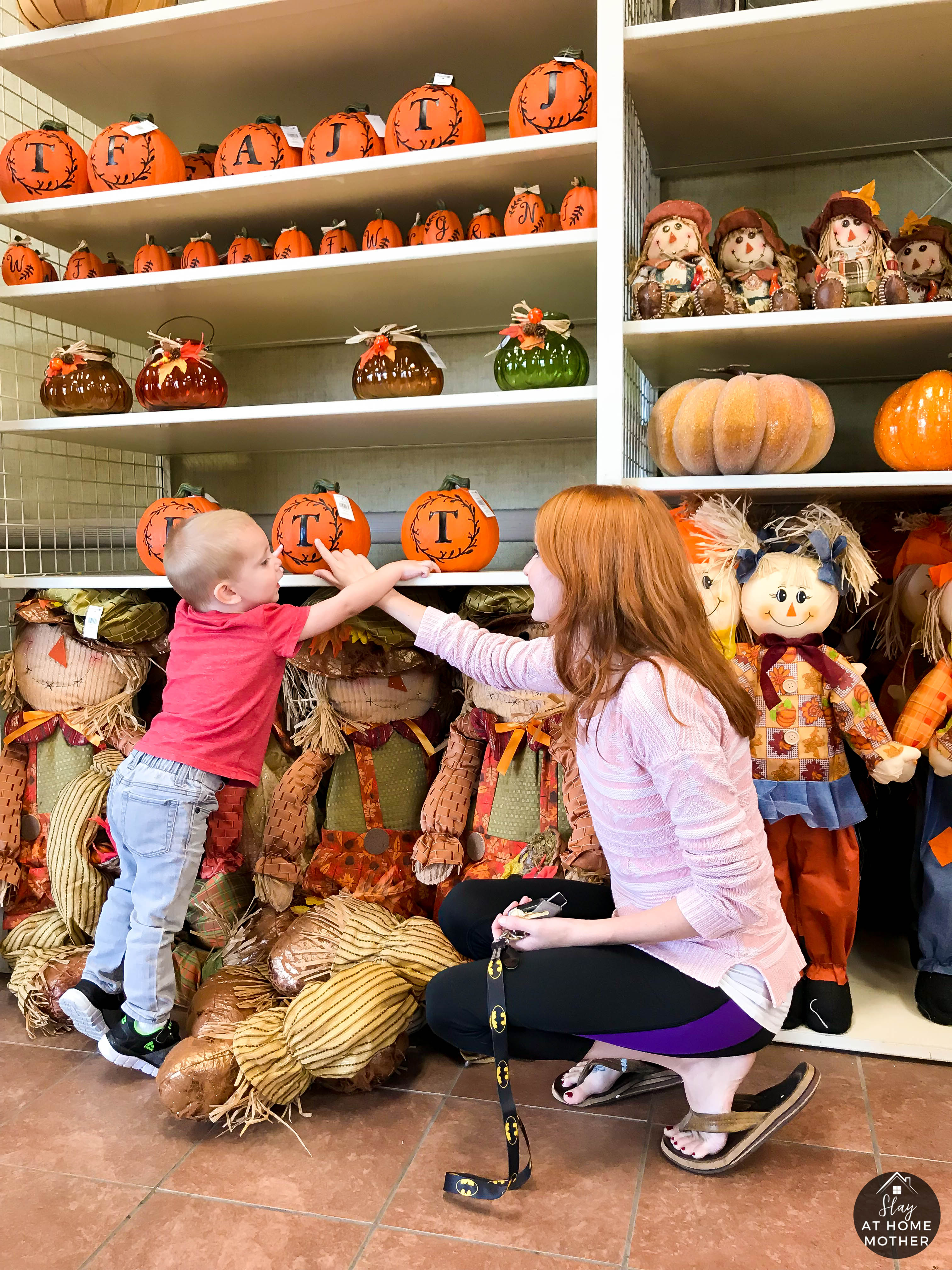 It took everything in me not to grab every scarecrow in the store – I have a thing for scarecrows. Aren't they ADORABLE?!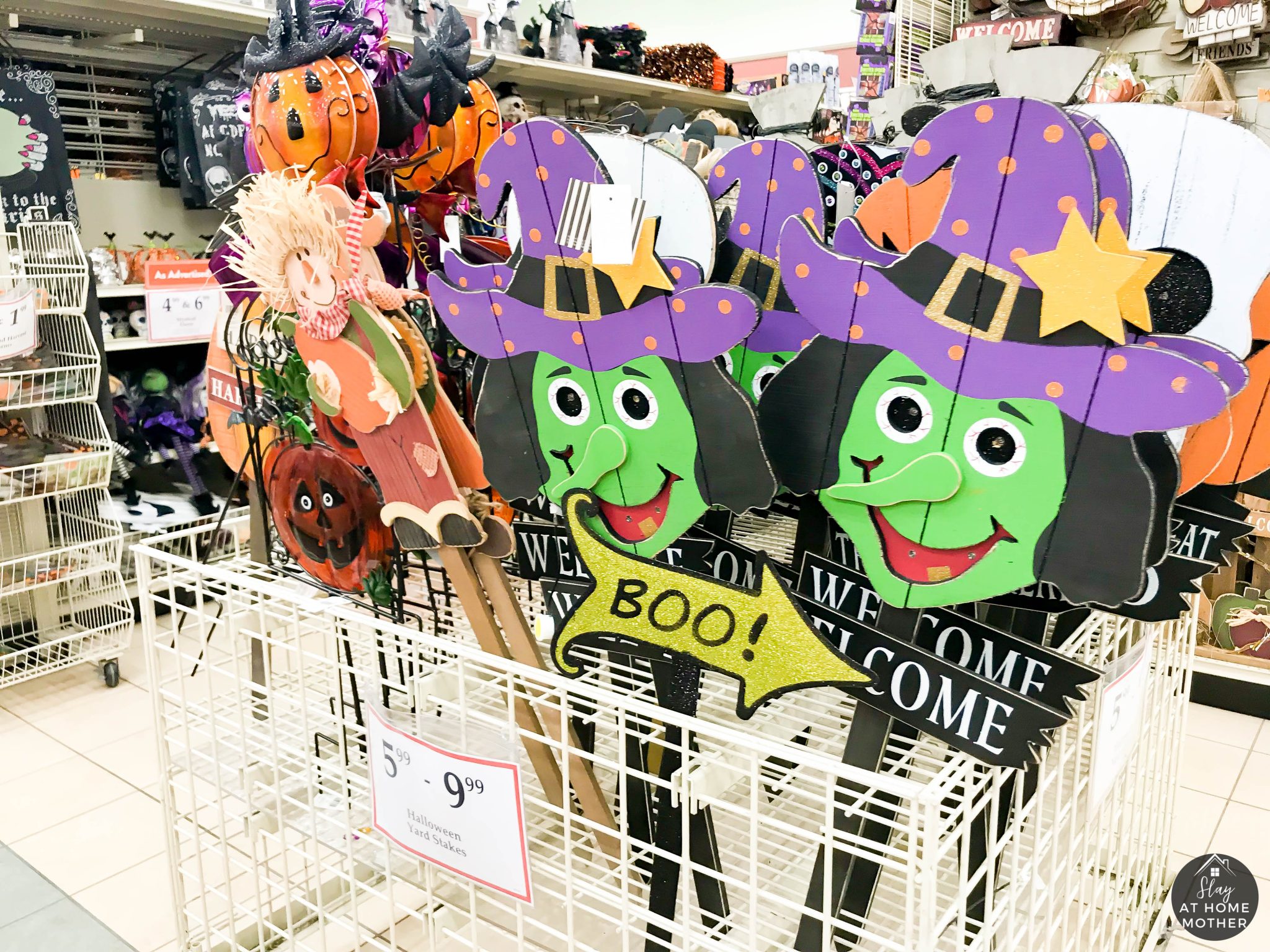 Christmas Tree Shops andThat! has everything I could ever need, seriously guys, it can be a dangerous place for my wallet. Luckily, their prices are incredible, and I always feel like I'm getting a great deal!
P.S. I'm really excited about their Christmas decor this year, which should be rolling out pretty soon!
For our Halloween decor, I decided to go with a mix of Christmas Tree Shops andThat!'s mystical decor and traditional Halloween decor.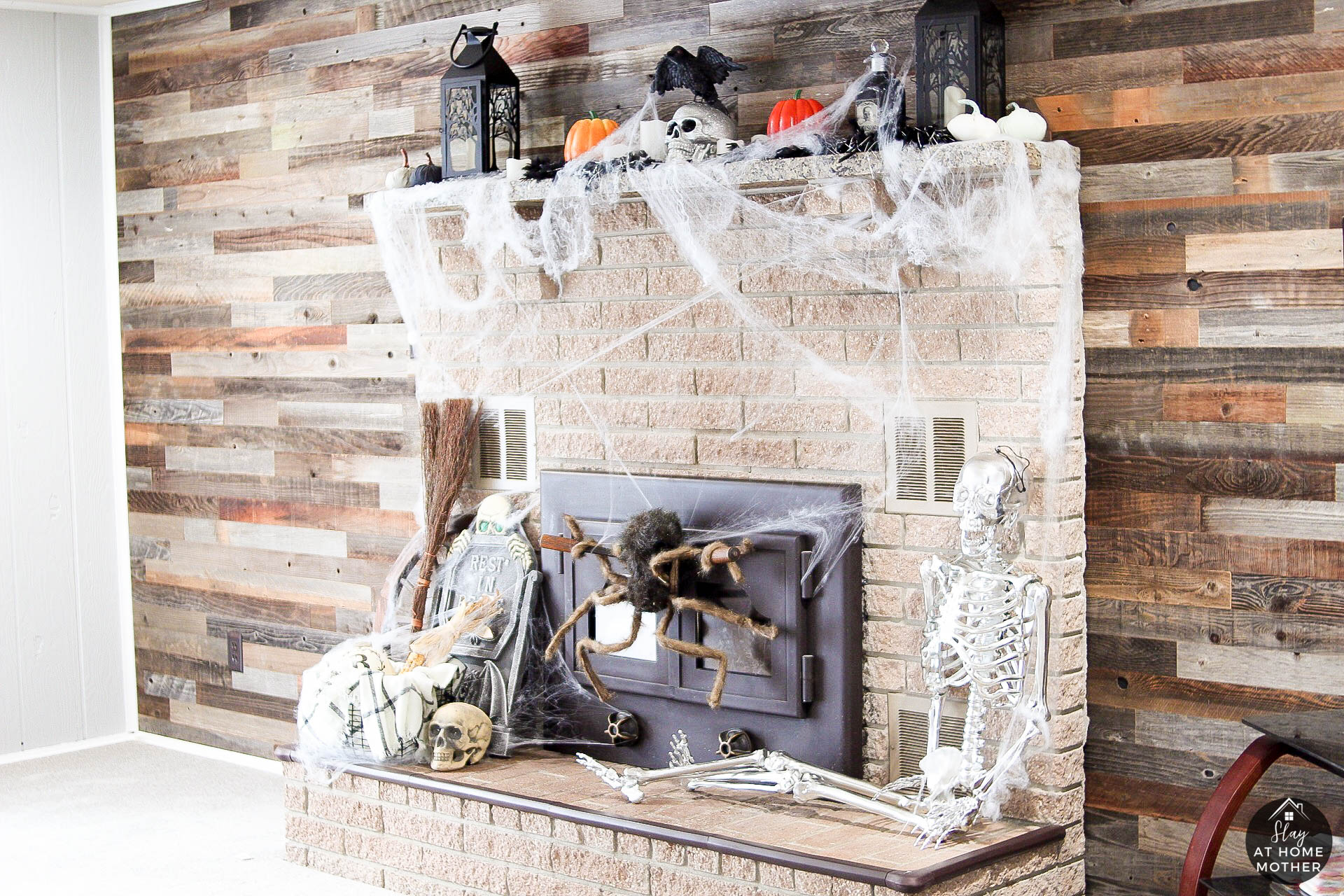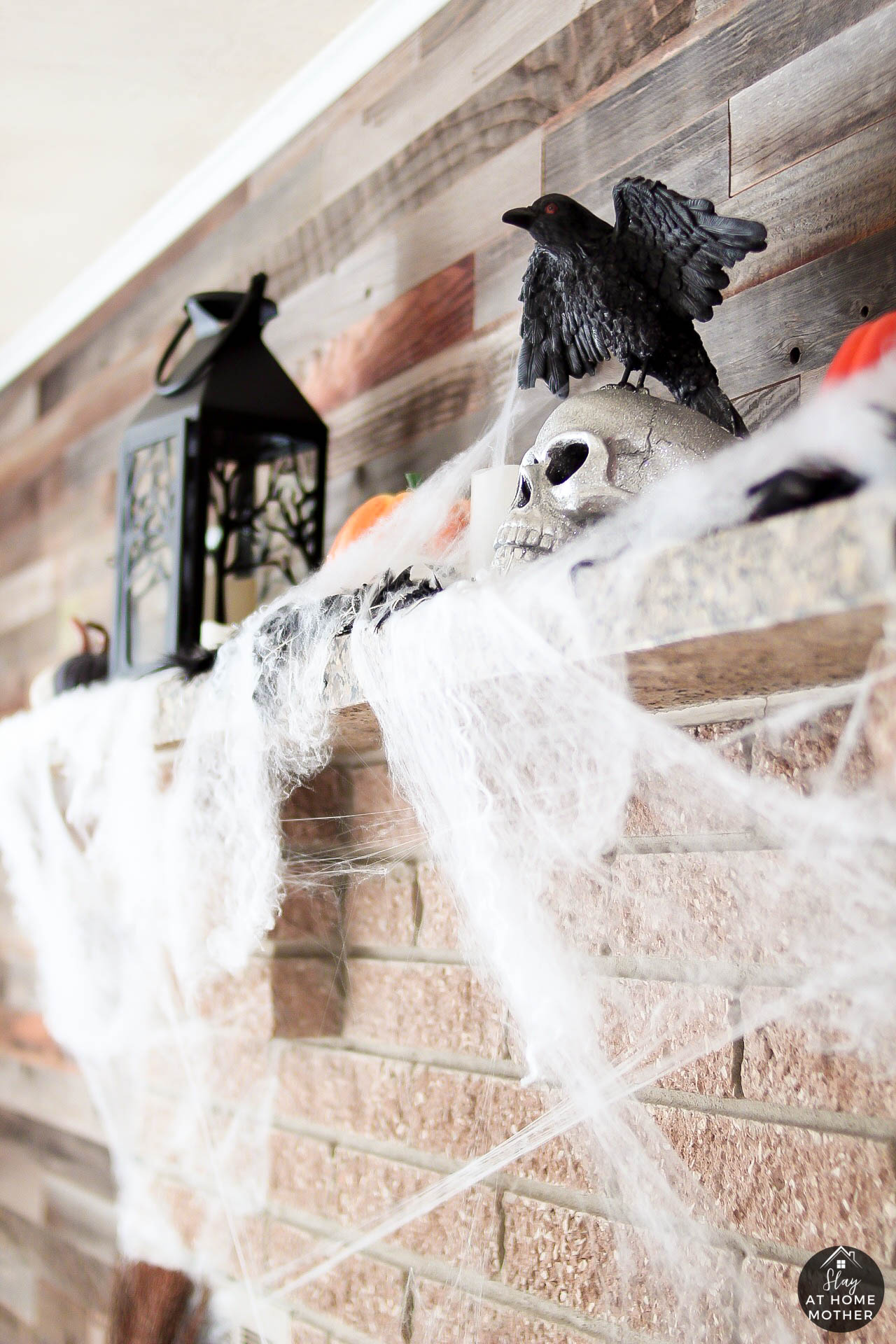 Halloween Fireplace Decor
I saw this glitter silver skull with a crow on top, and thought it was so pretty but also pretty spooky, too! Perfect for our fireplace mantle. I paired it with some faux spider webs (only $1!), candle lanterns (similar), foam painted pumpkins, a feather boa, and white candles.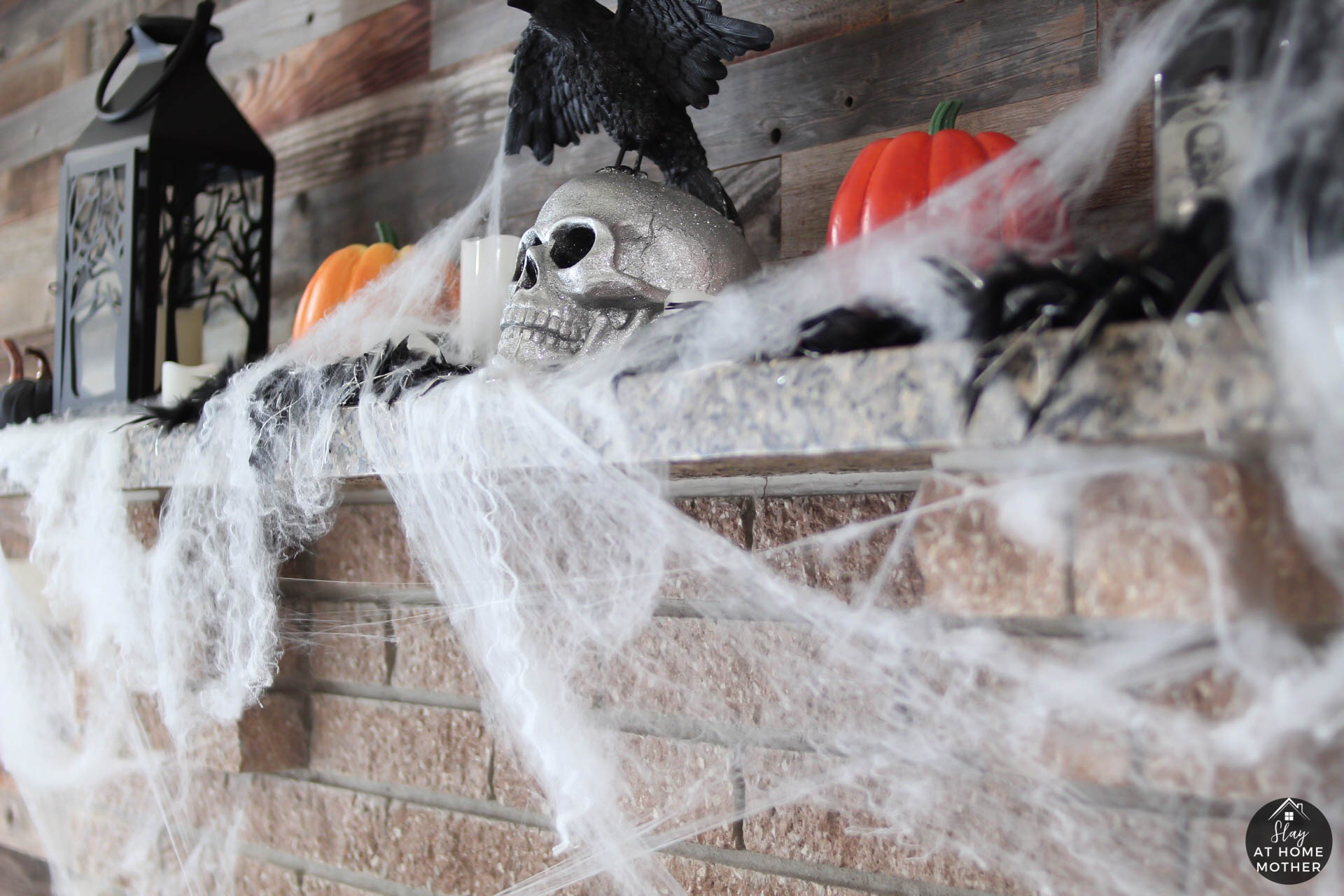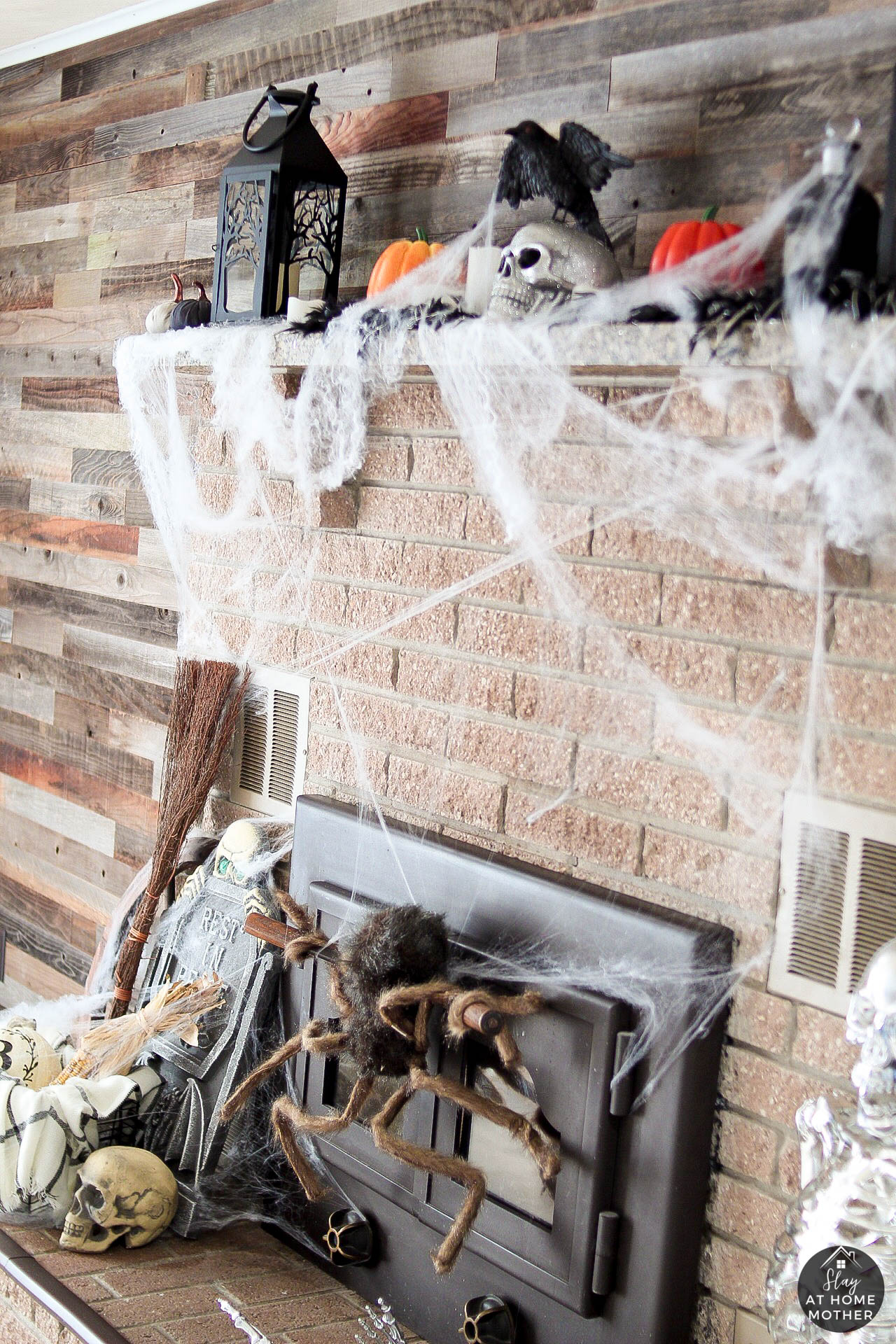 Spider | Foam Skull(similar) | Monogram Pumpkin  | Rest In Peace Tombstone | Cinnamon Broom (in-store item)
For the bottom part of the fireplace, I saw this big furry spider and thought it would be perfect (and creepy) for the heaterator doors. Plus, the web has to come from somewhere, right?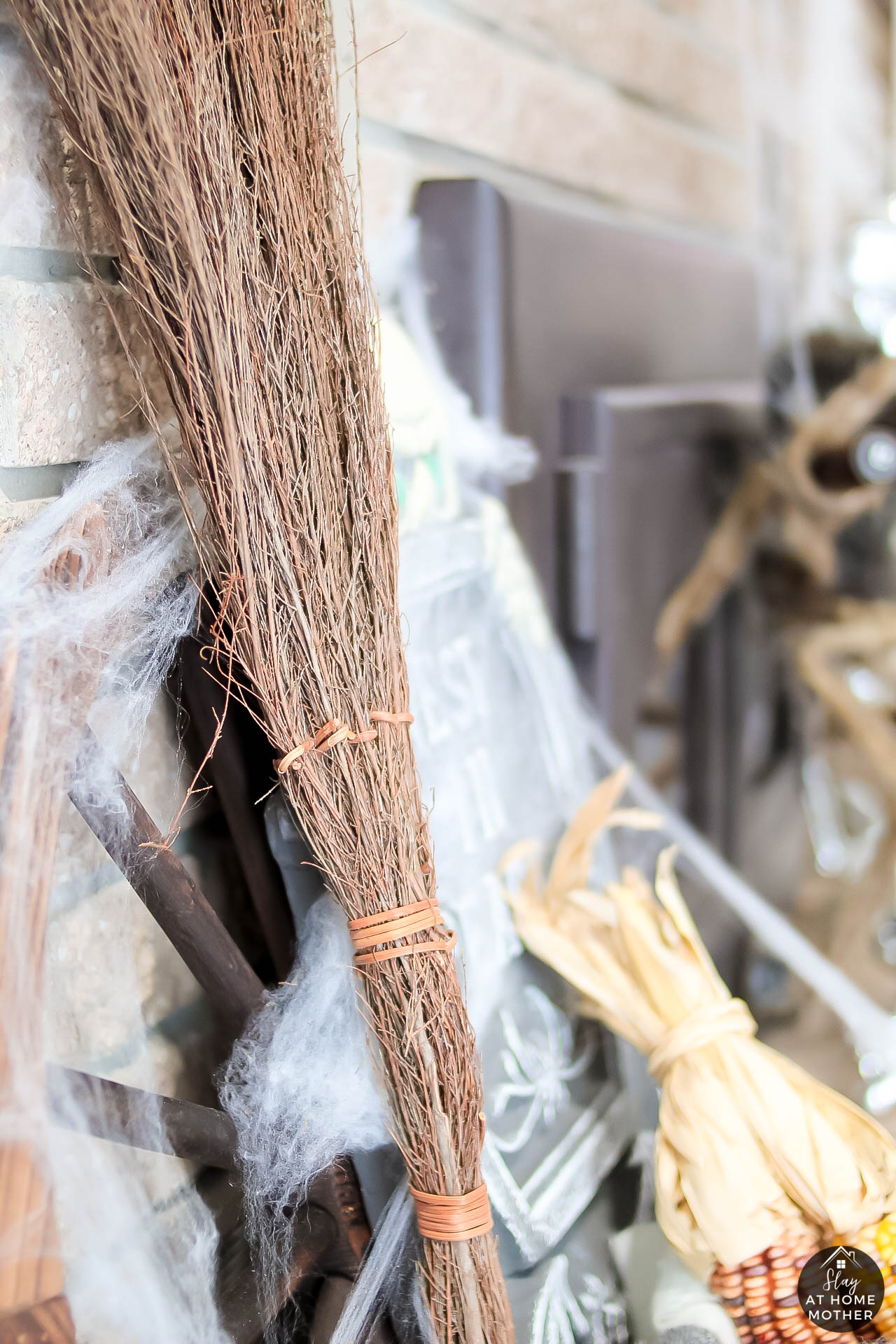 I also scored this Cinnamon broom – it's not only a great addition to my chosen decor, but it also smells the room up with cinnamon! Yum!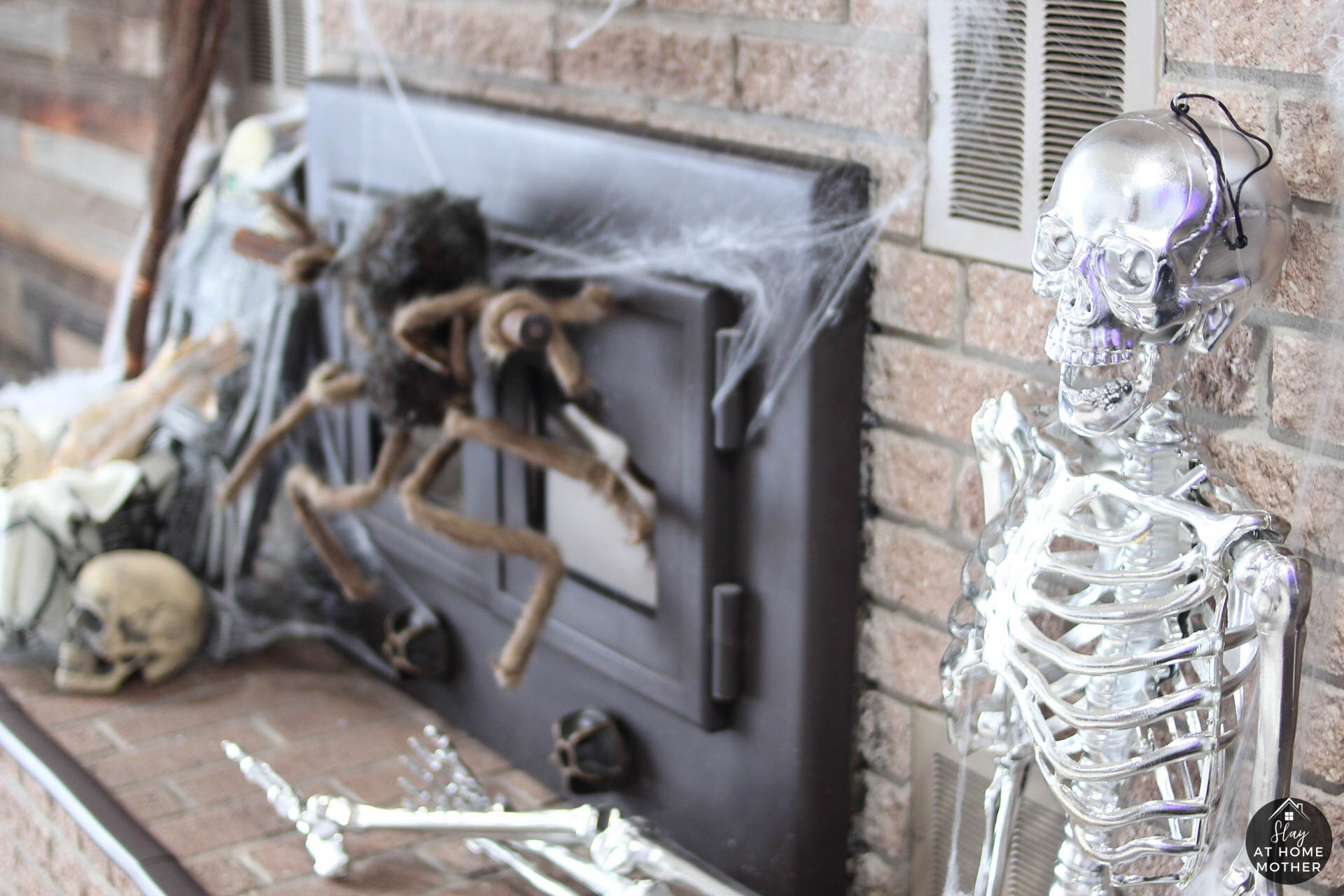 This guy is named Jerry the Skeleton. Max named him, and I don't know his backstory or anything, but he lives on our fireplace now and can be quite the chatterbox when the kids decide to move his jaw 500+ times to make him talk first thing in the morning. I think he is the perfect addition for our Halloween fireplace!
My favorite piece from Christmas Tree Shops andThat! is a basket. I know, of all the things I could love – I love a basket (similar). But they recently released a new line of exclusive farmhouse-inspired fall home decor items called The Grainhouse, which this basket is a part of. I added one of our seasoned fall scarecrows (I want to say my mother-in-law gifted him to us because she knows I have this weird thing for them), some gorgeous sparkle pumpkins, and a bow – and it makes the perfect fall coffee table centerpiece!
Halloween Coffee Bar Decor
I recently redid our coffee bar and thought it would be another great place to add some seasonal Halloween decor in our home.
Pumpkin lights | Evil Spirits Sign (in-store) | Let's Get Wicked Sign | Halloween/Bat Wall Decals (in-store) | Spider Runner (similar)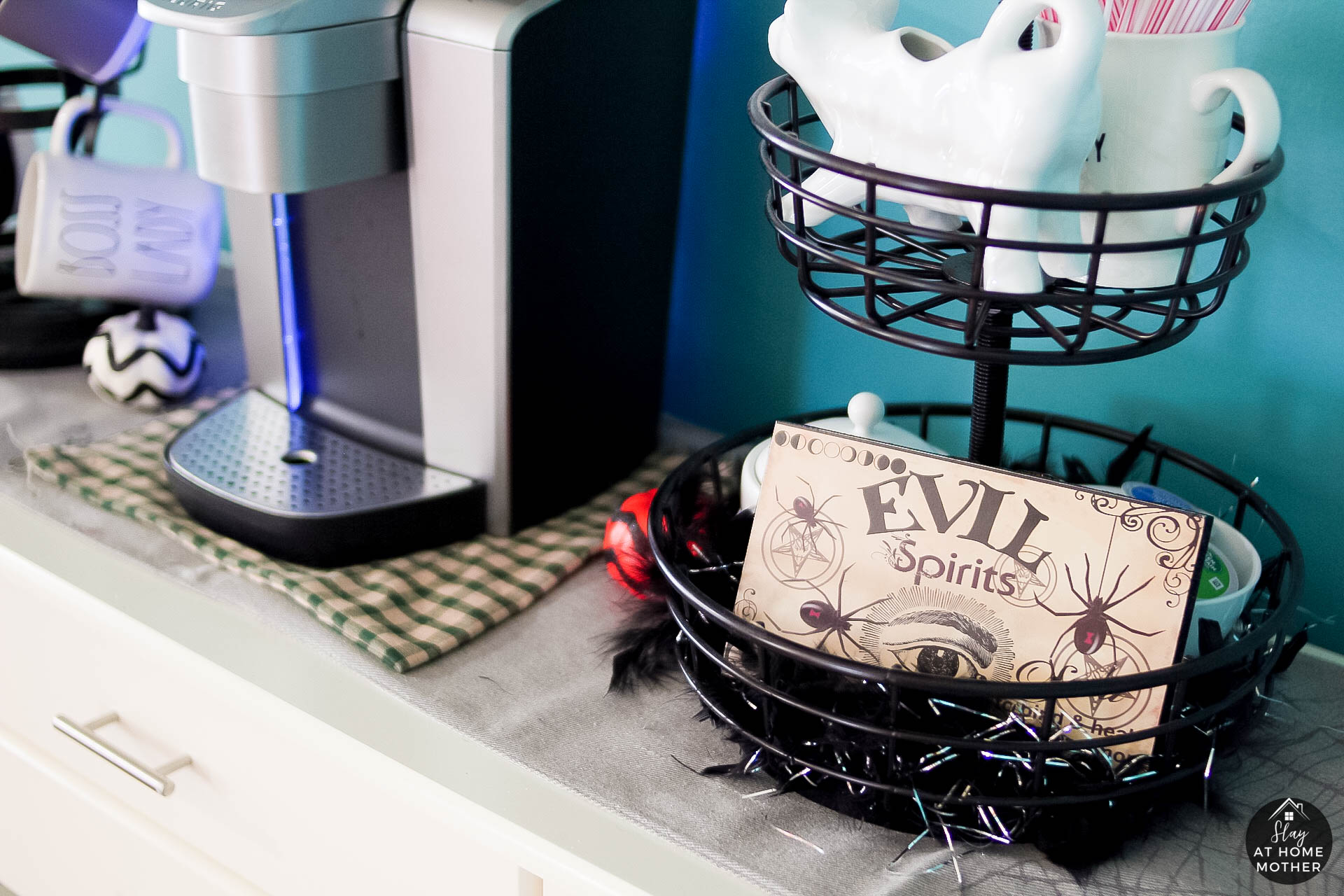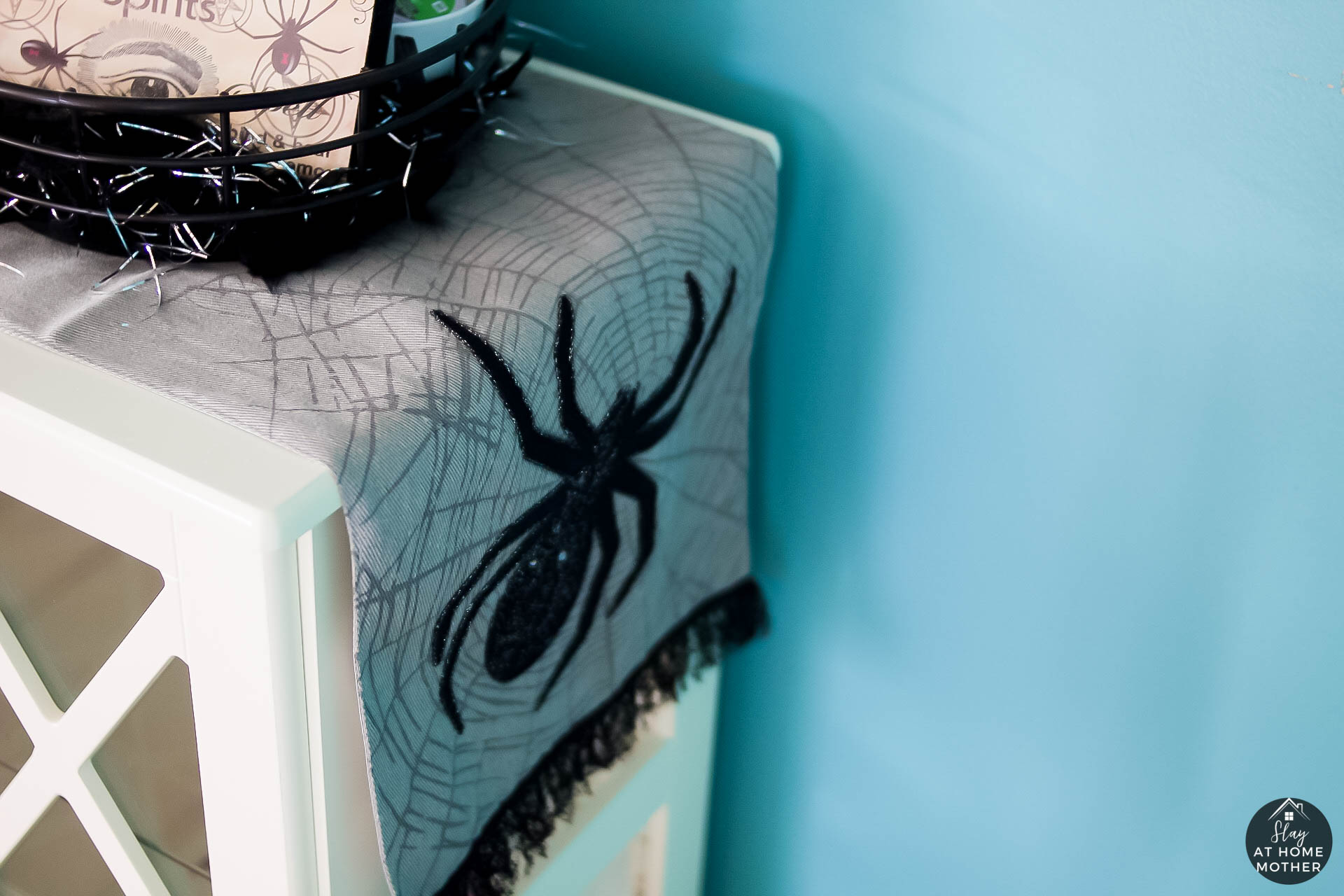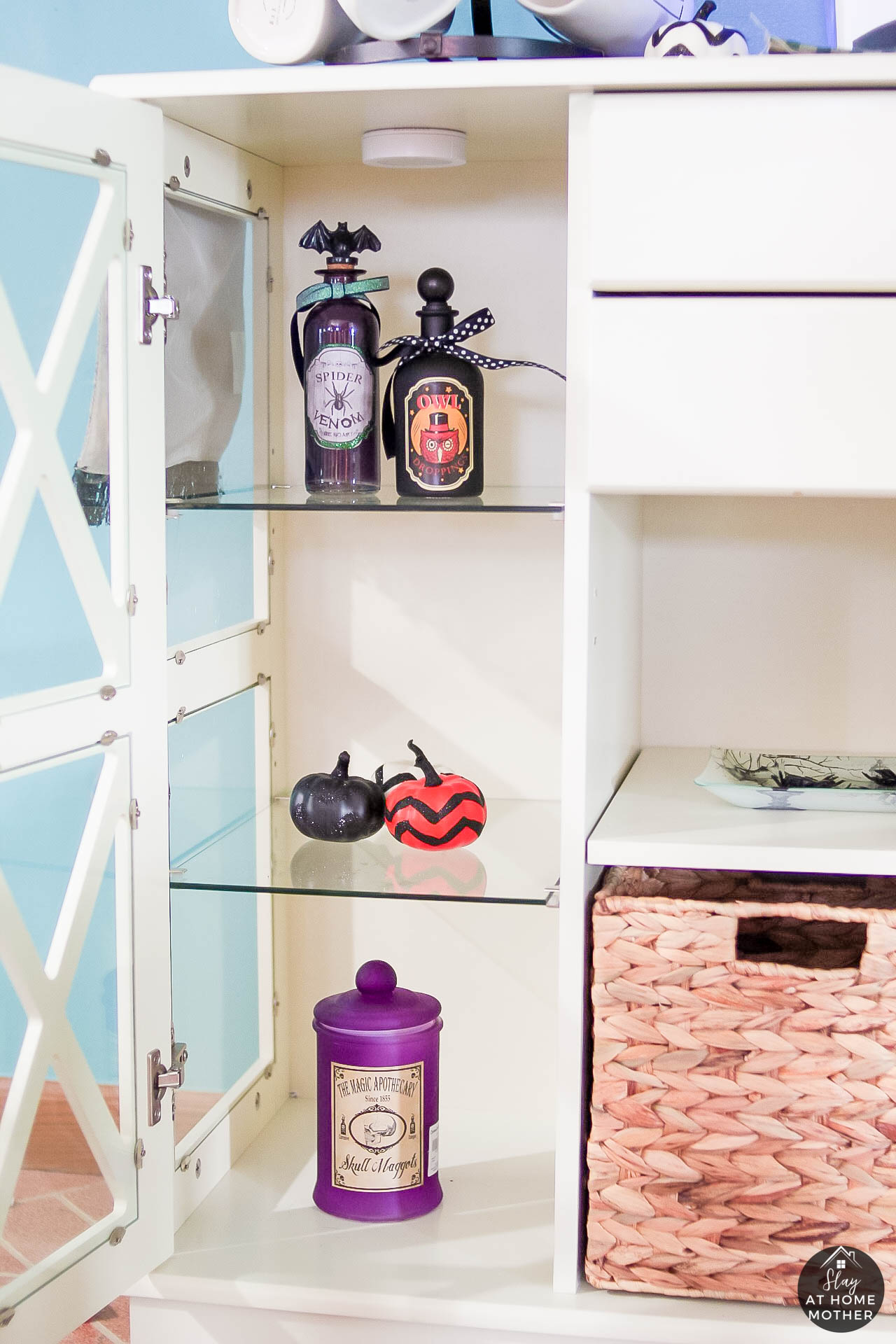 ---
PIN THIS FOR LATER!

Well, that's it for my Halloween decor! I'm excited to have family over so we can all celebrate n style with our costumes! Have you decorated for the spookiest of holidays yet? Share with me in the comments below!