Looking for a natural way to get yourself ready to conceive? This smoothie is packed with all the right ingredients you need while trying to conceive, and it's super easy to make…
---
*This post is in partnership with New Chapter, a brand that I love, and includes affiliate links. All opinions are my own, as always. 
Hello to my lovely TTC ladies!
I'm so excited to share my TTC Green Smoothie, made with Fermented Maca! This is something I've developed to help with the TTC process with eating better and helping with healthy ovulation.
So many of you have been following on Chris and I's journey as we TTC for baby #3! If you're new – we've been trying since early Spring 2017. And by trying, I meant we've been charting, eating right, taking the right supplements, and trying not to stress each other out about not being pregnant already ;).
It's easy to feel like it's your fault, after all. I have to say that the biggest thing TTC has taught me is being patient. Not just with yourself and your body (because as much as I tell my brain to relax, or ovulate, or do something – things just don't happen on my time), but to be patient with my partner/spouse/etc.
It can get especially difficult seeing all of those sweet, darling pregnancy announcements on Facebook around the holidays. I recently had two of my dearest blogging friends get pregnant – one with twins! I'm so incredibly excited for them, but there's that brief twinge of jealousy ;).
Chris does a great job holding my hand through the process, and reassuring me that while we might feel like this time of trying feels like failing – we certainly aren't! We have been taking better care of our bodies through yoga, exercise, and eating healthy.
Seriously, I have almost completely given up sugar. I don't drink soda (aka POP for your northerners ;)), and hardly snack on chips and candies like I used to. And BOY, did I love me some sugar!
This TTC journey has opened my eyes to what foods I'm putting in my body, and forced me to get creative! Because as much as I have turned my tongue off to sweet, sugary foods – I haven't quite turned it on to those good-for-you healthy greens that are TERRIFIC for TTC.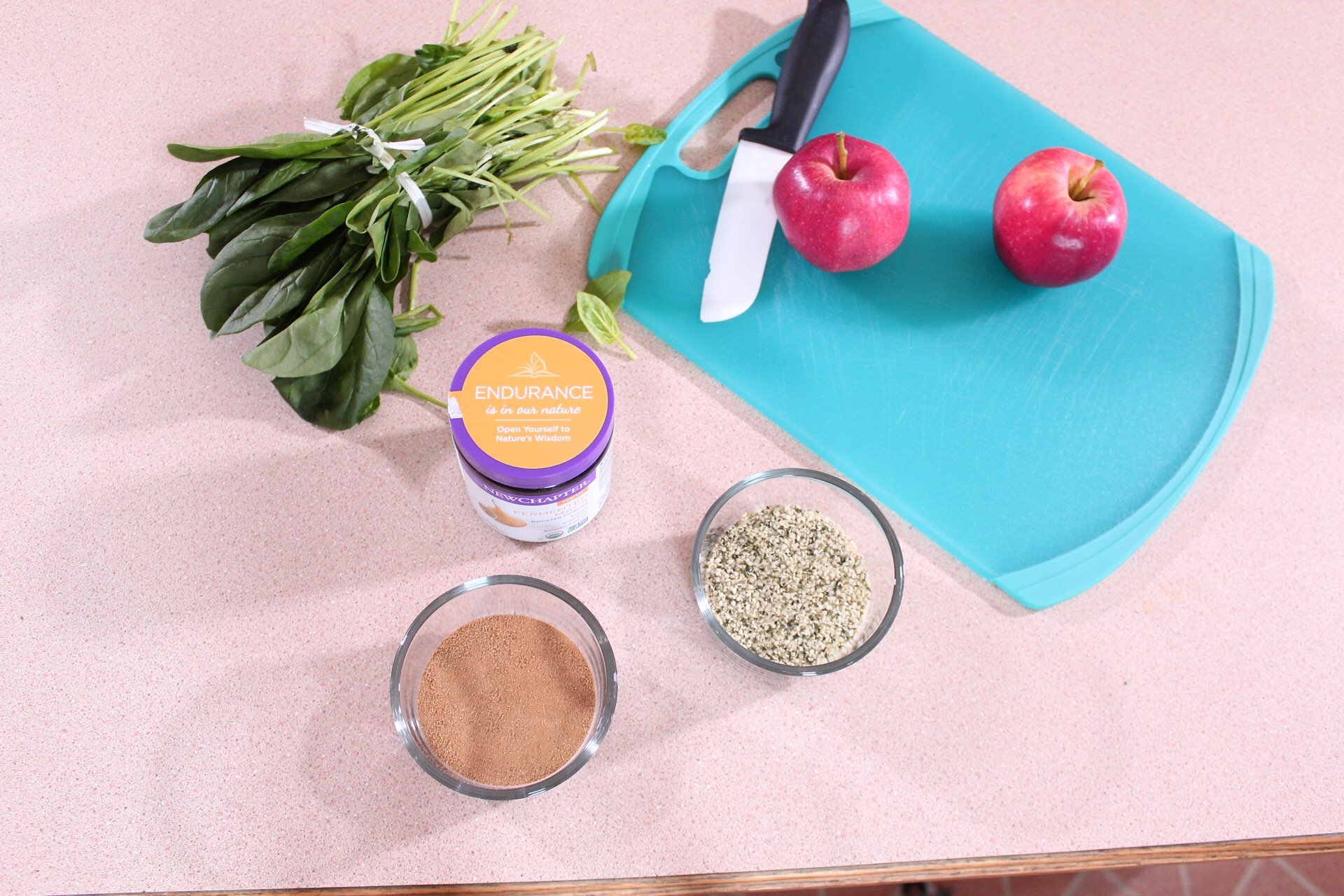 To help get my body ready for conception, I've come up with a green smoothie recipe that uses Maca root, as studies show it helps support healthy ovulation. I use the organic Fermented Maca Booster Powder from New Chapter. It's fermented which unlocks each nutrient, making it easier for your body to digest and absorb the benefits of this superfood adaptogen. It also gives me that boost of energy I need to start the day in lieu of coffee (because some people believe coffee affects fertility) and delivers added support for endurance and recovery.* This green smoothie can also be served up to your hubby since it's great for his health as well!
This smoothie recipe also contains hemp hearts – which are great for trying to conceive because they contain omega-3 fatty acids and are high in protein. It's truly a superfood that gives you great energy while keeping you full.
Aaaaaaaand I added spinach! Before you roll your eyes, please know that spinach is a powerhouse food for folate – which is something your body needs when TTC. Packed with folate, iron, magnesium, and calcium – this is one leafy green that makes total sense in a smoothie built for prepping your empty womb for a sweet pea ;).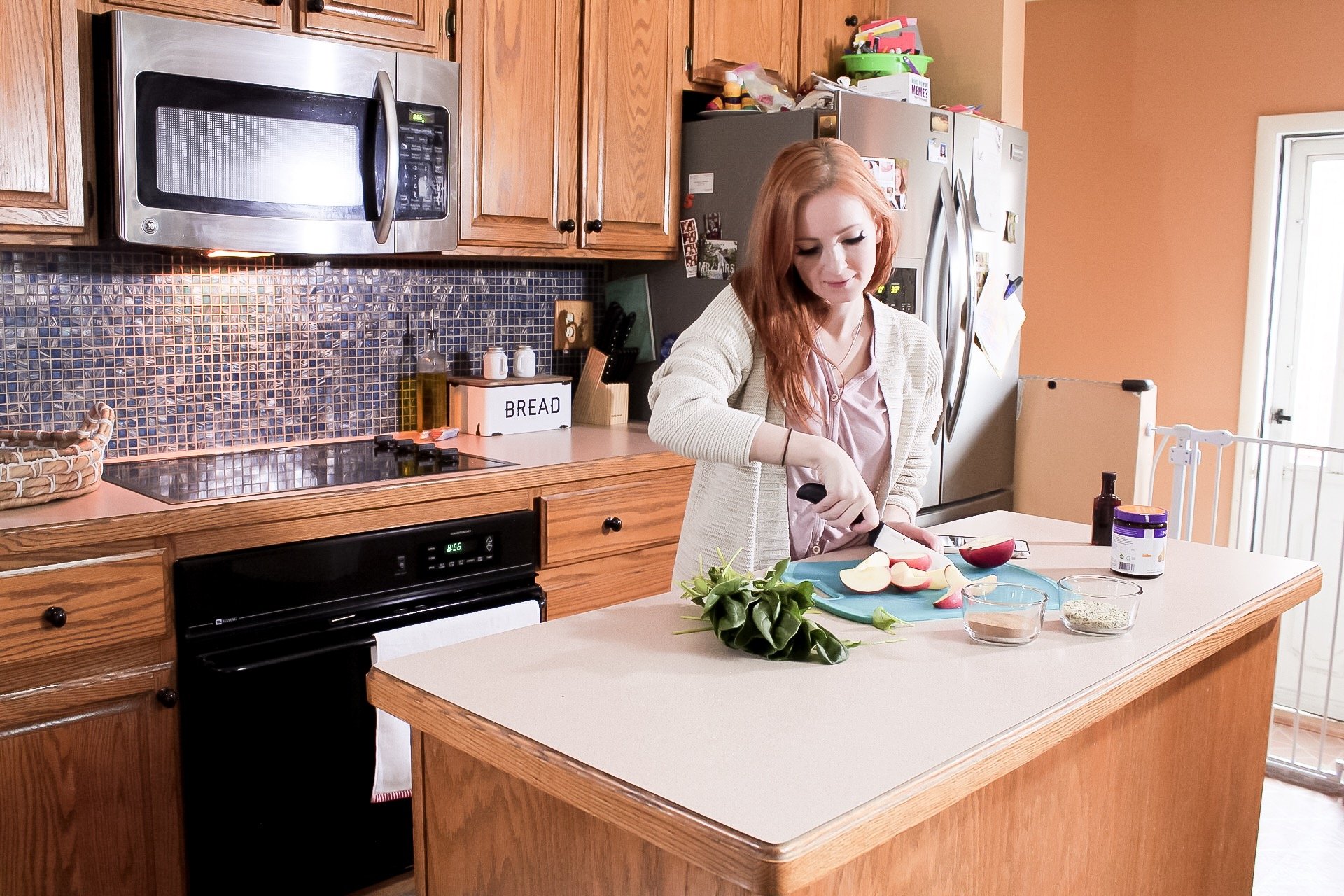 Okay, let's get down to brass tax ladies (and gents)!
For this lean, green, TTC-machine smoothie – I used a couple of staples in my kitchen (because convenience is key):
2 apples
1 bunch of raw green spinach (non-frozen)
2 tbsp hemp hearts
2 tsp organic vanilla extract (or 2 tsp agave)*
*If you're thinking about skipping the vanilla extract, think about using agave to naturally sweeten your smoothie. Trust me, you'll want a liiiiittle bit of sweetener. 
Directions:
Start by cutting the apples into slices, like you would for your 8-year-old's lunch box in the morning.
Add some raw spinach leaves and 1 apple's worth of slices into a blender. Blend.
Add in the rest of the apples slices from the 2nd apple – blend.
Next, pour in the hemp hearts, Maca Booster Powder, and you choice of natural sweetener. Blend.
Serve immediately and enjoy!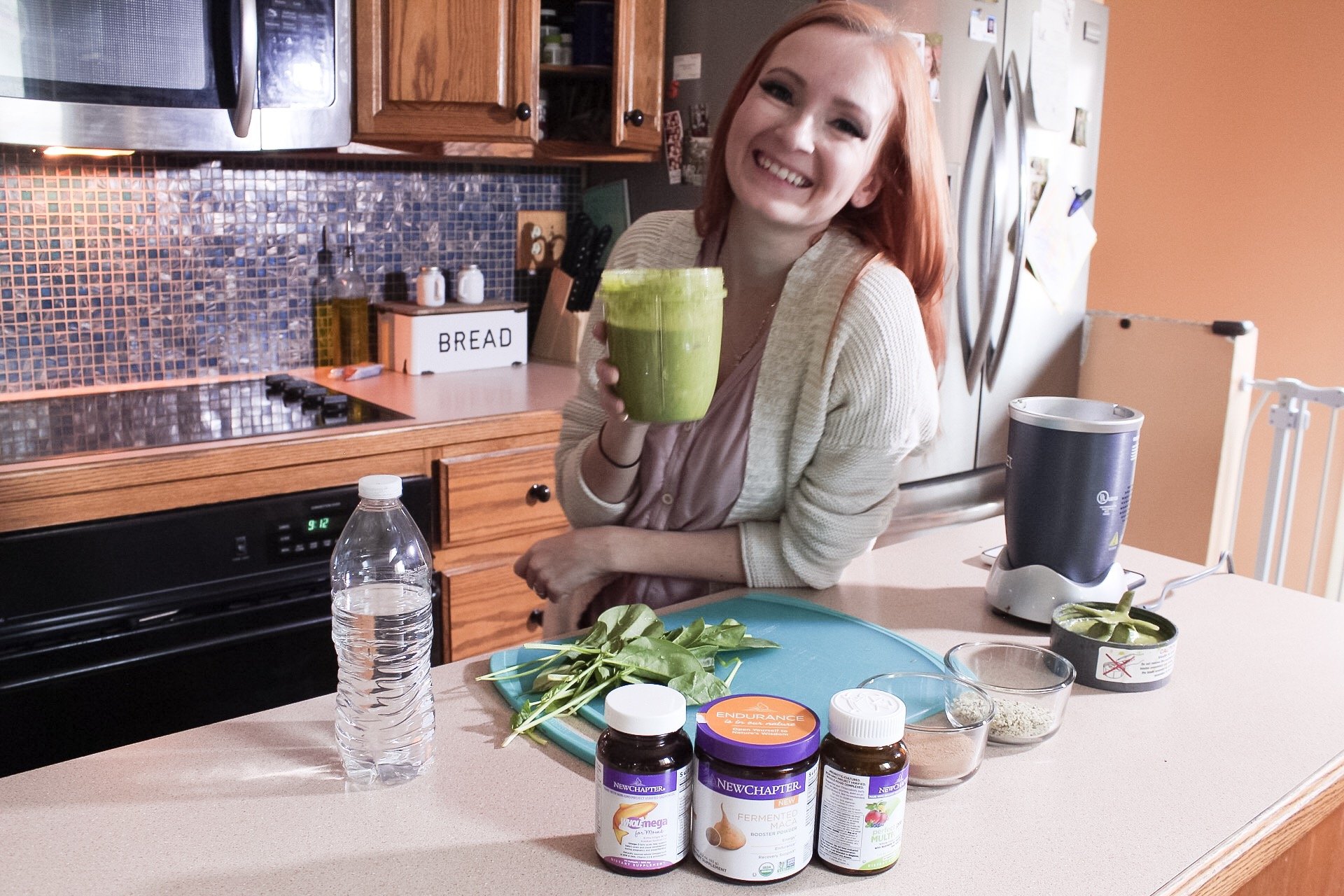 WholeMega For Moms | Maca Booster Powder | Perfect Prenatal MultiVitamin
To be honest – I leave the skins on my apples when I blend them into smoothies. You can feel free to peel your apples if you like – I won't judge! But I choose to keep them on – and not because they look better in photos, but because…
1) I am lazy like that 😉
2) It makes no sense to spend time peeling the skin from the apples when they contain a good amount of nutrients for my smoothie (and will be blended into a pulp anyhow).
I try to make this smoothie no less than 3 times a week (because some mornings I'm busy filling out school paperwork, rushing to speech class for Jax, or helping prep Max's 3rd-grade science fair project – and smoothies are a no-go next to a baking soda/vinegar volcano).
It's packed with the vitamins and nutrients that are helpful in getting your body ready to conceive and can help boost your chances of conceiving naturally – and it tastes phenomenal for a green smoothie!
---
PIN THIS FOR LATER!

Thank you so much for reading – be sure to share some of your TTC journeys with me in the comments below, and share this recipe with a friend who is TTC!