We love baby food pouches! I love them because they are dishwasher safe, eco-friendly, and there's no mystery to exactly what's in my toddler's food. This week, I got the opportunity to try Squooshi Reusable Food Pouches. Here is my first impression, thoughts, and a great homemade recipe to try out for yourself!
wi
---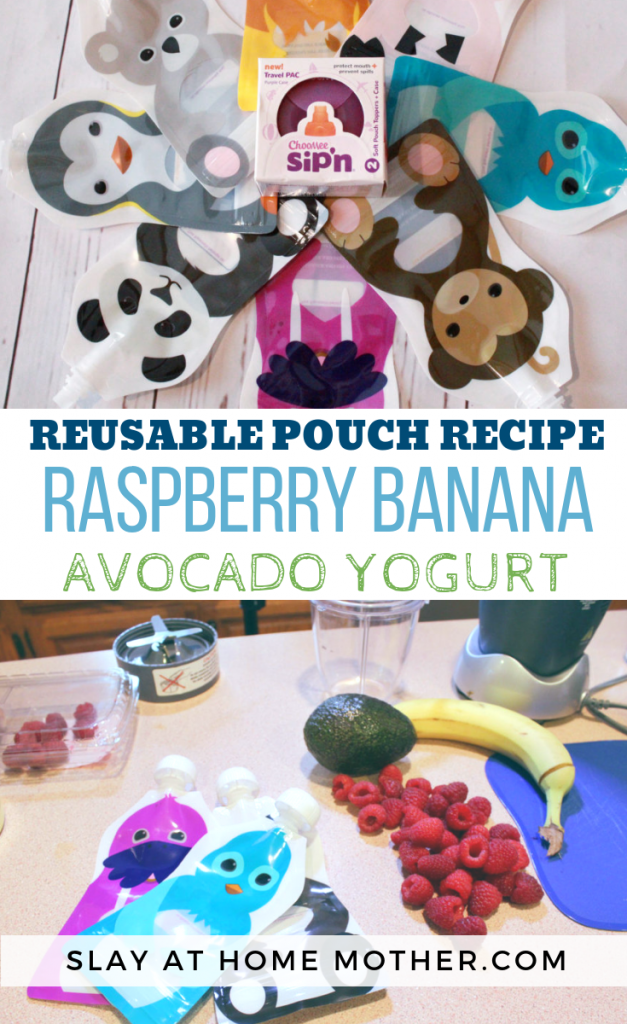 *This post is sponsored by Squooshi, and contains affiliate links. All opinions are my own – no positive reviews or remarks are guaranteed.
My First Impression
To test out their line of pouches, Squooshi sent me their Family Starter Pack and their Large G.O. 8 Pack. Opening box and pulling out the two packages, everything you need to know is right on the side of the package! I also loved how adorable the characters on the pouches were – and knew my children would love them! I could even picture them fighting over which one got which animal.f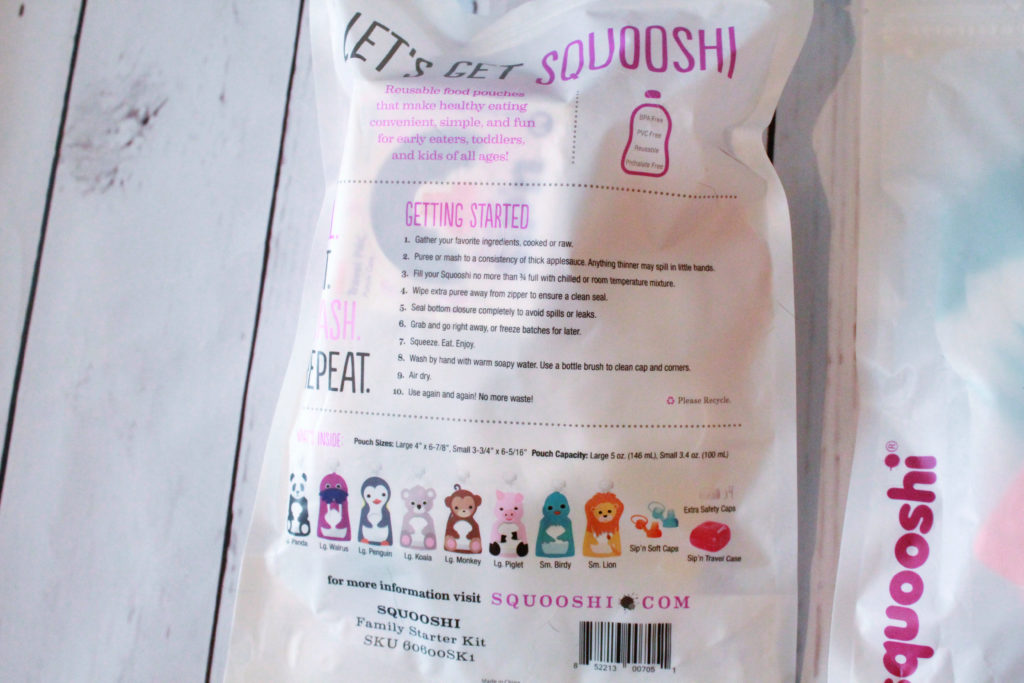 Family Starter Kit
What's Included:
8 Reusable Animal-themed Food Pouches (Walrus, Panda, Penguin, Koala, Lion, Pig, Bird, Monkey)
12 Total Caps (4 of those being replacement caps)
2 ChooMee Sip'n soft tops (blue and orange)
From what I could tell, the Lion and Birdy pouches in my Family Starter Kit were the small size (3.4 fl oz), and the rest of the pouches were the large size (5 fl oz). The ChooMee Sip'n soft tops come in a handy carrying case that would fit into my diaper bag for an easy travel option. Which is great, because I usually have some cracker crumbs in the very bottom of my bag, even when I don't put crackers anywhere near my bag, so I can appreciate the carrying case for keeping the Sip'n Soft Tops clean and ready-to-use. I really appreciated the thought Squooshi put into including the extra replacement caps. We recently taught my son how to throw trash away in the trash can, and now he thinks everything goes in. Including my car keys. #ToddlerMommy 😉 So I'm almost positive one or two of the cute white tops will somehow end up in the trash can when this mama turns her back.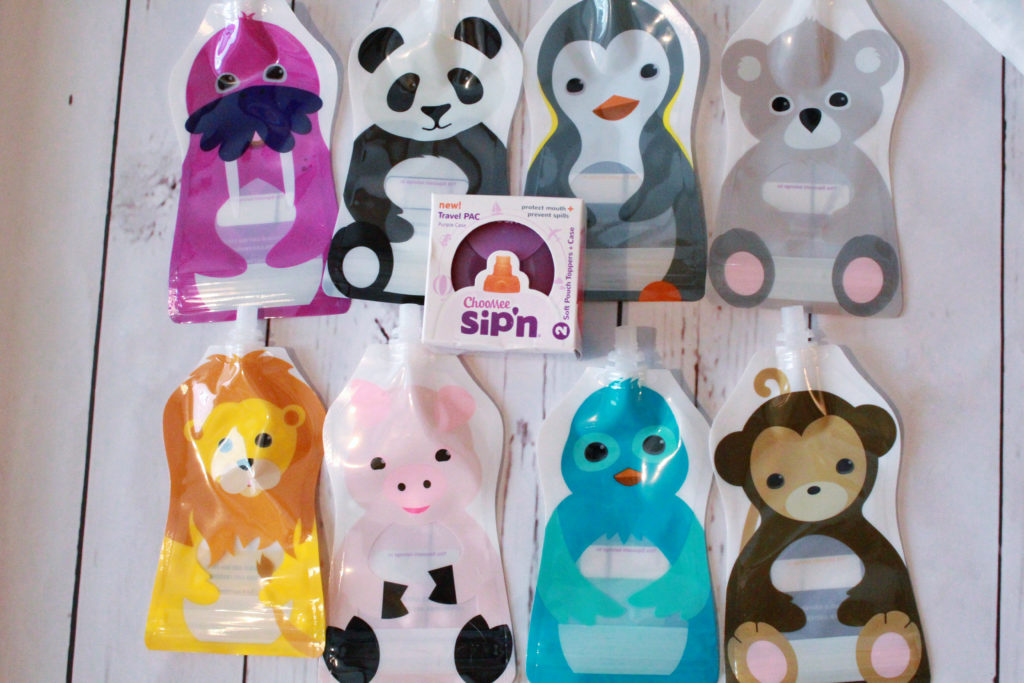 Large G.O. 8 Pack
The second package of pouches I received contained the Large G.O. 8 Pack.
What's Included:
8 Large Reusable Food Pouches (4 orange and 4 blue)
8 Pouch Caps
The blue and orange are such fun colors, and pretty gender neutral for moms of boys or girls. These just so happen to be Max's favorite colors (my soon to be eight-year-old!), so he's really excited about them! Their seal, much like the Family Starter Pack animal pouches, feels snug and secure – I'm very interested to see how they hold up to my unruly toddler.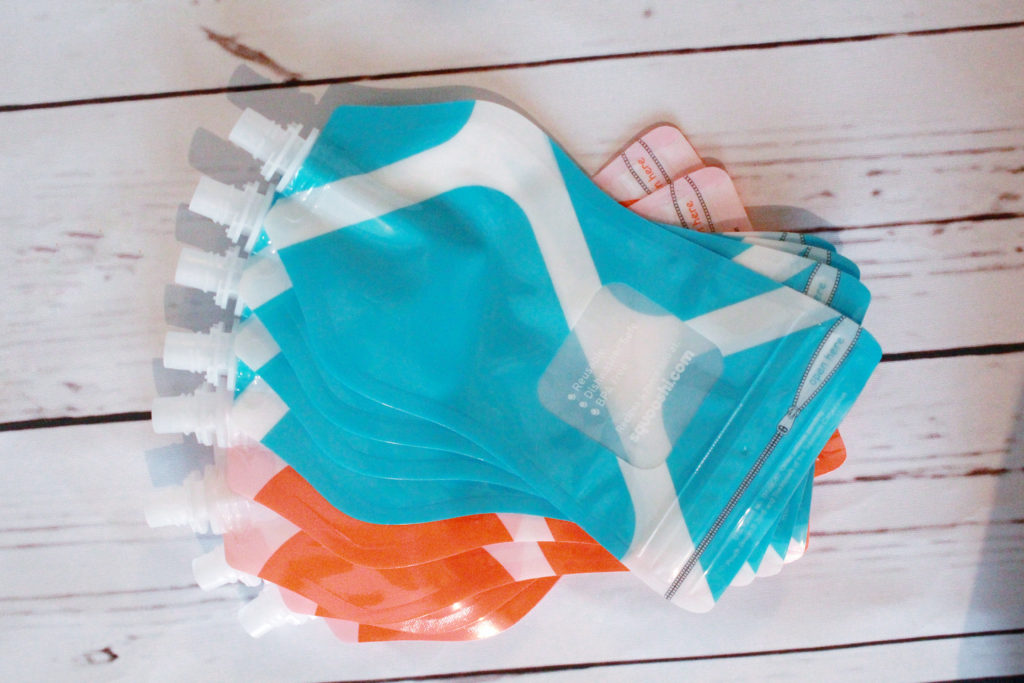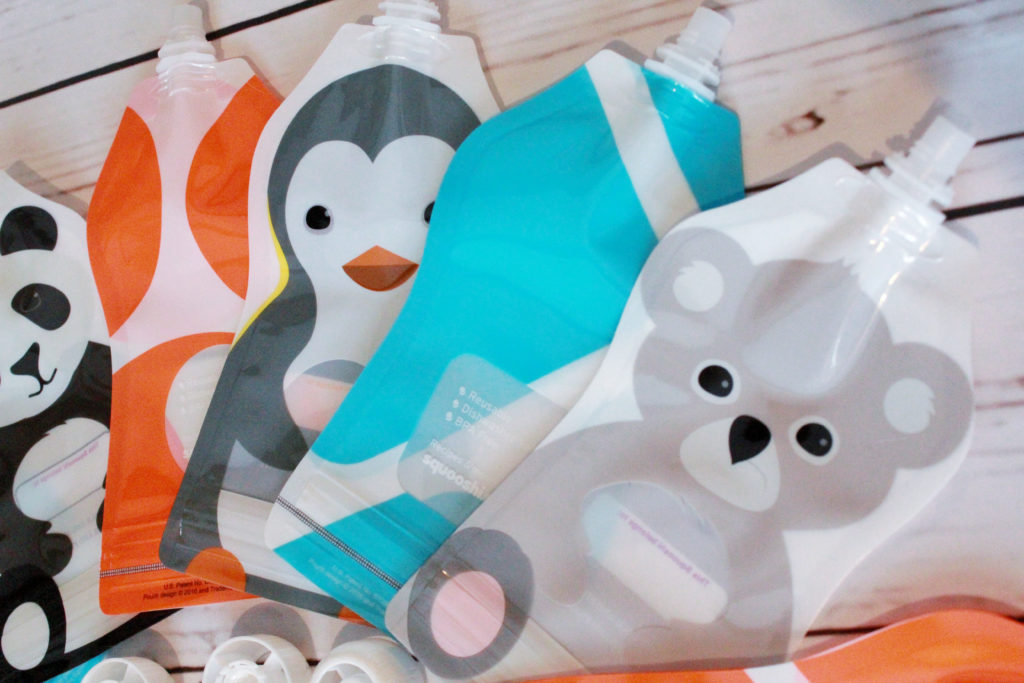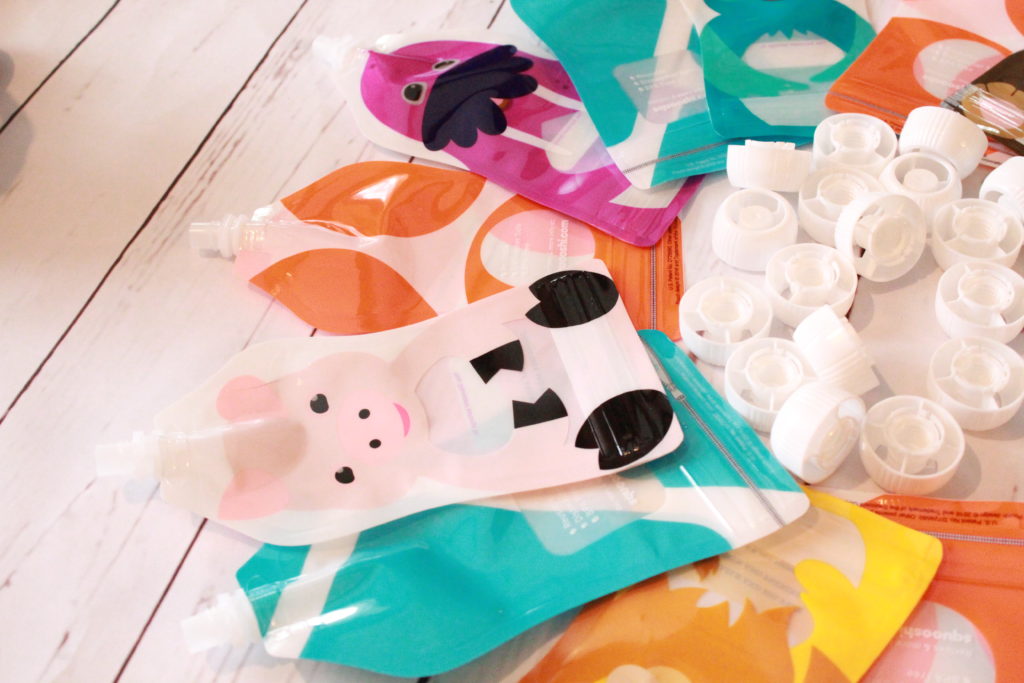 Aren't these animal pouches from the Family Starter Pack adorable?! I love their see-through window on their bellies.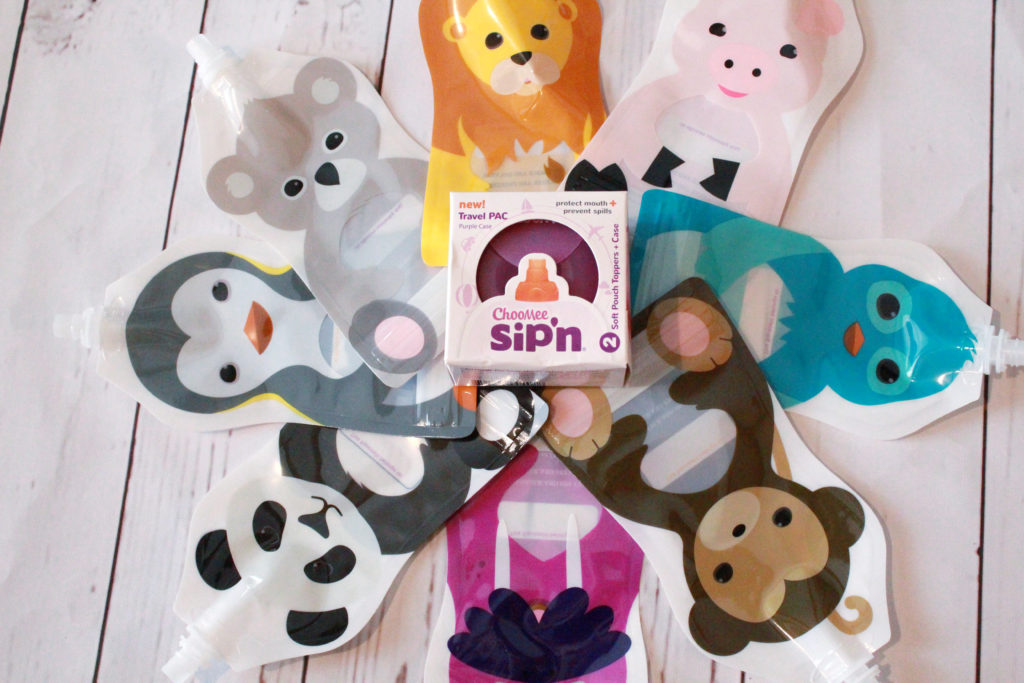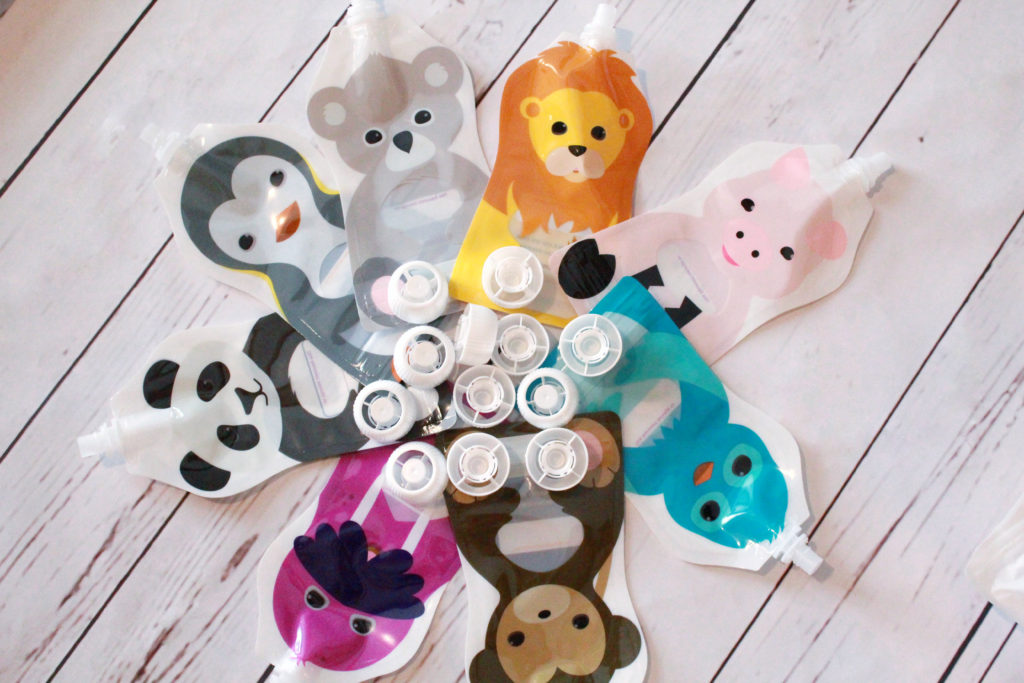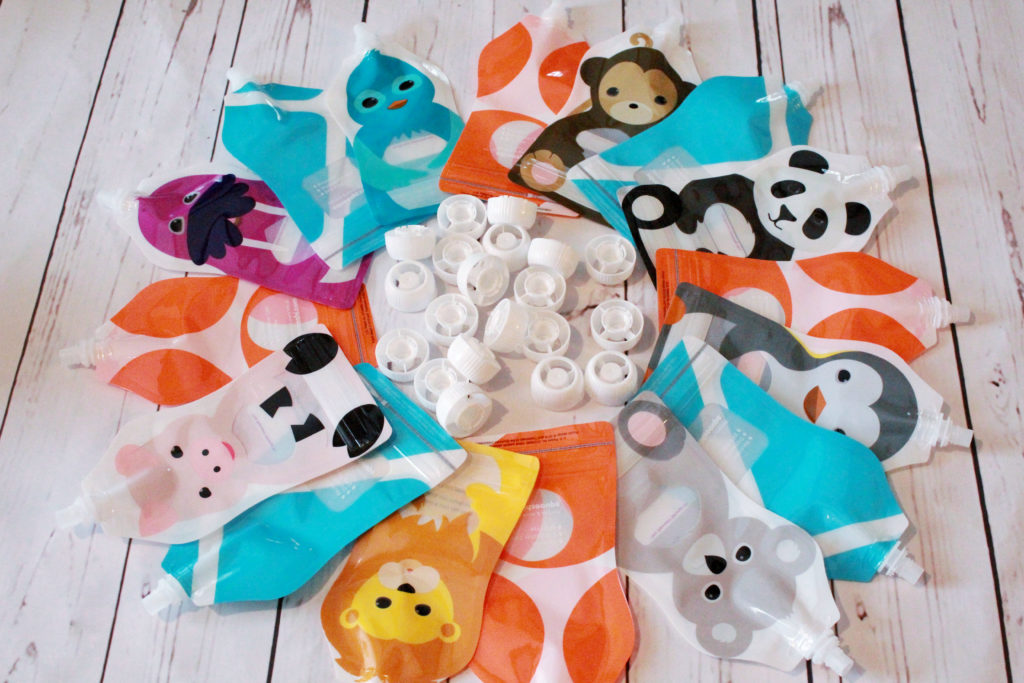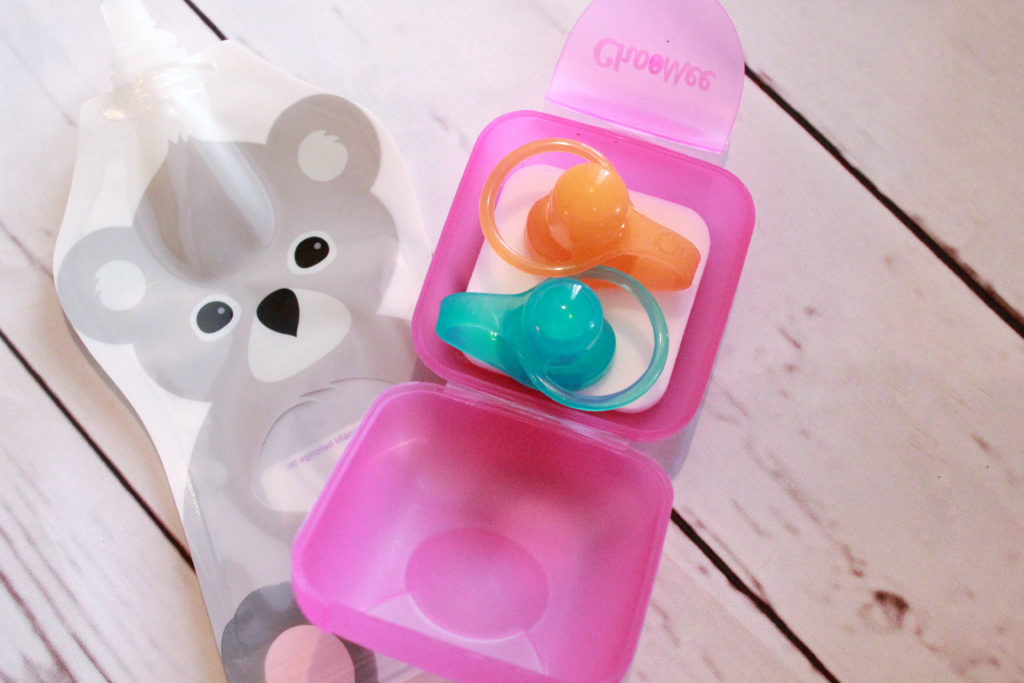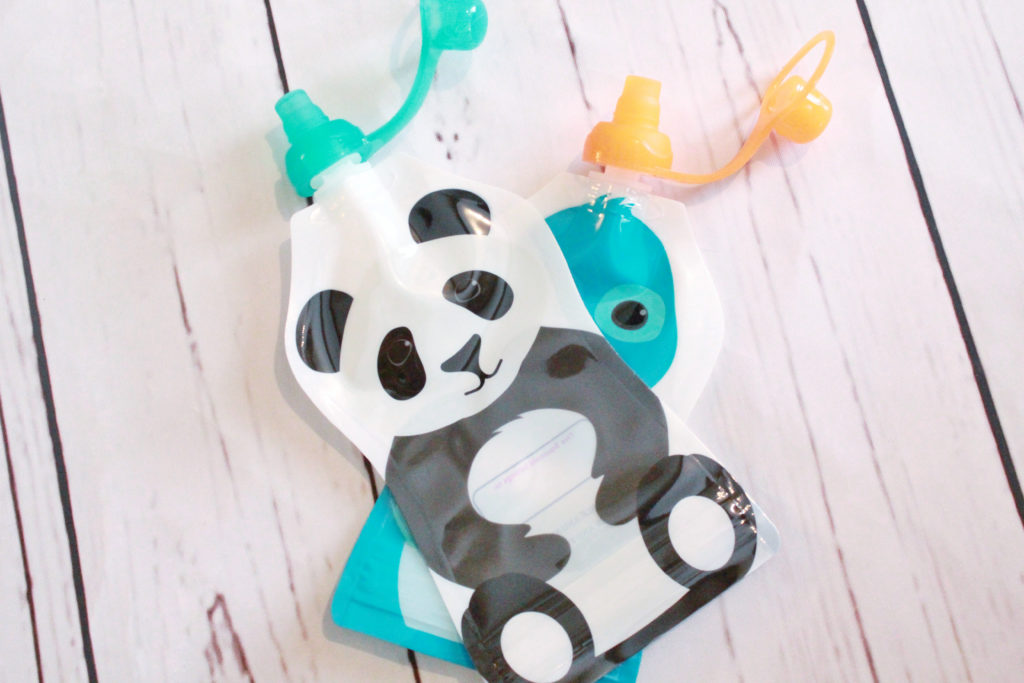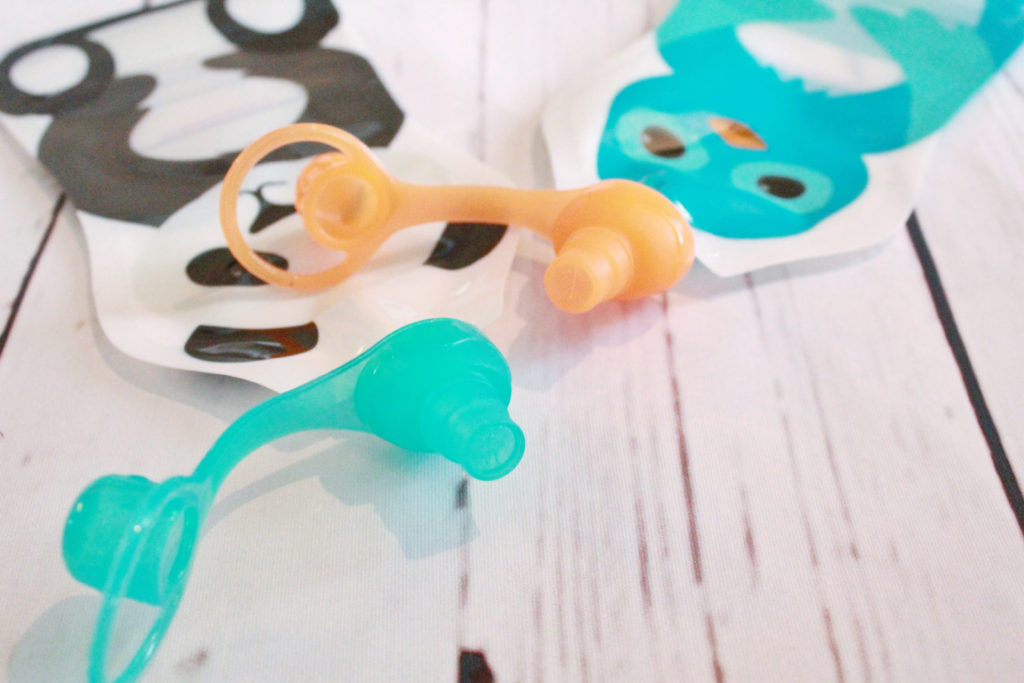 The ChooMee Sip'n Soft tops are so smooth and soft! I love that they have a flow control valve that prevents the contents of the pouch from being squeezed all over our toddler's hands and lap and his car seat. Mom approved! I only wish there were more than two included in the Family Starter Pack.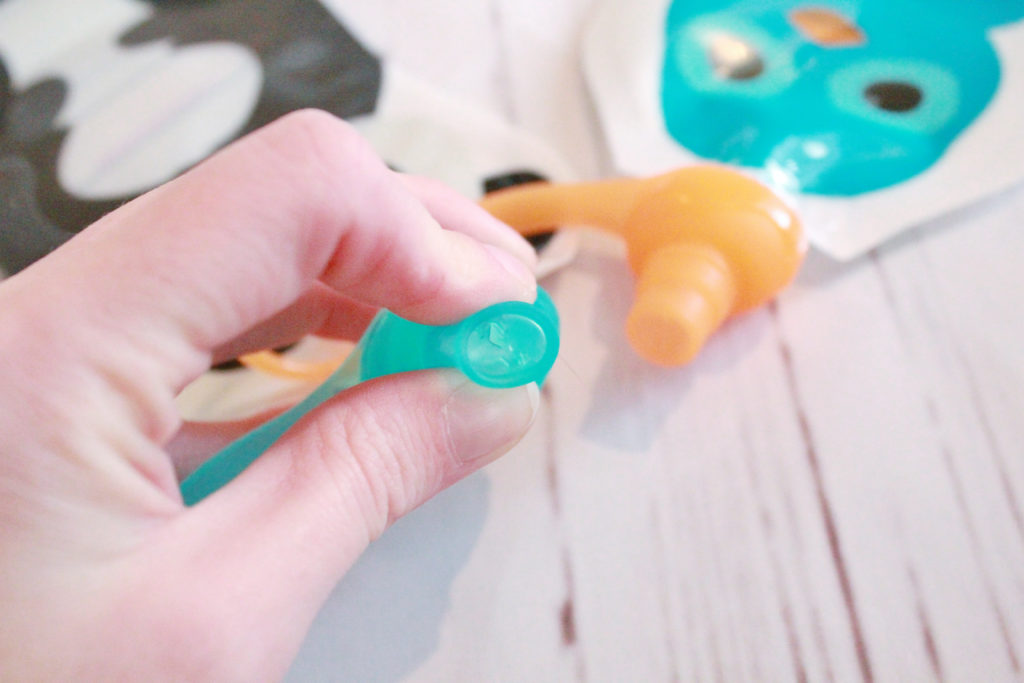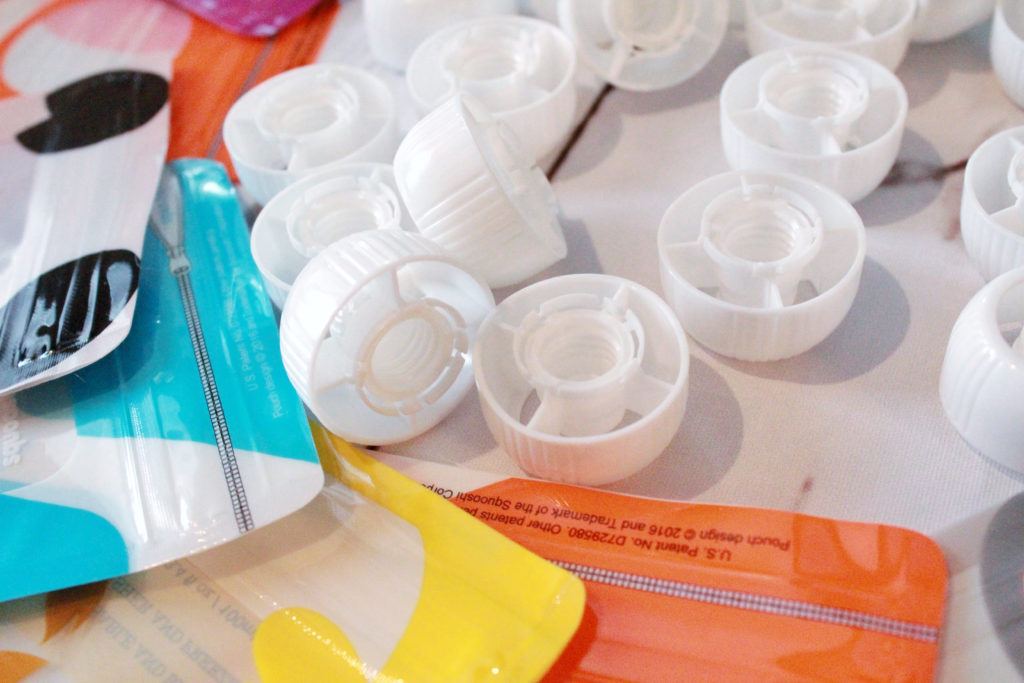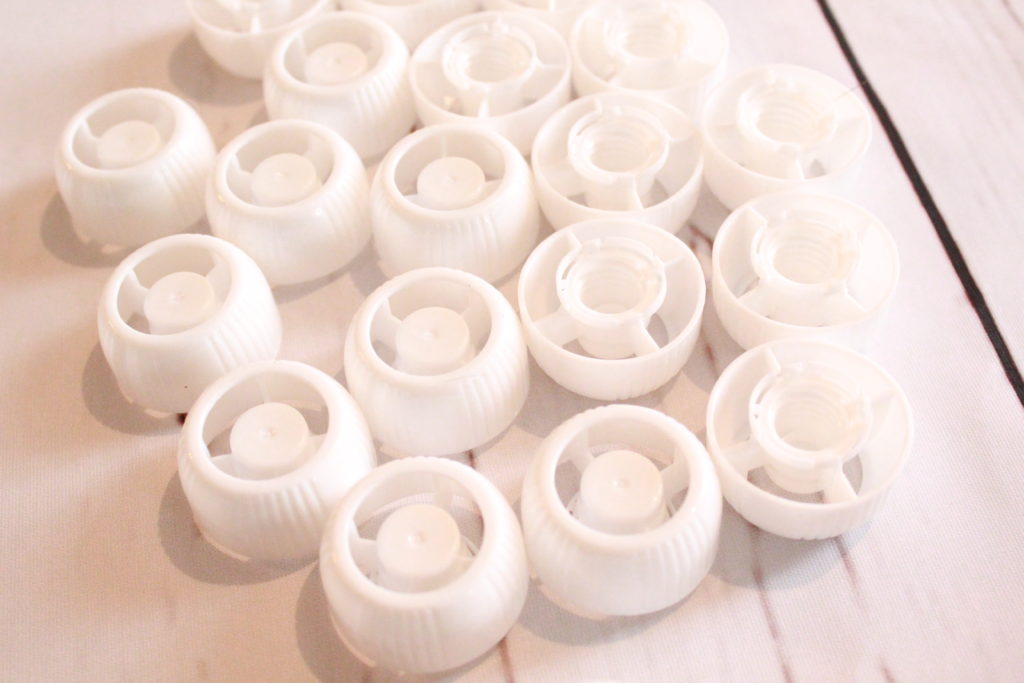 Raspberry Banana Avocado Recipe
I LOVE making this recipe for my children's pouches. They are guaranteed to eat it every single time I blend it up for them (the pouches don't even last two days in our fridge). Even with the big age gap of 6 years between the two, they both enjoy eating from these pouches (I attribute it to the adorable characters and leak-proof feature!). I came up with the idea for the flavor mix by combining Max's favorite fruits and Jax's love for yogurt, and the result was delicious! *This recipe fills up 3 large (5 oz.) and 2 small (3.4 oz.) Squooshi pouches!*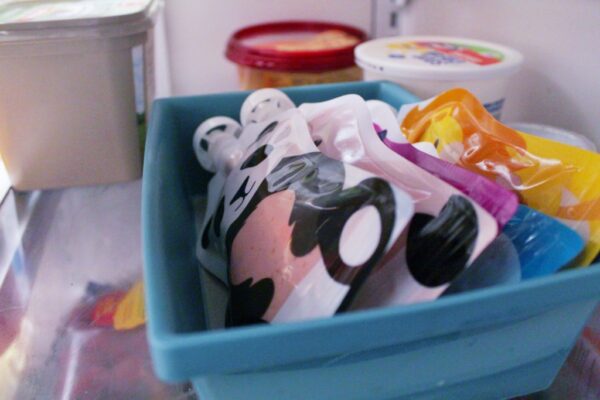 | | |
| --- | --- |
| | |
In a blender, combine avocado, raspberries, and sliced banana.

Stir or blend in vanilla extract.

Pour baby food into reusable pouches, leaving enough room to seal the pouches - Enjoy!
If freezing, add 2 tsp of lemon juice to the recipe before adding baby food to pouches - this will help maintain color.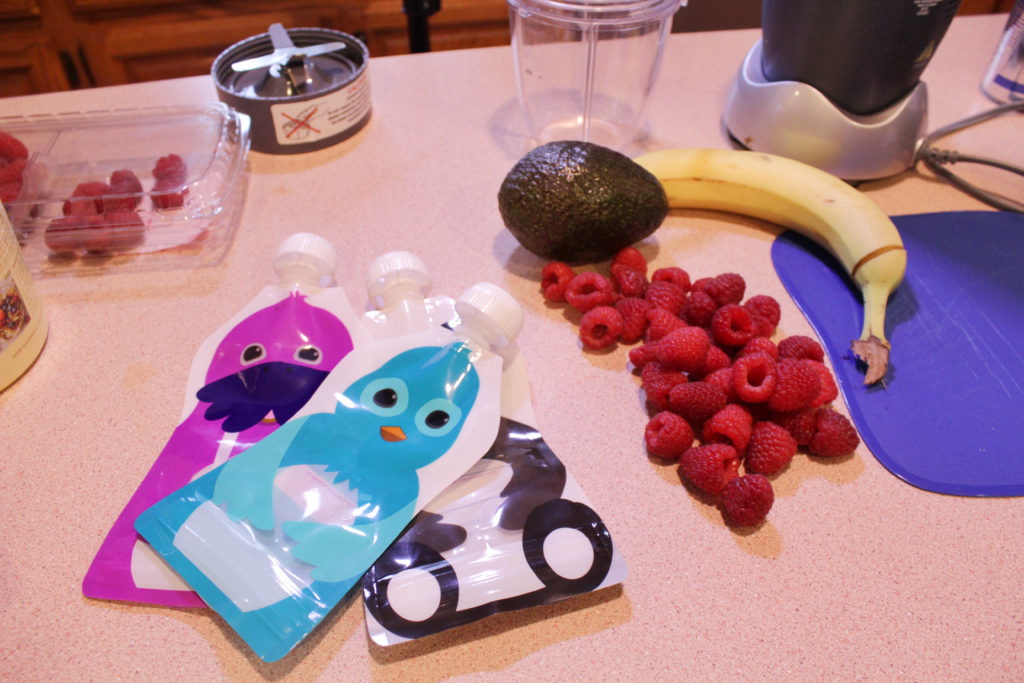 Brownie points if you can guess what my favorite color is! I bet you can tell from this photo of me making my Raspberry Banana Avocado Yogurt recipe in our Squooshi Reusable Pouches! When filling the pouches, I used the 'belly' window of each animal character on the pouch for guidance – when I reached the middle of the belly, I stopped filling, and that seemed to be the perfect stopping point.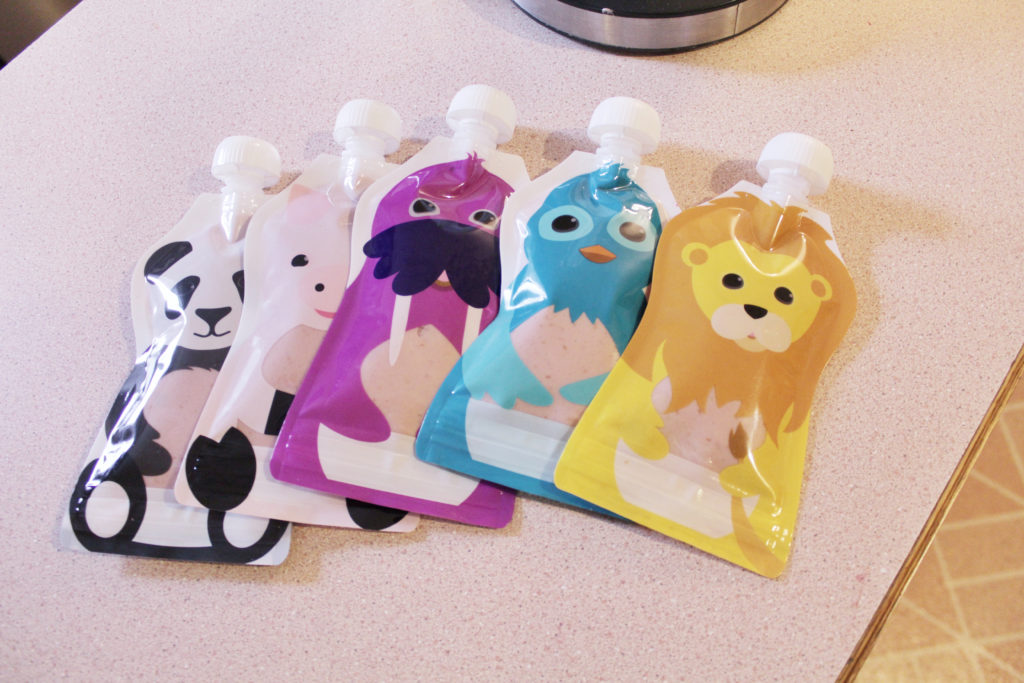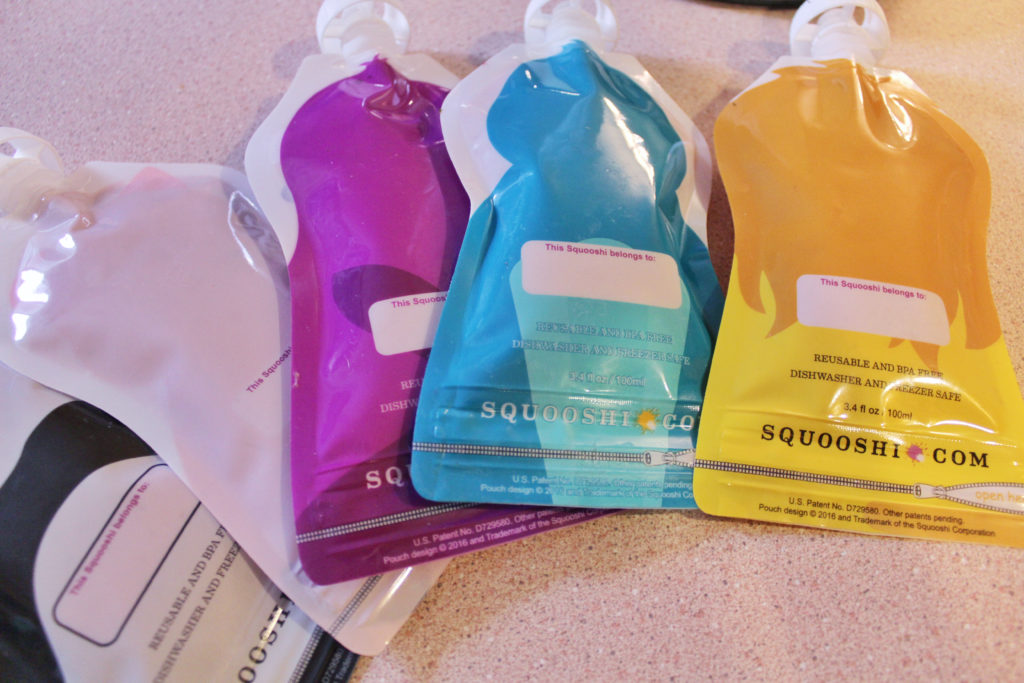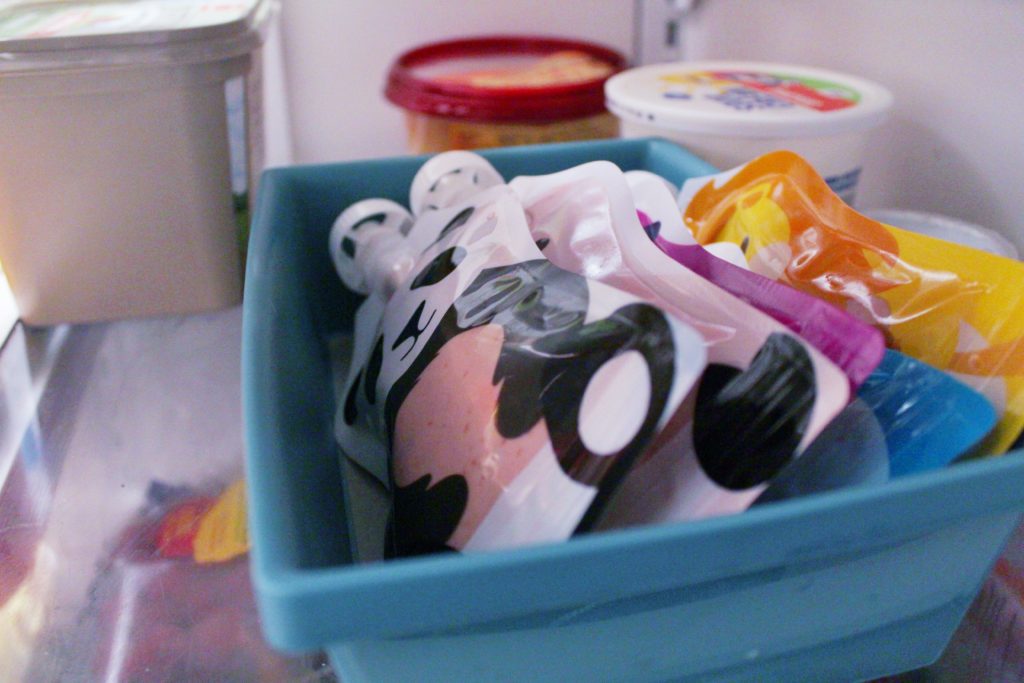 To test for leaks, I always place new pouches in this bin I snagged at Meijer for $2. The pouches lasted longer than 48 hours in the bin without leaking through the sides, tops, or bottom seal – woohoo! After that 48-hour mark, it became really difficult to hide them from the kids any longer…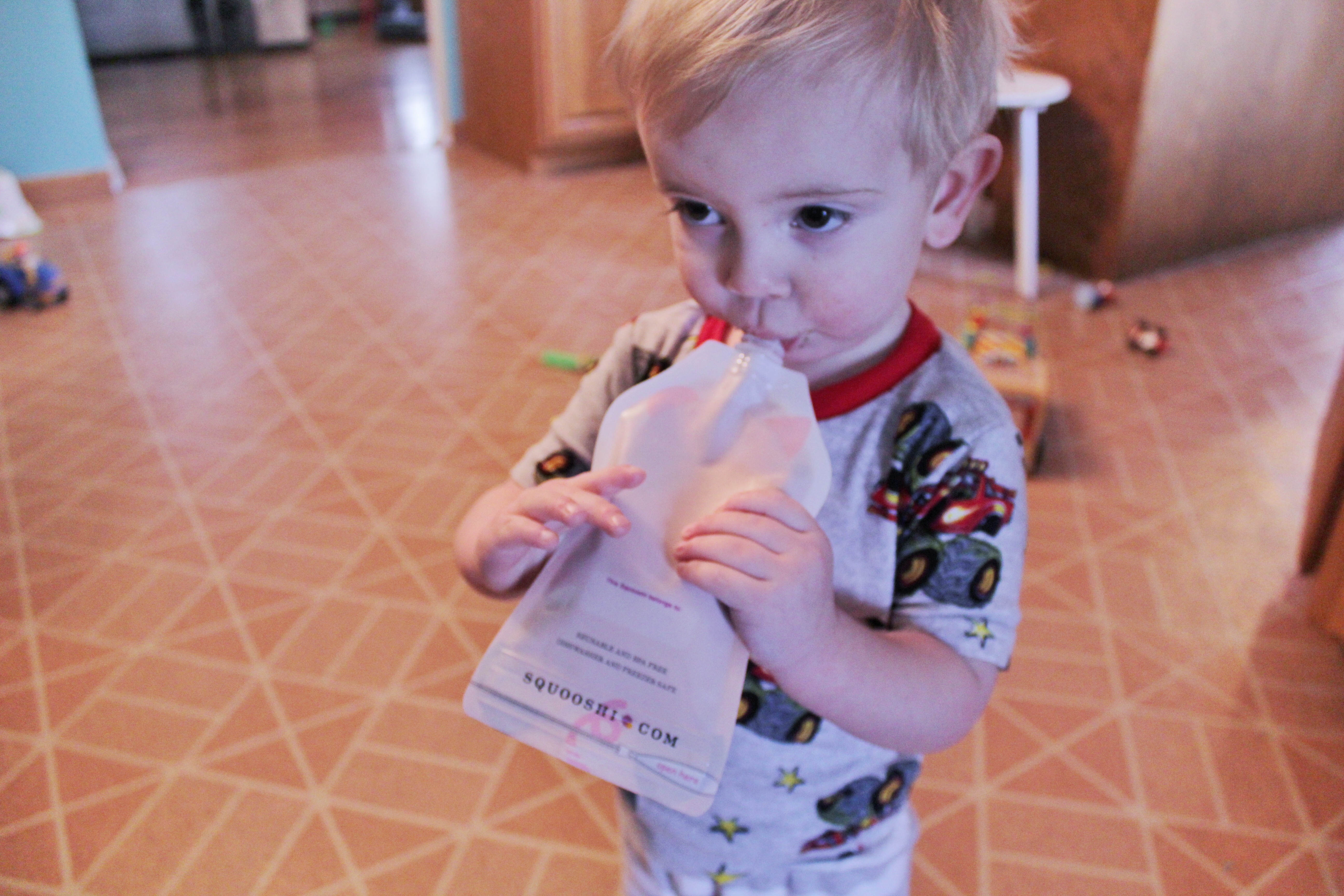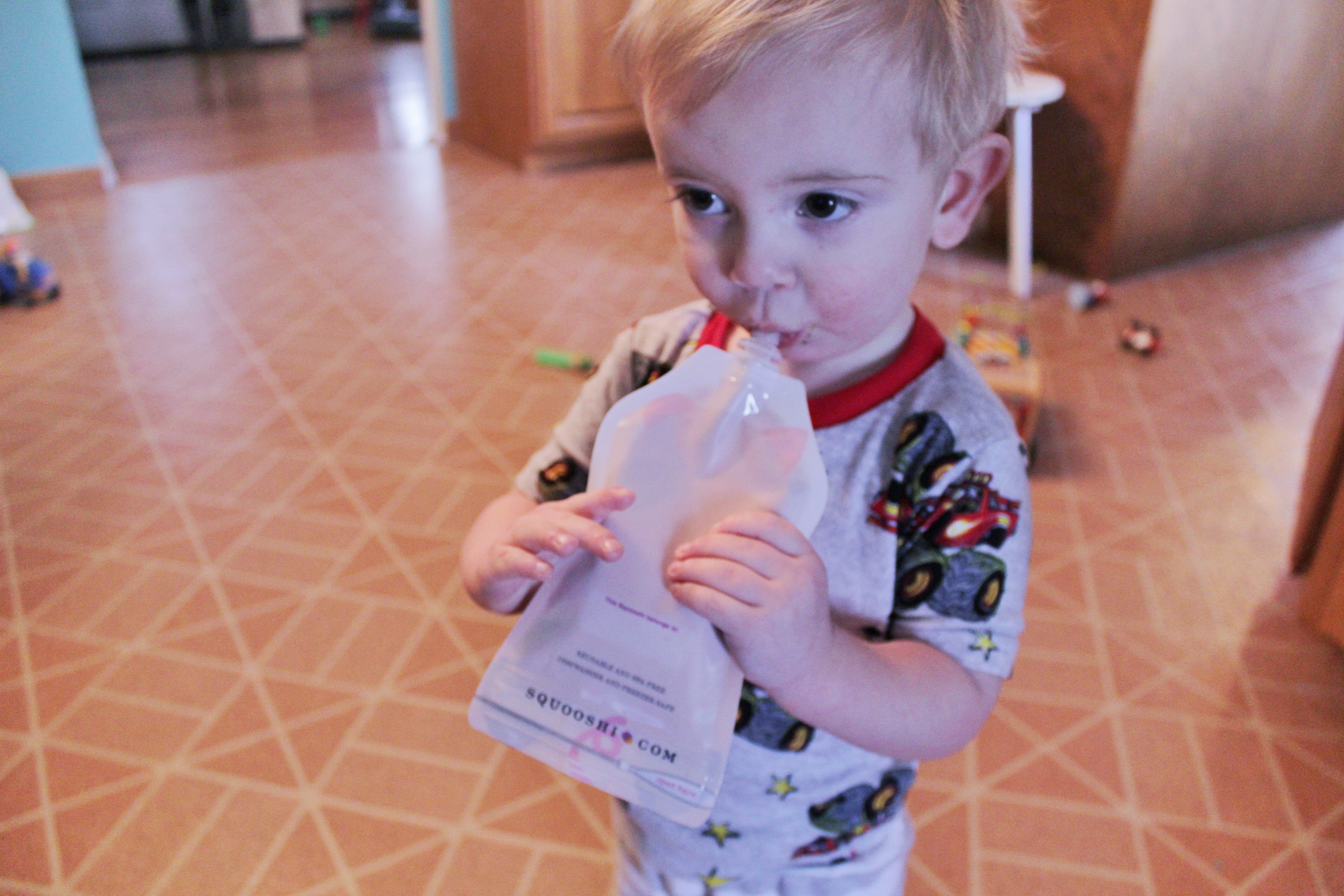 Here is my little guy, Jax, enjoying our Raspberry Banana Avocado Yogurt from his favorite pouch (that's right, the Piggy!). I bet I could put straight spinach in the Piggy and he would eat it ;).
My Recommendation
Truthfully – I am so happy to have tried these out! These pouches are the FIRST to actually hold up their leak-proof design claims. From the freezer to the fridge to my toddler – these pouches really hold up! No leaks, no spills (with the Sip 'n Soft Tops), and stay completely sealed until I'm ready to rinse, wash, or place in the top rack of my dishwasher. I highly recommend these – they are designed well, with great thought put into the colors and animal characters which make eating fun for both my 1-year-old and 7-year-old!
UPDATE: I wrote this post over a year ago. A year later, we are STILL using these pouches daily – they are Jax's favorite pouches, and I love being able to contribute a little less to our landfills than with the commercial disposable pouches. I still put them into our dishwasher to clean, but every 5 cycles of use or so, I will take a bottle brush to get the curved edges inside te pouches to prevent any mold growth. The color of the pouches makes it VERY easy to see if there is any growth occurring since the edges are mainly white.
---
PIN THIS FOR LATER!

Have you tried Squooshi Reusable Pouches yet? Tell me in the comments below!